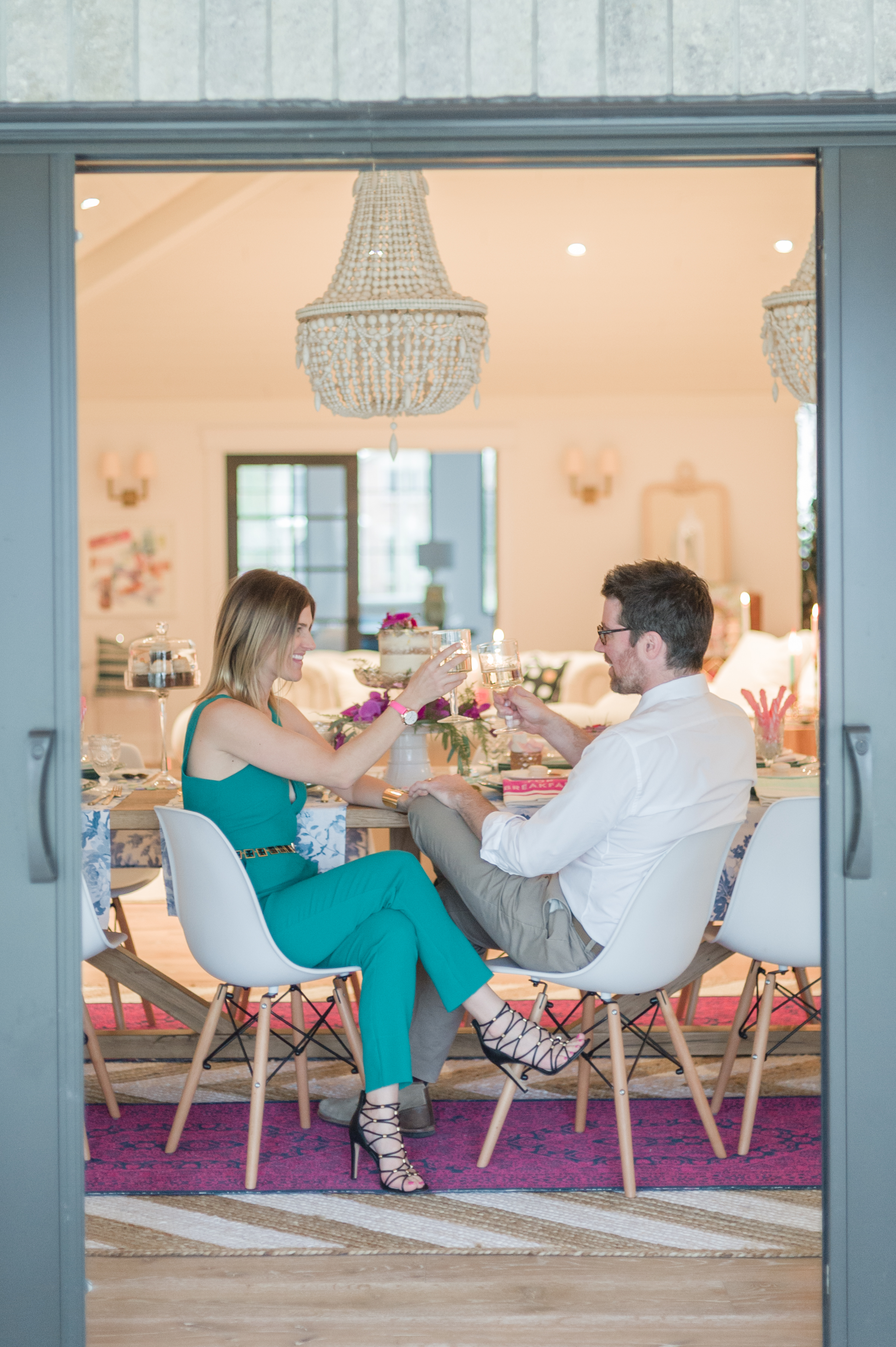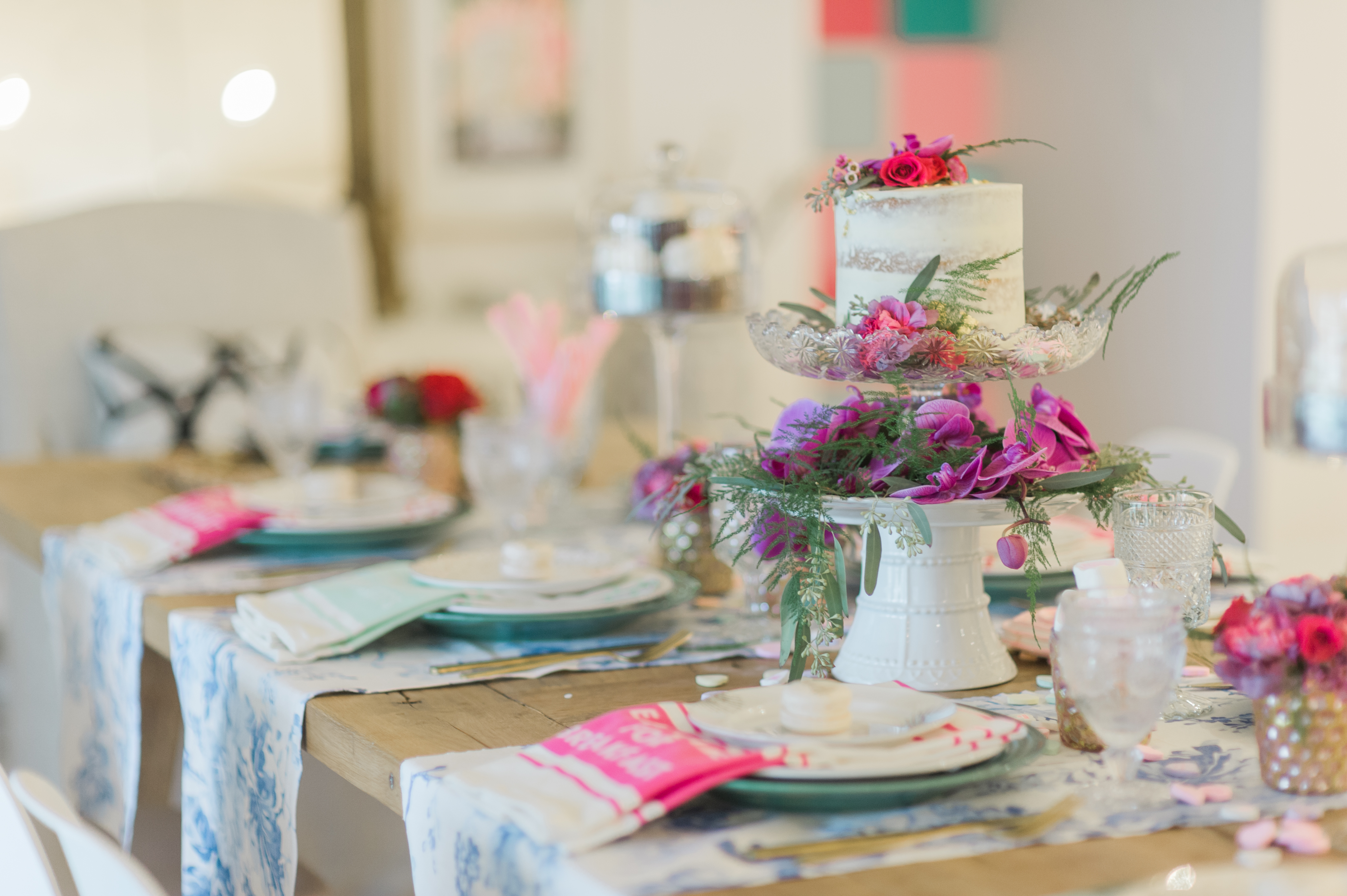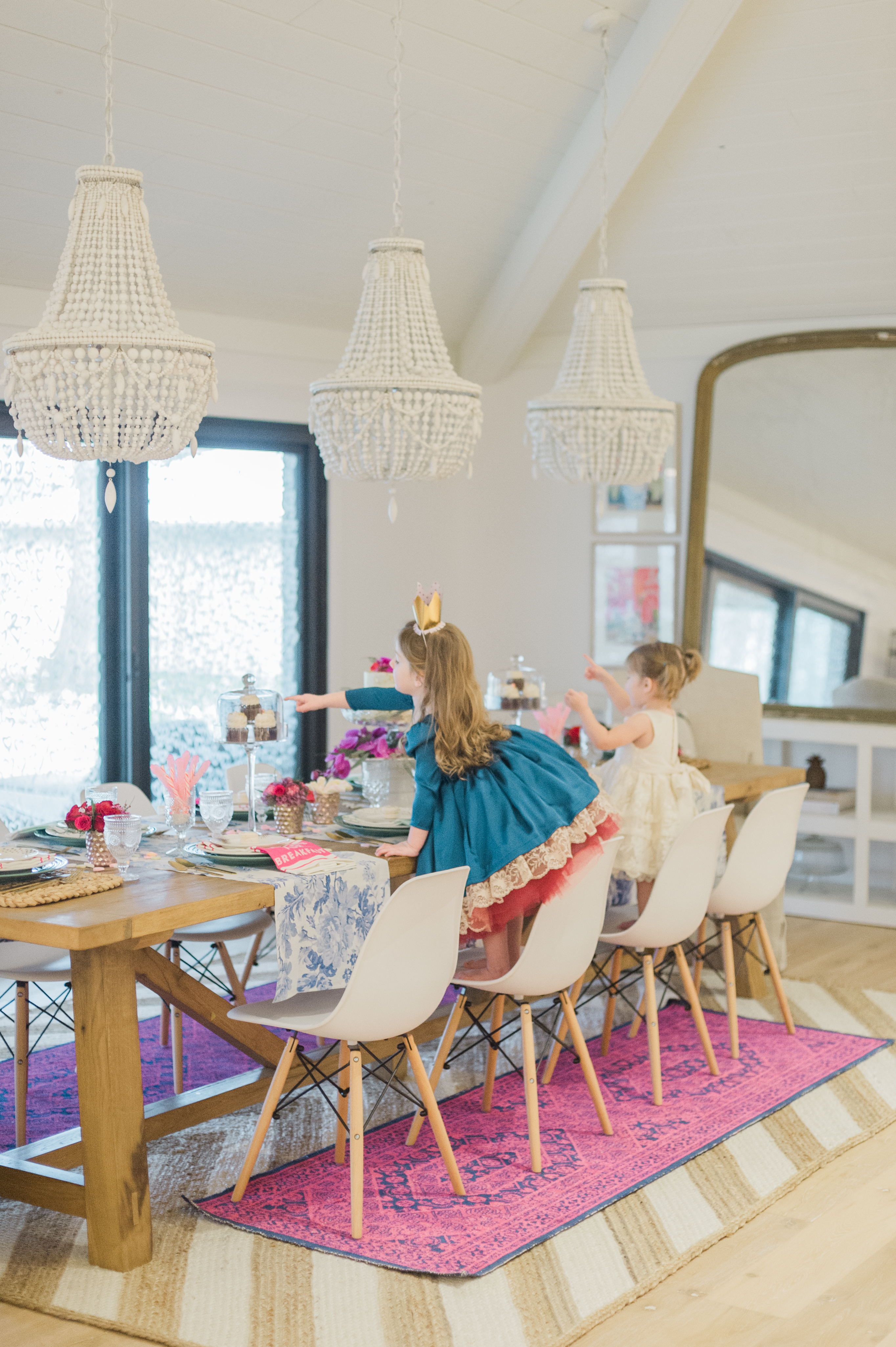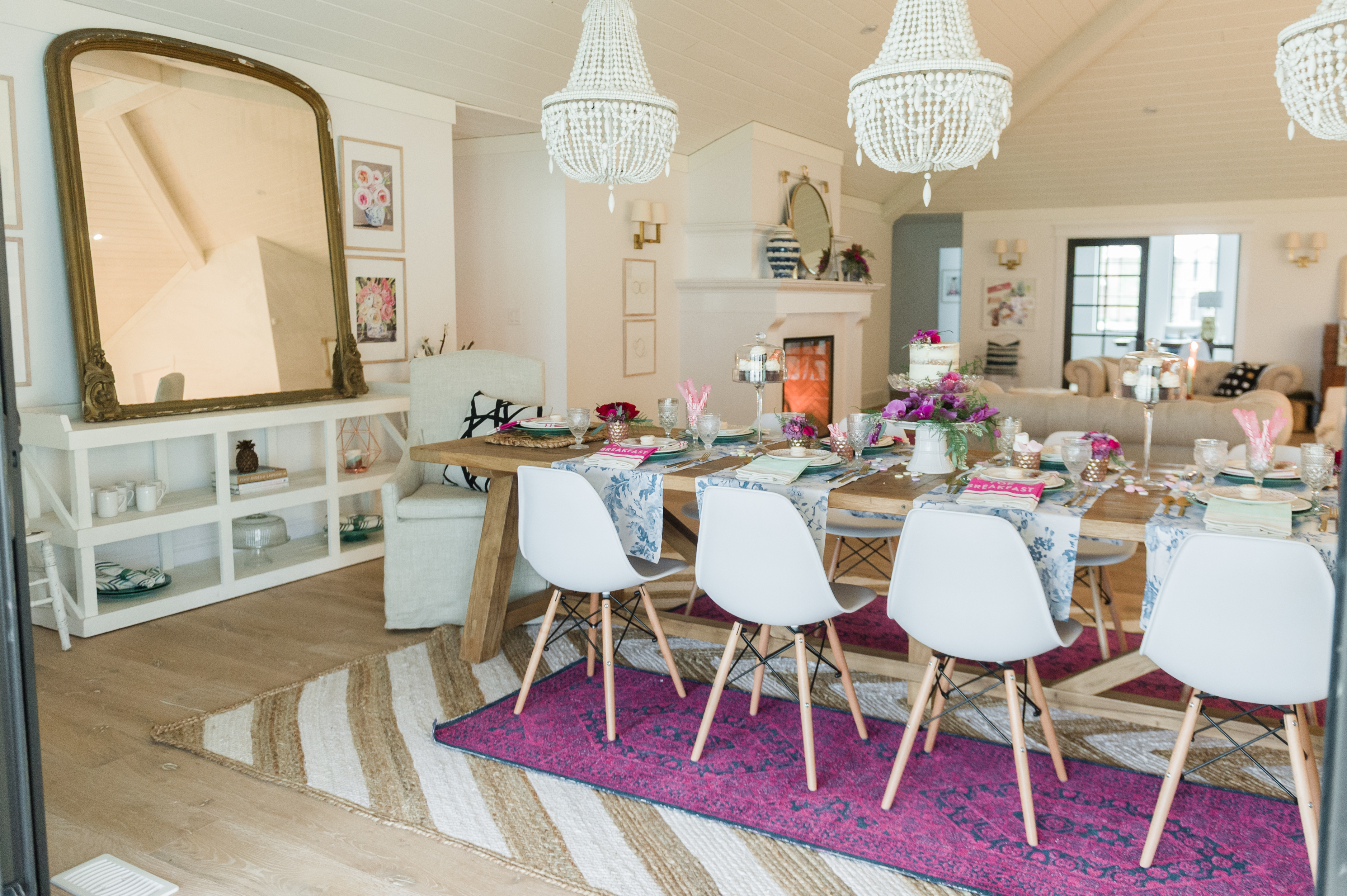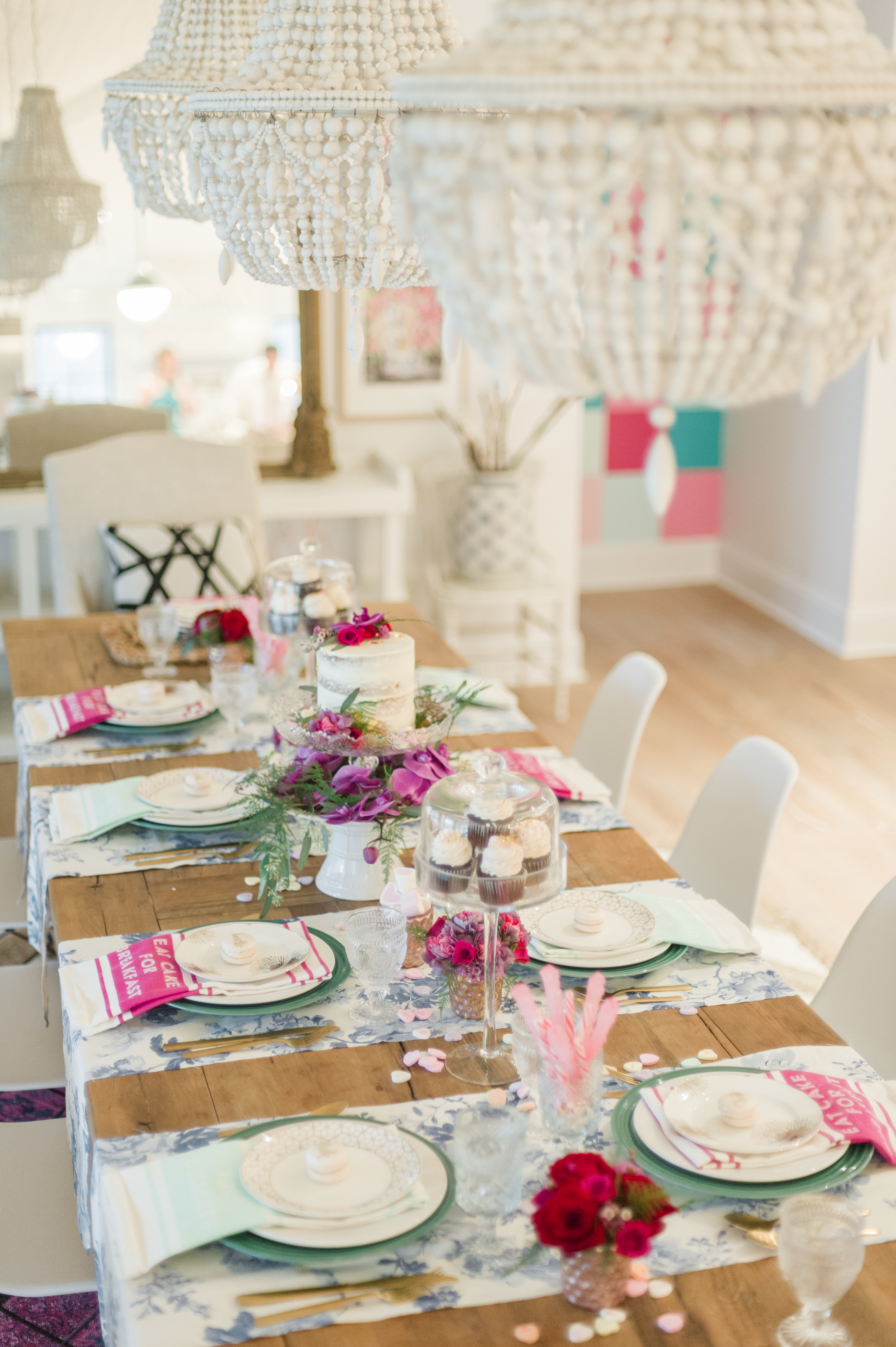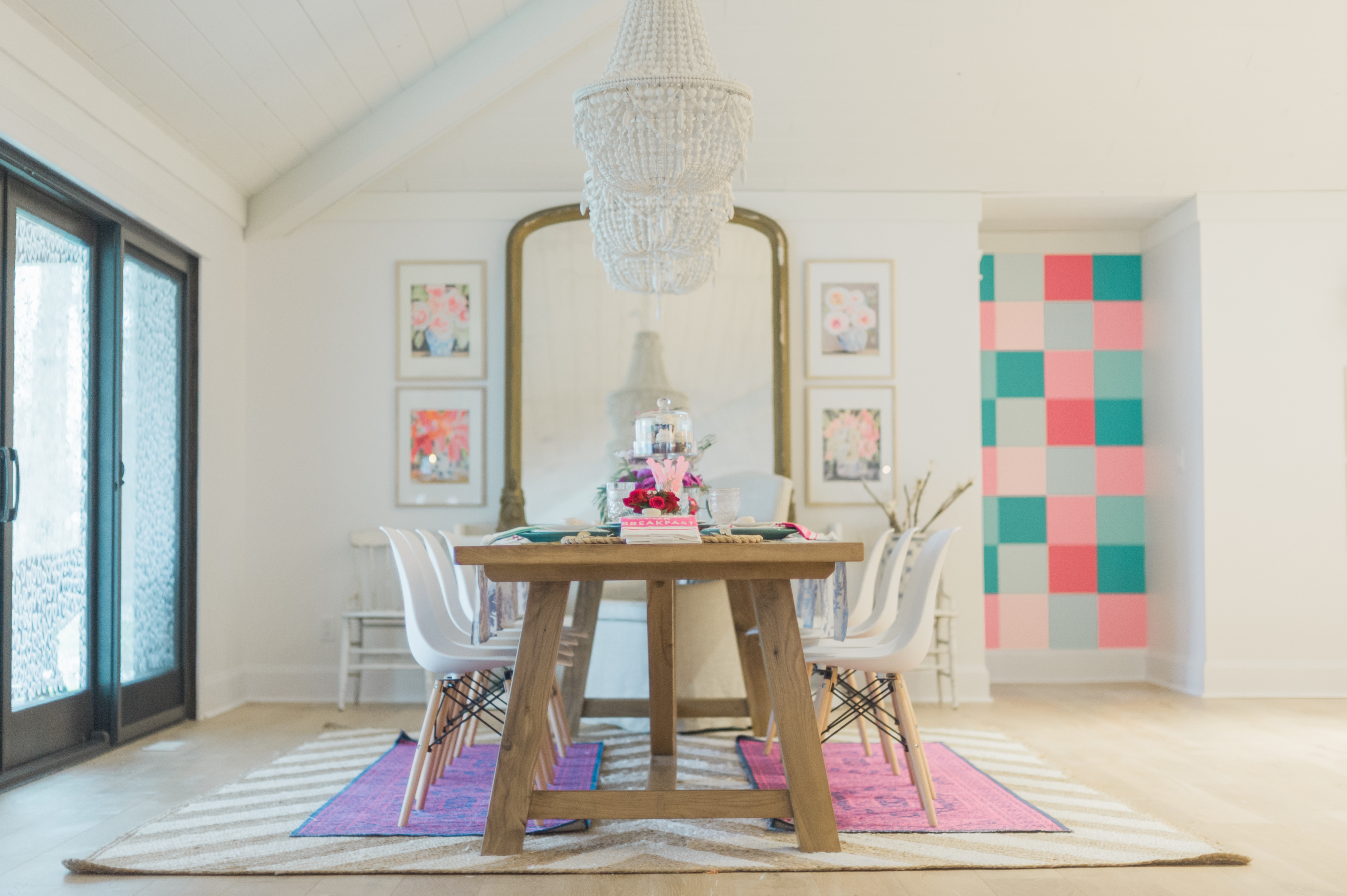 Valentine's Day is all about over the top love, sweets, and flowers right? So the theme of this Valentine's Day tablescape is seriously "over. the. top." and filled with so much love and oh so many decadent desserts…and let's not forget the FLOWERS!
Table Linens
When I go shopping for a look that I have dreamt up and have my heart set on, I keep a really open mind. I pulled this look off by looking at any and ALL affordable linens and thinking outside the box about how to use them.
My favourite "outside the box" find for this Valentine's tablescape are the Kate Spade dishtowels that I used as napkins. I love bold colours and the fushia and mint are so perfect, especially since they reference desserts…it was too perfect. I got them at Homesense (which is the Canadian Homegoods but they carry the same products) and they were a two pack for 12.99. $6.50 is a great price for a gorgeous cloth napkin that had everybody talking. I can reuse them in a different setting too by hanging them over the apron sink. It would also be an awesome gift by introducing paper napkins once the meal begins and then give everyone their dish towel as a fun little gift. I know everybody wanted to take theirs home at this dinner but I couldn't part with them…I was too in love! lol…I'm sorry…I swear I was going to!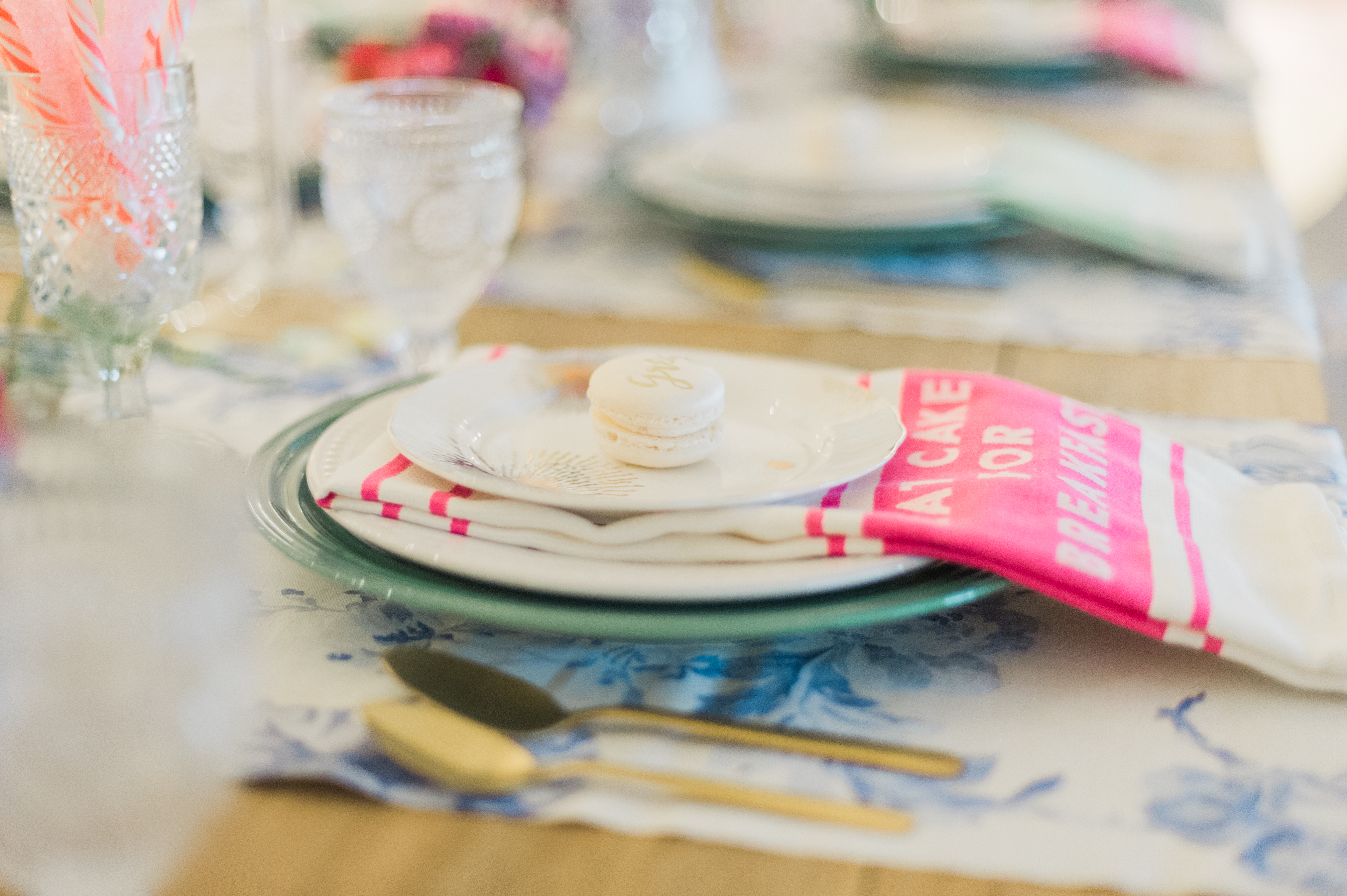 Colour Scheme
I love to mix pink, mint and blue together which is my current signature colour scheme. It's also the colour scheme that I created for my Christmas decor this year. In case you didn't see my Christmas post take a look here at the tablescape and here to see the living room.  I also have that colour scheme normally in my dining room through my art prints and runners. Once I found pink and mint napkins, I knew that I wanted to pull the blue into the table setting too. I had a vision of blue toile table runners and that they would capture the essence of Valentine's day…hahah! I did a little searching but didn't have any luck, so I did a little DIY.
DIY Ralph Lauren Table Runners and Dish Towels
I found the perfect blue tablecloth pattern. I'm so in love with this blue floral that I want to use this fabric everywhere. It was the perfect shade of blue, the floral was intoxicating, and the price was $29.99 Canadian which is like $20 US. I wasn't compromising on the runner idea because I love our table and to completely cover it up just wouldn't do, so I bought the tablecloth and cut it into 17″ strips to use as a runner. Then I cut the remains into dish towels to pull the colours into the kitchen, and napkins for the lucite tray. I'm going to run a sewing machine over the edges of everything when I have time and then wash them to get a little frayed edge. But in a time crunch, just cutting the table cloth created the perfect mix of pattern and colour for the table.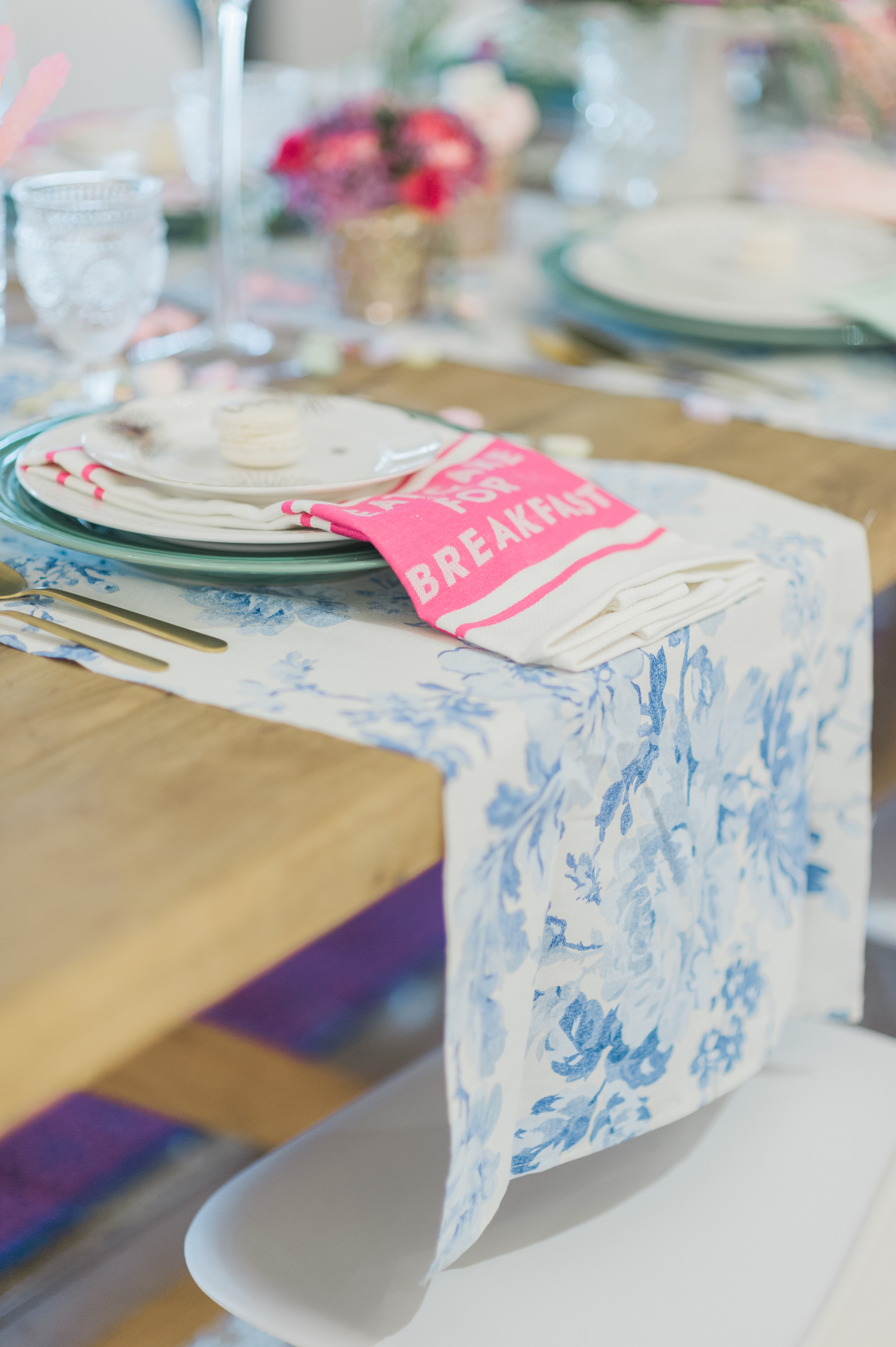 Desserts by Design
The desserts are not only delicious but play a huge role in the decor. Since it's Valentine's Day you need desserts anyway, so why not let them act as centrepieces. I found two tall cake stands that add so much height and drama to the table. I filled them with cupcakes. In order to get height in the centre of the tall cake stands, the middle cupcakes are sitting on shot glasses. In the centre of the table is a 4-tier naked cake, which is absolutely the season's hottest trend in desserts.
My husband actually surprised me by ordering the naked cake for my Birthday from Shleby's Sweet Shoppe!! Shelby is incredible and actually got in touch with my Florist and got some fresh blooms from the florals to tie into the cake, as a surprise, and I'm forever thankful! My birthday was actually on January 20th but I was away at The Toronto Interior Design show with Canadian Tire so I missed it. Shelby also made the cupcakes and the macarons.

In the centre of each table setting is a perfectly delicate place card. Our guests names are written in gold on Macarons. I love this detail so much. I've seen Shelby do Macarons for everyone at a wedding…love this touch so much!
Flower Power
Oh my goodness the flowers on this table pack a massive punch. My florist Cori Heer from CJH Florals, chose orchids to pick up the colour in my runners and she knows that I like things super vibrant and with as much pink as I can get! I put two cake stands on top of each other. The top cake stand holds the naked cake, and the lager base cake stand is covered in orchids.   One of my favourite flowers for this shoot are the ombre carnations that have a gradient that move from purple to pink….so gorgeous! P.S. Check out Cori's website and your mind will be blown!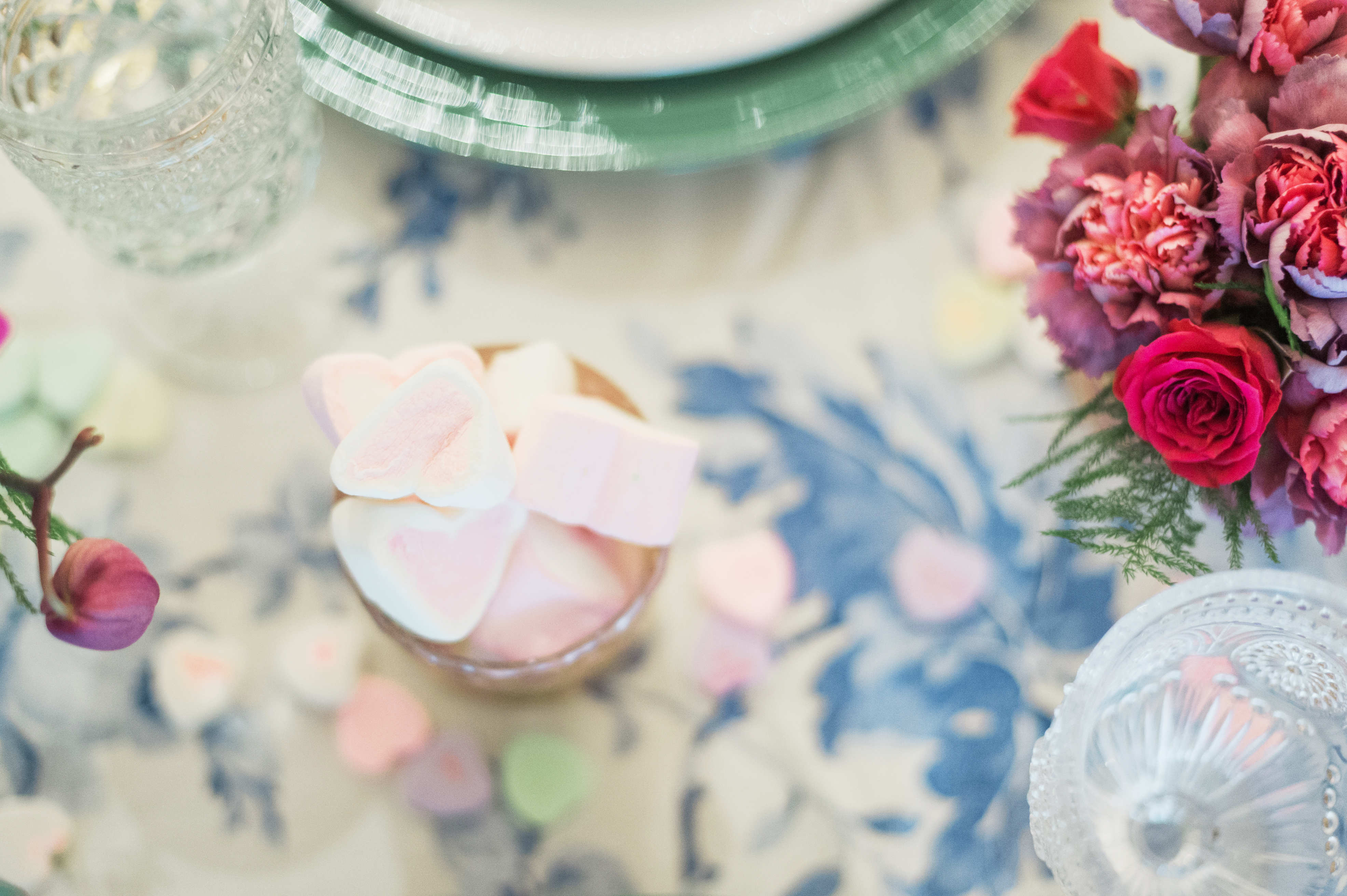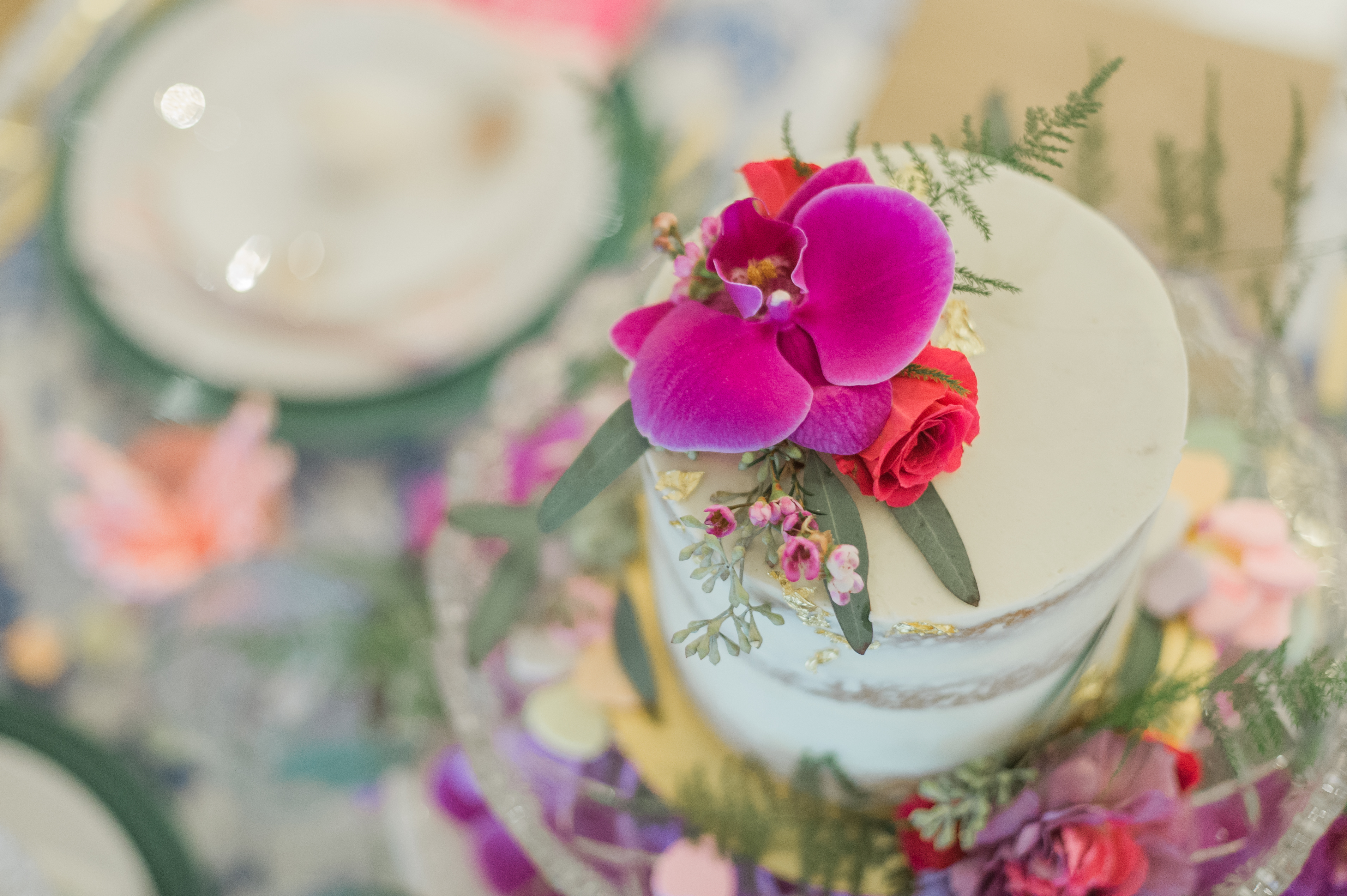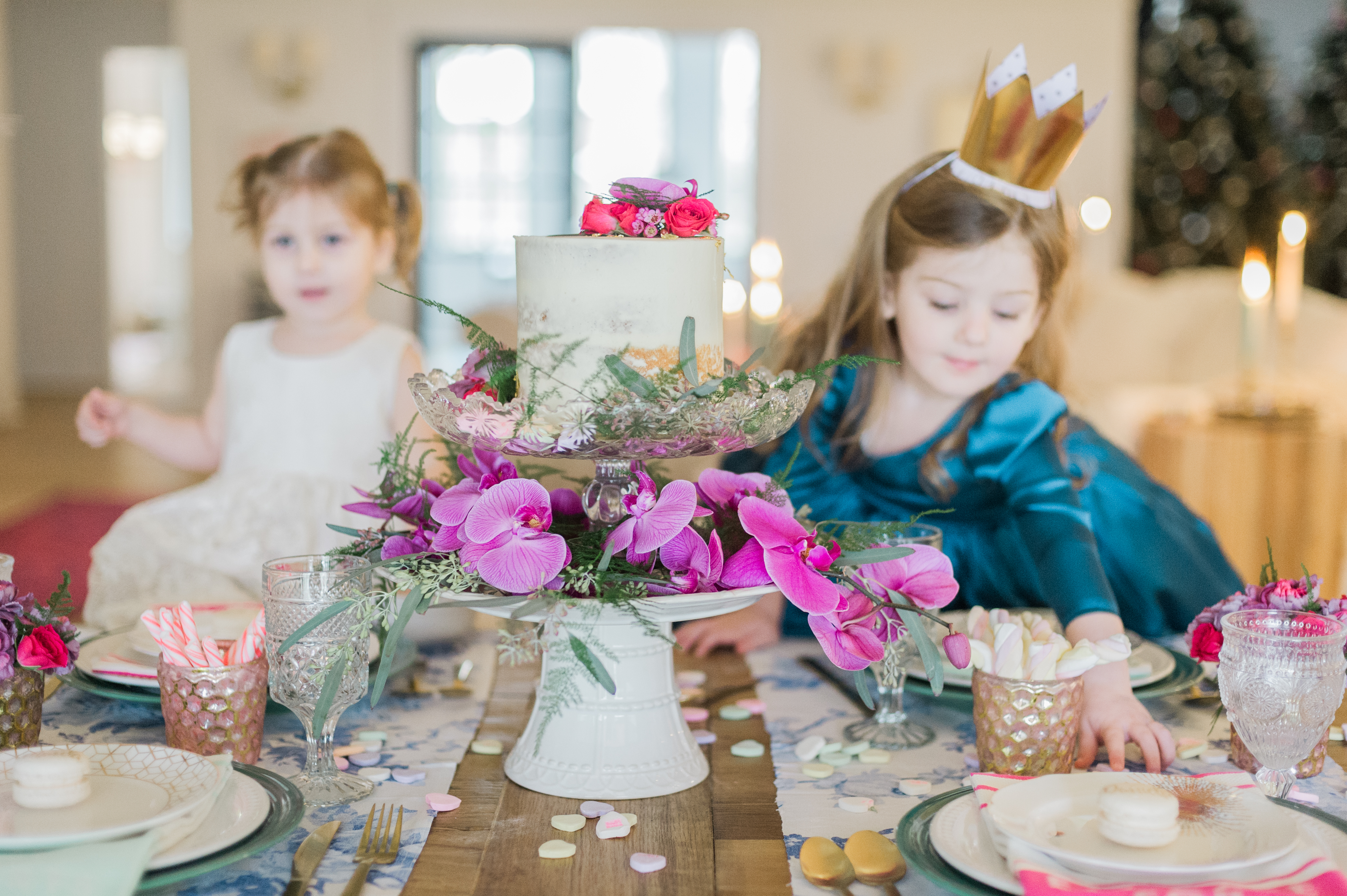 DIY Graffiti Heart Windows
I wanted to decorate the patio doors, since they act as a backdrop to the tablescape. I did some testing and tried out chalk pens, Crayola window markers, but ultimately settled on washable white Crayola Tempera Paint. I love how you can see the brush strokes. The patio doors are 8″ x 16″ and it only took one tiny little bottle of paint, so it's super high impact for no cost. The whole project took just over an hour and I love the result. The hearts tie in really well with the white beads in the chandeliers. It's hard to capture them in a photo but they are so awesome in person!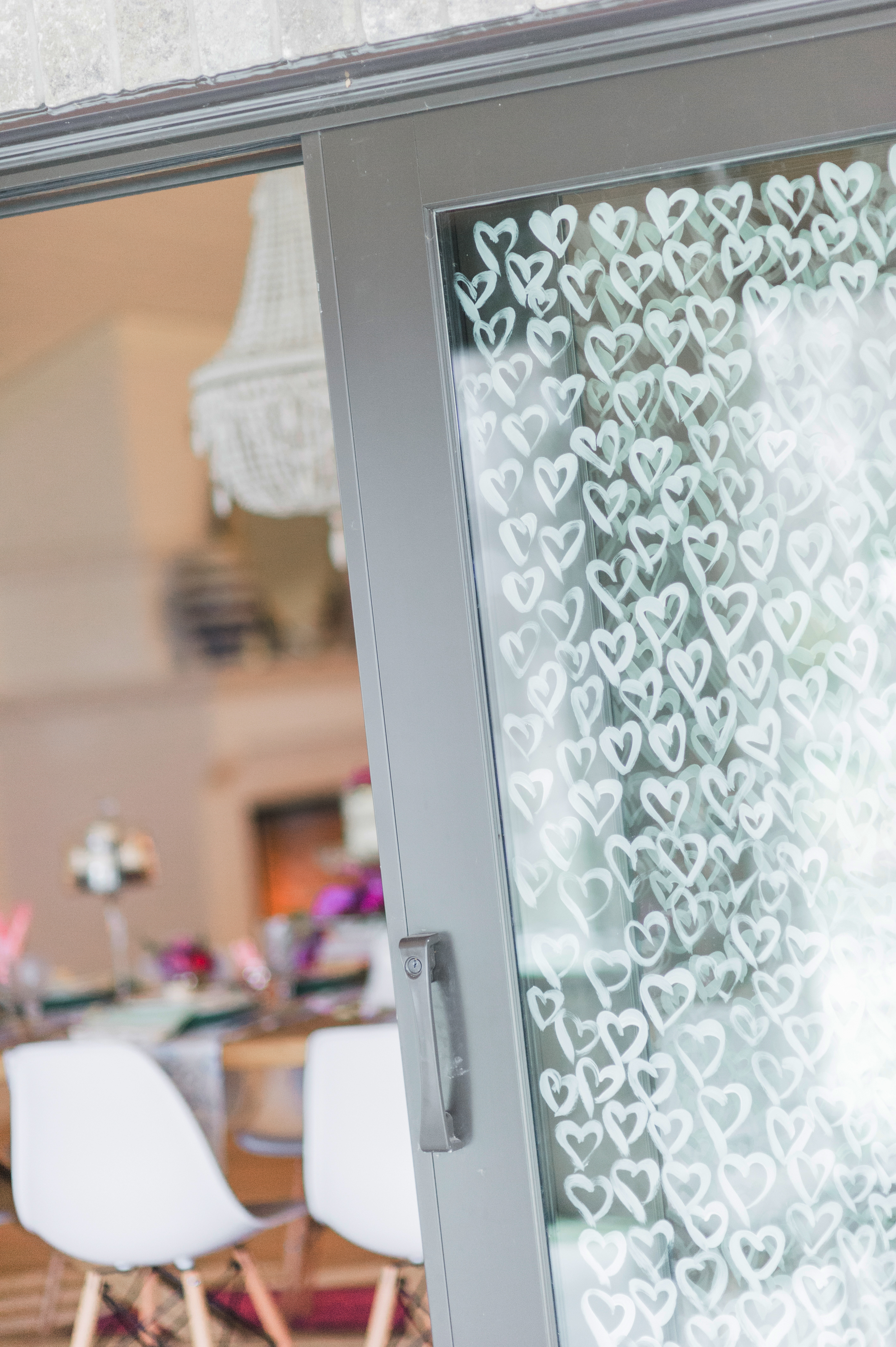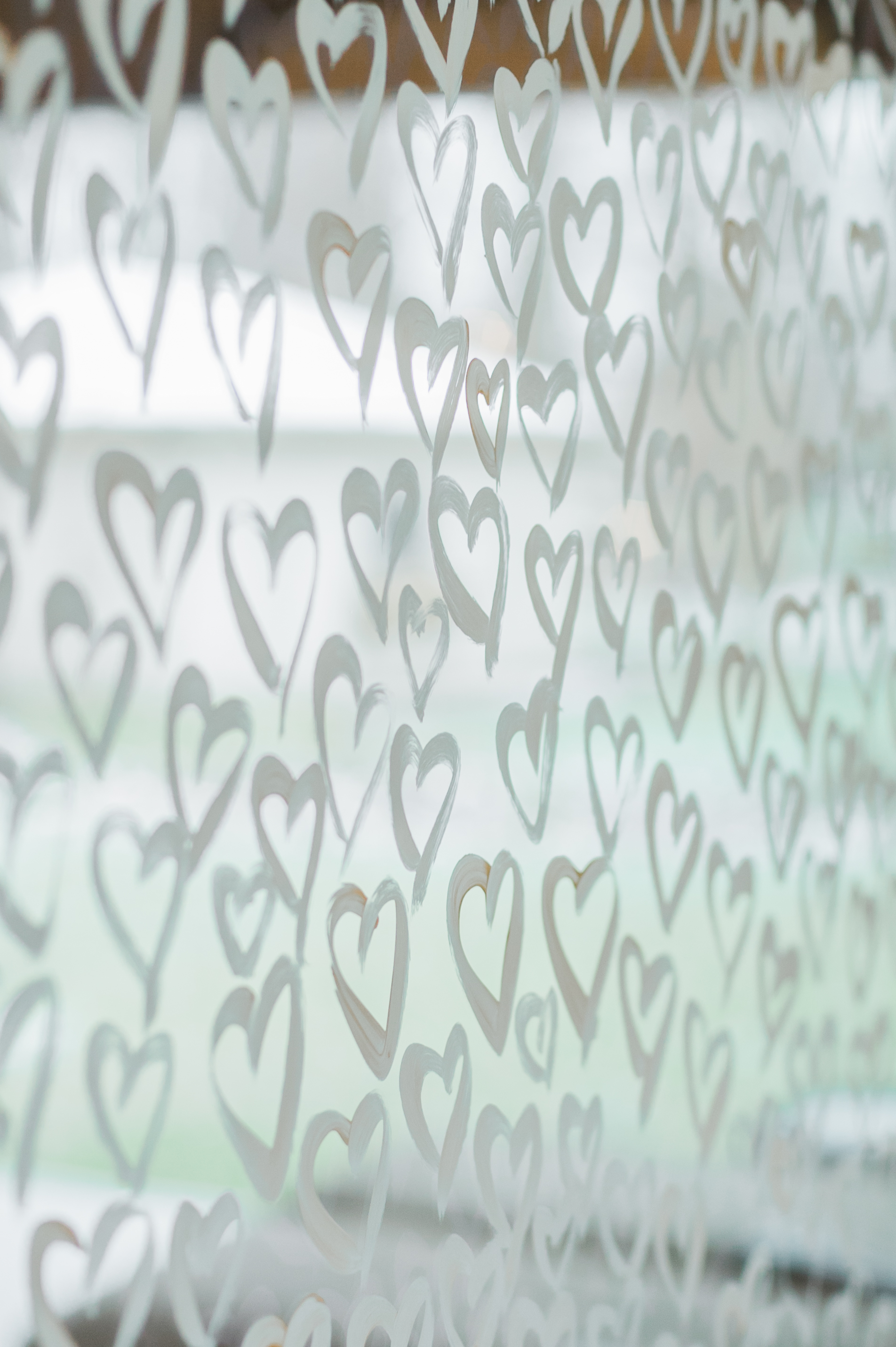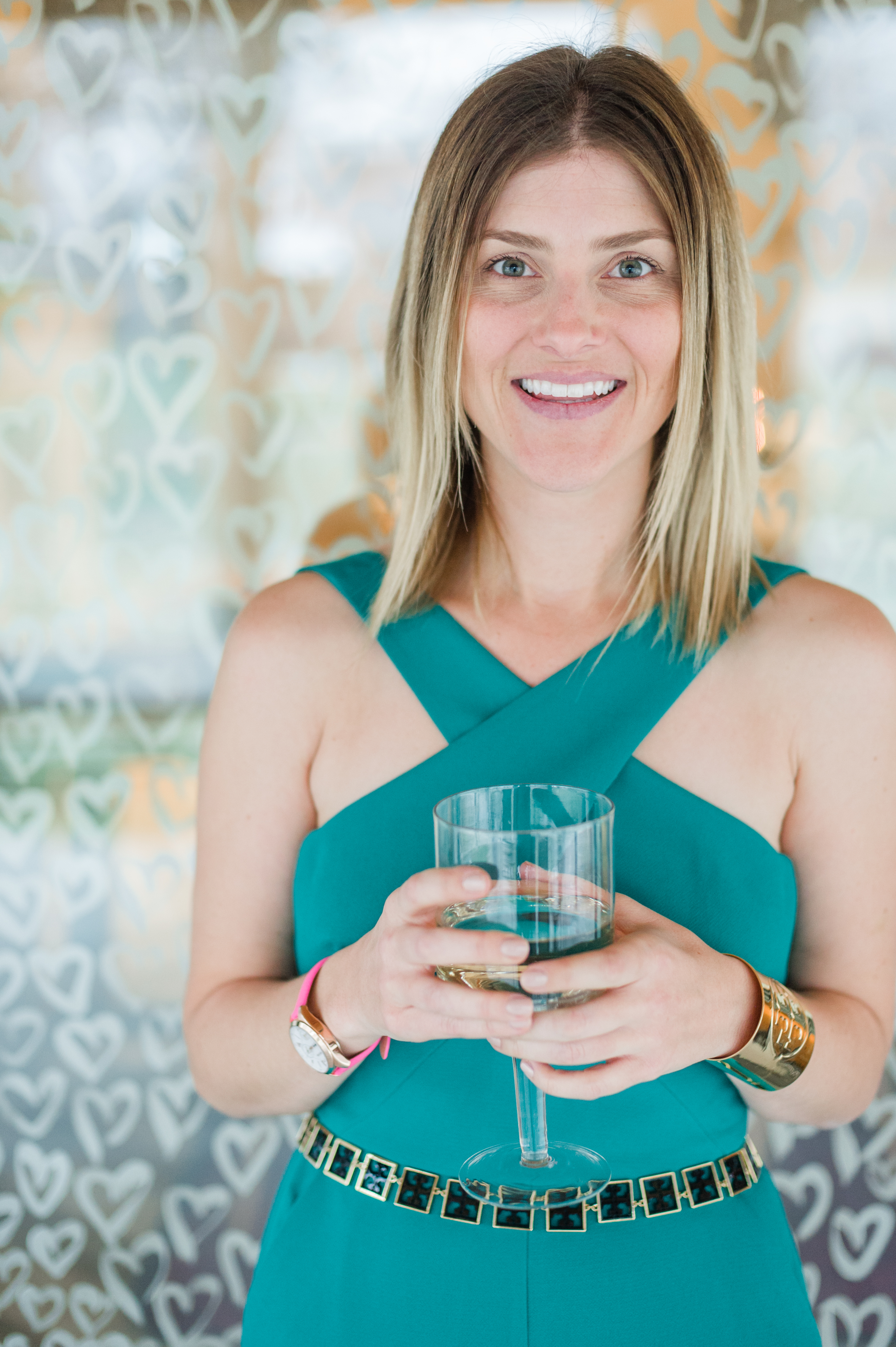 Dinnerware, Flatware, Glassware
The plates are an eclectic mix. The green base plates are Le Creuset dinner plates in Fennel but are acting as a charger. The adorable white plates with the little embossed dots are part of a full 16-set and are from Canadian Tire. The small appetizer plates are from Homesense and are all different. I like the mix of everyday with a little glam. The gold flatware is from Target. Half of the glasses are from Pottery Barn and half are from a garage sale and are real crystal. I don't have enough of either set to fill the table so I alternate them. Extra glasses were used as little vases for Rock Candy and candy sticks, and I adore the look!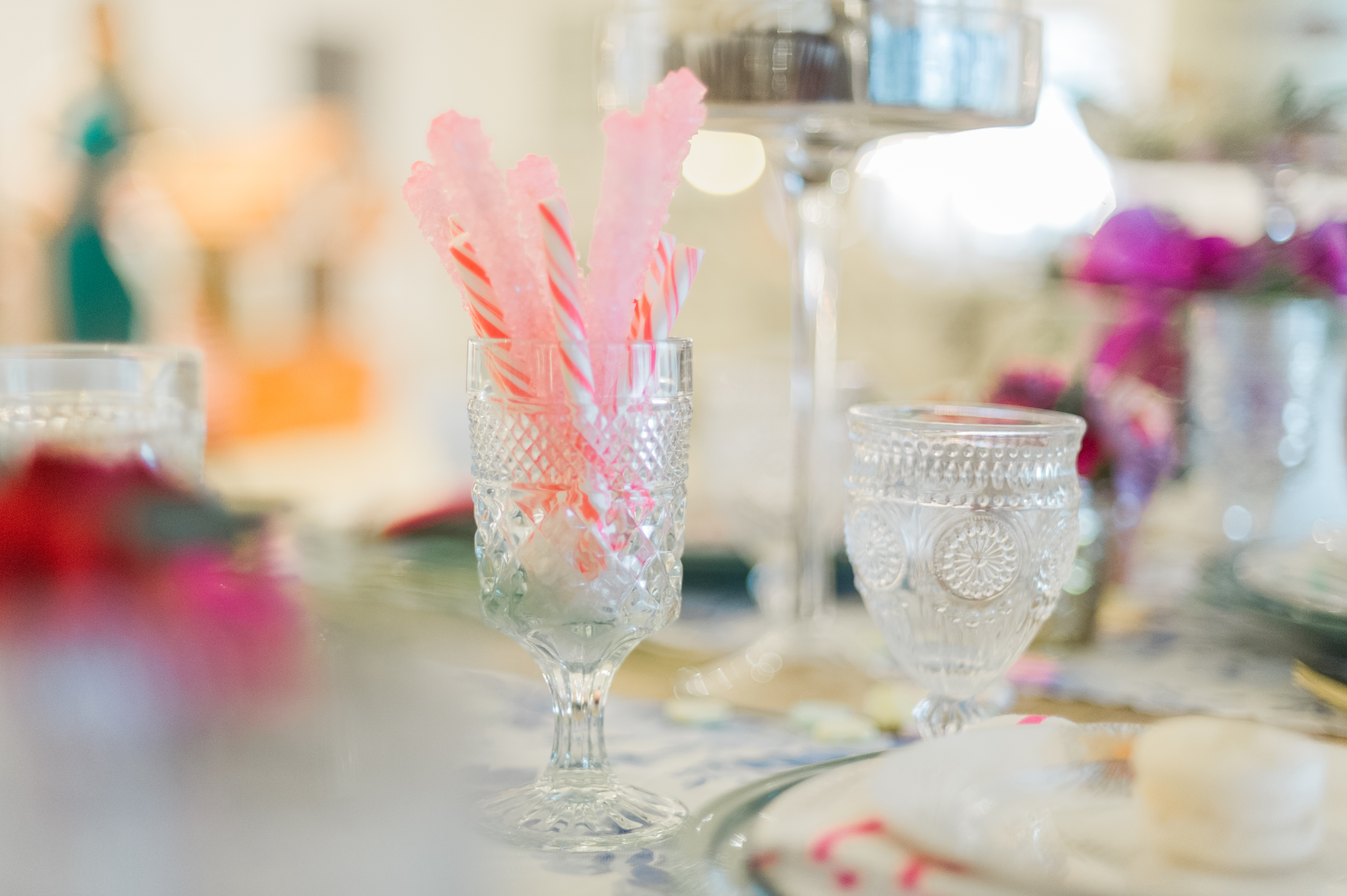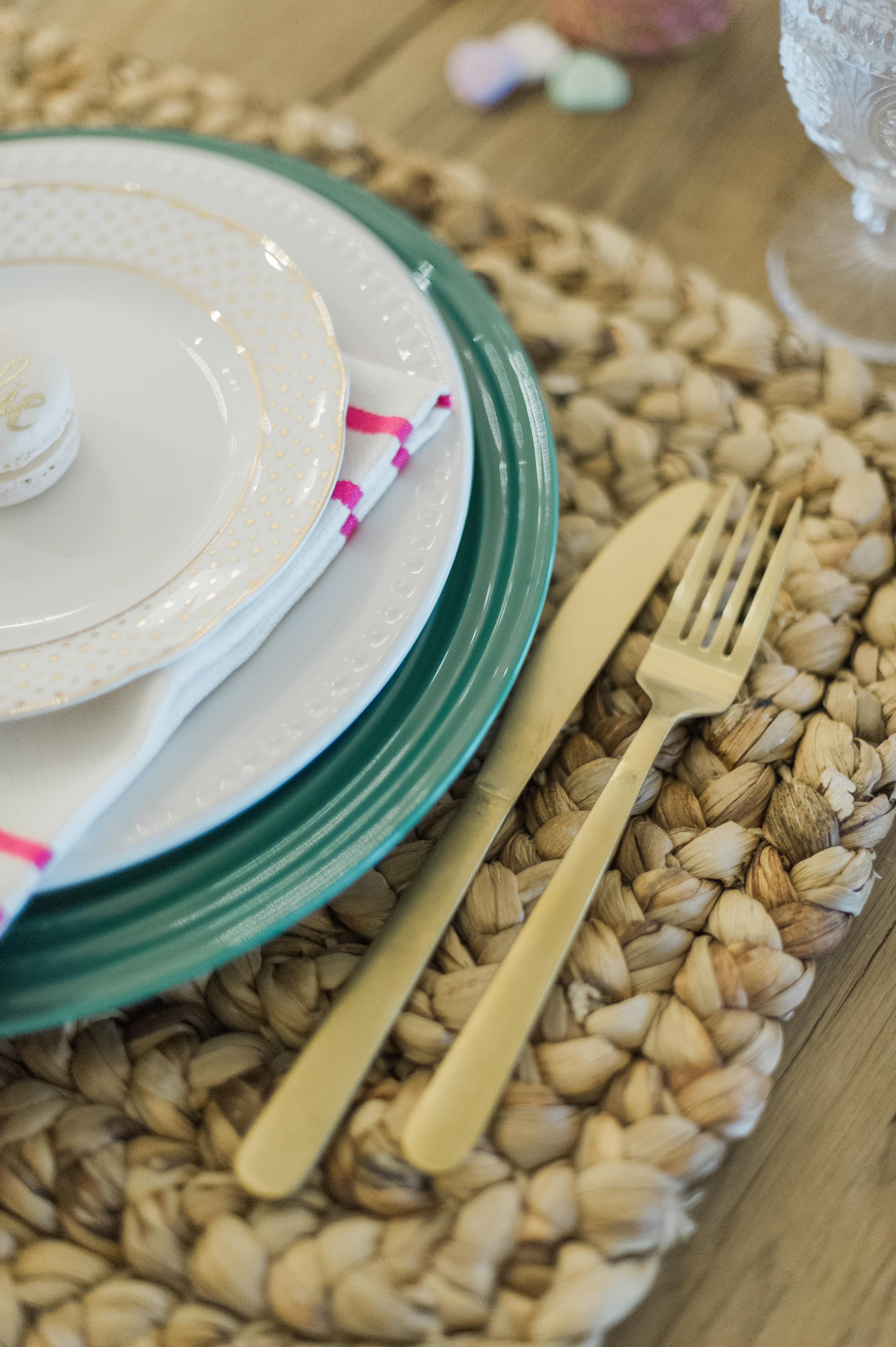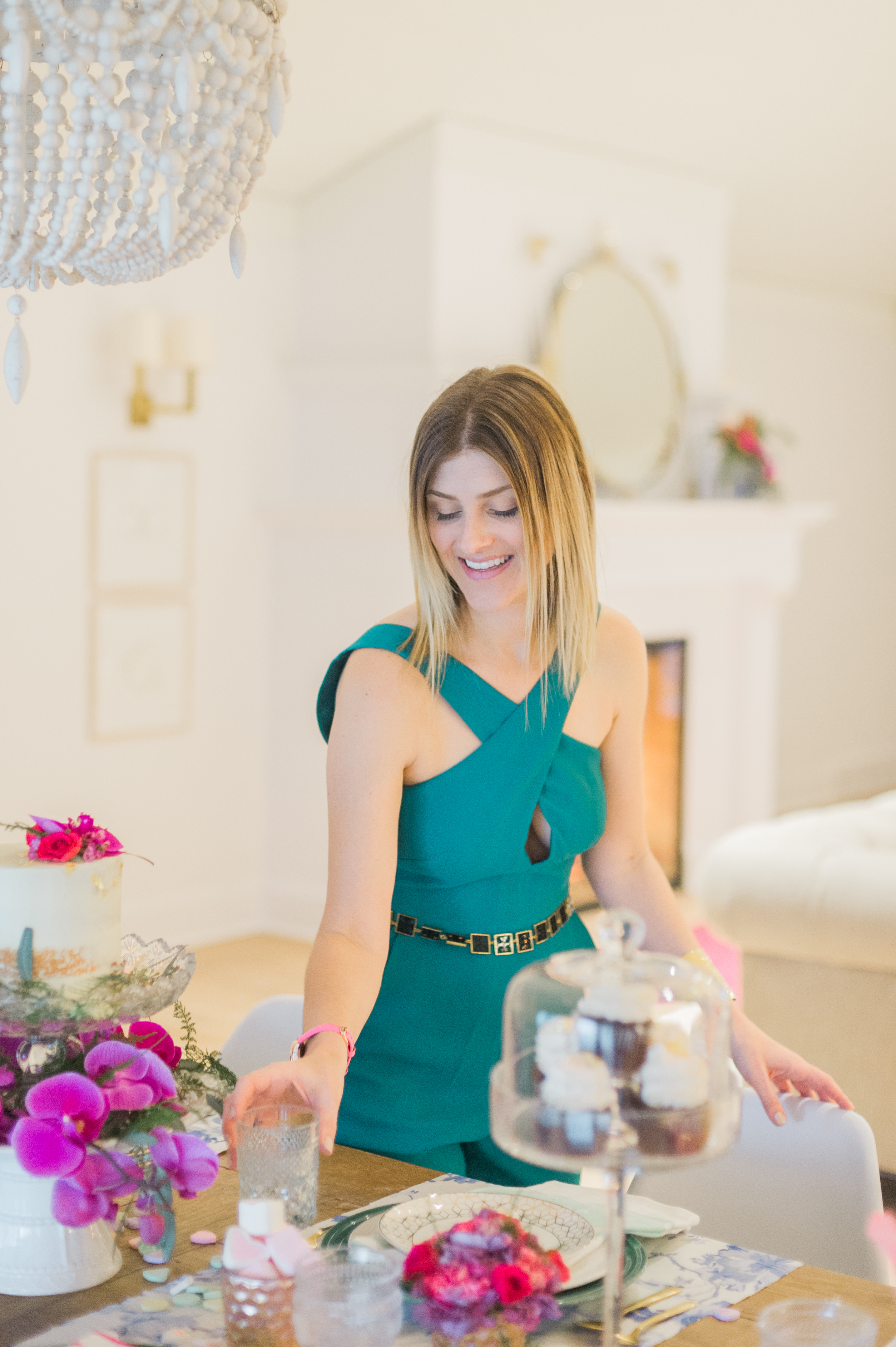 Dresses
The dresses that the Juliette and Penelope are wearing are custom made by my super talented friend and Etsy Shop owner of Aggie and Francois…you have to check out her Instagram feed to see her work…she's the go to for children's custom and couture fashion!!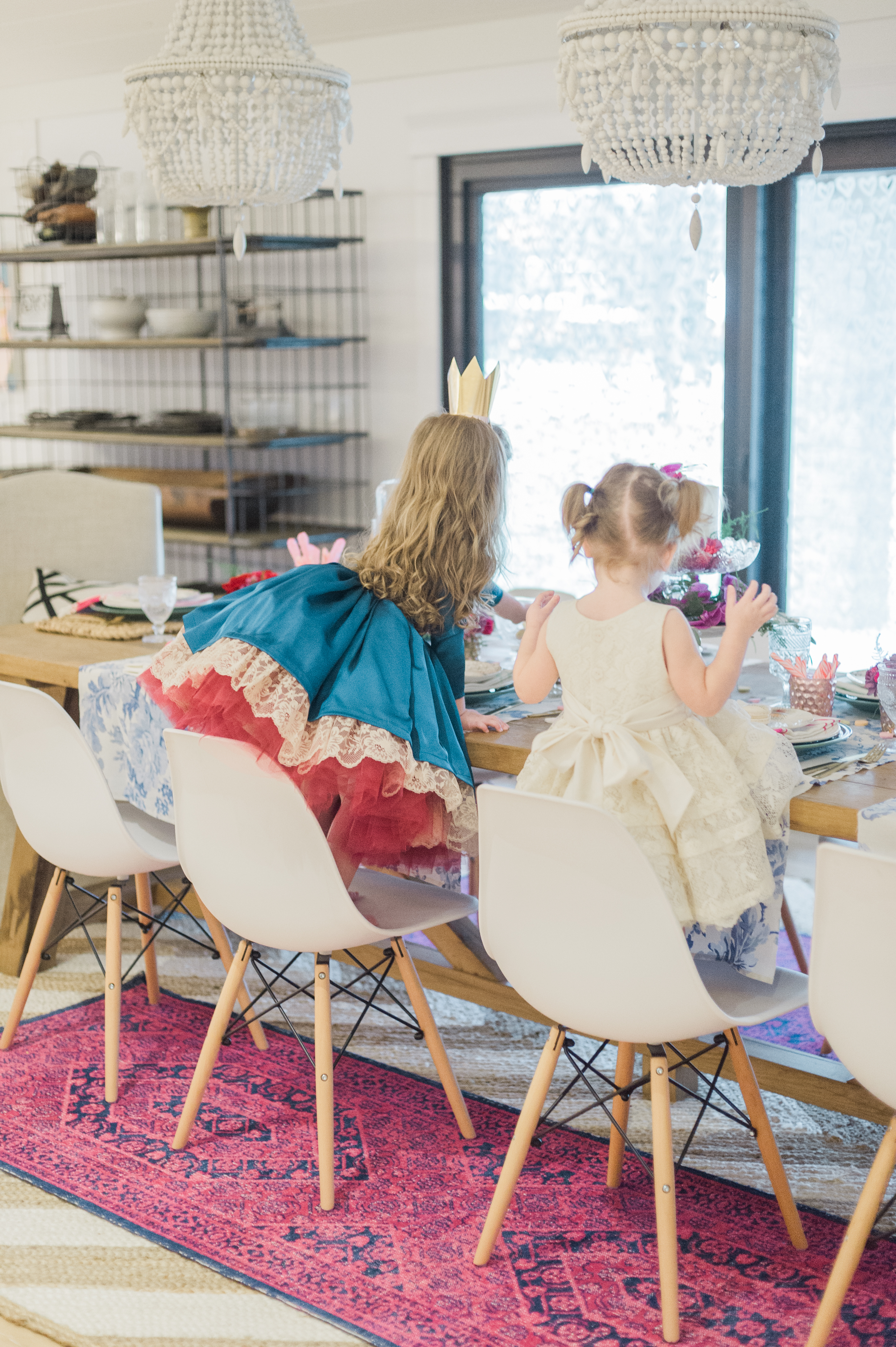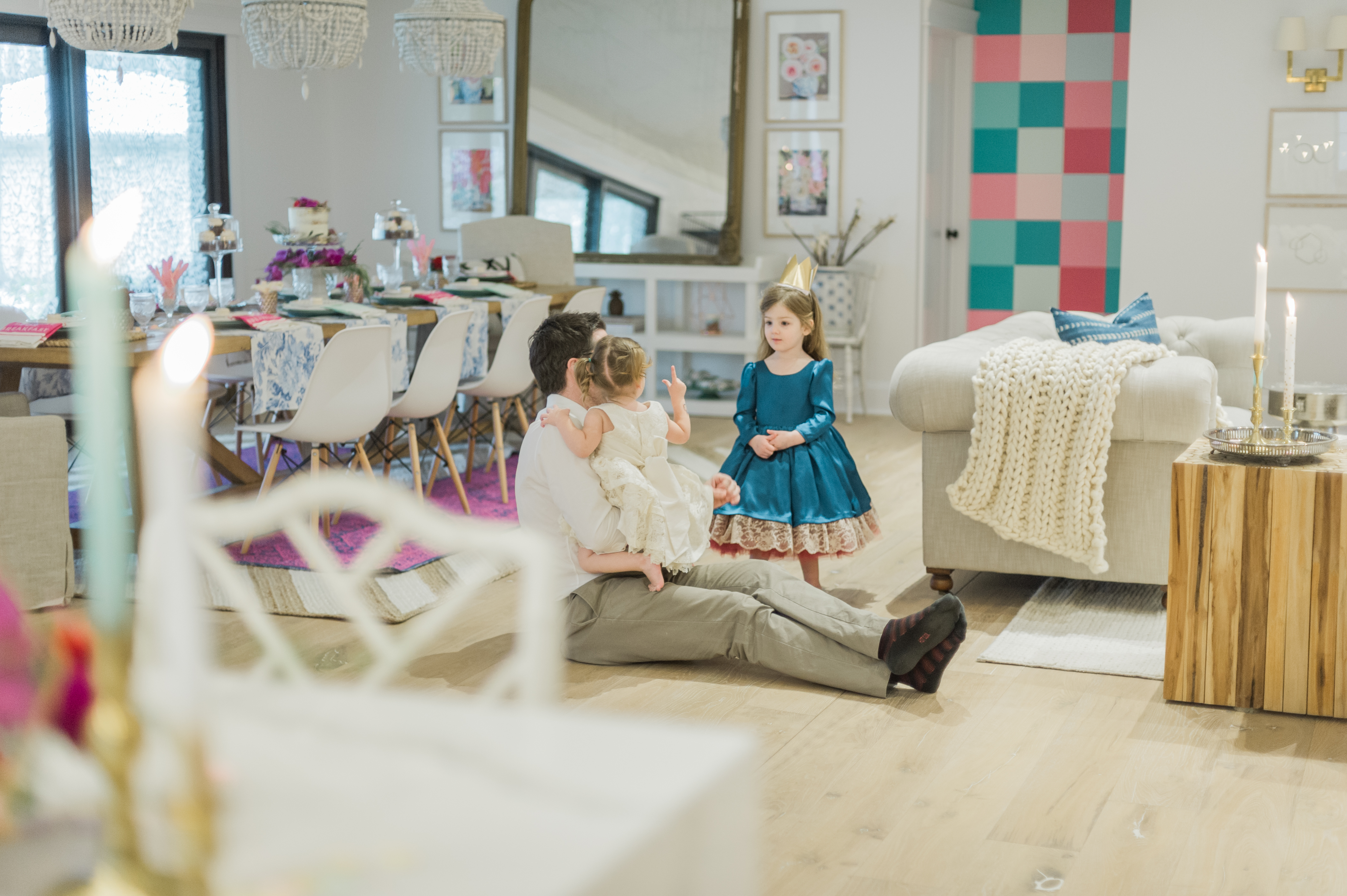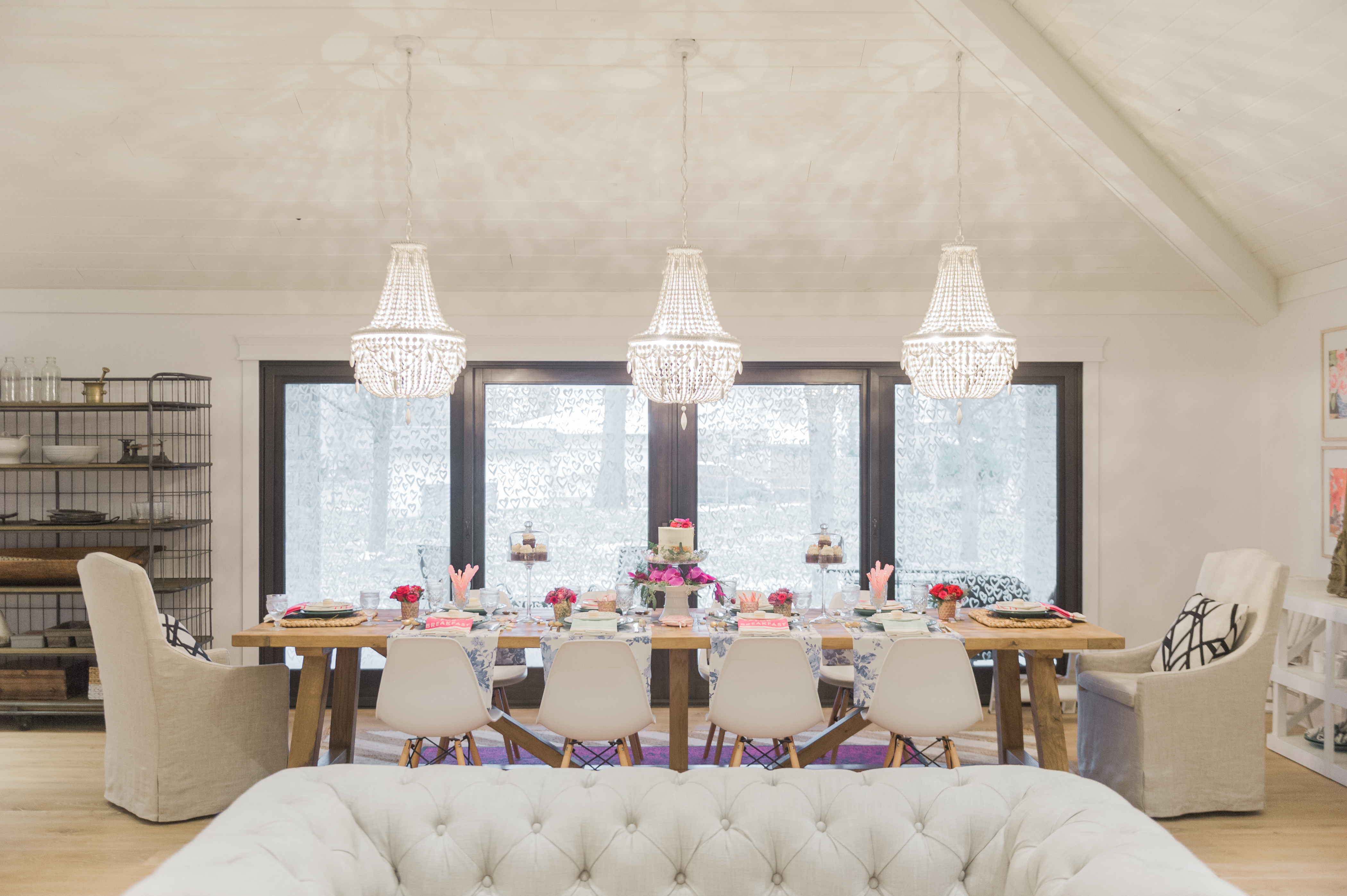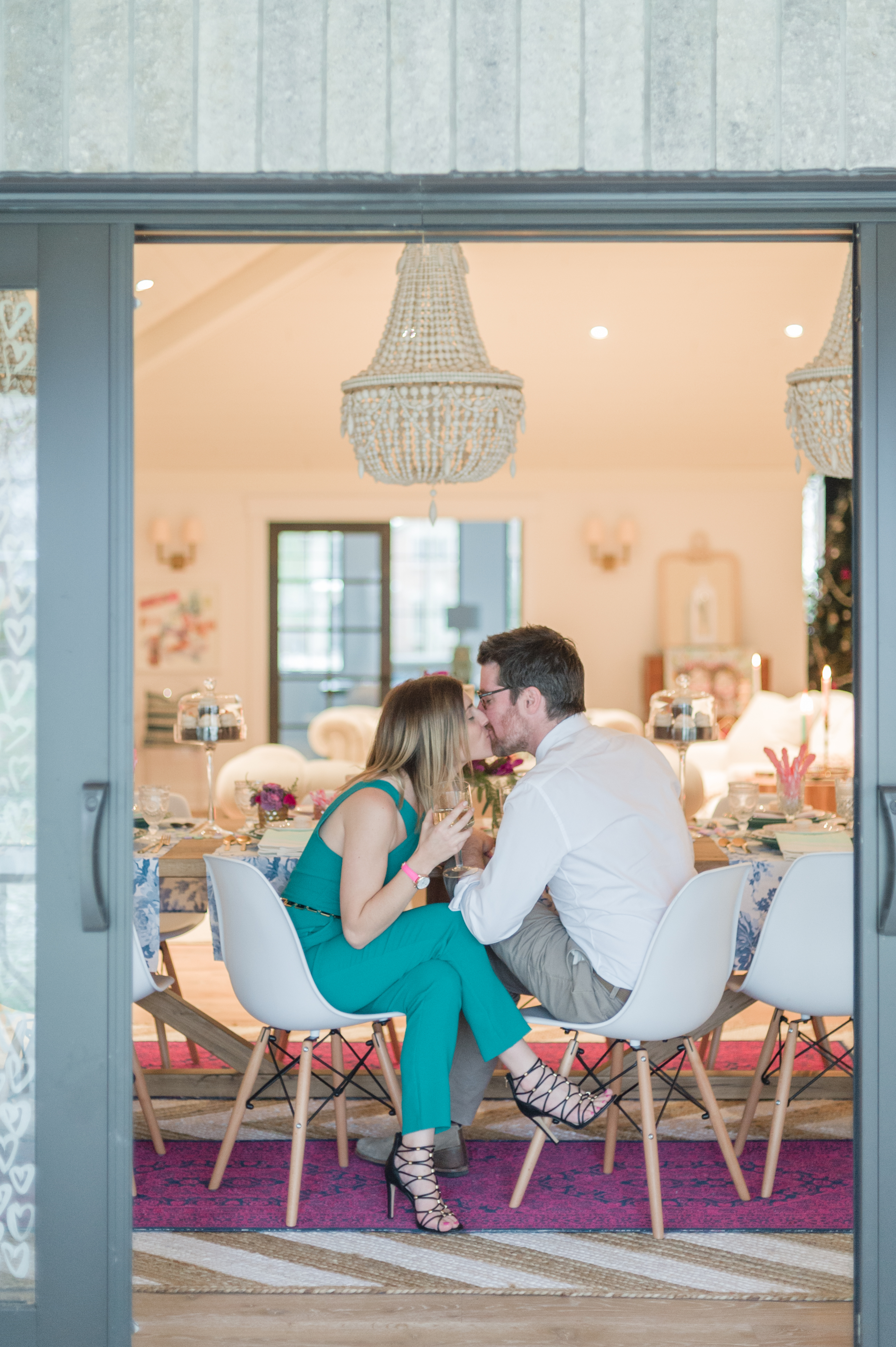 All of these gorgeous shots were captured by Vicki Bartel
Happy Valentine's Day! xoxo
Click here for a Dining Room tour and resources.