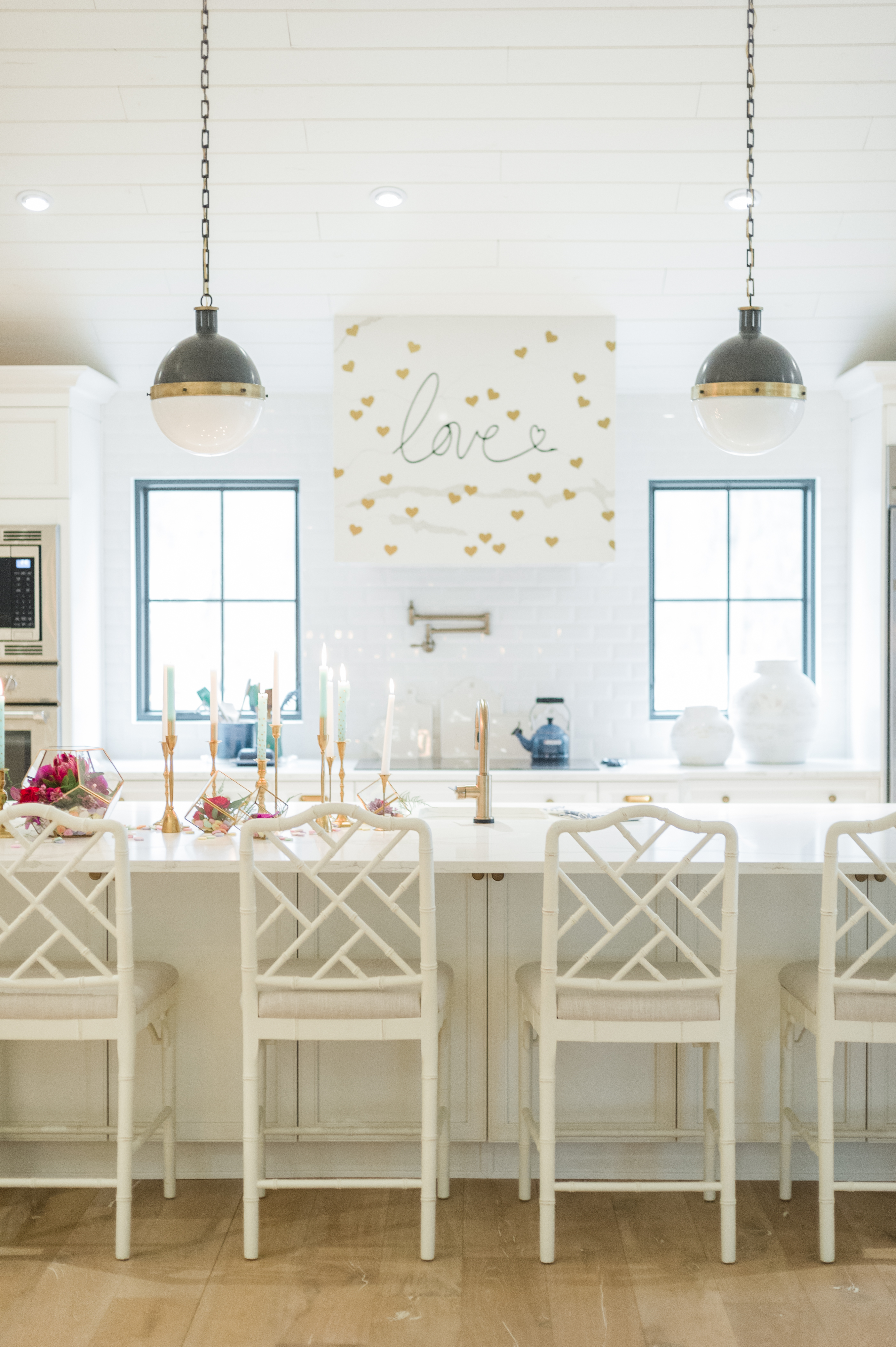 I'm so excited to share our Valentine's Day Kitchen Decor with you. You can also see our Valentine's Day Dining Room Tablescape here. I love adding festive details everywhere and going a little over the top is so much fun! This Valentine's Day was no exception and luckily I had my husband's help to make an amazing meal.
Wall Decals
When decorating for Valentine's Day this year I sprinkled some "love" everywhere…including the vent hood which is my favourite detail in the kitchen. I got these wall decals from Canadian Tire. The hearts come in a pack with 30 silver and 30 gold hearts. I've only used the gold here. The second decal is sold separately and says love.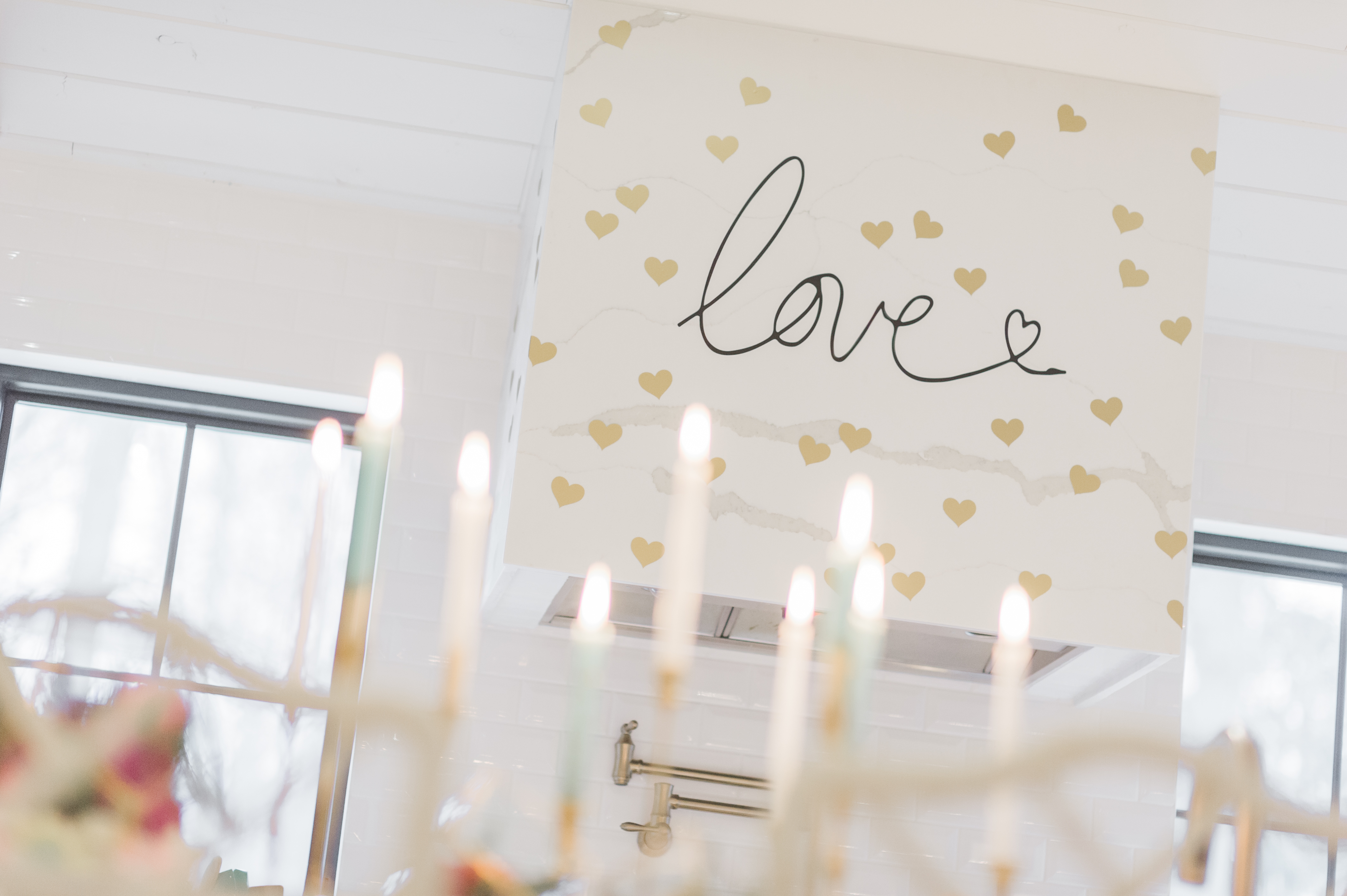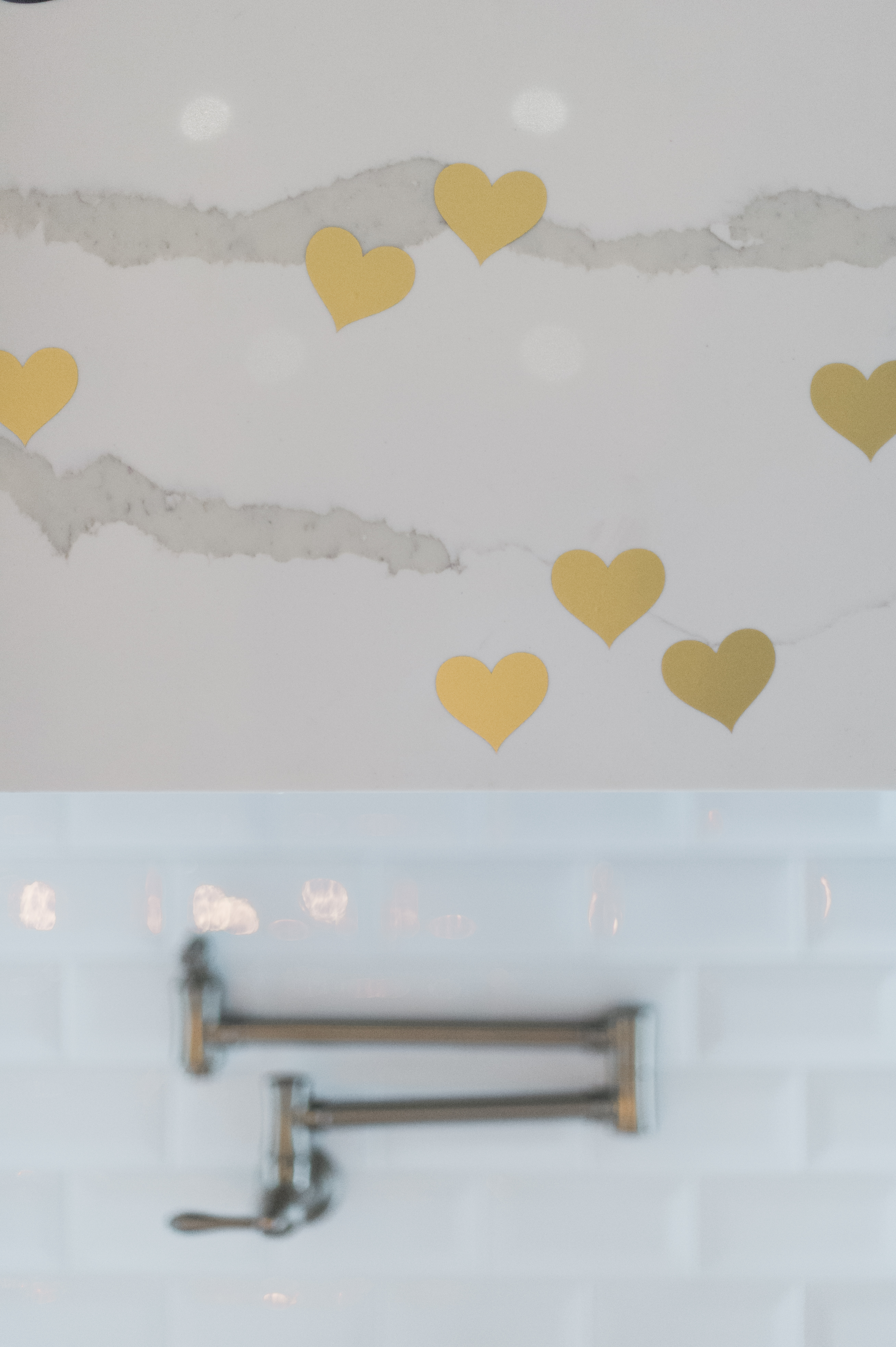 Flowers and Candy
As soon as I started thinking about what I wanted to do for Valentine's Day Kitchen Decor, I saw Candy Hearts everywhere. I have always loved them so much, so I wanted to incorporate them into the design in a big way. I love having a clash of styles in everything I design, so I contrasted the vintage candy hearts against my modern terrariums and the traditional roses along side bright, bold Orchids and Proteas. My florist knocked it out of the park making the terrariums! yay Cori! The Pentagon cube terrarium is from Canadian Tire. I've been using it like crazy. Over Christmas I had Christmas ornaments in it on the entry way console table. The rectangular terrarium is also from Canadian Tire.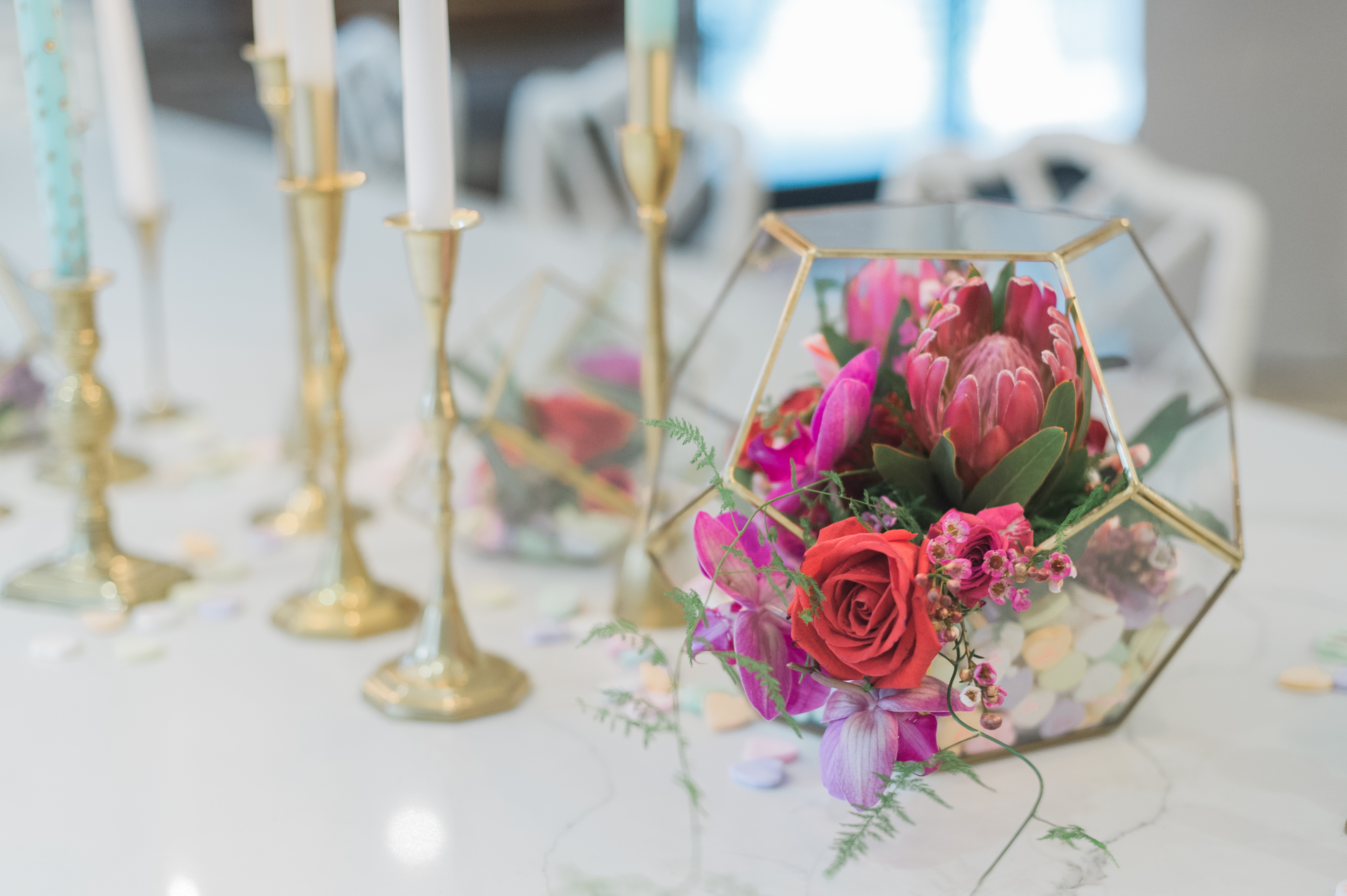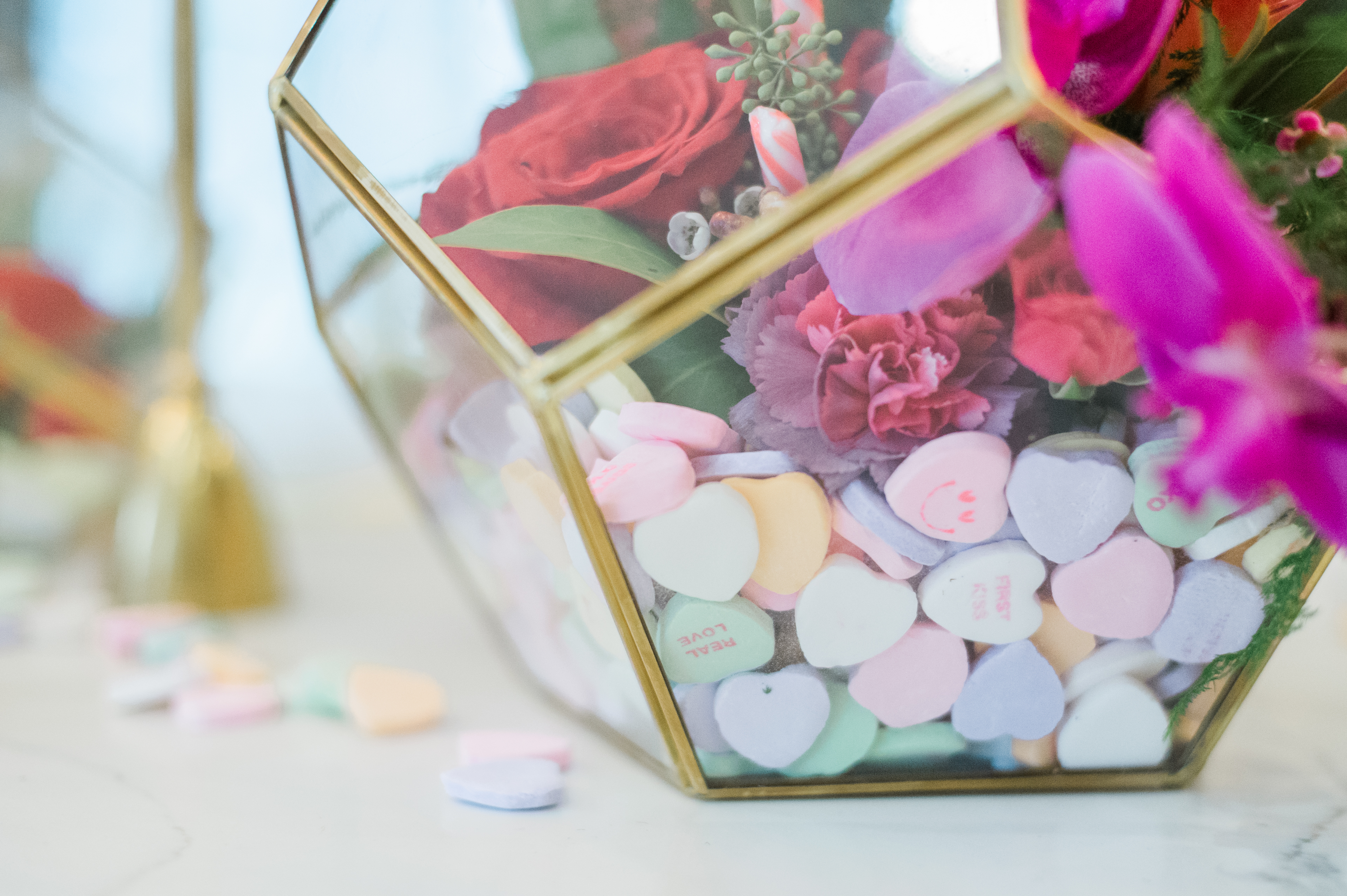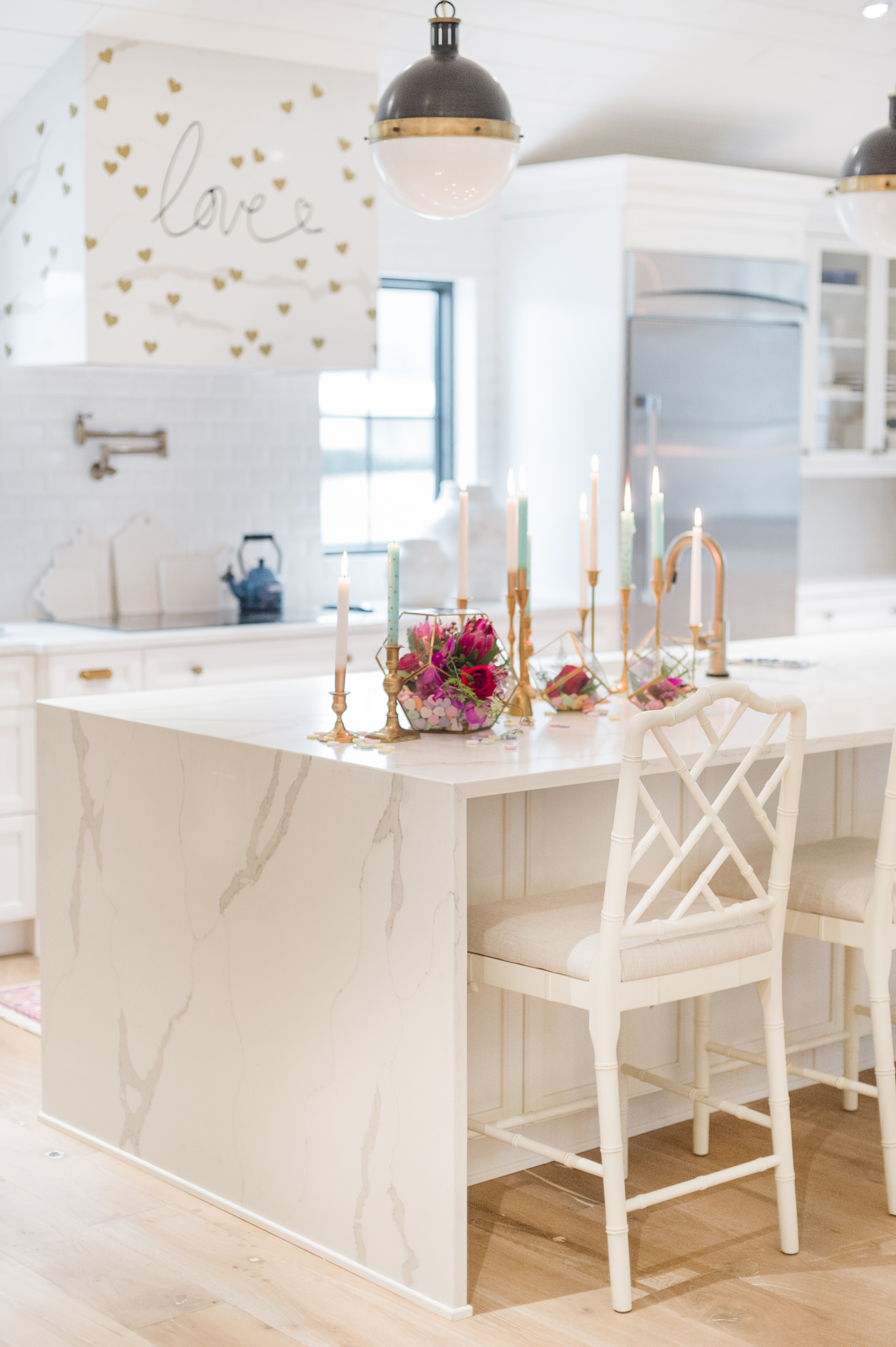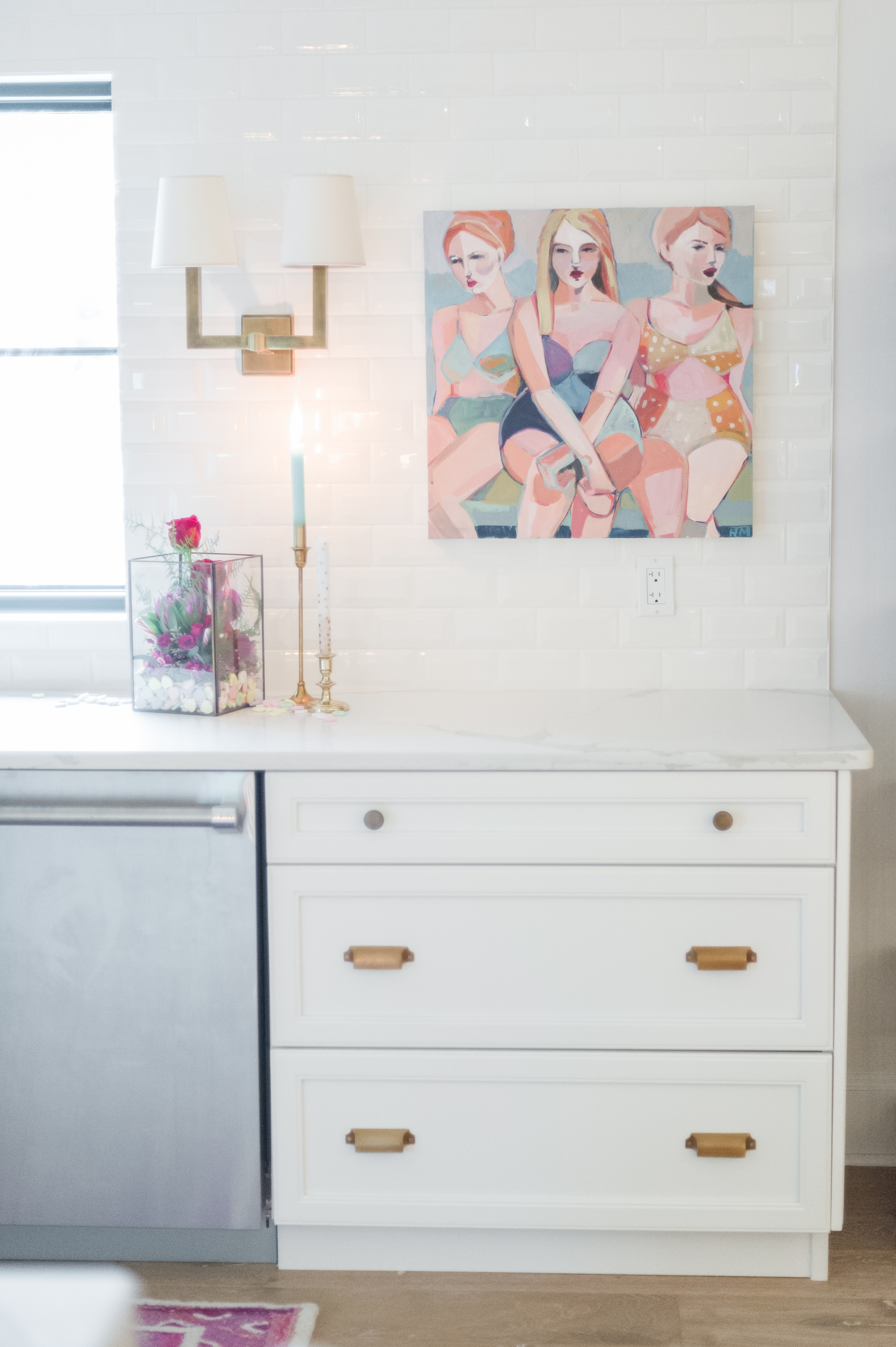 Valentine's Day Dinner Party Menu
Right after having these photos taken, my husband and I hosted a Valentine's party for some our friends and all of our kids. That night my husband made oysters, a shrimp cocktail, mussels, Fettuccine Alfredo with lobster, and caesar salad. Oh my gosh it was so much work and so much cleanup. The party was so much fun but the cleanup was a little epic lol! I absolutely love oysters so much, except that I make my husband nuts because every time he opens one I wince because I think he's going to cut himself…I'm so annoying! Oysters are beautiful so here are some photos of the beginning of the party prep. You can see the party tablescape here!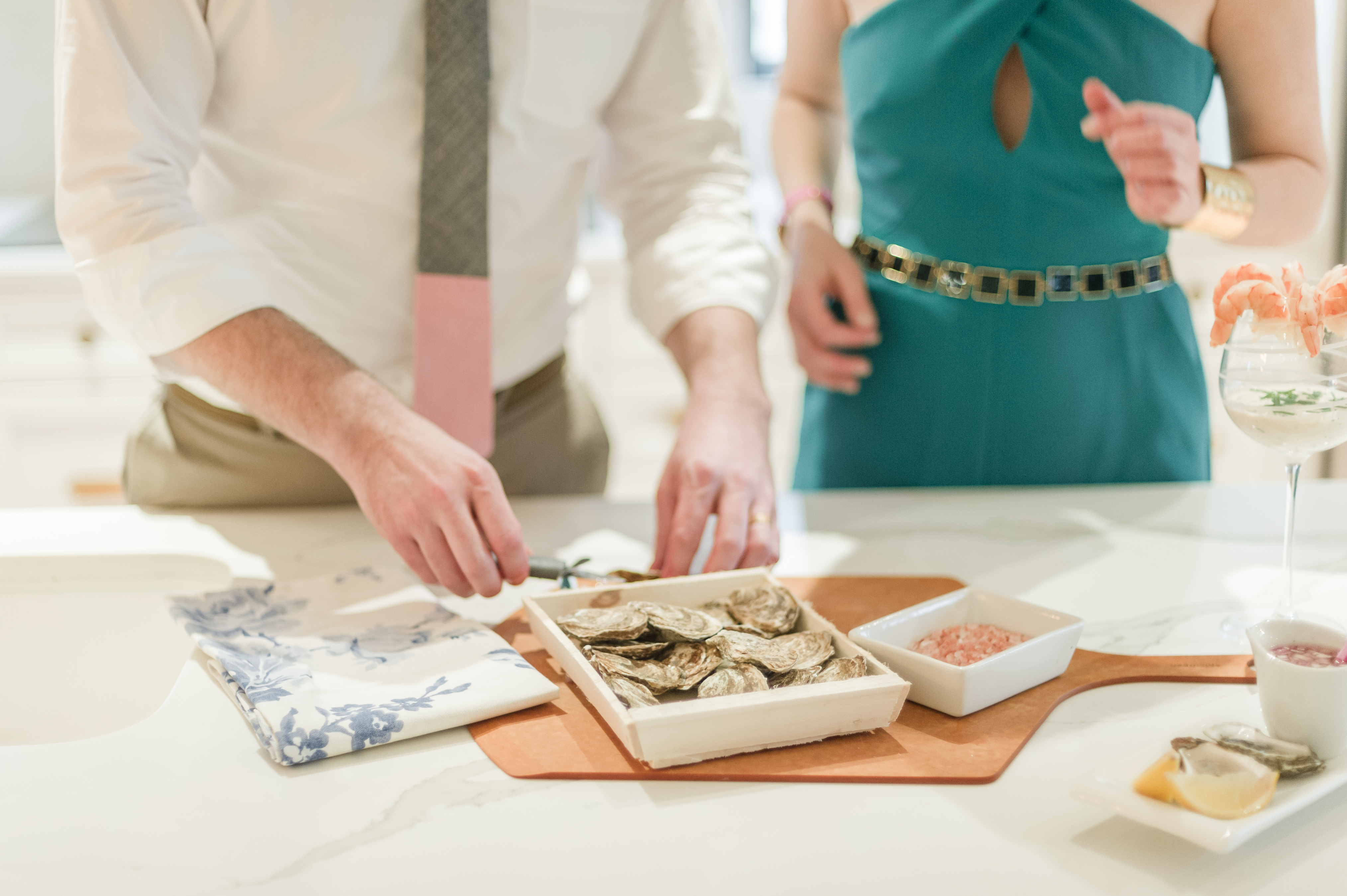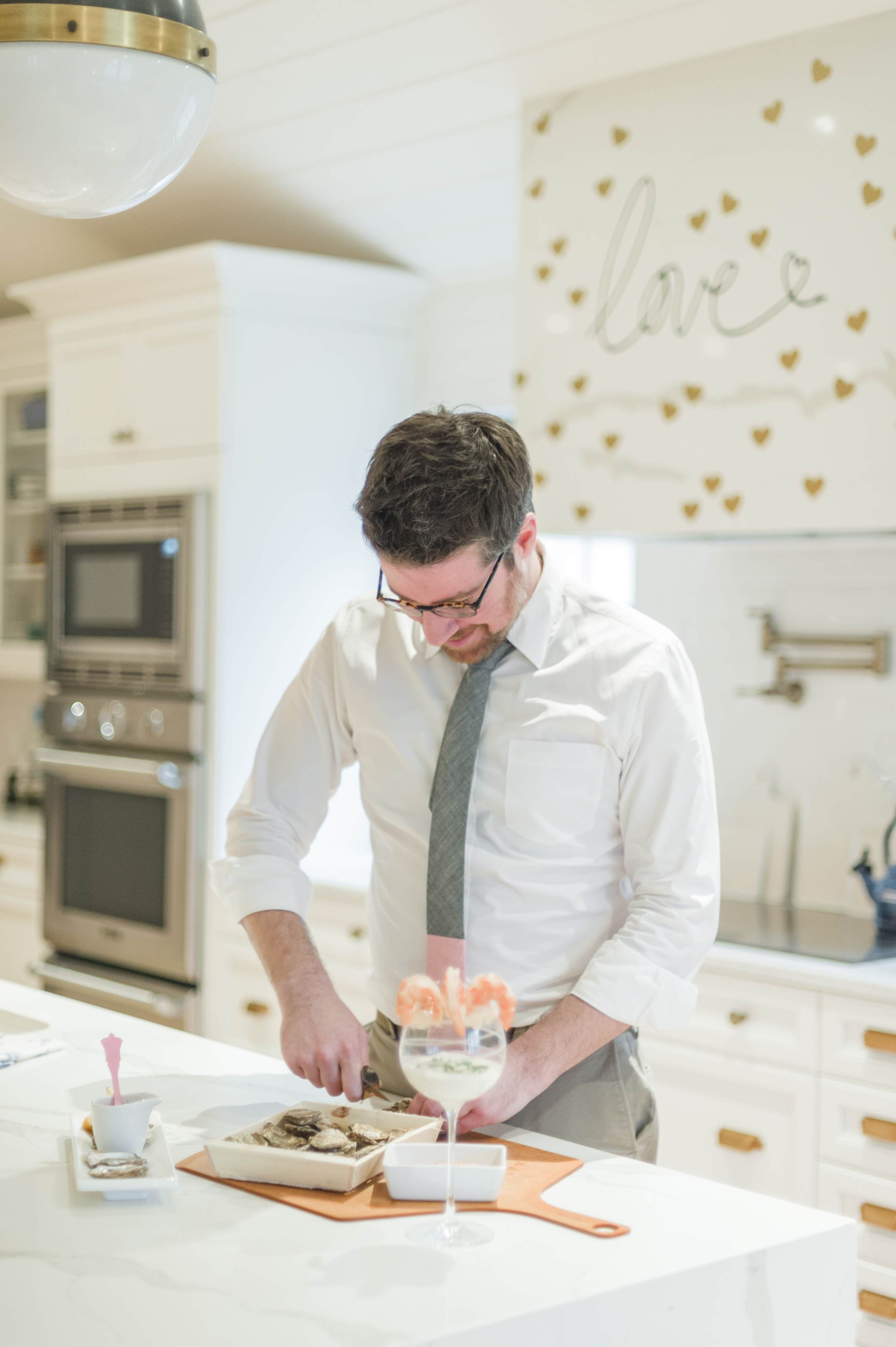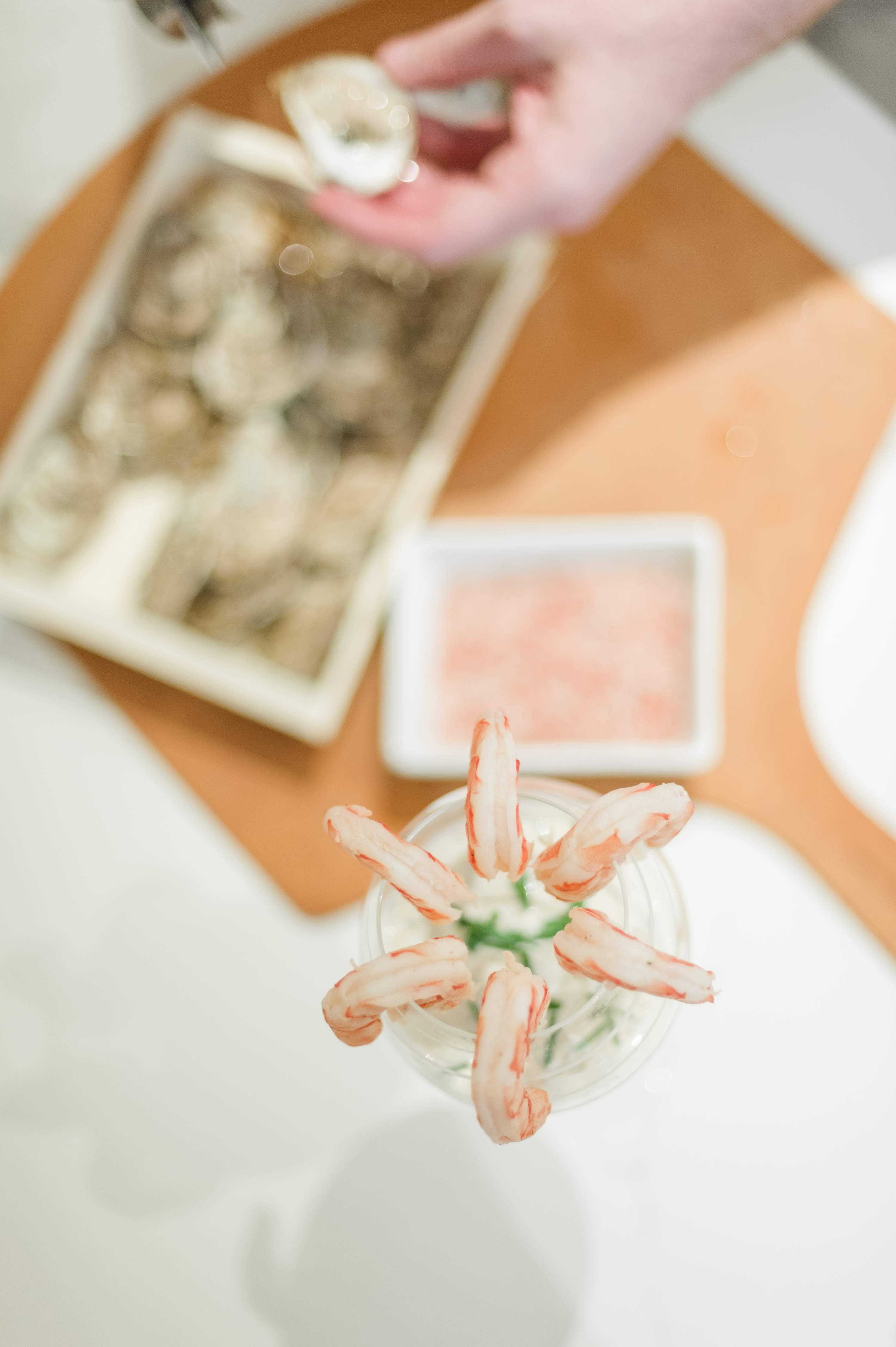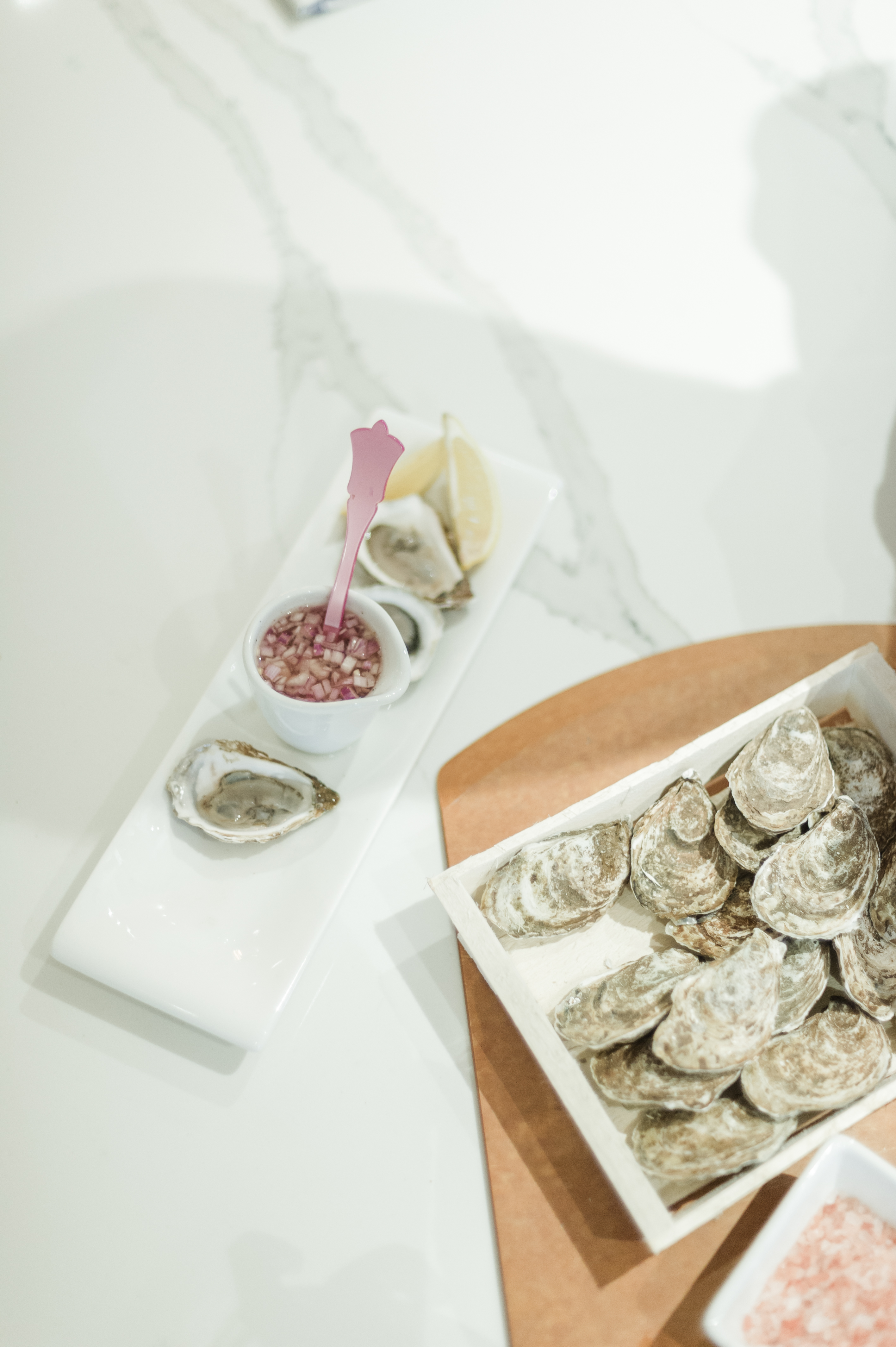 Styling a Lucite Tray
Another detail that I love from our Valentine's Day kitchen decor is a tray that I made with drinks for my husband and our kids. There are 2 strawberry milkshakes for my daughters in the cutest pink ombre mugs that I found at Homesense /homegoods and then champagne for my husband and I. If you don't want to make a strawberry milkshake, you can buy strawberry milk at the grocery store and then the marshmallows were such a cute Homesense / homegoods find. The lucite tray is also from Homesense. I made the floral napkins from a larger table cloth that I cut to make the runners for the tablescape.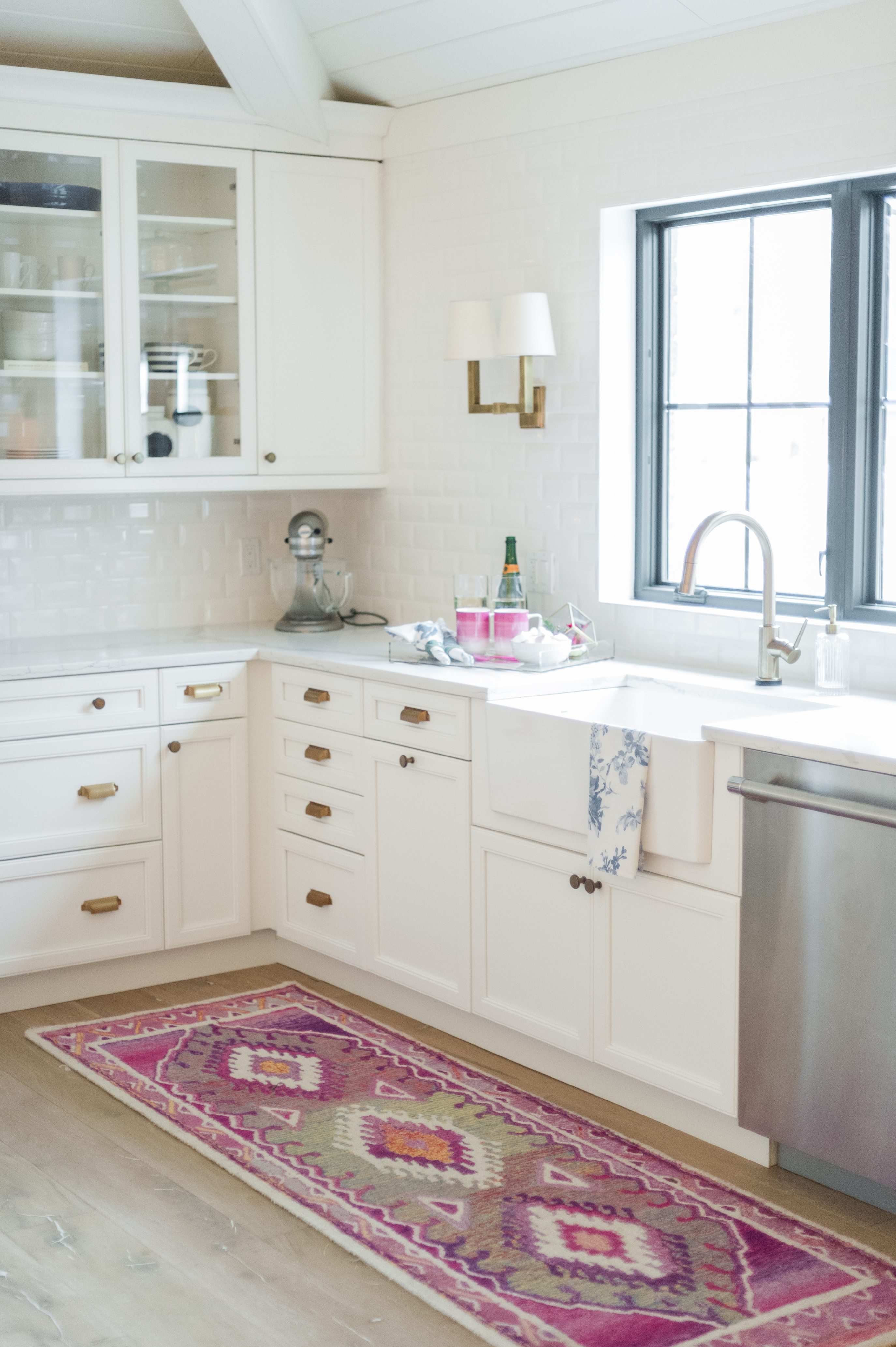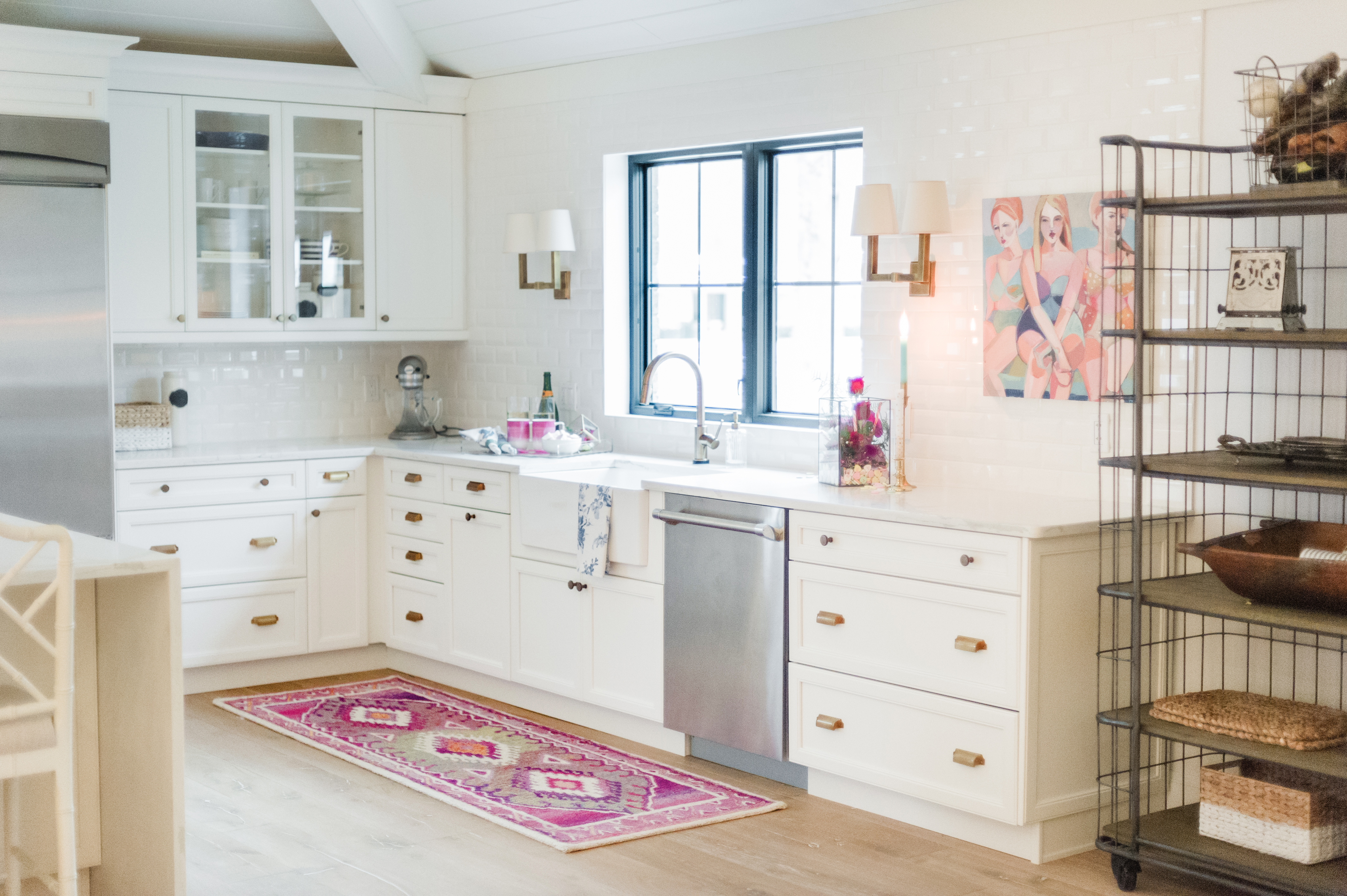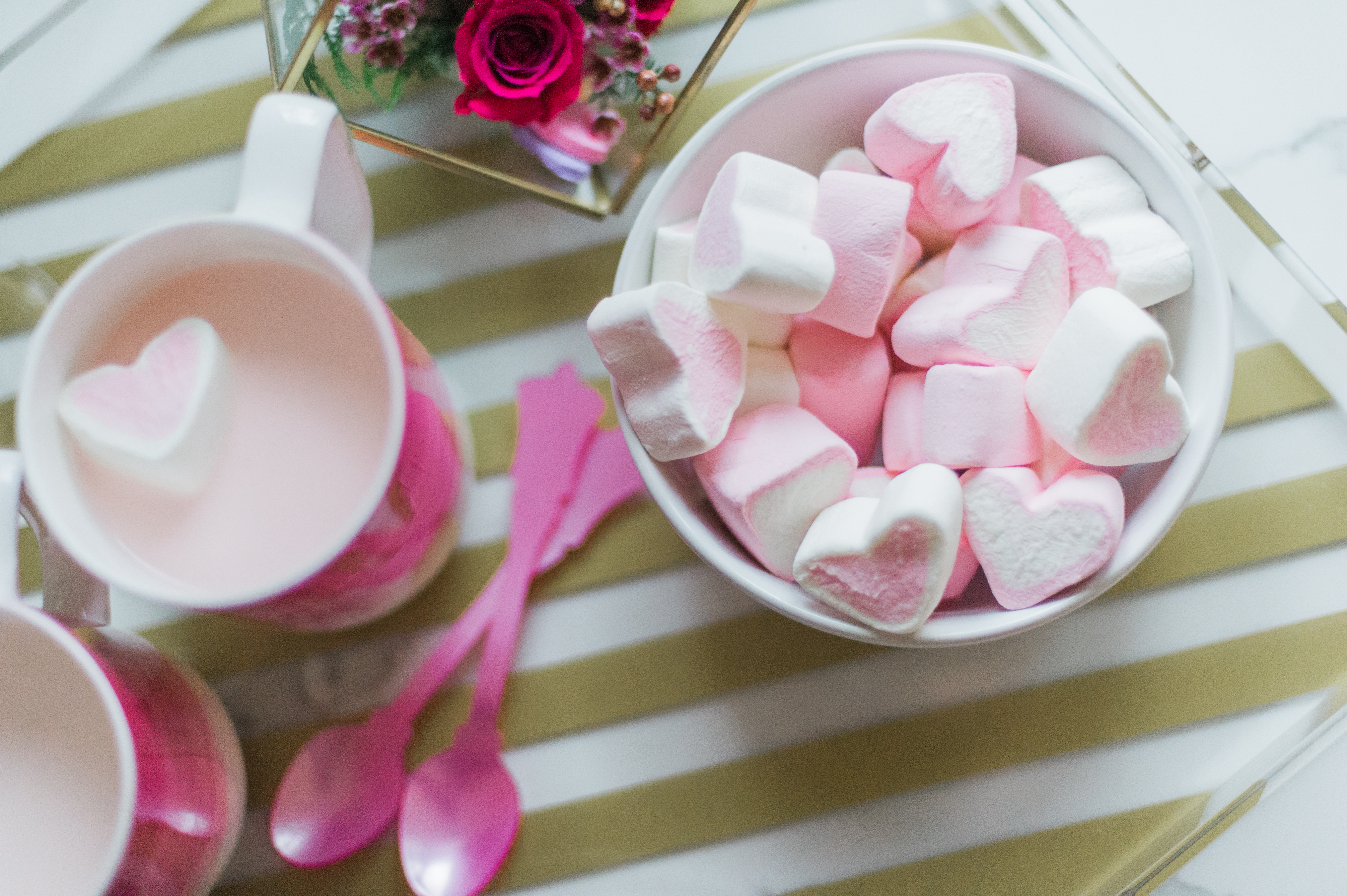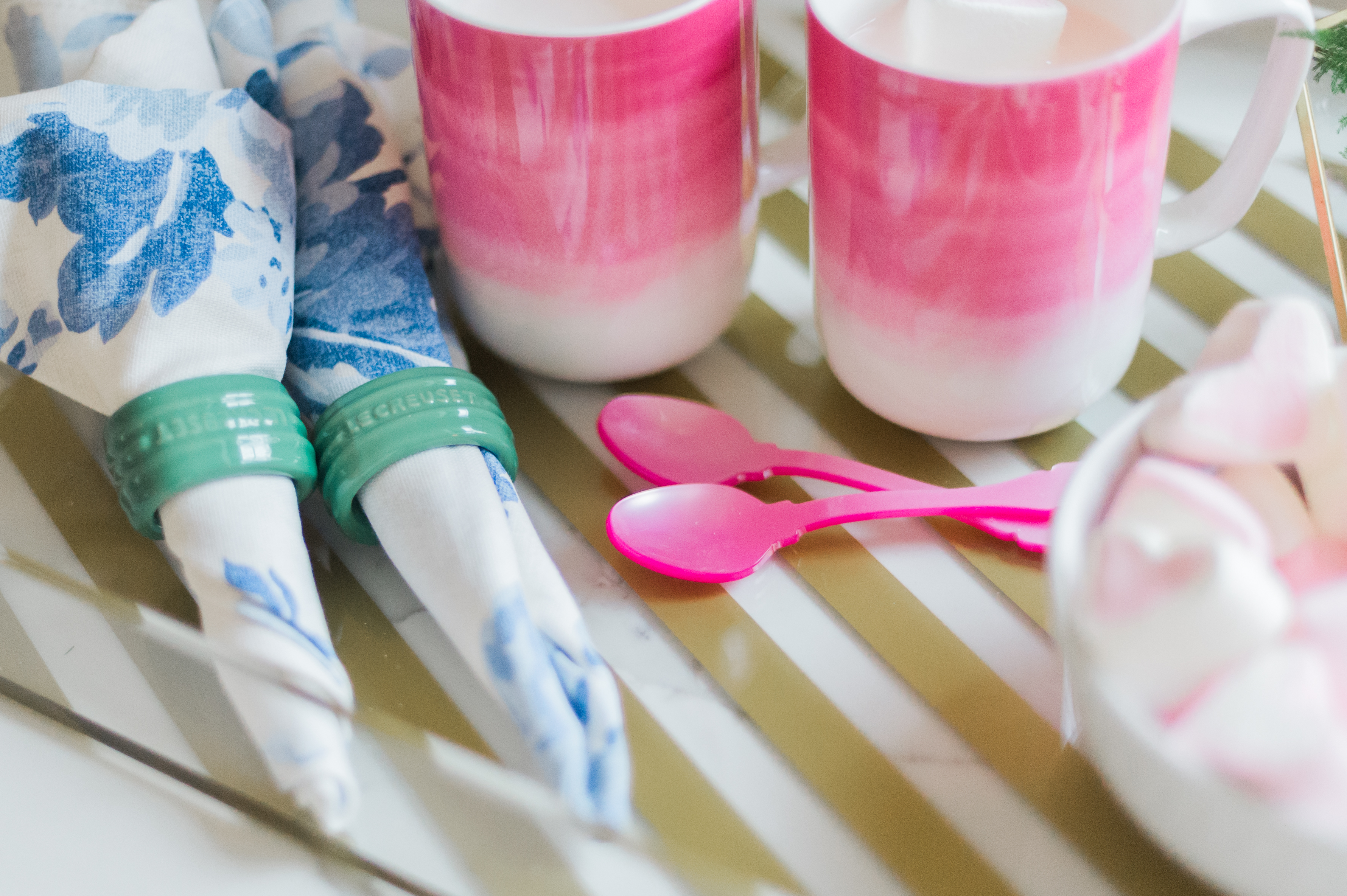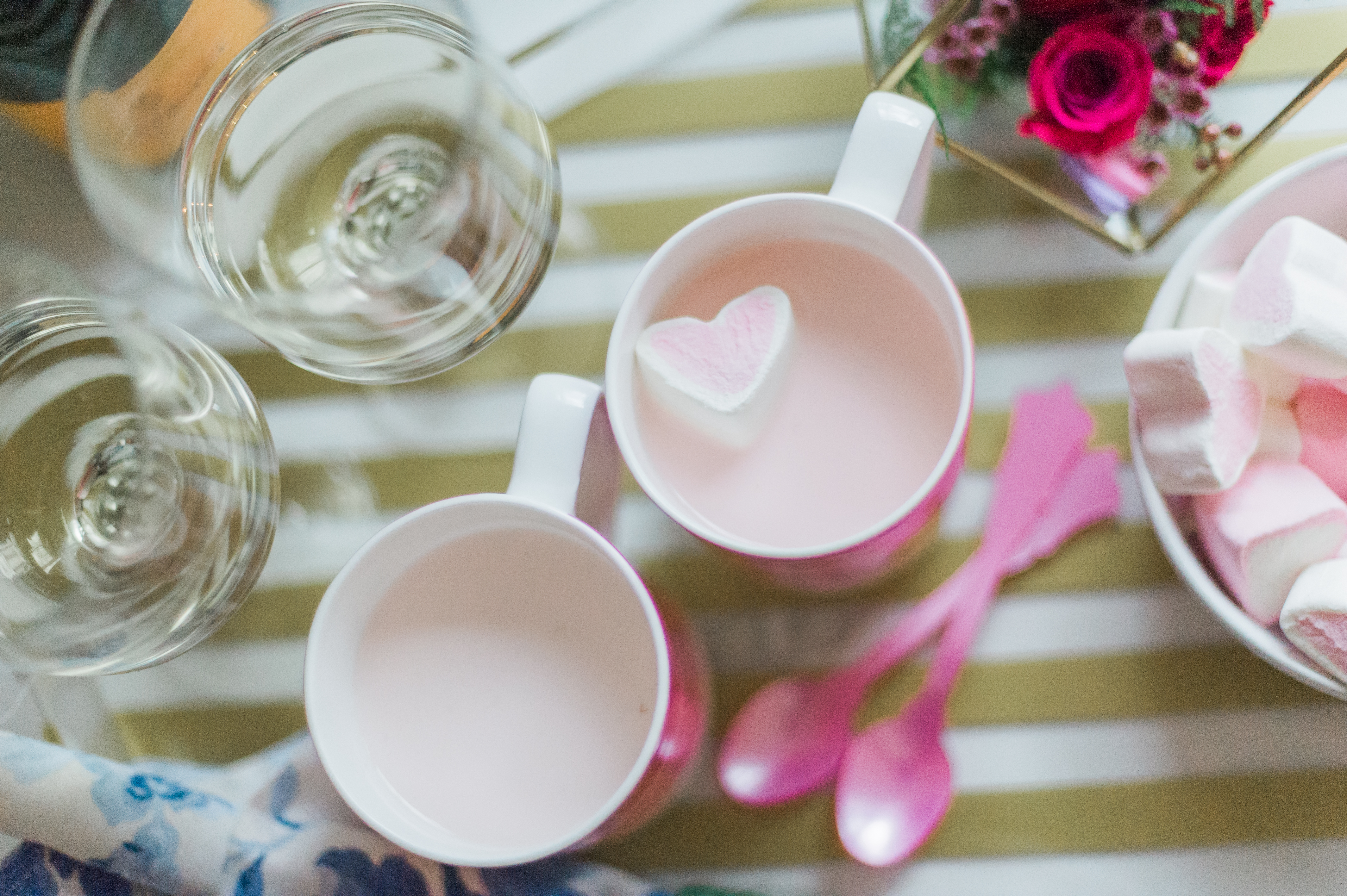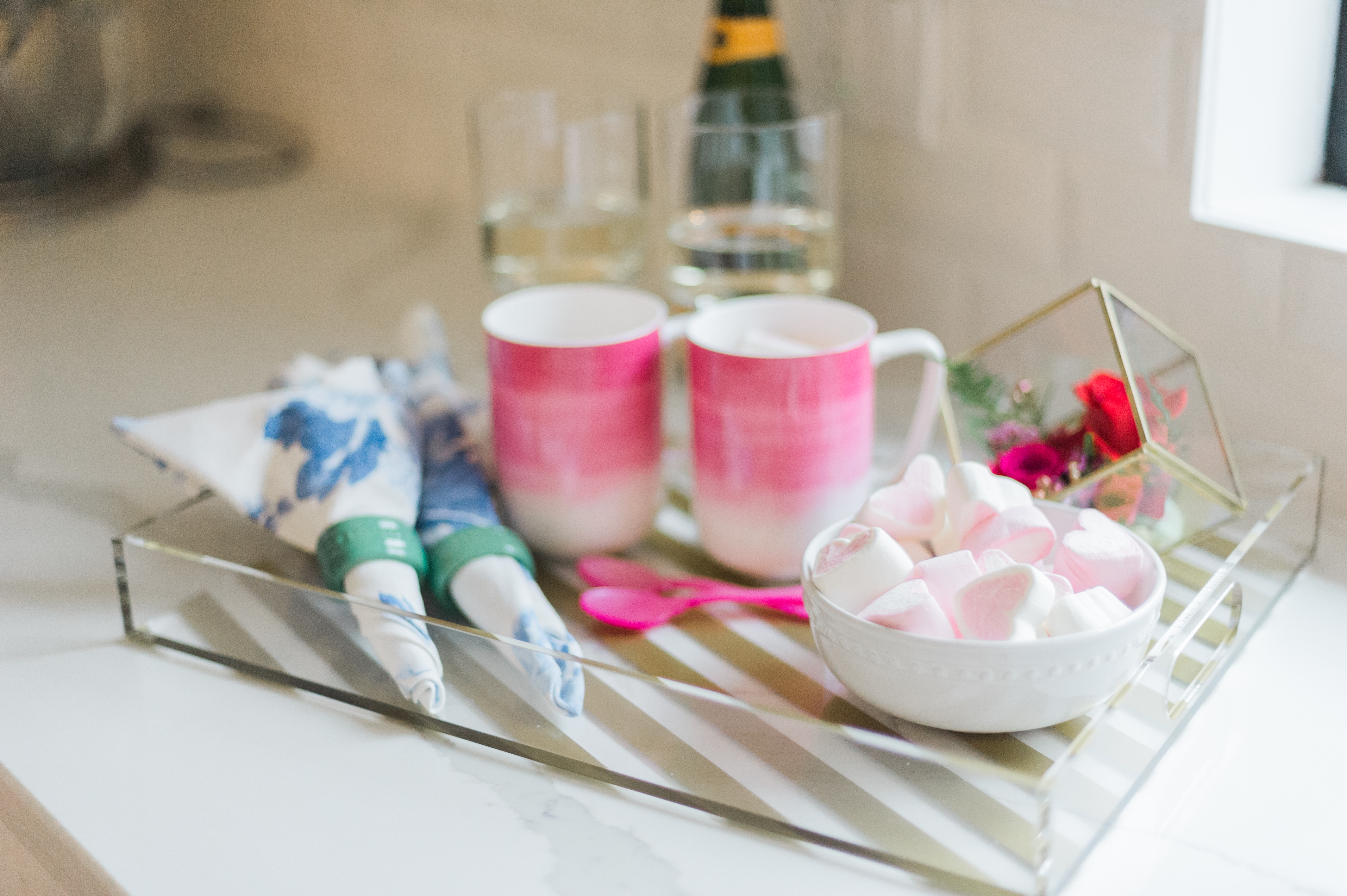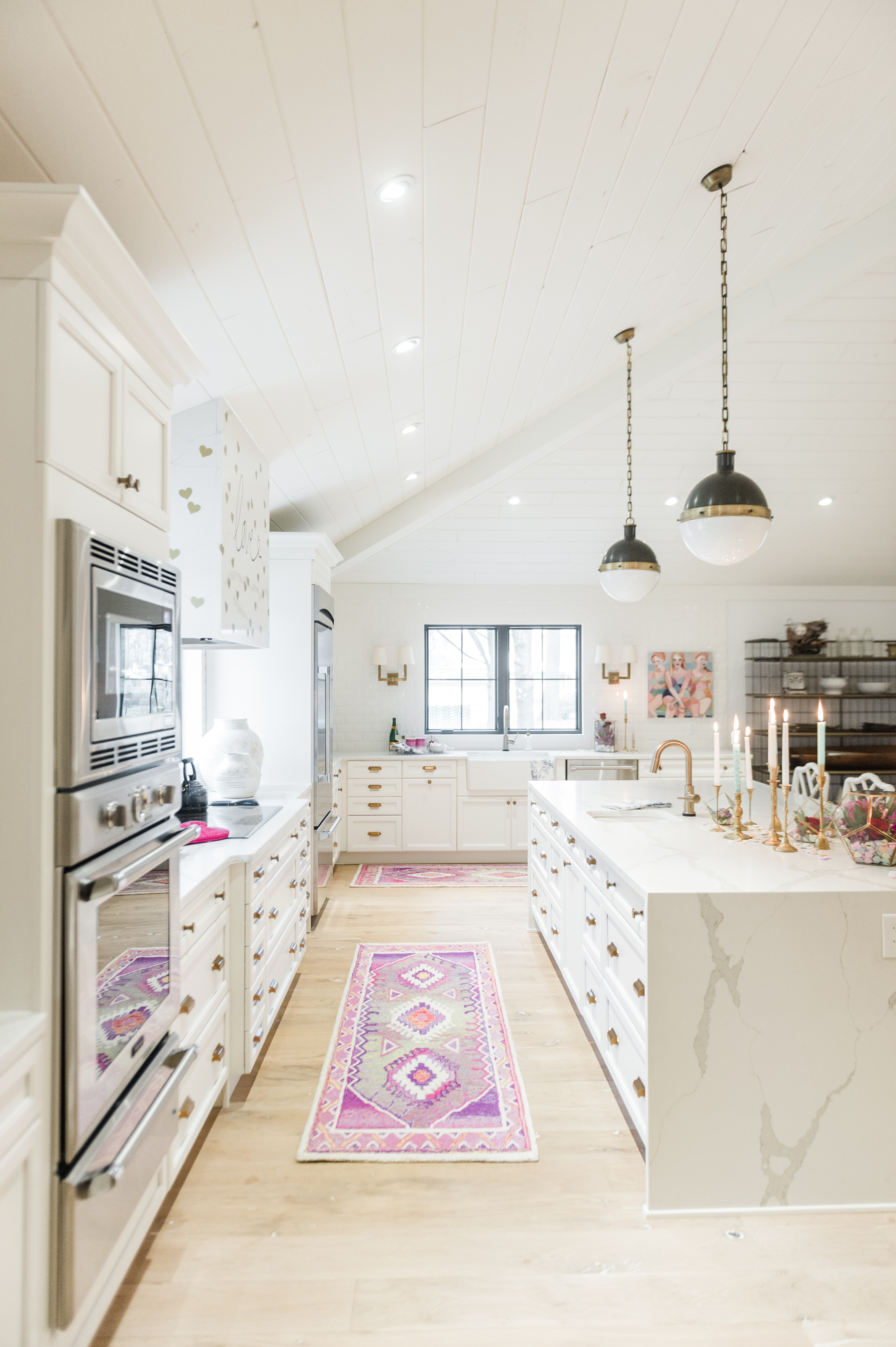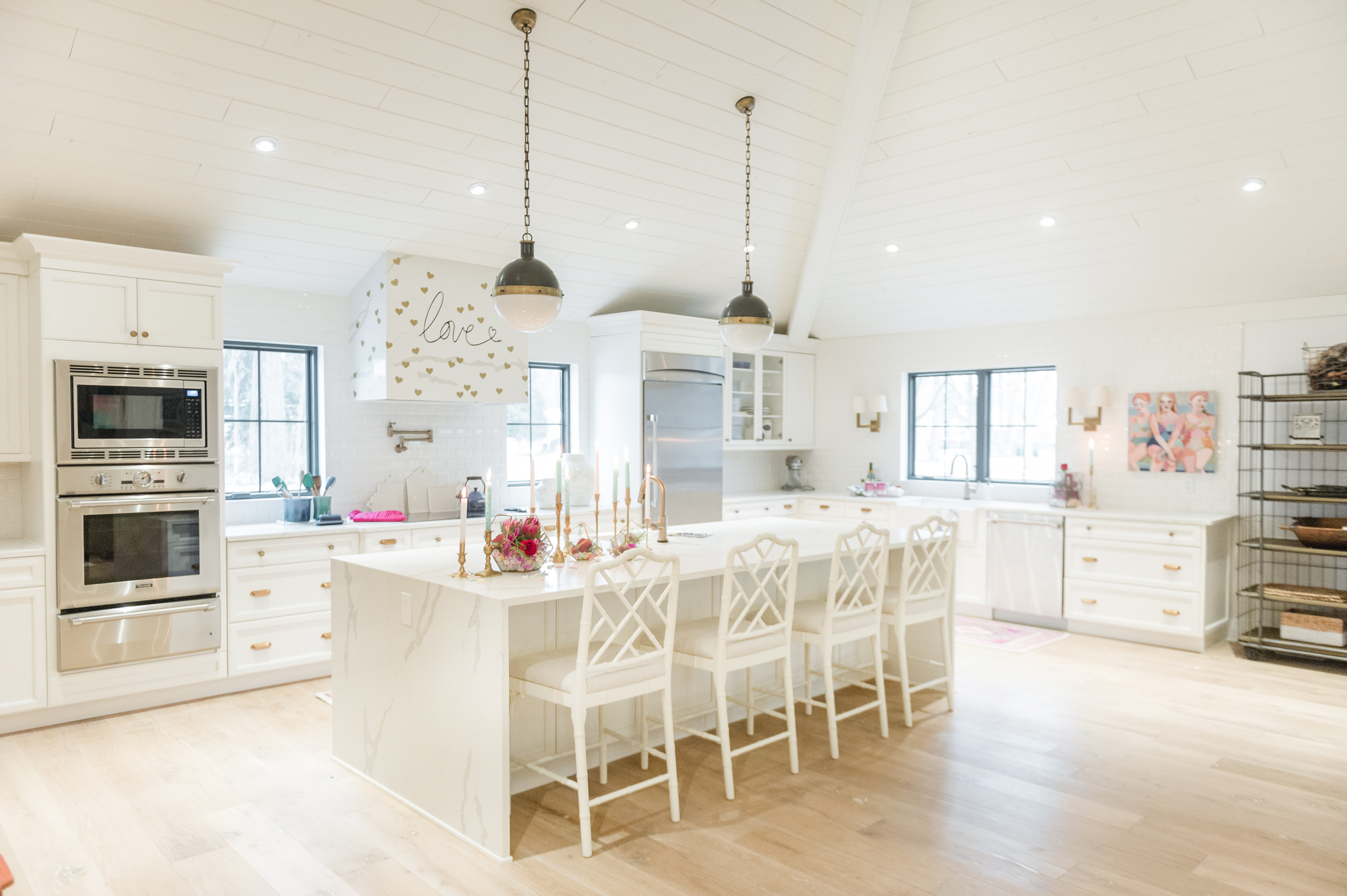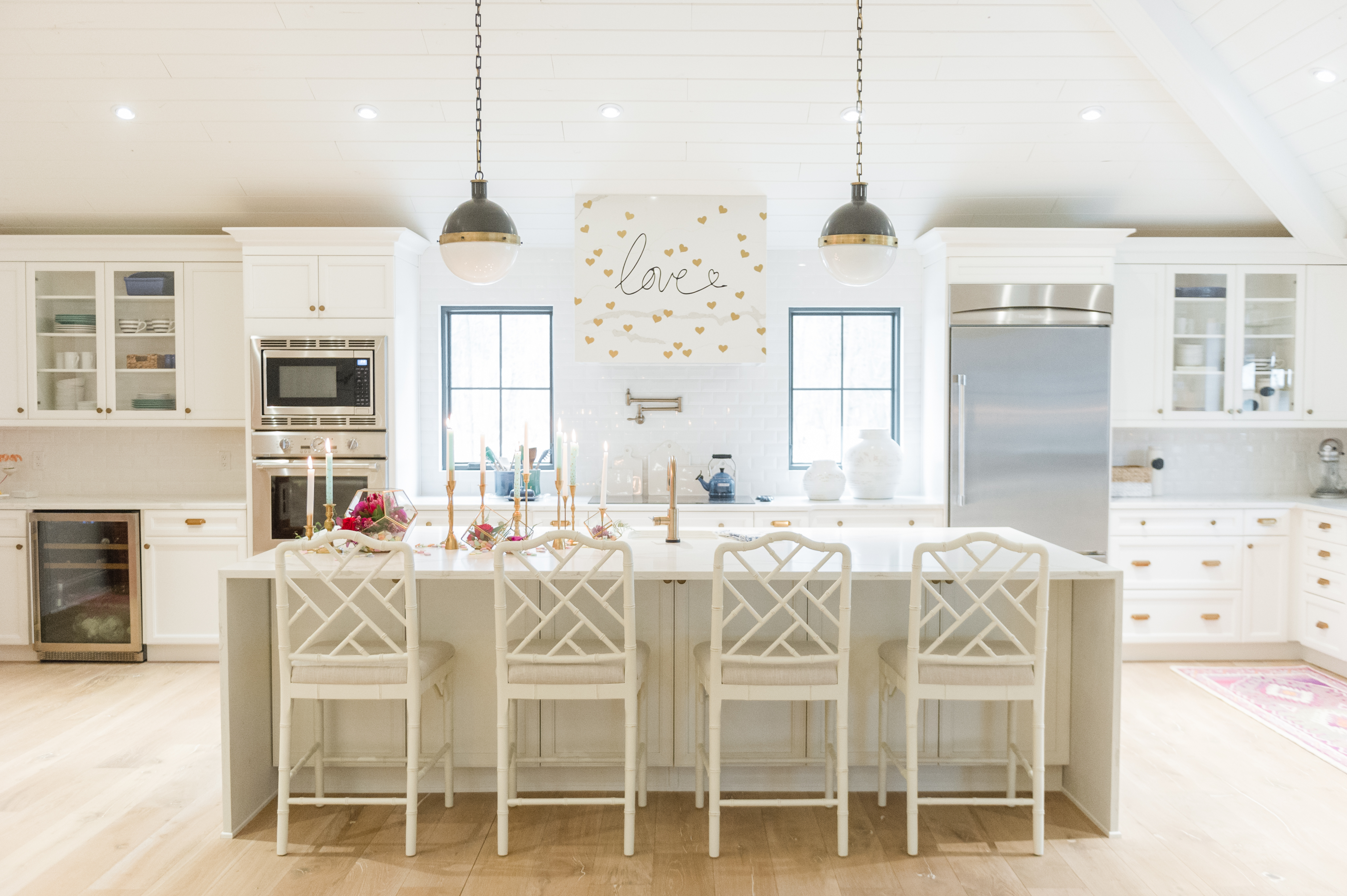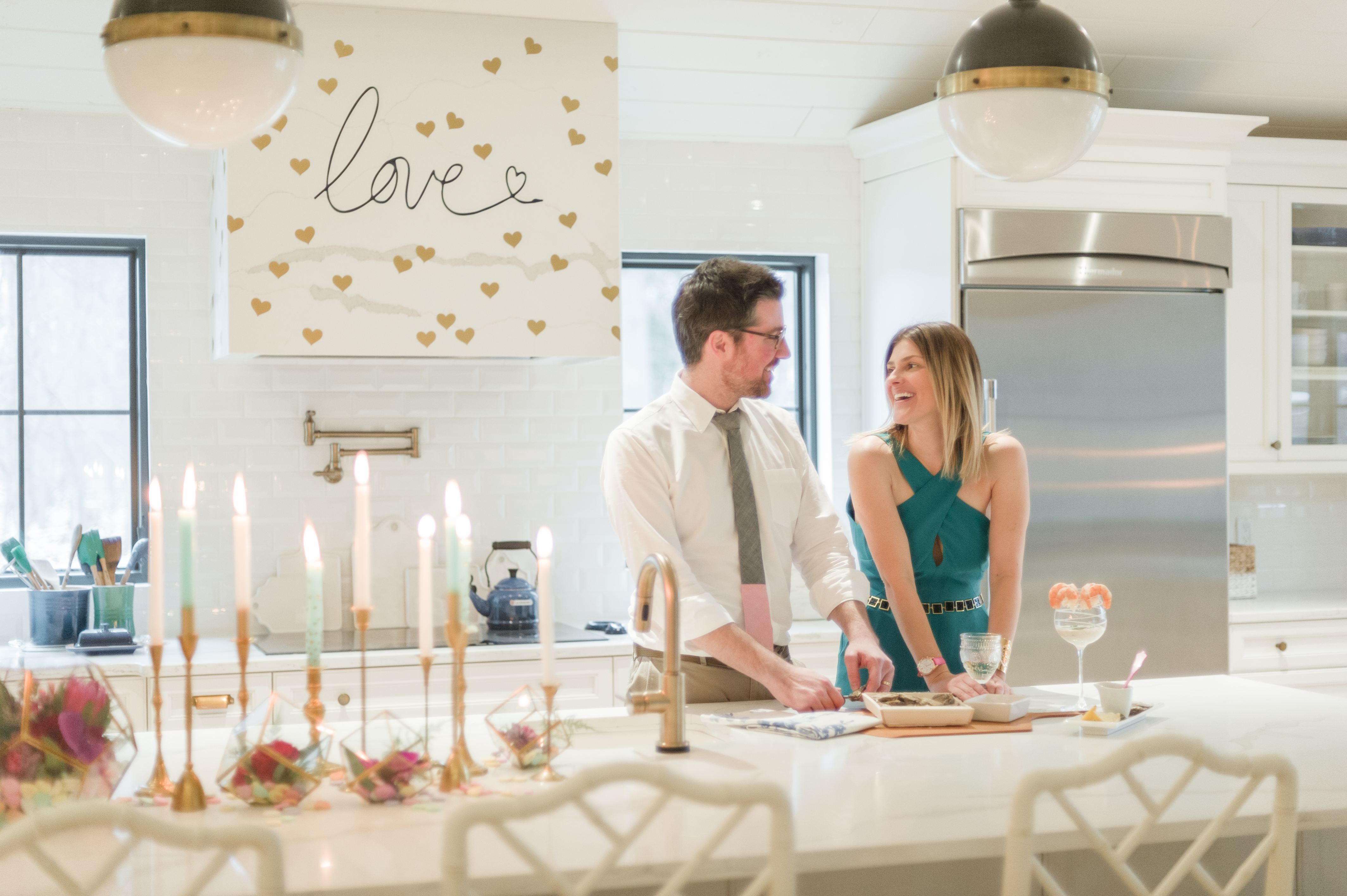 All of my plumbing fixtures are from Delta Faucet and are the Champagne Bronze finish.
Details on the runner that I have in front of my kitchen sink can be found here.
Thanks for stopping by and I'd love it if you'd subscribe, so we can stay in touch! Happy Valentine's Day!
All photos were taken by Vicki Bartel