So, I secretly saved one more bathroom renovation from our last home! I loved it so much, that I just wanted to save it for last. This striped marble bathroom is quintessentially the essence of my style which is airy, modern, and feminine. I'm so happy with every detail and it's the one space that I'm missing! You can also see the "before" renovation images at the end of the post! Also, in case you haven't seen our Modern Boho Bathroom Renovation Reveal or Modern French Country Ensuite Renovation Reveal have a look too!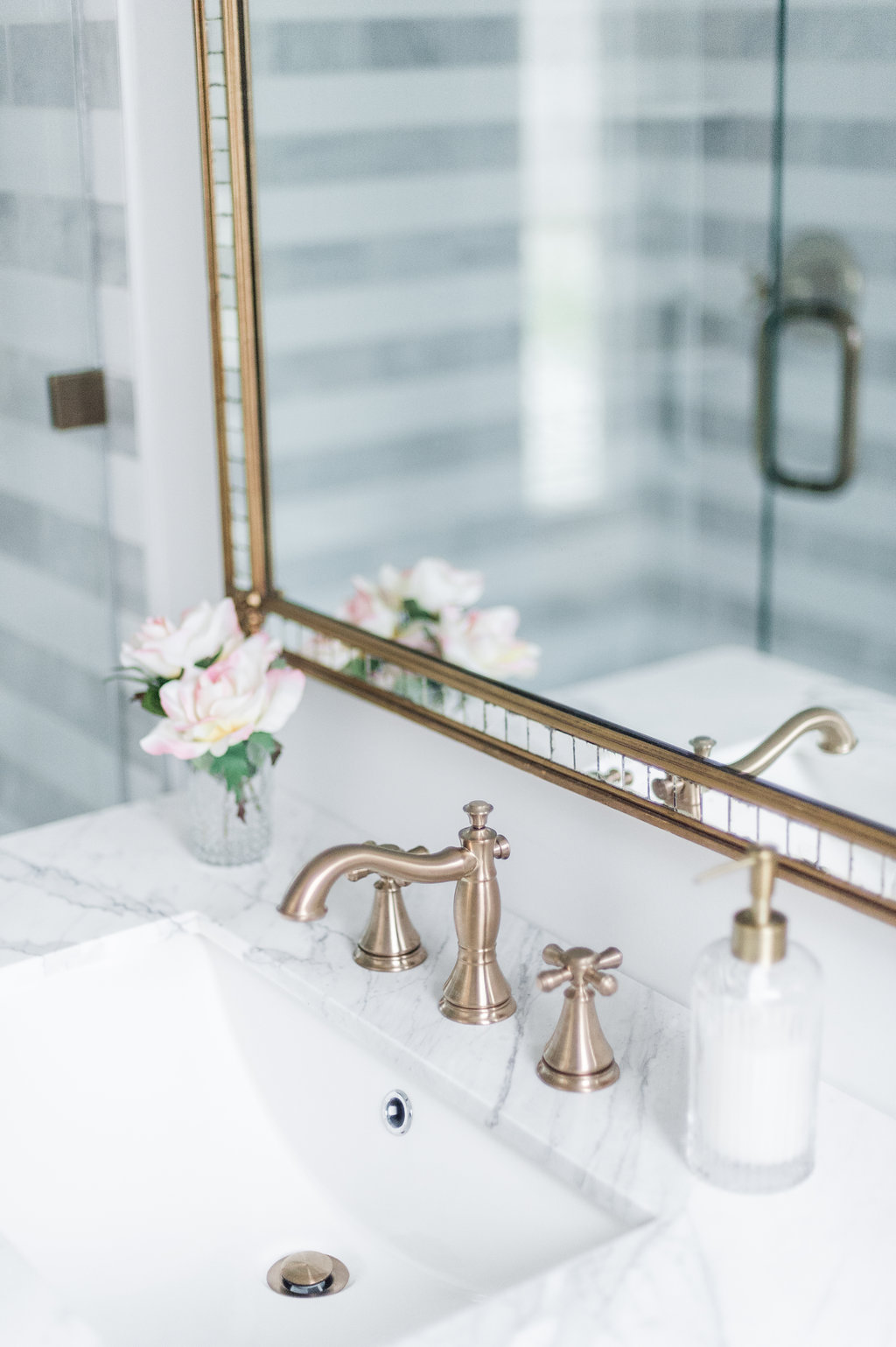 How did I put the Striped Marble into my bathroom renovation?
Ok, so this is the part that I'm most excited about! I've never seen this application anywhere ever. Is that possible? I hope so, because I really try to dream up my ideas on my own, so I can share real inspiration with you! I used 3×6 marble subway tiles and rotated with 3×6 white subway tiles. Sounds simple right? NOT SIMPLE! hahaha….I'm remembering back to the realization of how NOT SIMPLE it was and I'm dying laughing and so thankful for Sergio my tile setter that you met, if you're following my Instagram account.
Not only were the tiles completely different thicknesses, but slightly different lengths…mental. Marble is so much thicker than ceramic…duh!! It just didn't done on because I ordered my tile for our last home, all at once, and I made the mistake of not explaining what I was doing with each tile to a trained professional! YUP I designed all three bathrooms at once and they were my first, so I learned a huge lesson. Luckily, Sergio varied the grout thickness and took weeks to do this shower and it's my favourite thing ever. Sadly, I wouldn't recommend it because it's labor intensive. I can't even have it again…I wanted to do it again and I can't. He said, no way!…maybe I can convince him…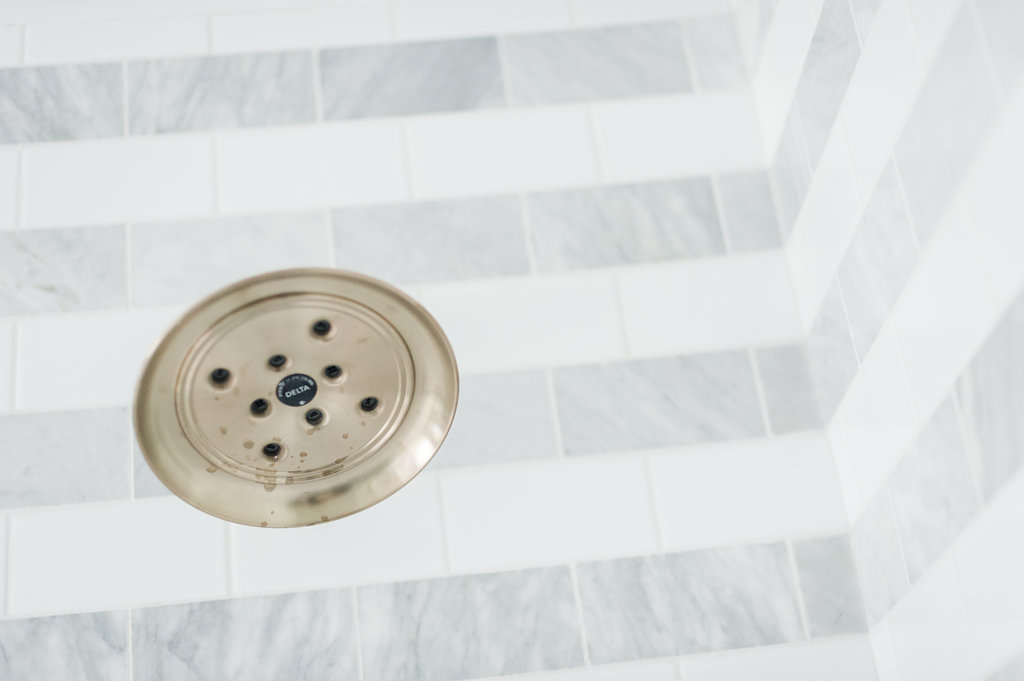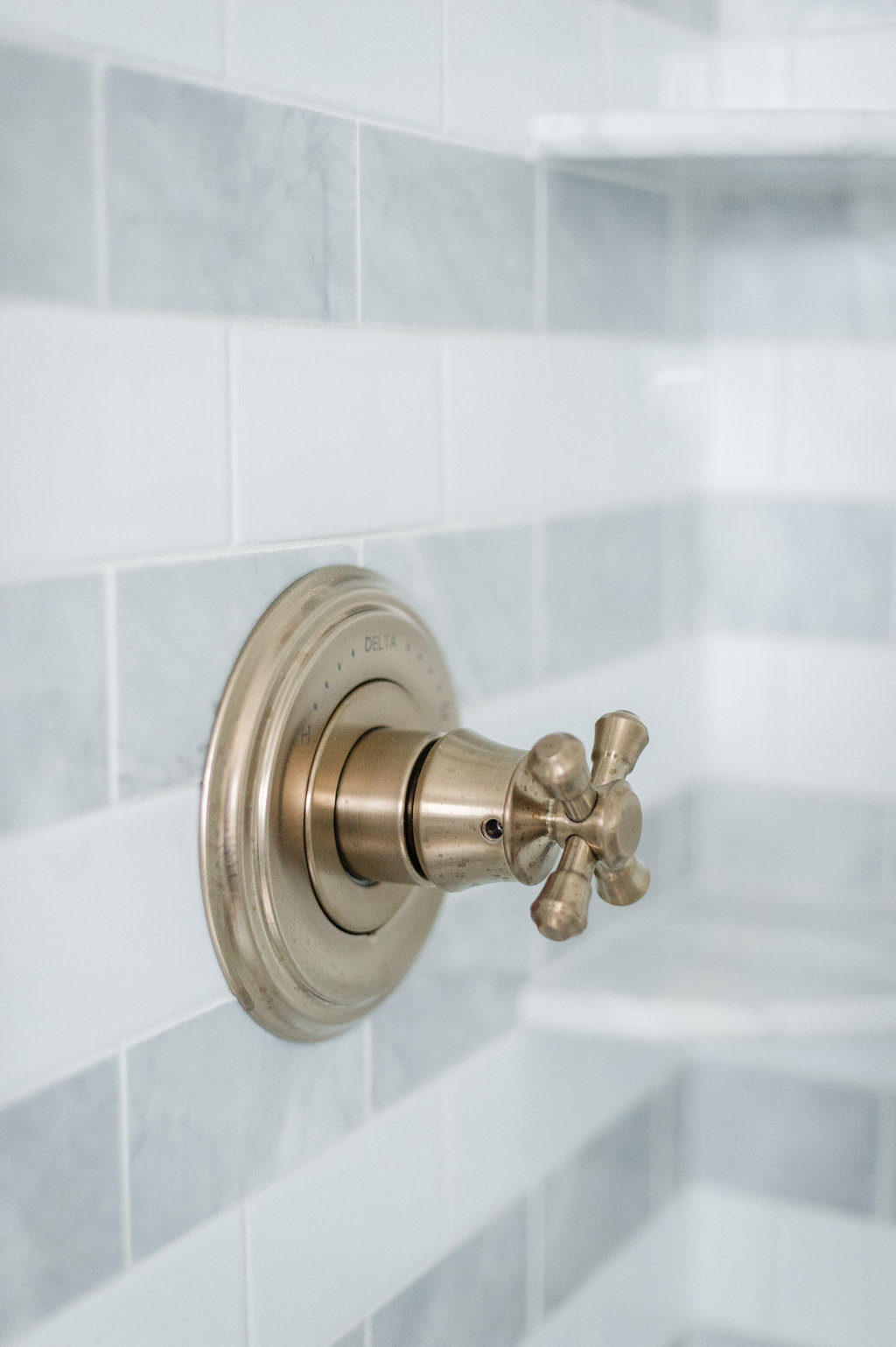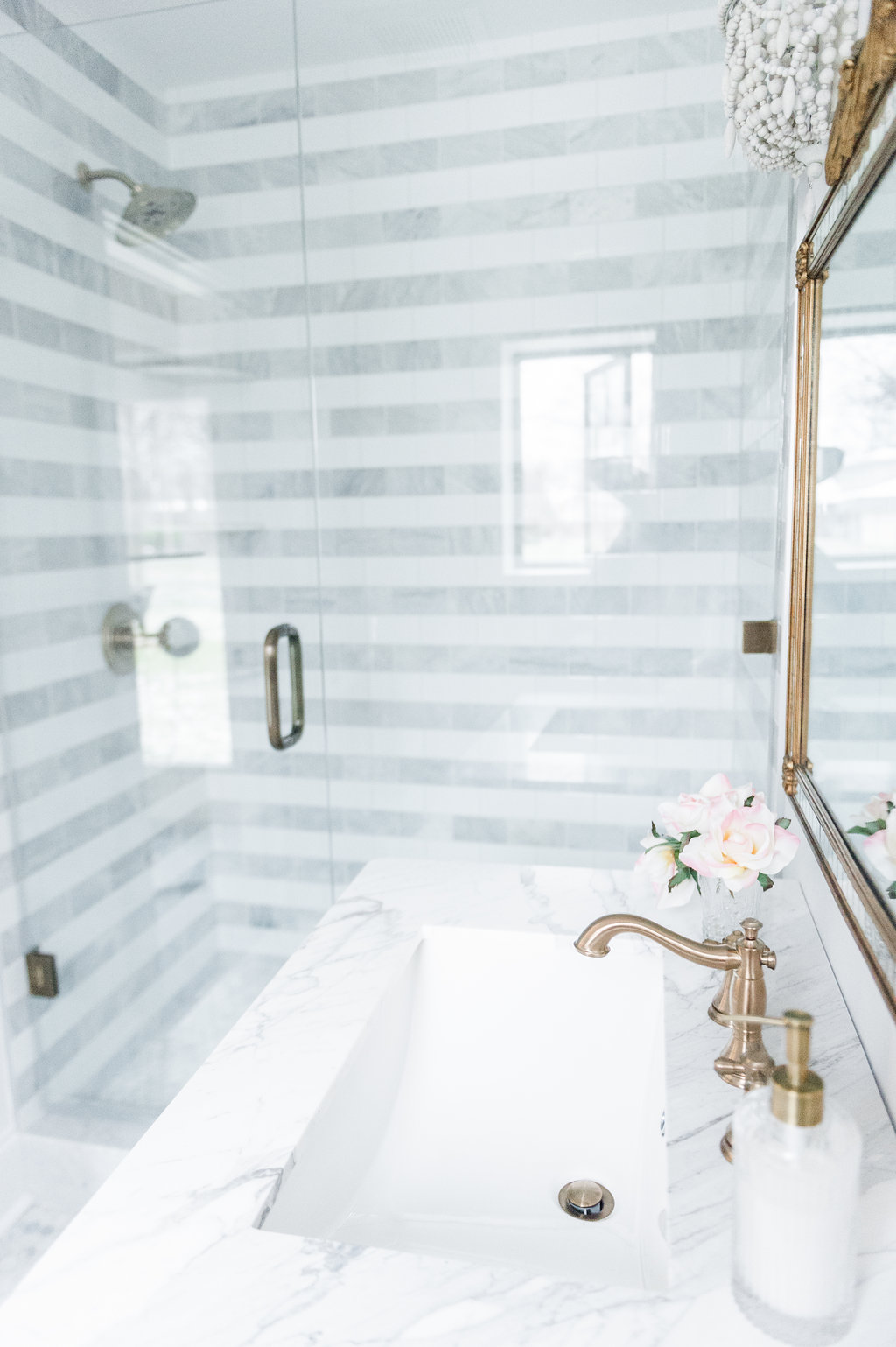 I kind of love and miss everything about this bathroom, so I'm just going to make a list of my favourites…hahah…
Top 6 Favourite Bathroom Details
1. The Striped Marble Bathroom: Countertop
I found this remnant of Calcatta marble in the garbage area of the spot we got out countertops…no joke…not with remnants but in the actual area that was going to be taken away. I think it cost less than formica! It's not just the deal that I found but it was so beautiful and so different than other marble…probs why it's like 3-4 times the cost! You can get a great look at the marble in this post, where I was talking about How to Style a Vanity Counter.
2. The Striped Marble Bathroom: Vanity
K this vanity was another "scour-the-universe" find. I LOVE the repetition of all the little drawers…so damn eye catching! I got it on such a good sale at RH…you can still buy it though…just no longer on sale. RATS! It's metal and super cute. This bathroom was more of a powder in our home, so it didn't have to function for storage so in that case it's good. But the metal drawers wouldn't work well, I don't think, in the long term if you were trying to use them in your main vanity.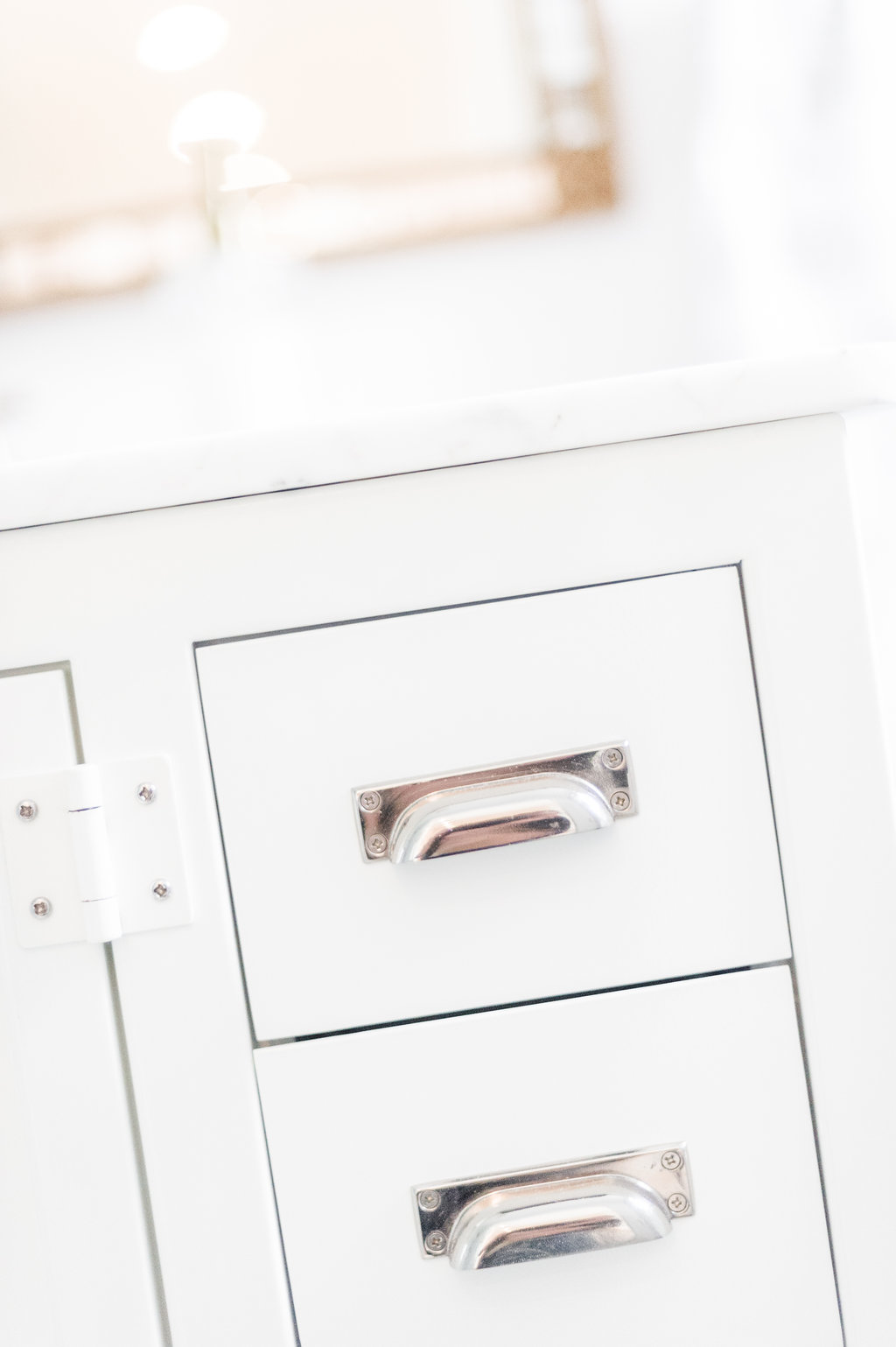 3. The Striped Marble Bathroom: Fixture Finish
I love the look of the champagne bronze with the white! So much so, that I'm using this exact faucet again in my new bathroom renovation…it was a no brainer. The cross handles kill me. You can get these super high end looking, but super affordable, delta faucets in any finish…check them out here in polished nickel. I also have lots more shots of them in the teaser post I wrote a long time ago, and mentioned above about How to Style a Bathroom Counter! The shower that I used is this one…so cute! Clearly the cross handle had me at, Hello!!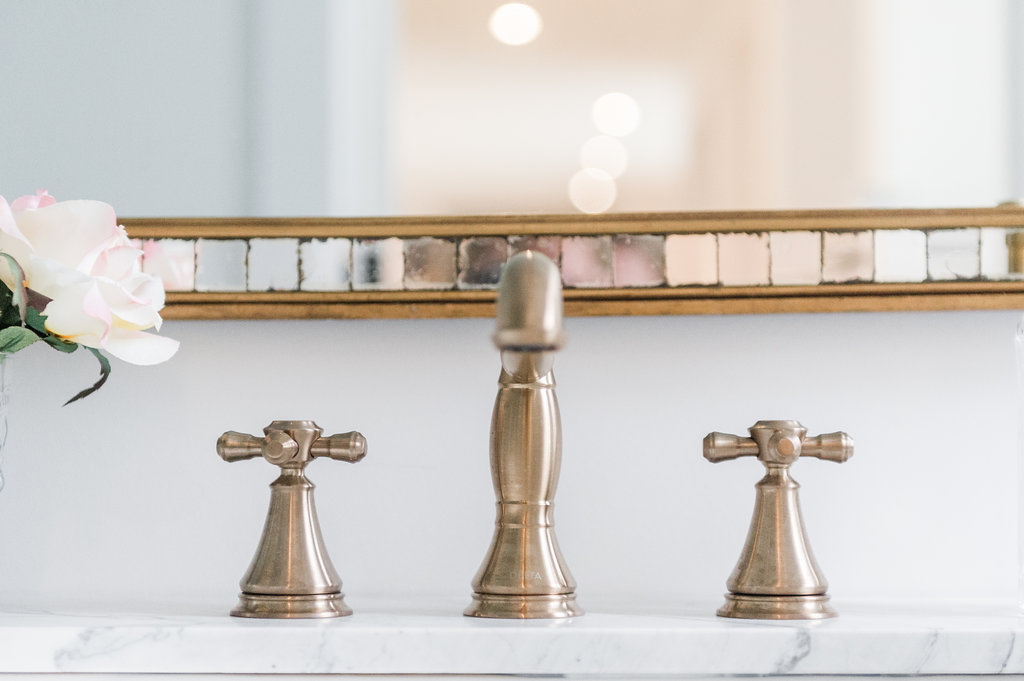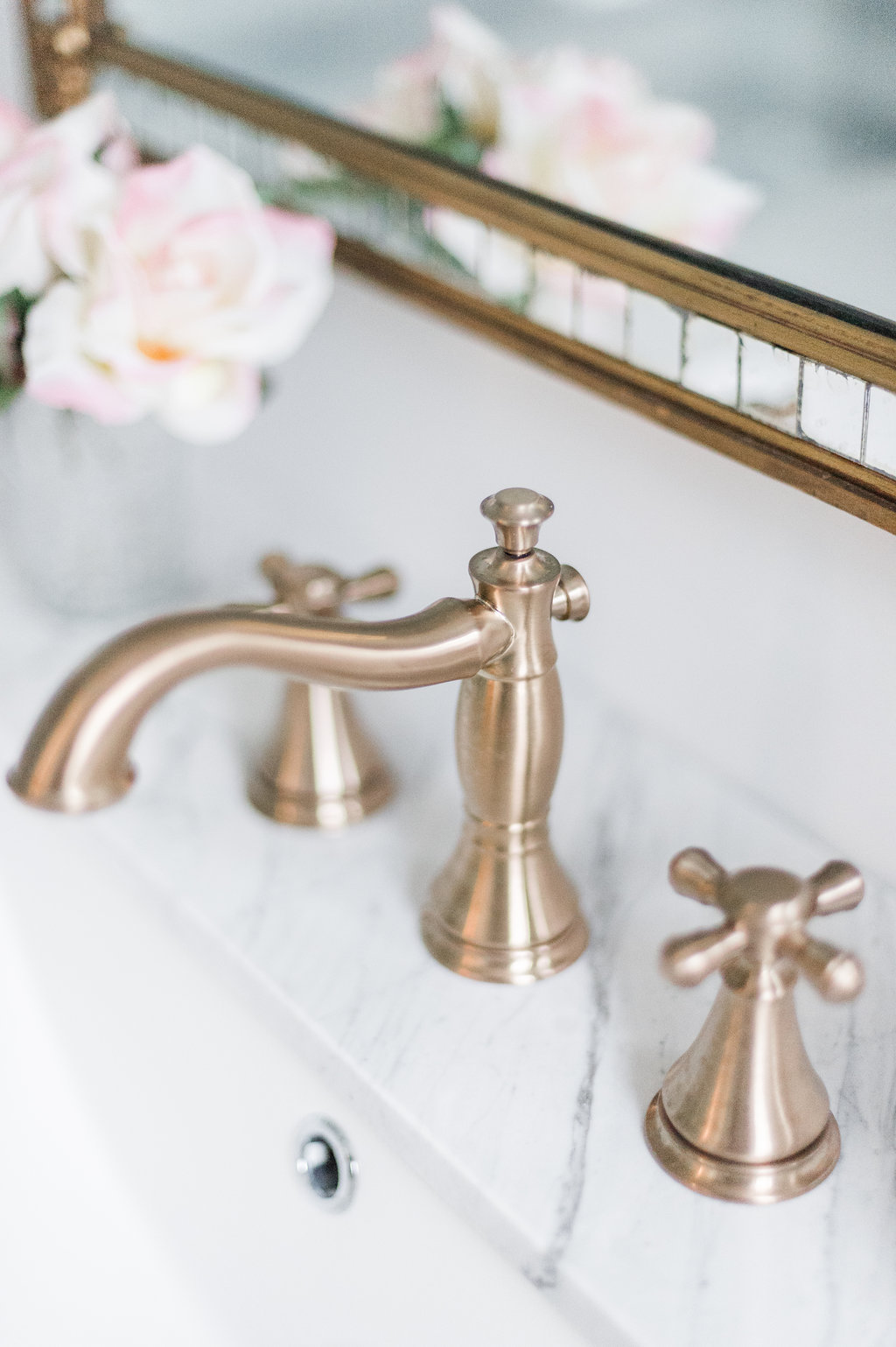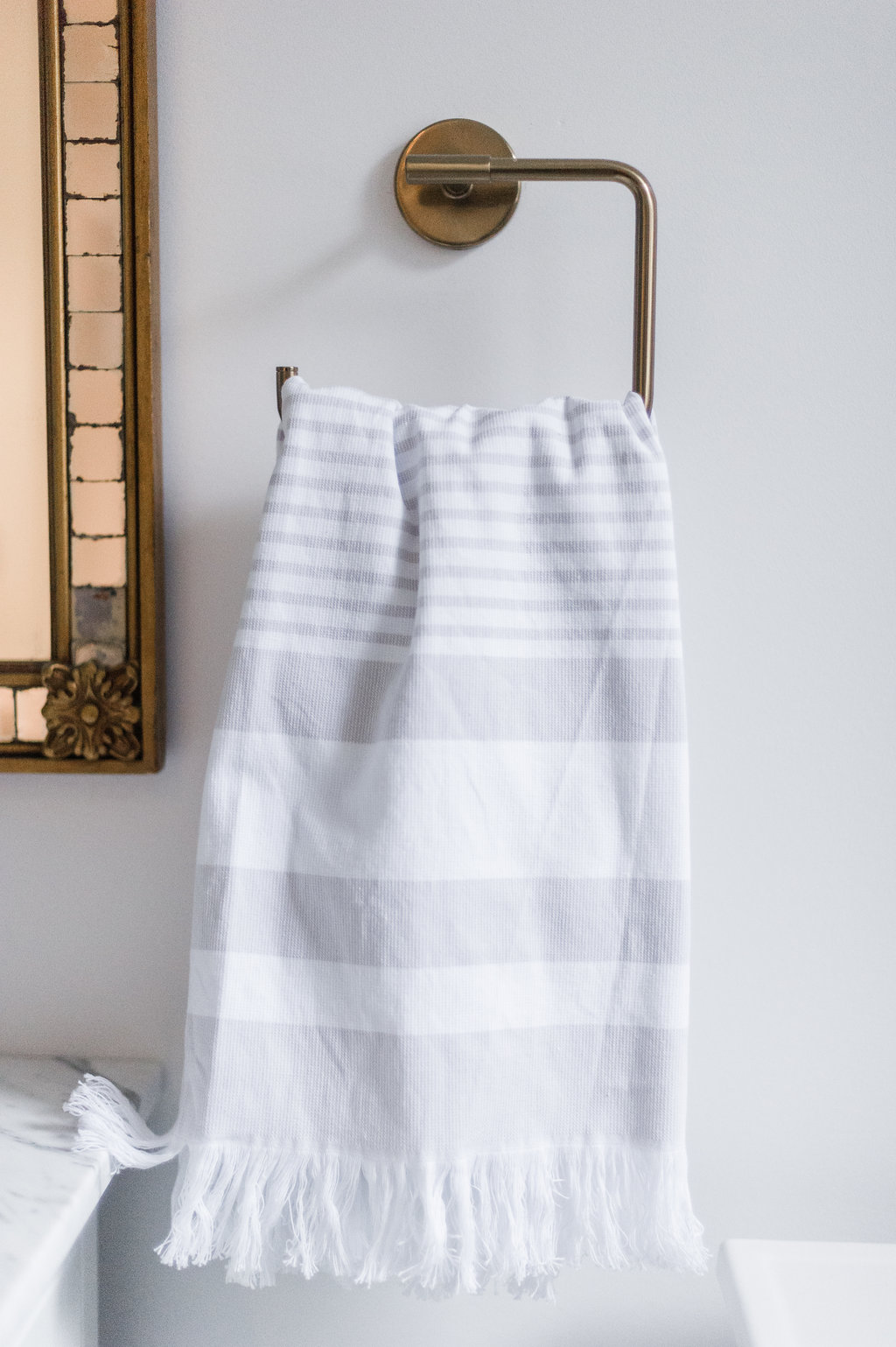 4. The Striped Marble Bathroom: Antique Mirror
Well, I found this mirror at an Estate Sale. I got it about 5 years ago when I was living at this home and renovating this home… I didn't have the right place for it, so I carried it around through all of my past moves. I hope the new owners like her…she was so pretty. I think that mirror was one of the things that people commented on the most in the past home, and this was for sure everyone's fav bathroom. I definitely recommend thinking outside the box for mirrors…have a look at antique stores, they are full of fab mirrors!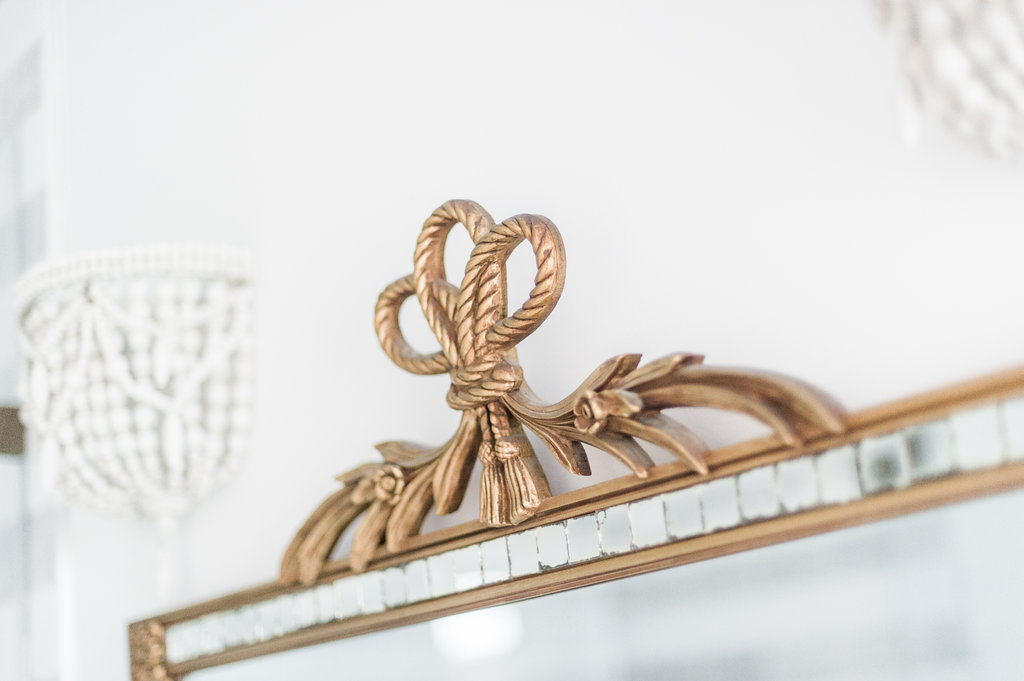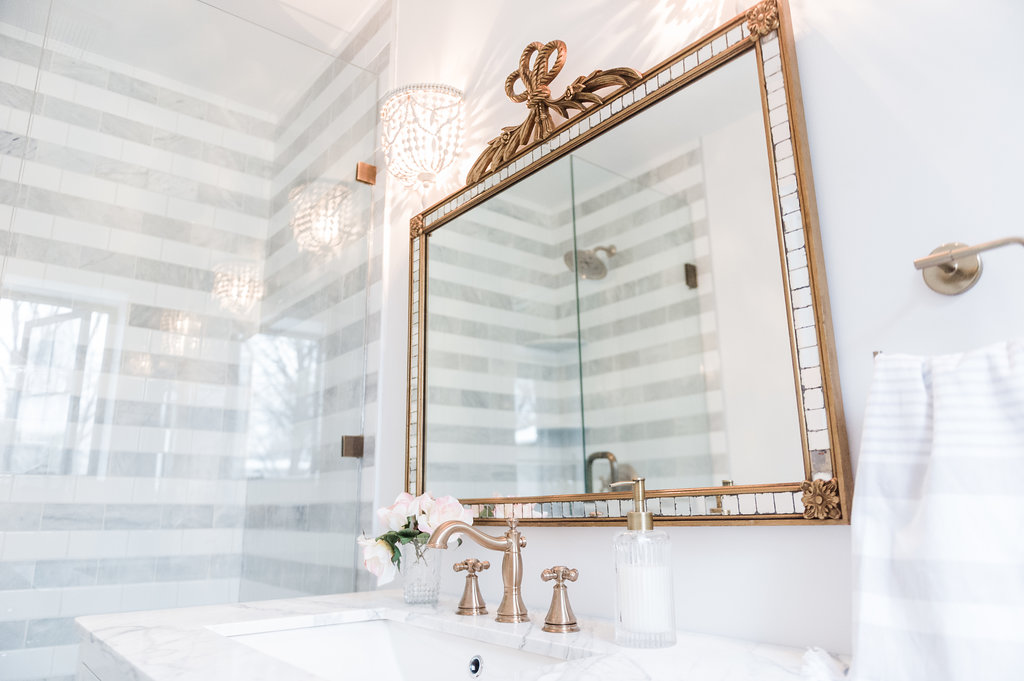 5. The Striped Marble Bathroom: Sconces
Recognize these sconces? They are the match to my last dining room chandeliers that we loved so much!! Seriously…love them. So much bang for your buck it's nuts. I love sconces so much, and I try to put them everywhere I can. That being said…I don't have sconces in my new bathrooms because the electrical was complicated with the whole 1886 thing and the bathrooms are teeny tiny…as I type that, I'm thinking no way! I need to have sconces!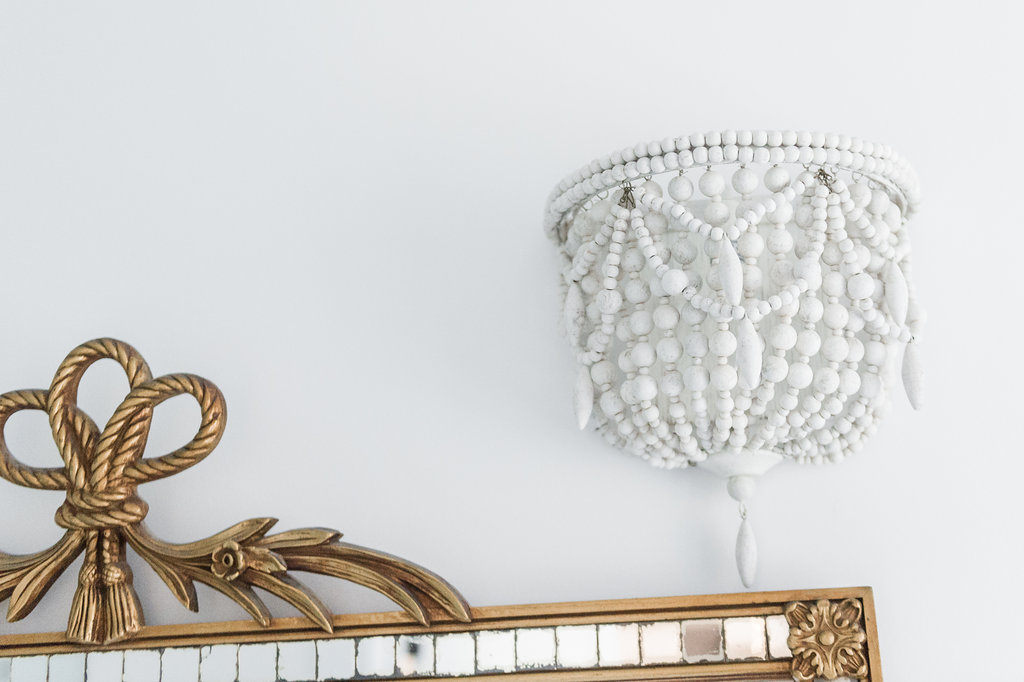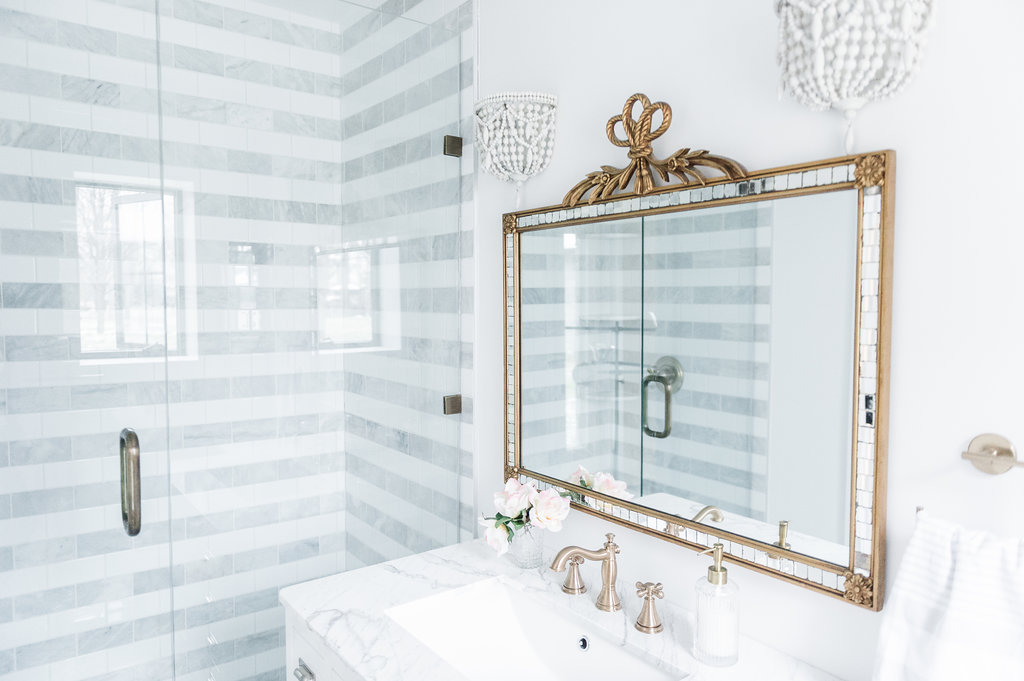 6. The Striped Marble Bathroom: Tile
Duh….of course the stripes…how could I almost forget that! (Yup I just said duh…lol…who says that?!)  I found the subway, and hexagon floor tiles at Anatolia tile and I'll link the exact ones. If you live in Essex, County then I highly recommend getting your tile from Hi Neighbor in Windsor. I have to say this because my husband worked there through University and two of his co-workers actually bought the company a couple years ago and have totally revamped it and they are so incredibly knowledgeable and so kind….be sure to ask for Erik and tell him that I say Hi!! Oh and they carry Anatolia. Don't worry Erik had no clue that I was going to mix marble and ceramic together or he would have shut that down right quick! lol!!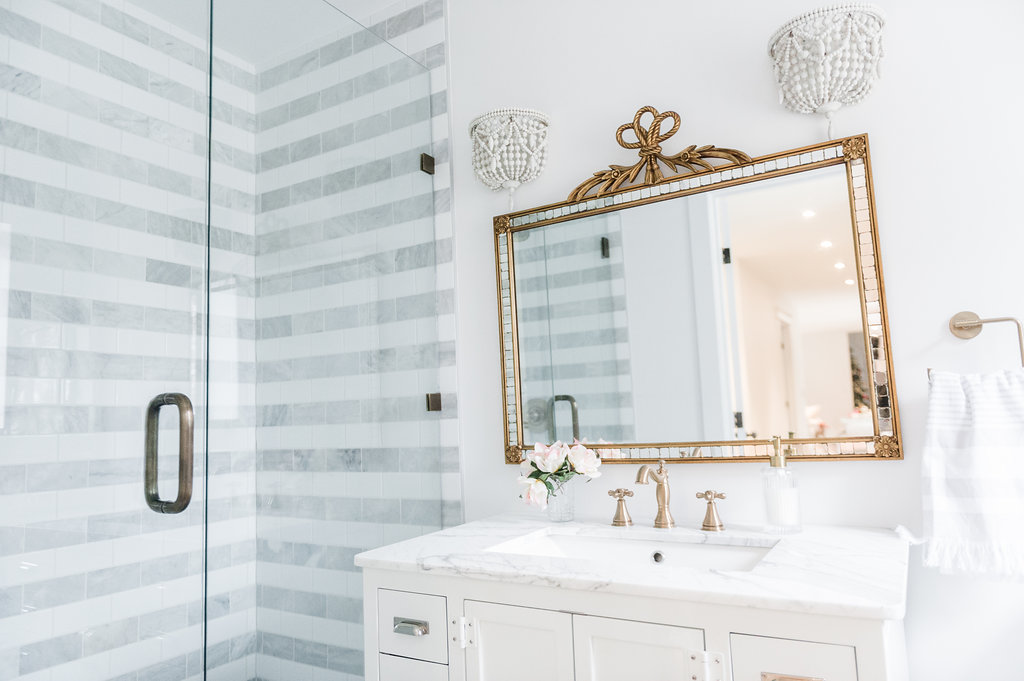 Wait…one more thing…this post is so bright and pretty that I kind of don't even want to do this. But I need to because I'm a renovator. Here's a quick look at the before images. I know…but I have to! lol! The shower is the same size (didn't change one bit, and the layout) but it feels ten thousand times bigger by taking down the wall and replacing it with an all glass wall.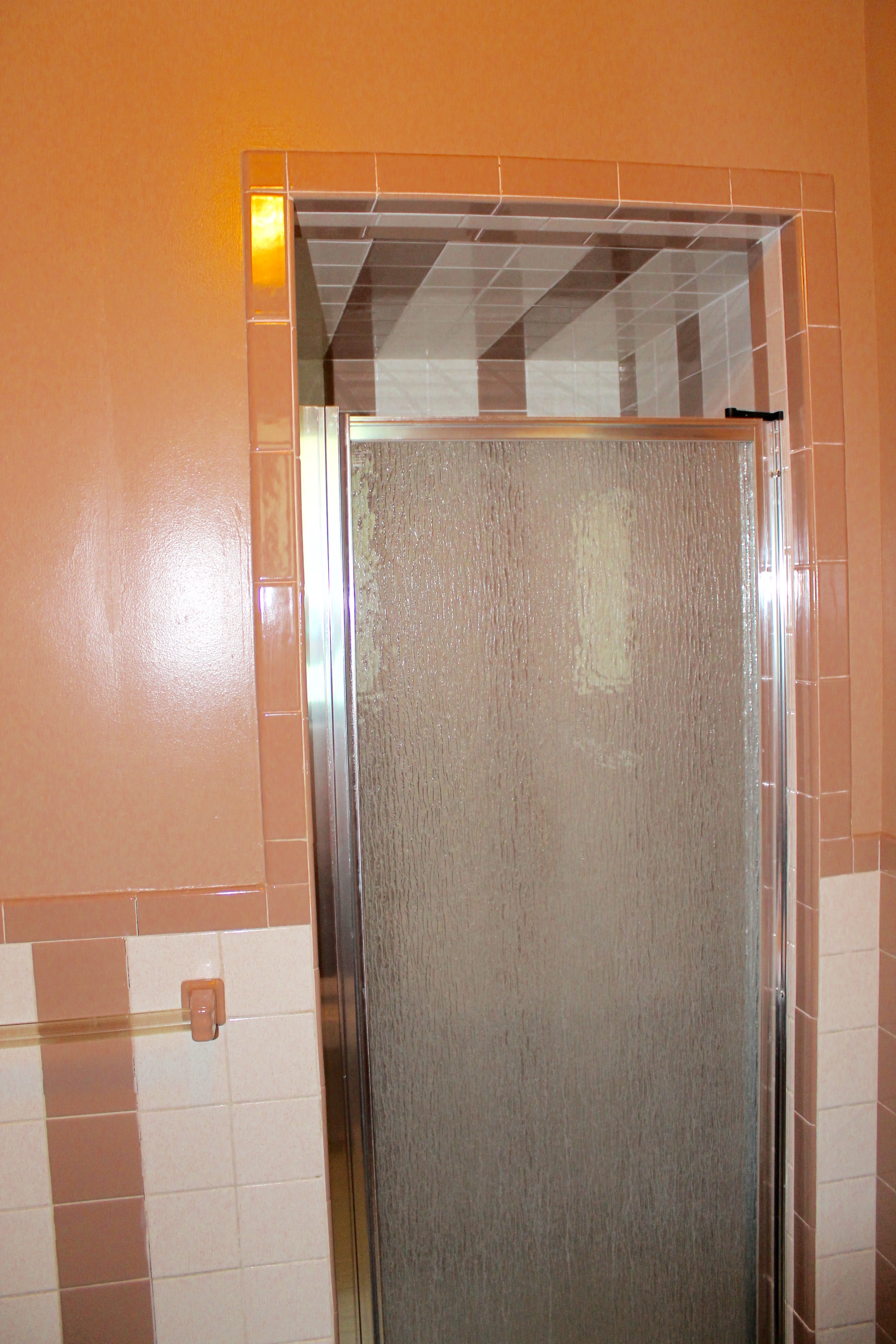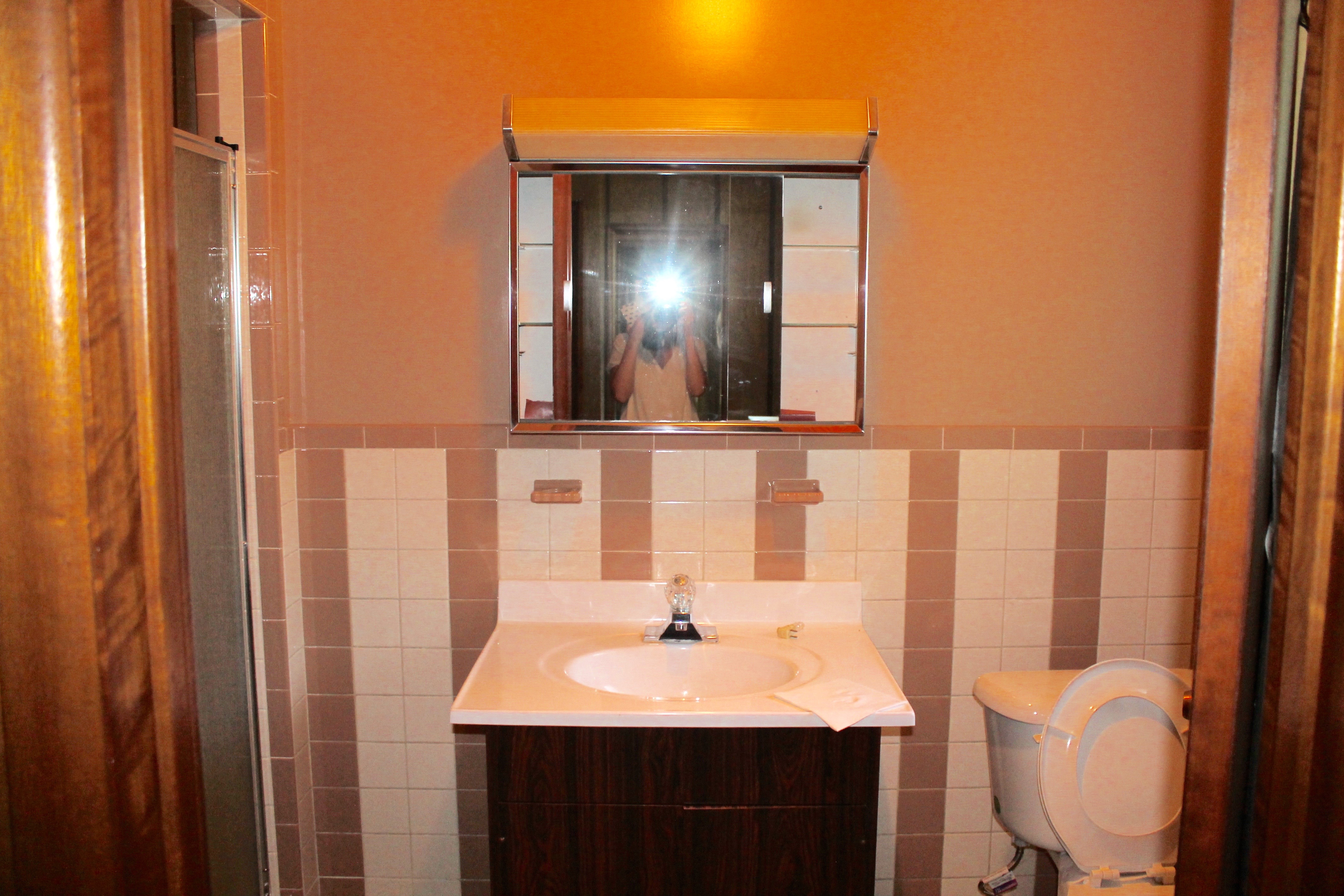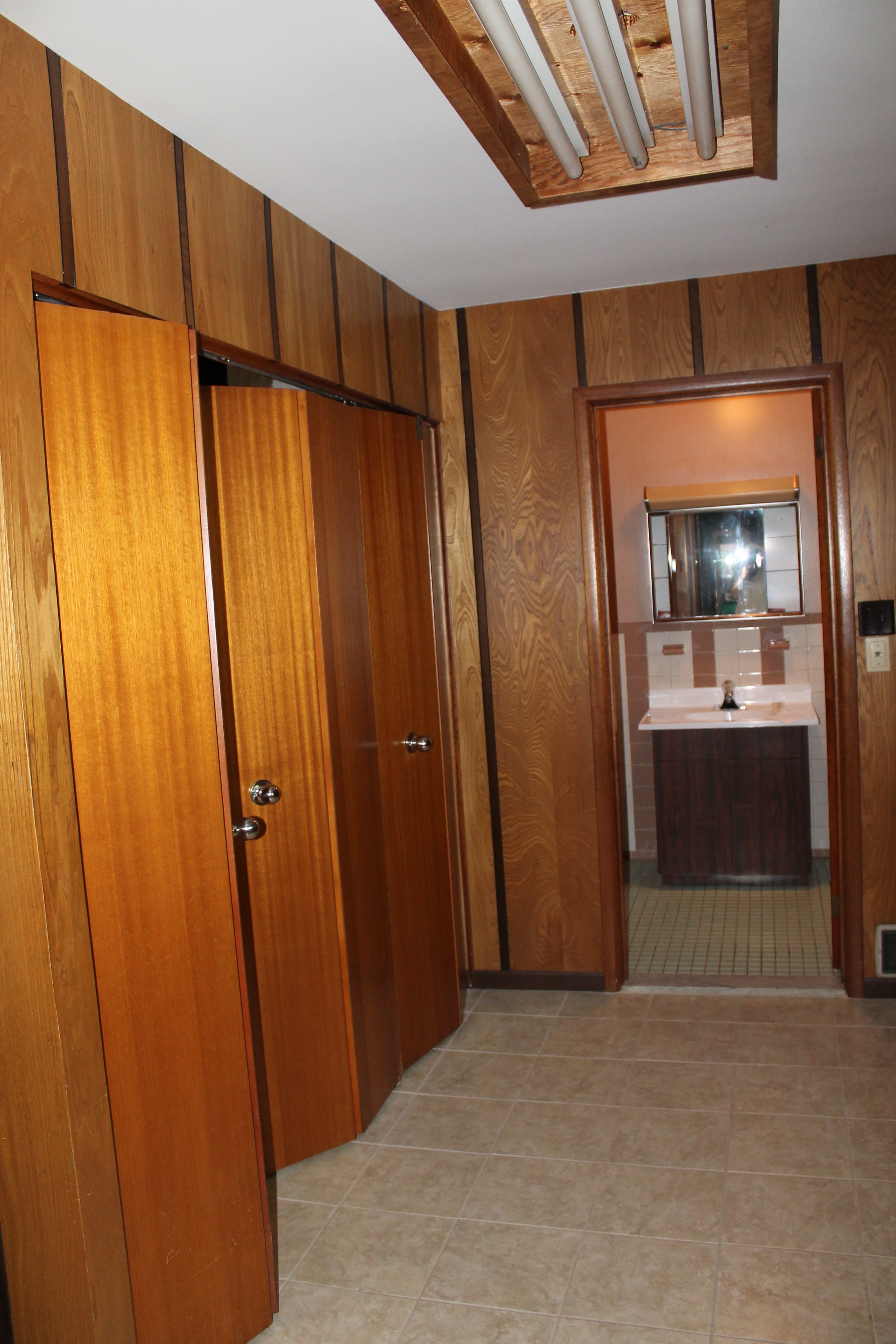 Next I'm going to post about how we renovated this hallway… we added lockers, did a black slate herringbone floor…oh and took down the panelling! Subscribe to have this next renovation sent directly to your inbox!