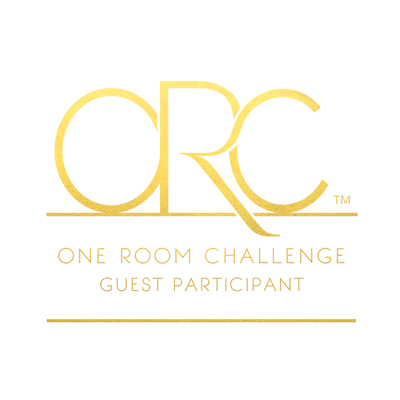 The one room challenge is a right of passage for bloggers and I'm so excited to be finally taking part in it! You have 6 weeks (5 basically because the 6th is the reveal) to makeover an entire space! Each week you share your progress. This week I'll be sharing the before and current state of my space with you guys and my plans!
I'm so pumped to finally be documenting an on going project for the One Room Challenge! Normally, I renovate a space or entire home and then backtrack and try to put a post together searching through photos that I've taken along the way… and really just focusing on the reveal, so it's going to be awesome to go step by step with you!
I've chosen to tackle my family room because it feels the most like an "after-thought" in my home. We hung two pendants, but other than that it's at the drywall stage. I guess this is a renovation within a renovation because it took a long time to get the space to look this "good". Like 14 months long! Here's what we're working with currently and then a look back!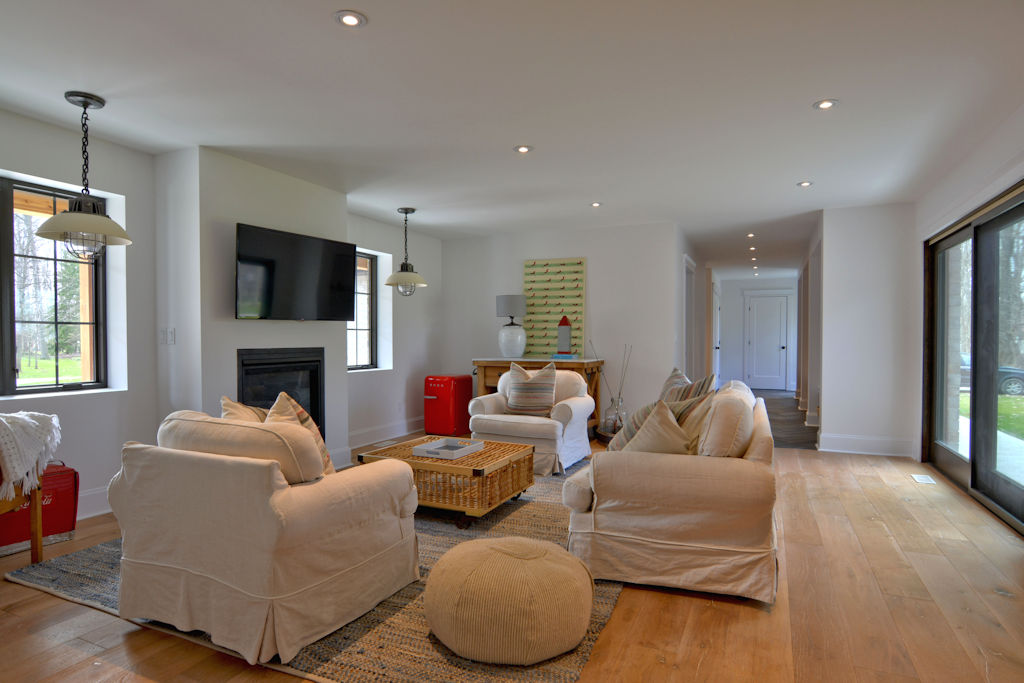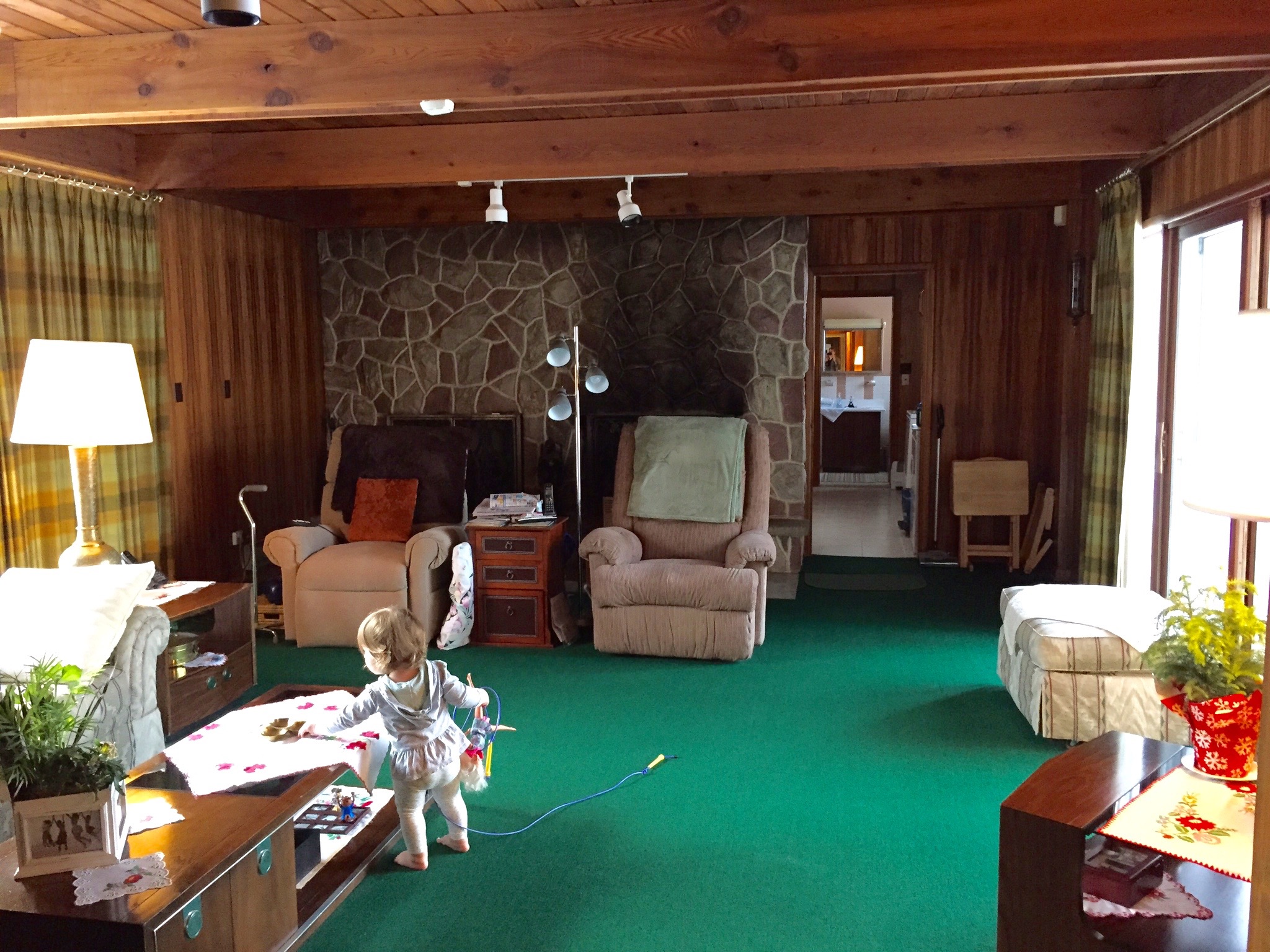 That's Juliette in the picture when we were looking at the house and Penelope who is 2 now was in my stomach!! Time flies when you're renovating! lol!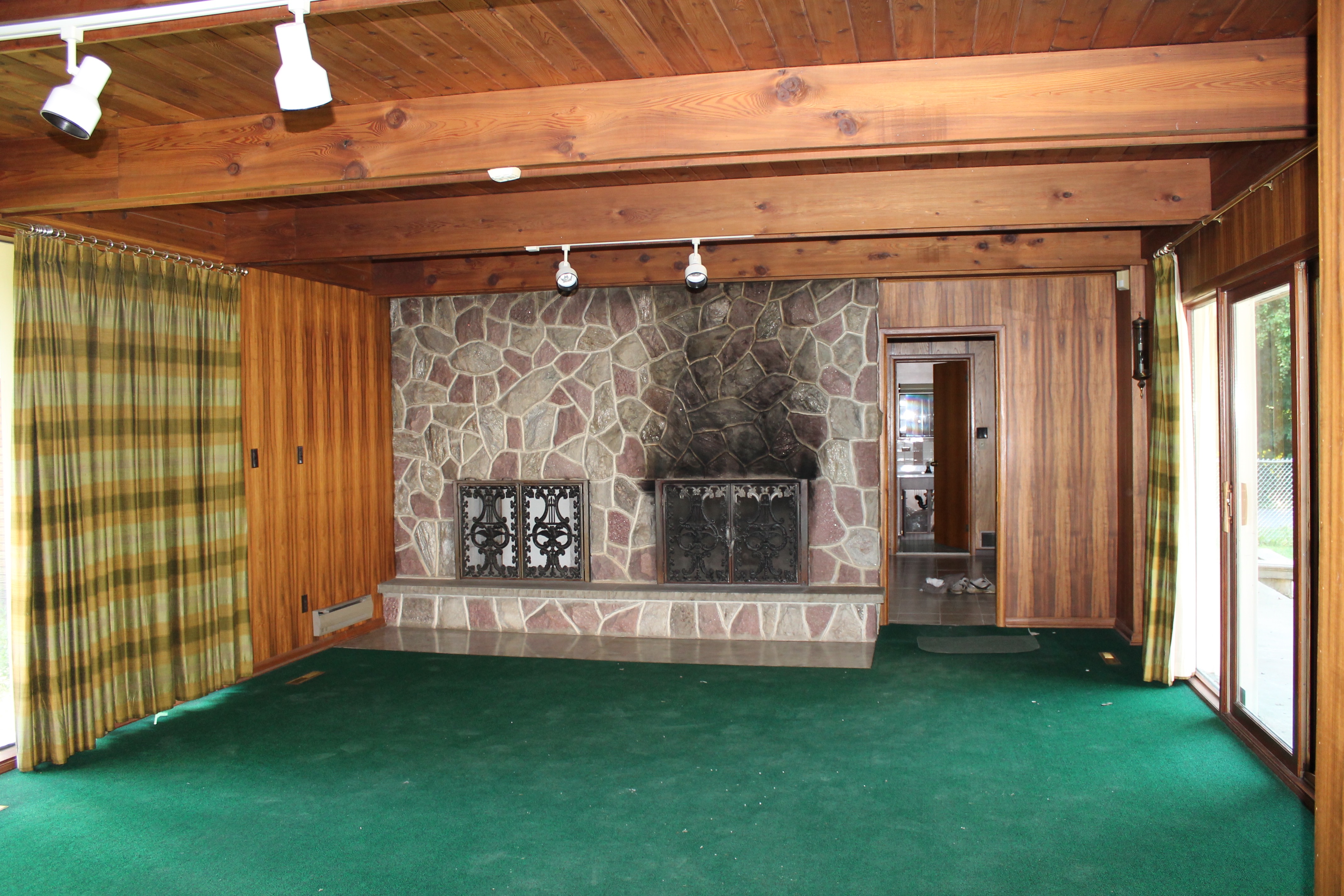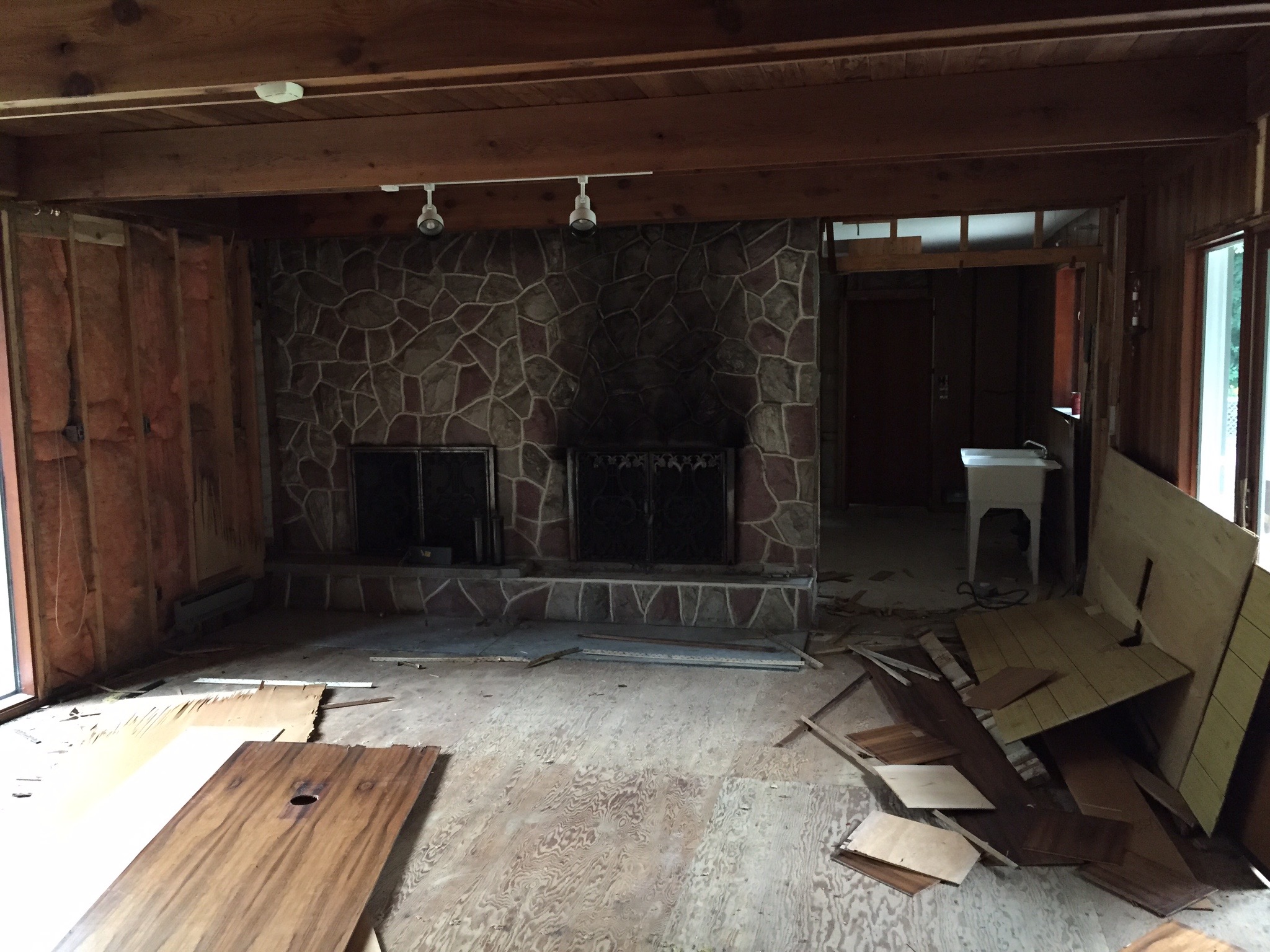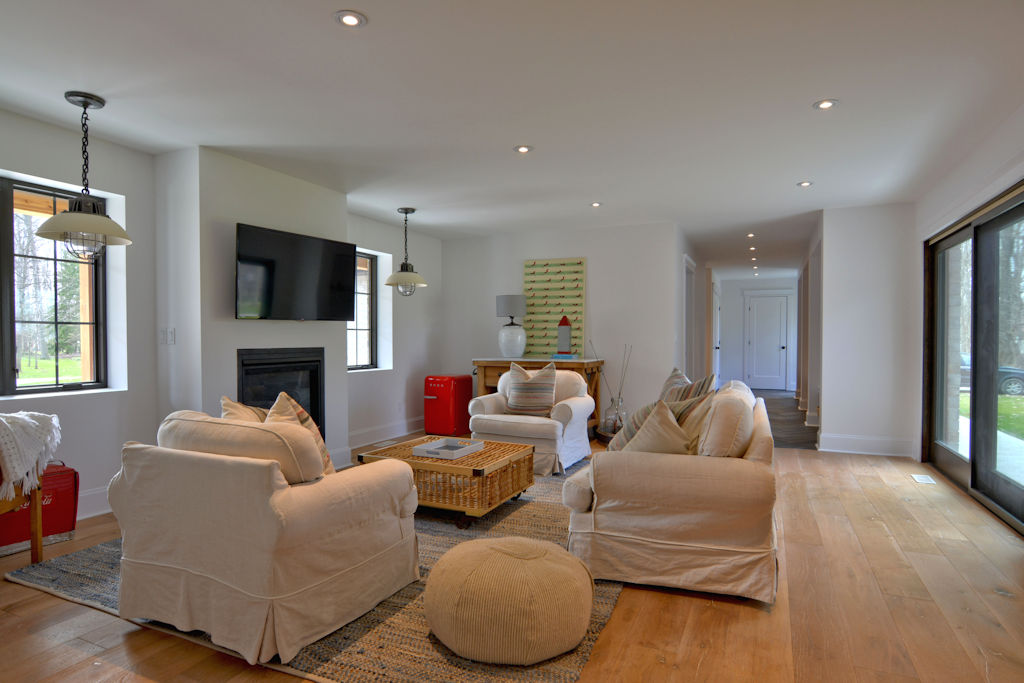 So, a couple years later the space has been transformed,  but it's plain and lacks all finishing touches. K wait! We need to talk about that wackadoodle before! You're probably noticing that we took out that "Flinstone-esque" fireplace and replaced it with a gas fireplace on a different wall, which is the front of the house….please tell me I'm not going to get emails telling me the old one was cool and I should have left it…lol… trust me I'll get some!
We took it out because it made facing the fireplace a really long and narrow furniture setup and then you were also facing the entry to the garage door and mudroom and that didn't feel cozy. Not to mention the fireplace didn't work and it was hella ugly! Oh and my favourite reason is because it was so big that by taking it out and stealing a few feet from the family room I gained enough space to create a dedicated laundry room. I know what you're thinking…I've never seen this laundry room! You're right and I can't wait to show it to you and it's done…so blog post on the way like right away.
Let's look at some more progress shots facing the other direction, and then I'll tell you my big exciting plans for in here! So this way is the opposite from looking at the mudroom and instead you're facing a small opening into what is now a walkthrough butler's pantry(we use it as a toyroom but it's designed to be a pantry) and then in the center you head straight out into the main entrance. So this space has access to the kitchen, entry, garage, laundry, mudroom, and patio doors outside…hence the reason I turned things around so you would face the only way without a through way and it feels like a cohesive space now. I love the new layout so much…I just need to get to the design and millwork….yay it's finally time!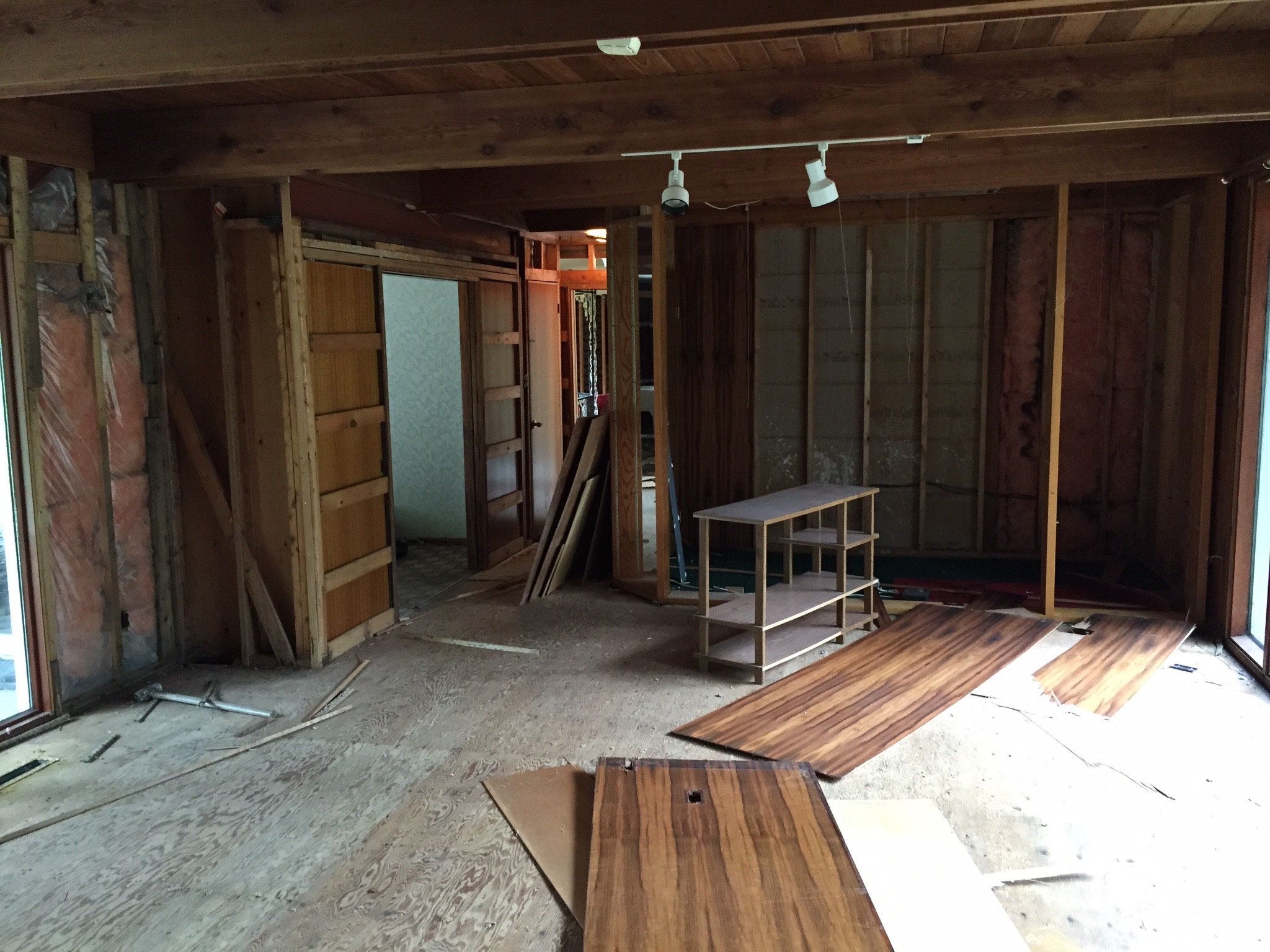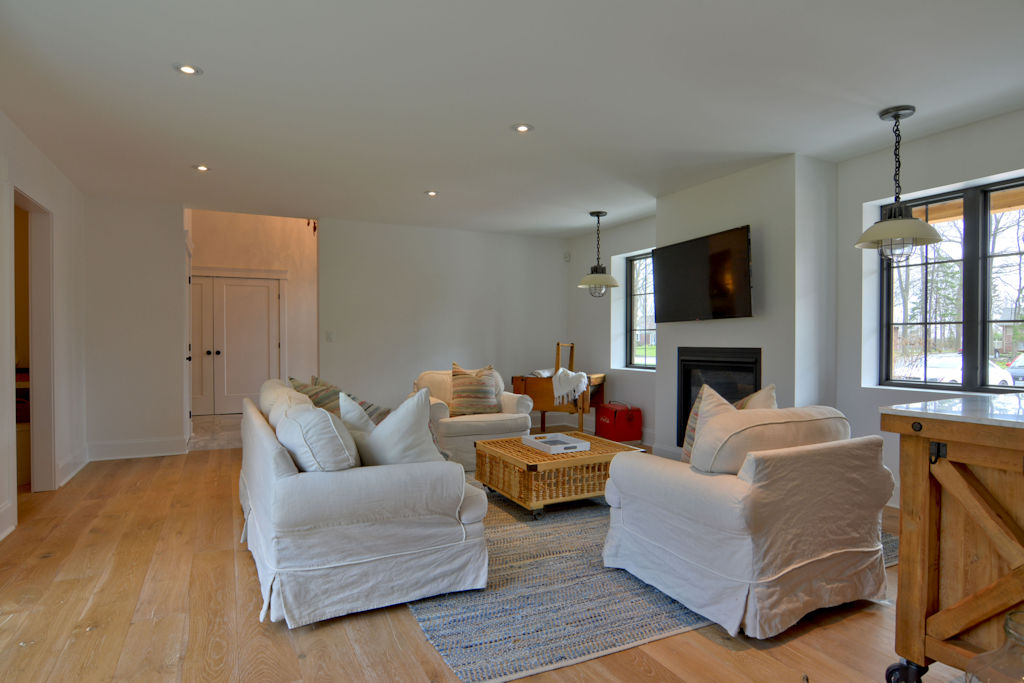 All of the action is going to take place along the fireplace wall. We're bringing in the big guns and having our other partner in crime, my husband's brother Ben, build our millwork. I can't wait for you to meet him! I designed the new space to have a mantle built, window seats under both windows and then a tall set of bookshelves on each end and the entire space will be symmetrical.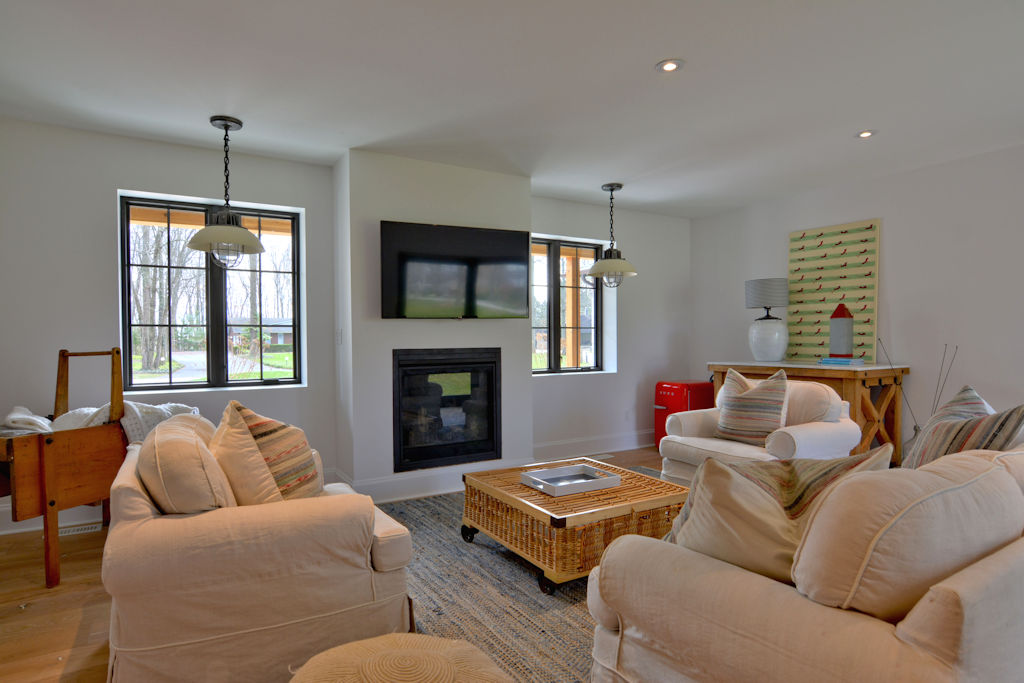 This furniture is as old as the hills…cameras LIE people. I bought this set on Craigslist used and I thought it looked half decent and it was only $300. I quickly found out that it was on its last legs…After taking the cushions off, the date on the couch was from 1996…wtf! It was 20 years old!! The slipcovers were stained and worn out. I washed them like 25 times and got them looking pretty clean and I replaced the inserts in the back cushions. HOLD ON….do you guys know that you can buy replacement inserts for your Pottery Barn Slipcovered furniture? Once the pillows start looking super haggard you can order new inserts by calling your local store and they are so cheap…I'm talking $20 bucks a piece. The down are a little more and I recommend getting the down fill. I got the fibrefill and they just don't last. It's such a great investment!
Ok, so I did all that and then because I'm a new Mom and didn't know any better, I let my kids eat in this room and the cushions look like they have been through a war…oh and they discovered markers through this couch too. Anyways it's time for a change!!! If I lived in an apartment I would launch them out the window.
I can't find any pictures of exactly what I have pictured in my head which is good…I know it will be original, but here's an idea of benches and bookshelves that have elements of what our space will have. These spaces are way too traditional though for what we're making…so keep that in mind.
source: unknown found on Pinterest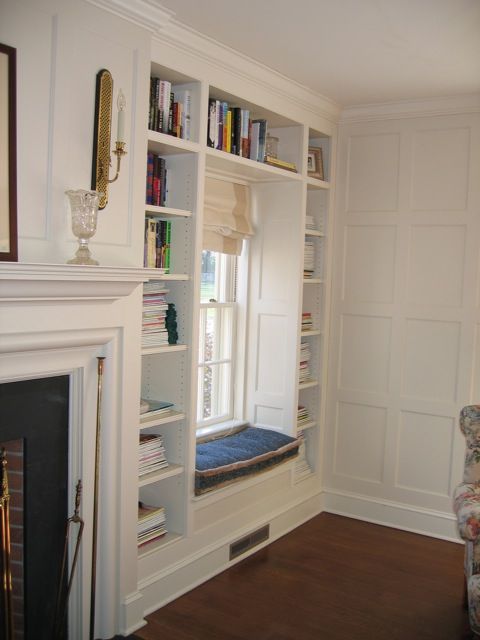 source: unknown found on Pinterest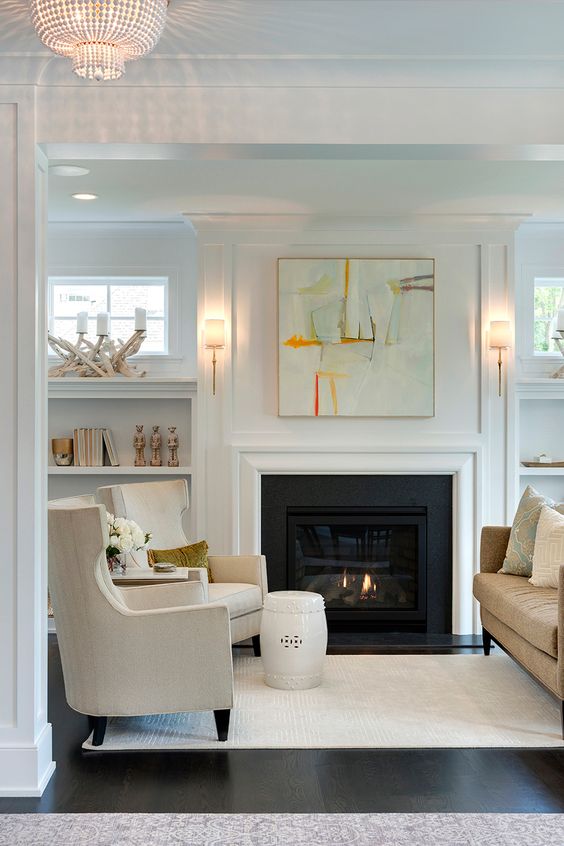 source: spacecrafting.com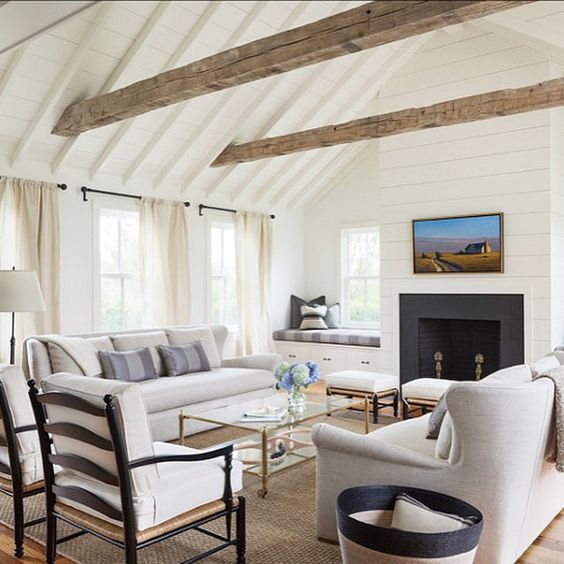 source: @charlestonathome
The big difference from the inspiration images and the current space is the new modern boho style that I want to infuse into the space. It's a family room, so I want it to be fun, vibrant, and full of personality. I want to find eclectic furniture and vintage pieces! I'm also super excited to try having mismatched chairs…I'm always so symmetrical and matchy/matchy….watch me have matched chairs now that I say that! lol!!
I really love the vibe in the Anthropoligie Home section and covet every piece…unfortunately my budget allows for not even one piece, so here goes nothing!!
I'm attaching a little moodboard with ideas that I have in the works and some pieces that are already on their way to my home!
I'm so happy to be partnering with Framebridge, Canadian Tire, Laura Dro Designs, Teil Duncan , RugsUSA, and I'm growing the partnerships every day! If you're interested in sponsoring this space or a future project,  contact me at thelesliestyle@gmail.com
P.S. the gorgeous Palm Leaf Background in my Moodboard is actually an original painting by the incredible Laura Dro that is on its way and a huge inspiration for the colour scheme and vibe of the space! So excited! Please subscribe…next week I'll have tons of updates! Wish me luck Vintage furniture hunting!
If you'd like to see all of the rooms being overhauled or take part yourself, visit Calling It Home blog, I've linked it directly! See you next week!