Hi everyone, it's week two of the One Room Challenge and a ton has happened! To get up to speed on my Colourful Kitchen Renovation read last week's post, where I shared my plan and all of my inspiration.
As you know, we've been renovating our new, very old, home since July 21st. Take a second to check out a tour of the main floor  before we started renovations. Over the past two months, we re-wired all of our electrical (it was knob and tube), added pot lights to the kitchen, a couple more plugs, and roughed in the plumbing, gas, and the vent for the range hood. That stuff is so boring and kills me because it takes so long!
This week I want to share some of my biggest choices along the beginning of the Install!
Colourful Kitchen Colours
The biggest and most exciting departure from my past two kitchens,  is that I'm not doing white and I'm not doing shaker cabinets. Because we've been renovating so much, I got the chance to try out the "white kitchen" and I need a change. I'm doing a COLOURFUL kitchen and a raised panel door. I hope I like it! One thing is for sure though, a white kitchen is gorgeous and timeless, so ummm I'm scared! lol!
Side bar: the first kitchen we renovated was farmhouse and the second was pretty modern. (see kitchen 1 and see kitchen 2)
I found both of my colours  for this kitchen separately. Once I had picked them, I checked to see if there were any photos that had both of my colours together on Pinterest and I found this home! The cedar shakes are hand dipped in Benjamin Moore Edgecomb Gray and the shutters, garage, and front door are Benjamin Moore Wythe Blue! If I had any doubts about my two cabinet colour choices, they disappeared when I saw how gorgeous they were together on this home!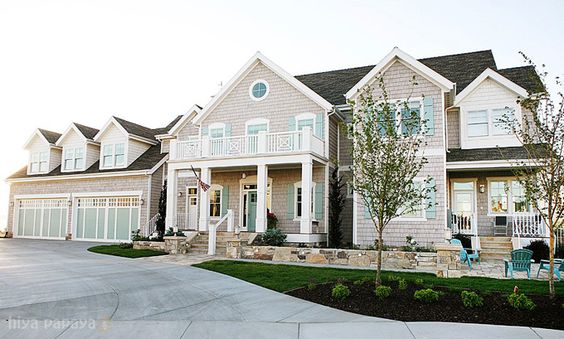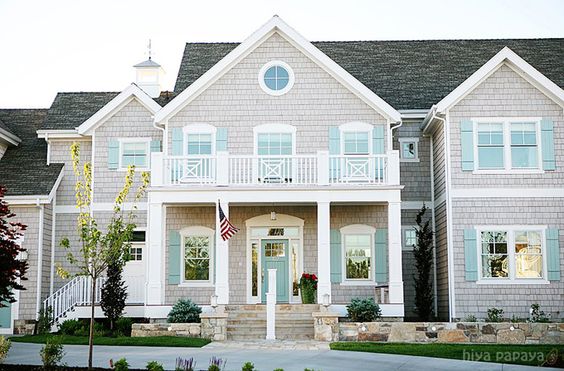 You can see the full home tour of this home on House of Turquoise!
Beggars Can't Be Choosers!
My philosophy with renovations/houses/purchases isn't nearly as dreamy as you might think. The "deal" has so much to do with it. I scour the internet, my favourite stores,  and MLS (lol!) for items that are on a great sale that I can use. So I have an idea in mind of what I want, but I need to be super flexible on the exact piece. I'm sharing this story because it's how my two favourite parts of the kitchen came to be: the hardware and the chandelier.
Every year The Cross Design (best store ever, ever in Vancouver…the one where Jillian Harris shops!) has a huge sale. It's in the summer. I got my Hicks kitchen pendants from that sale last year! Ok, so this year the day the half off sale started I emailed to find out which lights they had. They are so kind and emailed back and I found one that was pretty damn perfect! The Frankie Malibu by Ro Sham Beaux!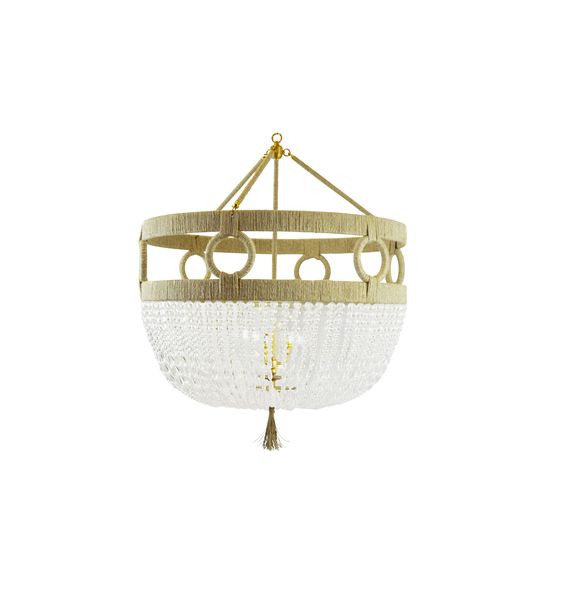 Let me tell you that this photo does this chandelier ZERO justice. Ok moving on. Even with half off I couldn't afford the chandelier because they are on another level expensive, so I stalked it. The Cross marks all remaining items half off again right at the end of the sale. I emailed a few times as days passed and one day they told me it was time and the sweetest sales associate ever, Kristal Chan, helped me adopt this light! I CANNOT wait to show you how it looks. It is humongous….gigantic…so sparkly, and yet so boho….I don't know …it's everything!
However, this light has an antique brass bar running through it to hold the light bulbs and an antique brass chain which was NOT in my plans. I had planned to go polished nickel in this home, just for a change. I don't know why really though because I'm such a "gold person". I don't think I've ever worn a piece of silver. It was fate really.
So because of the super amazing light I found on sale, I had to switch the hardware. Now I'm looking for antique brass and glass. I love glass hardware and I want to match my new chandelier because I LOVE her.
Details and Construction
Because this is my third kitchen, materials are the most important thing to us. In our first kitchen we were convinced by the company to use MDF doors and pressboard boxes….because it was good for us, because the paint would adhere better, because they are liars. We learned in about two seconds that we preferred wood, having had solid wood kitchens in the past.
Next, our second kitchen had solid wood doors painted white but they were shaker and the boxes were press board.
This time we found the exact right fit with a custom cabinet maker and we got solid wood doors and complete plywood construction. I probably sound like a nerd, but seeing the boxes go in was amazing…it was just incredible. Here is an image of our drawers, we left the plywood exposed to show the material….this is a huge trend in architecture right now. Some architects make the doors from plywood and leave the edges all exposed rather than edge banding them to see the striped pattern. It's a super fun detail! Our cabinets are from The Cabinet Mill in Ruthven, if you're local!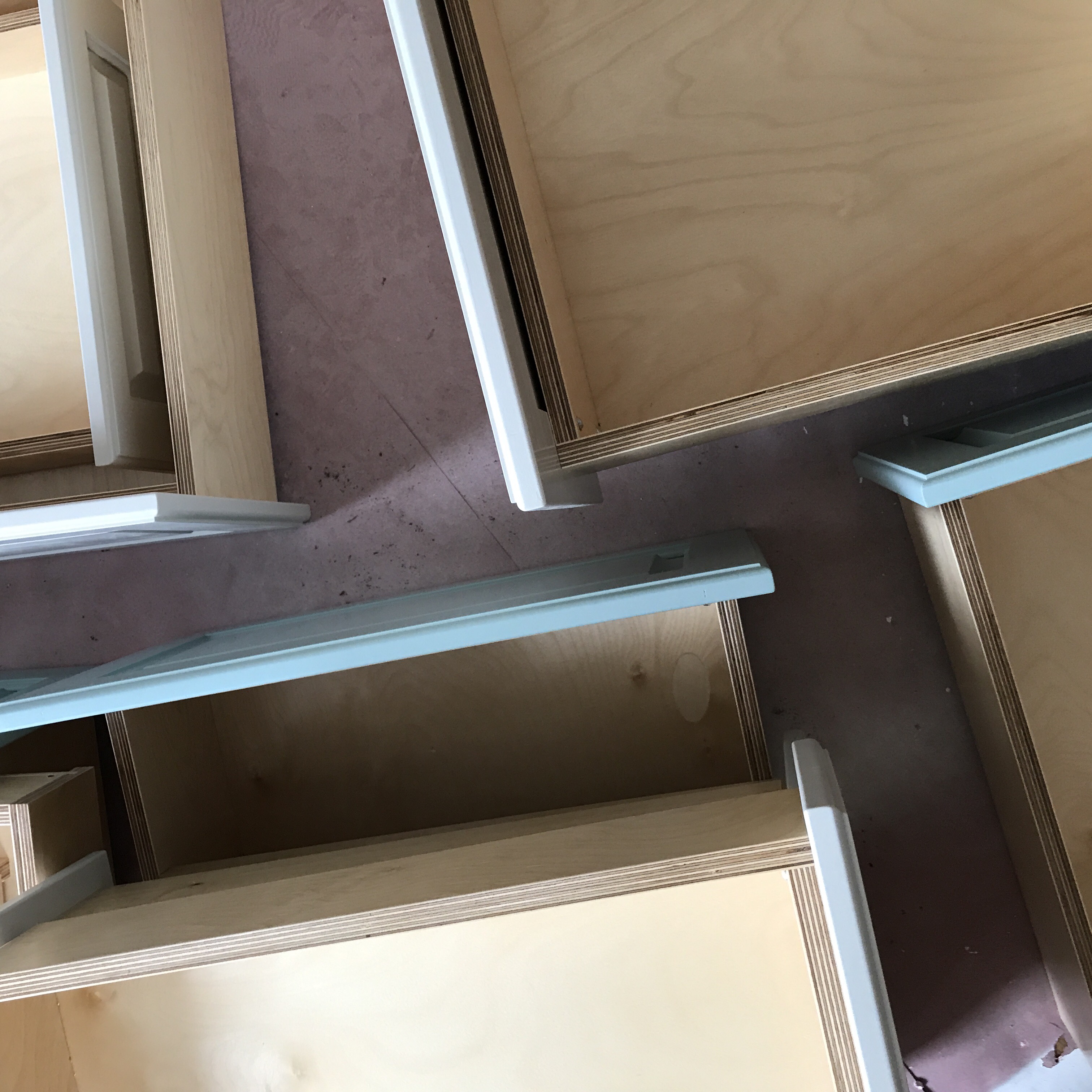 Cabinet Install
Kitchens are a super lengthly process (like 6 weeks minimum to have cabinets made from the point of ordering), then another two weeks to have countertops installed minimum, from the time your kitchen is installed, then you need a plumber, then you need a tile setter for your backsplash, and most importantly time to shop for the styling.
So that means, to keep this 6 week timeline, we had to be install ready! So let's get to some pics of the cabinets beginning to go in! The installers actually finished yesterday, so I'm going to show you some shots from the early days to build the suspense!!!
One last look at the before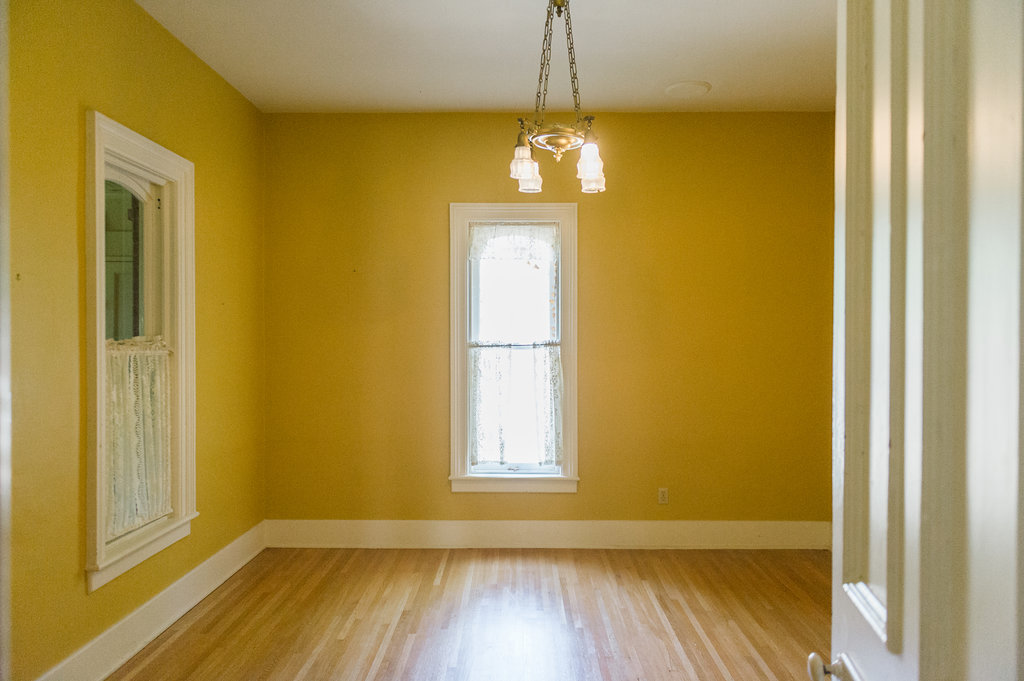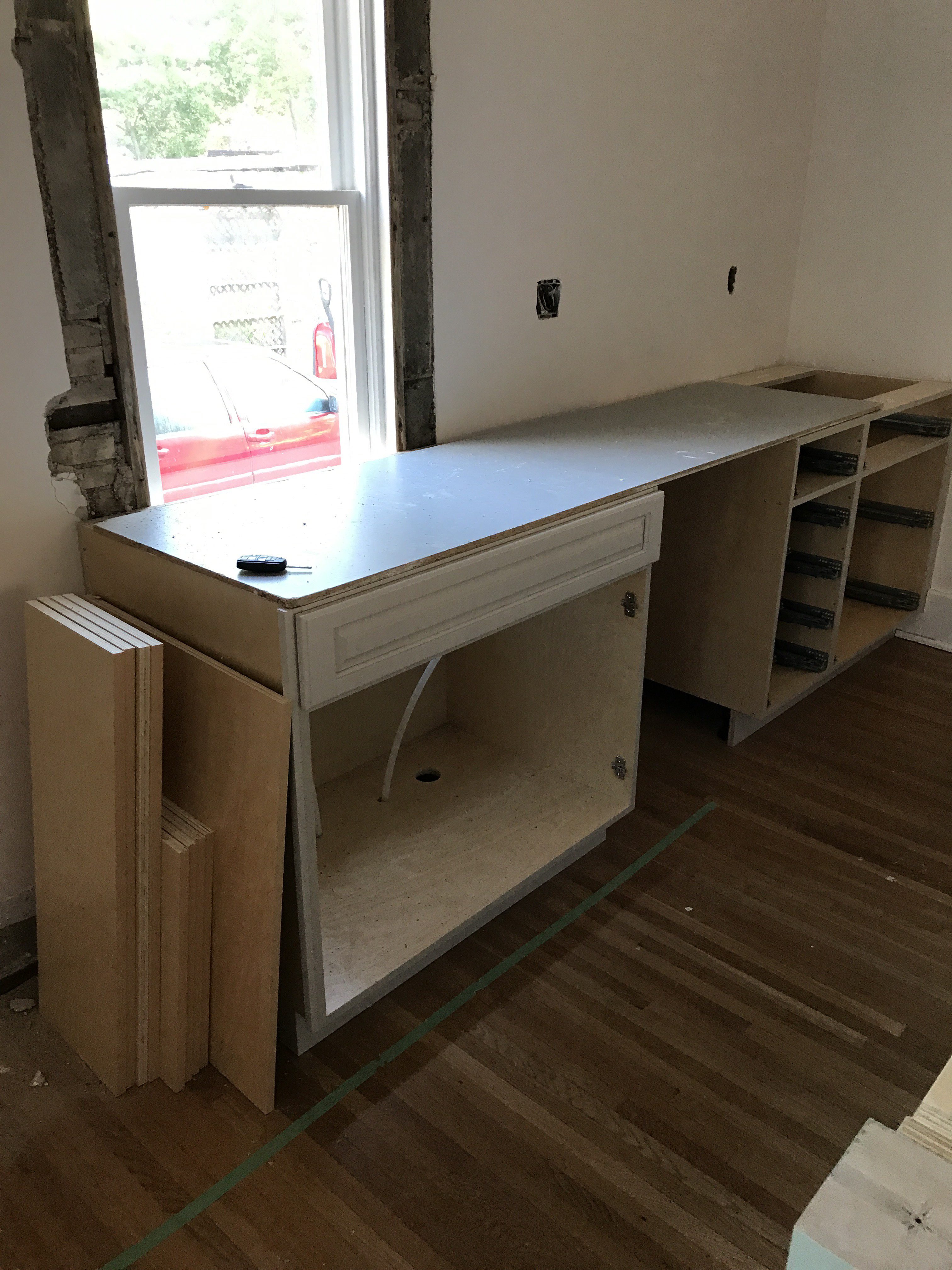 So this window gave us the most head scratching….we're a heritage home and we can't take it out. We finally decided to go right over it and have the cabinet finished on the back side and you can see it through the backyard window…ummm not a big deal. However opening the window is, so there is still some finessing that is going on daily with this window…like backsplash discussions and window restoration talks.
Colourful Kitchen Posts!!
I have always loved Big, Chunky, Turned Posts on islands. They kind of disappeared for a while and islands have had square posts but I'm totally all about the classic detail again, and I'm SO excited about these 4 posts, you don't even know!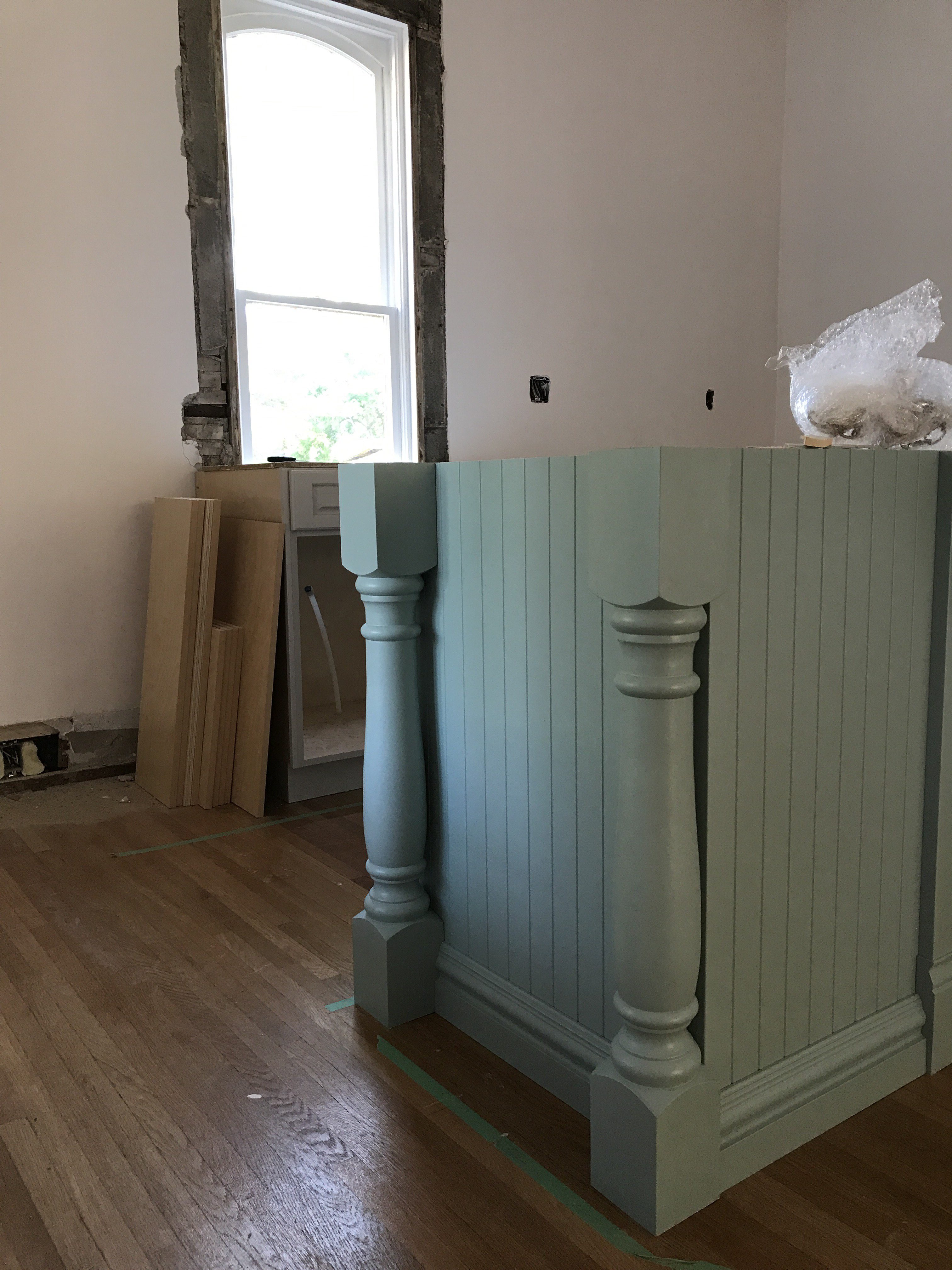 Colourful Kitchen Hood Vent
I love hoods that have a shelf or mantle over them. The design of this hood was really simple, we continued the second set of glass uppers across the entire kitchen. I wanted the cabinets to continue over the window instead of having a break so that everything felt built-in. I also wanted the hood high enough that we weren't banging our head into it. Oh and the Corbels! I went to some antique and salvage spots, to find the exact perfect corbel shape and then The Cabinet Mill replicated them. They are just perfect.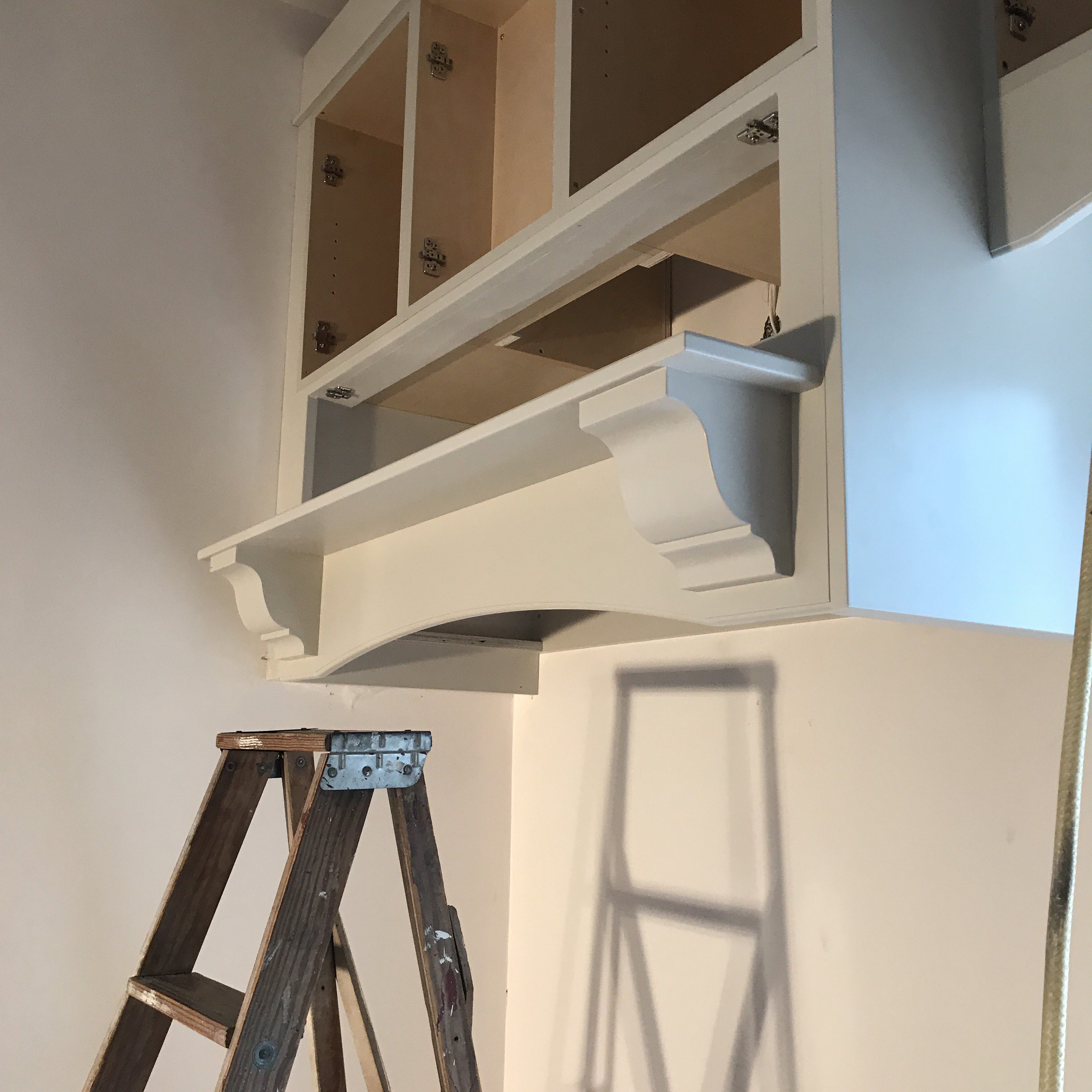 Across from the island is a little pantry and the cabinet for the fridge. Even though it's a really small kitchen, it feels fancy and big because we continued the cabinets to the 10ft ceiling!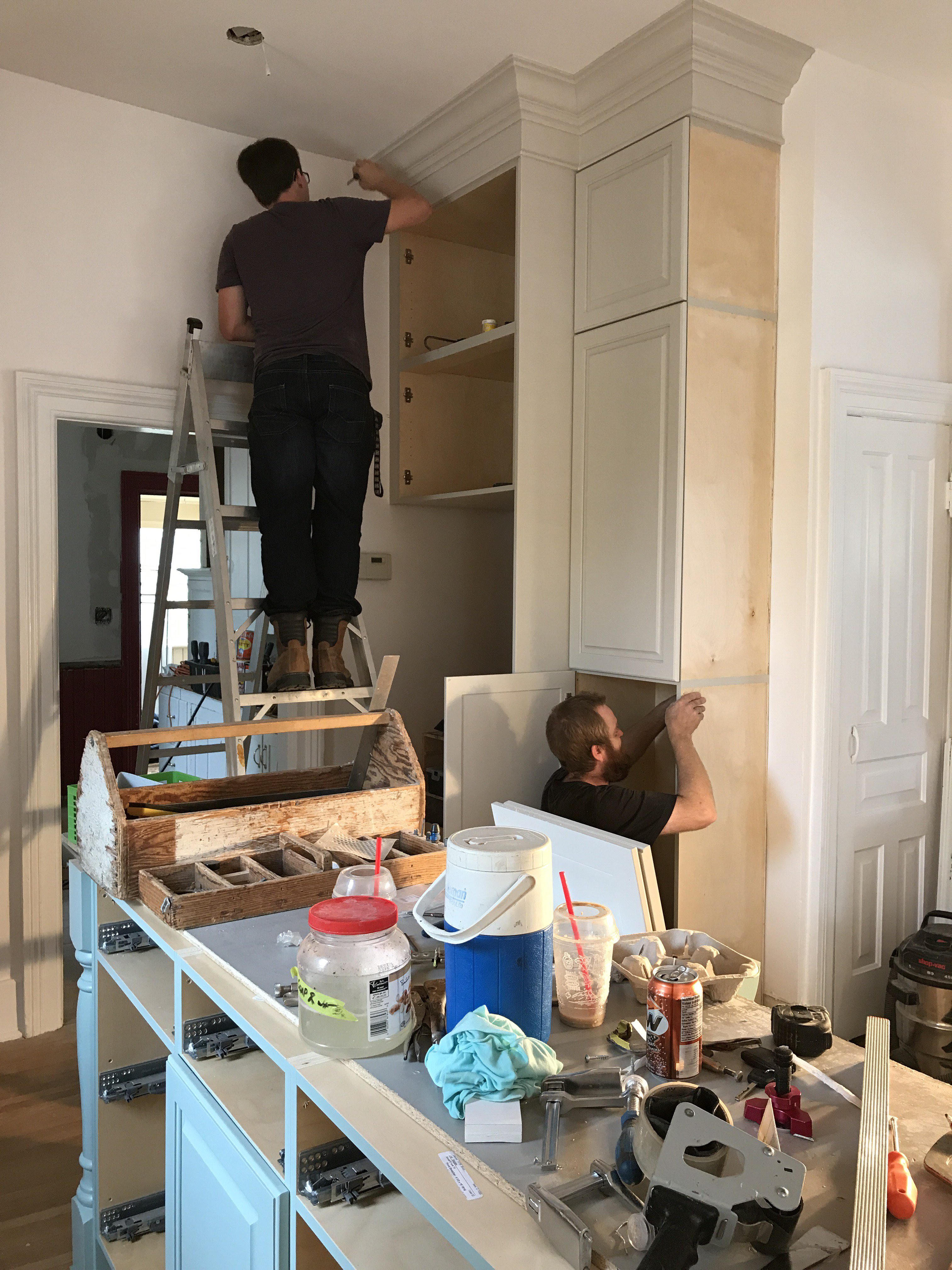 Ok that's it! No more sneak peeks! Next week I'll show you all the colourful kitchen cabinets installed, the ummm really fancy range we scored on a super sale, and I'll talk about all of our appliances including what's PINK and a ton of other stuff. Subscribe to get the update hot off the presses, and thank YOU so much for reading and following along.
Make sure you have a look at the rest of the participants and their One Room Challenge Progress!