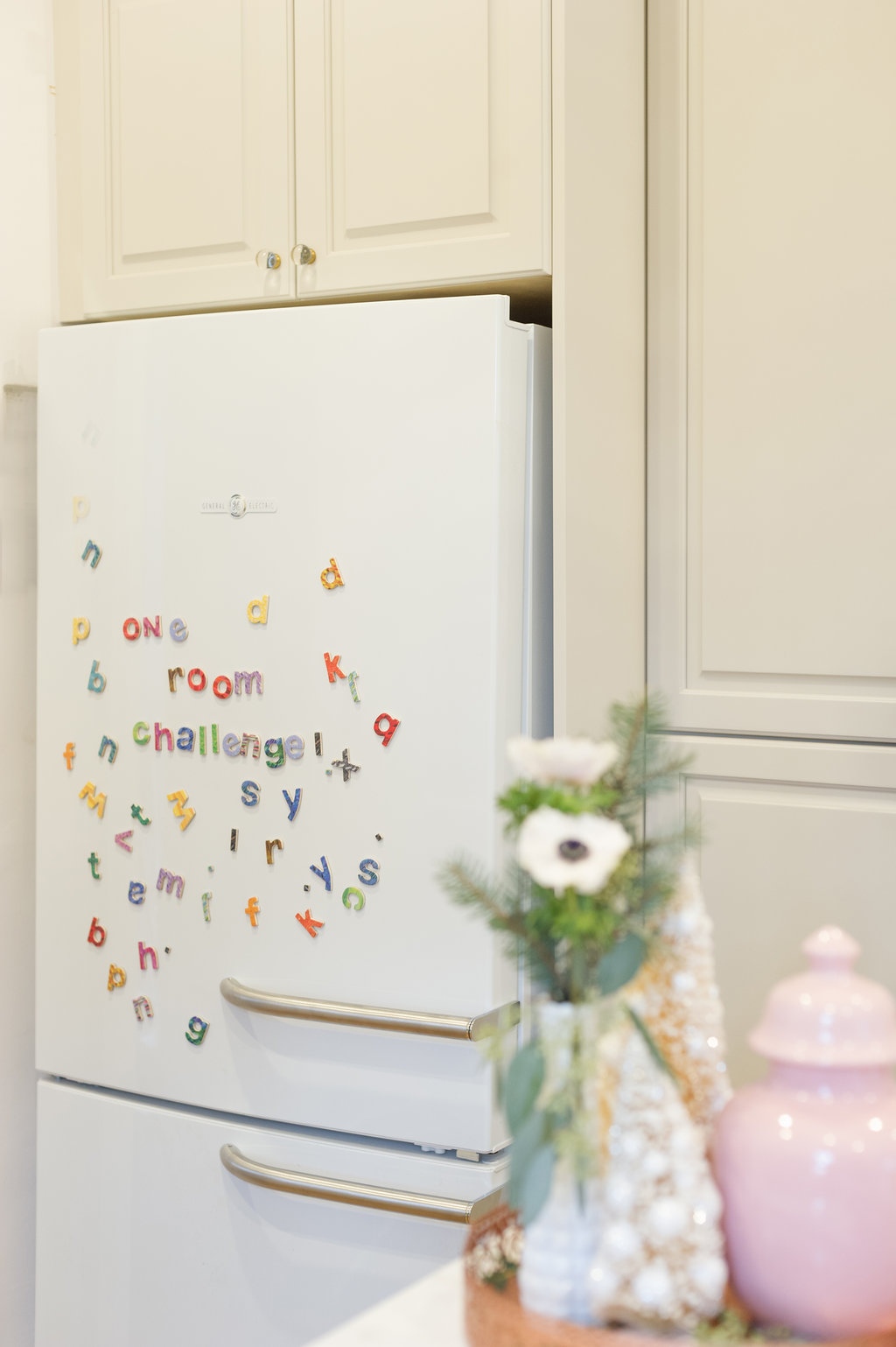 Oh my gosh!! Finishing the One Room Challenge, is just like finishing a marathon…except that you've used up every favour from every human you know in order to run it, and you're left with a dreamy space after instead of the soarest feet on earth…otherwise it's exactly the same…I definitely cried at like two points which is totally like a marathon. lol…but seriously.
It's a Feeling
Hmmm how can I explain this kitchen. It's not a style I don't think but it is a feeling. I wanted to create a kitchen that felt like it could be in our family for a really long time and that it belonged to us. I wanted it to feel like us.  I love the kitchen in the show Parenthood that belonged to their parents…you know "The Bravermans"?! I loved them. I also love the kitchen from the show Bloodline…the details are so good! I love faded khakis and how they come in so many greens and beiges and feel so lived in. Basically, I wanted my kitchen to feel like a really great fitting pair of worn in khakis. Your Favourite pants…is that a style? lol!!!
Recap
In case you're new to my project you can catch up here! Also, in these links you can find detailed info on all of the sources used for my kitchen!
Week 1: Inspiration Week 2: Cabinet Colours and Chandelier 
Week 3: Cabinet Install and Hardware Week 4: Pink Sink Week 5: Backsplash
Week 6: Appliances and Countertops
7 weeks ago this wasn't even a kitchen. It started as an empty dining room. Our kitchen was to the right of the dining room, and so small that we're making it into a powder room / laundry / mudroom. It isn't finished, so that will be a cool project to come. Here's a look back at the dining space which is about 13′ x 12′.  I took the second photo on a visit to the home, before we had taken possession.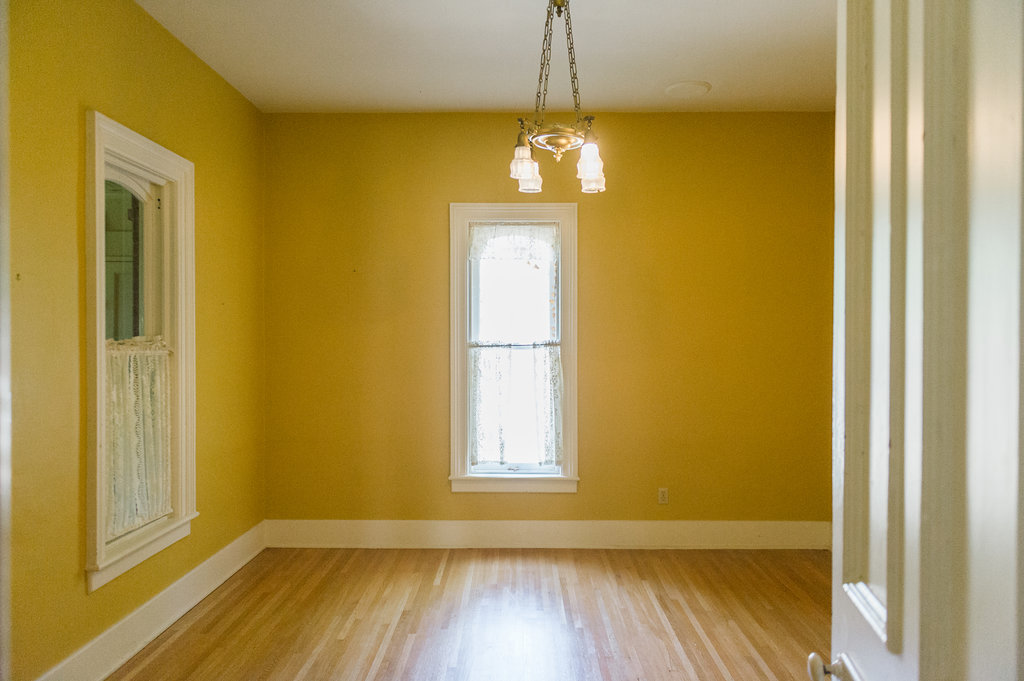 Ok enough talk, you're my first kitchen guests, Welcome!!!!!
Range
The first kitchen purchase was this range. We signed the papers for our current home over Christmas break last year, but we didn't take possession until this past July 21st. Somewhere in between there my husband went to The Appliance Shoppe to get a fridge for one of his rentals from Paul, the owner who we love so much, and he saw this baby on an incredible floor model clearance and Paul was good enough to hold it in the back for us until we got our forever home.
The range takes up 1/3 of the kitchen, but it feels like the perfect fit. In our last home we tried an induction cooktop and it felt so soul-less…lol…I know that's a funny way to describe the feeling, but I think the perfect range is the soul of a kitchen somehow.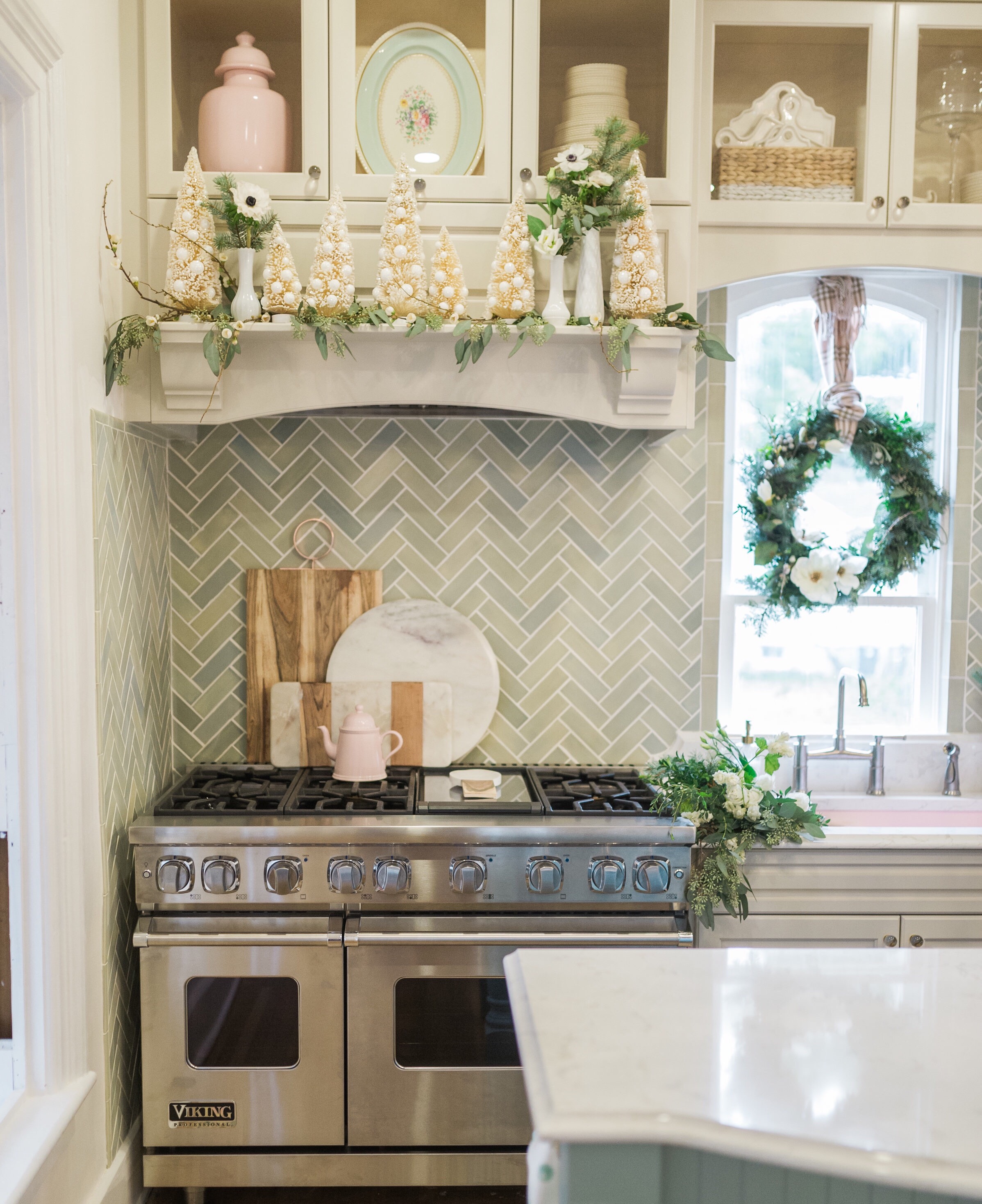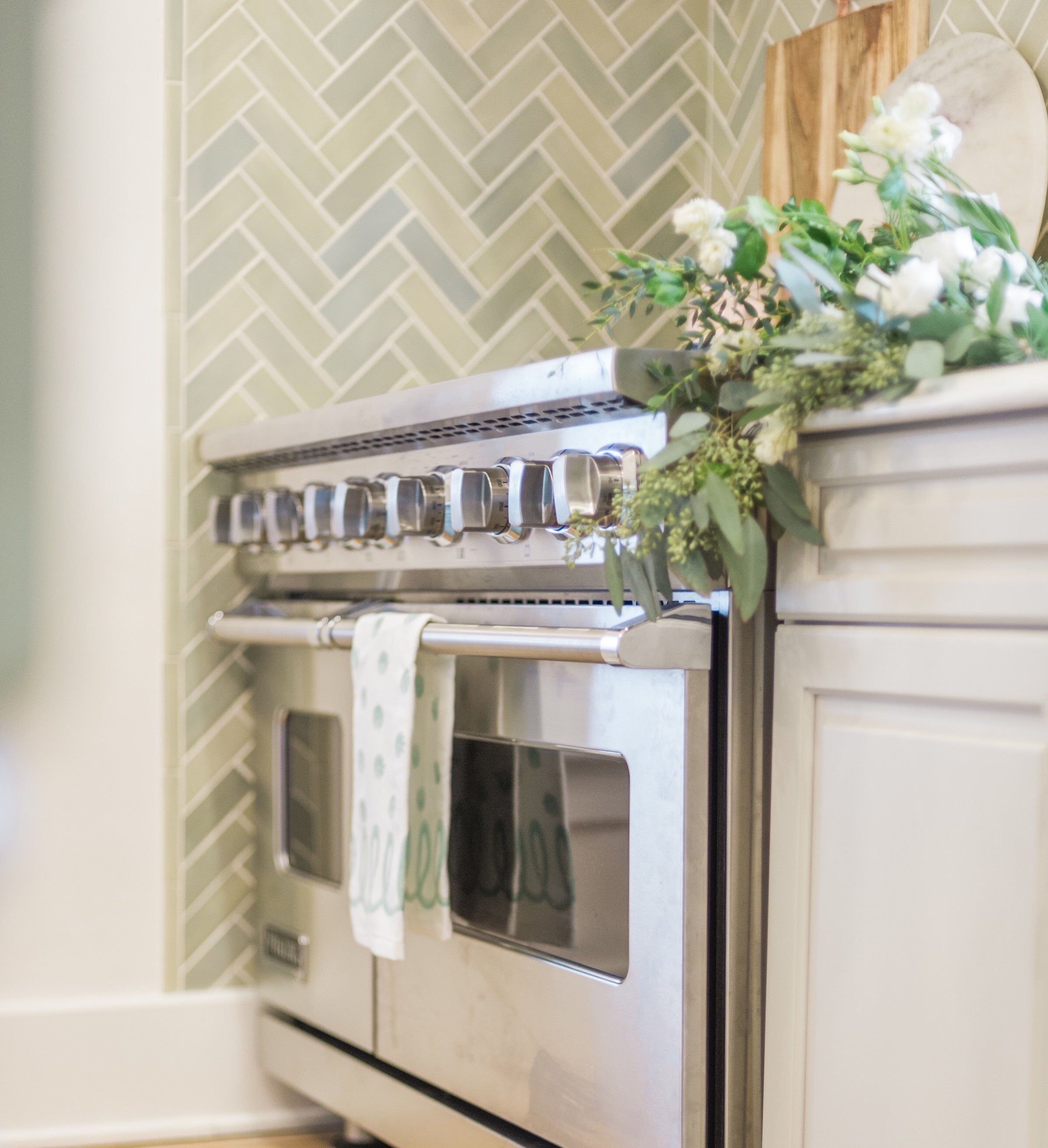 Pink Kitchen Sink
The next purchase was our pink sink from Whyte & Company. If you read the previous posts, you'll know that I had it in my head that the kitchen had to have a pink appliance. In the end I found the most perfect solution ever to my craving in this pink sink.
You need to read the full post on this pink sink and the incredible company behind it, but the gist is that it is completely stunning and a showstopper. No one can believe that we have a pink sink and they just love it! It has changed the way I look at my sink and I never want a dirty dish sitting in it…which is awesome because it's gotten me so into keeping the kitchen clean. I also adore the personality and character that it adds to the space. Don't even get me started about how you can see a small pop of pink from every angle, which is just such eye candy!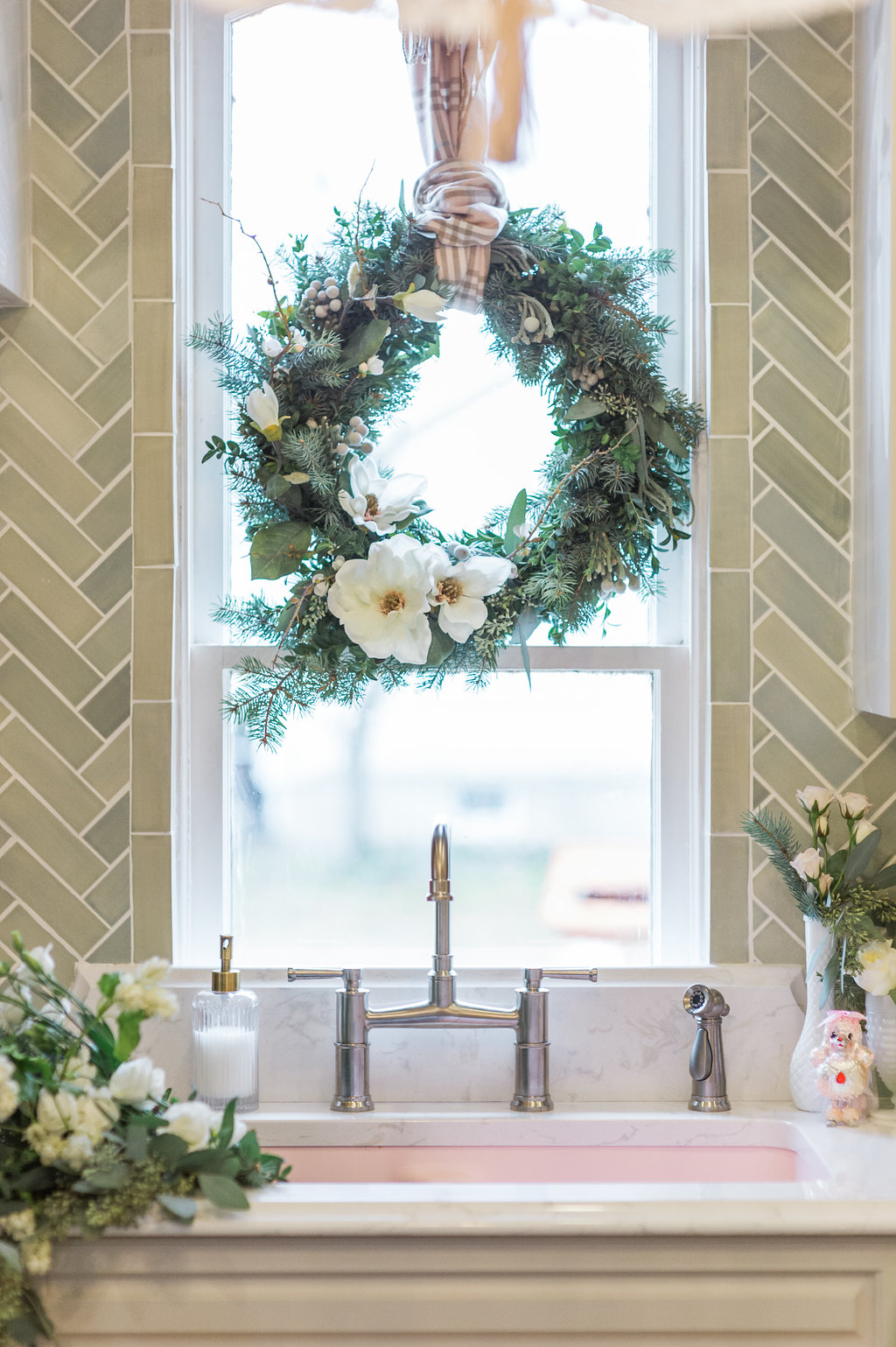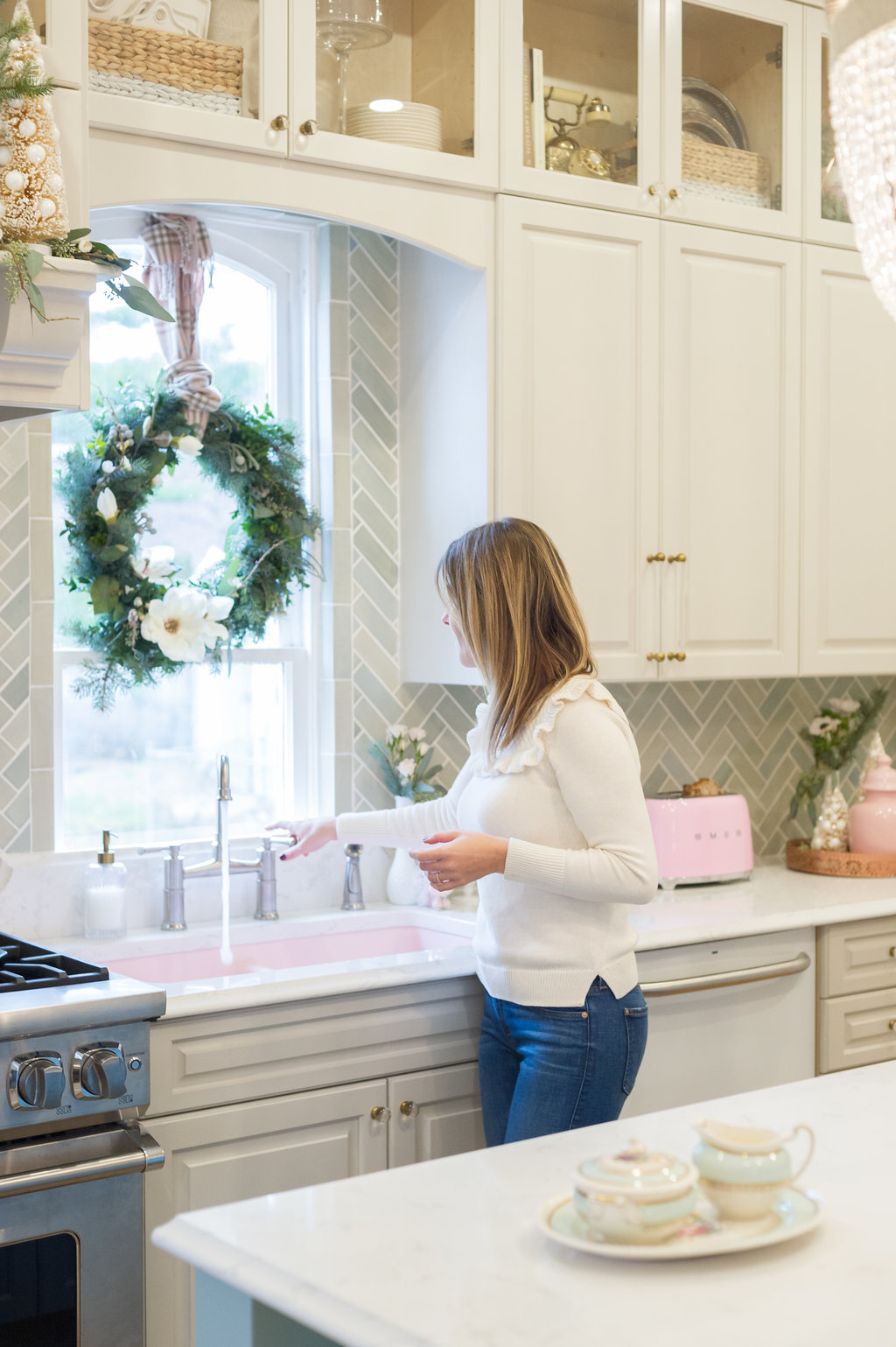 Faucet
I decided on this faucet from Brizo. I love the vibe of it. It's a little farmhouse, a little industrial, completely vintage, and a little modern…I mean come on?! How perfect is that combination of styles! This faucet is from the Artesso collection which is actually modelled after those found in factories in the 1900s! I also went with stainless steel because it's right next to the stainless range, so I think it fits perfectly.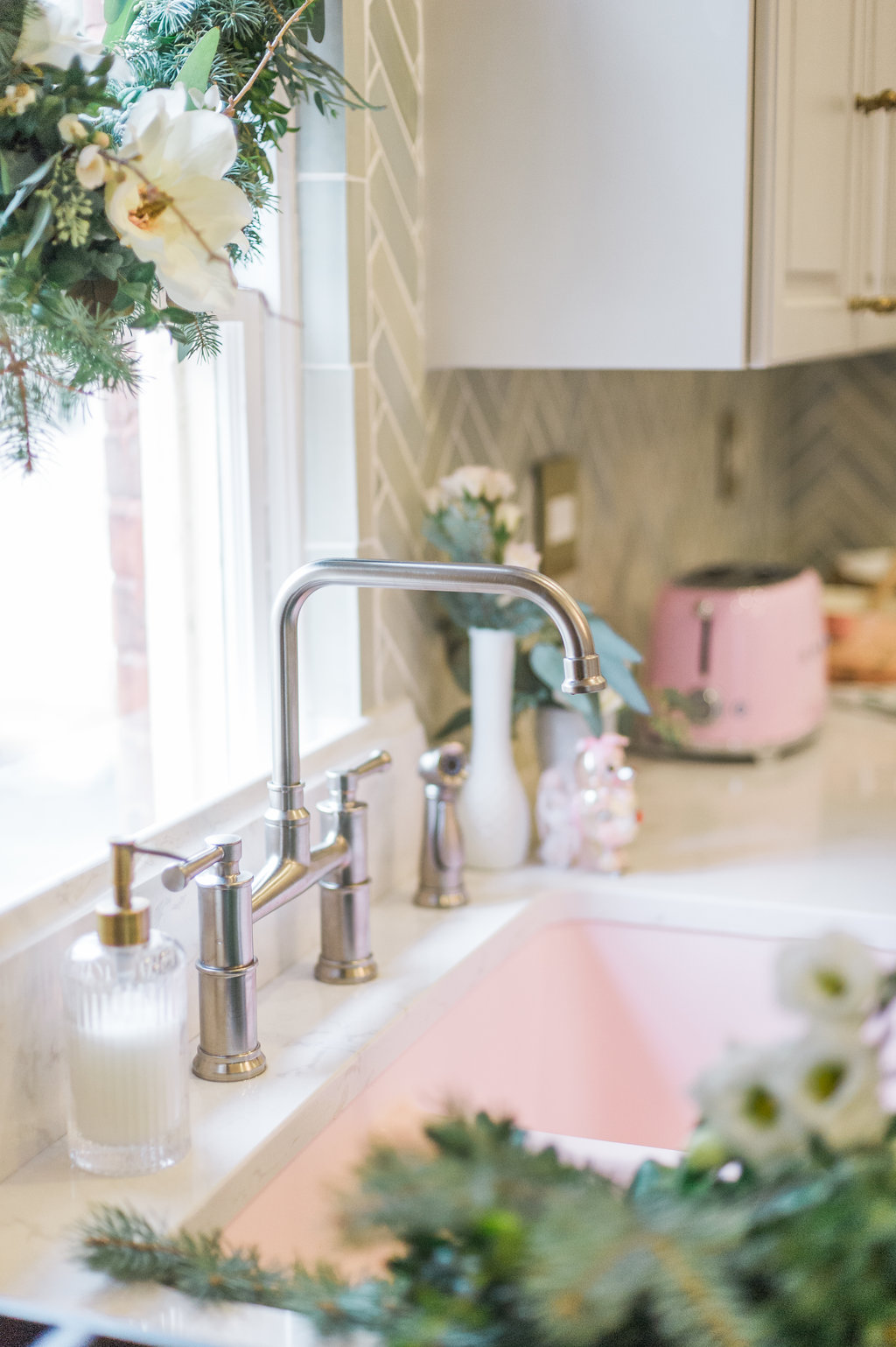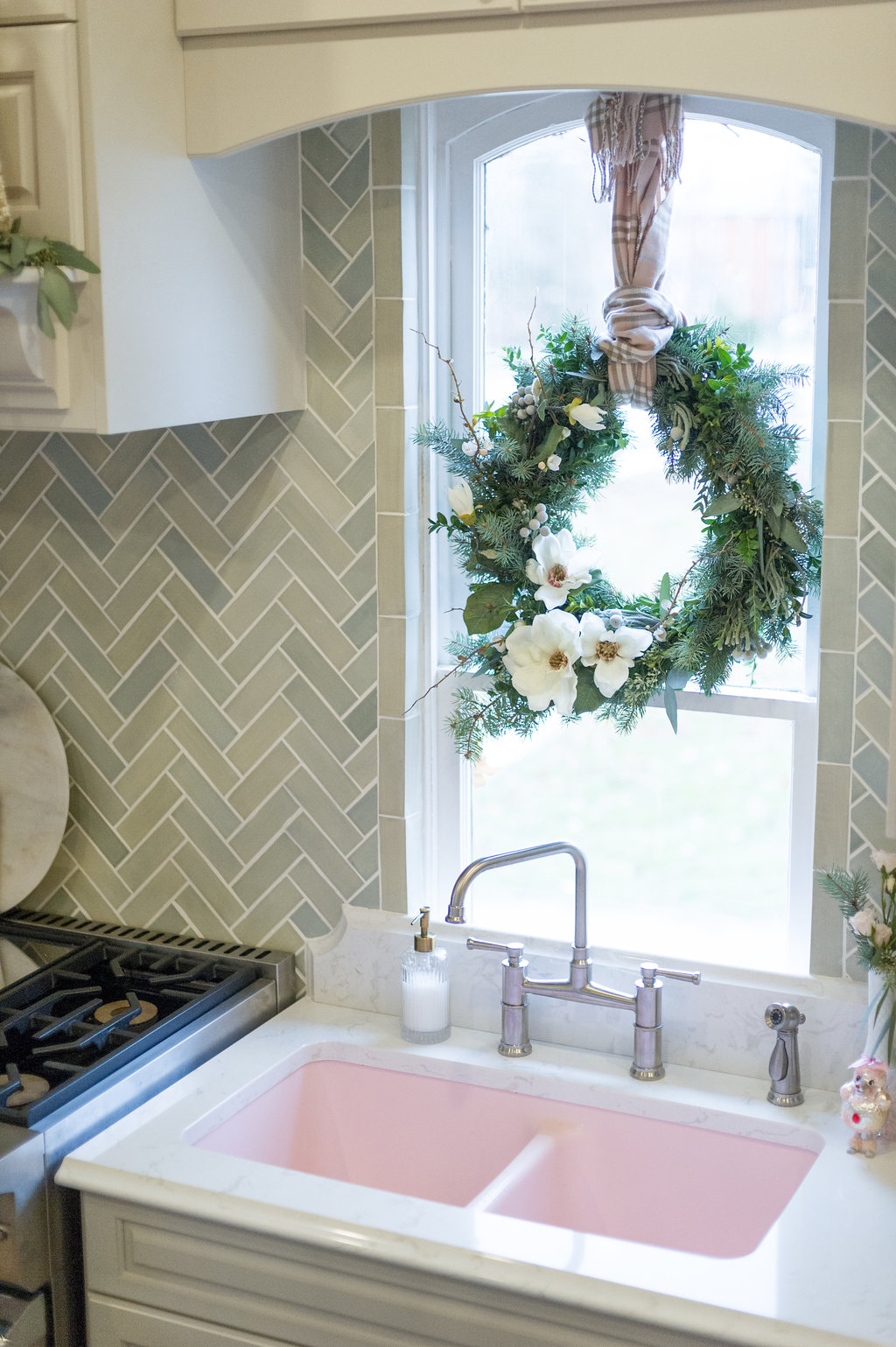 Backsplash
Oh my goodness you know that the backsplash was the most difficult decision…now that it's in I am so happy with it– I cannot even put it into words!!! They are handmade tiles from Mercury Mosaics. I actually wrote an entire post about my backsplash, so please click here to read it! The glaze and each tile is so unique, you just want to touch them! I asked for some photos of the tiles being made, so that I could show you guys! How cool are these?!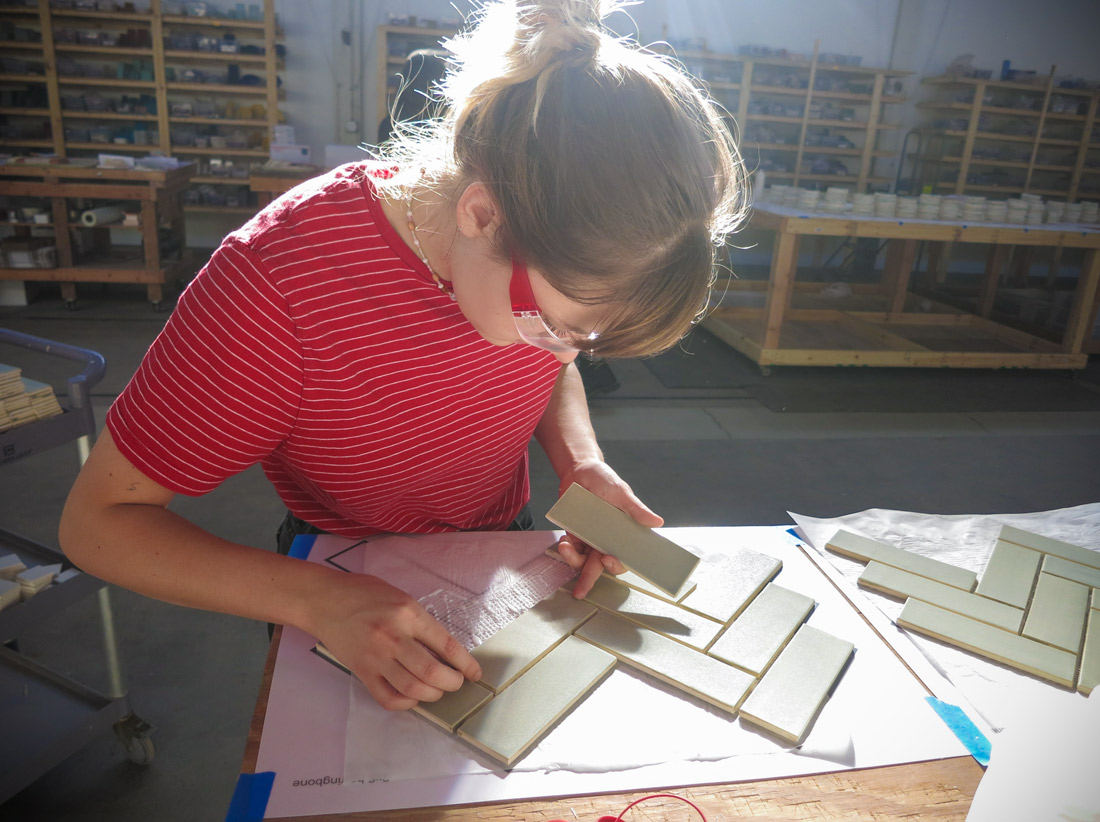 I've just fallen in love with this company! We're actually about to work together again on the coolest little project that I can't wait to share super soon!
Plugs and Switches
You know that saying, "it's all in the details." That is so true once you see this! Another detail that I need to share with you guys are our plugs and switches. I know right?! How can you have special plugs and switches…I thought the same thing until now. Now I know how special they can be. I can't tell you how many people have come over recently and said, I really like your light switches…words I never thought that I would here. I got a couple great shots of them in the backsplash but I need to show you more soon! They are part of the Adorne collection from Legrand and I got the brushed brass plates and they are bad ass…lol! Seriously though such a polished detail that I'm obsessed with now.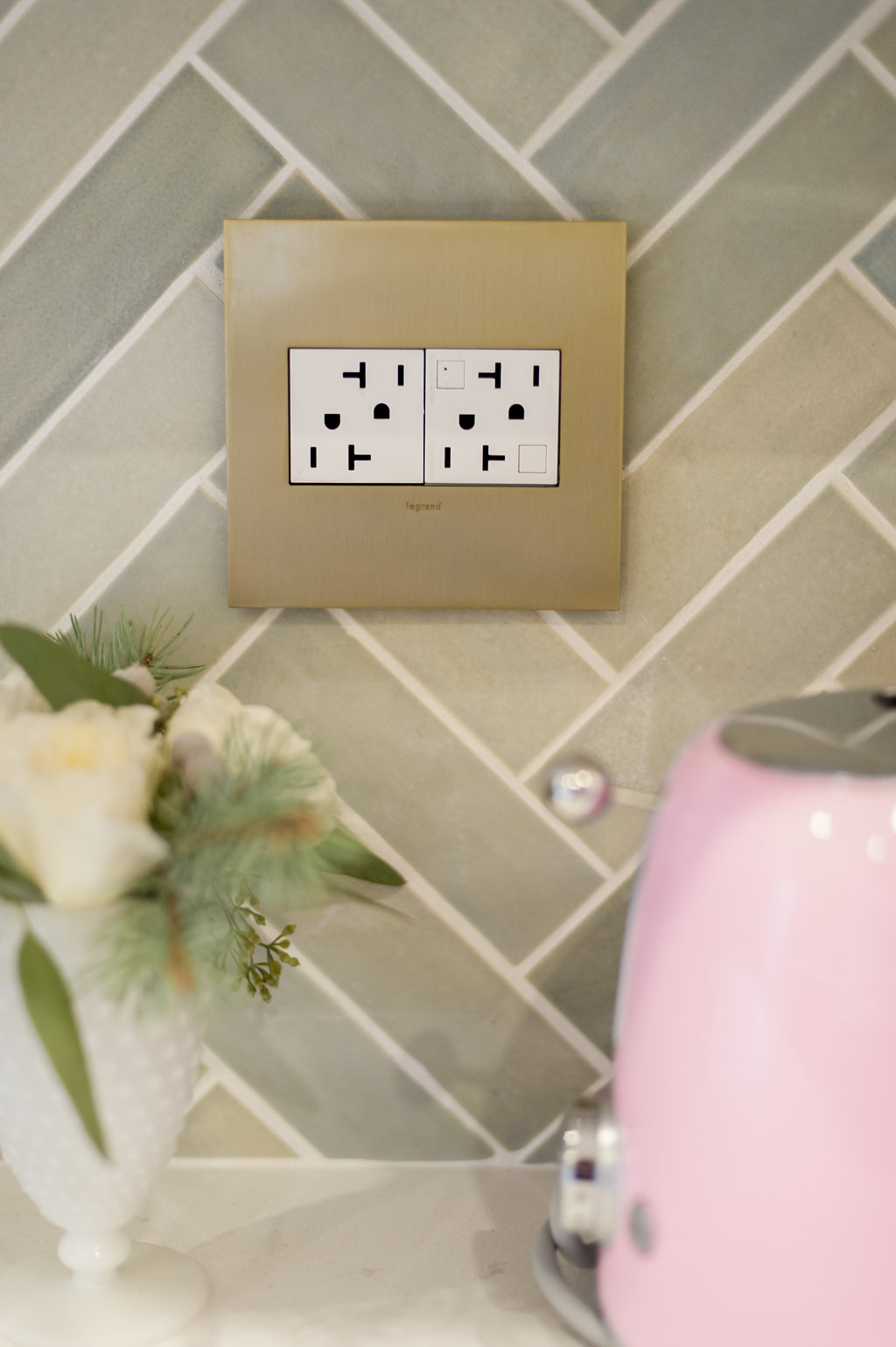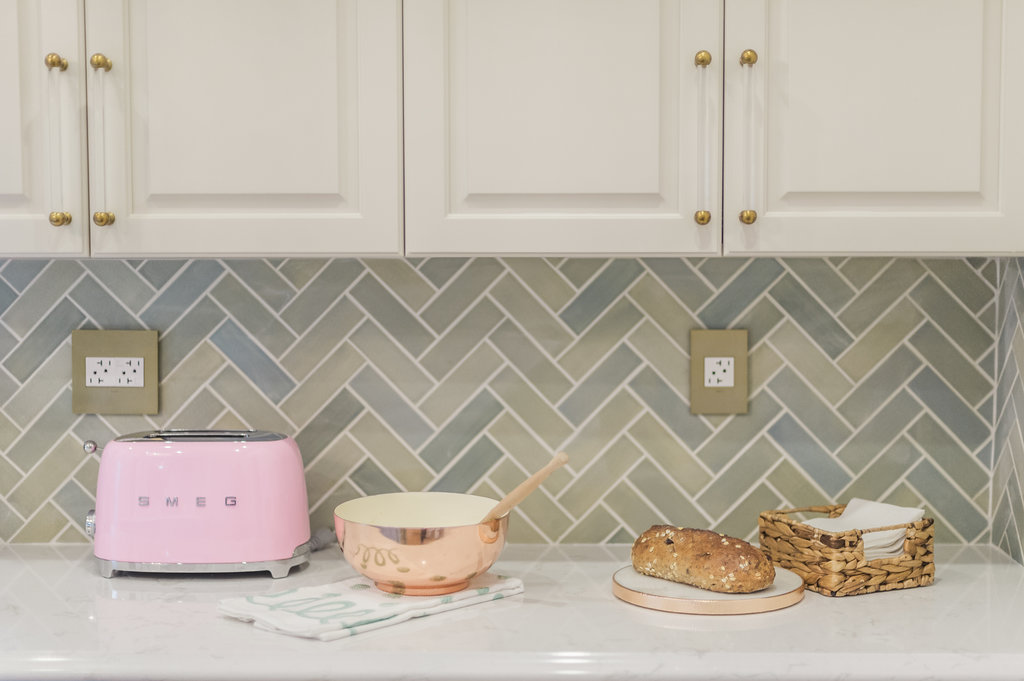 Toaster of Dreams
Ok so I need to take a moment to let you know that if I was giving someone a Christmas gift and I wanted them to LOVE the crap out of it, I would buy them a pink SMEG toaster…doesn't even have to be pink because they come in every colour! But, like you don't even know how dreamy it is until you see it in person. I'm so in love and it's the gift to end all gifts. I got mine from Indigo which is the go-to for SMEG appliances. Not to mention I have not seen the pink just anywhere cause it's just so damn special. Just saying….best gift ever! P.S. Dear Santa, I also really want the kettle!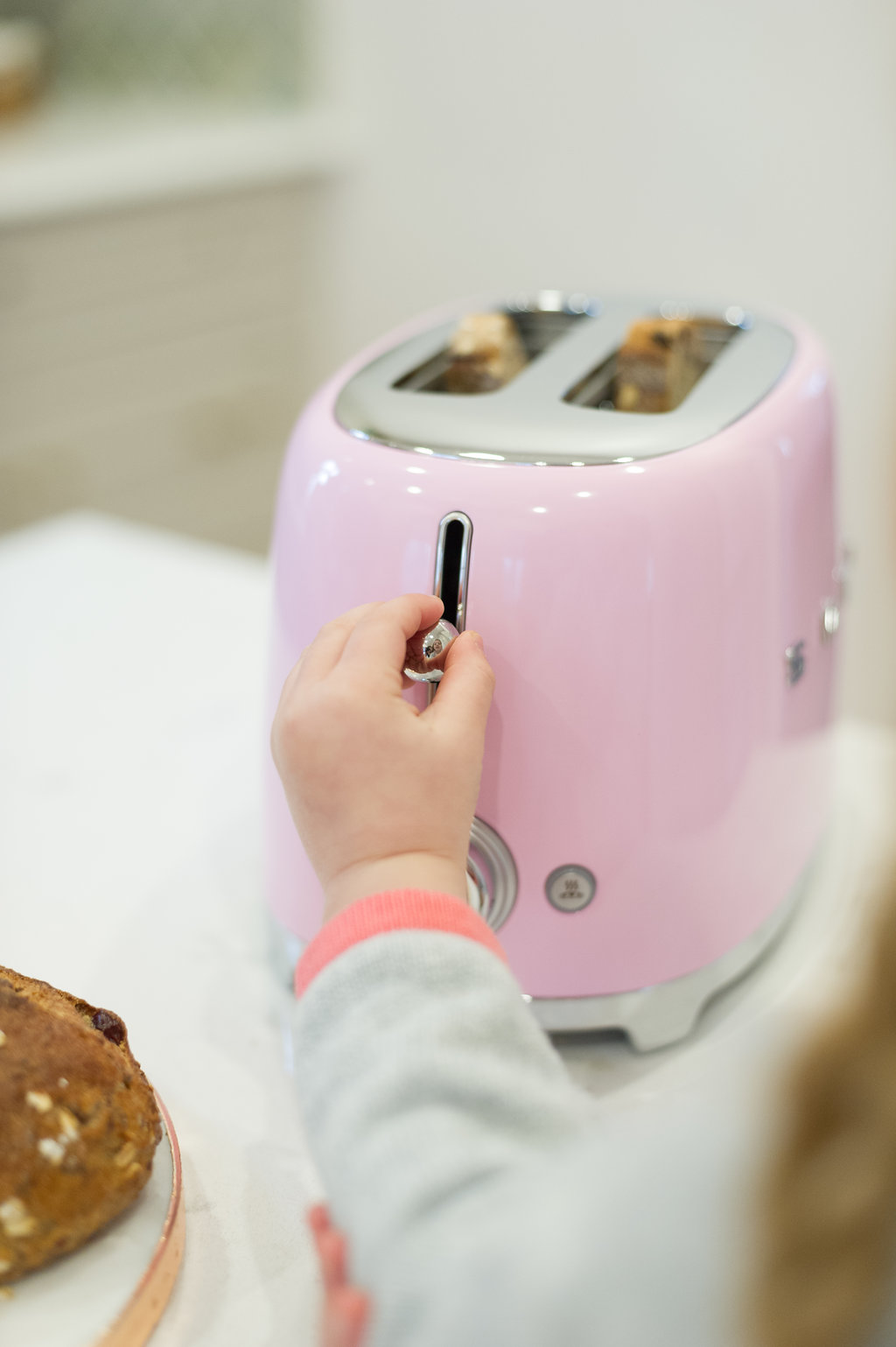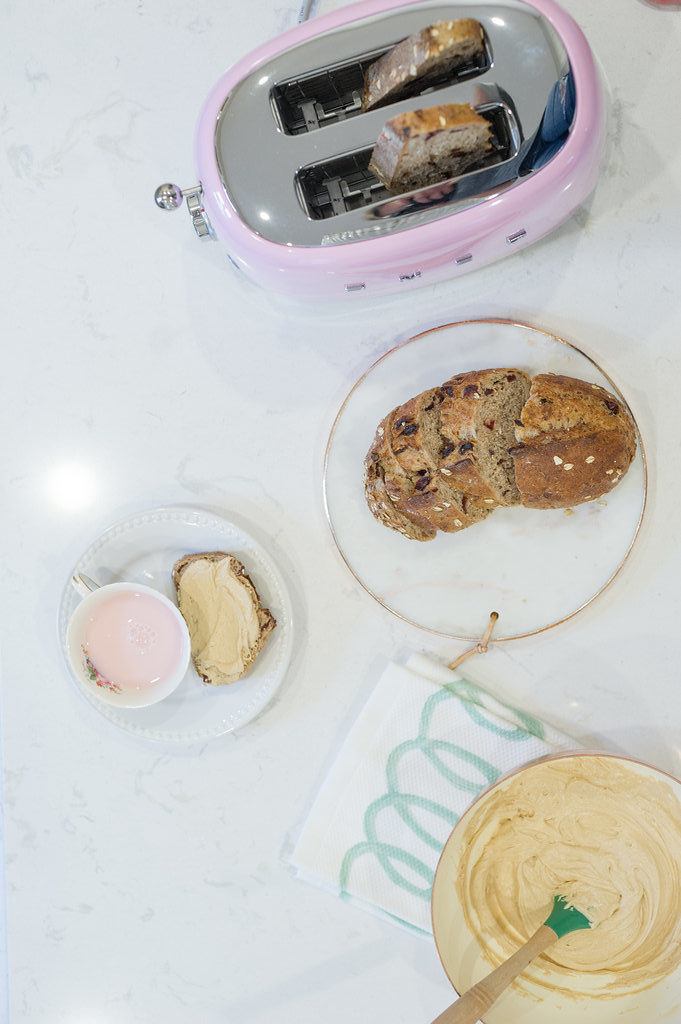 Christmas Details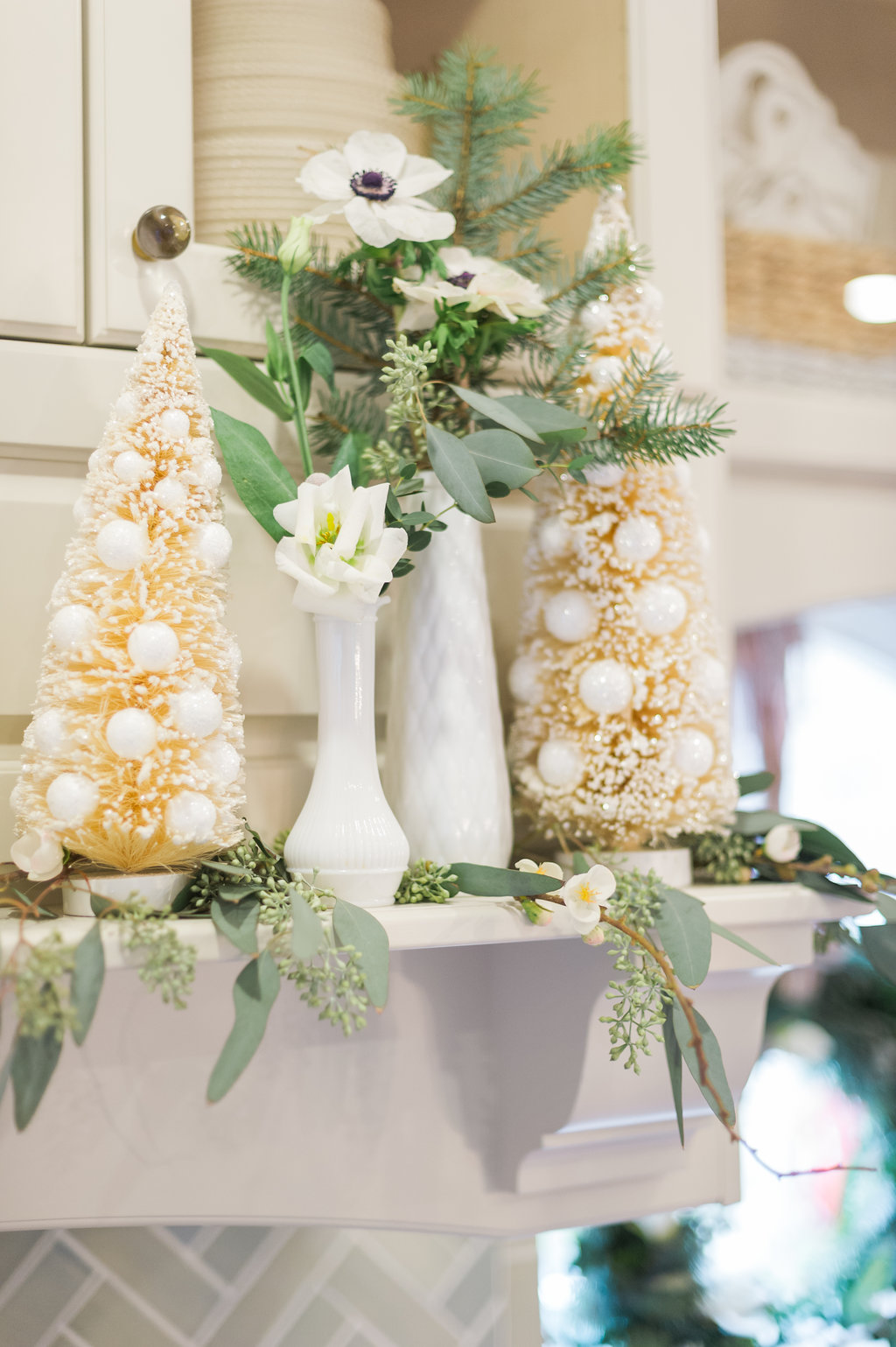 .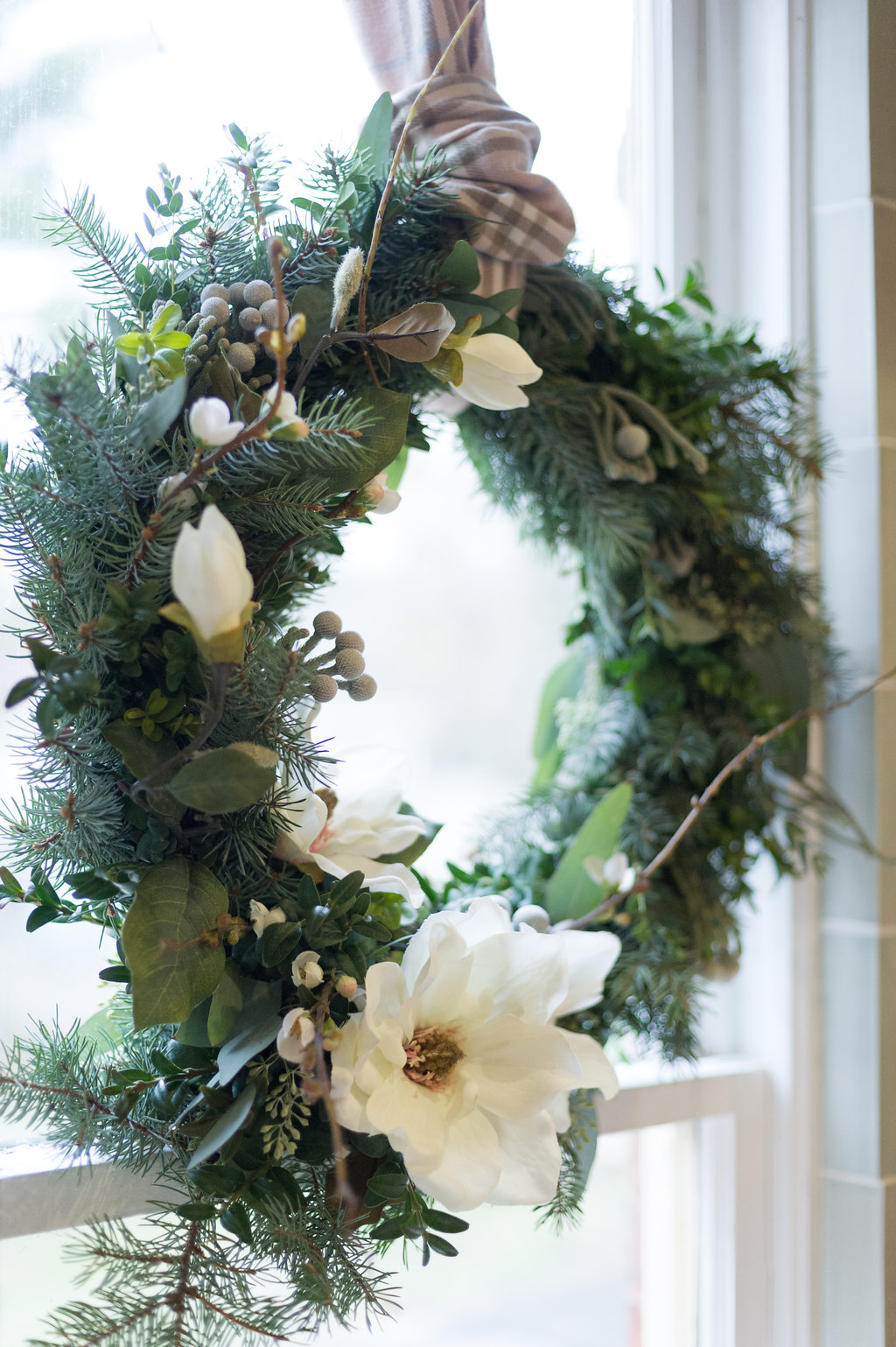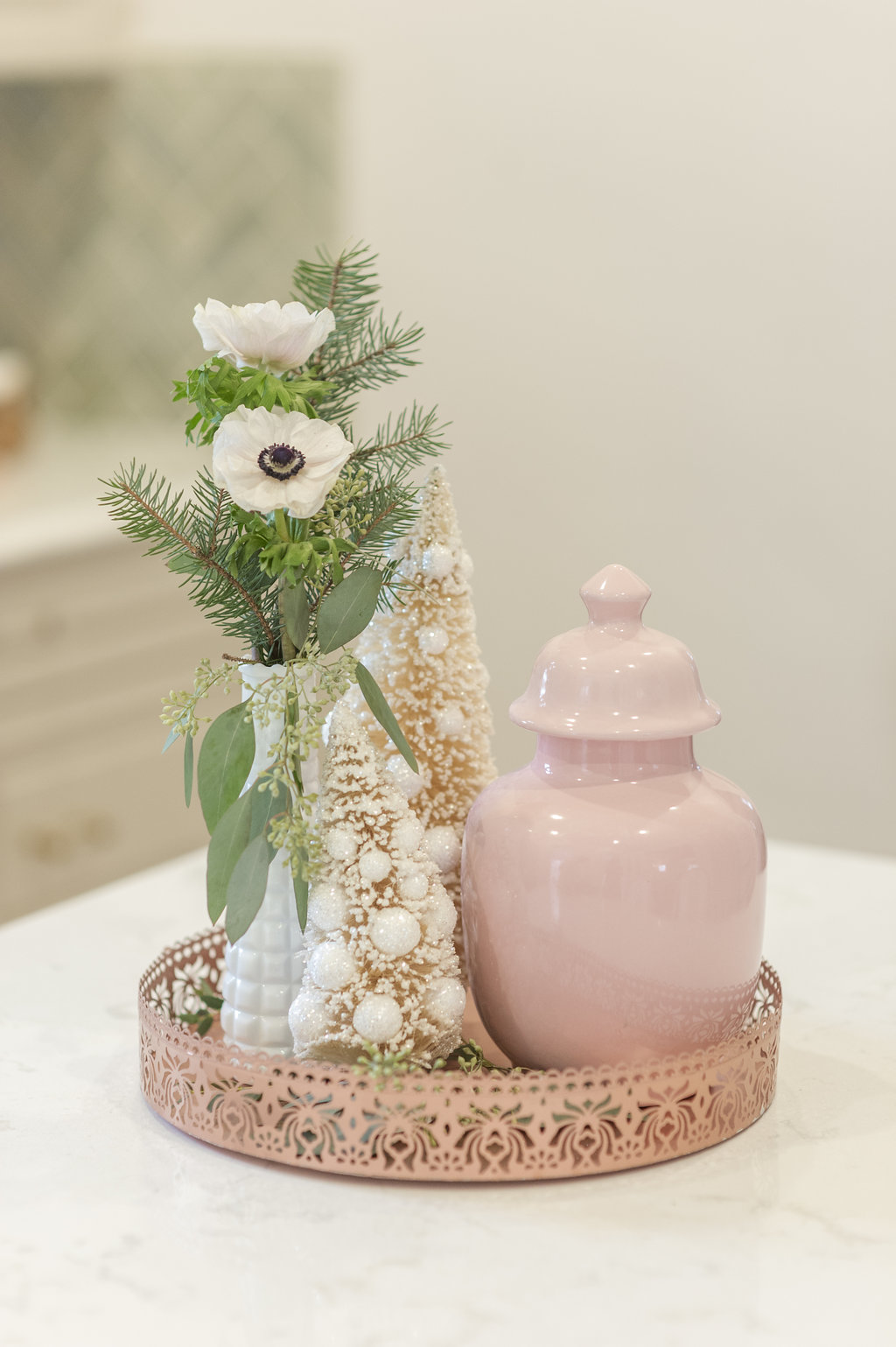 I found these wonderful little bottle brush trees and this rose gold tray in Canadian Tire's Christmas section this season! I love them and have gotten so many compliments! The flower vases and wreath are handmade by Cori Heer from CJH Florals and the pink ginger jars are a vintage find!
Ok I can't contain myself any longer! I need to share the whole minty-blue enchilada!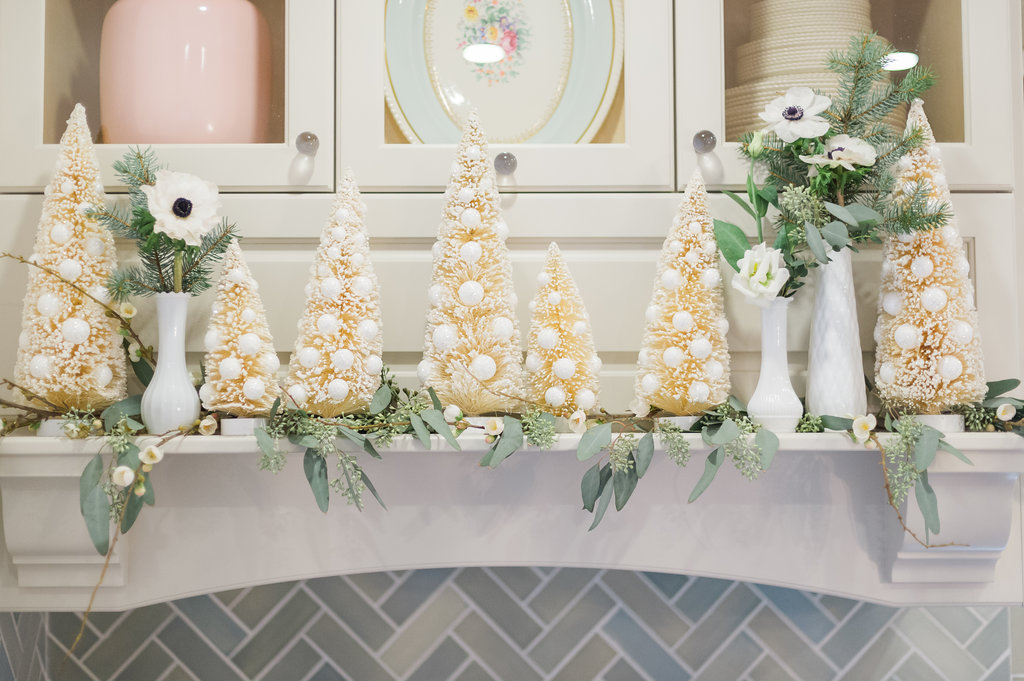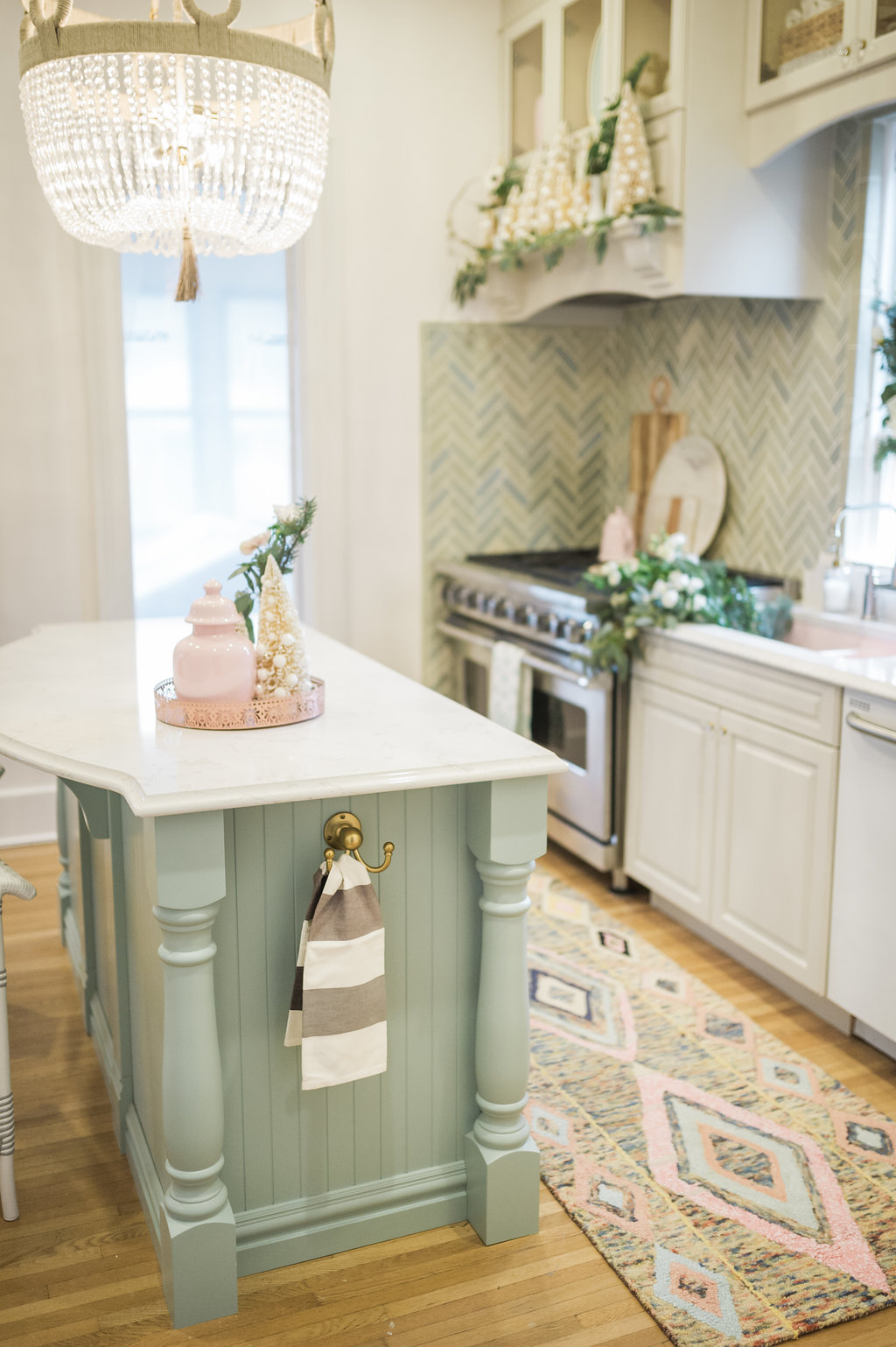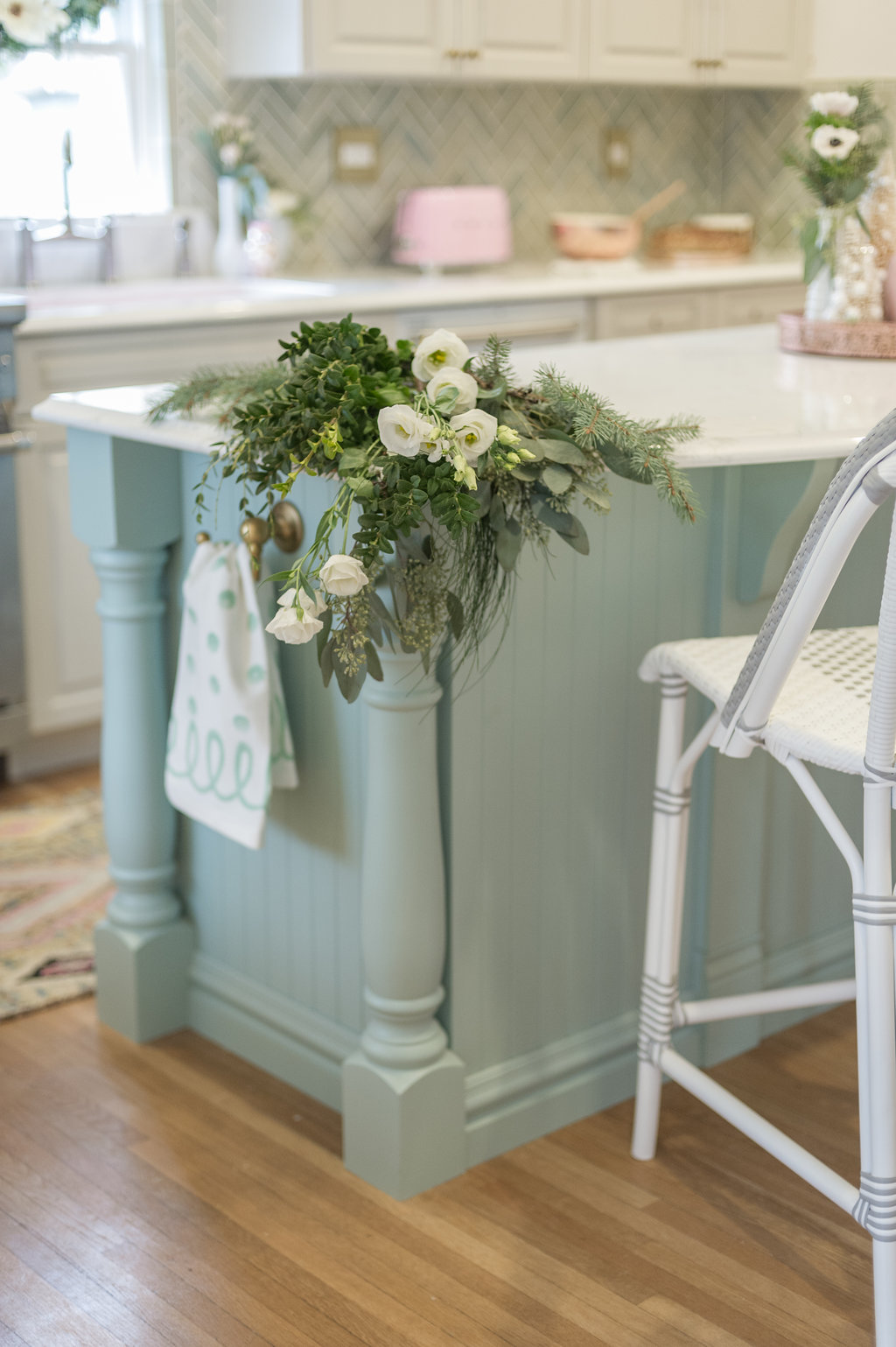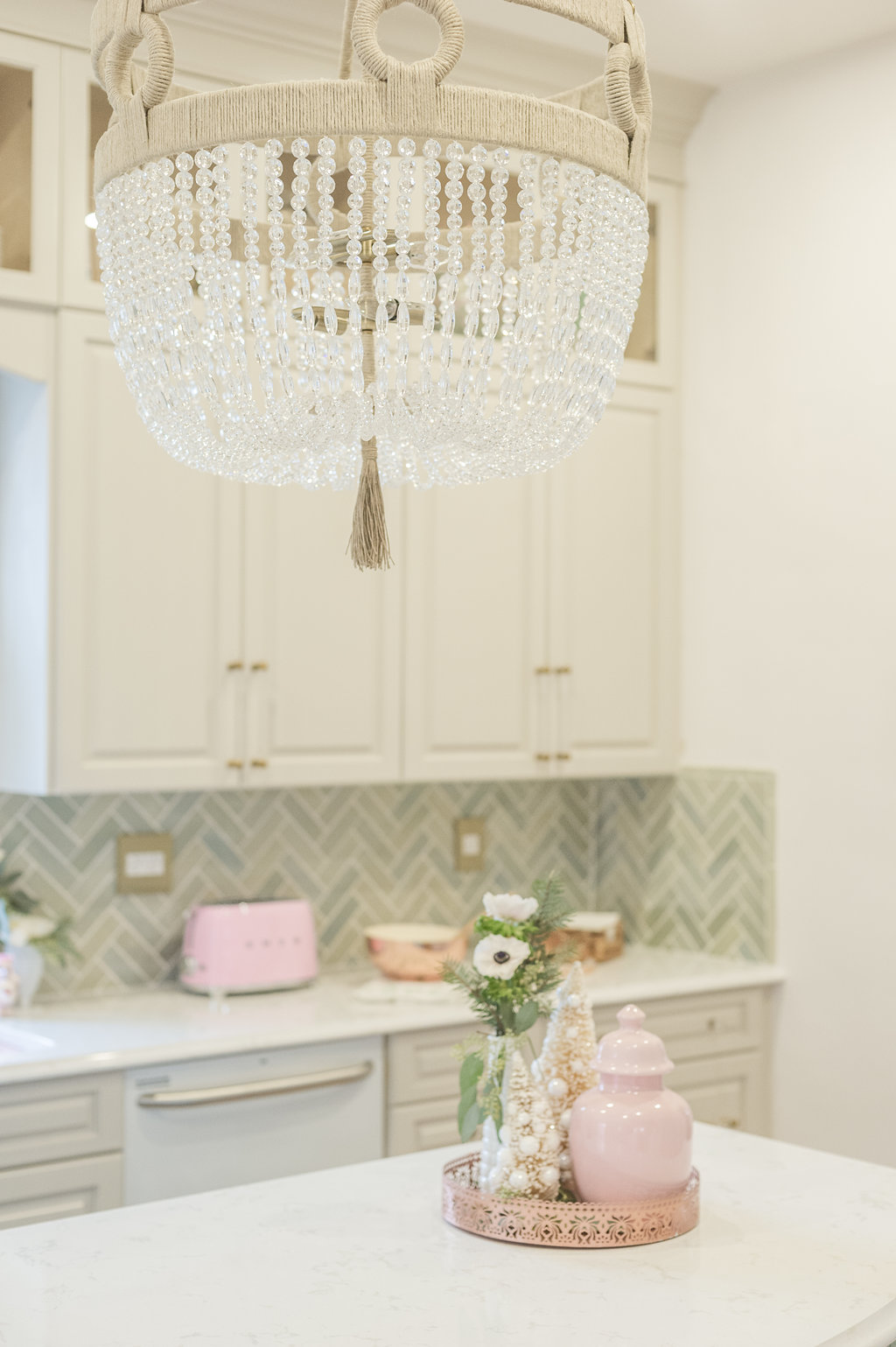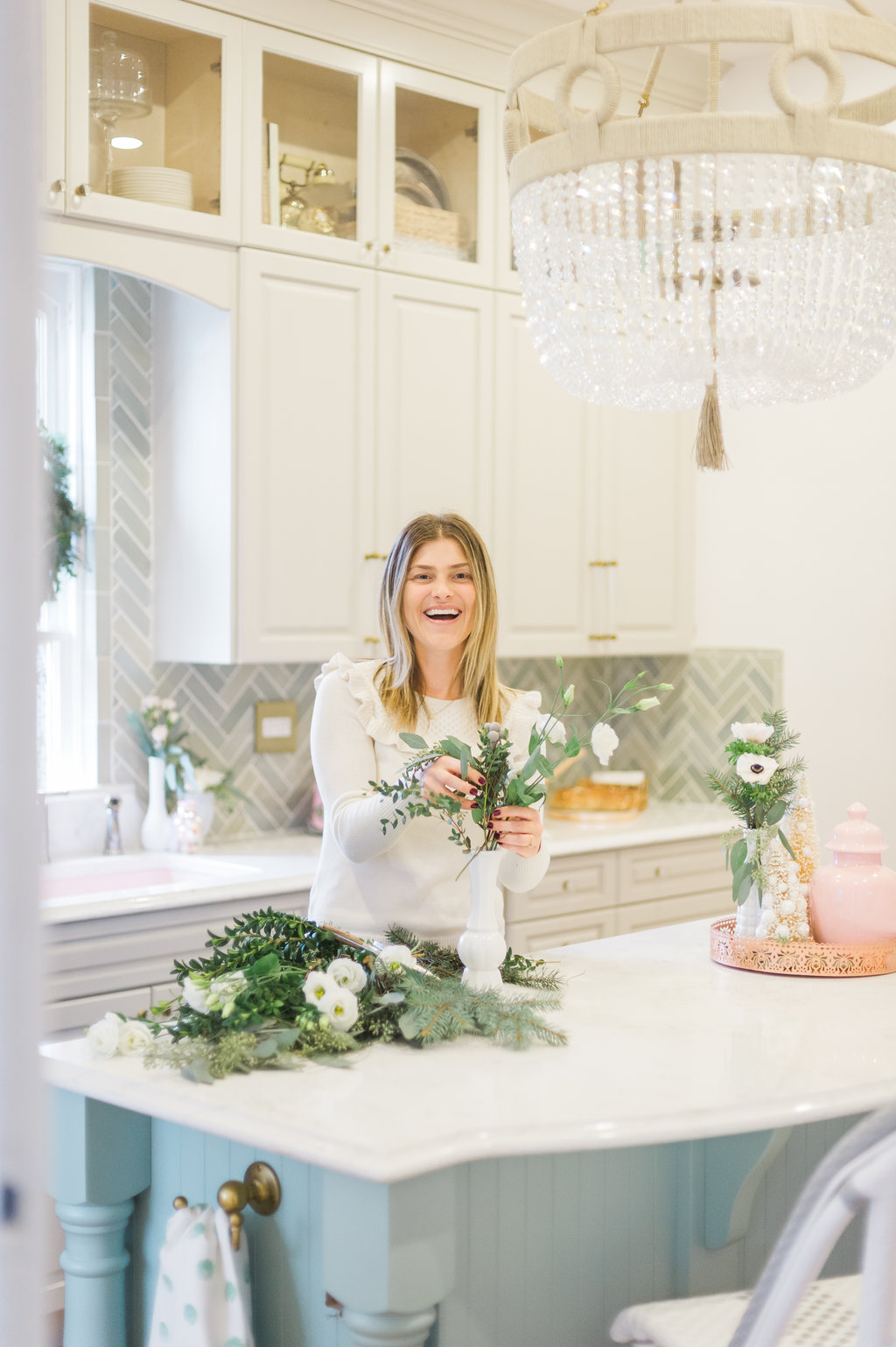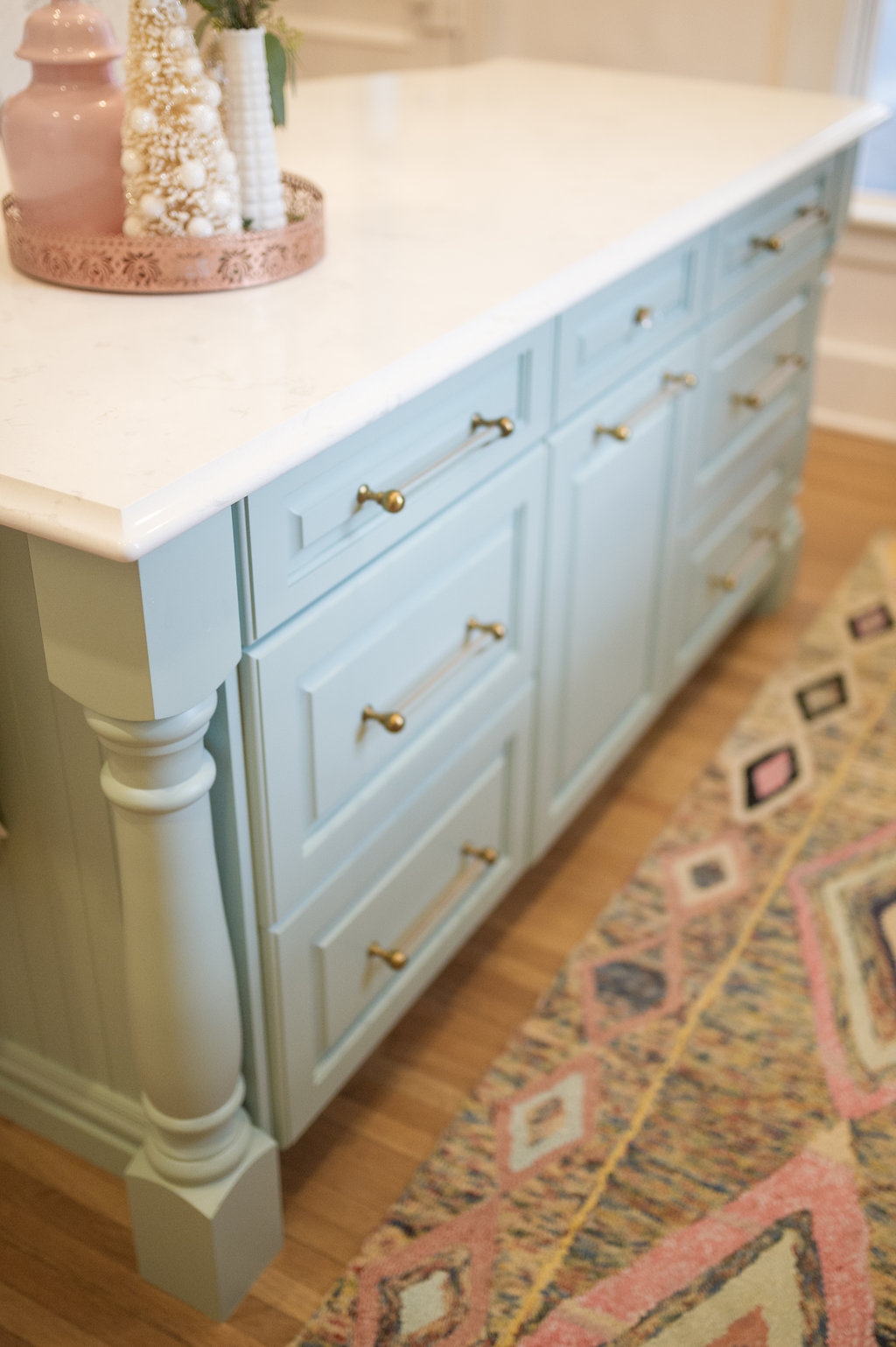 .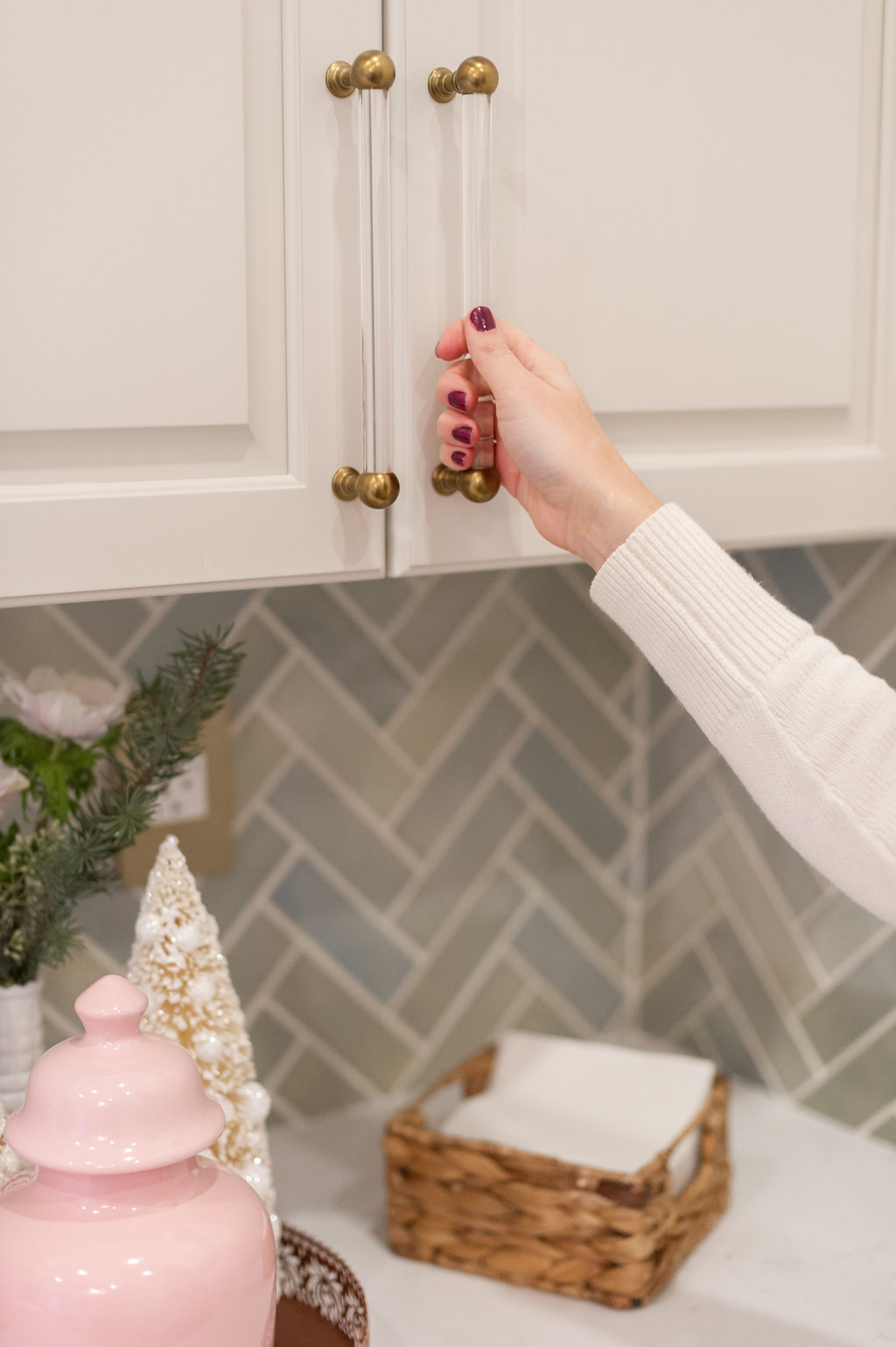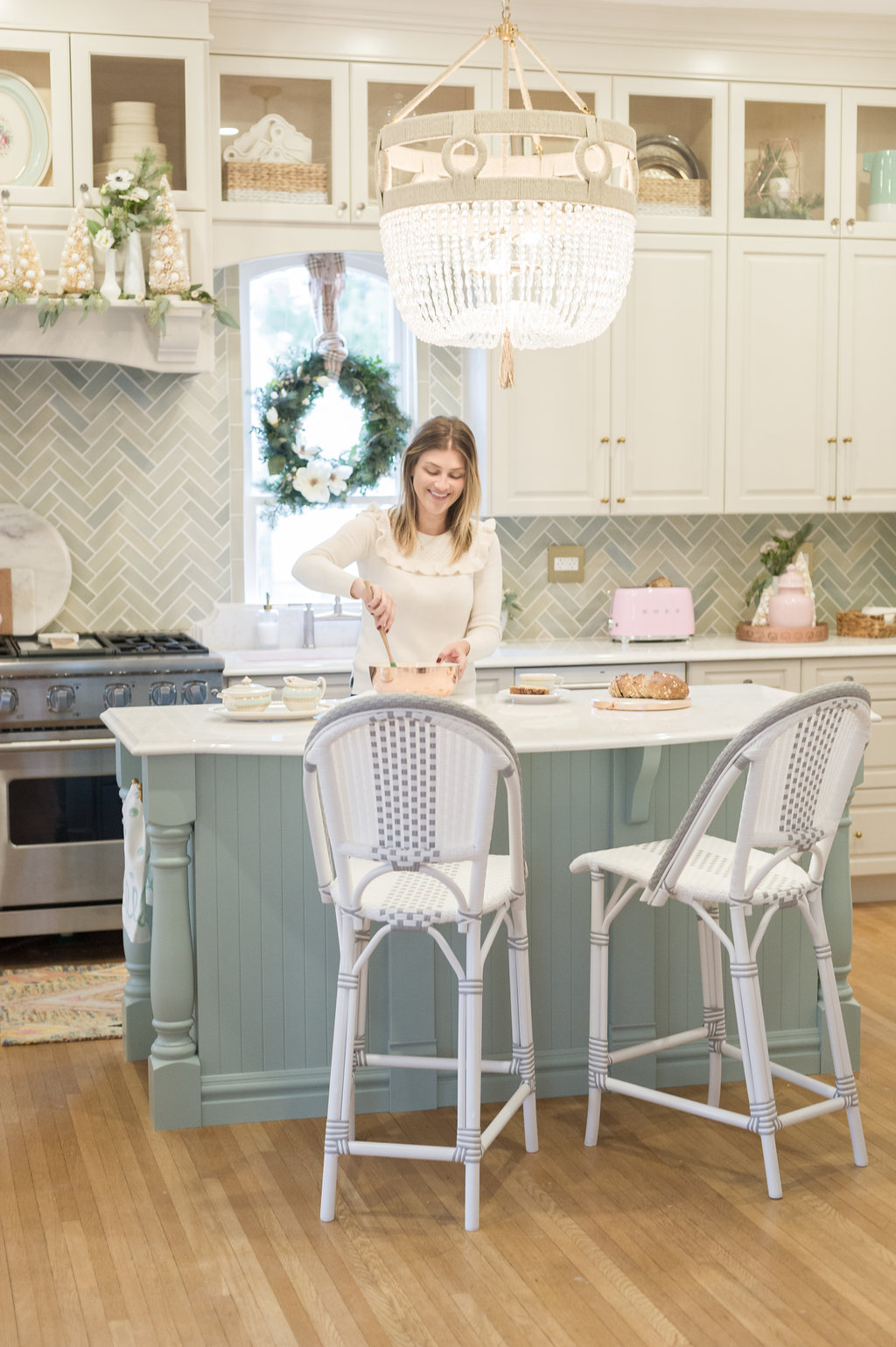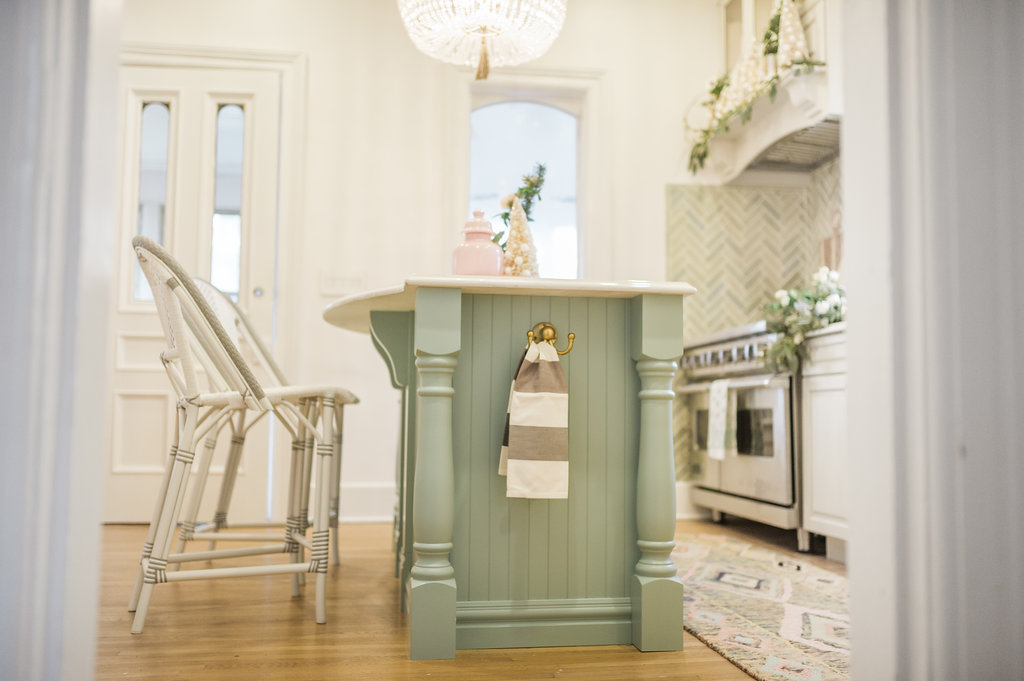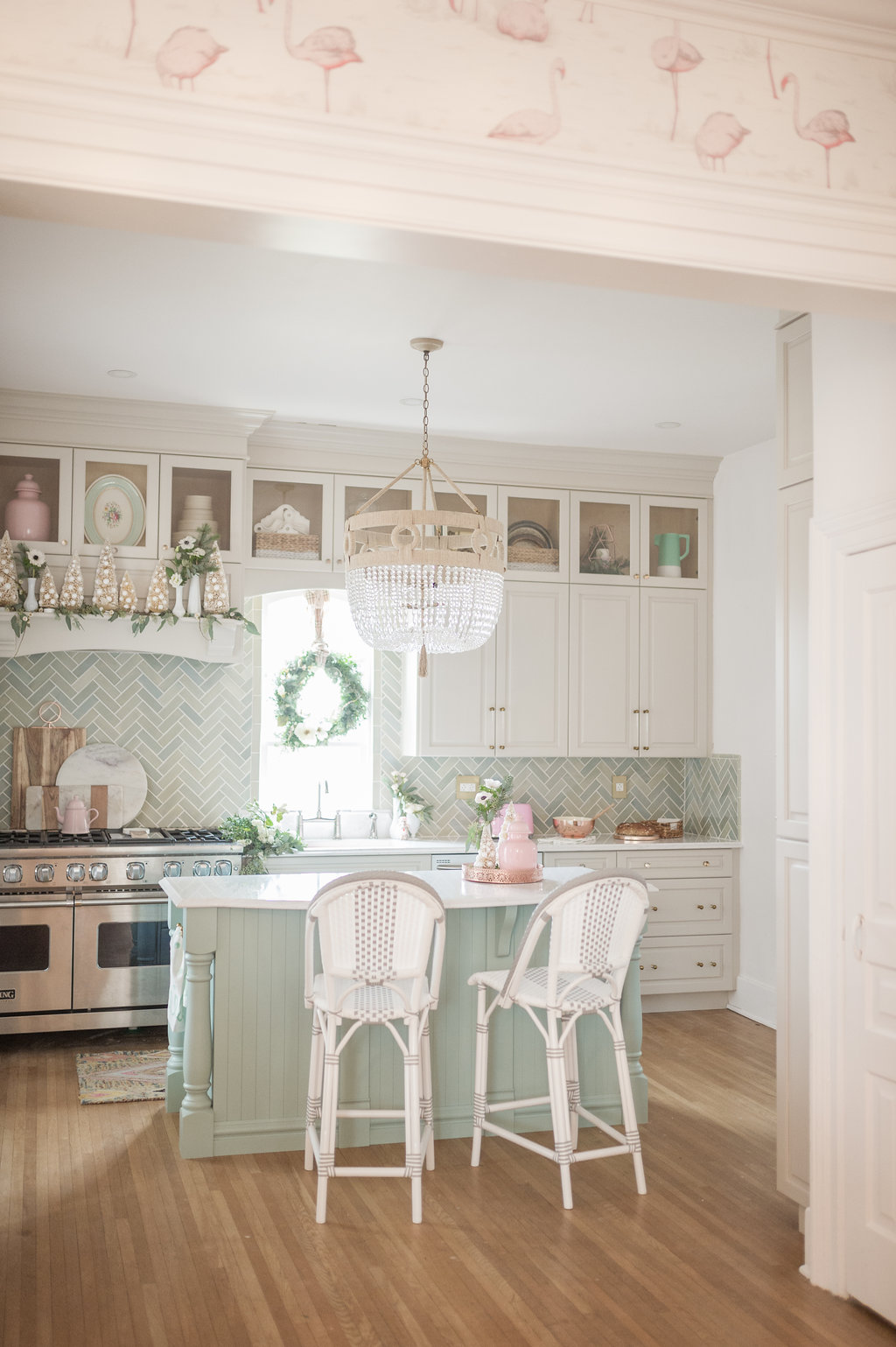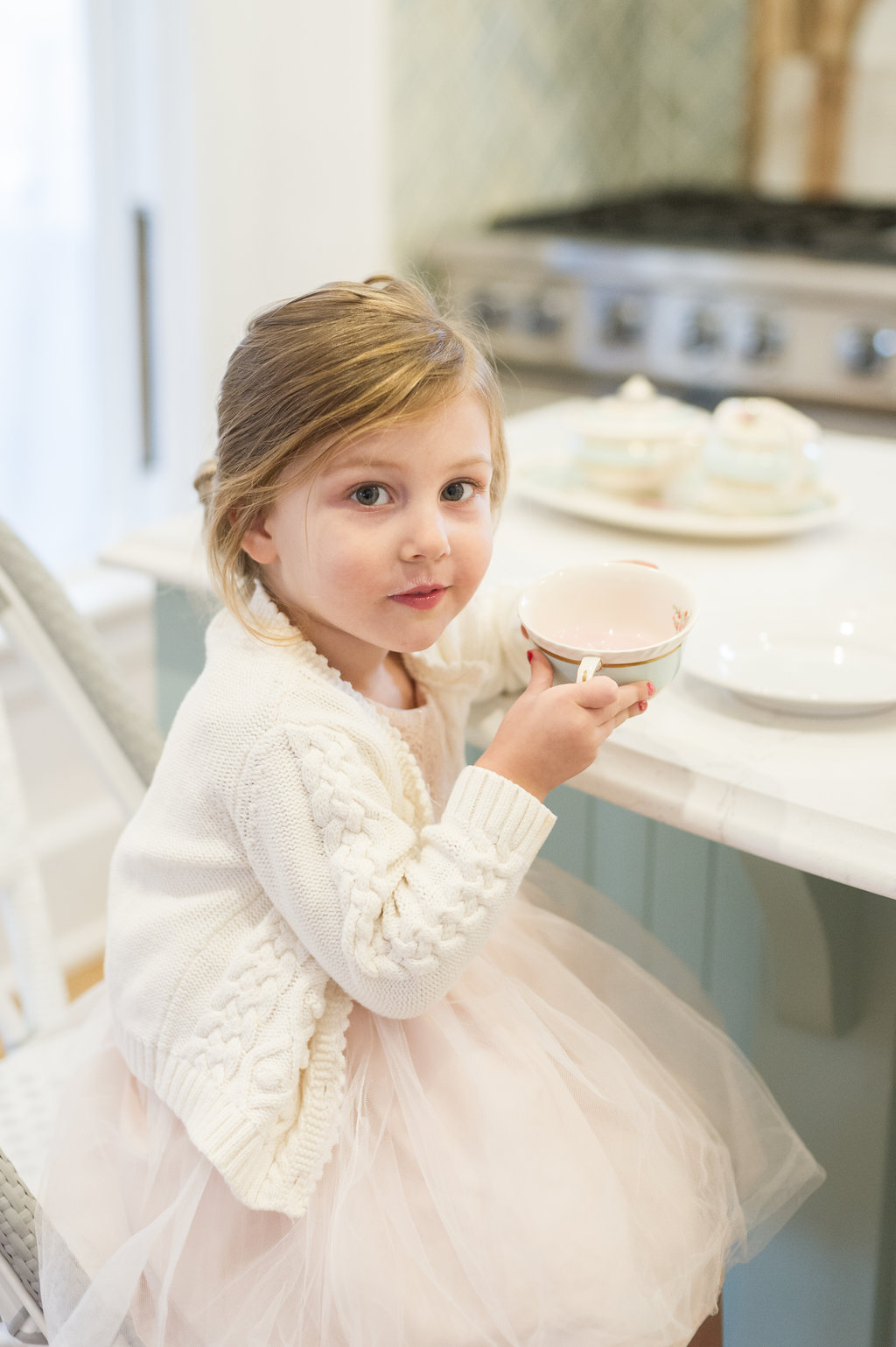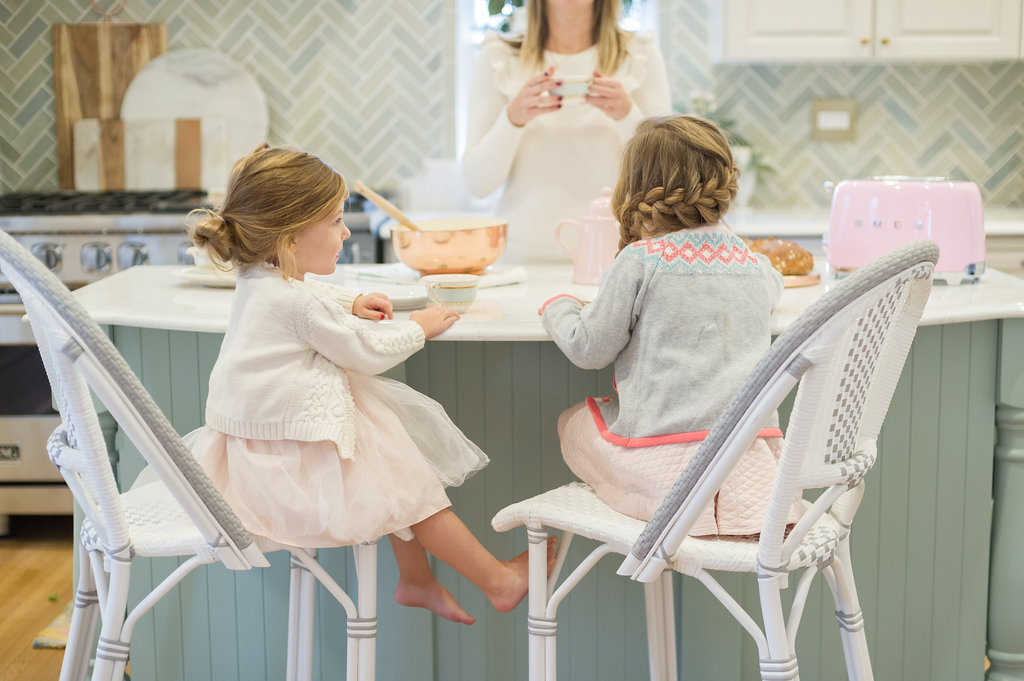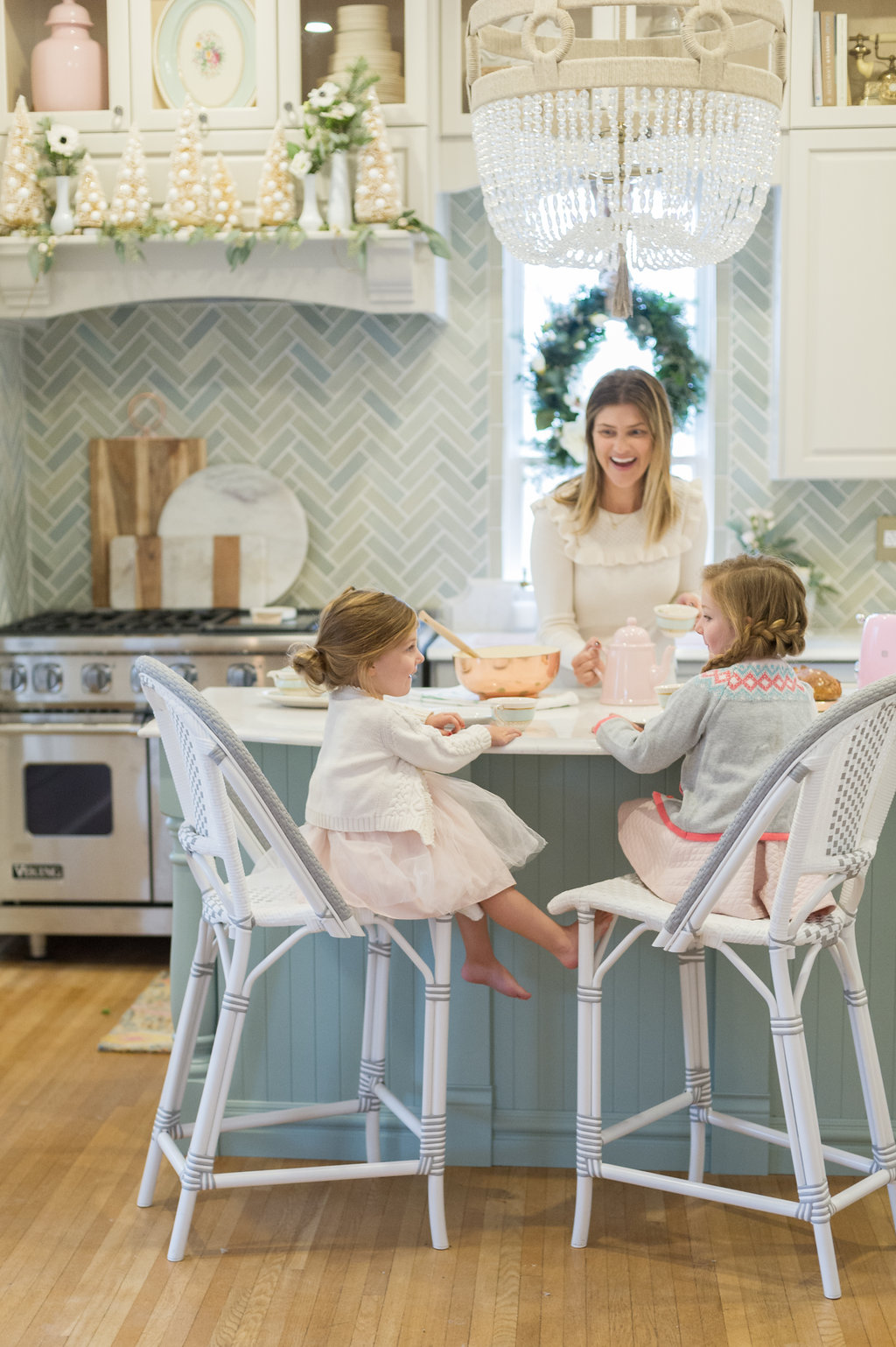 One last look at the before!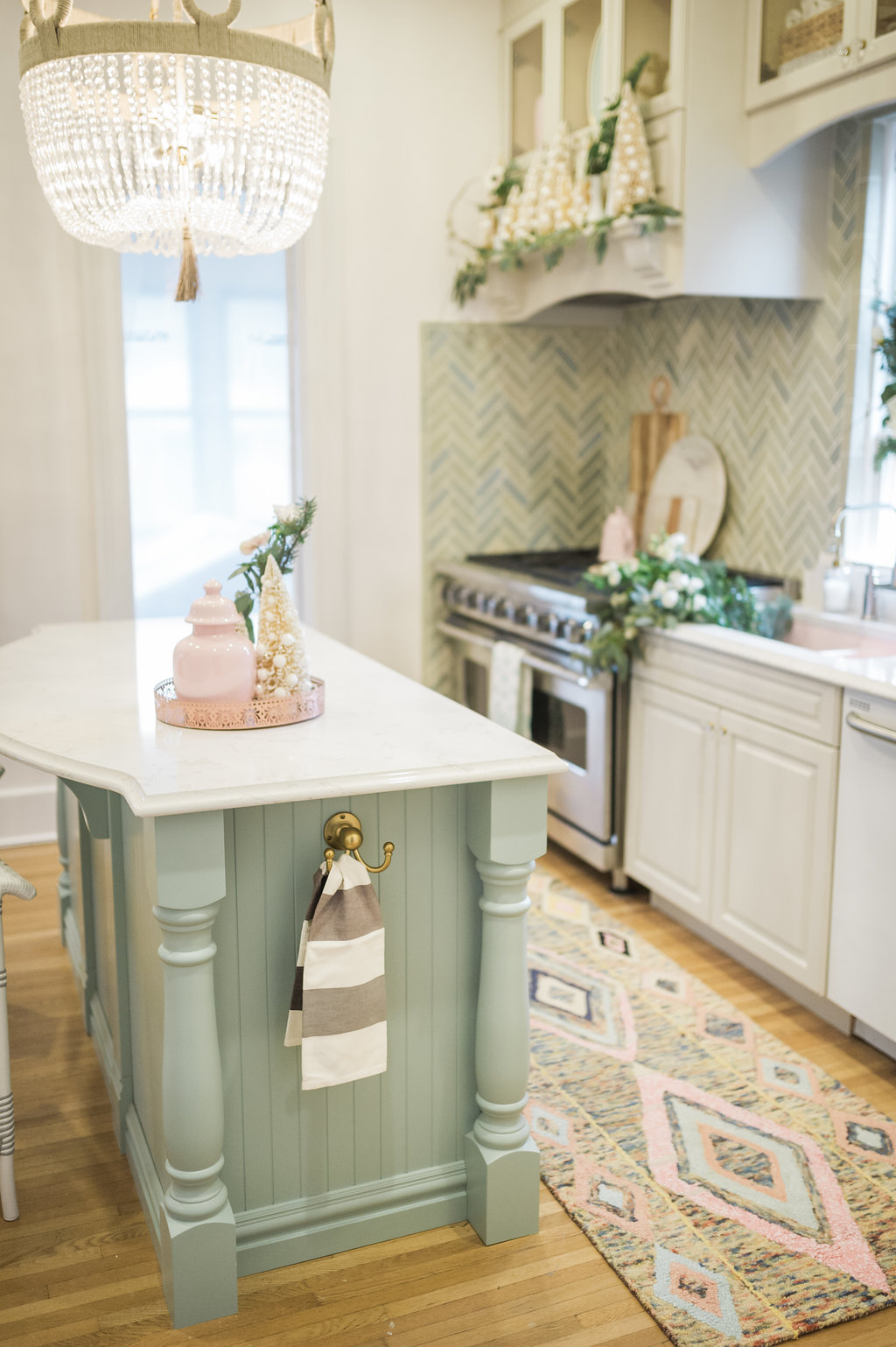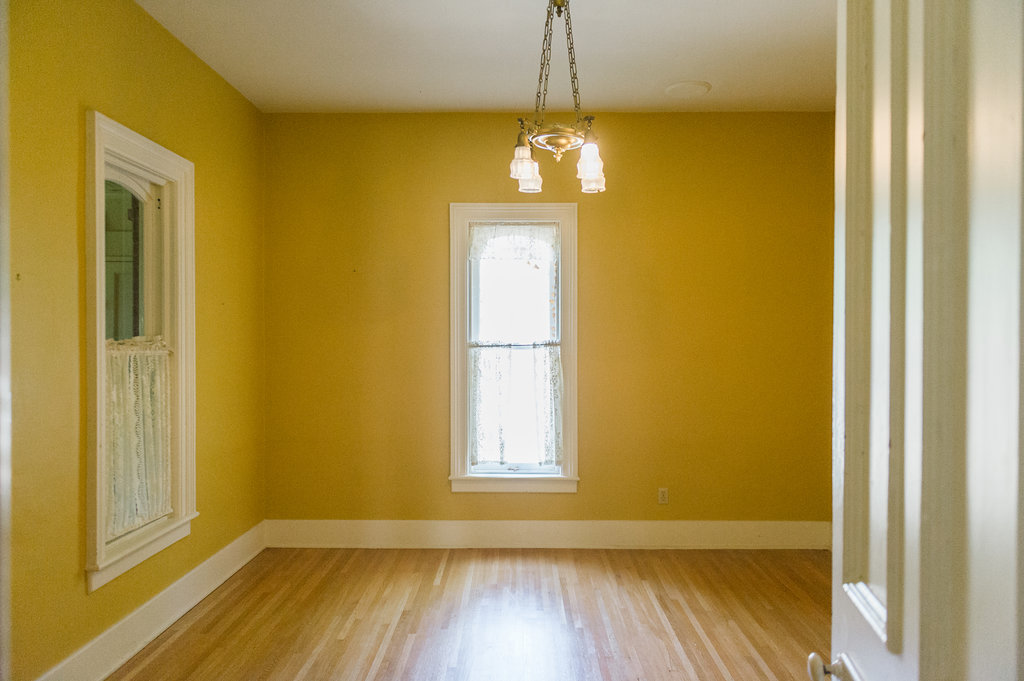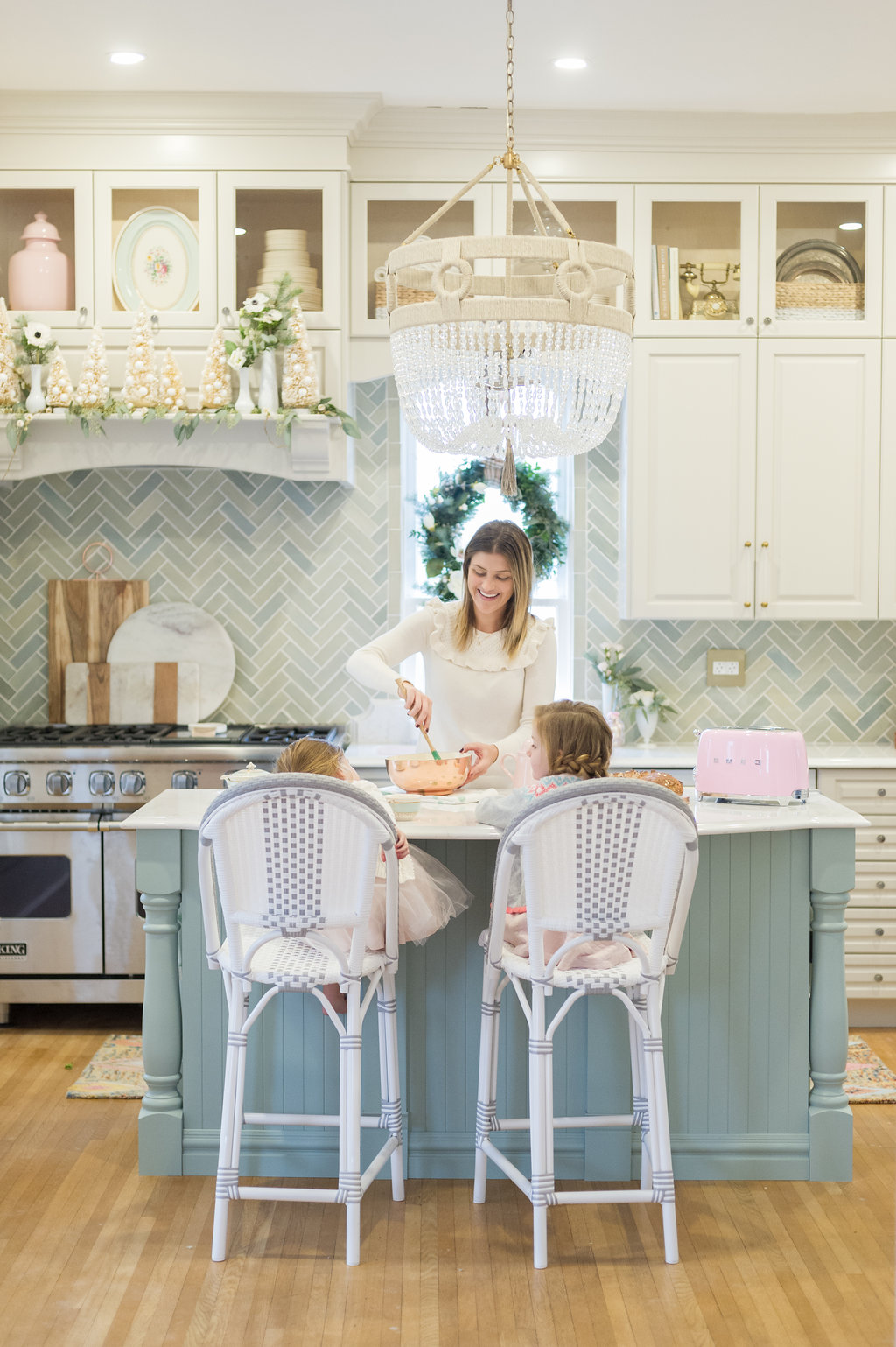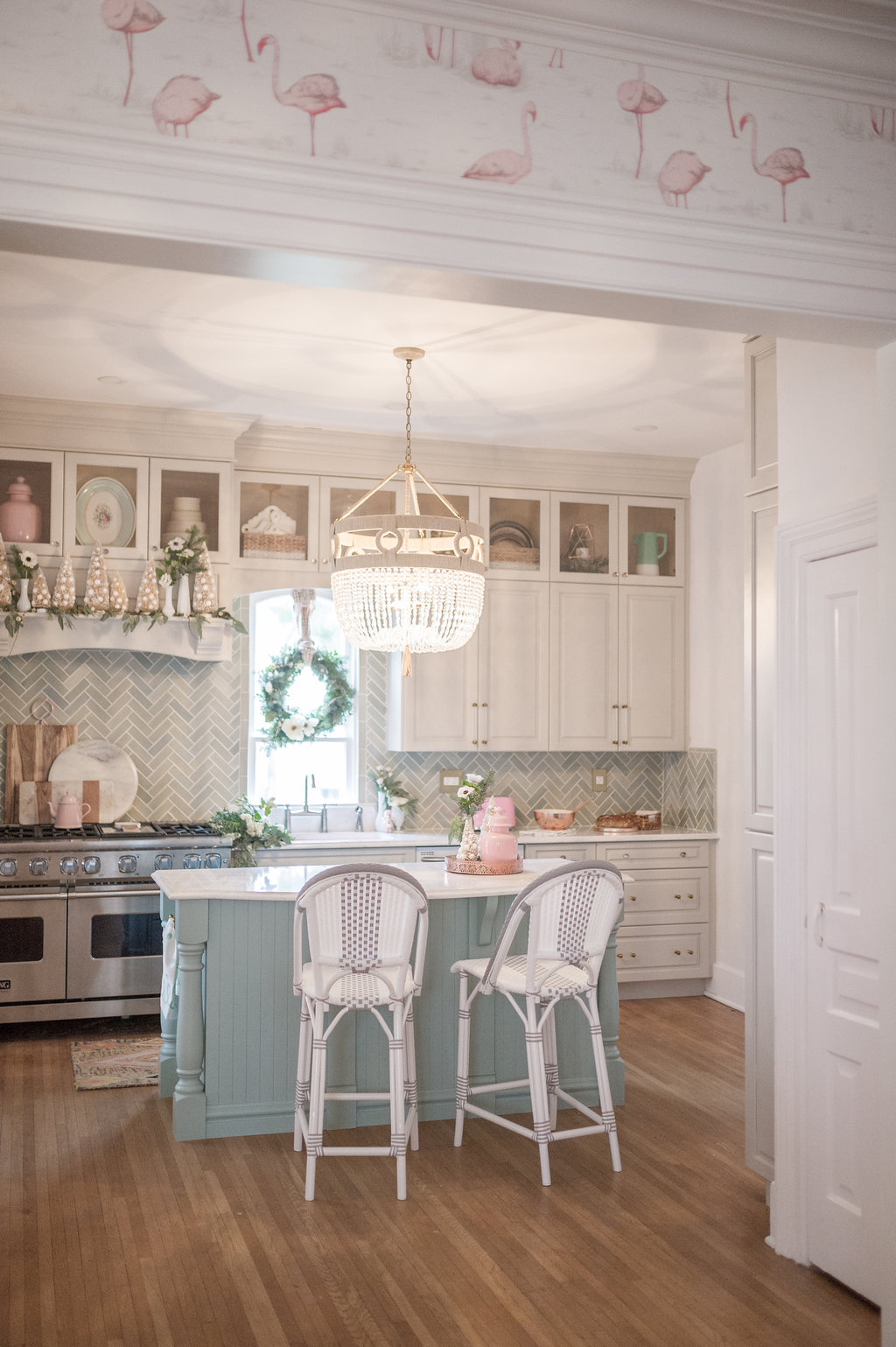 Don't forget you can find all additional sources in my posts linked at the beginning of this post. E.g. The cabinet maker, hardware, chandelier, countertops…all of it…just scroll back up to the Recap section ok 😉 AND if you don't see something please ask me and I'll be so happy to share!
Thank you so much for following this journey and encouraging me every step of the way!!
Thank you so much to my sponsors! I could not find creative, outside-the-box, gorgeous sources if people weren't making creative, outside-the-box, gorgeous products like fabulous female entrepreneurs Mercedes Austin from Mercury Mosaics and Kim Vance from Whyte & Company (the coloured sinks) who have inspired me more than I can fully explain! Who Run the World? Girls! Also thank you so much to Brizo, Indigo, Canadian Tire and Legrand for their support on this project…so honoured to be working with companies like you guys…never in my wildest dreams!
Also a massivo thank you to Vicki Bartel for taking these photos and to Cori Heer from CJH Florals for all of the gorgeous flowers and greens. #squad
Don't mind me I'll just be washing dishes…obsessed! and going to have a DRINK! Celebration time!
Ok now I'm DYING to know what you guys think…please let me know in the comments!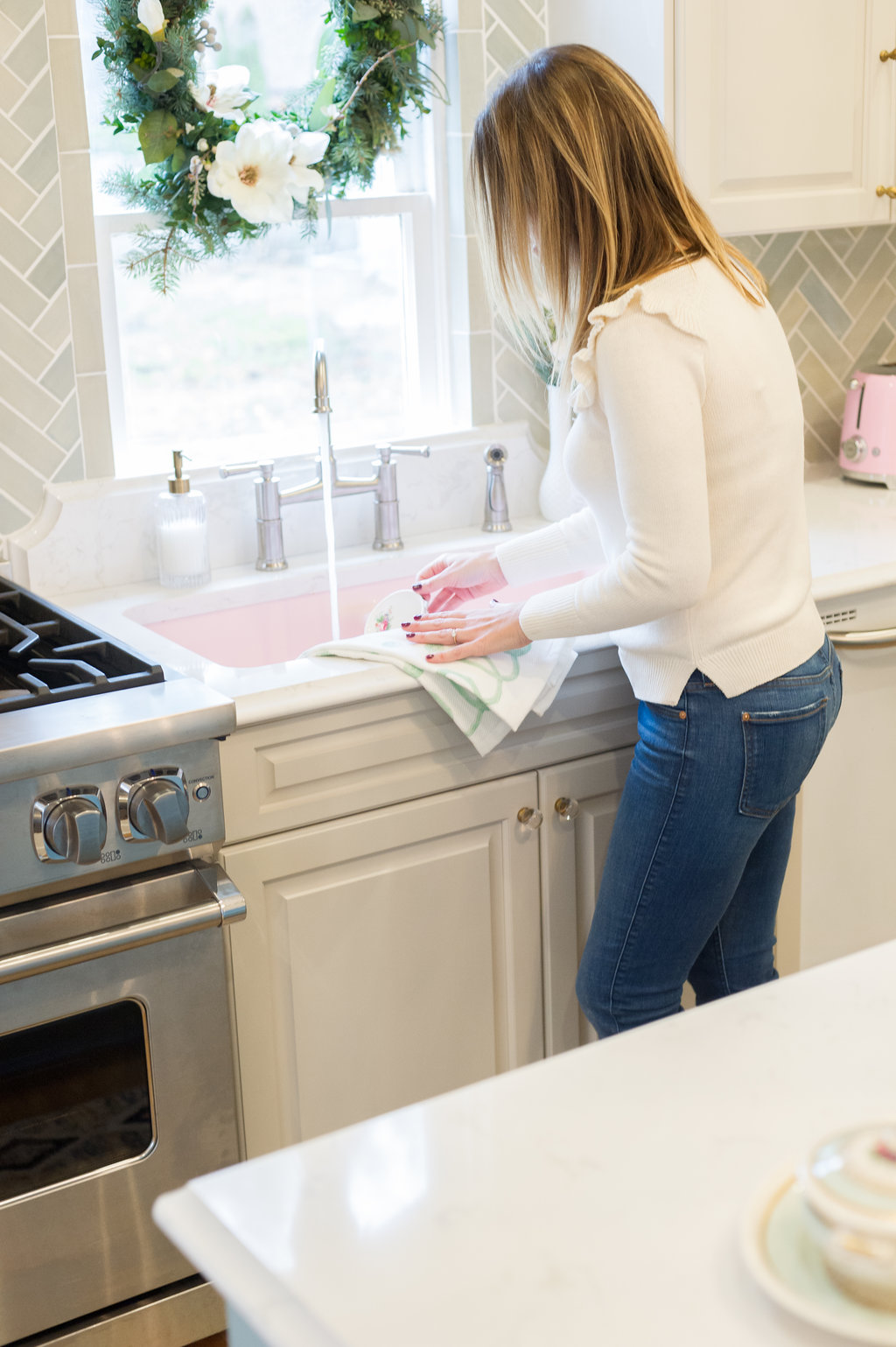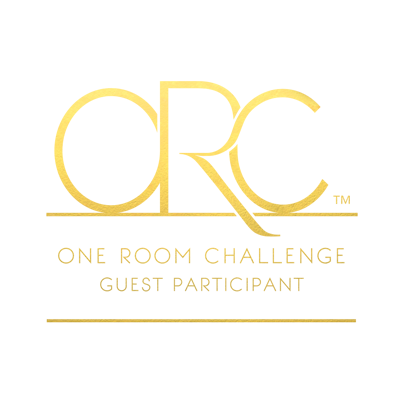 Please don't forget to check in with the rest of the One Room Challenge Reveals because they are unreal!
Shop the Post