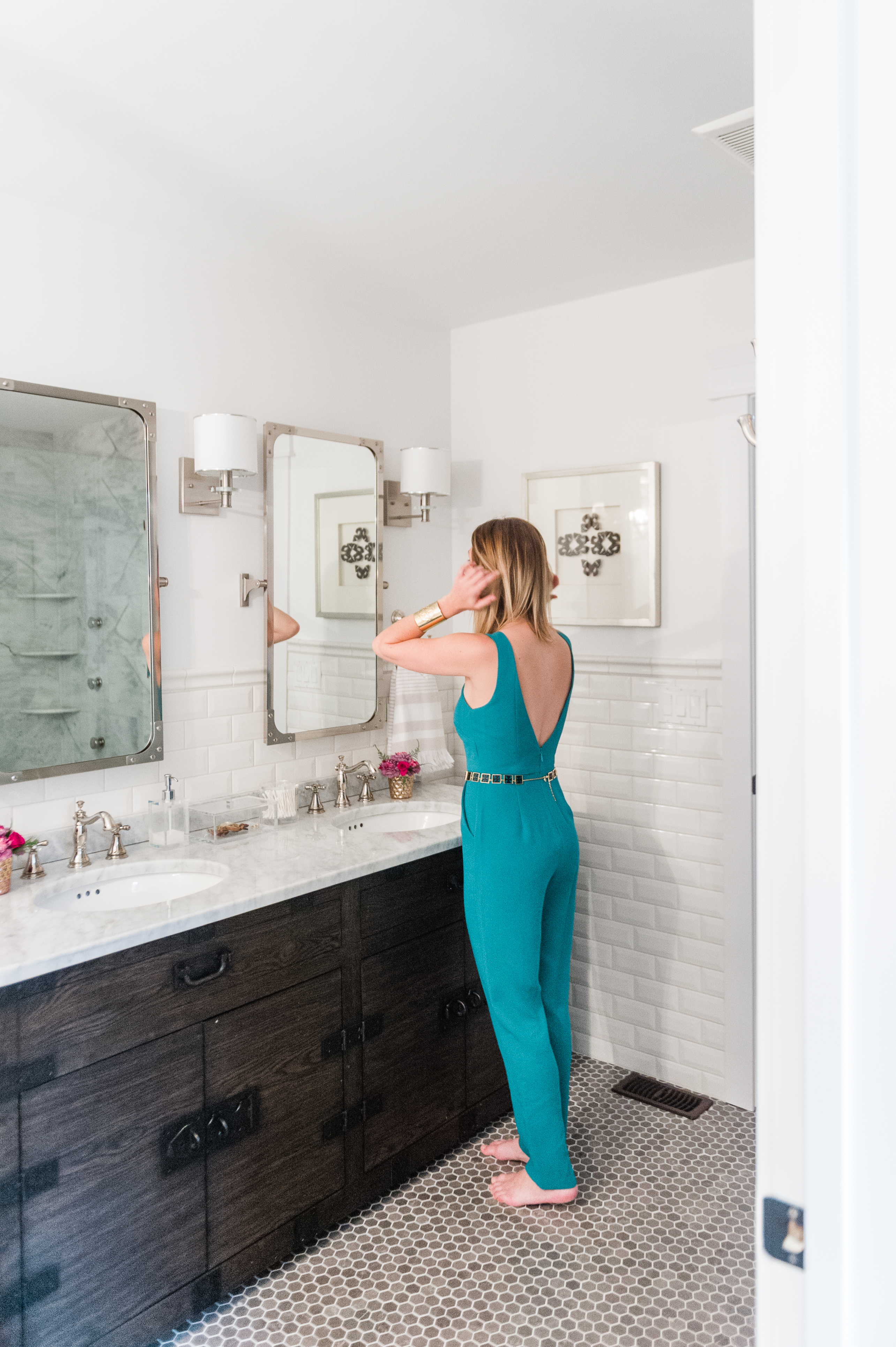 This Modern French Country Ensuite Renovation was a huge undertaking. We had to steal space from the bedroom beside and move all of the plumbing but in the end: it's been completely worth it!!! I'm so lucky to have partnered with Delta Faucet in order to create this little oasis. P.S. Since you're my biggest supporters, you're actually getting to see the space before it gets published! I can't wait to let you know where you'll be seeing this space in the near future!
Before Shots
Ok so I'm going to explain the "before" shots…bear with me…it was a hot mess. So this picture is taken from our Master Bedroom and the door on the left is where you would have walked into the closet, turned left, then continued through to the bathroom.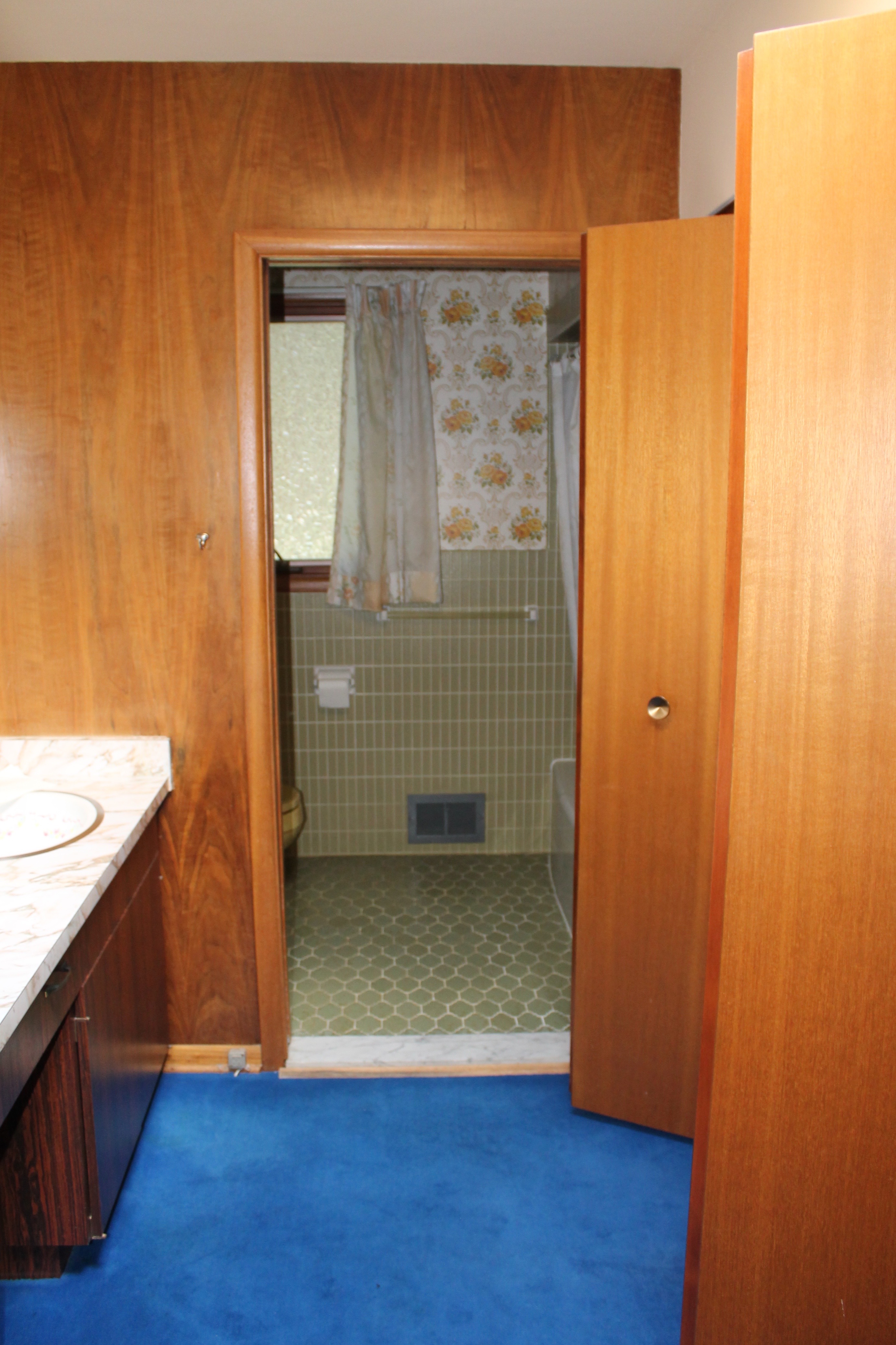 This photo is taken once you walk through the door (and turned left). They had a vanity on the left wall and a long row of closets on the right. What we did was wall up the opening to the ensuite, so you have a separate entrance to the ensuite and walk-in closet from our bedroom on the same wall as the entrance was originally, but now you have two doors. Then we stole space from the next door bedroom to the right of the closets, to make both the Ensuite and Walk-in closet larger. Does that make sense?
Here is a shot of the bathroom:
We reconfigured this space completely..the shower is now across the wall with the window, and the toilet is on the right and we moved the window to the toilet side. The vanity is on the wall that had the doorway (the opening the camera is looking through in this photo) and the tub is along the right where it is now but moved over quite a bit thanks to the space that we stole. P.S. notice the SOLID MARBLE toilet…peeps were wild in 1969!
Ok are Y"ALL ready for the reveal…I'm sorry I had to put you through that…at least you didn't have to break up that tile which was laid the old fashioned way!!
Vanity
My first find for the space was this super eclectic farmhouse style vanity from Restoration Hardware. At the time it was on clearance in the sale section and honestly cheaper than vanity's at Costco and Home Depot. If it's on major clearance, I always find better deals at RH than anywhere, but it take serious stalking patience.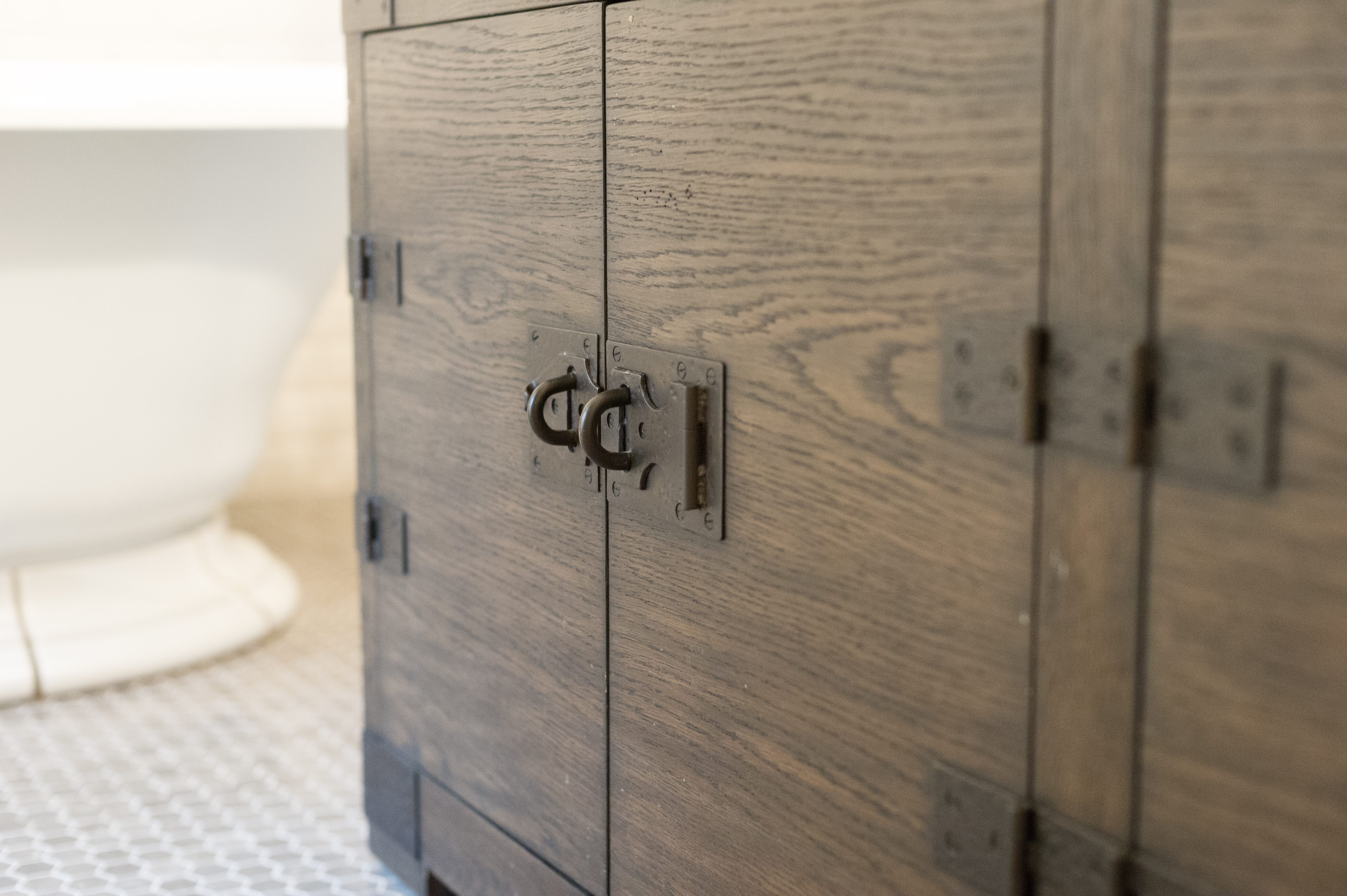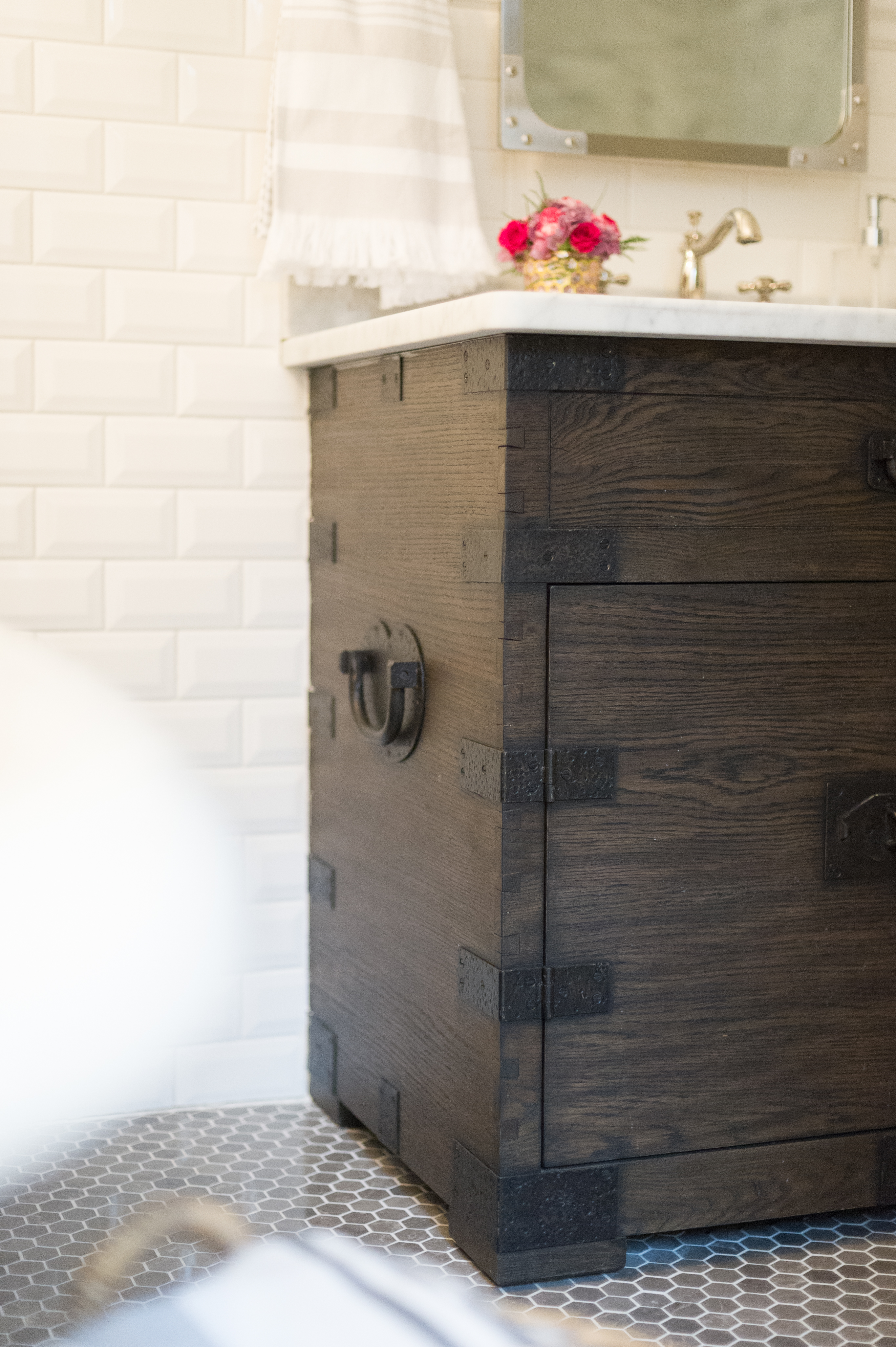 Free Standing Tub
Next, I found la piece de resistance which is my Kohler cast iron freestanding tub on Craigslist. I drove 4 hours to Toronto to pick it up and they loaded it onto my aunt's truck (because I still don't own my own truck….I know. I know. I've been borrowing my poor aunt's truck once a week for like 5 years now. It take a village to renovate a house. Thank you Aunt Barb!! BUT I'm getting one before we start our next home reno in July, so there is hope at the end of this tunnel!) The tub was pretty much new and a developer was doing a huge renovation on a high end Toronto condo and was selling whatever could be sold and after lots of searching she became mine. It's crazy awesome. It's the same tub that designer Caitlin Wilson just put in her own home…ya I know. Mind blowing find.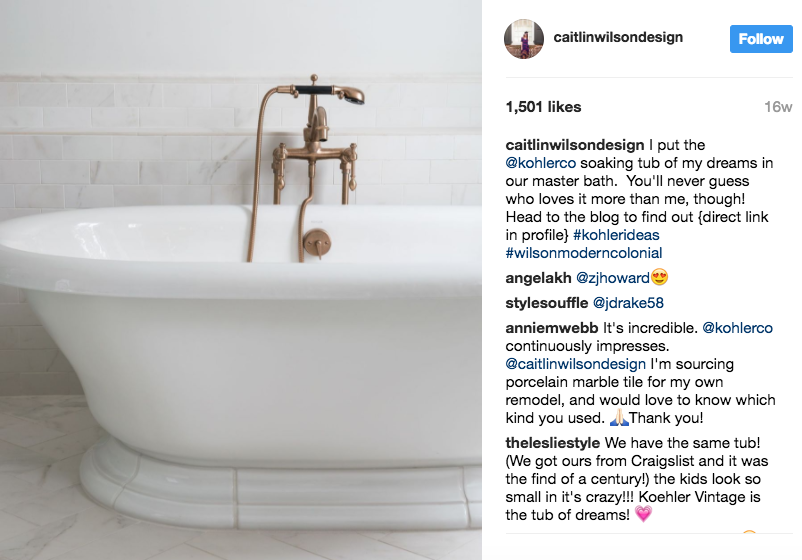 P.S. I just screen grabbed this Instagram pic from her account and so funny…look at the bottom comment…what are the odds! I'm dying that's so funny!
Here's a peek at our tub and also this fab basket that I found at Canadian Tire which I've linked.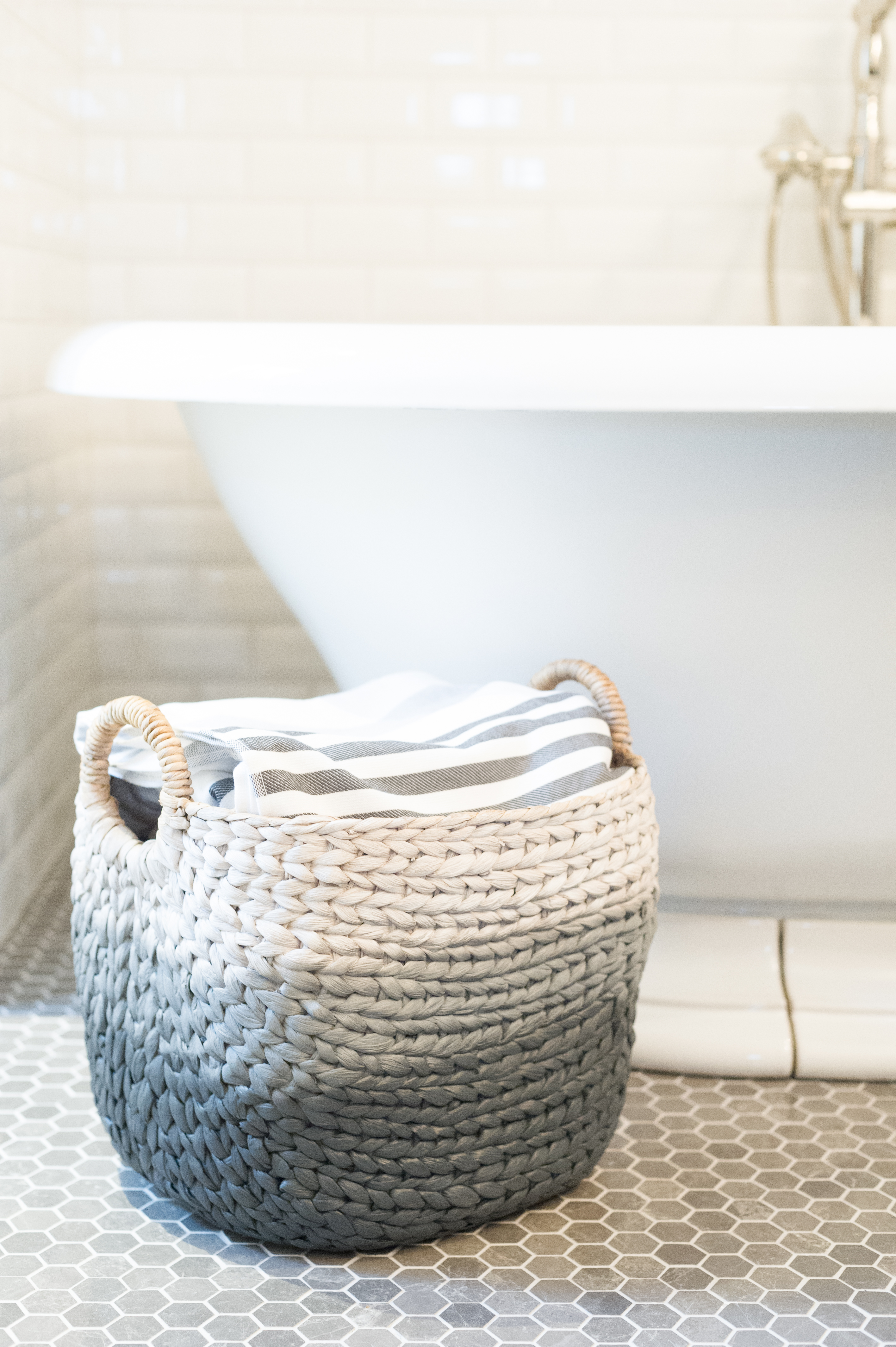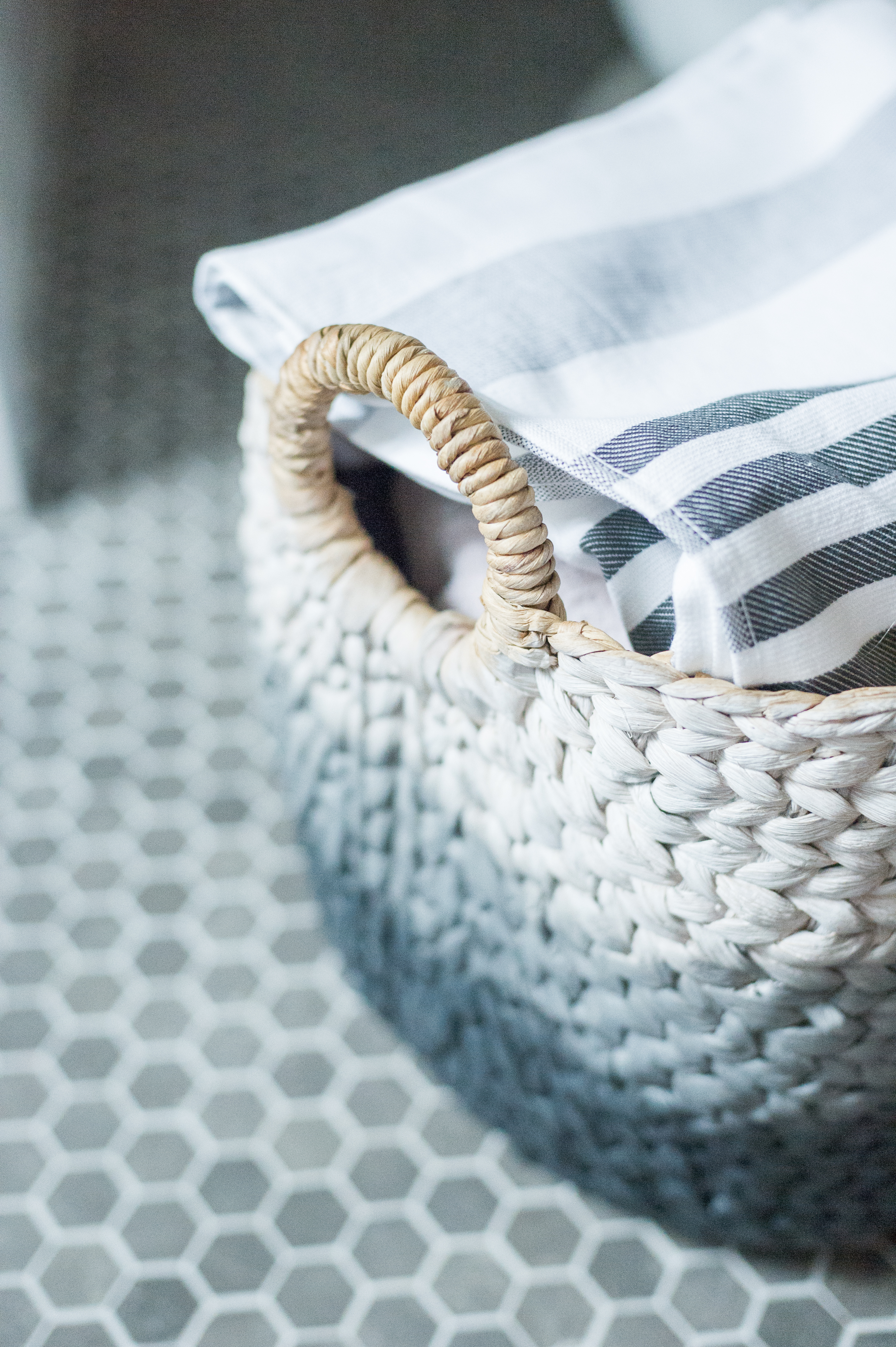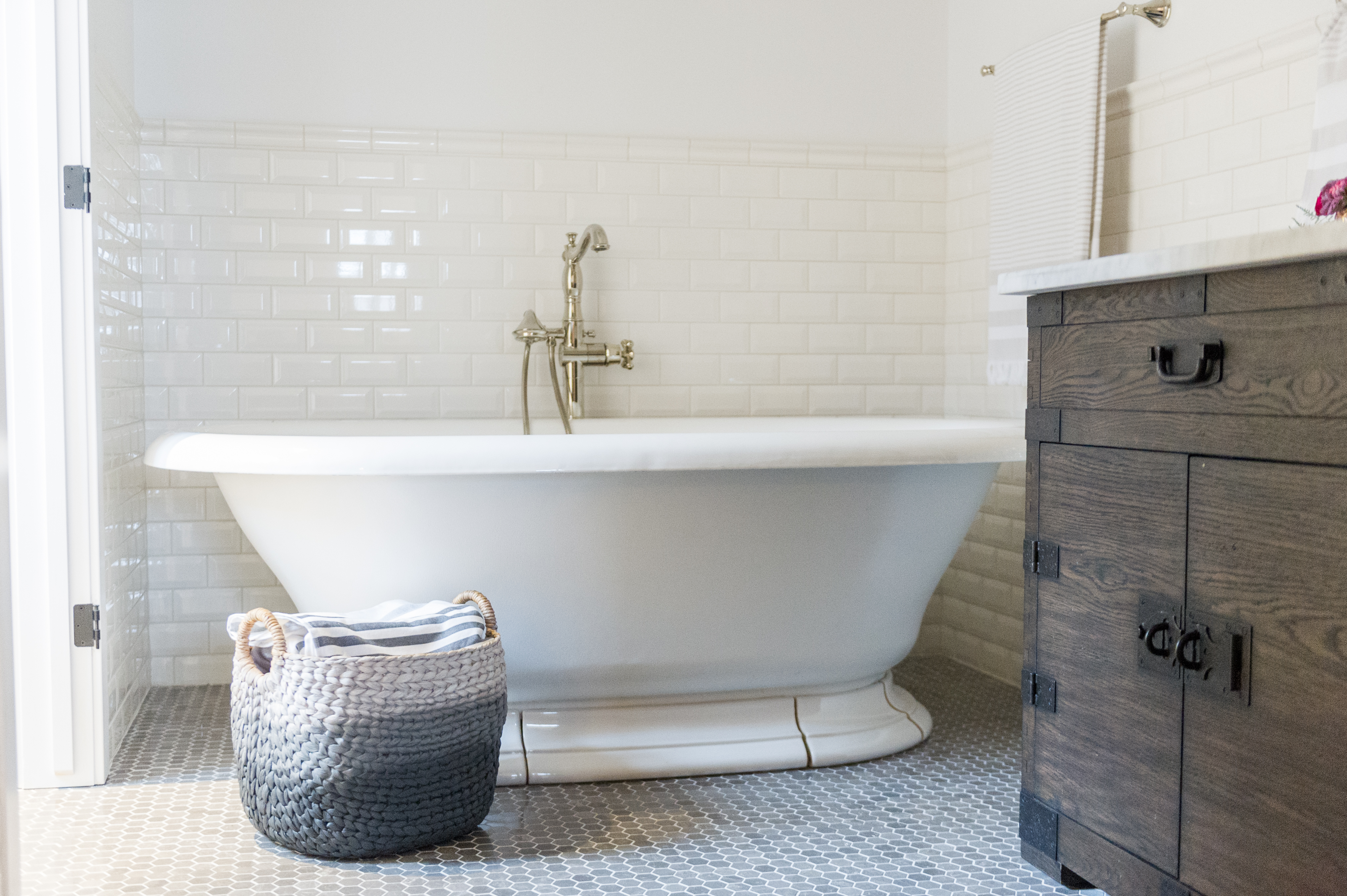 Plumbing Fixtures
I had mentioned that the tub came with a faucet…which was a little tarnished, so when I got the opportunity to collaborate with Delta Faucet, I jumped at the chance to have gorgeous new fixtures throughout the space and work with a company that I had been swooning over for like ever!! Speaking of gorgeous new plumbing fixtures (cough noise) that TUB FILLER!! Swoon, double swoon, triple swoon! Tub fillers are divine and the hottest thing going in every new bathroom you see on Instagram or in magazines. I don't know what it is…they are just so freaking gorgeous! The finish in this bathroom is called Brilliance Polished Nickel and it's gorgeous. I chose the cross handle on every fixture and it feels so vintage. The cross handles are my favourite designer look for less from Delta.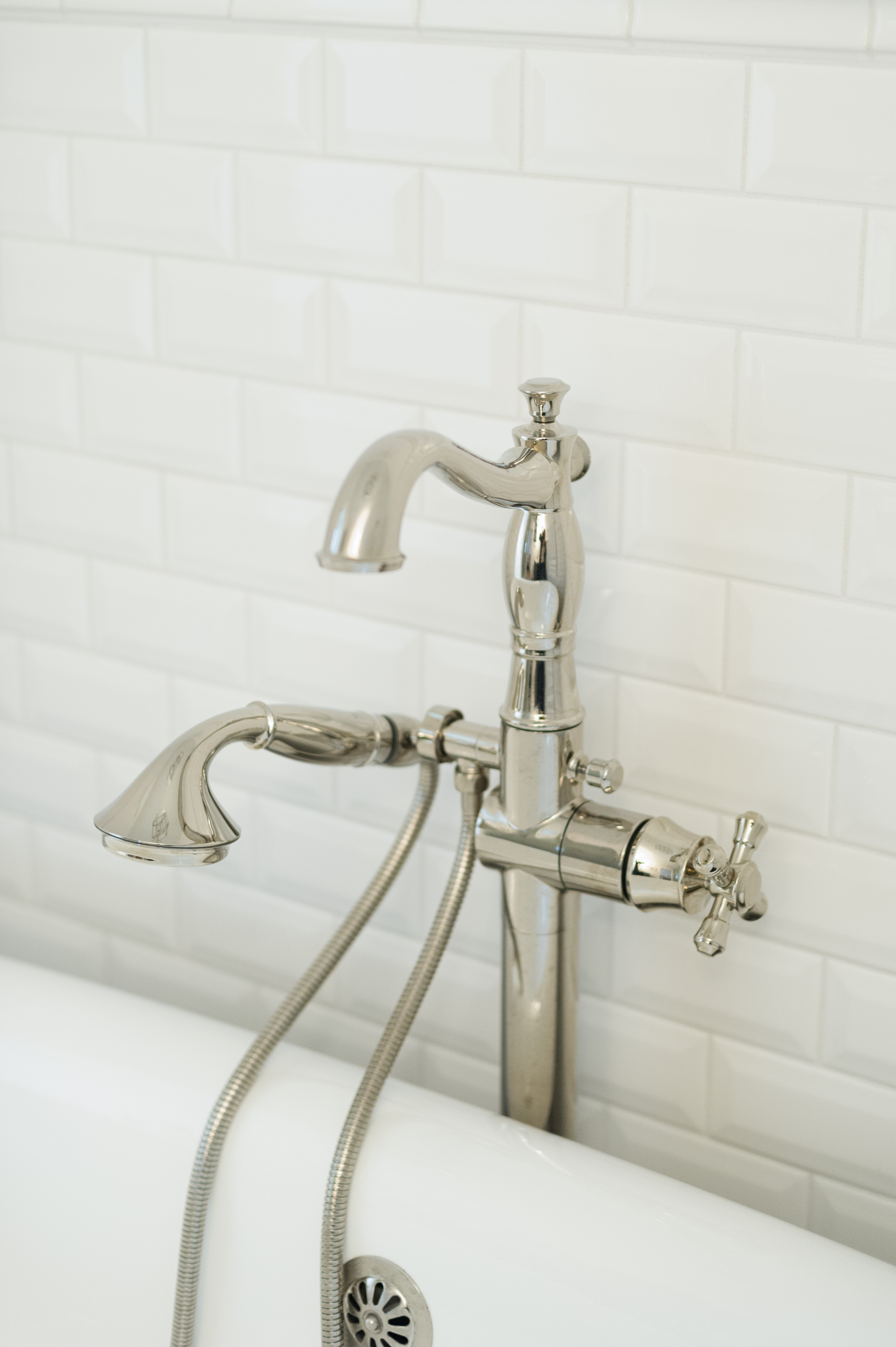 Once I had settled on a metal I found the vanity mirrors and chose the taps. K, I don't mean to be preachy but if you're doing a large or small update the faucets that I chose are such serious bang for your buck you'll die. Switch out what you've got for these cross handles right now…I'm serious…I'll wait! I have the same faucet in my mudroom in Champagne Bronze. I haven't revealed the mudroom bathroom yet, but I have written a blog post on that bathroom and the faucet back when I was designing the space. Check it out. I've also shared a sneak peek in another post which I talked about styling a vanity counter and you can see the faucet there too. Your'e probably like, "ok. ok. show me the damn faucet! lol!!"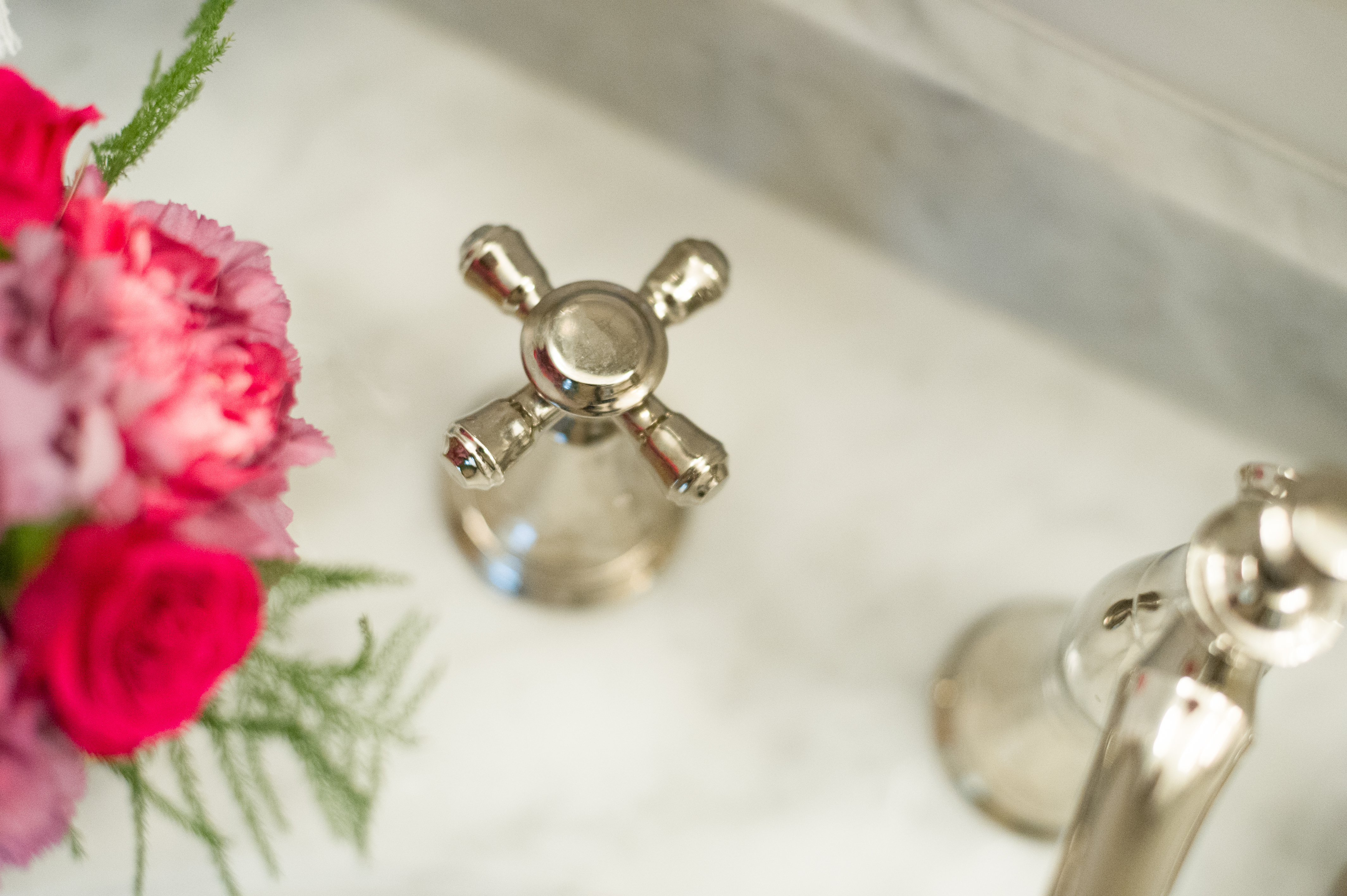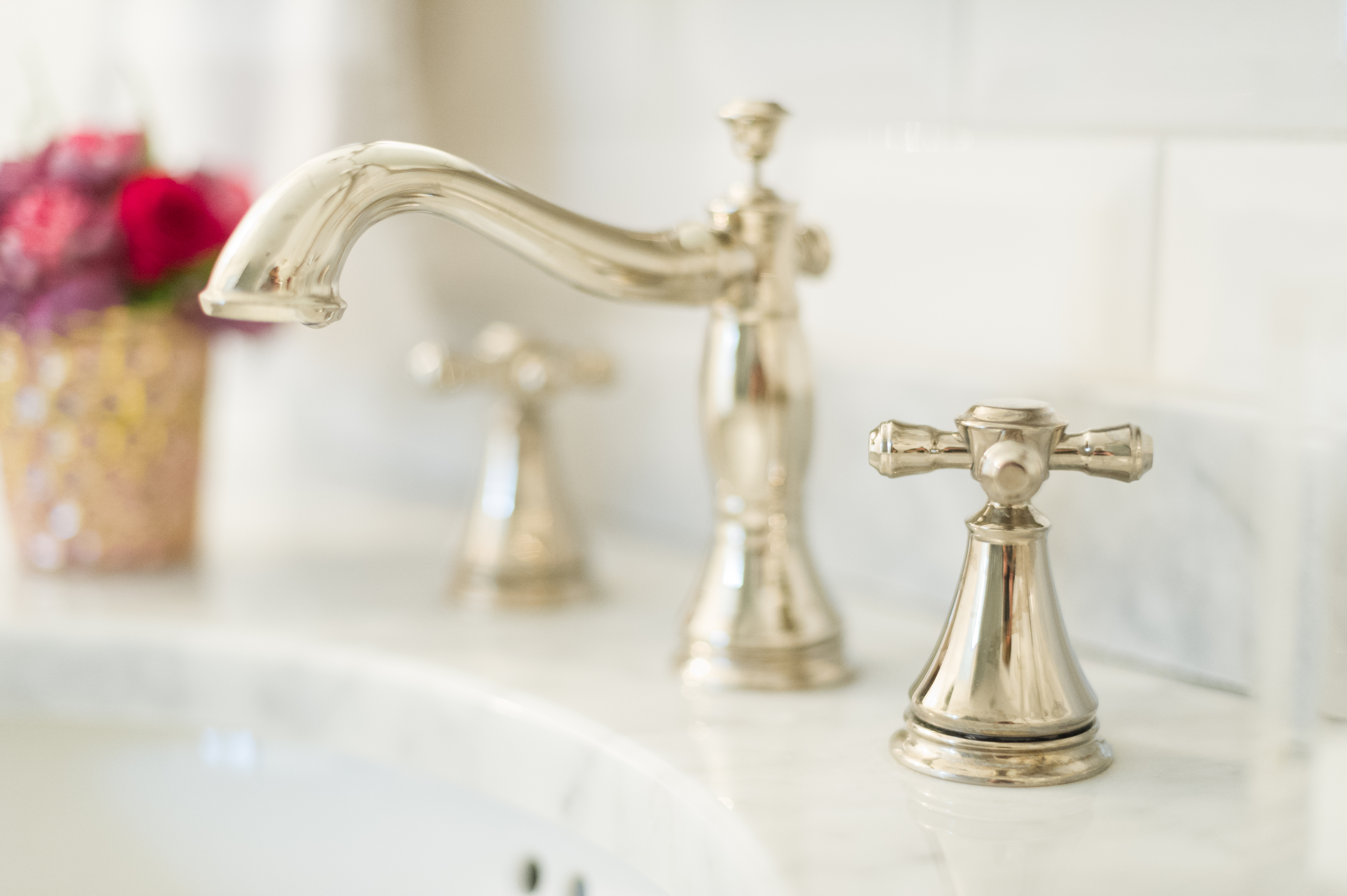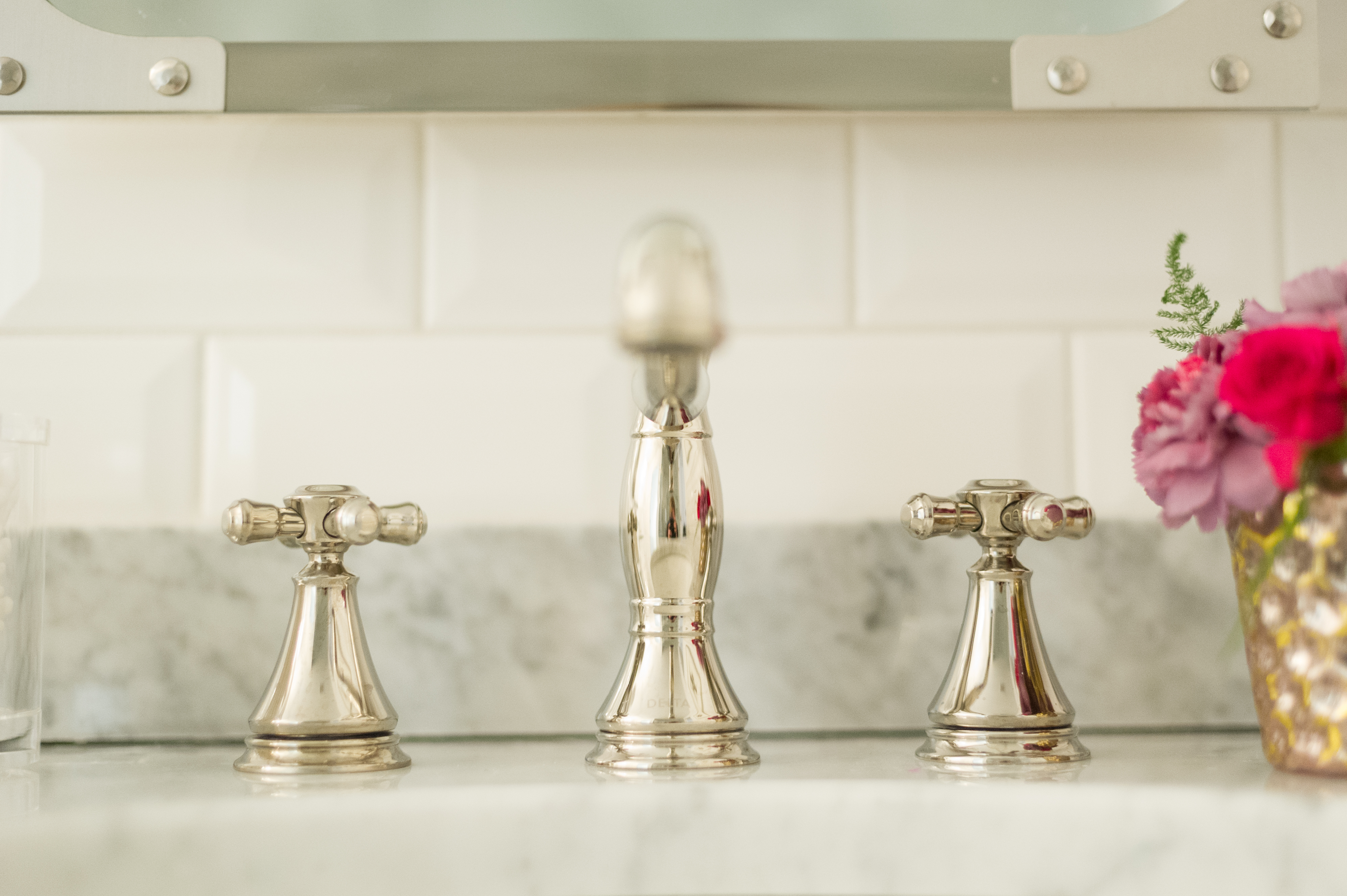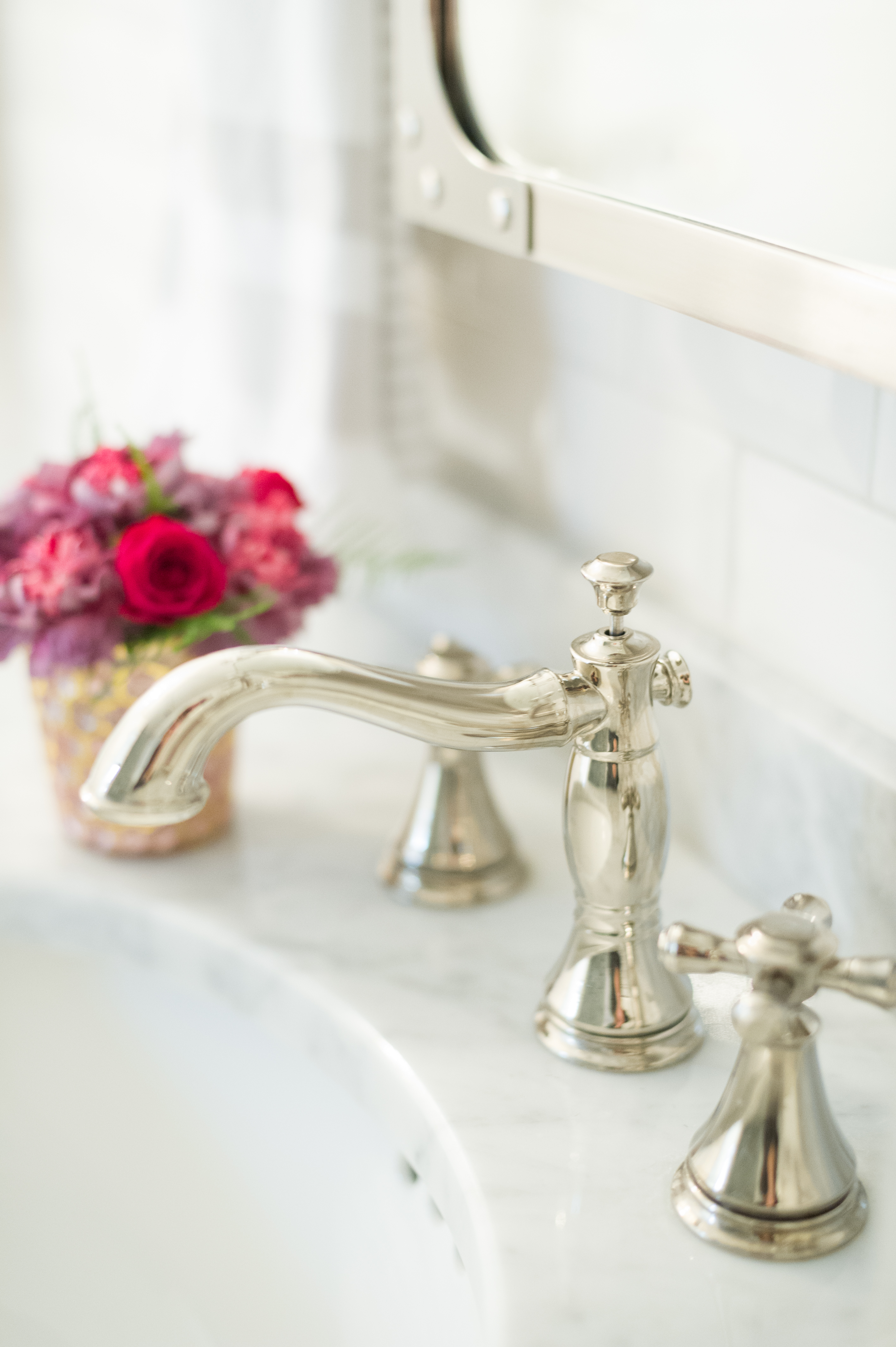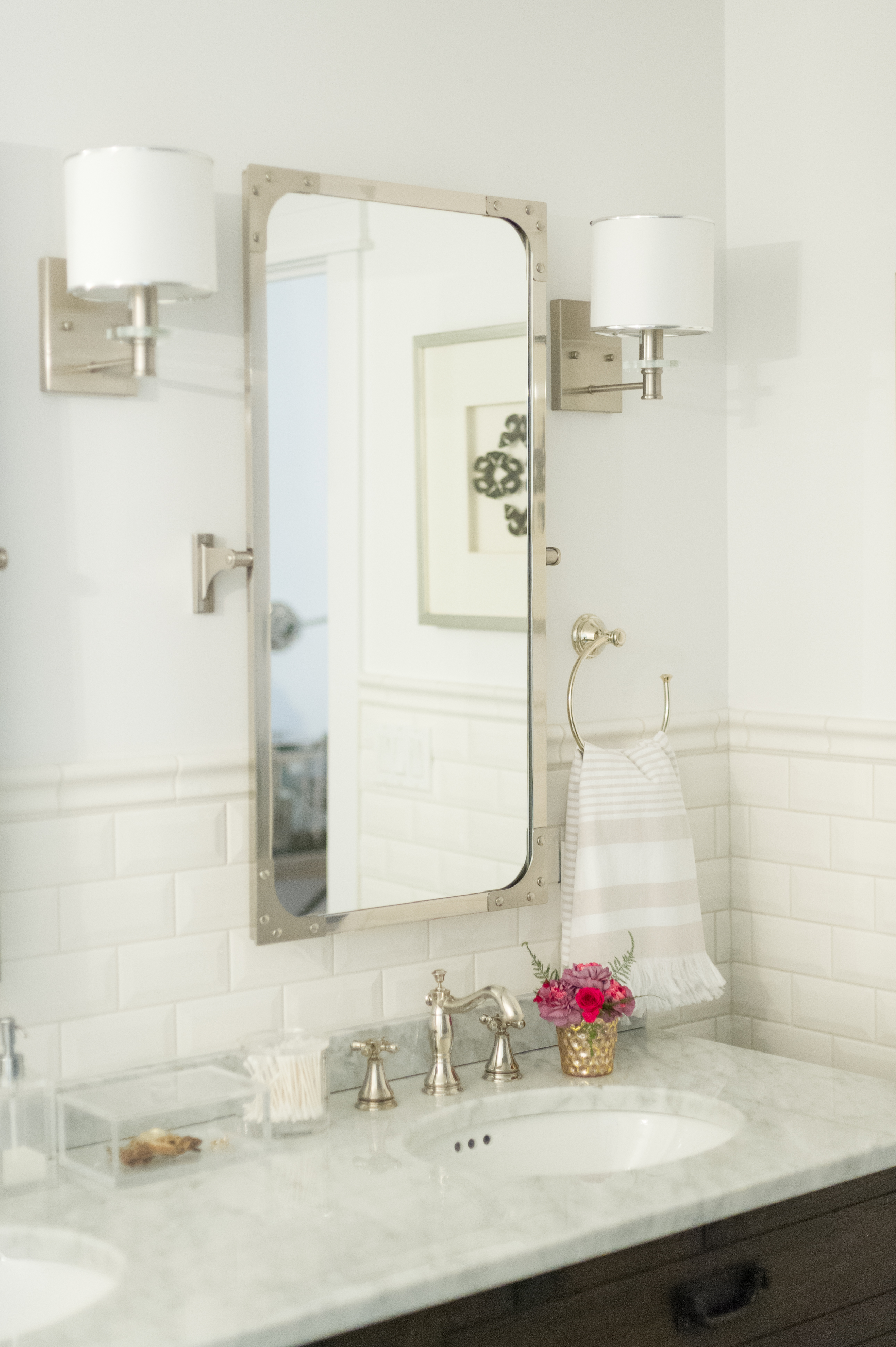 After the plumbing fixtures, came the lighting. This part is key. Because I'm juxtaposing two styles I like to clash my faucets with my lighting…so the traditional cross handles against more modern fixtures. The chandelier over the tub is modern and these sconces are transitional…meaning they can work anywhere. Take a guess where I got these sconces and how much they were? You're never gonna guess.
They are from freaking Canadian Tire and were 69.99 Canadian…which is $40 bucks US!!!! And they are GORGEOUS. You might not notice because you're not mental, but my faucets are polished nickel and my mirrors are satin nickel, because satin nickel is always on sale. I don't know why, but if you can work satin nickel into your design, you'll save a shit ton. So, I got these mirrors on a SATIN NICKEL FIRE SALE and I was like, "no worries" I can make this work….I'll just find something that has both finishes in one….should be easy. NOT EASY. Until the heavens opened up and I found these sconces that have a polished nickel rim and satin finish base, and lucite too which matches my bath accessories. YUP…it's the hat-trick of sconces. Needless to say I'm putting them in my new bathroom too because I, once again, stumbled on a satin nickel fire sale.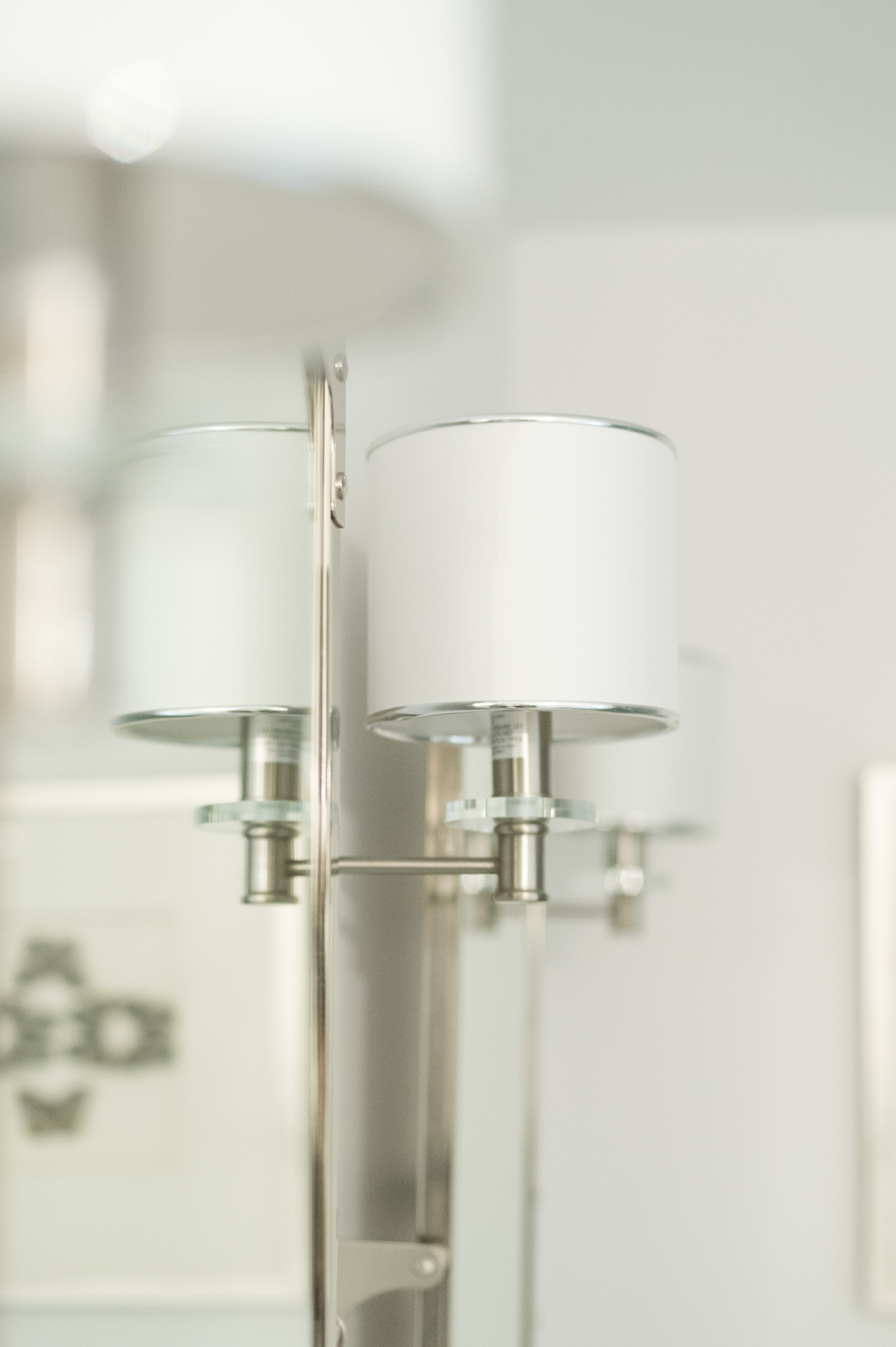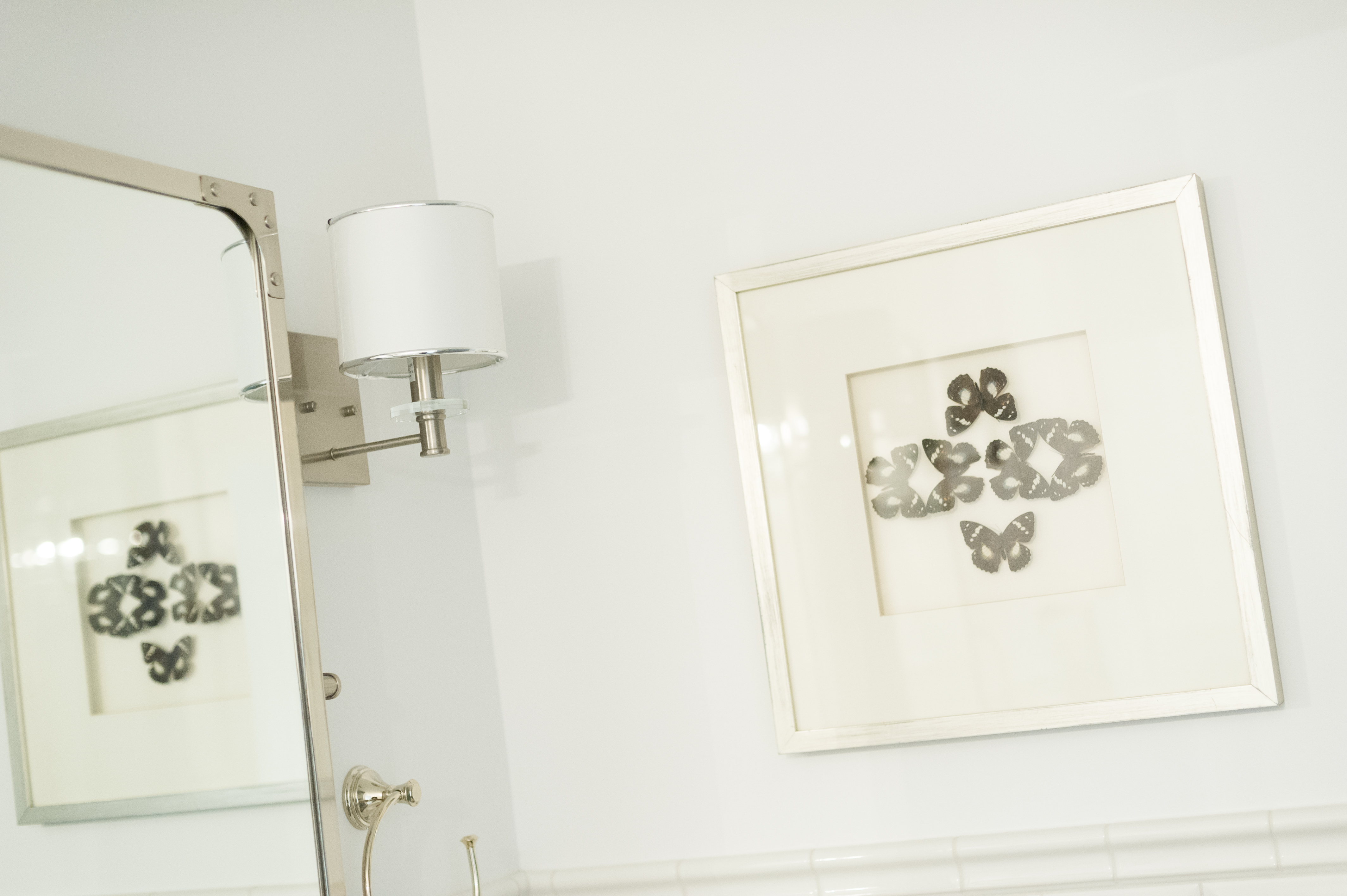 Honestly, if you're like wtf is satin nickel, it means a matte silver finish instead of a mirror silver finish like with polished nickel. They should re-brand as matte nickel…I think it's the word satin that must be the issue. K I'm done. I promise.
Chandelier
I found this chando in the sale section of Restoration Hardware, but it's no longer available but you can find it all over the place. I love how it brings the modern edge to this traditional space.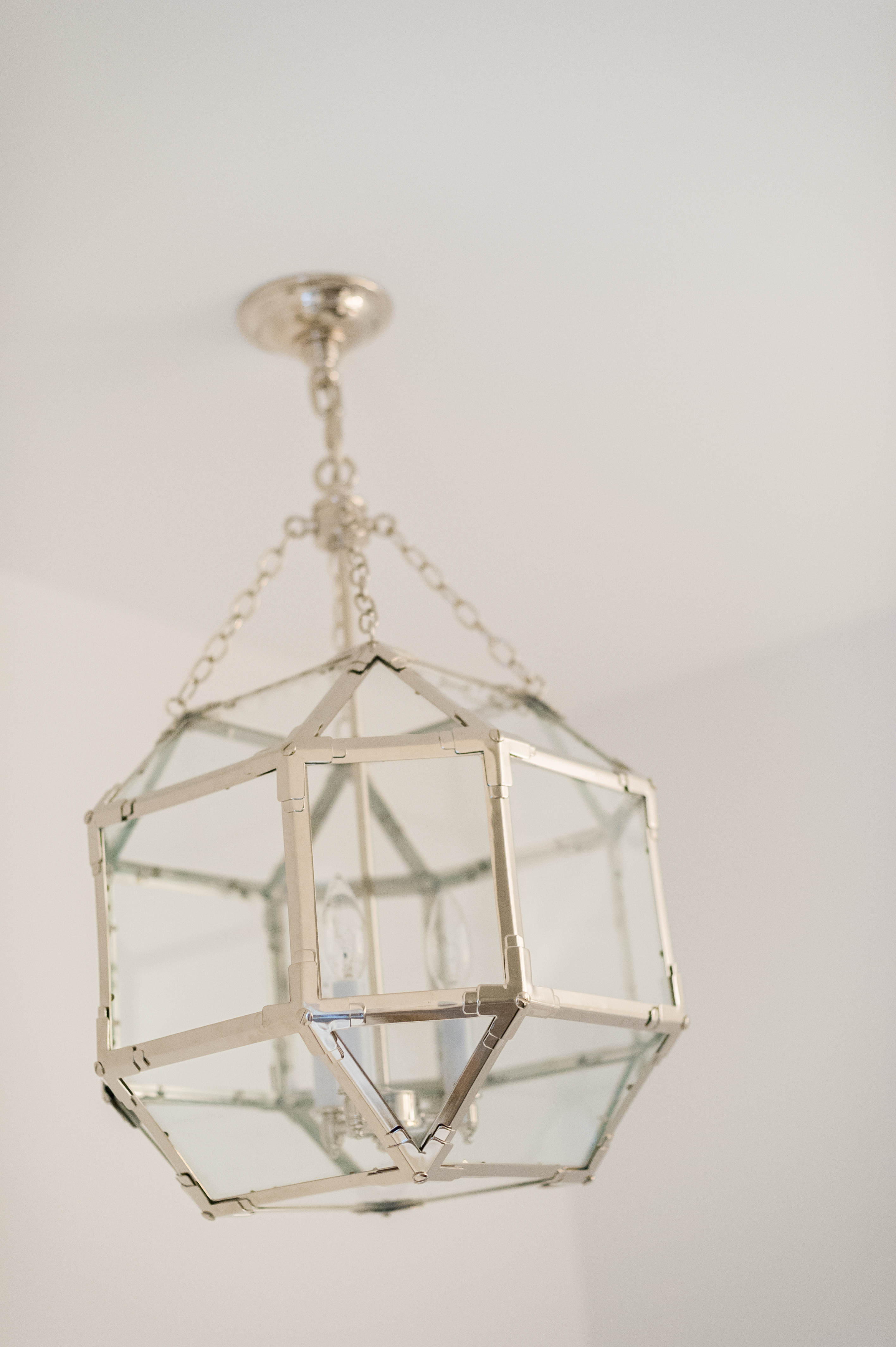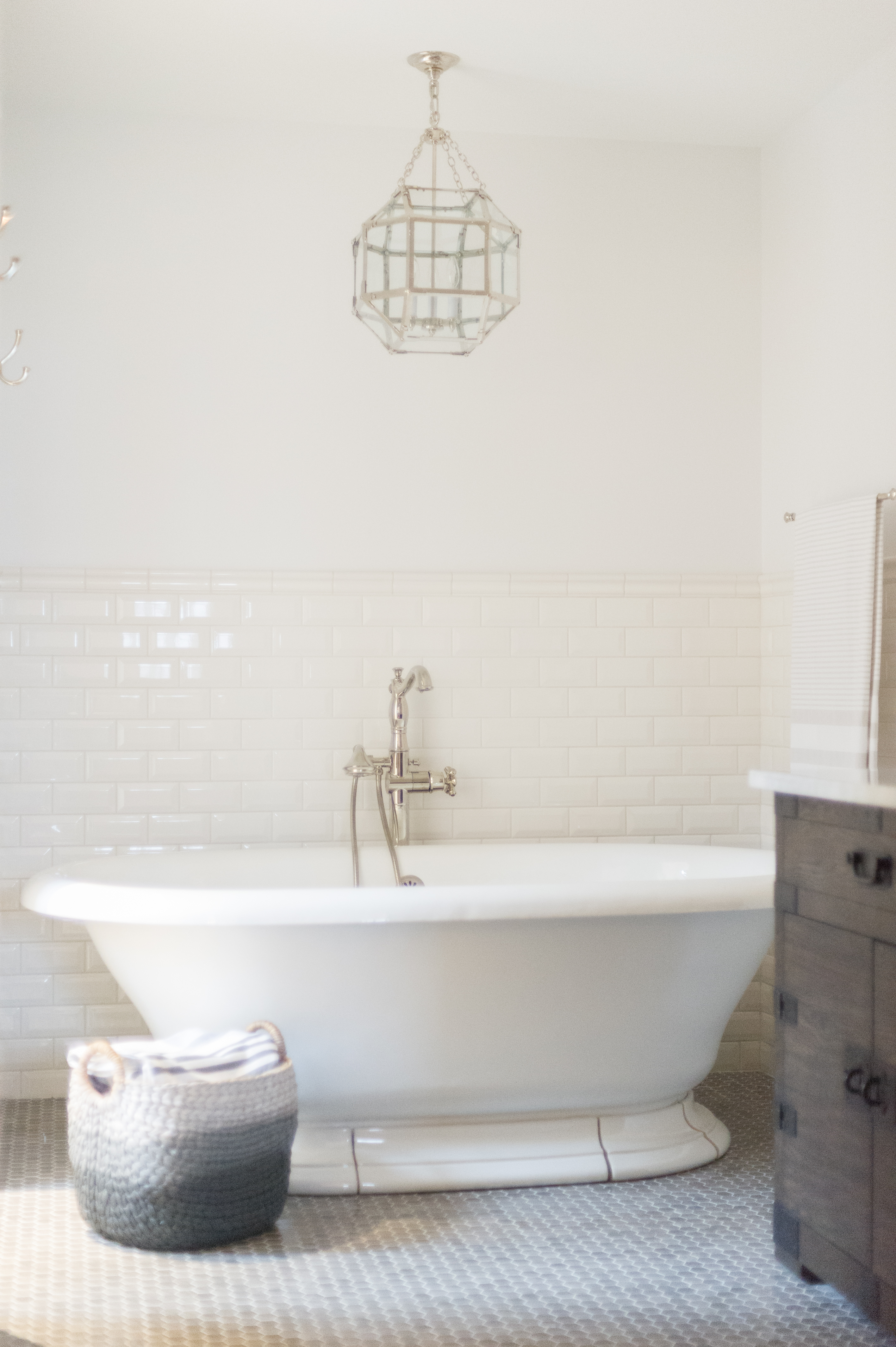 Tile
I chose a dark marble hexagon mosaic for the floor which was really scary because I love light and bright, but it's a lot of fun and I went with warm grey grout and it reads as a white almost, because the tile is so dark. The showers have 12 x 24 Marble tile. The walls are a white beveled subway, with a chair rail across the top.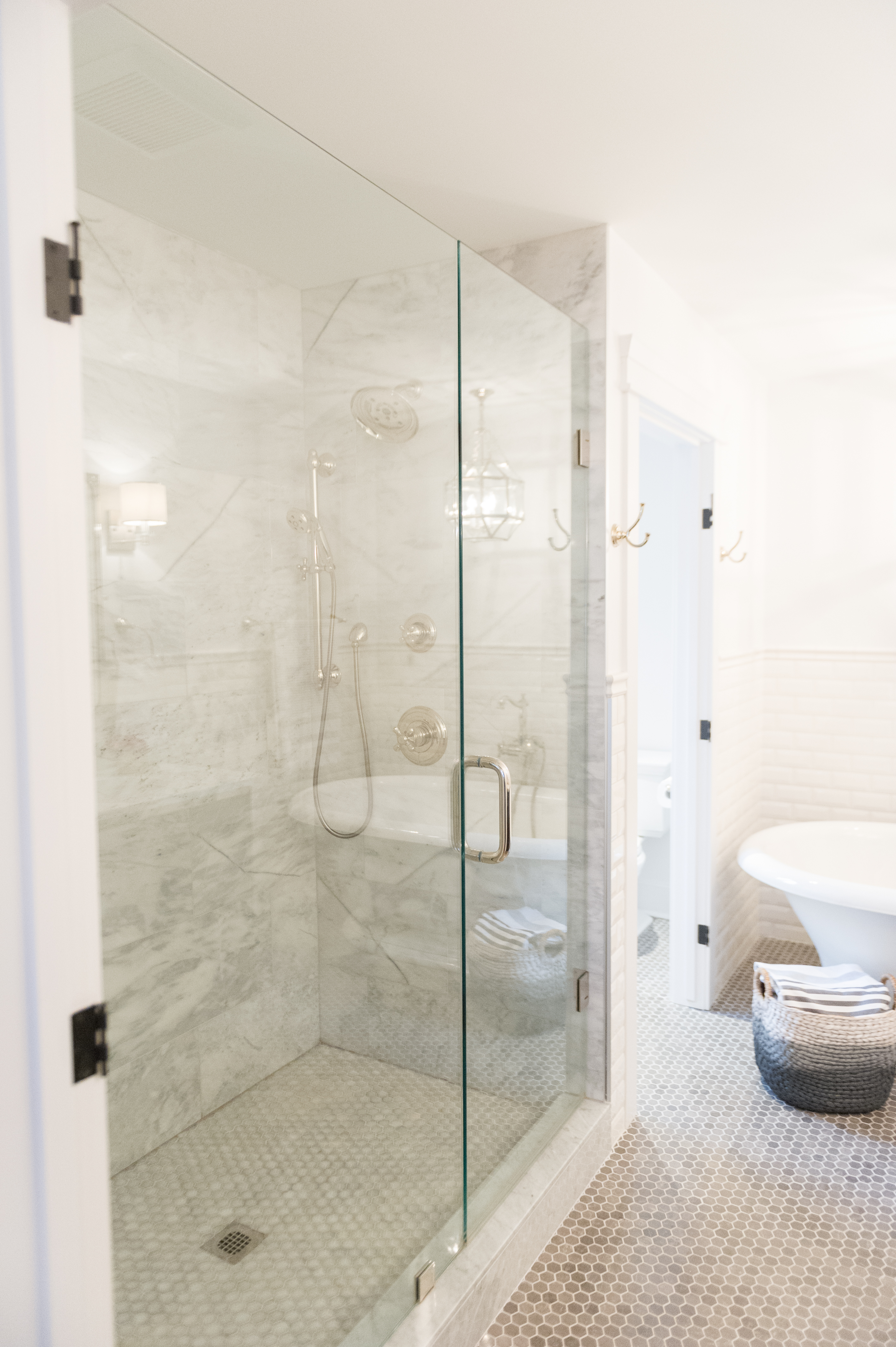 We've got really special plumbing fixtures in the shower as well from Delta. Like the Shower Head and  Body Sprays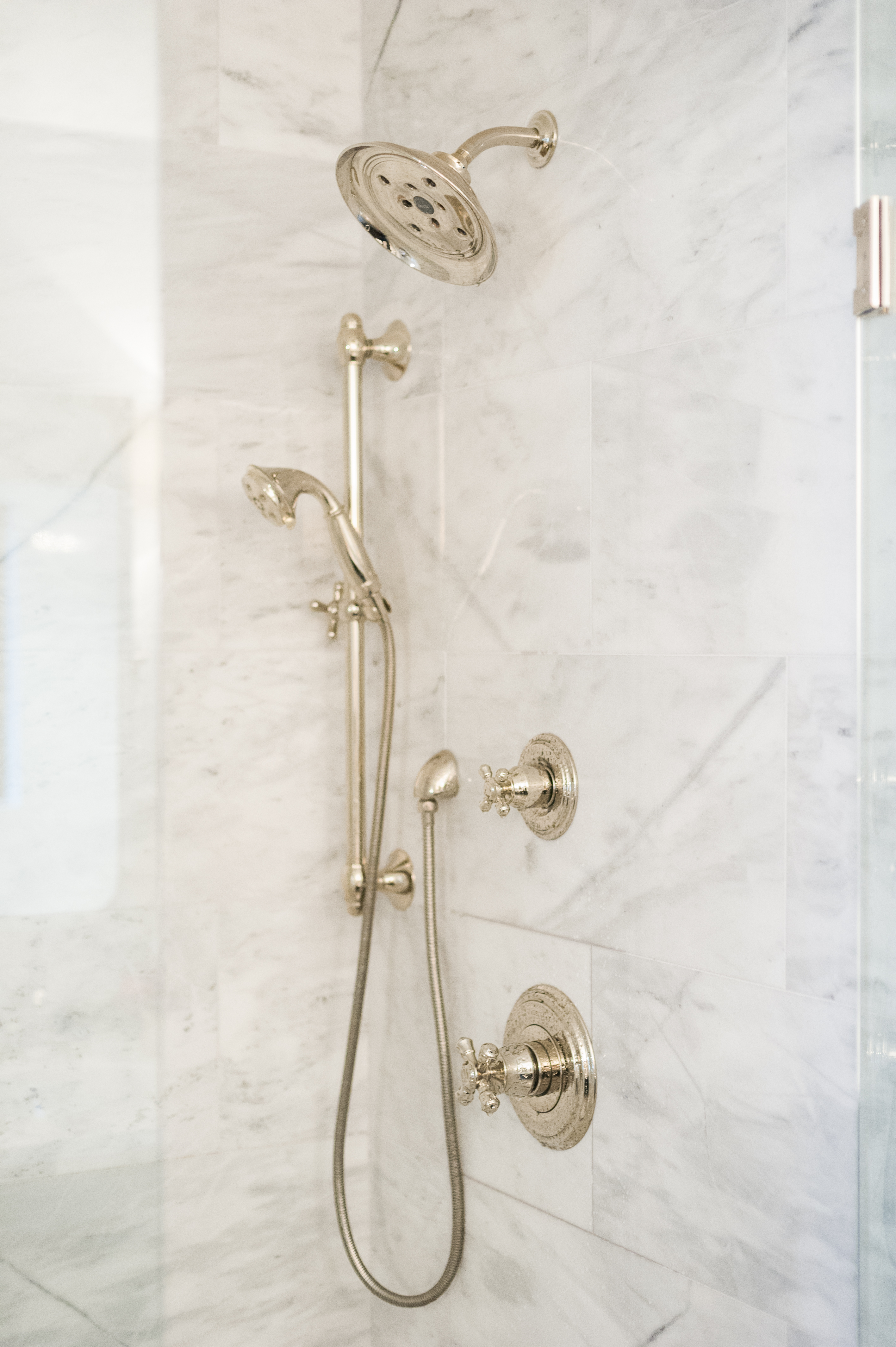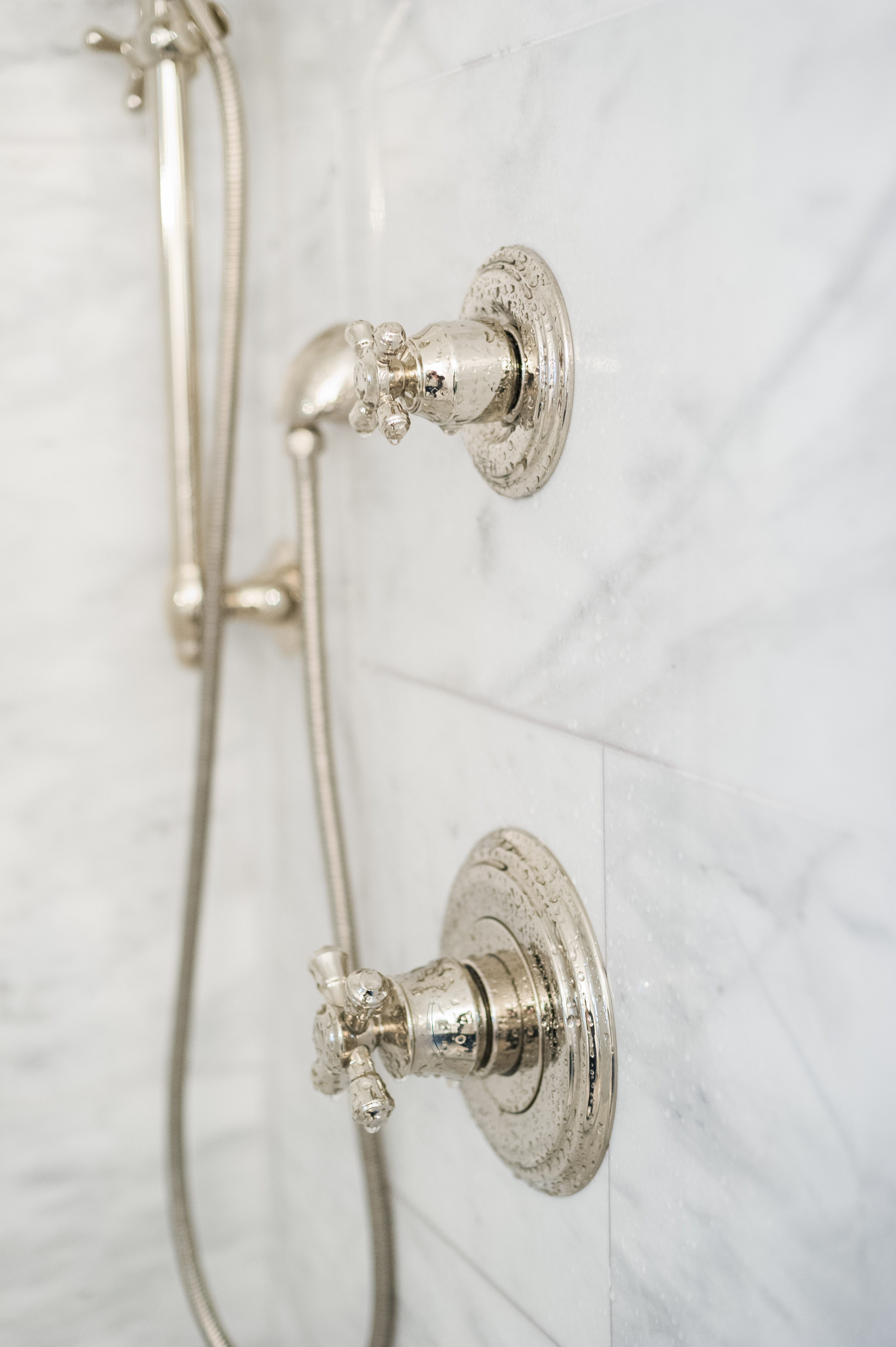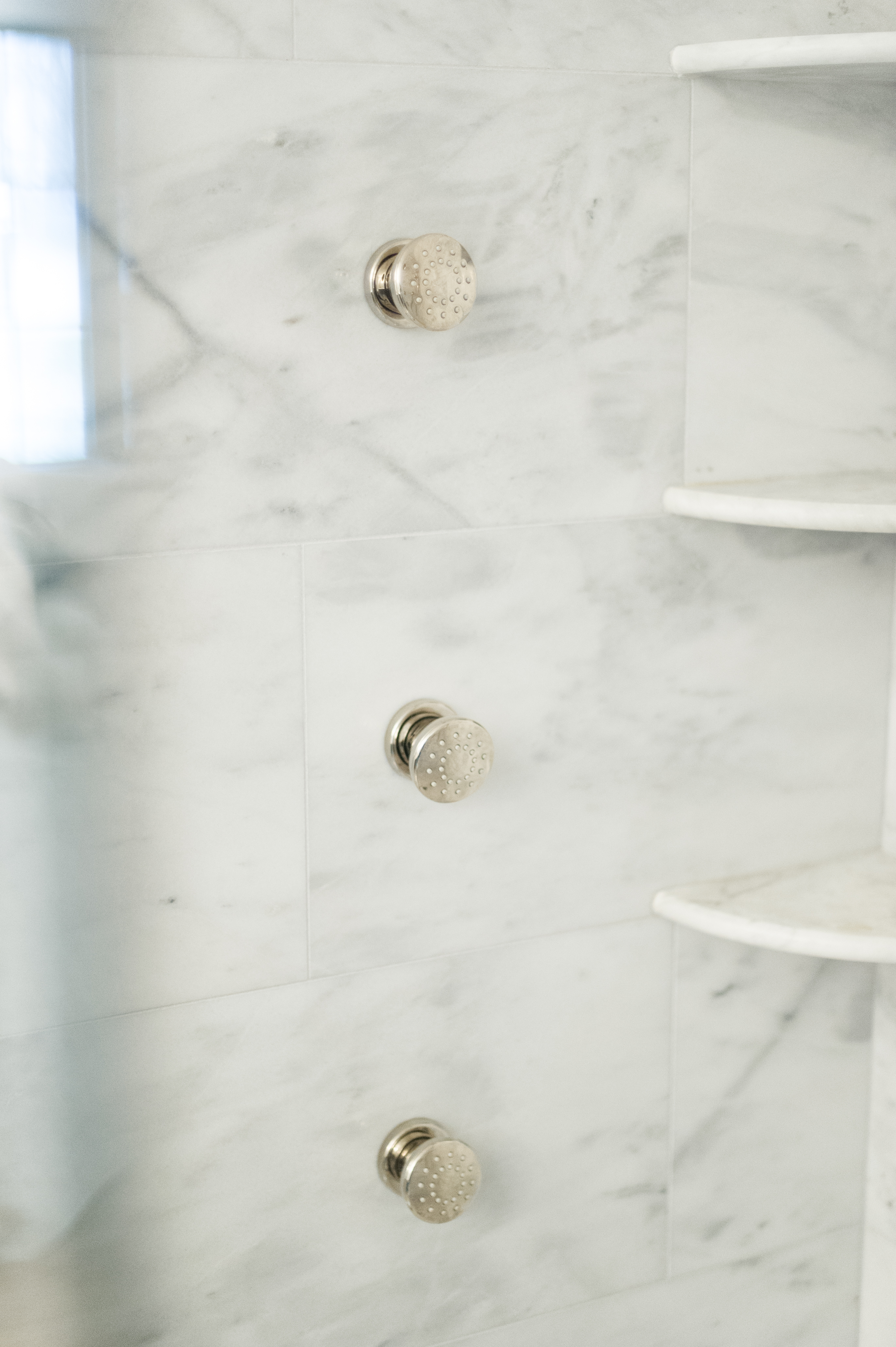 Details
One tip that I have for you, if you're doing a bathroom, is to install towel bars, towel rings for hand towels, and robe hooks to hang wet towels. These items were after thoughts at other homes and our towels would be hung over the door, or shower, or the floor….lol…they help so much and they provide extra real estate for fab towels, like these turkish ones that I scored at Homesense.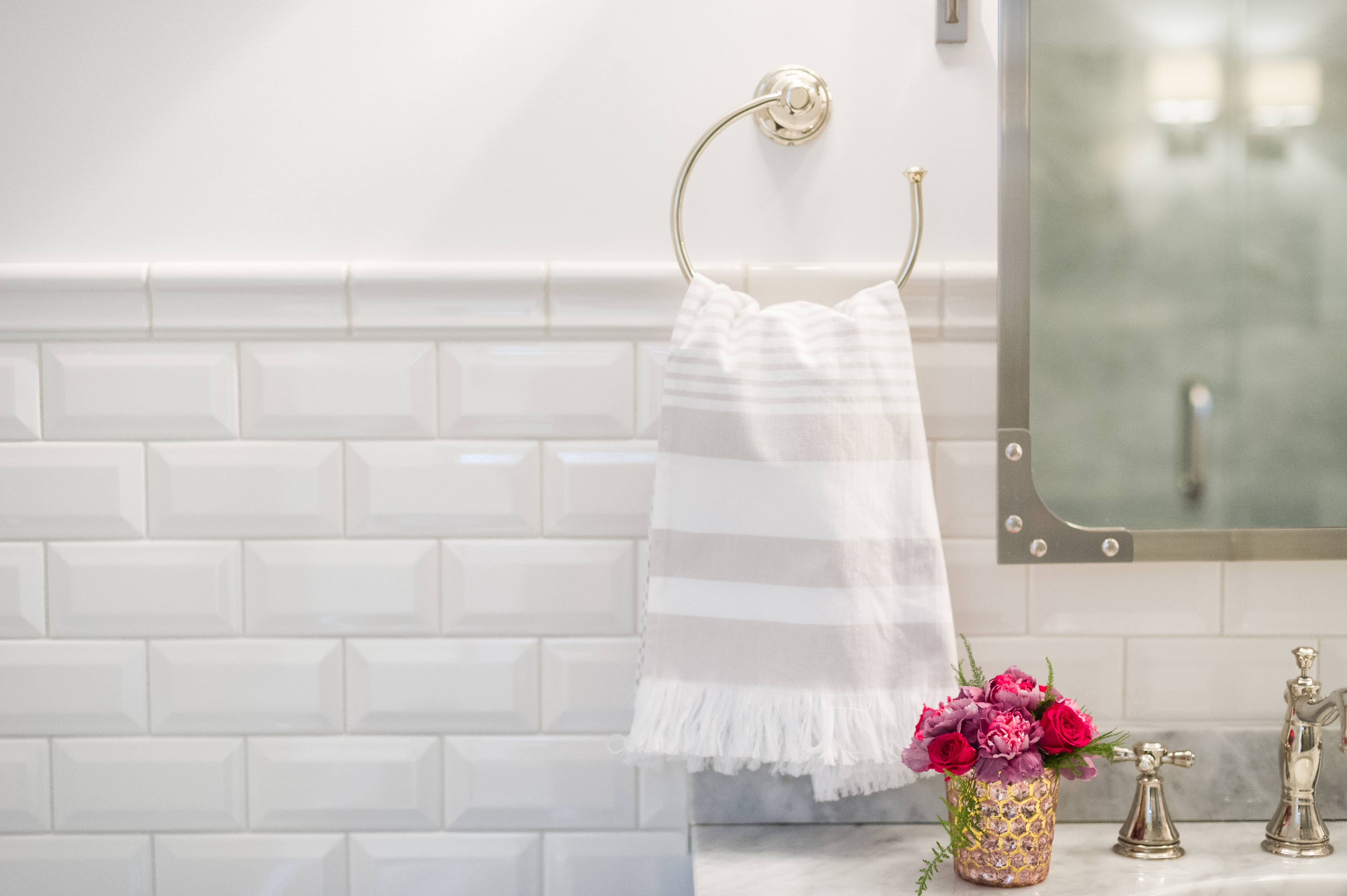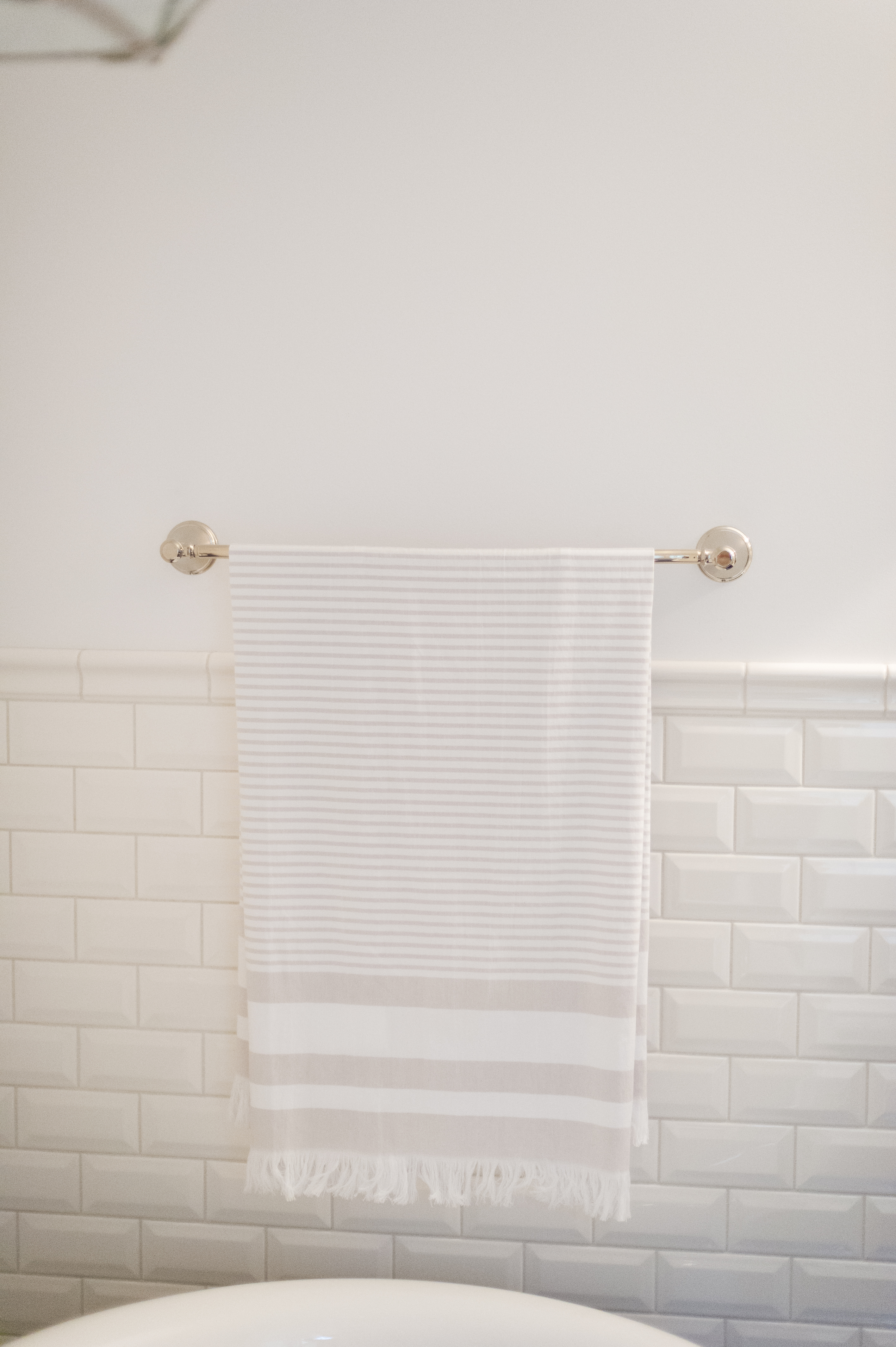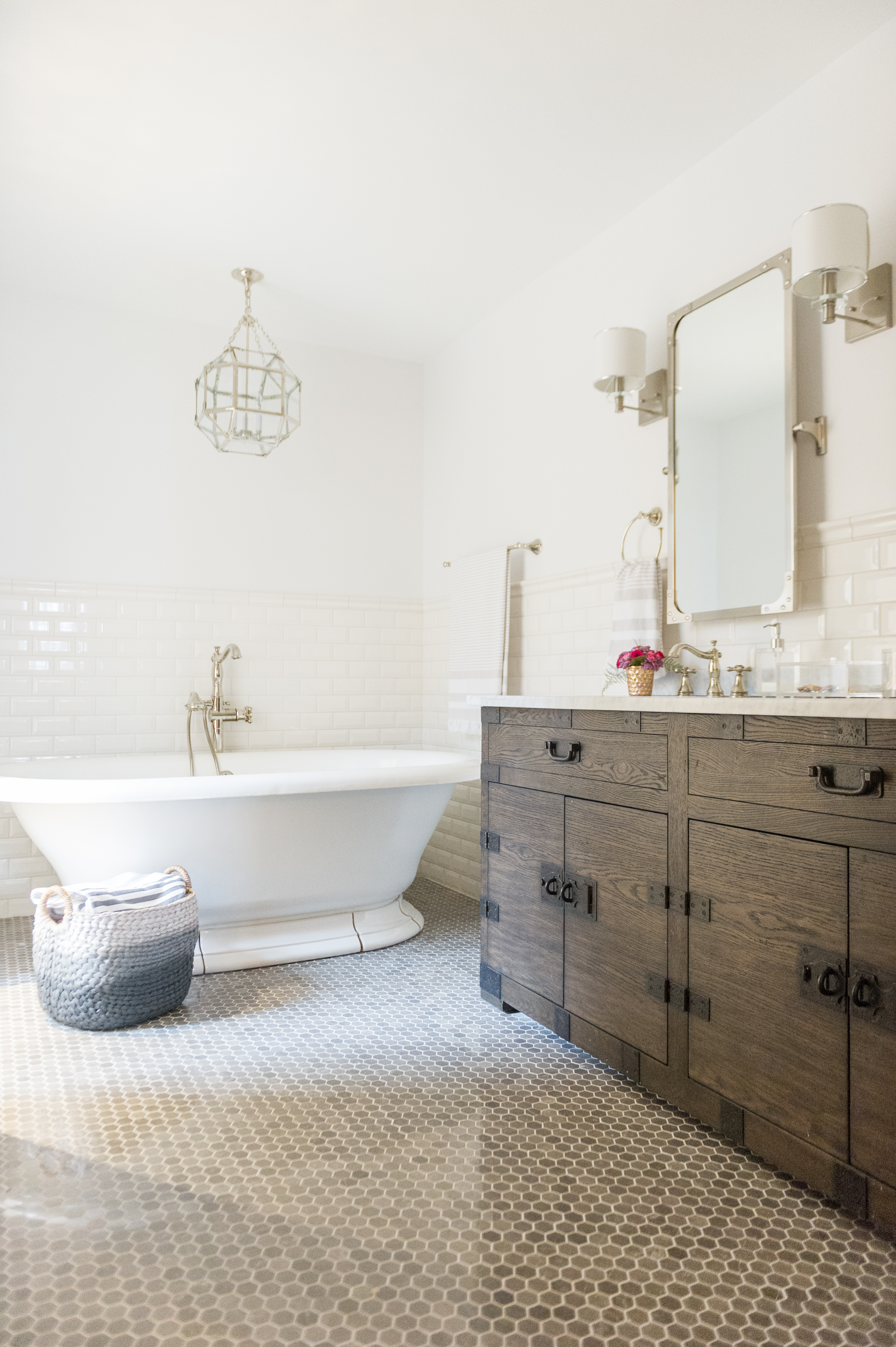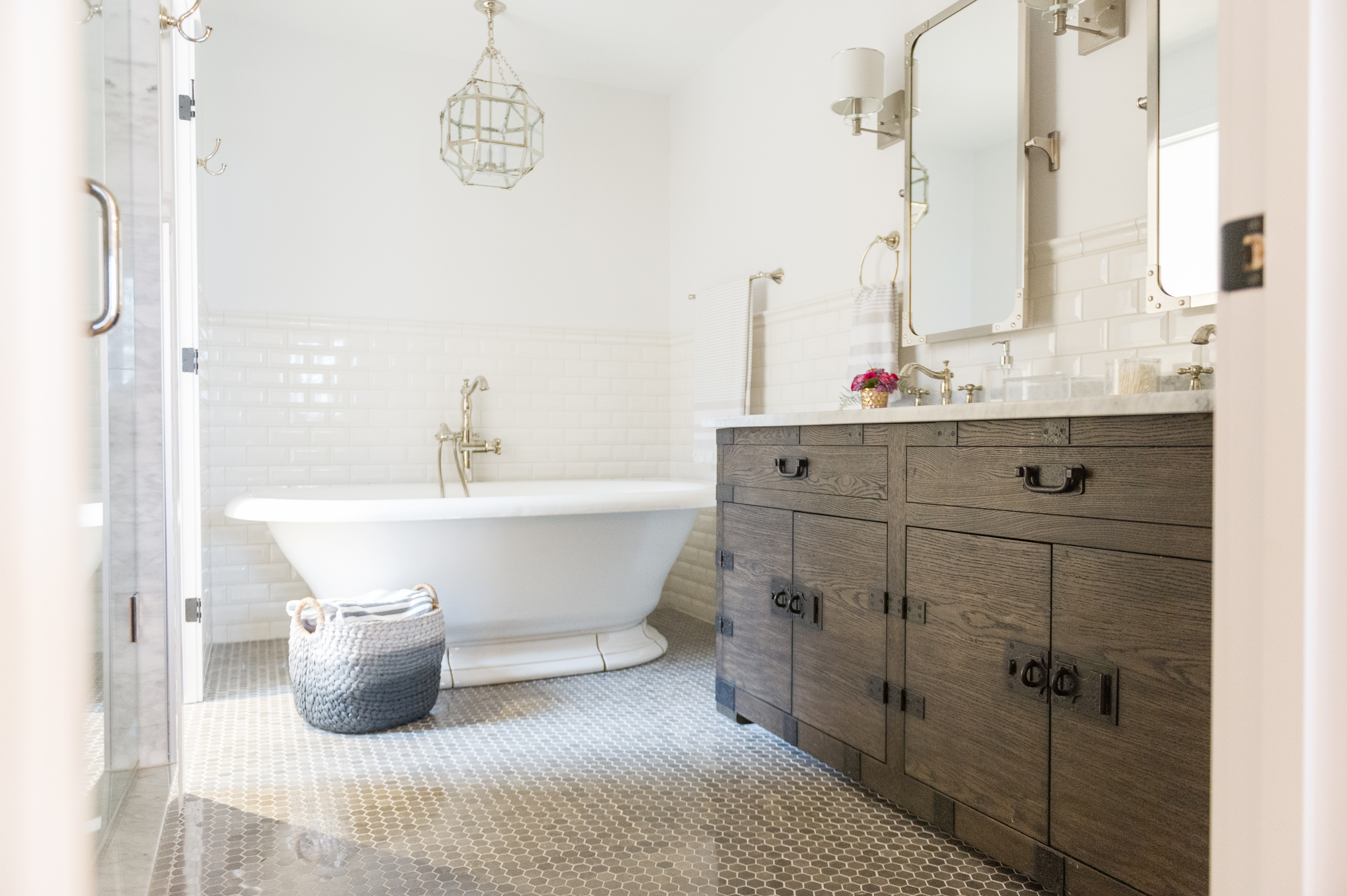 In this shot, you can see that there is a door on the left which is the water closet. I really wanted to have the toilet in it's own little spot so we could all use the vanity, shower, or tub, when someone was using the washroom, which is perfect for a family.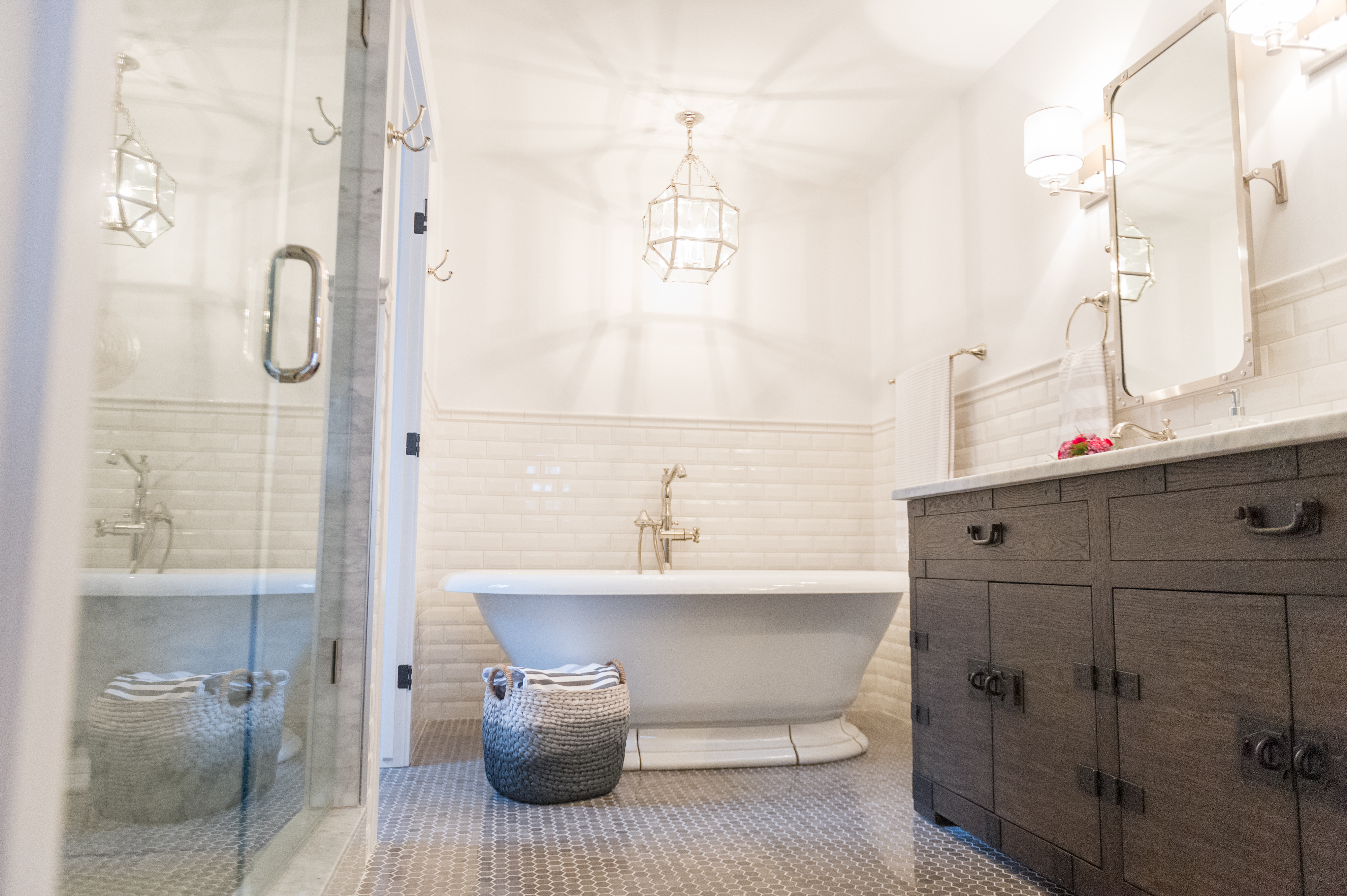 The last thing I still want to do is to add a piece of art. Quite a while ago I bought a photograph from a spectacular photographer named Kevin Russ for the space, but I never got it framed. Now that I now about Framebridge I'm kicking myself for not having the print sent to them first, because I have no idea when I'll get around to it.
(If you don't know about this fabulousness look up Framebridge….you can have the print you buy online shipped directly to them and they ship it to you framed. It's such a good price, PLUS the shipping is included and they have FAB frames.
I need to take my own advice and get this beauty framed. How amazing would these dark horses look in this bathroom with this dark floor and vanity?! And the horses would just amp up the French Country…I had to hold it up and get a pic 1) because I am such a nerd and 2) because I needed to show you!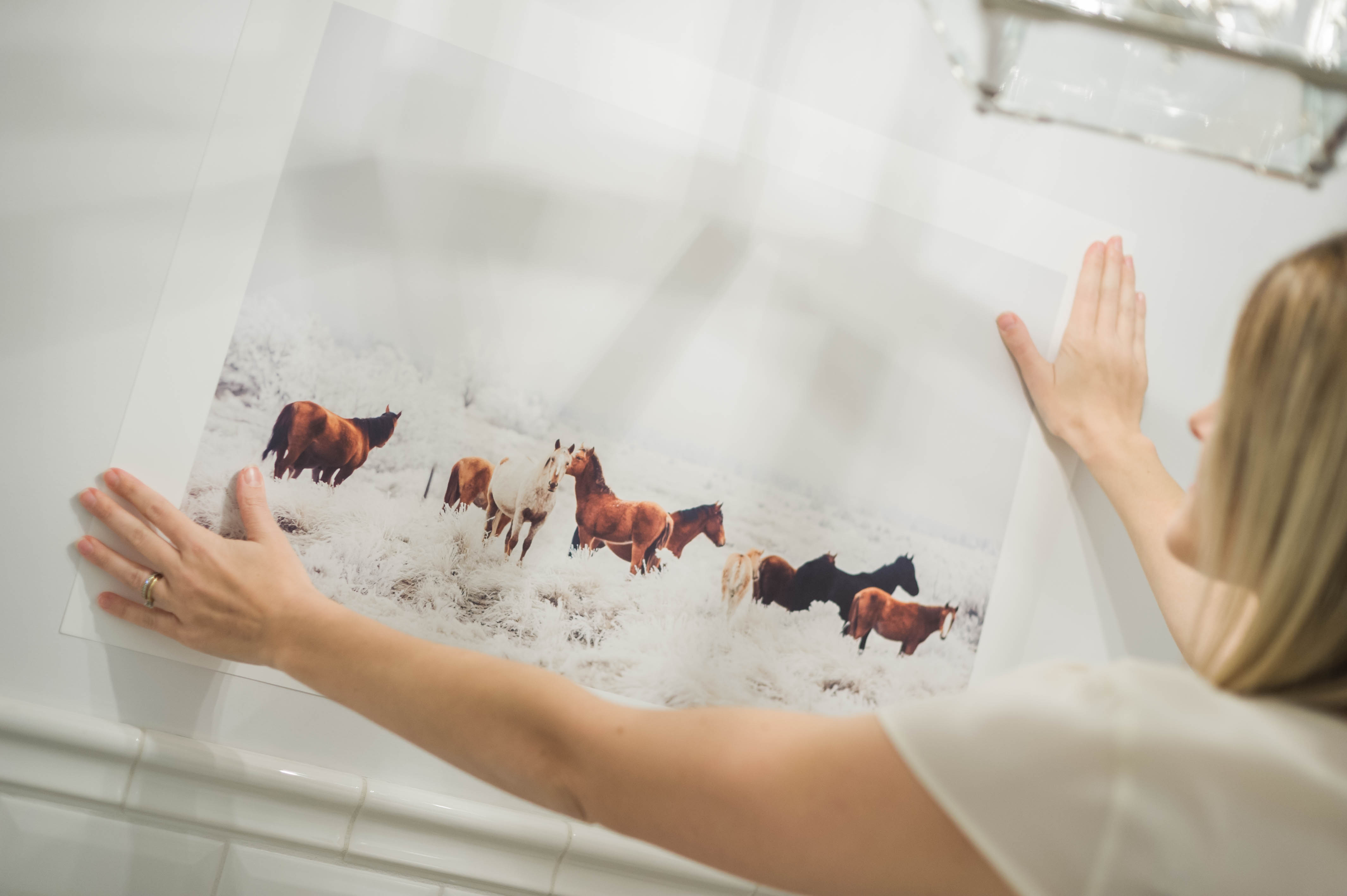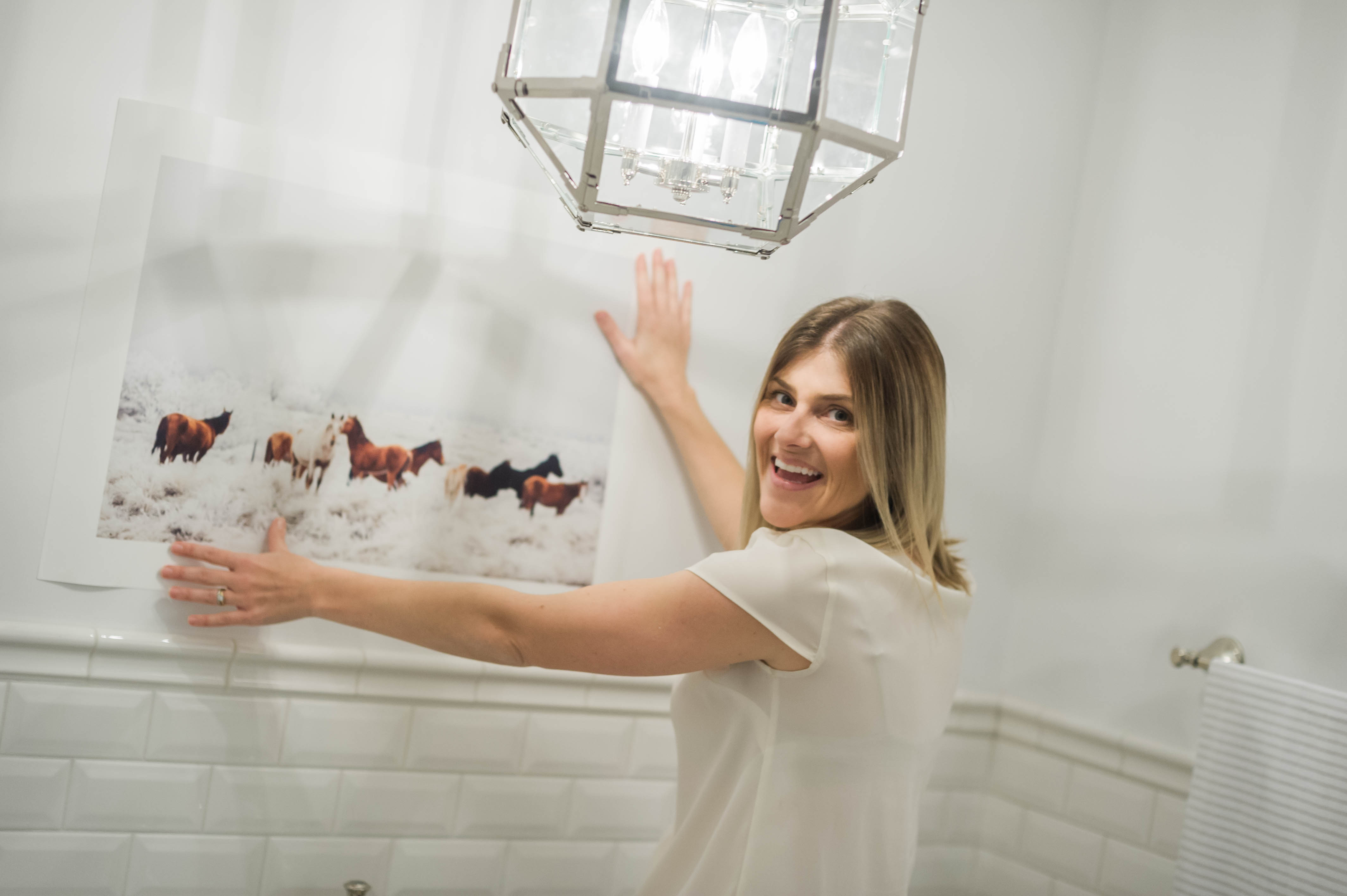 Thank you to Vicki Bartel for taking the bathroom shots as well as this fun pic that she got while I was getting ready for the Valentine's Shoot!