Renovations are about adding functionality to spaces, but they also need to be about adding character to a home! I'm going to show how to add character to your home and lots of it! Whether your home is brand new, or really old, it might majorly be in need of "character".
Character is what makes your home distinct and unforgettable. You know the feeling you get when you see a perfect staircase or beautiful stained glass windows, that's character! Well we're not all fortunate enough to have those features, but we can add them in. In this post: I'll give you a detailed tour of the second major renovation we took on (which you see above); show you what we did to add character to this very plain, old house; and leave you with some ideas about how to add character to your home.
Our First Major Renovation and Why We Left
Before I jump into this project, If you haven't seen our first major renovation and the story of how I got my start renovating, have a look at our Backsplit Overhaul! 
Why did we leave our first home? Well….The entire time we renovated our backsplit, I had a "street crush" on the street two over. It wasn't just a little crush, it was crazy actually. It was a "buy and die" neighbourhood (meaning people never left it and if they did, the prices were too high for me to ever afford.) I walked down it everyday and talked about how I wanted to live on it incessantly. I drove everyone around me insane.
One day, we saw a private sale sign on one of the few totally un-renovated homes left, that we might be able to afford. I just about lost it and we contacted them and said we'd take it immediately. The house was really plain but I was convinced that we could renovate and build all the character into the home! We bought the house without conditions, and sold ours about a week later.
The mission with this home, that I called Colonial Revival Reno, was to add character to the interior, character that you would think the house would have always had. (But really, really, really didn't!) Here's a shot of the exterior of the home, taken when we bought it and a second at Christmas taken a couple months after moving in.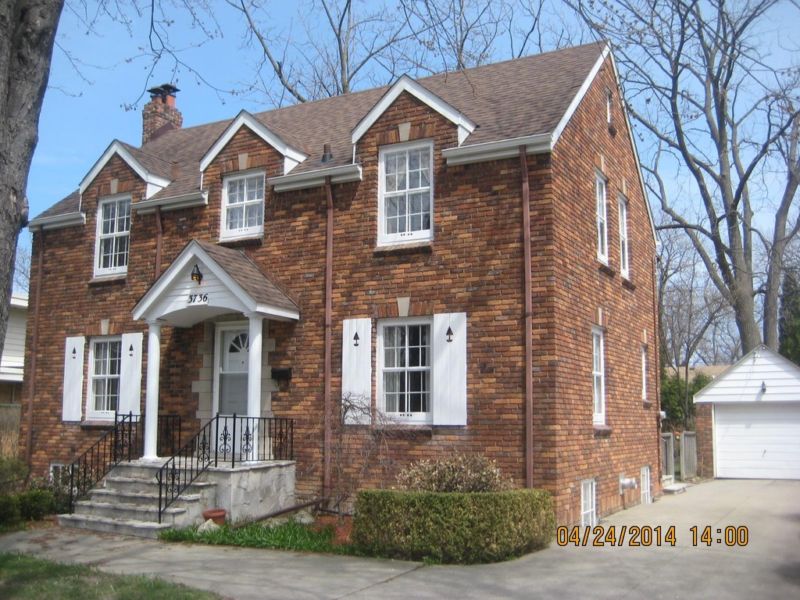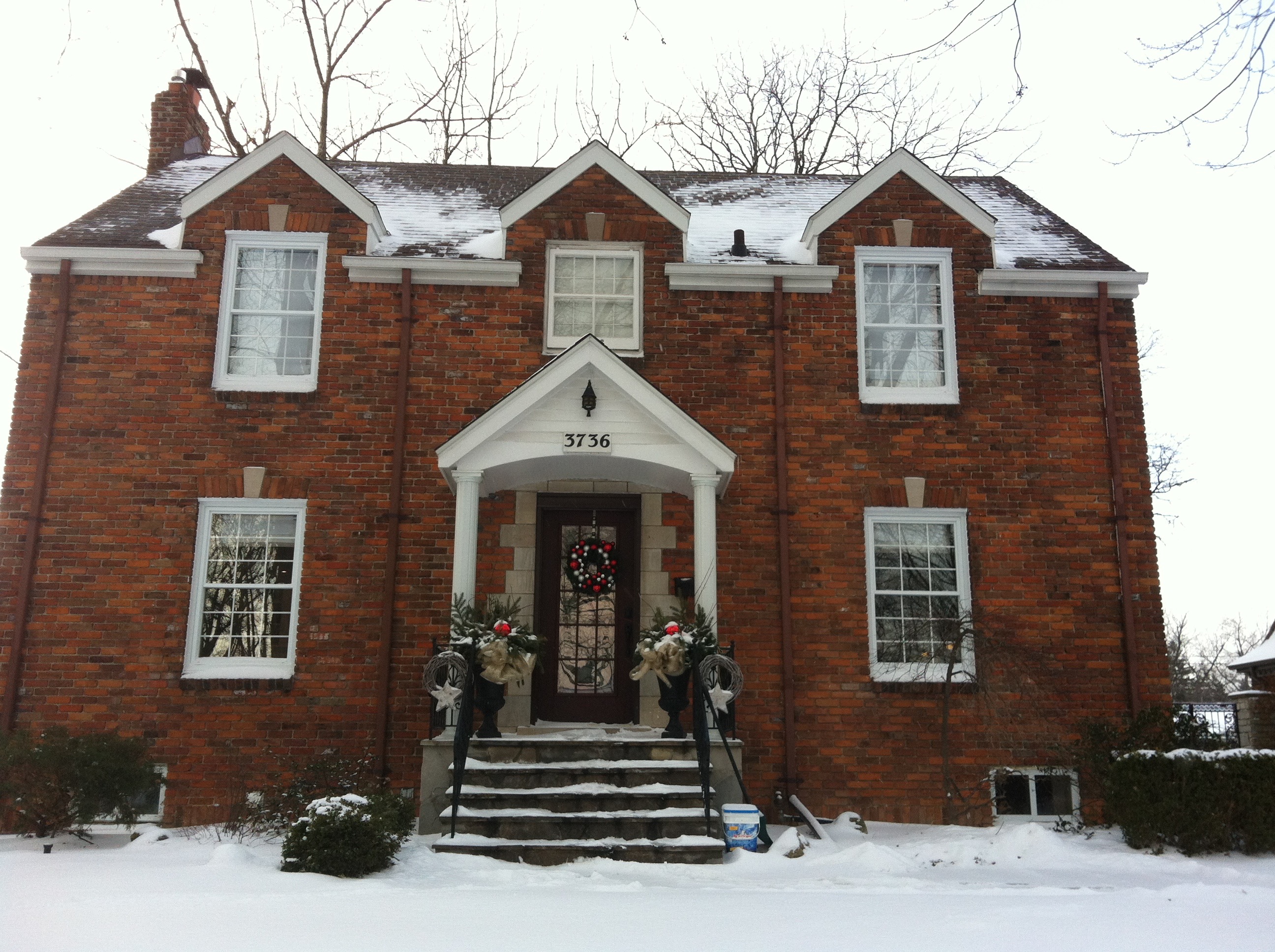 While we waited to take possession of our new home, I started pinning a million pictures of trim work. Finish Carpentry, in my opinion, is the best way to add character and is what creates the really swoon worthy spaces!
These are the real notes that I made for our contractor and photos that I found. If you've been following along, it's my husband's brother, who we worked with us on our One Room Challenge, this past spring! At the time my husband's brother Ben lived in Alberta and was coming home to do the project, so I created this PDF to send to him so that he could see the spaces and wrap his mind around the work, and figure out how long he would be in Ontario.
So here is the exact PDF that I sent him! It's a mix of "before photos" of the spaces and then inspo images that when put together have all the characteristics of the work that I wanted done.
How to Add Character to Your Home: Project Outline and Inspiration Images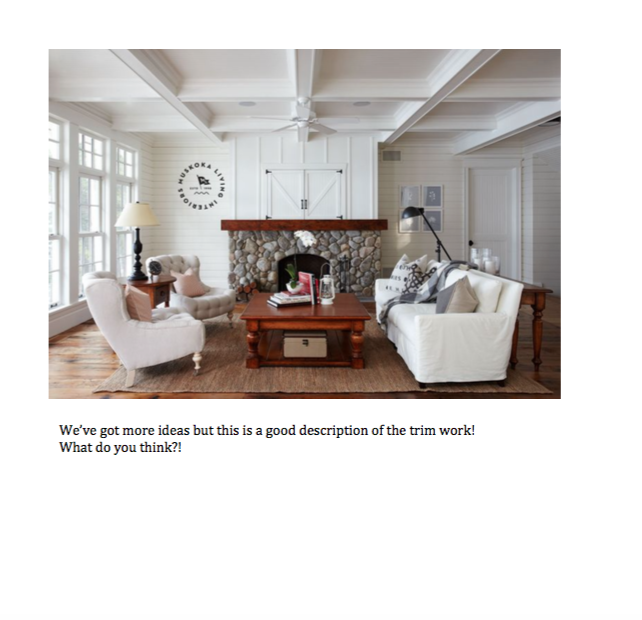 It's really cool to have a look at this PDF, again, and see how closely the final renovation was executed!
The first thing we did, after demo, was map out the trim on walls in pencil to decide on the proportions, and then shop the trim to pick out profiles.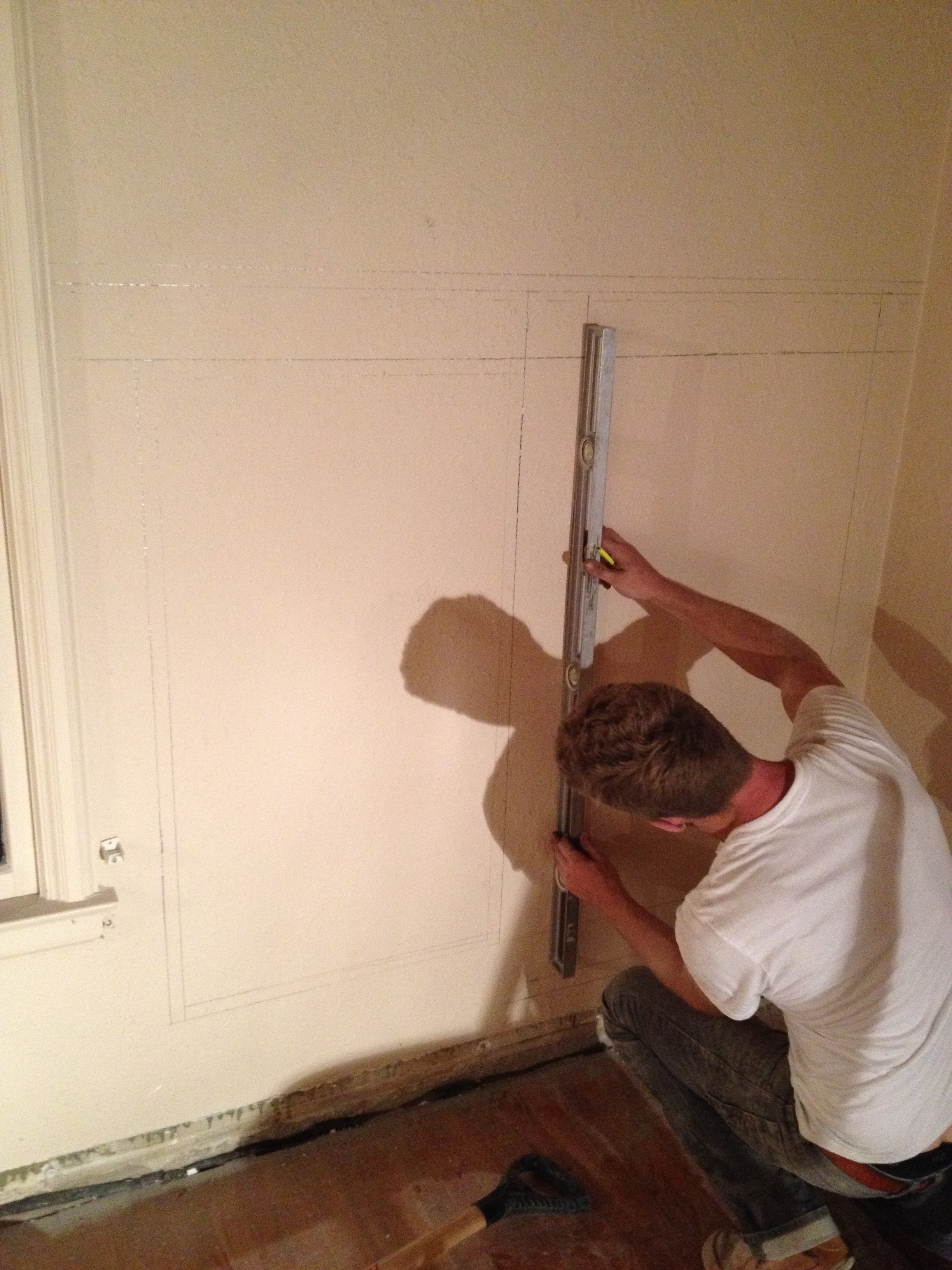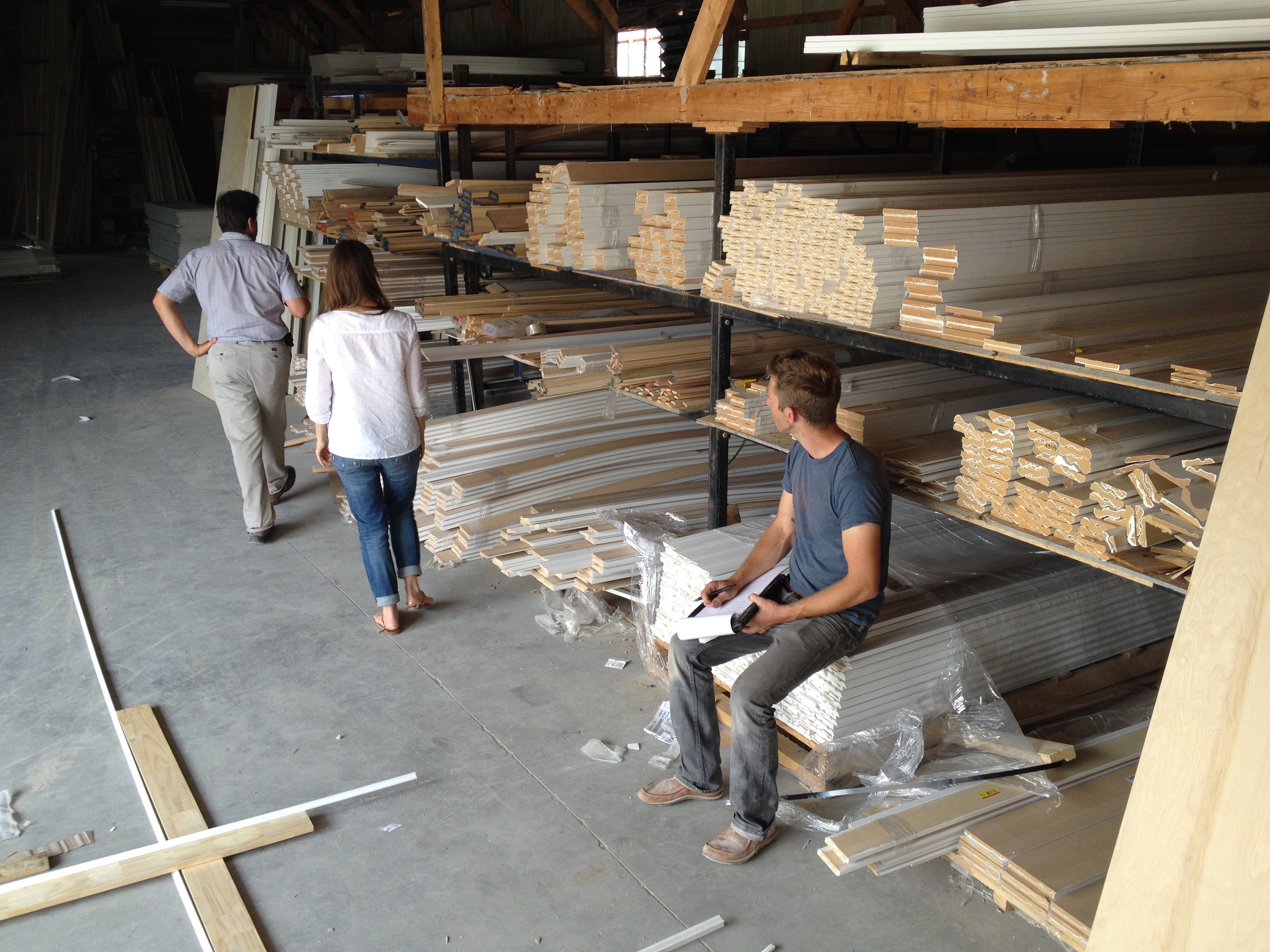 Ok now let's have a look at some afters to see how the trim added character to the home!
How to Add Character to Your Home: Entry Way
In this photo you can see that we were able to take out the wall that was to the left, to open up the kitchen. The hardwood was in great condition under the carpet, so we had it sanded and stained grey, and added a black slate tile entry way. We added a 15 light door that allowed light to pour in and the space to feel much larger. We added the wainscoting, architrave around the door, and then painted out the banister, and added the trim to the stair case wall, to create a feature wall. In this shot you can see the kitchen.
The kitchen was such a major renovation that I blogged a dedicated post for it, which you can see here Colonial Revival Reno Kitchen.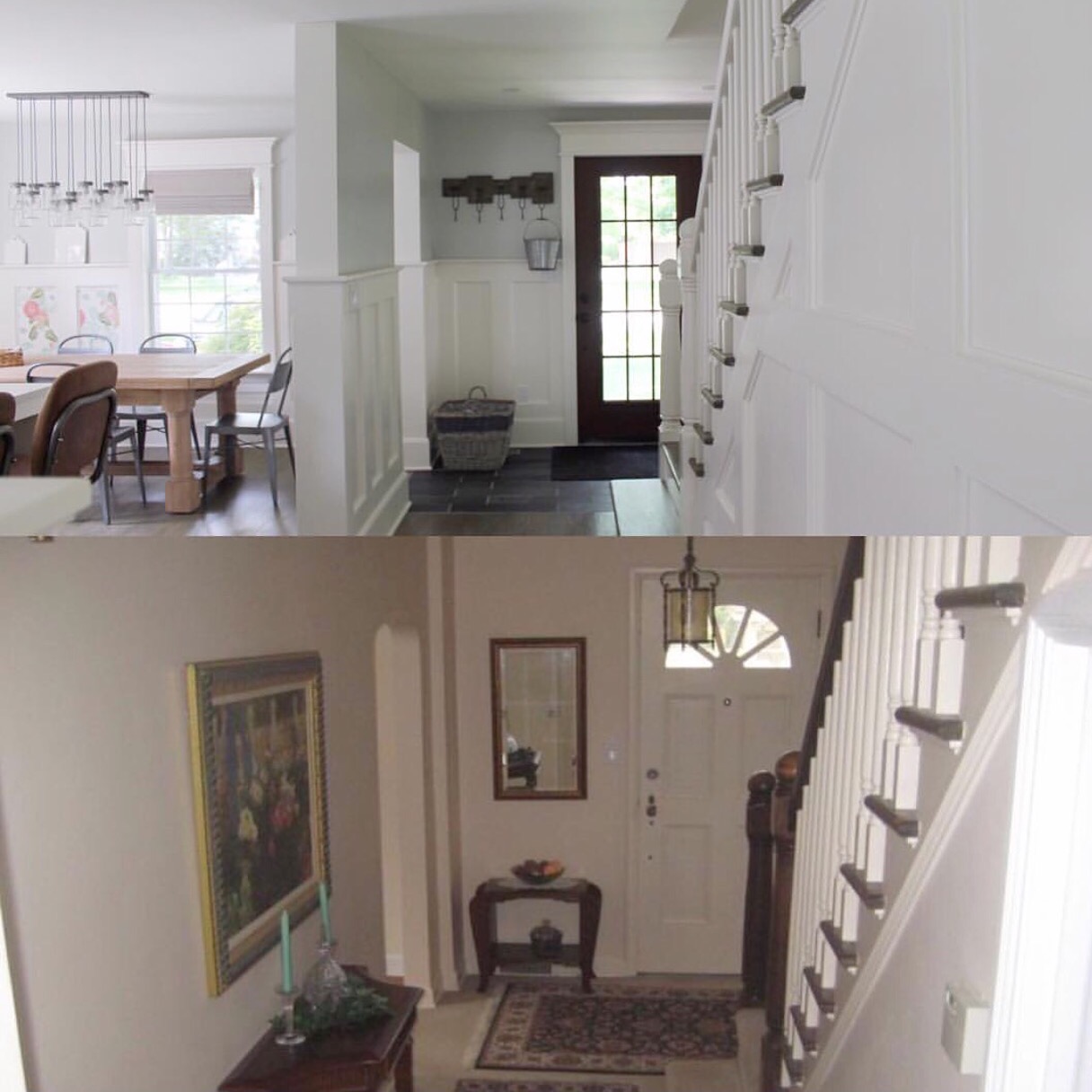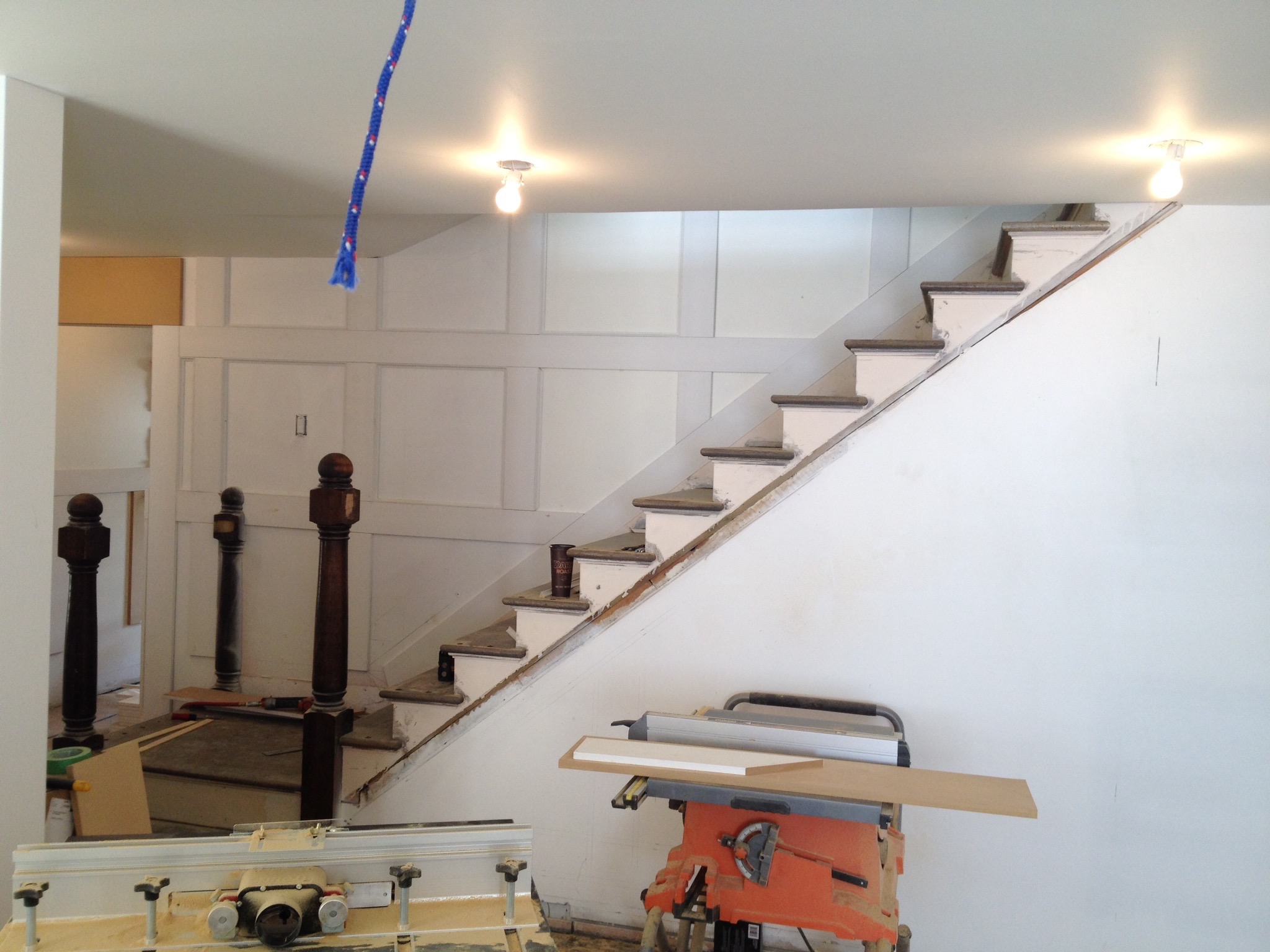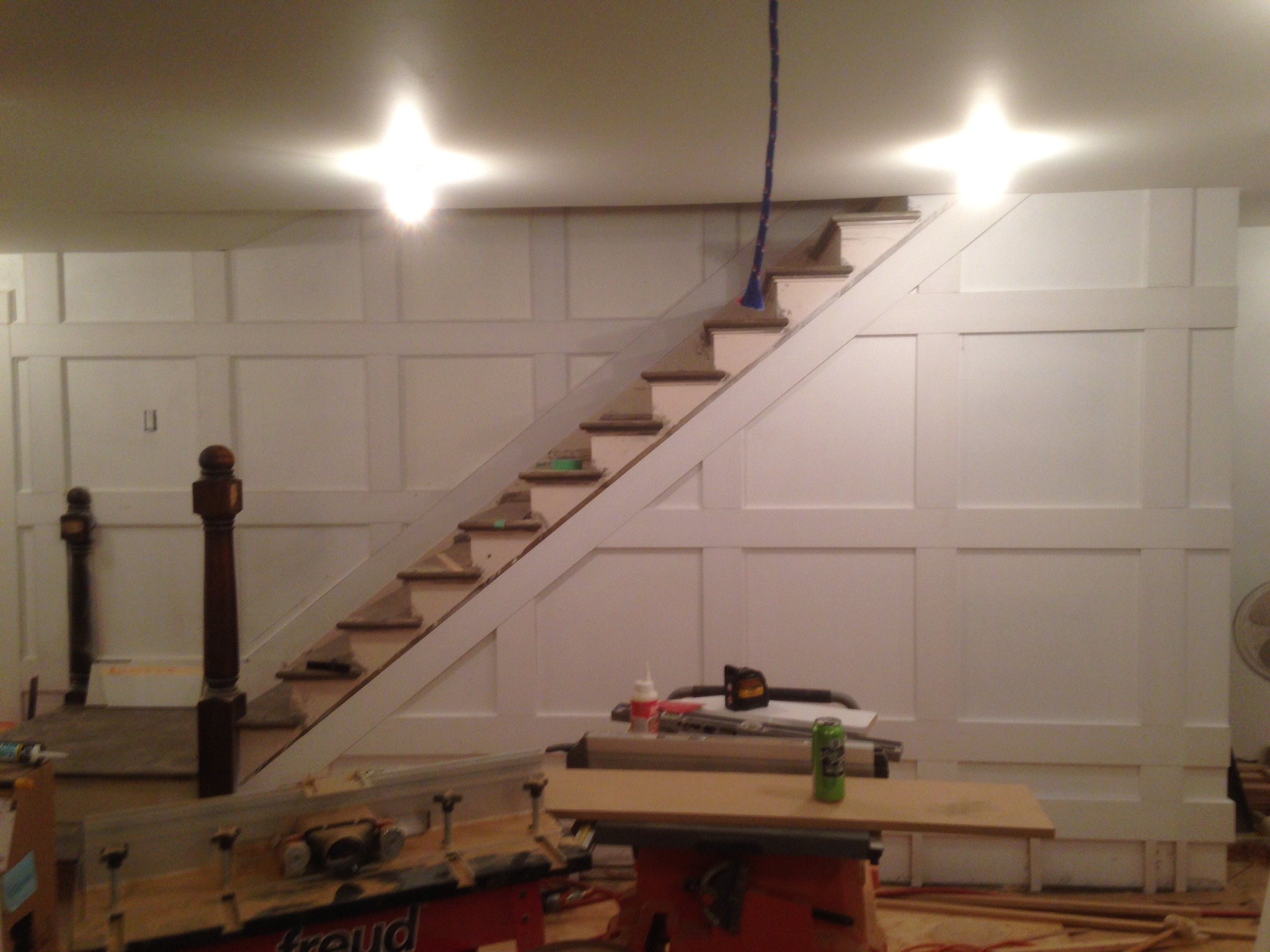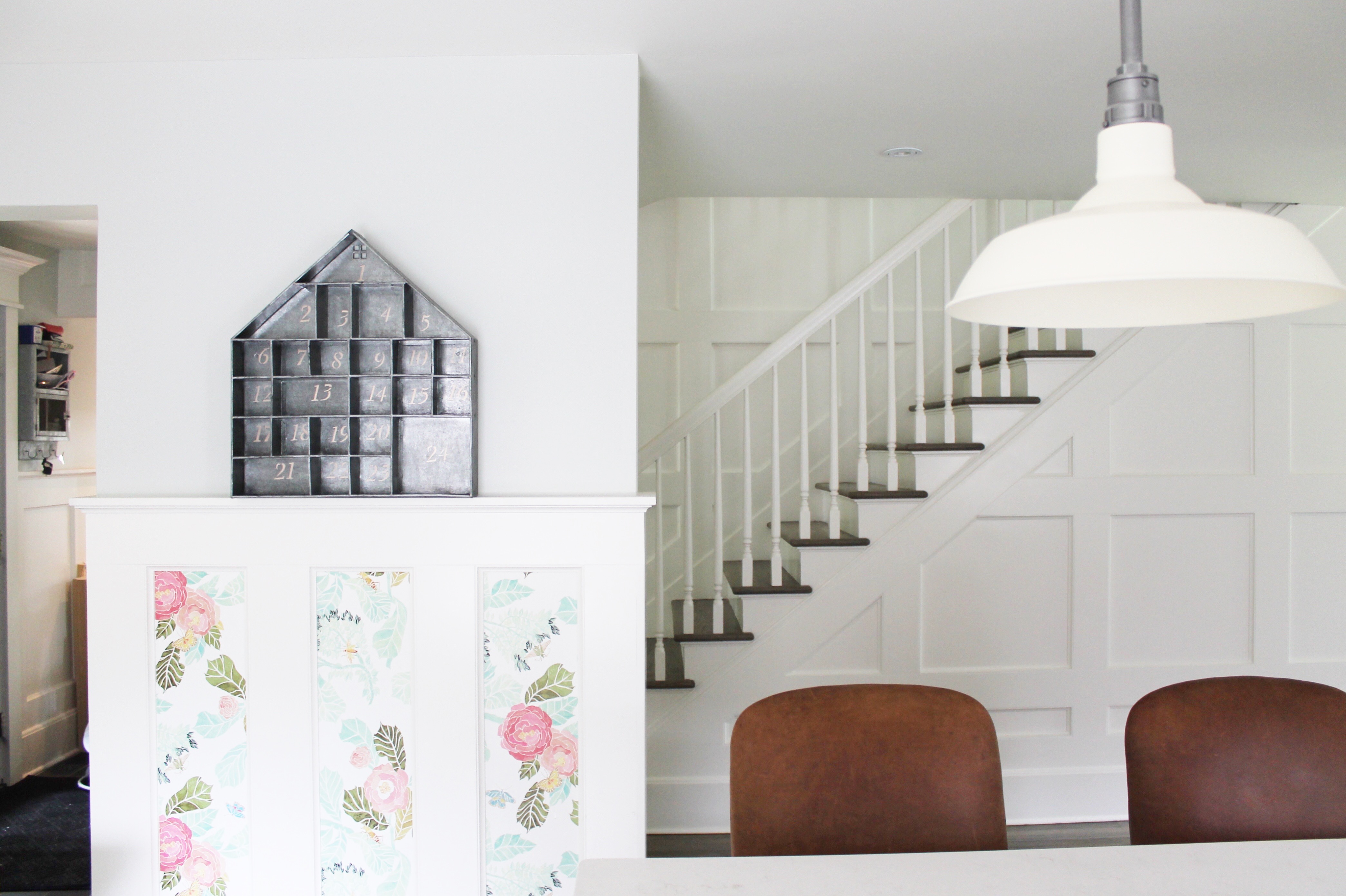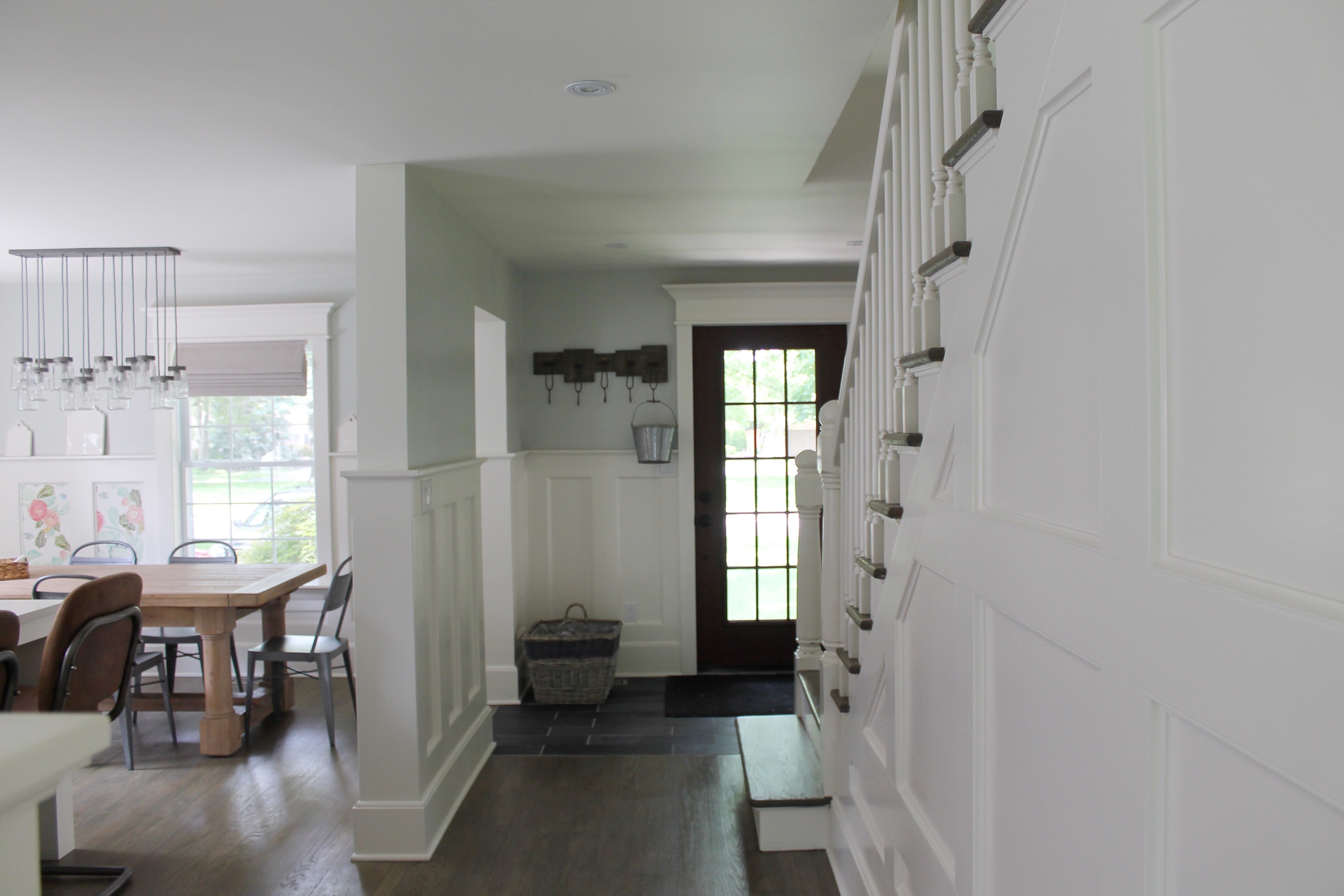 How to Add Character to Your Home: Living Room
In these photos you can see that I changed my mind about the 36″ wainscoting and decided to take it to 5ft. I wanted it to act as a picture rail that I could lean things on, because I have issues nailing into the walls…lol! It's true. You can see the amazing trim that Ben added around the windows. Each window was built with 28 pieces of wood. Seriously unreal. You can also see that we did do a coffered ceiling and create a new fireplace surround that enclosed the t.v. and incorporated open shelving.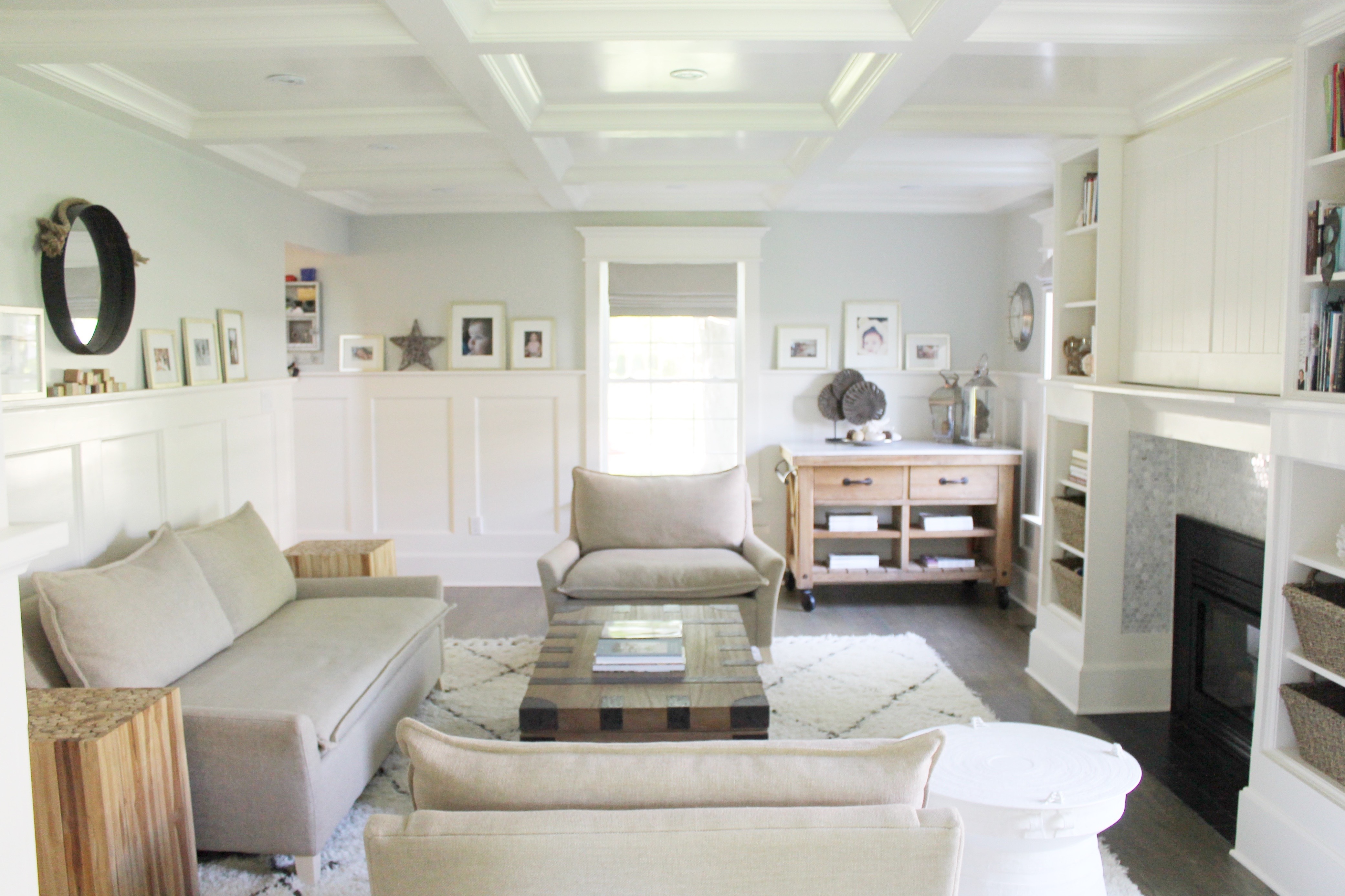 Don't be fooled by the before and after shots. In order to complete the project we had to remove ALL the plaster walls and re-wire ALL the electrical, redo ALL the plumbing, HVAC, insulate, hang new drywall, and replace all the windows. So the demo and new construction on this 1937 home was massive.
However, if what is behind your walls is fine, you can apply this type of trim work right over your drywall. These types of project are really perfect if you're in a characterless new build. You can also buy ready made architrave to trim around existing windows and get this look much easier. Here is a link to my favourite trim company where you can purchase gorgeous architrave! The company is called Metrie and it's the preferred trim source for a ton of designers!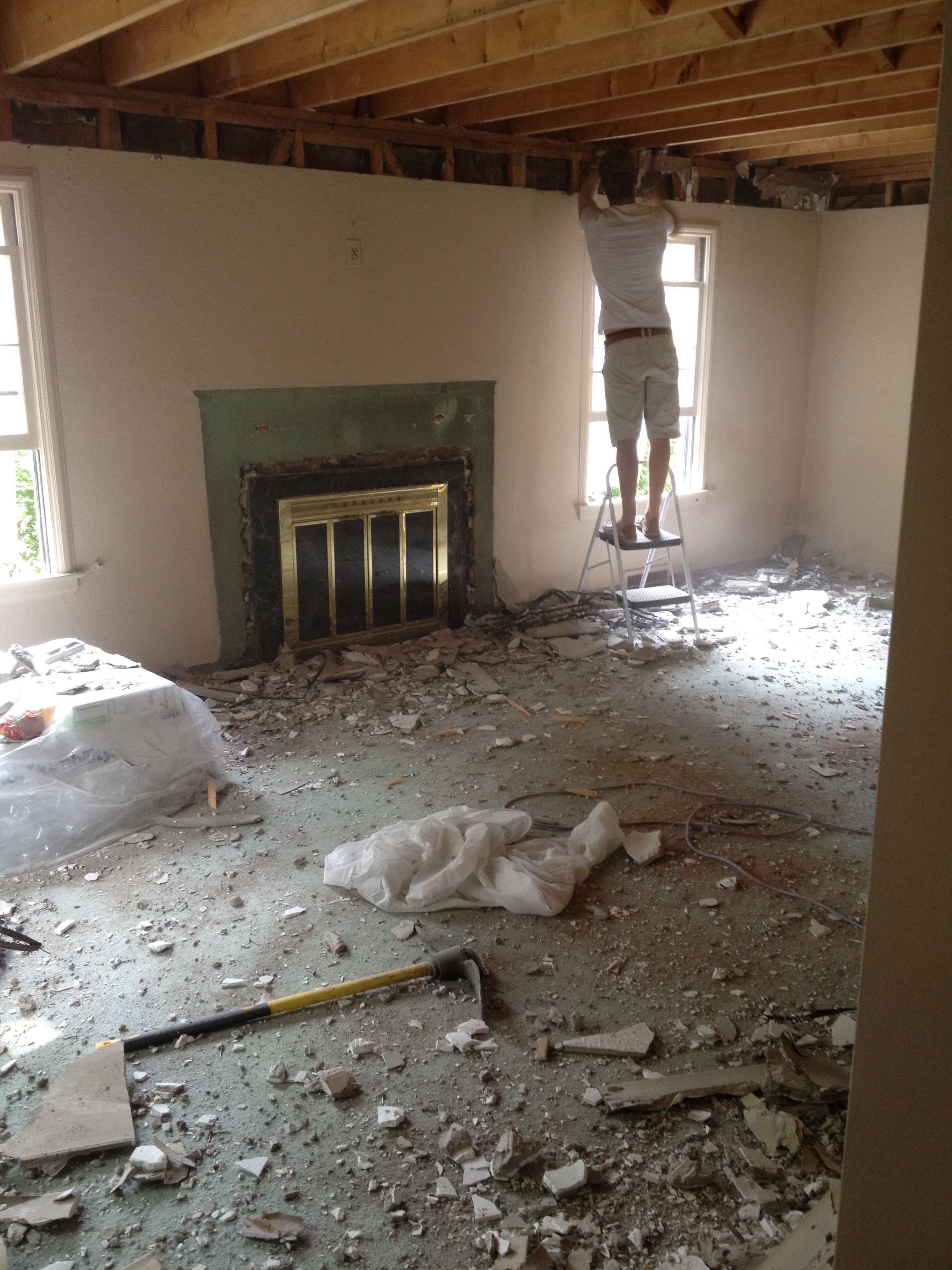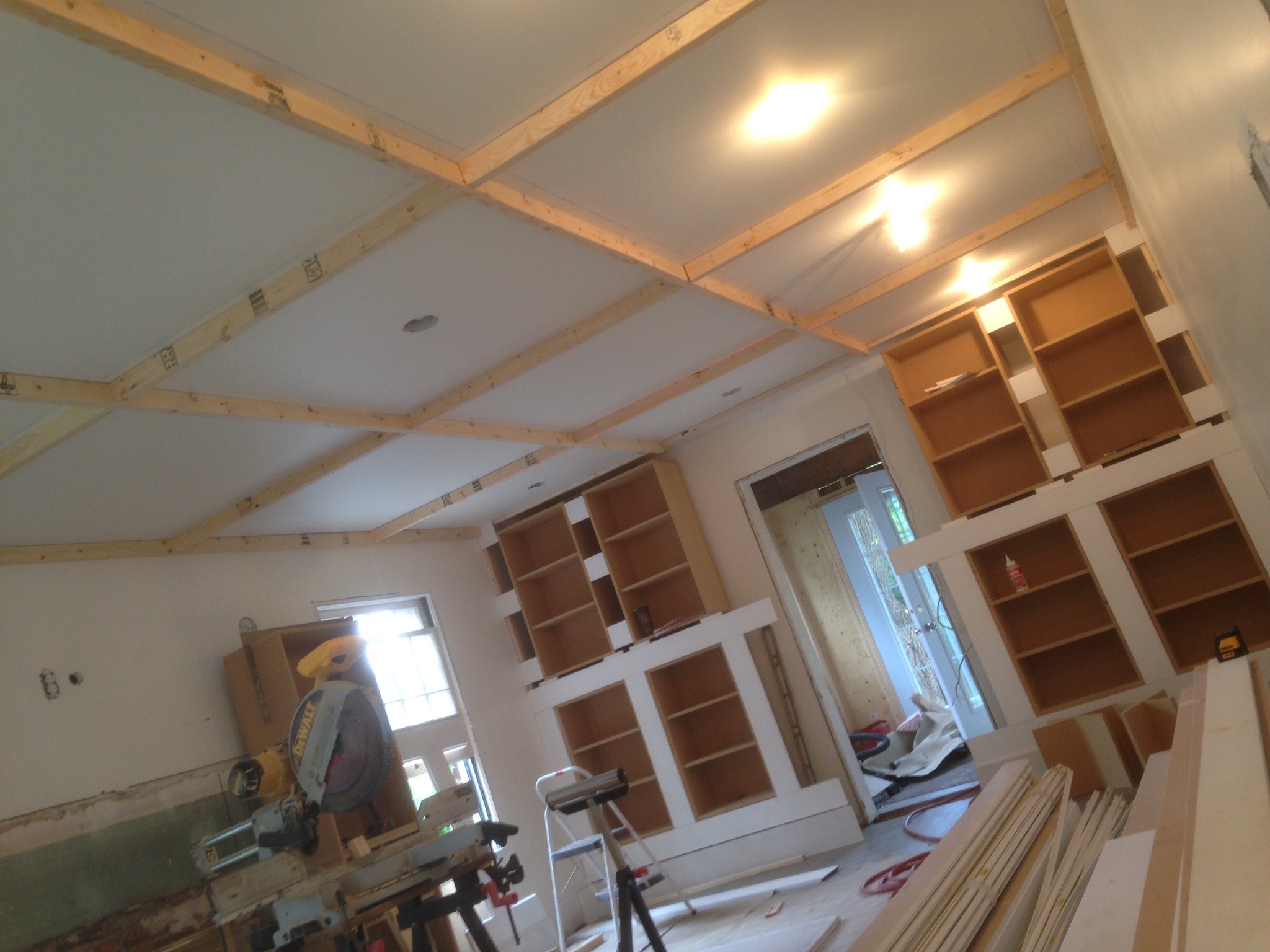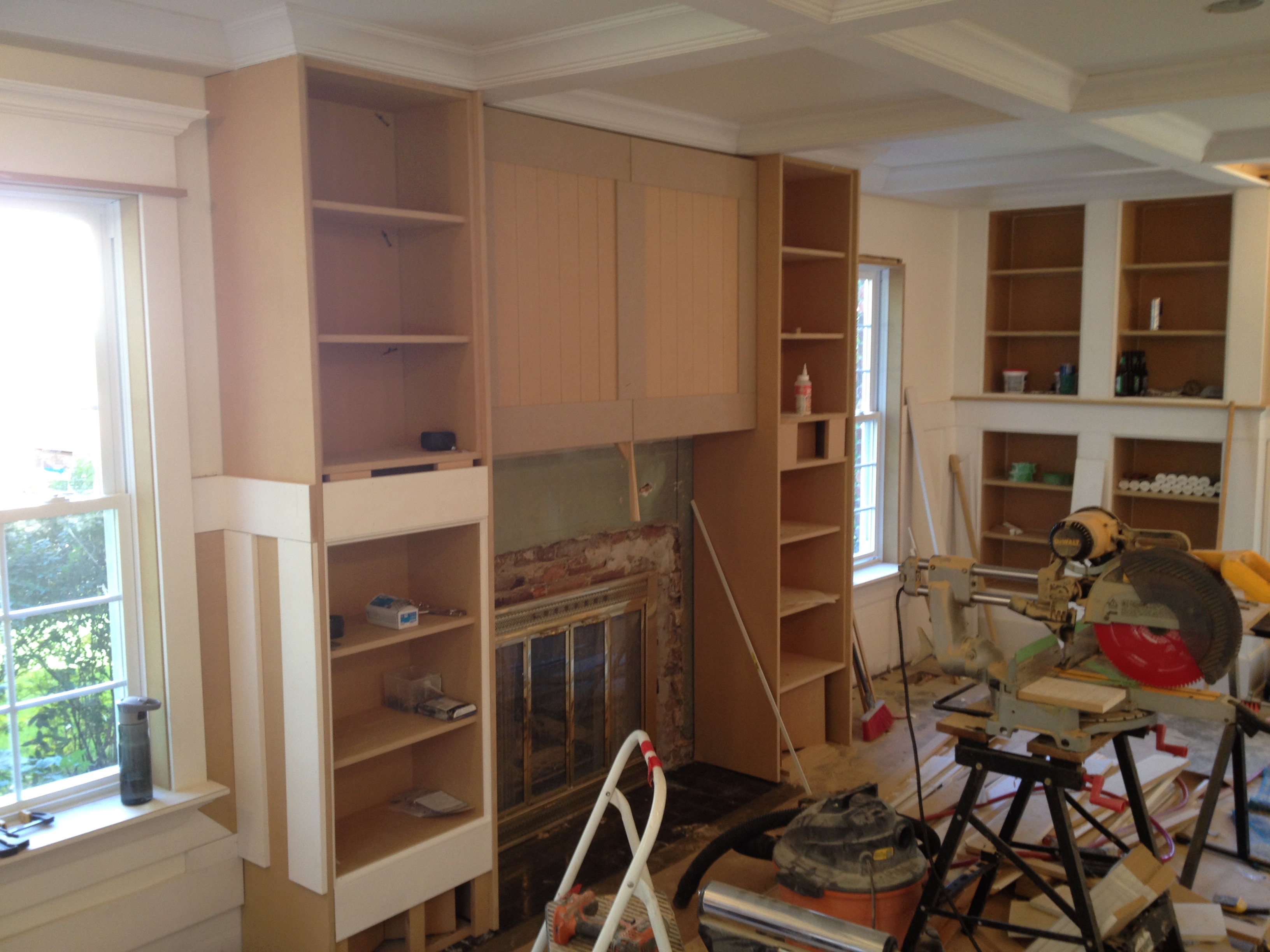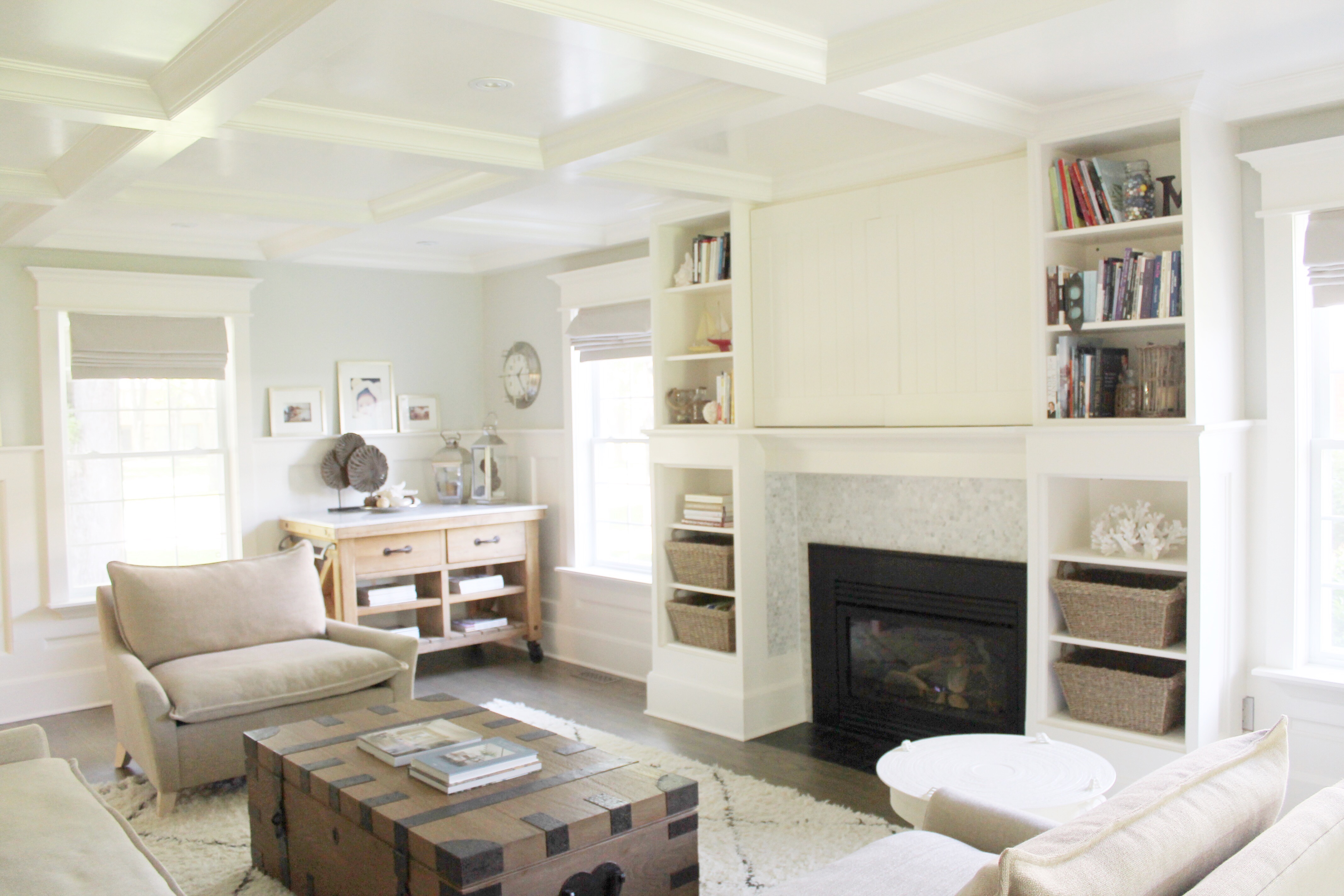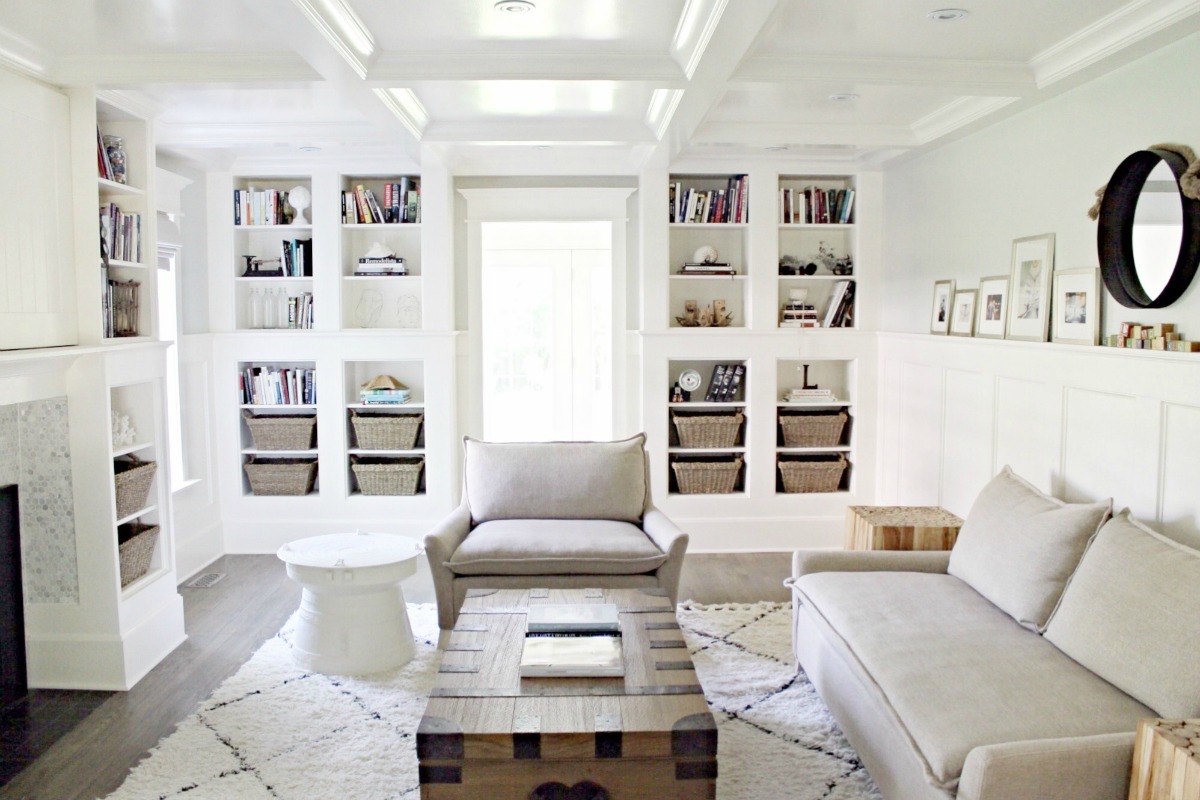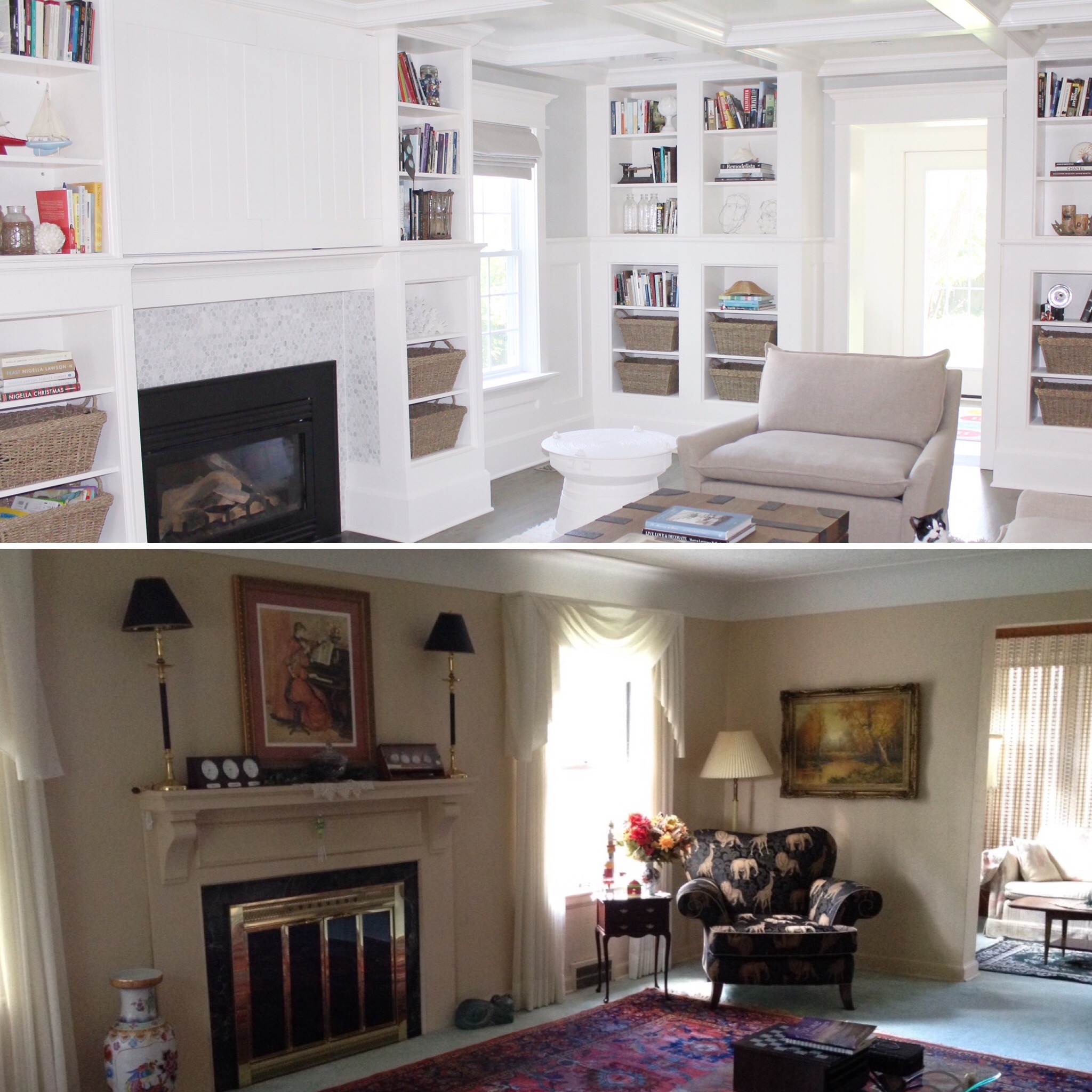 This is my all time favourite shot of this home and, really, the shot that catapulted my Instagram account, because it won some hashtag contests and gave me the encouragement that I really needed to break out of my comfort zone and start sharing all of my work. If you need help, encouragement, and a plan to start sharing your work and passion check out this post, if you haven't already, because it's my most liked post that I've ever written and talks about how to motivate yourself to share your passion!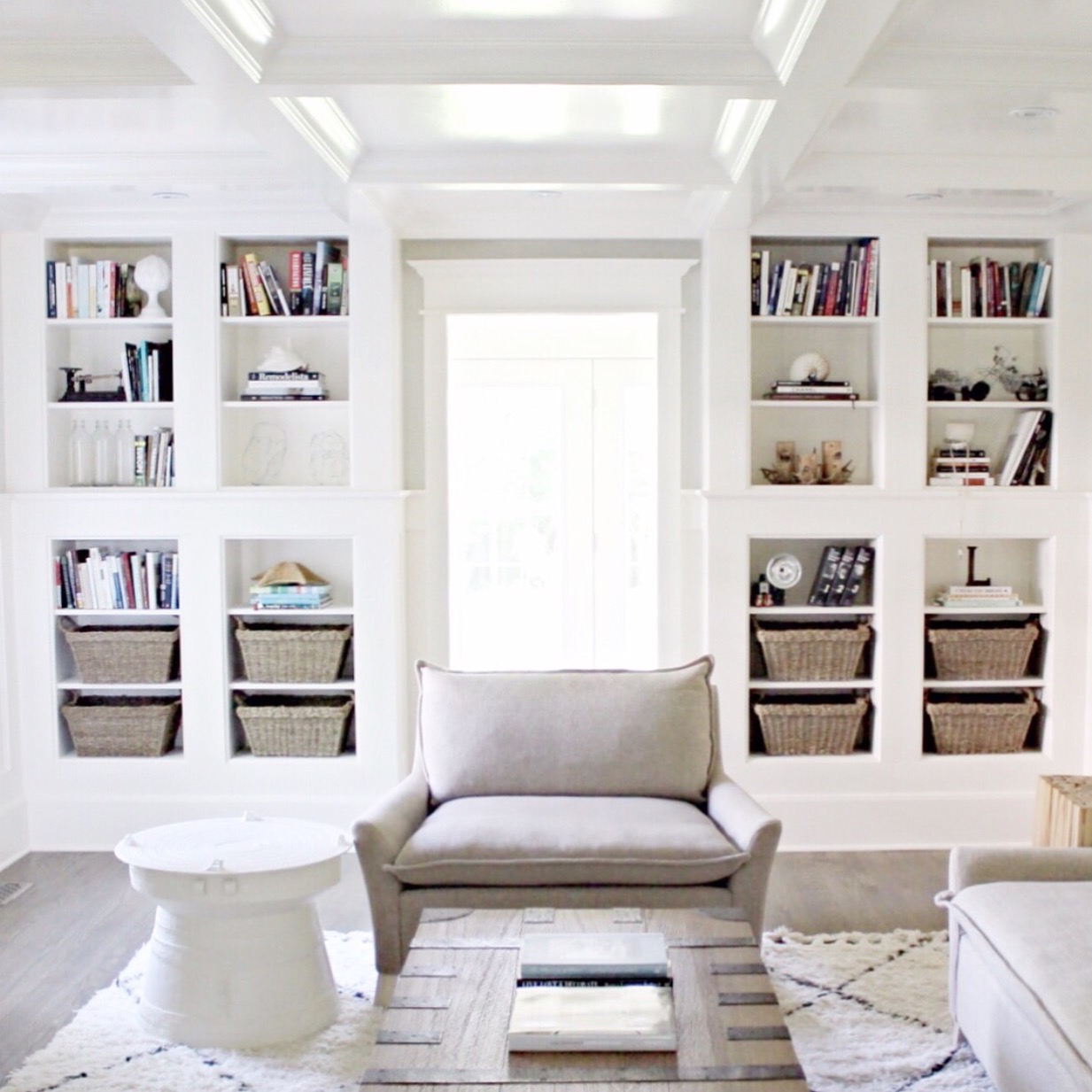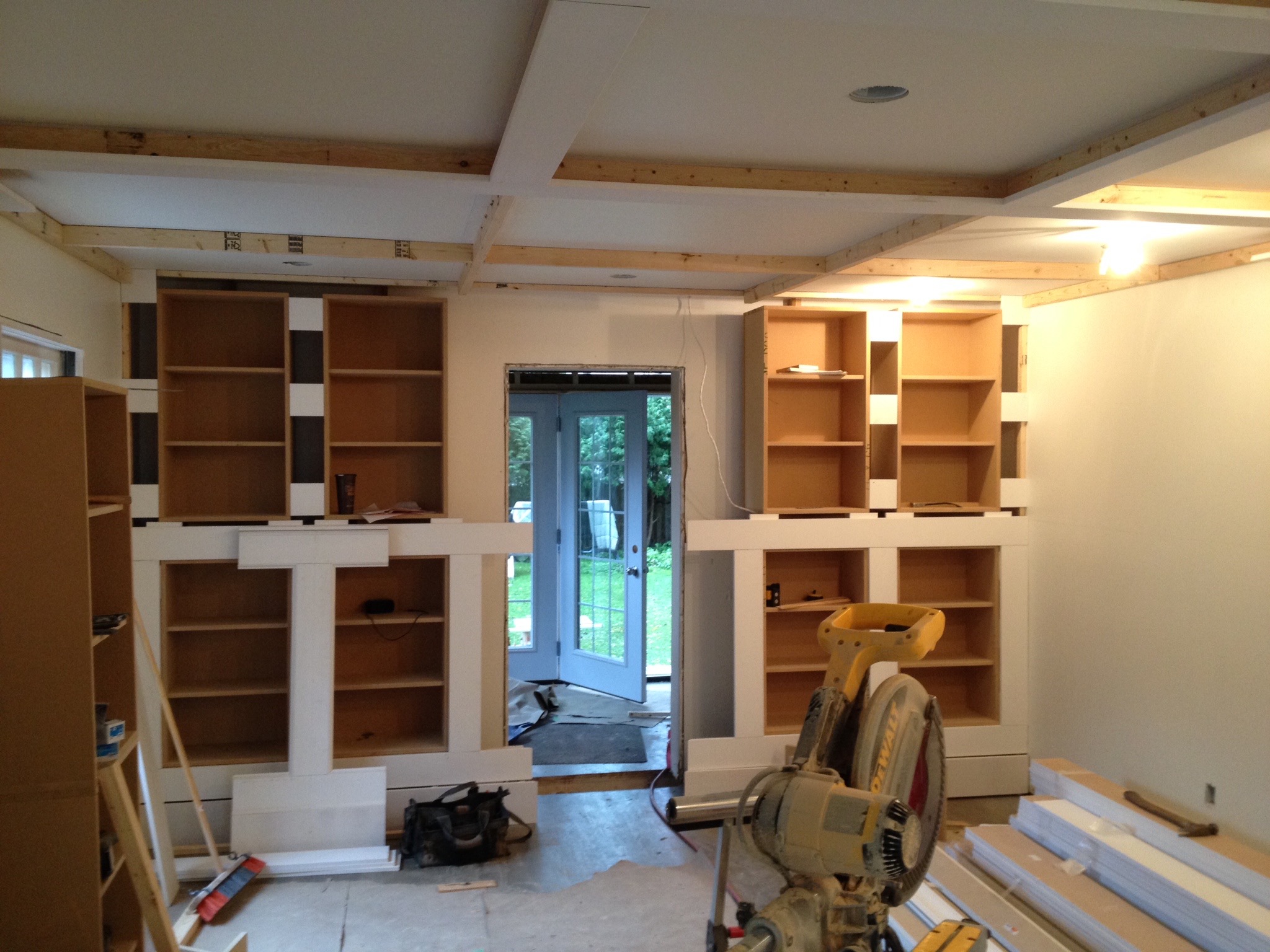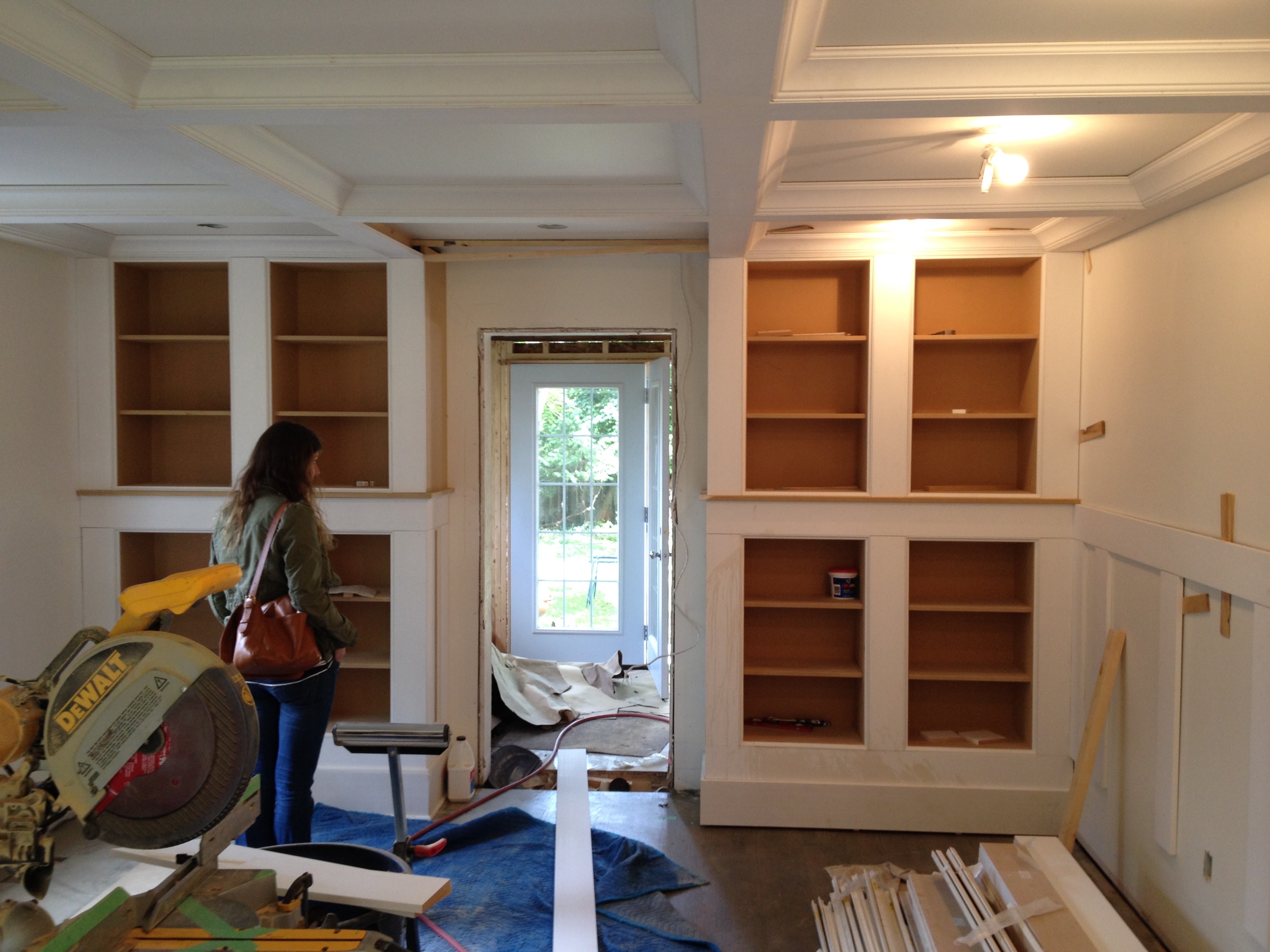 How to Add Character to Your Home: Staircase
We dramatically amped up the character and aesthetic of the staircase by:  removing the old carpet; refinishing the treads in the same grey stain as the floors; painting out the posts, banister, and spindles in white; and by carrying the wainscoting up the stair wall.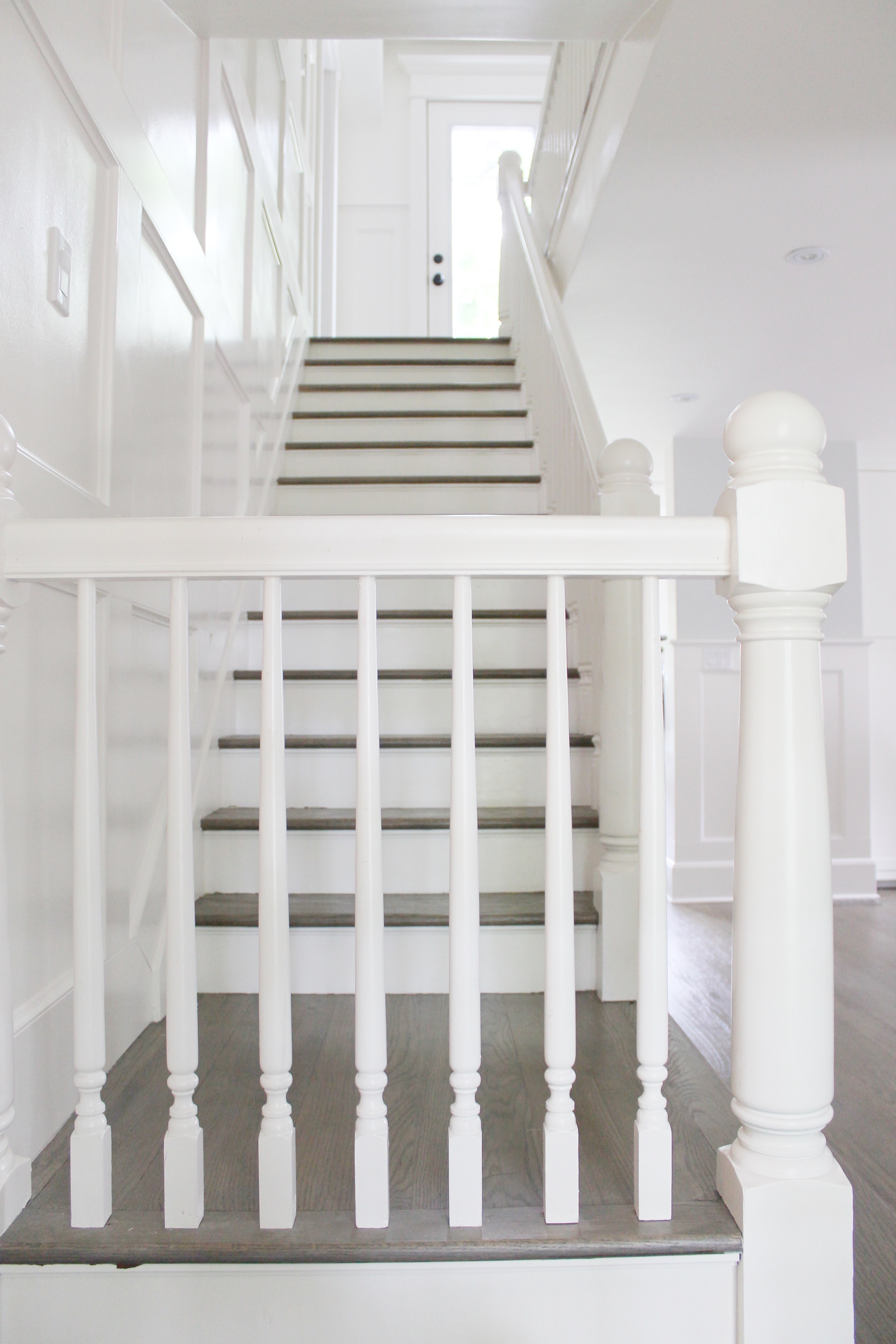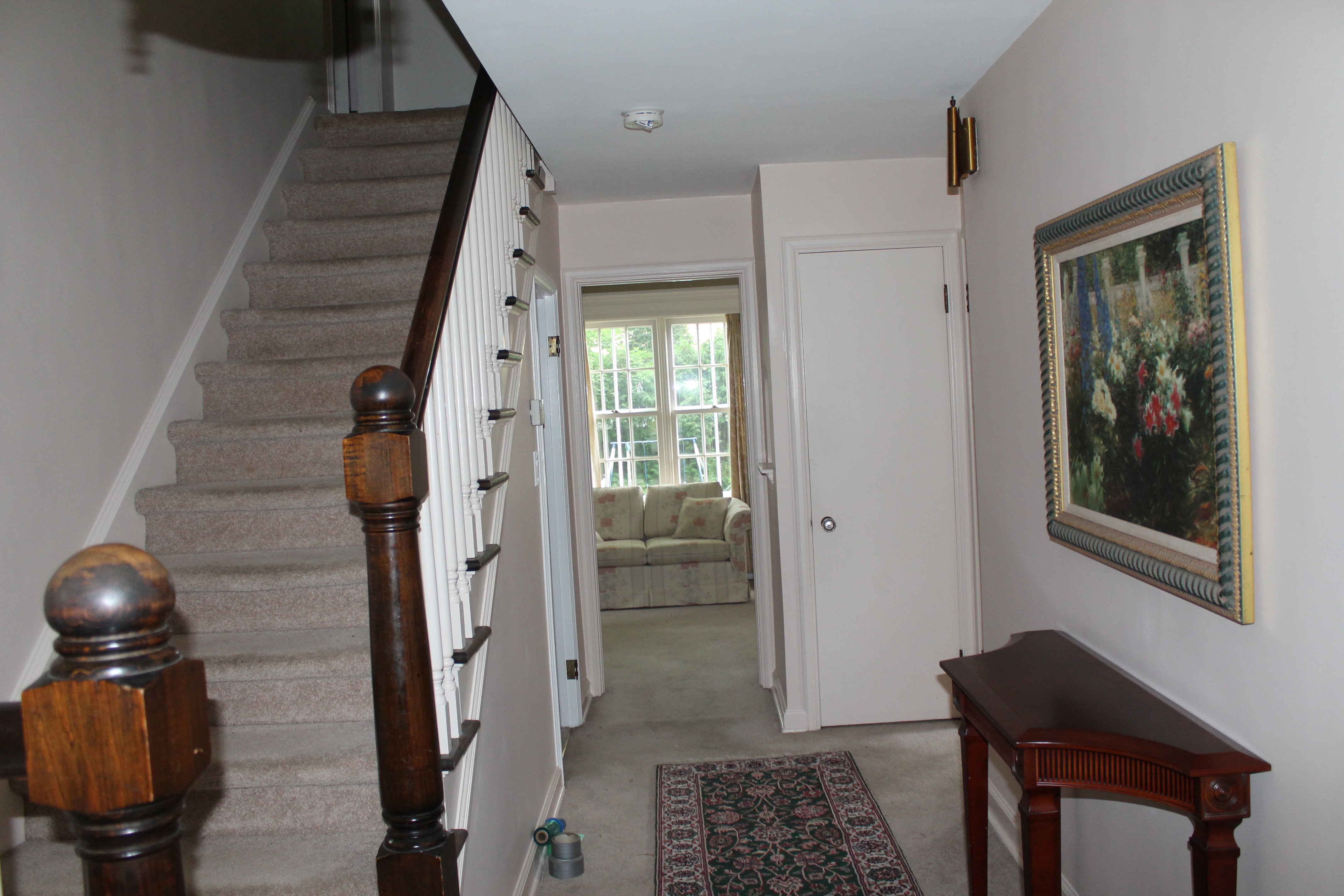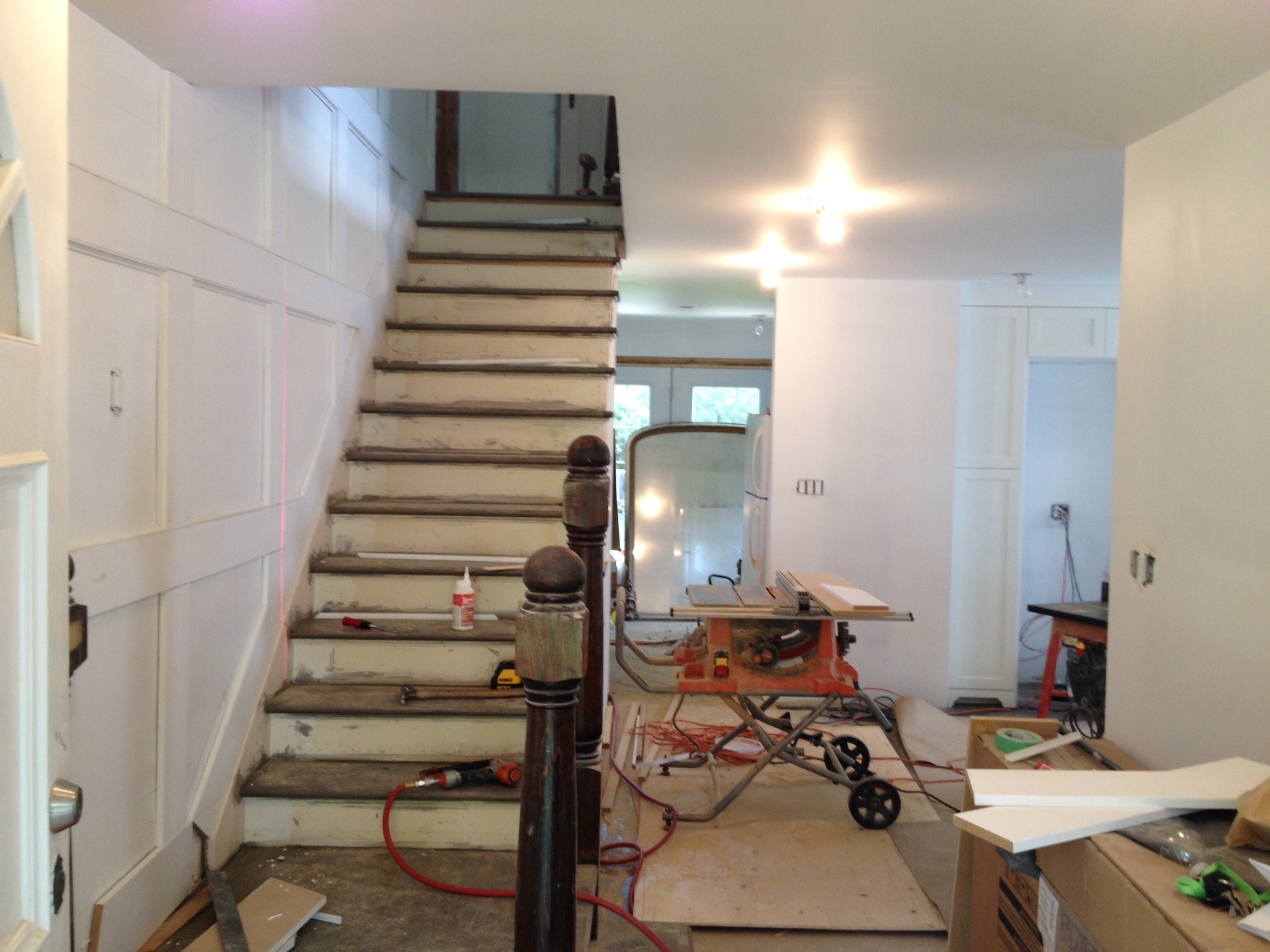 How to Add Character to Your Home: Bedrooms
Upstairs we continued the 5ft wainscoting, refinished the floors, replaced the windows, replaced all interior doors (but reused the original brass hinges and glass door handles), and painted.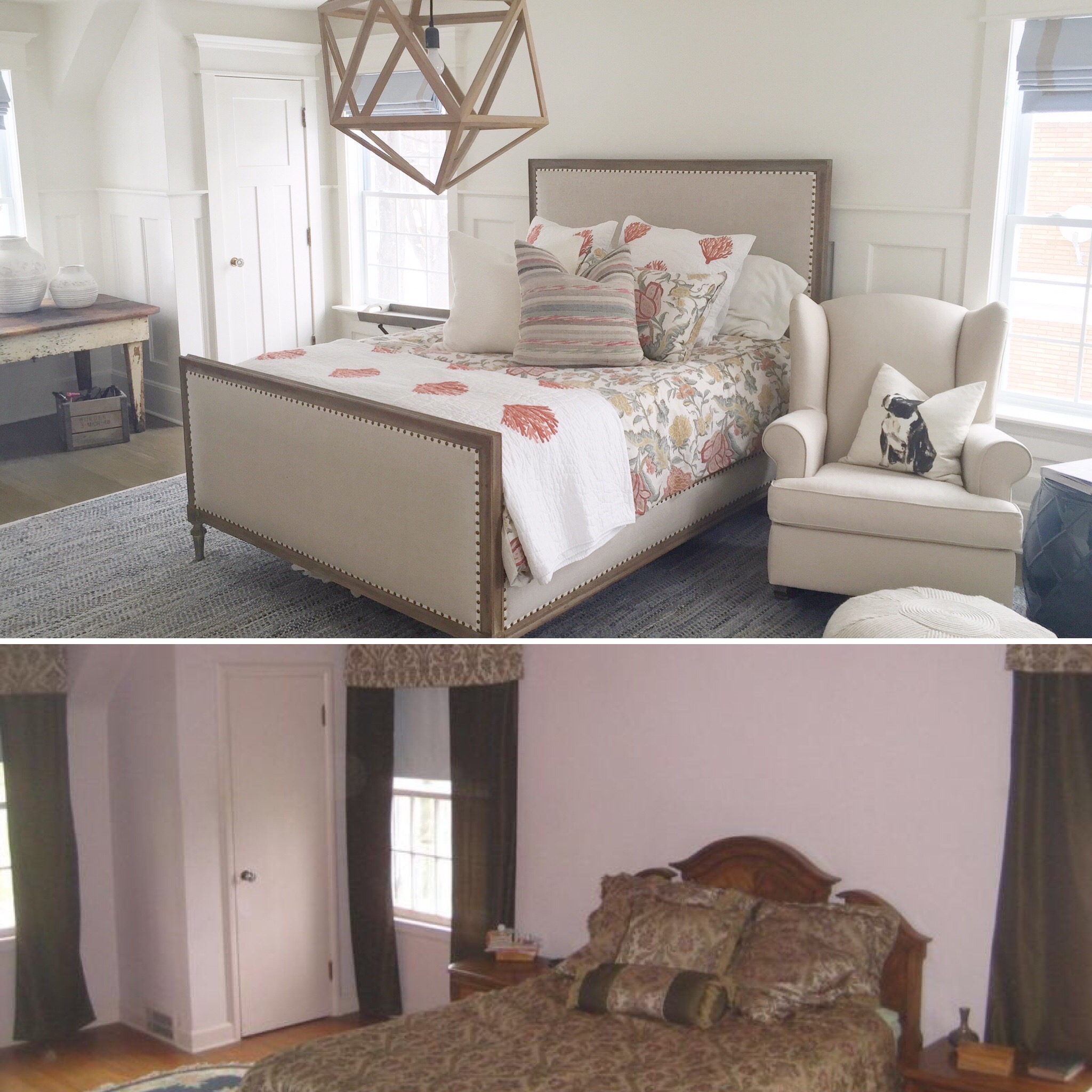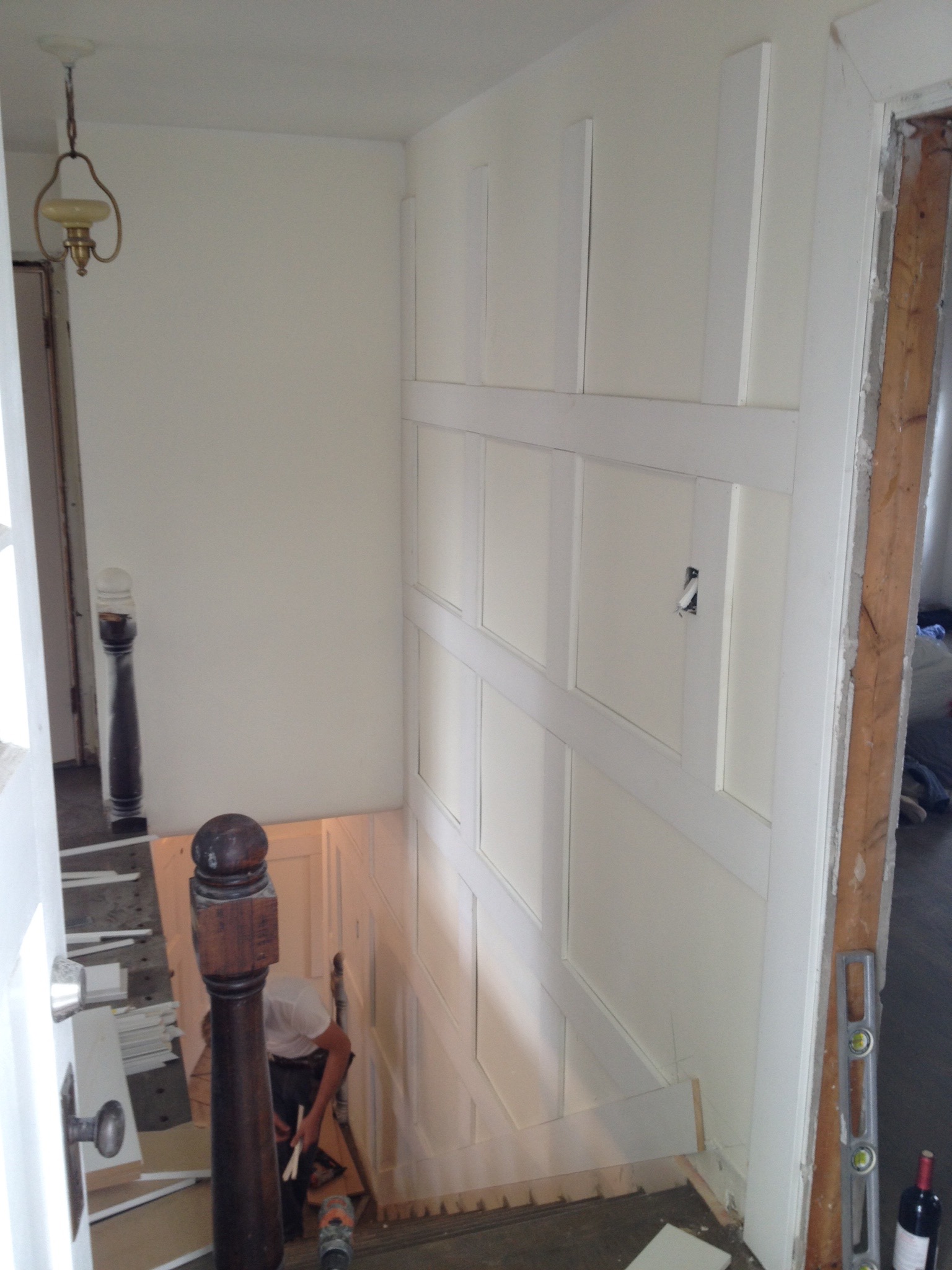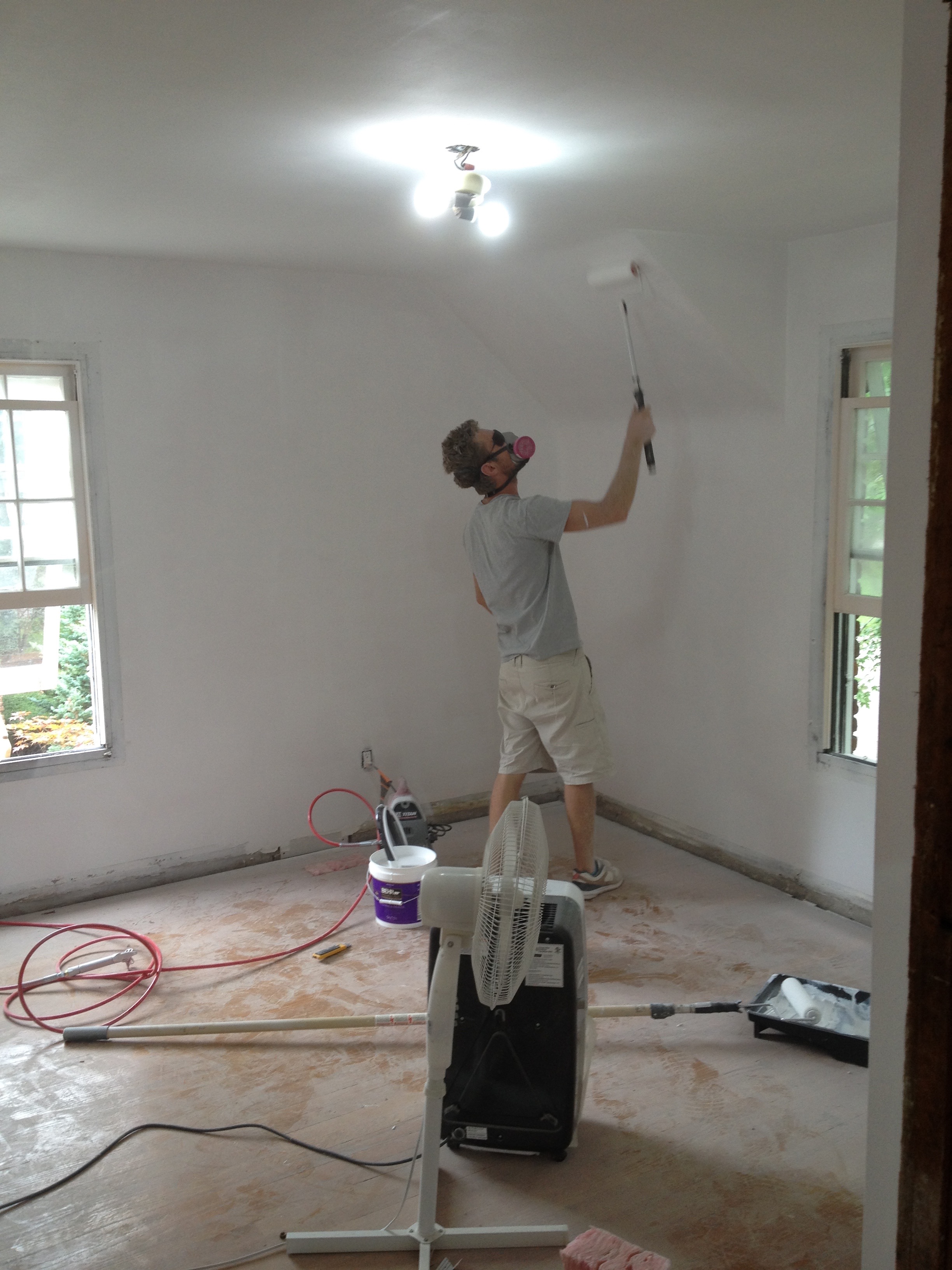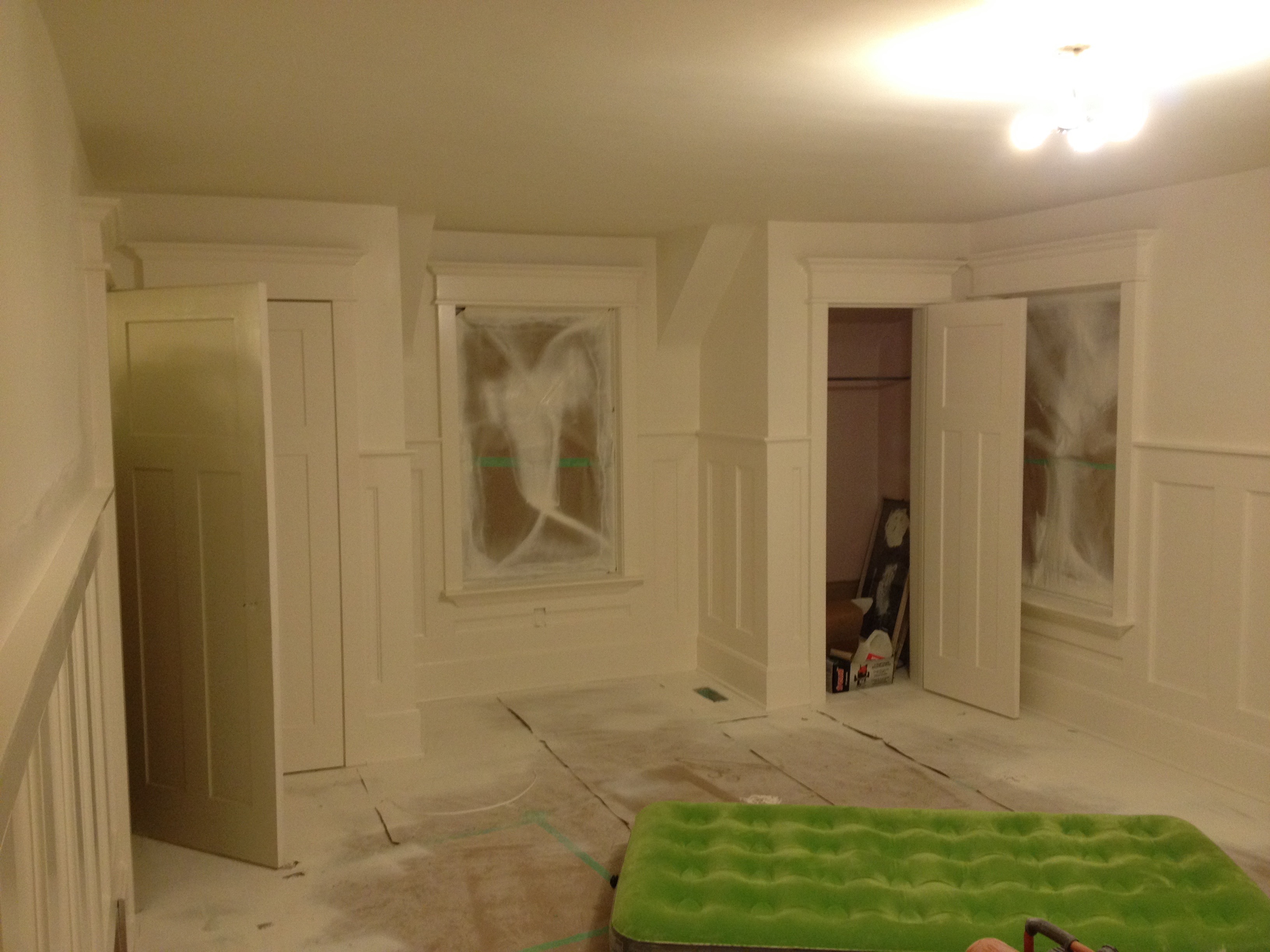 Paint Colours
All the trim in the entire home is painted inBenjamin Moore Cloud White. In our master bedroom pictured below we painted the entire room in Benjamin Moore Cloud White. Downstairs and in the spare bedrooms we painted above the trim work in a accent colour. I love how the additional colour draws your attention to the detail in the trim work! Downstairs we used Benjamin Moore Grey Owl and upstairs we used Ralph Lauren Squire.  Have a look at the difference!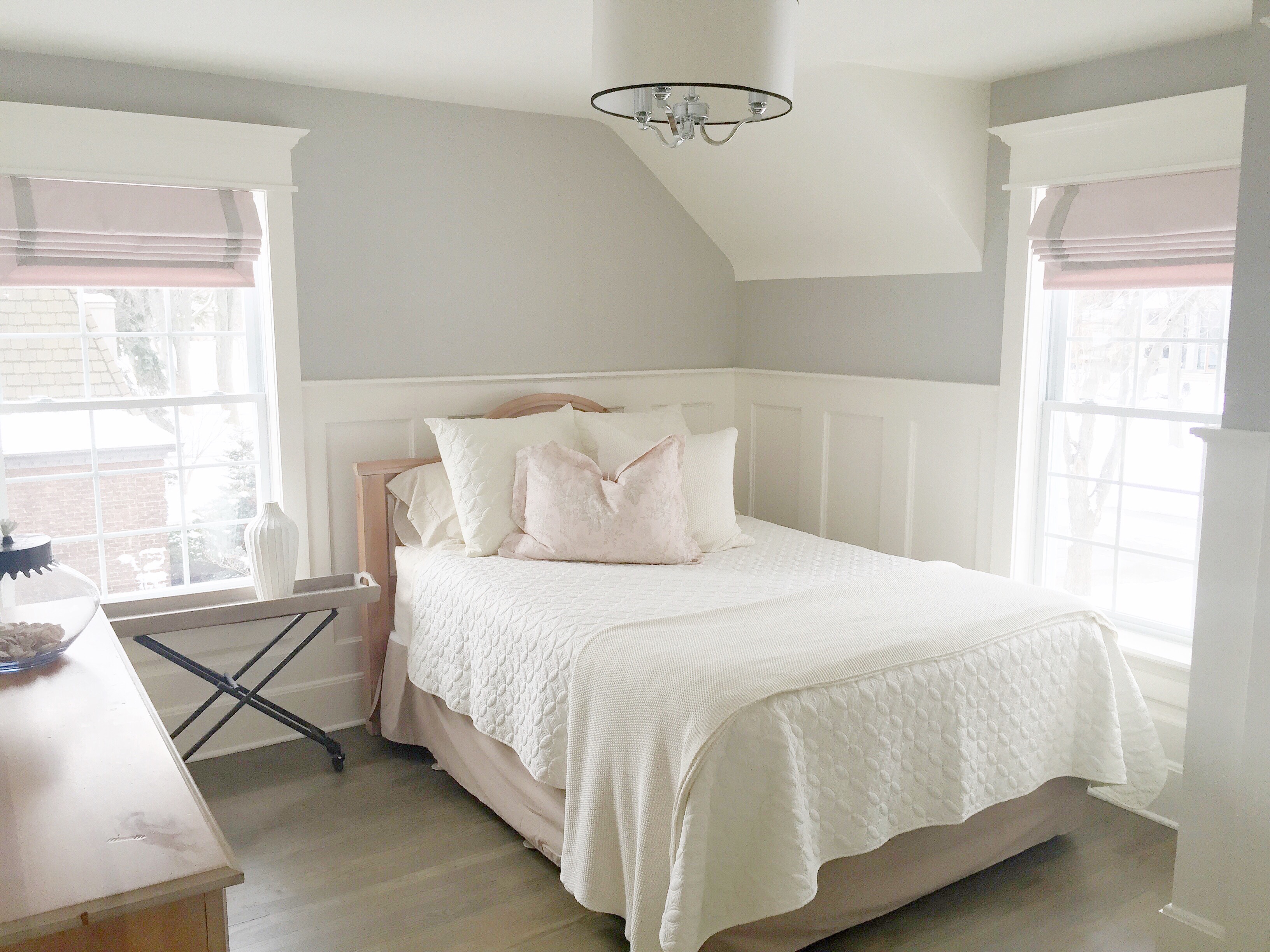 If you didn't get a chance to check out the Farmhouse Kitchen renovation for this project take a look!
Ok, so we moved AGAIN quickly after this to try our hands at an even bigger project, which was our last home…we called it Midcentury to French Country…and then we just moved two months ago, so I have a ton more posts to write! Thank you so much for following along, and I would love it if you subscribed to get the latest renovation and interior design posts sent directly to your inbox!
Shop some of my favourite pieces…like the sofa and the matching chair and halfs…so dreamy!