I don't think I have ever been this excited about Christmas before!! This is the first Christmas in our new home, the first Christmas that my daughters are old enough to be talking about Santa (Juliette just turned 3 and Penelope will be two in March), and this is the first Christmas with my blog! I finally have a place where I can share my unique take on the holidays and exactly what "The Leslie Style" Christmas looks like, and how to get the look. I'm so excited that in addition to those firsts, this is my first time taking part in blog hop! I'm just blown away to be included along side such gorgeous feeds. Make sure you grab a hot chocolate and stop by for a visit with each of the talented girlies in this group.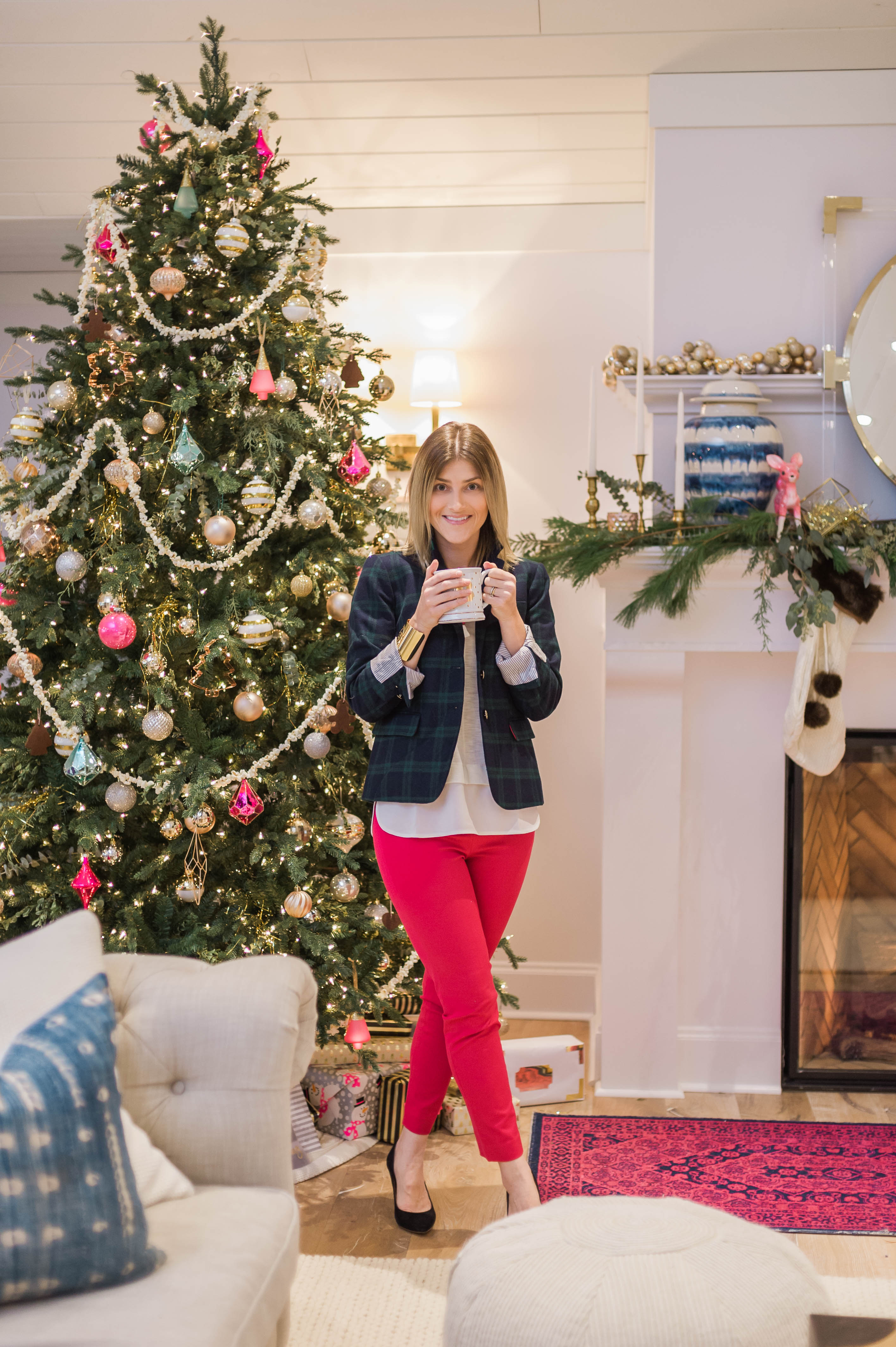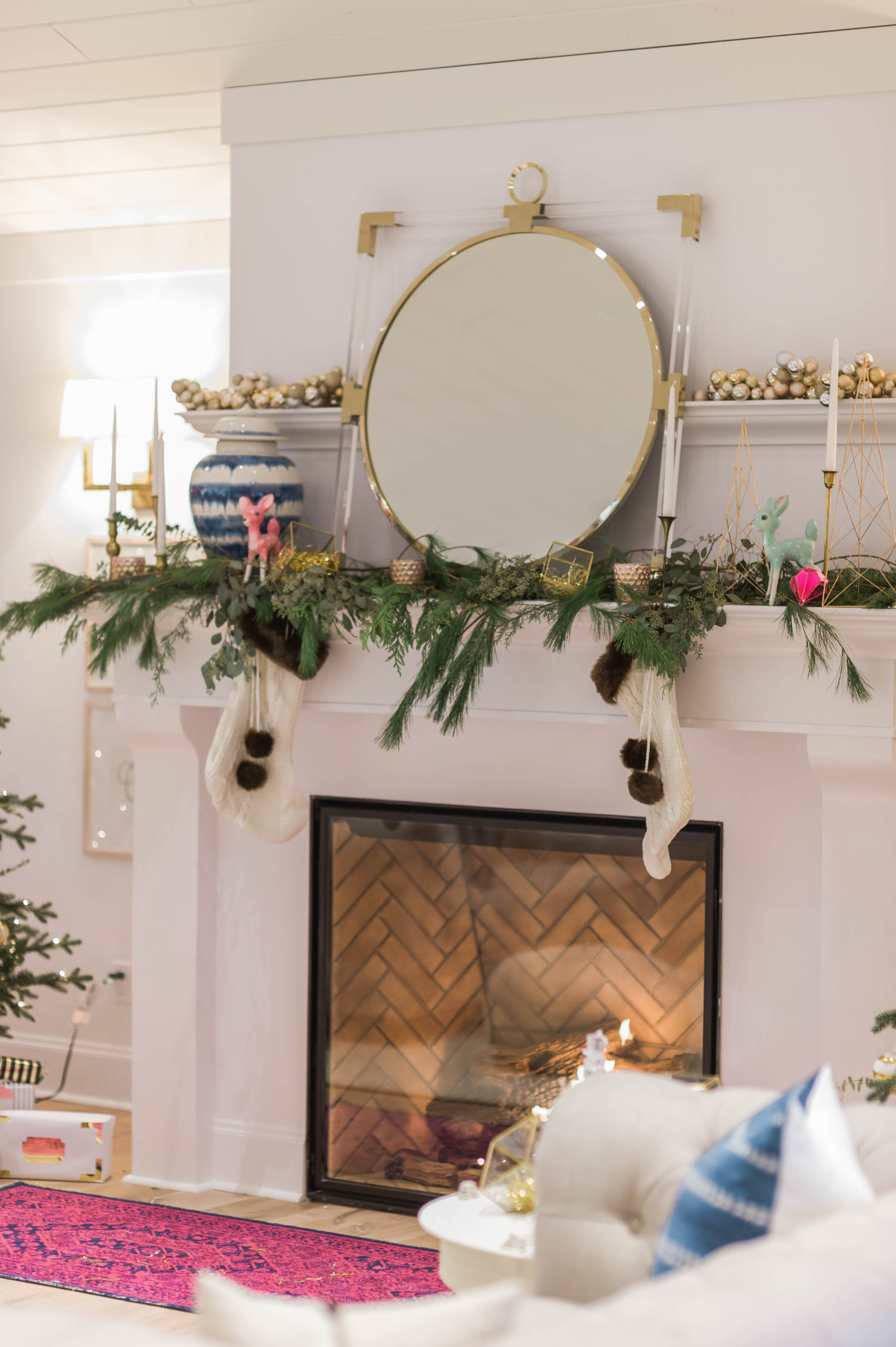 I love to change my decorations every year and let whatever has me excited about design be the guide. I'm not concerned with the biggest holiday trends or with what anybody else is doing…even though I love to see what all of my friends have come up with after we're all done!
This year I'm obsessed with "Pops of Colour", so I let that be my guide. My style is also quintessentially a mix or juxtaposition of styles. This Christmas is no exception and I'm calling my decor style "Modern Vintage". I'm really fascinated by all of the modern brass geometric designs available lately, like in my geometric trees and in many of my ornaments, and I love the combination of brass and lucite together. (You won't believe this but these brass trees come in 3 sizes and are $5.99, $7.99, and $9.99 Canadian!)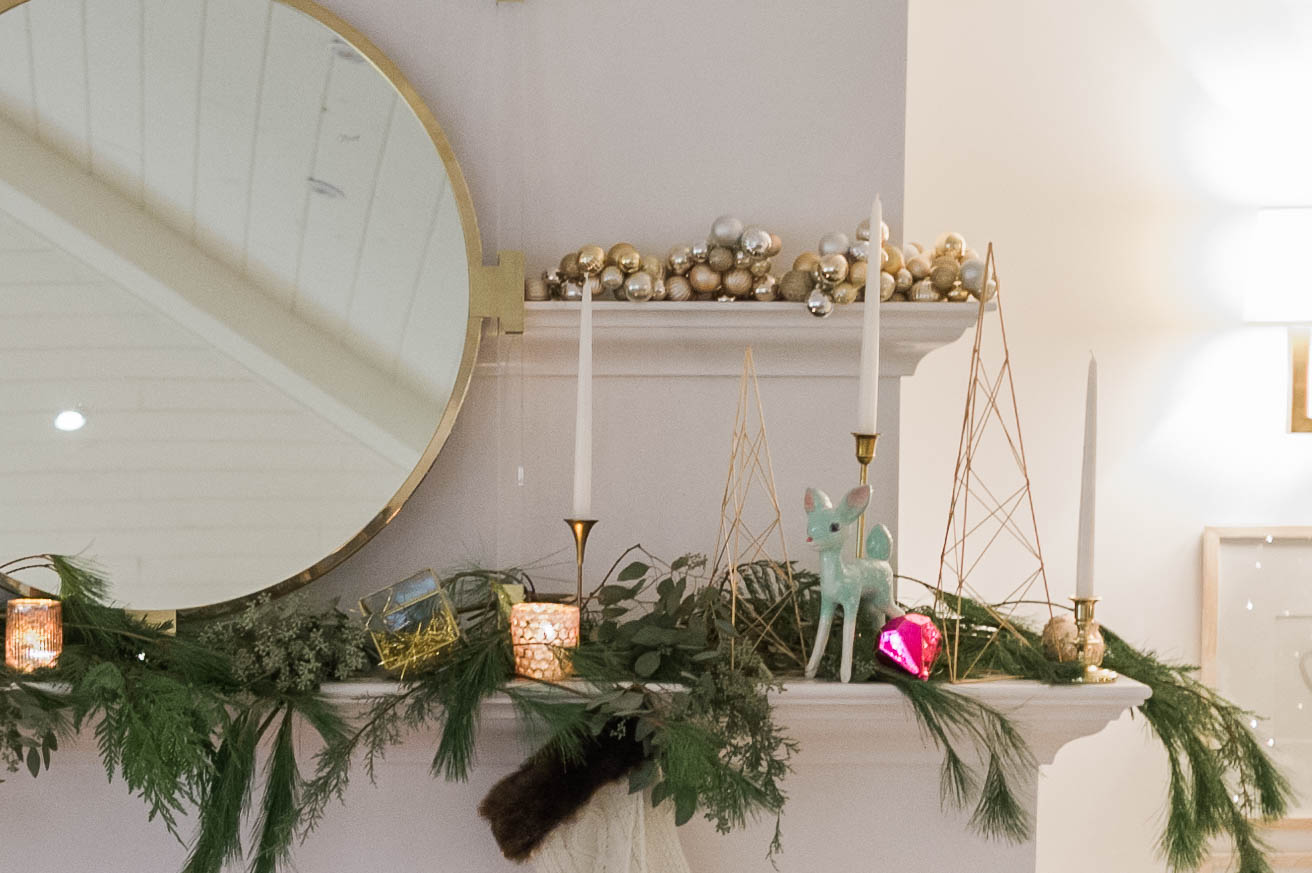 I also love vintage. My house is filled with antiques along side modern pieces and I wanted to keep the vibe consistent throughout. My Pop of Colour is Magenta, which I'm pulling from my runner in front of the fireplace. You guys went crazy for that runner when I posted pics on Instagram. Since then, I bought two more of those exact same runners for my dining room. Check the dining room reveal to see this rug used in a completely original way! (You actually won't believe how cheap they are and how impactful they are!) I love this shot of my family from photos we had done. This is our first time having a family photo done…another first! No wonder I'm so excited!! These photos were taken by Vicki Bartel, and I highly recommend that you let her make you feel famous for an afternoon!! lol…but seriously! Ok. Let's be real here though, this is about decor, and Vicki also captured a great view of the rug;)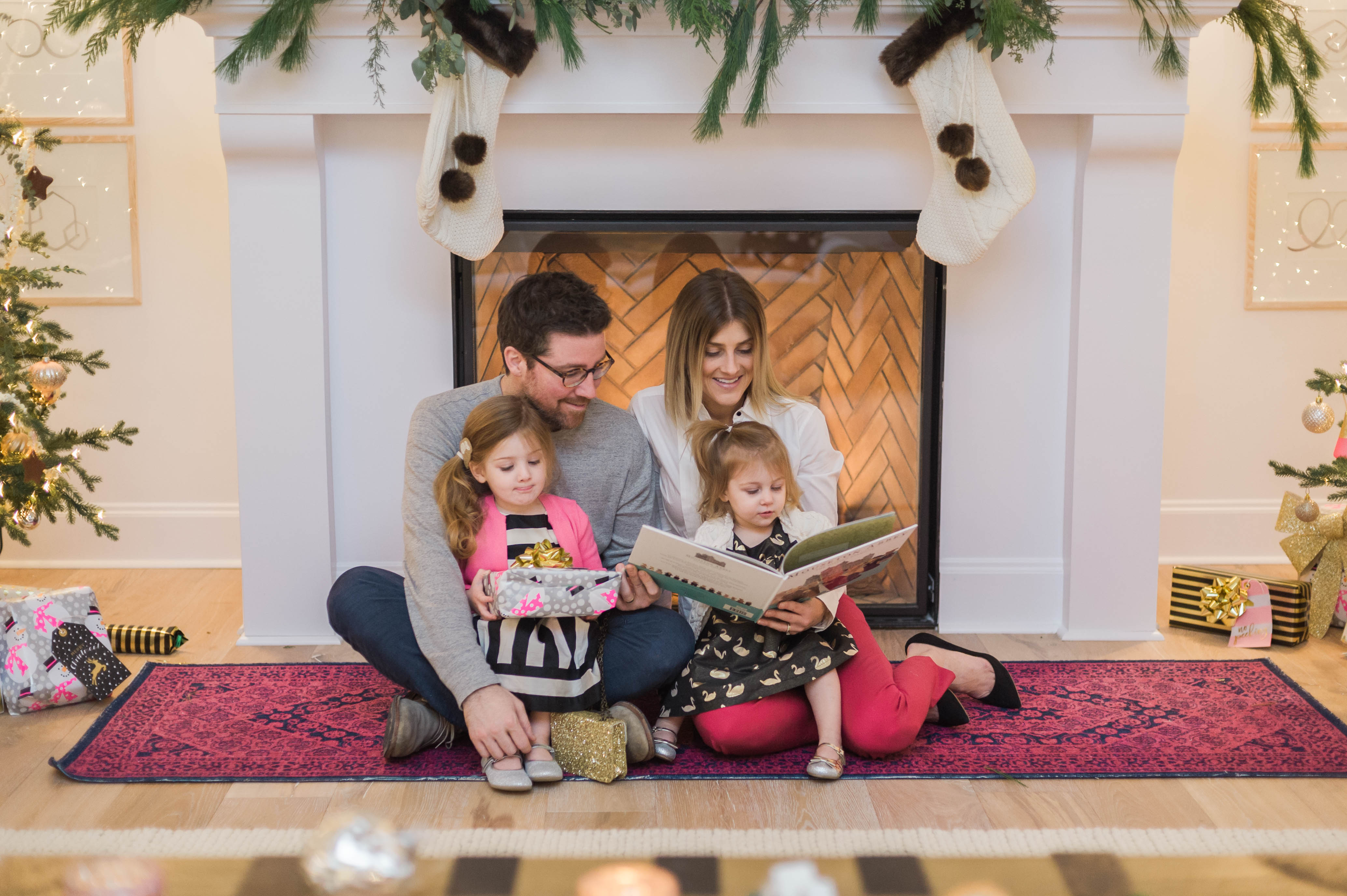 Modern Vintage Christmas Decorations and Trees
Our tree decor this year is inspired by the idea of a glam party in the 50's. I want it to feel like you should be drinking rum and eggnog with nutmeg sprinkled on top, with Bing Crosby or Johnny Mathis Christmas music playing! The tree is covered in homemade popcorn garlands and gingerbread cookies, retro gold tinsel and then juxtaposed against modern magenta glass trees, geometric open brass forms, gold and white coloured blocked ornaments, and fresh greens.

If you look closely, the whole tree is bursting with greens like baby eucalyptus and seeded eucalyptus. Over the past year I've seen fresh greens and florals explode into everyday home life. All of my favourite Instagram accounts aren't complete until there's a gorgeous flower arrangement on the island, or fresh greens are draped across the mantel, so now that my home is finally finished I HAD to try out the trend! My friend and florist is Cori Heer from CJH Florals…she is incredible! Wait till you see the arrangement on the coffee table!!! Dying!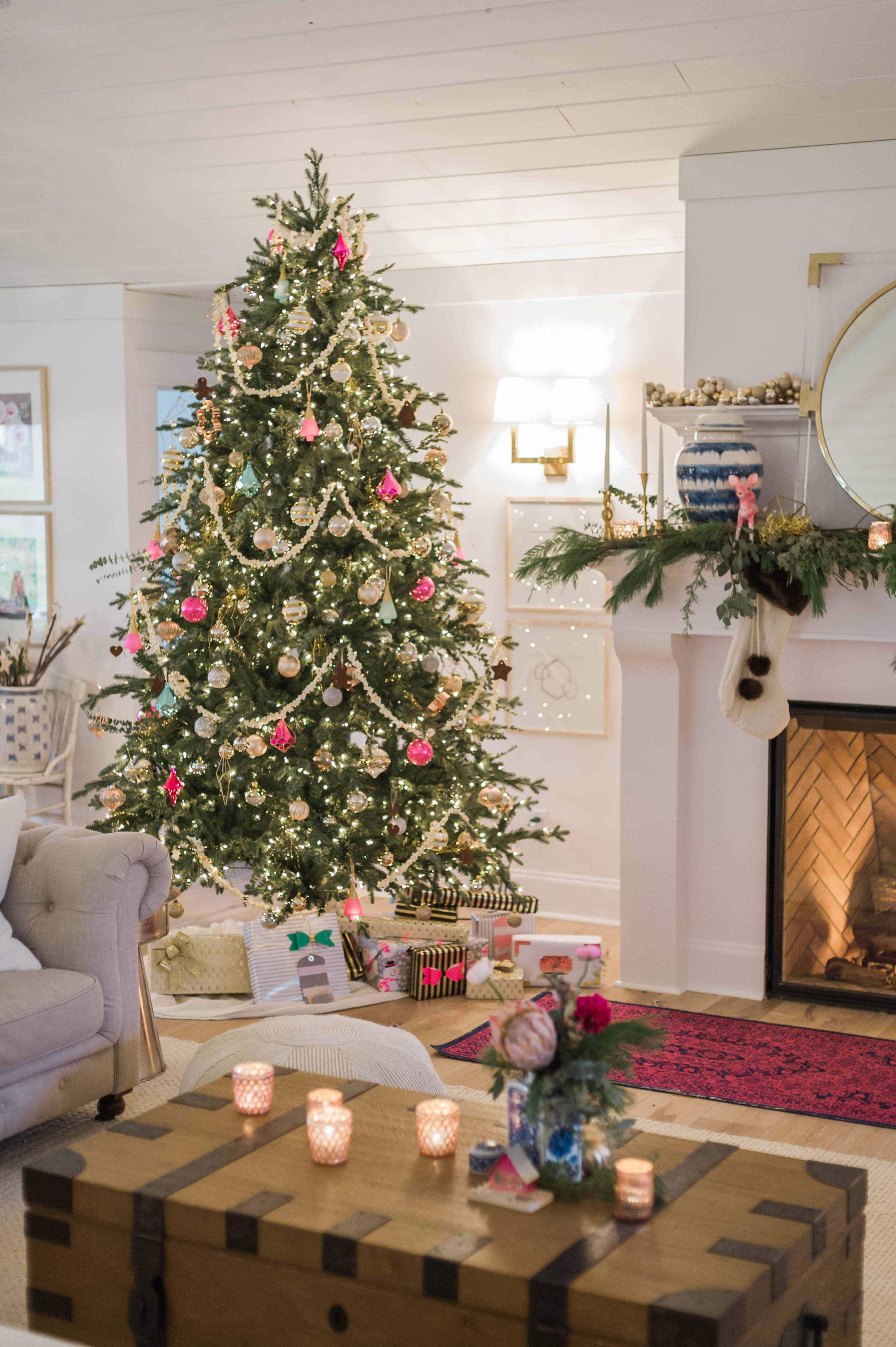 The trees themselves are from Canadian Tire and are 9ft tall each. The ends of each branch are made to look like a real pine tree and the ornaments drape really well on them! (Click the link to see the exact tree ;)).
I wanted to do something completely different and have two matching trees on both sides of the fireplace. I love symmetry and I couldn't resist. Oh my goodness, it was so hard to get them decorated and feeling balanced against each other….it took many glasses of wine and putting one ornament on, then climbing down the ladder, then running into the kitchen to look at the latest ornament, and then running back to the tree, and climbing back up the ladder to move it over an inch…like I said…many glasses of wine! The good news is I love having two trees. It feels magical, like I'm in an enchanted forest! The bad news is I have to take down to trees…oh God, I've gotta go get another glass of wine!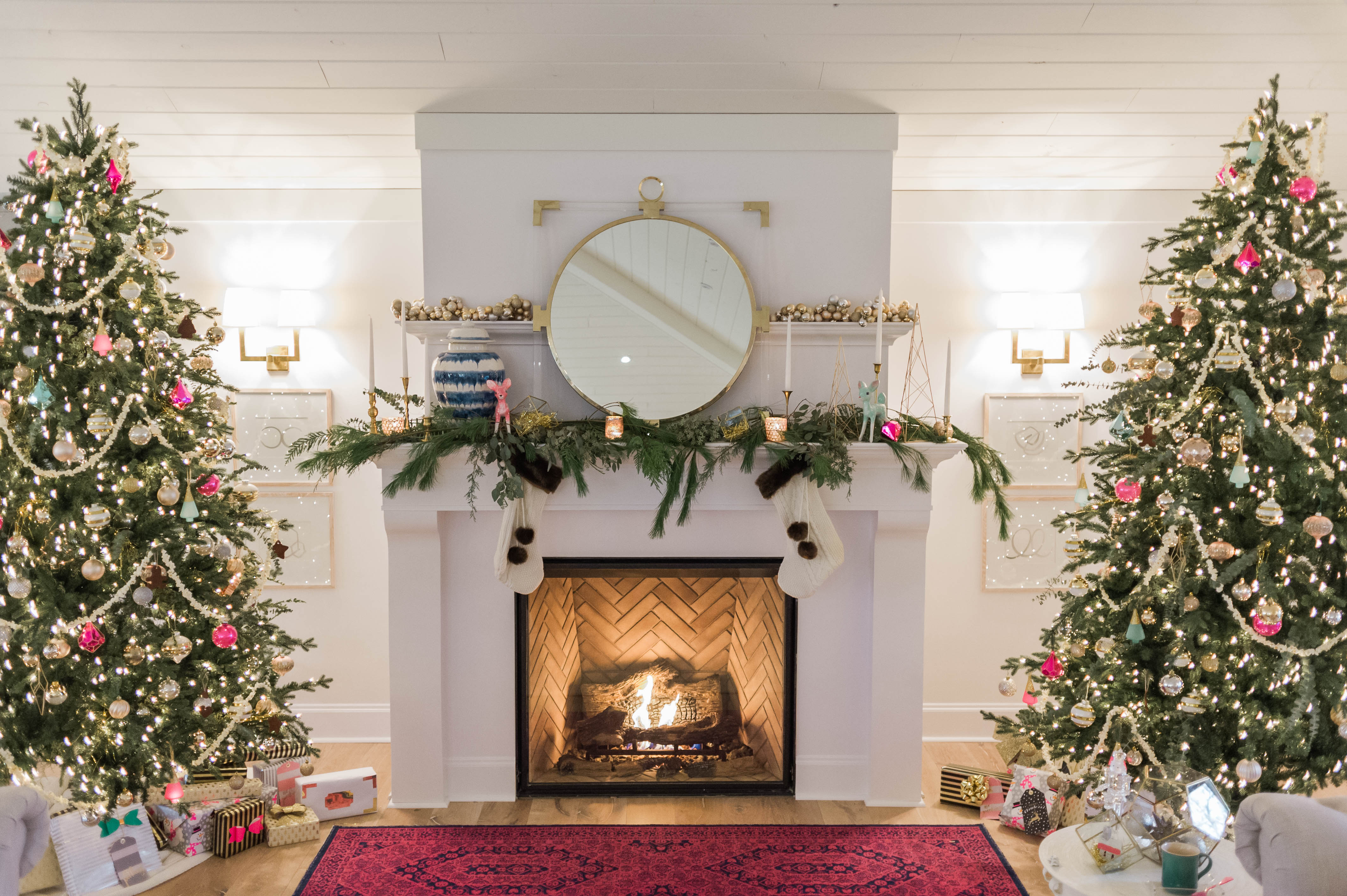 Modern Vintage: DIY Campaign Hardware Christmas Wrapping
This year I wanted to create my own unique style of giftwrap inspired by the classic and SO vintage campaign style furniture. I love the brass corners on all of the pieces so much, and I wanted to try to create my very own trademark present. I bought mirrored gold card stock and cut the shapes out and glued them onto white gift wrap. Then I cut out large rectangles with scalloped corners, for the centre tag, which is inspired by the shape of the actual drawer pull on the campaign furniture. Lastly, I'm going to write the names of who the present is for in cute lettering over the centre tag. I'll post a photo on my Instagram with the final detail!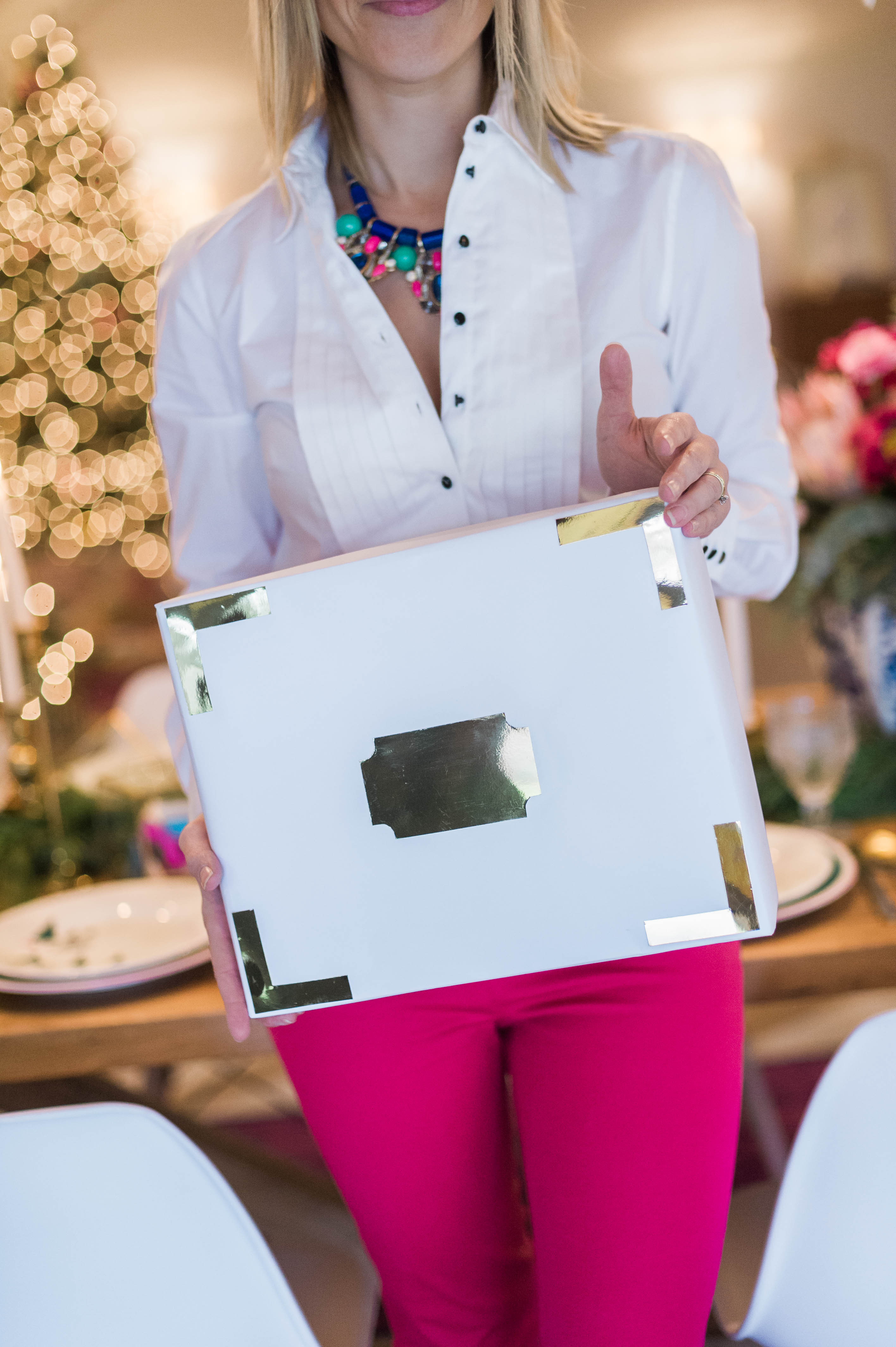 For the rest of my presents, I bought papers in gold, silver, black, white, and hot pink in variety of patterns. One of my favourites is the black and gold stripe! I'm going to buy more of that, if I see it again..it adds so much drama and can be used for any holiday or birthday.  Then at Homegoods I found a bunch of tags and bows to embellish them.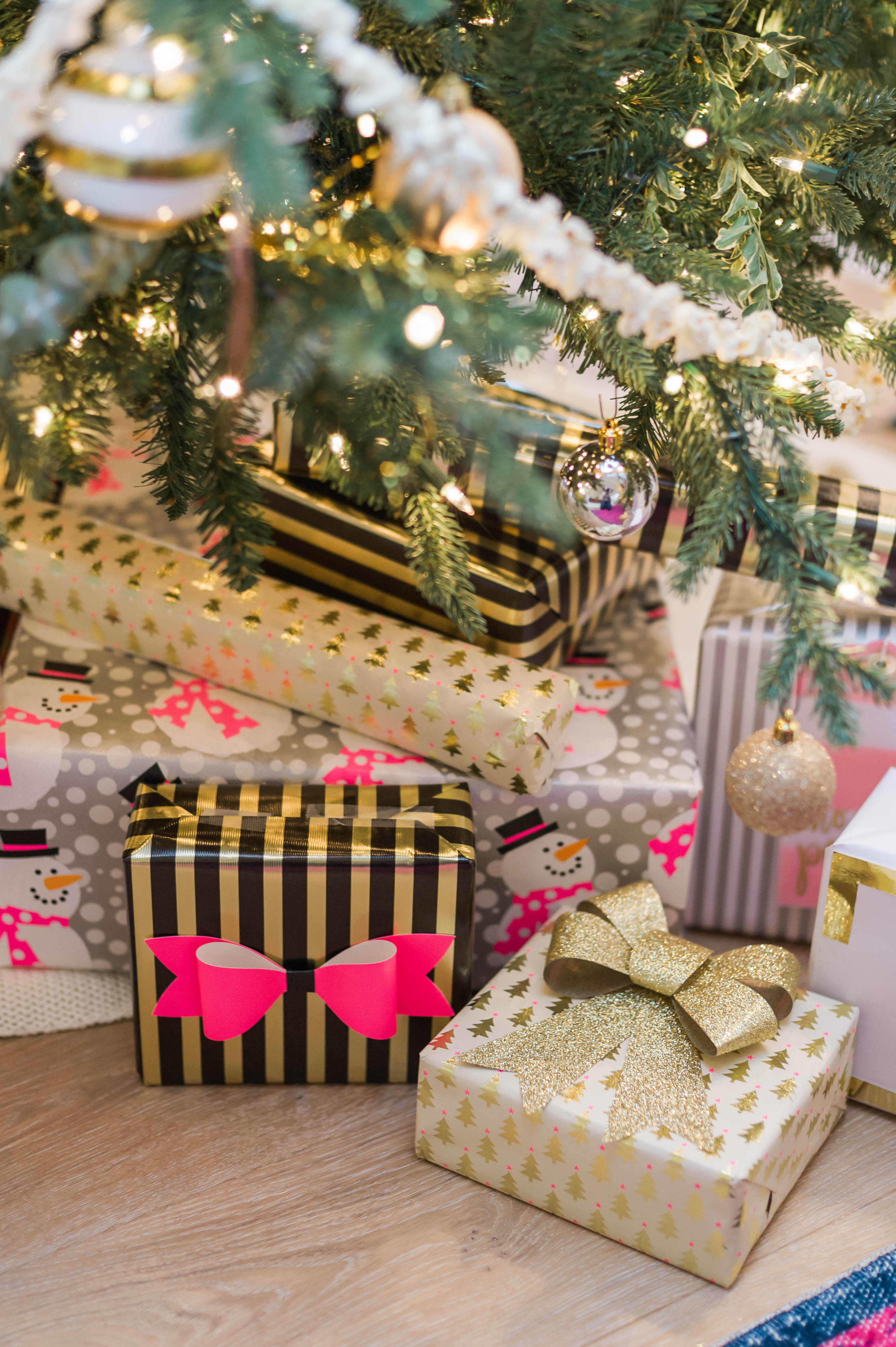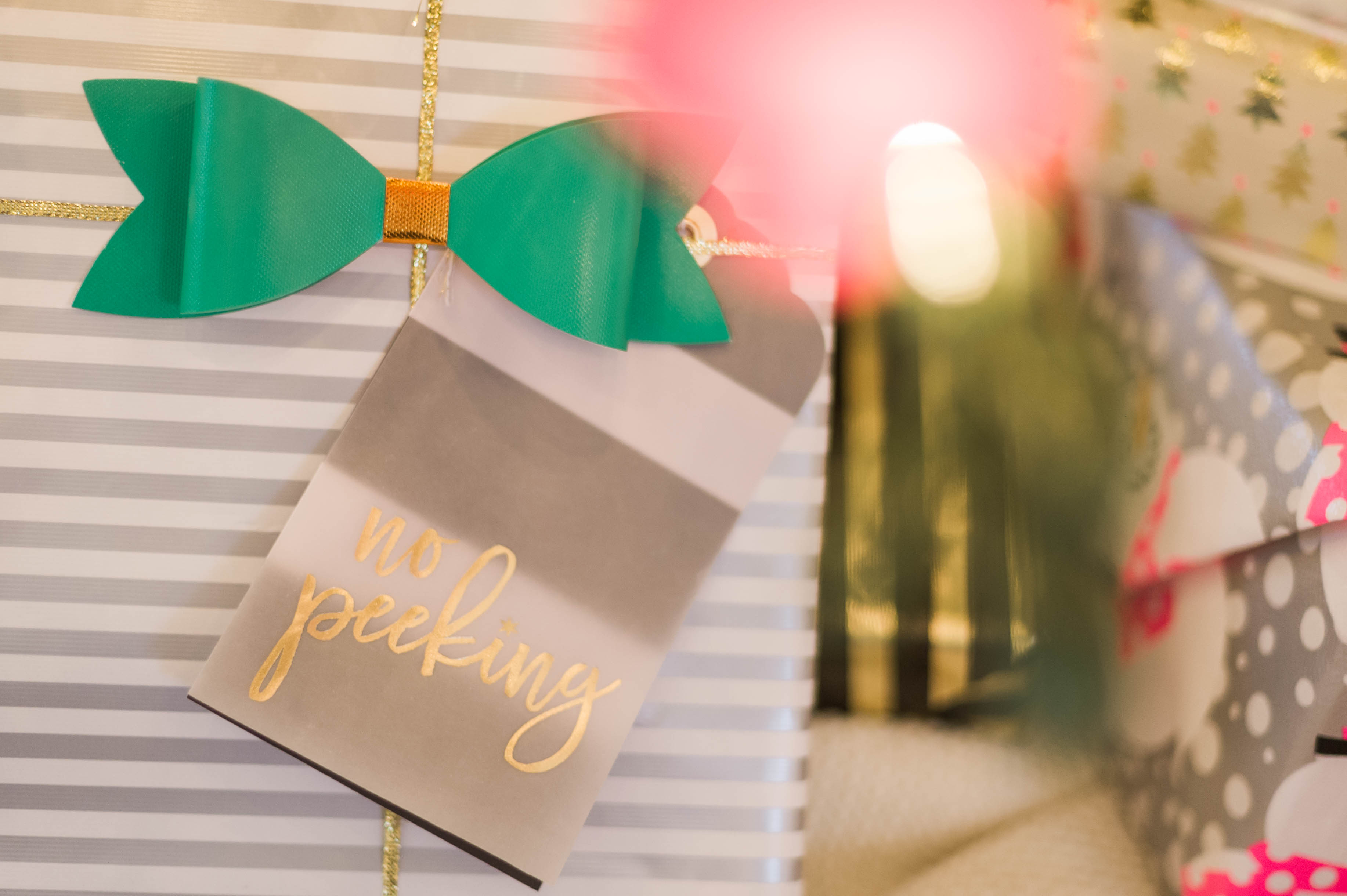 Coffee and End Table Styling

I have a fresh floral arrangement on the coffee table in a ginger jar. Any fresh florals would look unreal in a ginger but these are particularly fabulous! In this arrangement there is one King Protea, some dark magenta peonies, and some ranunculus, then eucalyptus.  In addition to the flowers, there are a collection of votives in pretty pink and gold glass jars. Lighting candles creates so much warmth and ambiance during the colder weather. I have a huge collection of vintage Putz Houses (The little paper houses you'll see through out my decor). I place a couple on the table as well as the end tables.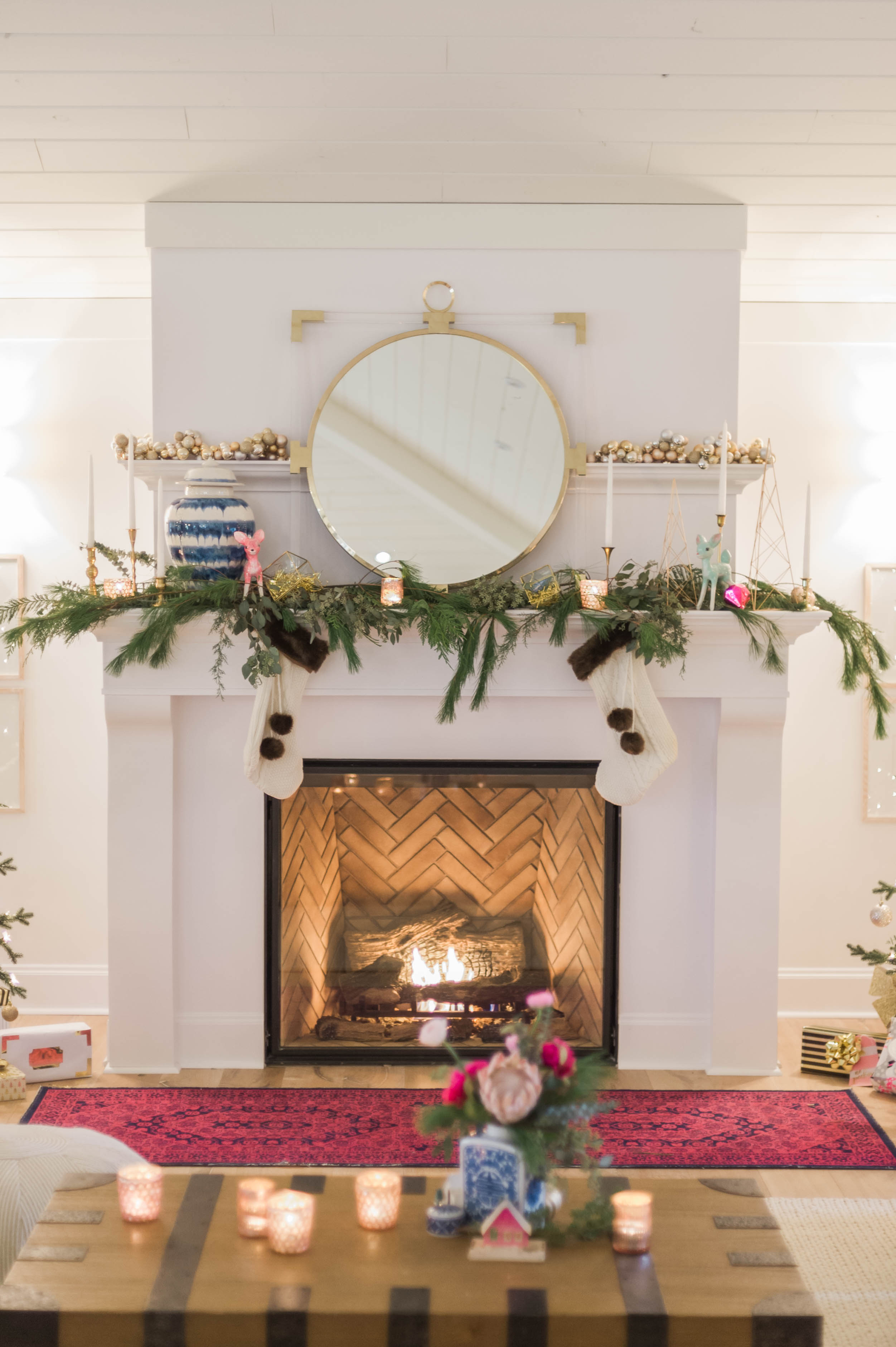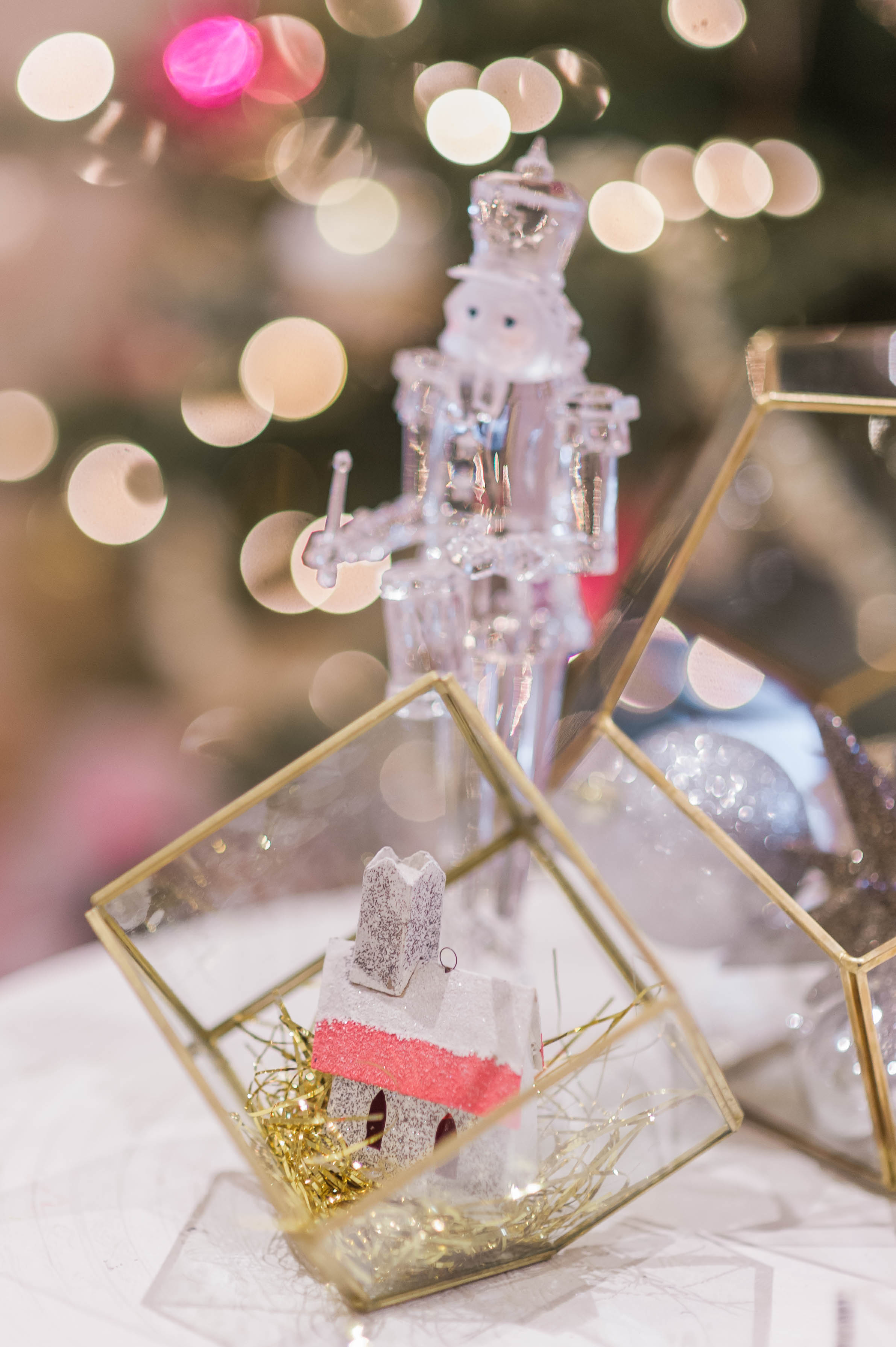 My end tables have terrariums, which is another recurring theme in my decorating. The big octagonal terrarium is from Canadian Tire. I love it so much. It's from their Holiday collection, but it's not going anywhere after the holidays. I actually keep moving it everywhere in the house because it adds so much style wherever I take it.
Statement Piece
My favourite find this year is the brass and lucite round mirror over the fireplace. I have been looking for what would belong over the fireplace since we moved in. You might remember that I had two grave etchings over the fireplace which are done in graphite, so it was so dark and serious and I loved them but the vibe was not at all what I was feeling…and then my eyes met with this mirror and it was over. It was at Homesense which is the Canadian Homegoods, so there was only one and I couldn't leave and it was too heavy…you get the picture…clinging to it and quietly yelling for help…lol… worth it! I might have taken her brother home as well…That's another reveal though!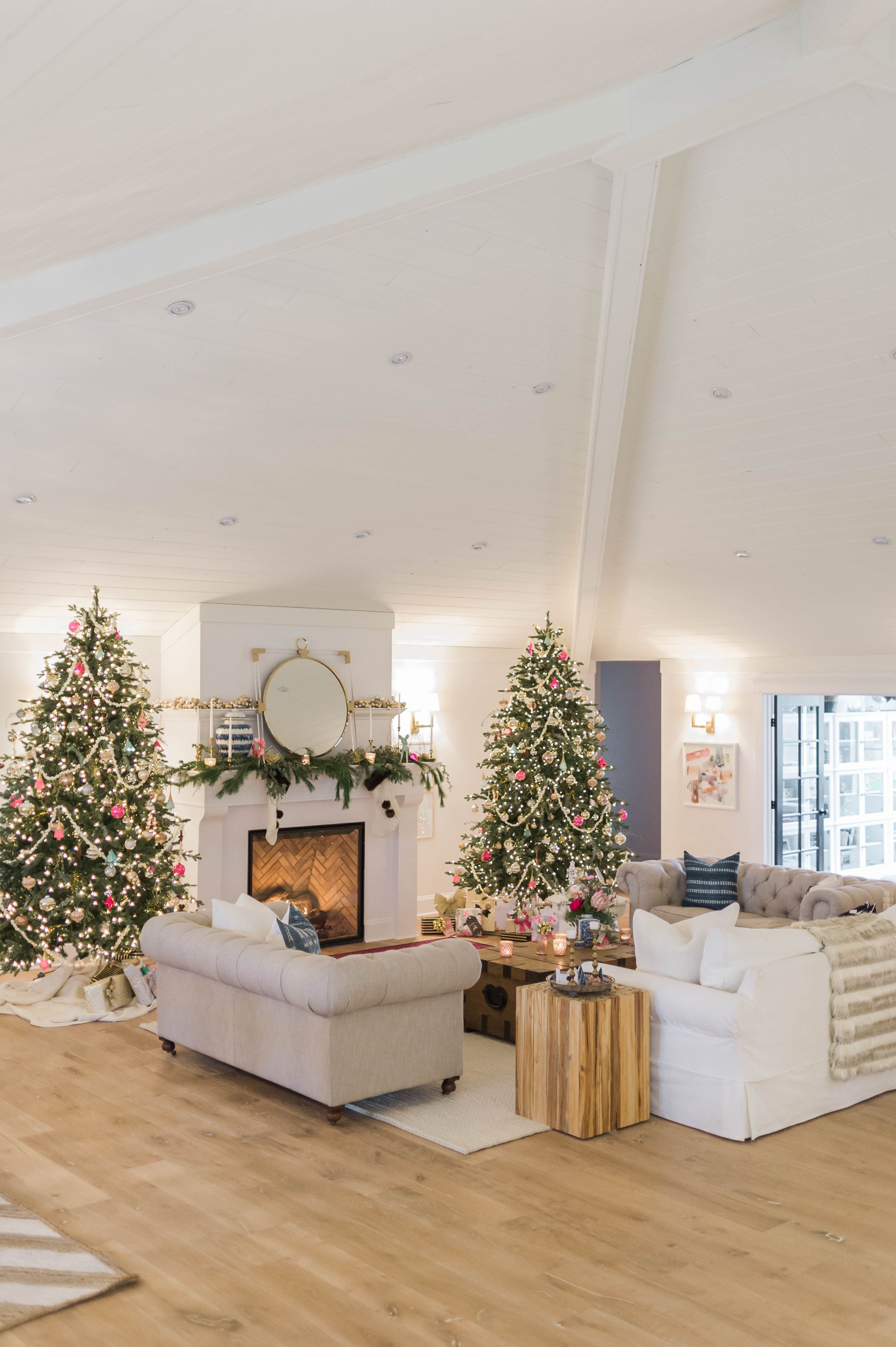 You can find all of my living room, furniture and accessory, sources here: Living Room Sources
Now I'd love it, if you would visit the rest of the holiday living room tours that are part of this hop…omg there are some amazing blogs participating…here are the links…I can't wait to see what everyone else has done!! EEP!