Holy cow, it's the part in the renovation where I'm dying to move in and start styling!! Being without a home is so hard! The renovation process is obviously so much fun and so satisfying, but there comes a point where you want to sit on a chair and feel softness from having your feet on a rug, ya know?! Before I officially start revealing, almost finished spaces in a couple weeks, I need to share the Forever Home Before House Tour: Upstairs pics!!! A.K.A. Joseph and the Amazing Technicolor Second Floor! lol!
In case you're new to this renovation, our home was built in 1886 and is in Kingsville, Ontario. It has gorgeous character already, and our goal is to amp it up as well as restore it, and to make some of the spaces more functional.
Did you get a chance to take the Main Floor "Before" Tour? If not have a look because if you're following my story then you know it's way different…like kitchen moved to the dining room different! Yay!
Ok follow me as we head upstairs!
Master Bedroom: Forever Home Before House Tour
Ok so as you can see we have painted floors…and we had SO MANY people out to talk about refinishing them and its been a no-go. Everyone knows someone who could do them but we can't find that "someone" in real life and our budget can only bare so much. So we painted them in white, you might have seen that on our story! We're going to use area rugs and hope for the best!
Our bedroom has so much character with 9 foot ceilings on the entire second floor, and then there are two doors with stained glass windows. We are re-doing all the electrical and hope to have overhead lights soon! All the bedrooms have been painted out in white and the colour is Snowy Owl from Canadian Tire's Premier Paint line…I love the colour so much!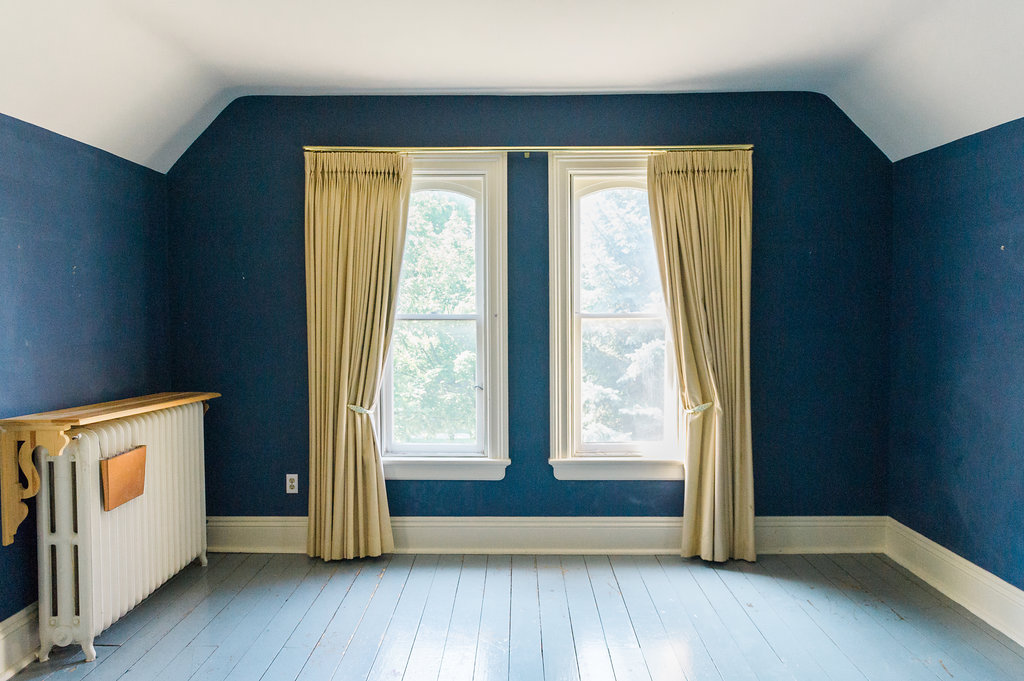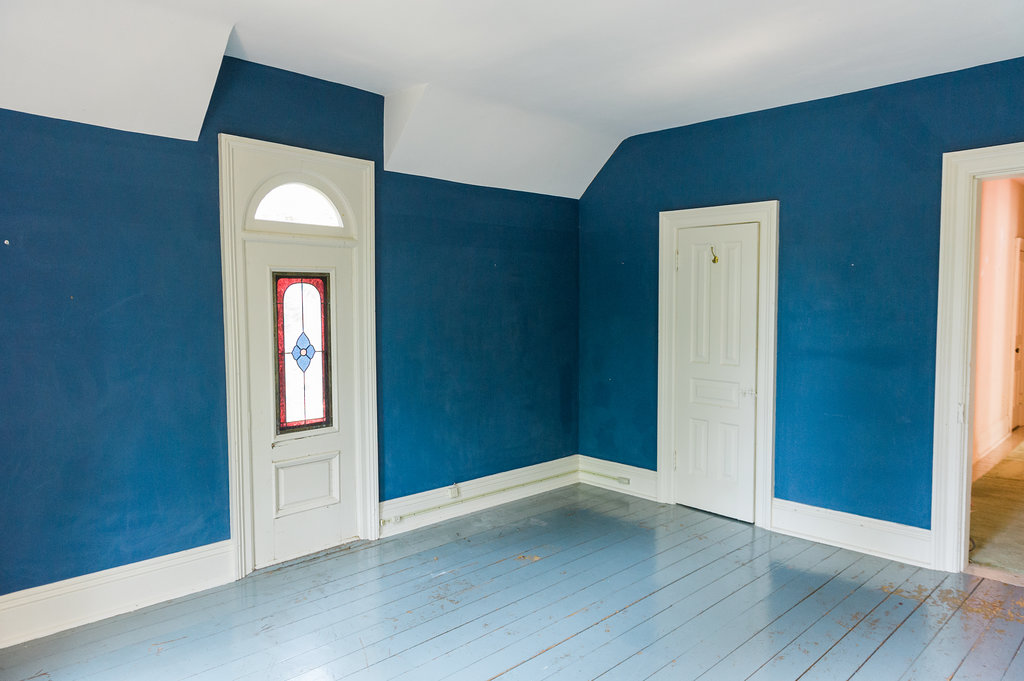 Juliette's Bedroom: Forever Home Before House Tour
Oh my god this colour is so strong…like 3 coats and the pink is still haunting this room! You guys always want to know if there ghosts…NO not at all except for the ghost of this pink paint! hahaah…seriously though like we can't get rid of it! How funny….I'm thinking 3rd coats a charm…that's a saying right?!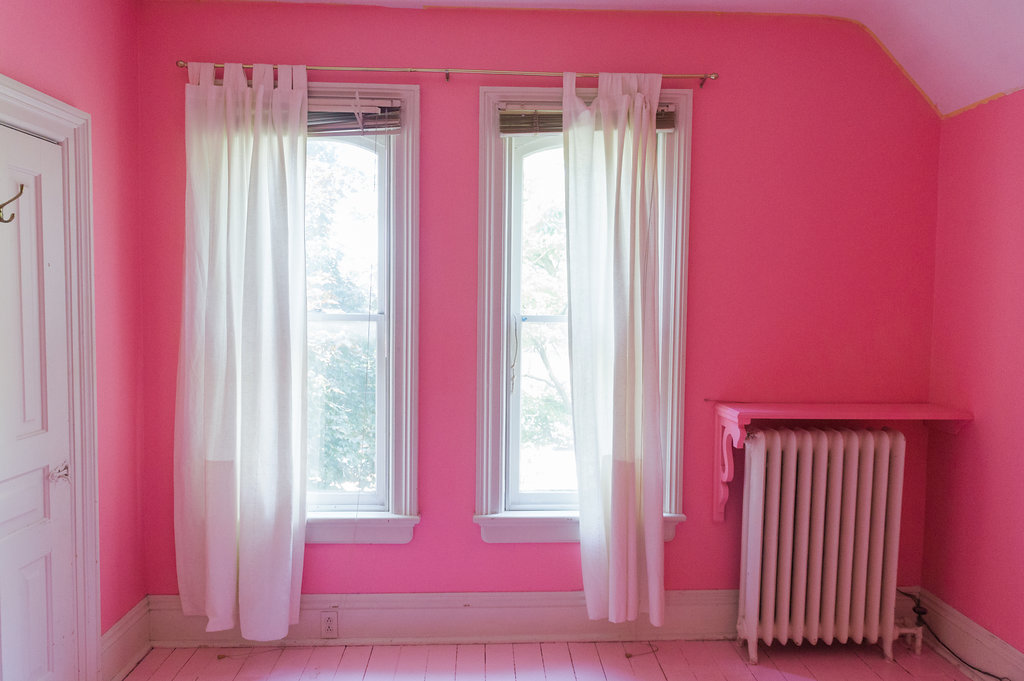 Penelope's Bedroom: Forever Home Before House Tour
Everyone wanted us to leave this wallpaper up, but if you saw it in real life you would know that the walls had extensive damage. I've shown us working on this space many times on my story and on Instagram. Thank god we took all the 5 layers of paper down because the ceiling needs to be completely replaced. Our plasterer said that we're so lucky we did because there was a really good chance it was going to come down any day. Feels really good knowing everything is in the process of being safe. I think previous owners have replaced a lot of the ceilings and taken down so much wallpaper…so thank you! I always say that houses are relay races because one owner can't take on everything…you just completely burn out, so when you pass the "baton" the next fresh hopefuls can pick up where you left off.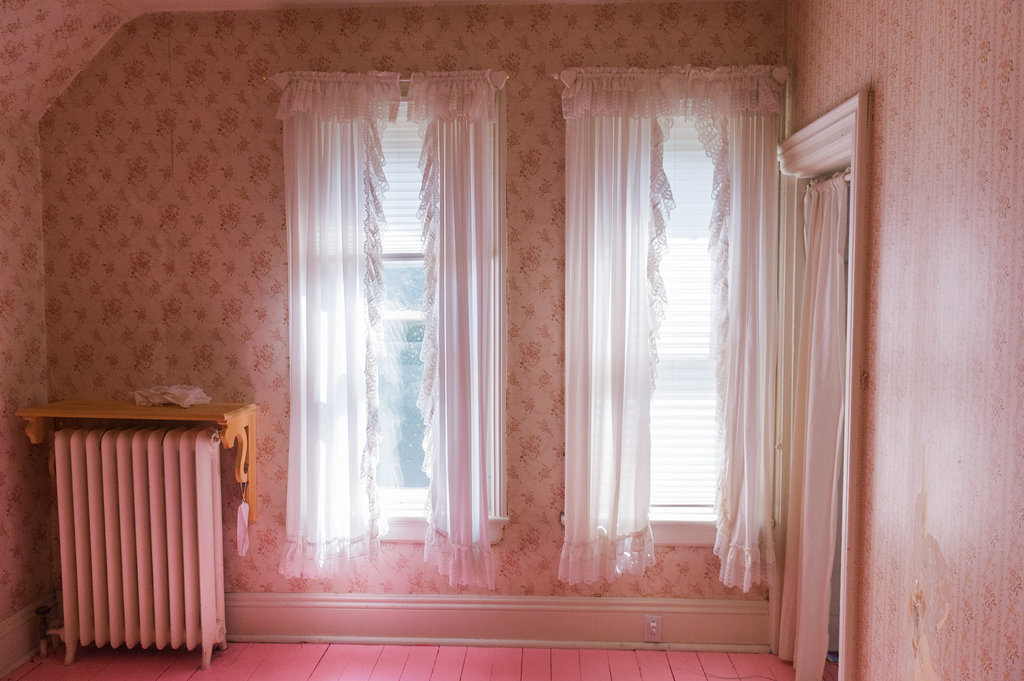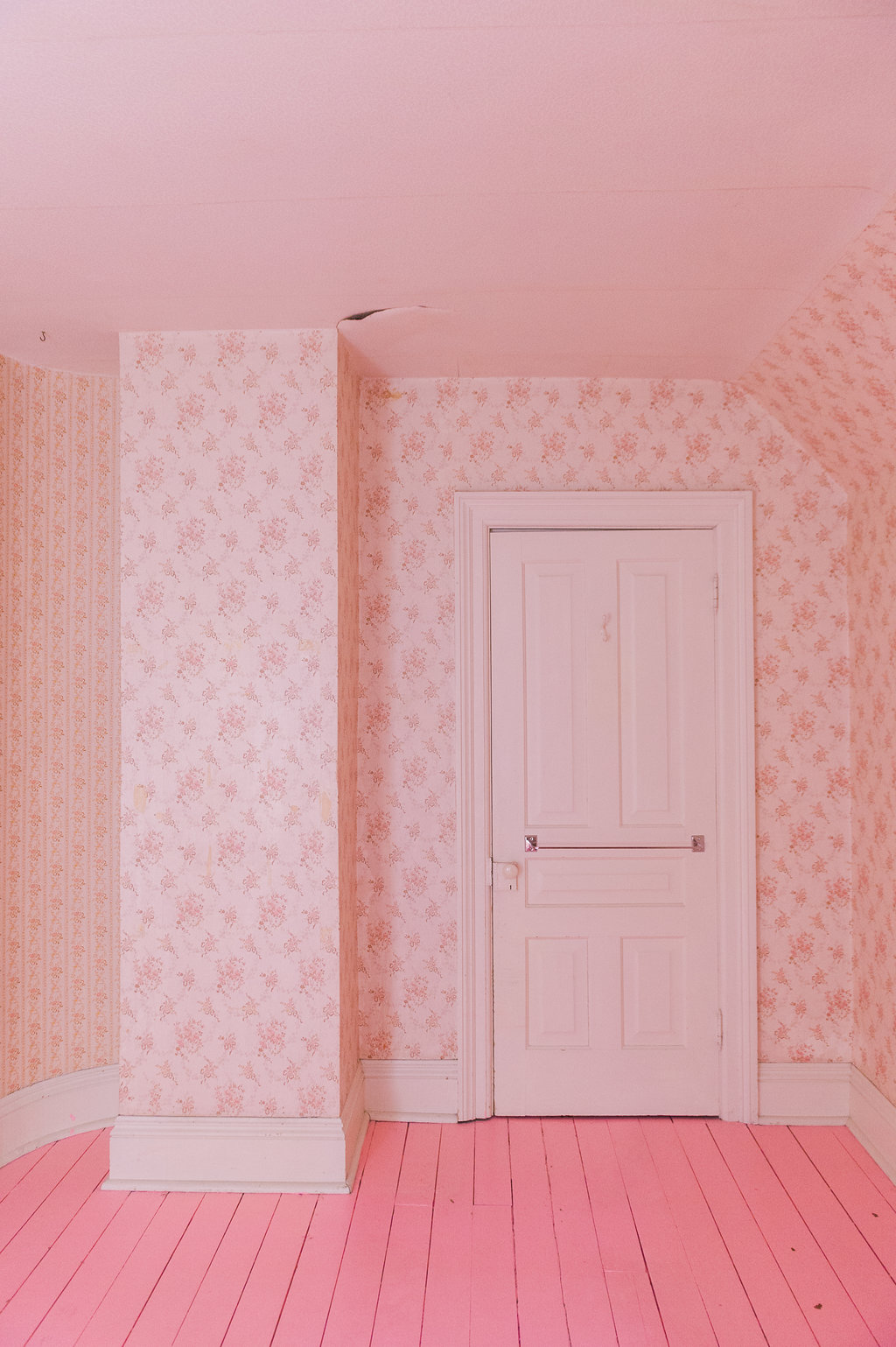 Spare Bedroom: Forever Home Before House Tour
Well we need a place for you to come and visit right?!?!? I'm so happy that this home has four bedrooms because it's super nice to have an extra bed for my parents, friends who come to stay, and with two littles I swear we play musical beds all night long! Don't worry there is no "Neon Green Highlighter" ghost in this room…lol….it's going to be a relaxing oasis…any day now!!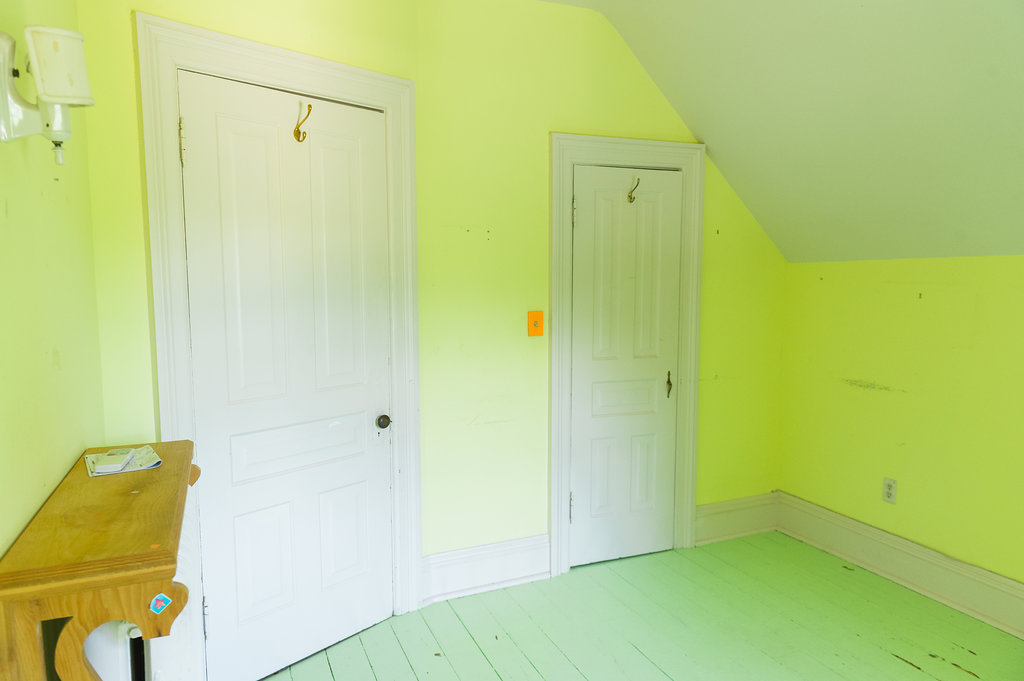 Bathroom: Forever Home Before House Tour
The bathroom is where we spent our upstairs renovation dollars. You can see the progress on my Instagram and constantly on my story. The space now has gorgeous double vanity, a glass tiled shower instead of tub, and a new tiled floor, all new plumbing, electrical, toilet, tiled walls…all sparkly and brand new. Right now we're installing gorgeous plumbing fixtures.
I still can't believe that in 130 years people haven't been able to shower in the only upstairs bathroom…well with the four of us, we're going to make up for lost time. I know I have little girls who might prefer a bathtub now, but little girls grow up so fast that when you plan a bathroom it needs to take into account long term. Plus we'll swap out the basement shower for a tub surround and it will be all good!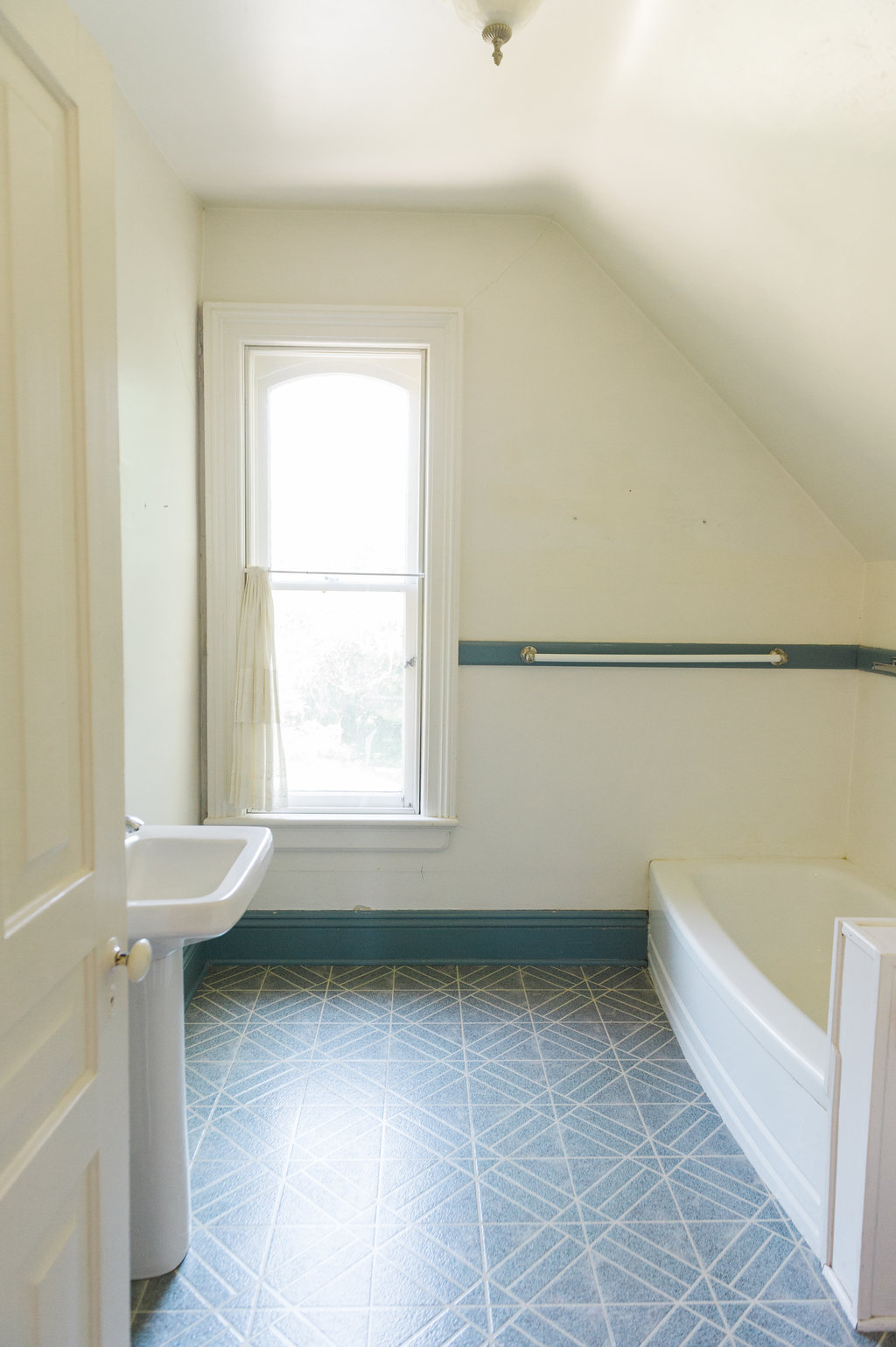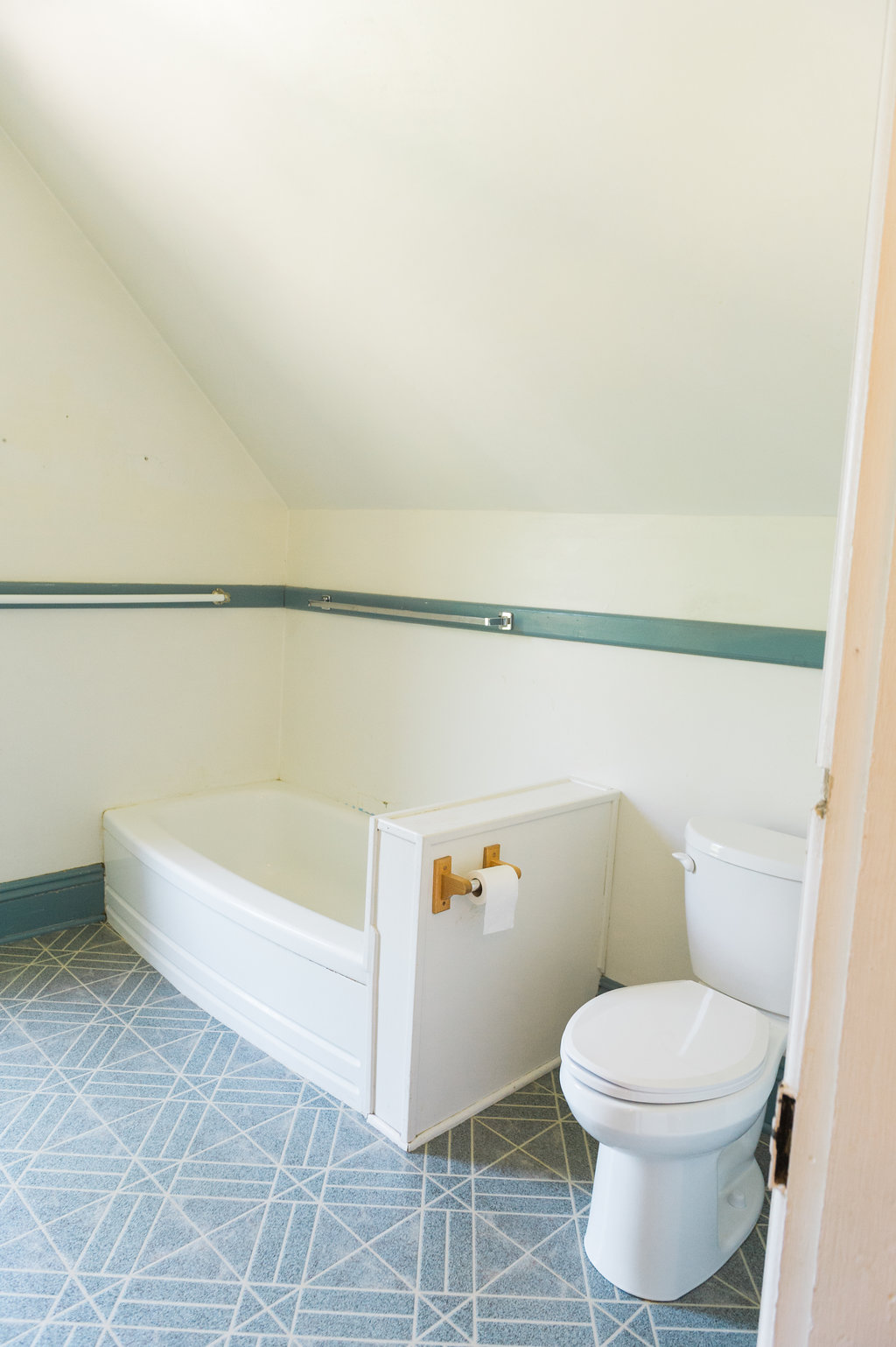 Servant Staircase: Forever Home Before House Tour
Remember the second staircase I showed in the Main Floor Before Home Tour?! Well this is how it functions from upstairs…love it so much! Now all we need is a servant…ya that's not going to happen…ever! haha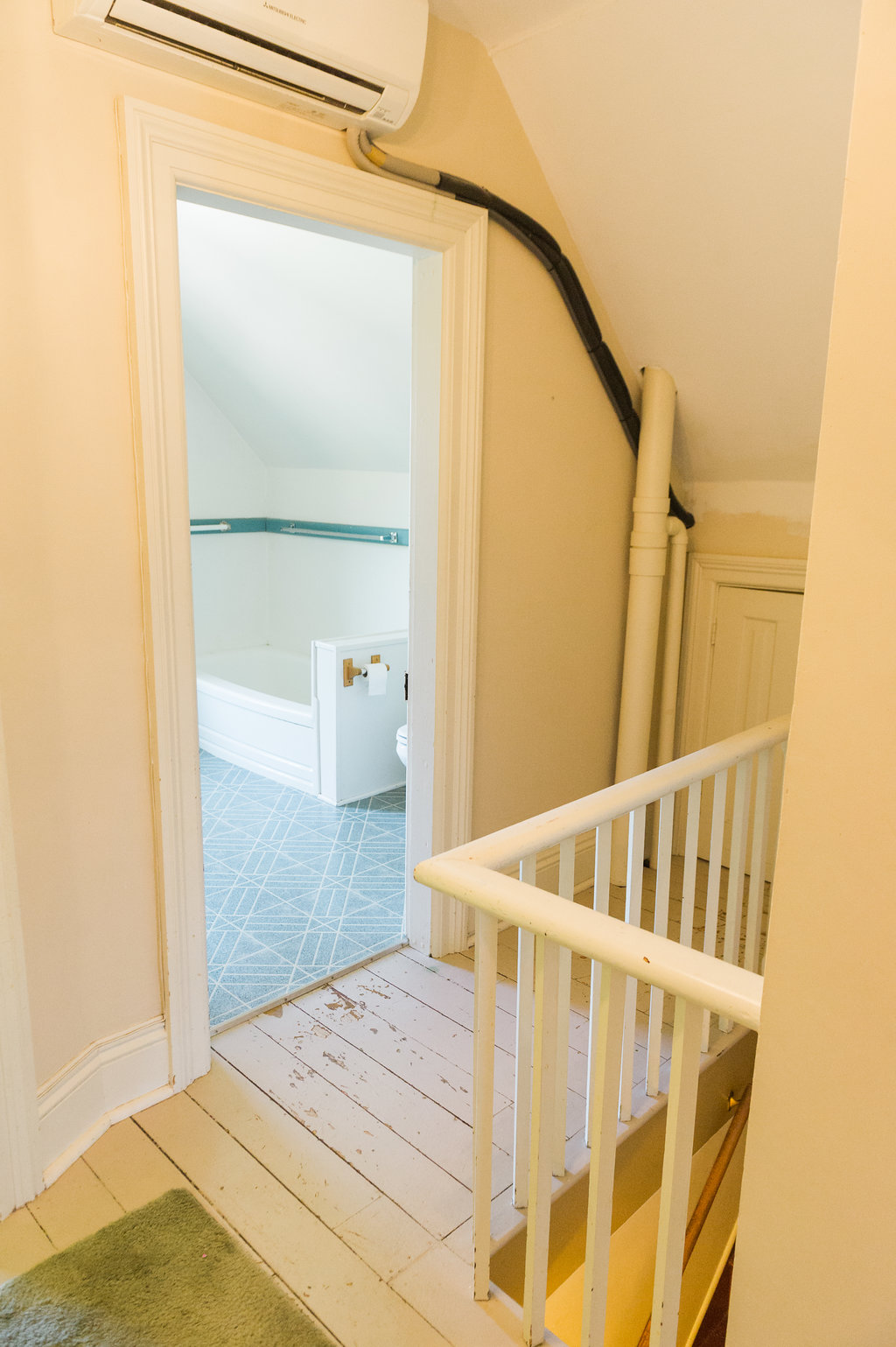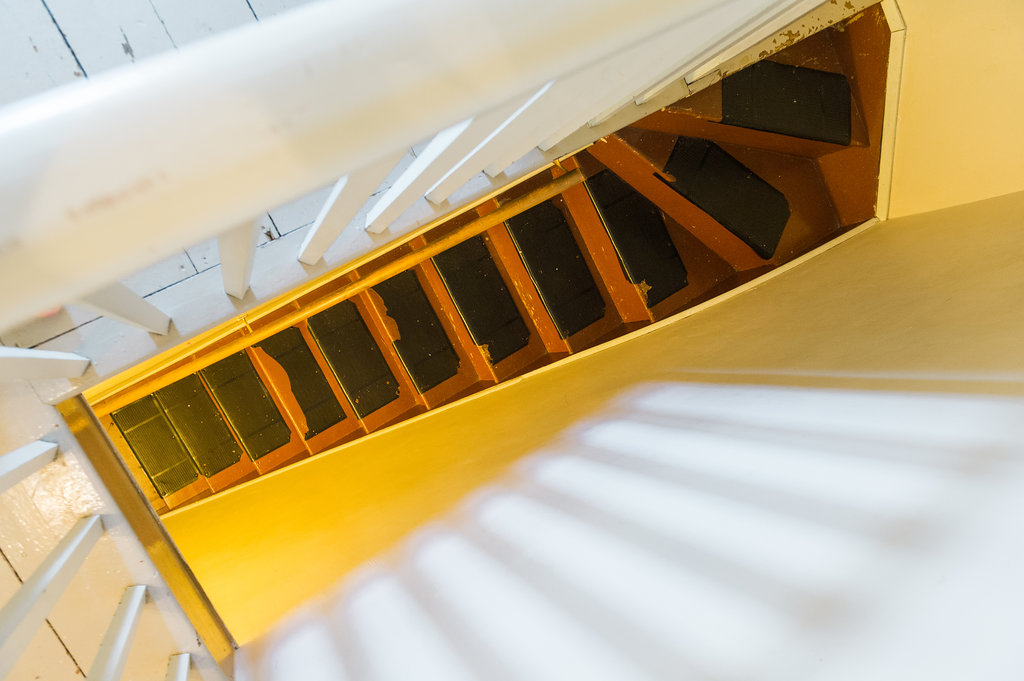 I seriously CANNOT thank Vicki Bartel enough for capturing these before shots because demo started on day 1 and not only that but my phone broke two weeks ago and I lost everything….so these are so important!!
Thank you guys so much for following along on my story (which is the little circles at the top of Instagram that show videos). I wish they didn't disappear though…I spent so much time sharing progress on them and they are gone…tear! Oh well at least the new spaces are here to stay!