Hi Guys! Well it's official, I'm 4 weeks into the new (old home) renovation and we just know that we've finally found our forever home. This is our 5th home since we met, 7 years ago, and nothing ever felt right or permanent. I mean we would be waiting to take possession of a home and my husband I would be on MLS, still constantly looking! But all that has changed and I'm so thankful for it. This home was like a missing puzzle piece. So much has changed already over the past four weeks, so much so, that it's almost time for the first reveal in a couple weeks! However, before that happens, I need to give you the full Forever Home "Before" House Tour on the Main Floor!
In case you're new to this renovation, our home was built in 1886 and is in Kingsville, Ontario. It has gorgeous character already, and our goal is to amp it up as well as restore it, and to make some of the spaces more functional.
Entry: Forever Home Before House Tour
As you as you walk through the front double doors, you're greeted with a gorgeous staircase. The banister's wood twists in the most amazing way! I love the details on the finials too! We need to find a new carpet runner and paint the trim work, repair the walls and paint them as well.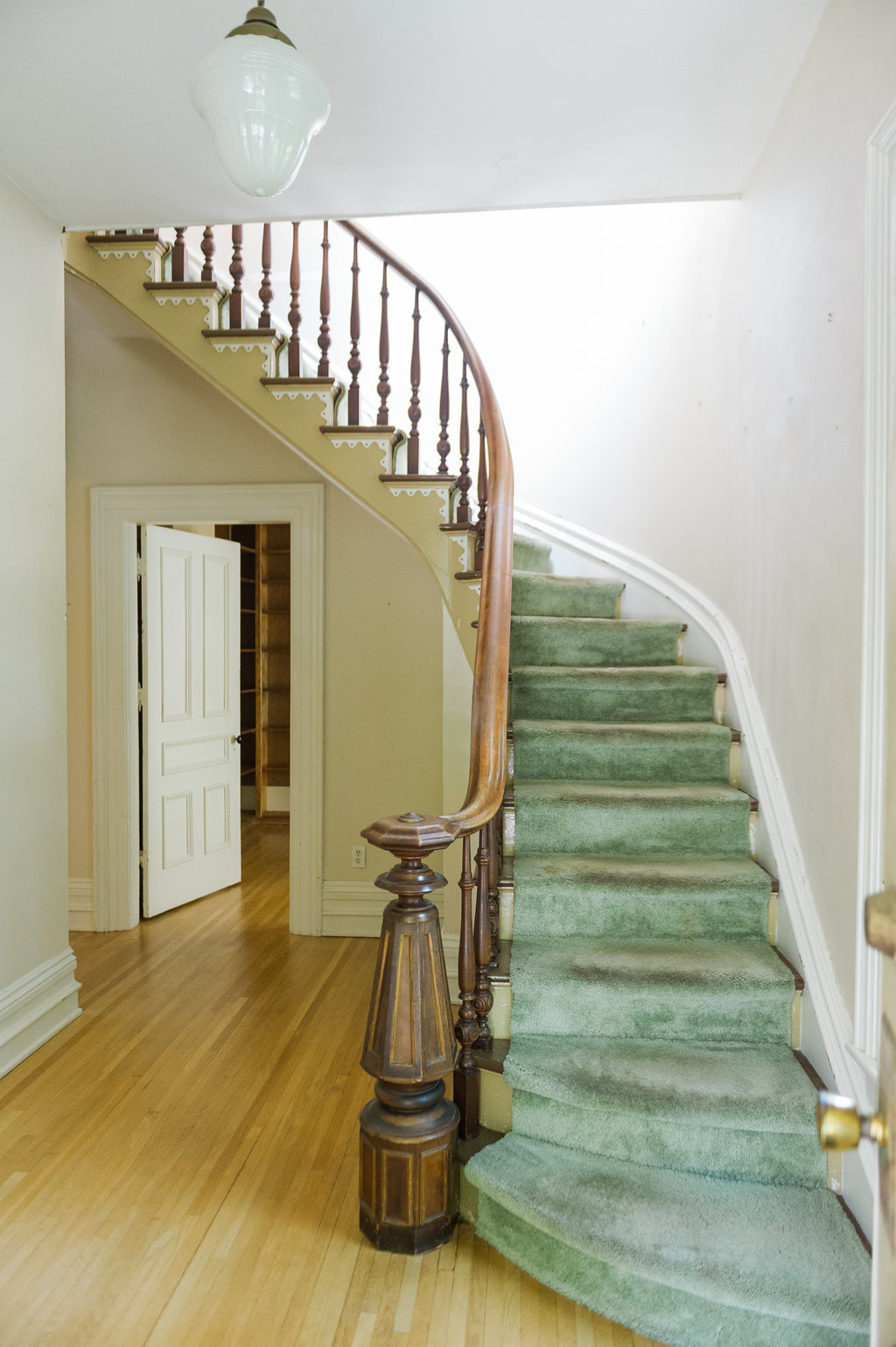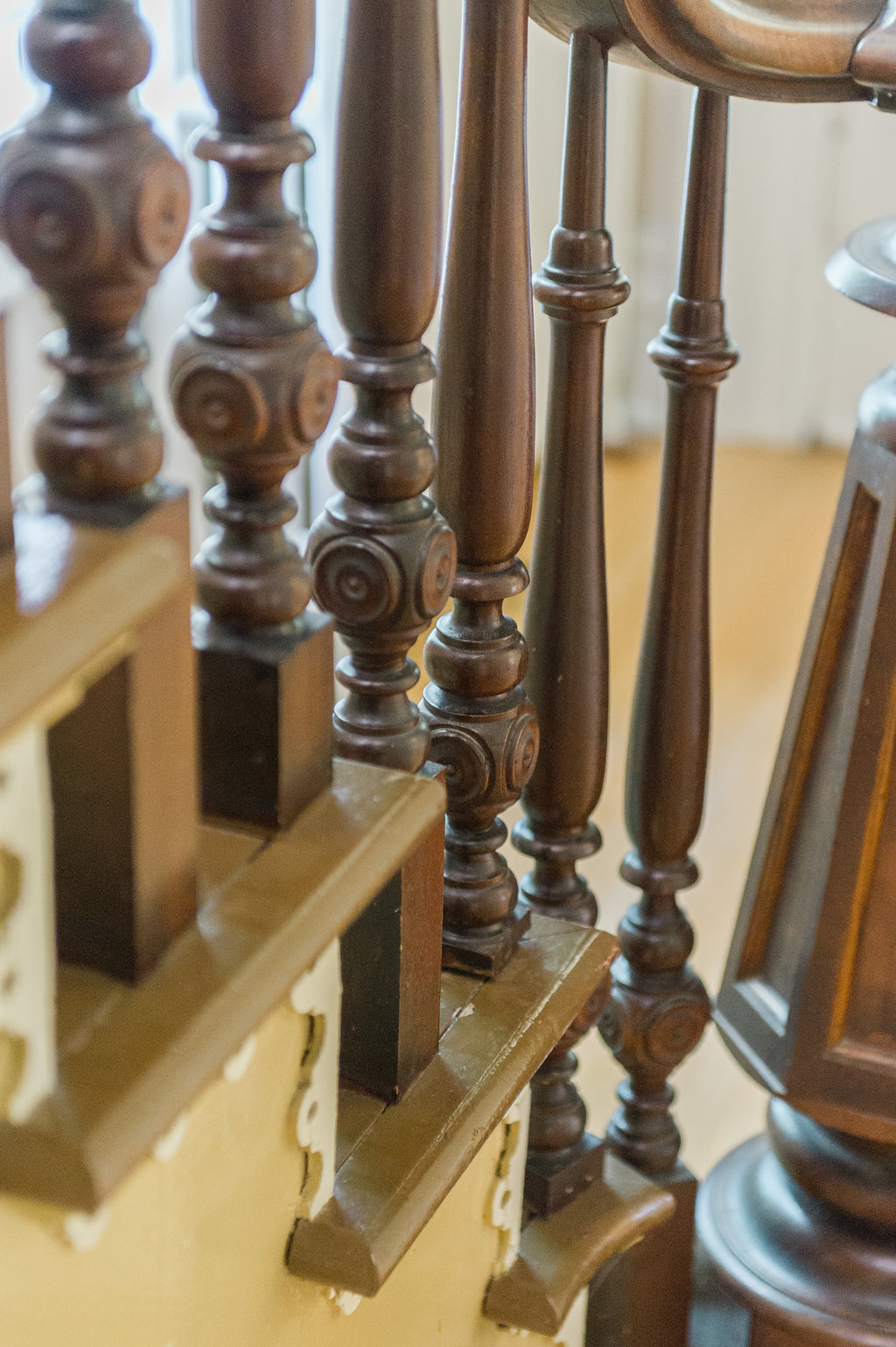 Office: Forever Home Before House Tour
At the end of the hall is an office. I love the shelves and the light in this space. Originally, our plan was for this space to become a bathroom, as there is no bathroom on the main floor. We heard that it was a bathroom at one point in the past. We've waited a loooong time to take possession of this home and re-thought our plans about a million times. Luckily, one of our eureka moments came when my husband figured out another spot to put the powder room and we got to keep this space as a dedicated office. At this point we'll just take these shelves to the ceiling, add crown moulding, and paint. (You've seen that update if you're following my story on Instagram!)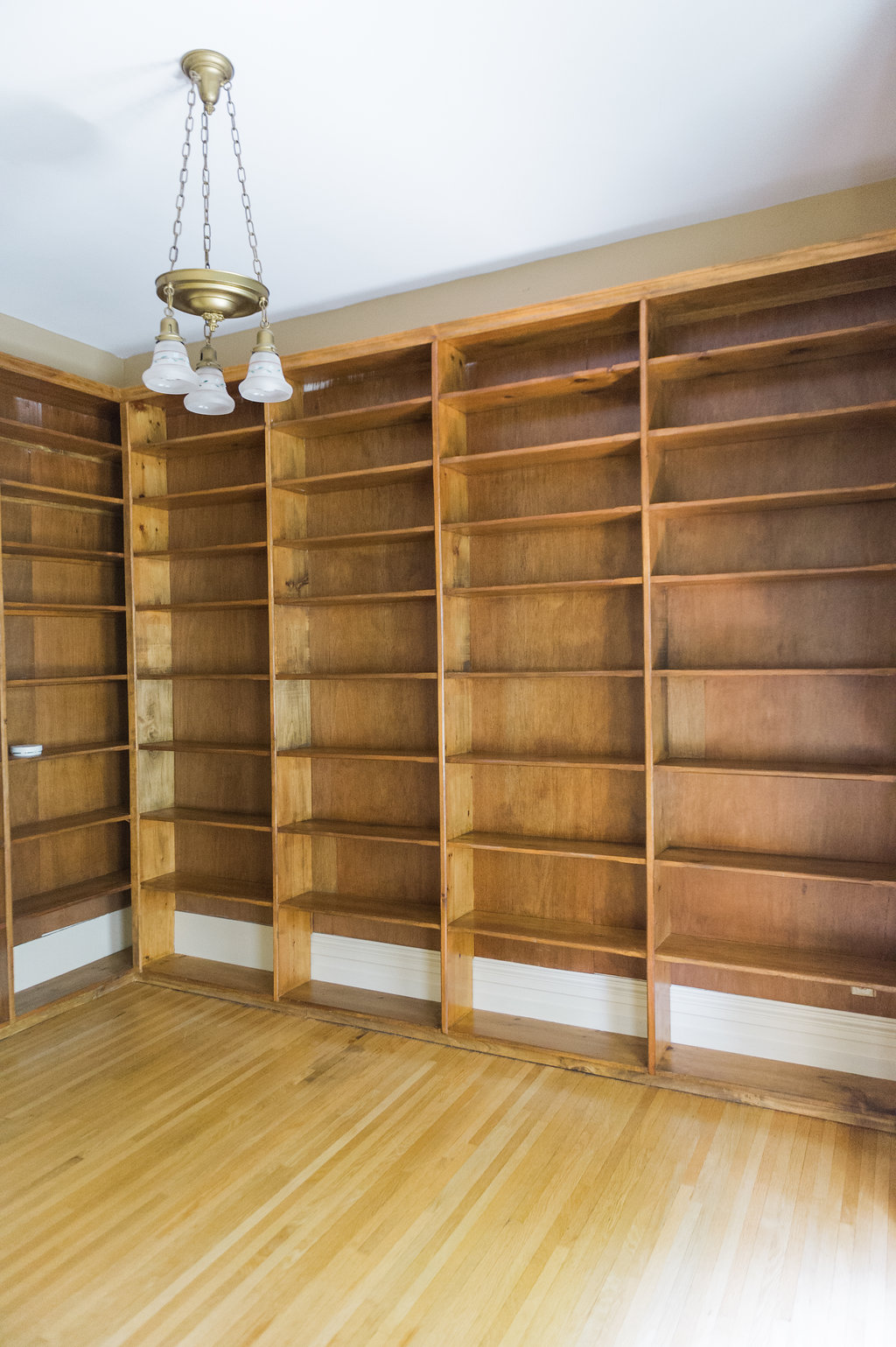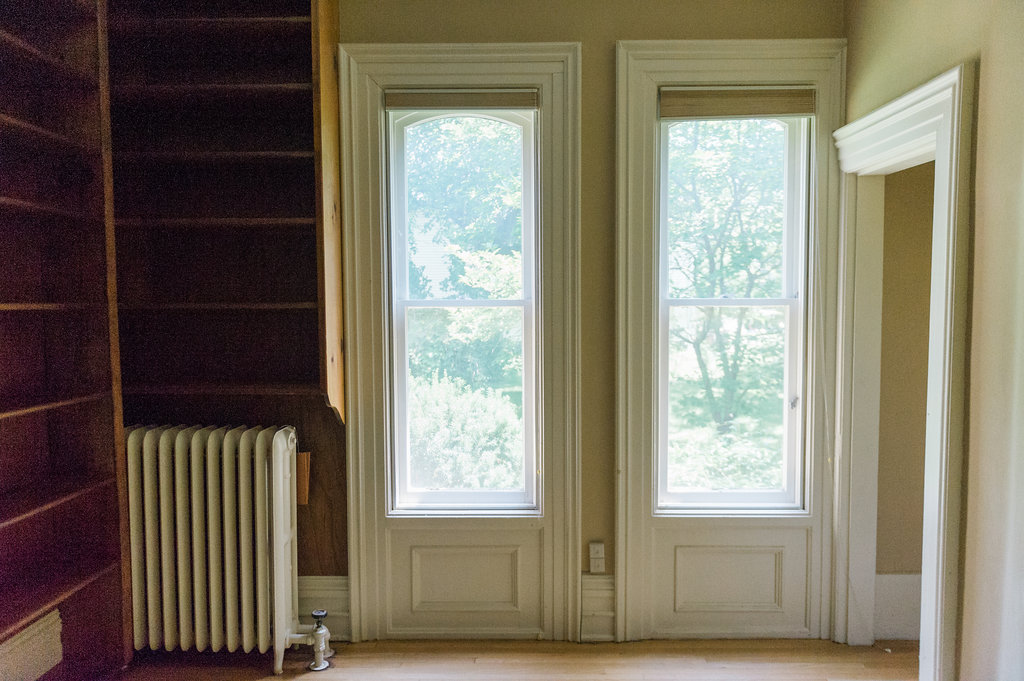 Living Room: Forever Home Before House Tour
From the front door you can turn left and, through a doorway, enter the living room. This is my favourite space I think! It's so symmetrical with its front windows and proportions. (I love my symmetry!!) If you've been following me on Instagram, you'll see that this room has received a ton of drama! Matt Cornies, our contractor and miracle worker, has put up so much Metrie trim to create wainscoting, crown moulding, a ceiling medallion, and fixed all the problems with the walls and existing trim.  New electrical has been run for sconces, and Tyler from FreshCoat has painted the space in the perfect colour, Snowy Owl, from Canadian Tire's paint line Premier. Holy Crap it looks so different…go take a peek on my Instagram! Full story on the wainscoting to come soon!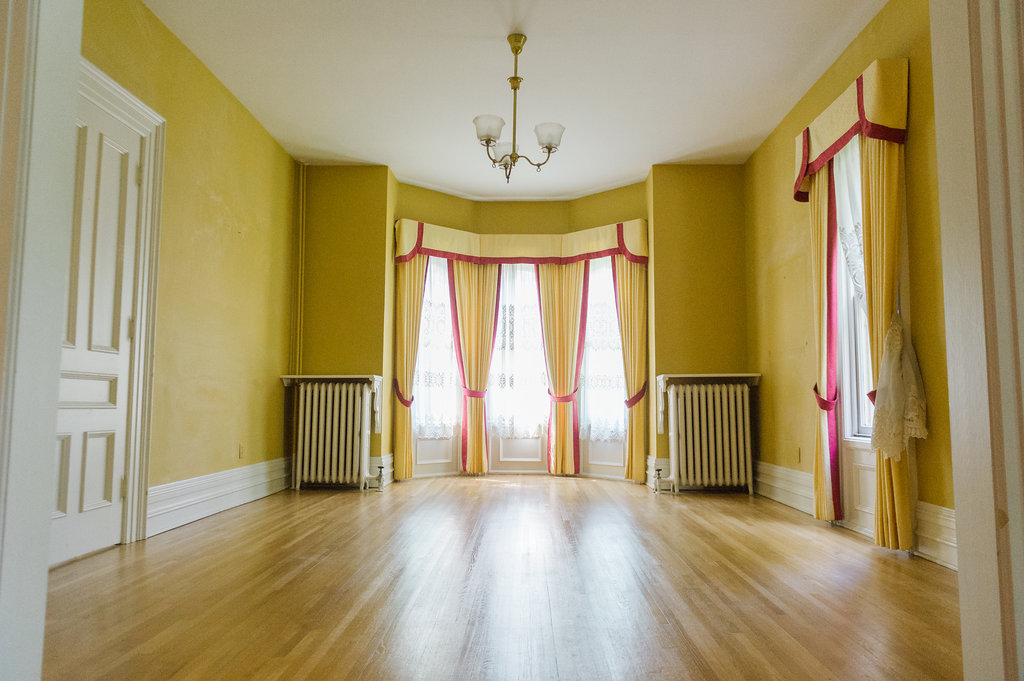 Family Room: Forever Home Before House Tour
The family room is right off of the living room and completely open concept, while still feeling like its own space. The layout is really one of the things that I love most about this home. I can't believe how open it is, for 1886! I've never seen a home with this layout before. In the family room we've added crown moulding, and a chair rail. I want to wallpaper above the chair rail in a wallpaper that I've loved forever. This home is like a greatest hits, for me, and I want to do everything I was too scared to do in other houses or loved in my past homes other…it's just going to be what I love most.
The fireplace is going to be sprayed in white to match the woodwork. It's not original but from about 20 years ago. I showed what was behind the fireplace on my stories, which was a terrible brick fireplace that had been done over the original. It's not in our budget to try and see what is under there at this point, and it's not in our budget to get a new gas insert, but you never know what we'll do one day. For now, paint and a huge gorgeous mirror over the fireplace should do really well!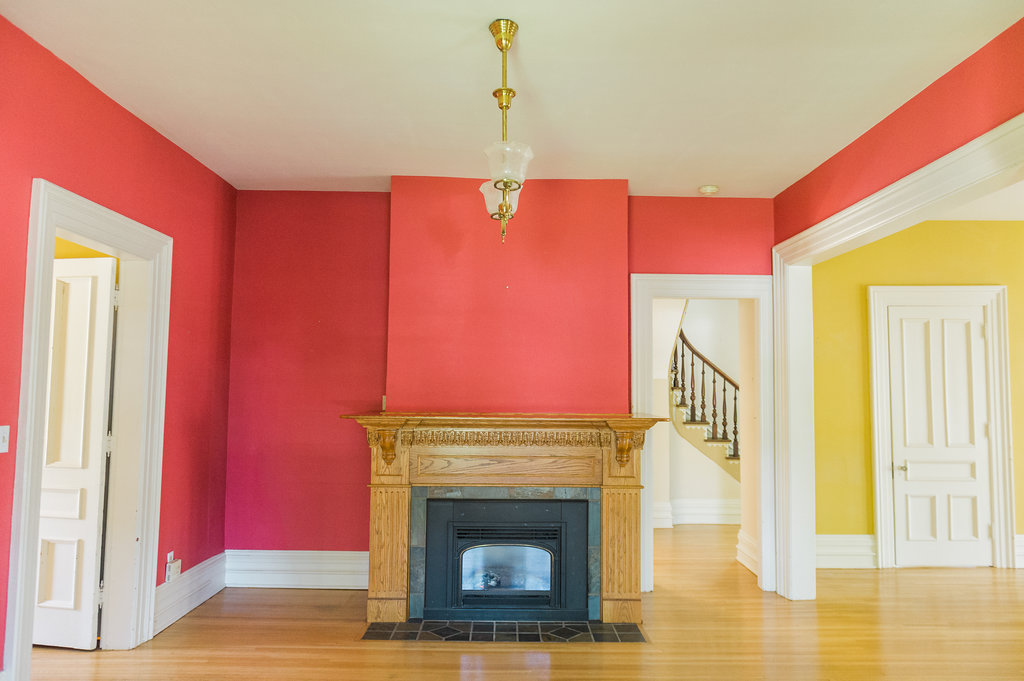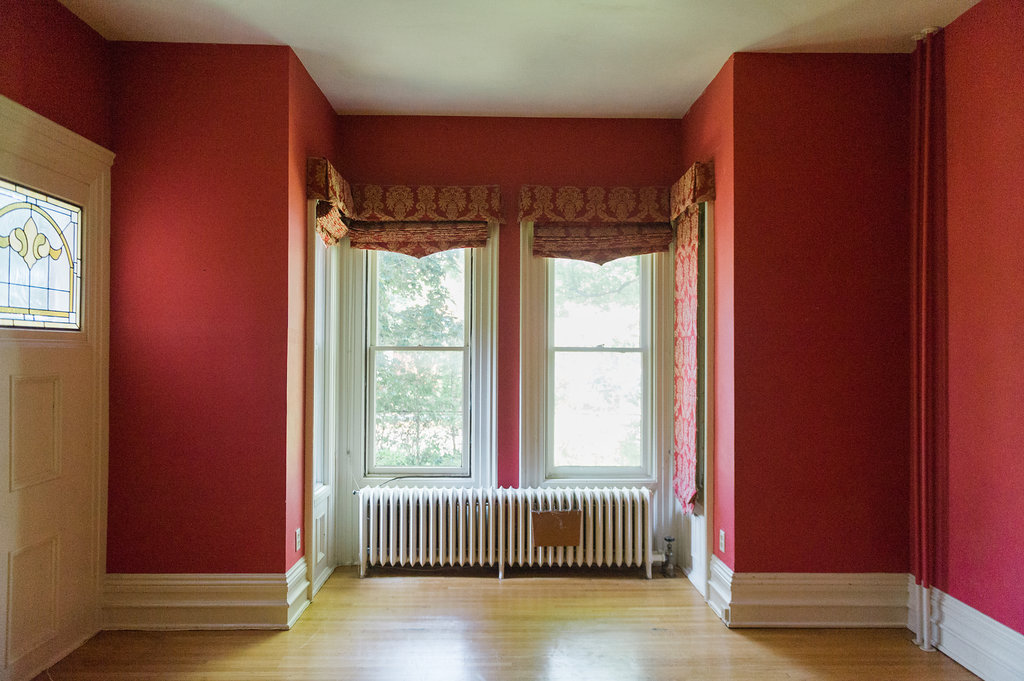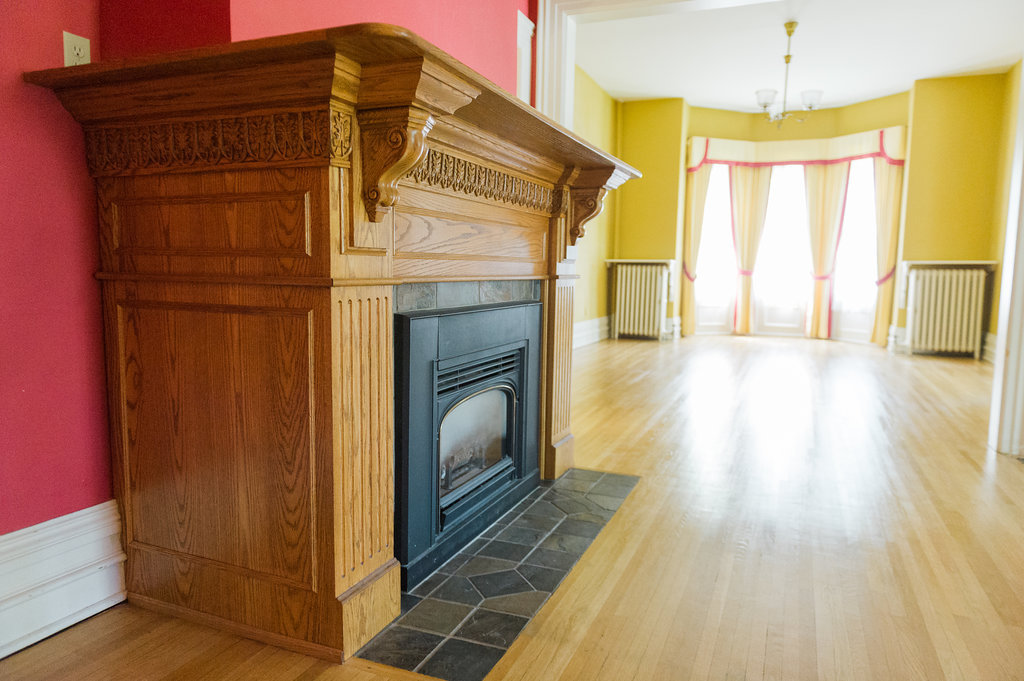 Dining Room: Forever Home Before House Tour
Off of the family room is the dining room. After a million different thoughts (really a million) we decided to make the dining room into the kitchen. It's just enough space for the back wall to hold the range, sink (under the window), dishwasher, cabinets, island in the centre, and the fridge on the adjacent wall. I can't wait to see the kitchen because it's such a complete reinvention of the space…and I finally took some chances with coloured cabinets, which I've wanted to do since I started renovating but didn't have the guts because we were always concerned with resale….eeep! It doesn't look like much now, but I think it will be perfect for us, and I can't wait to show you!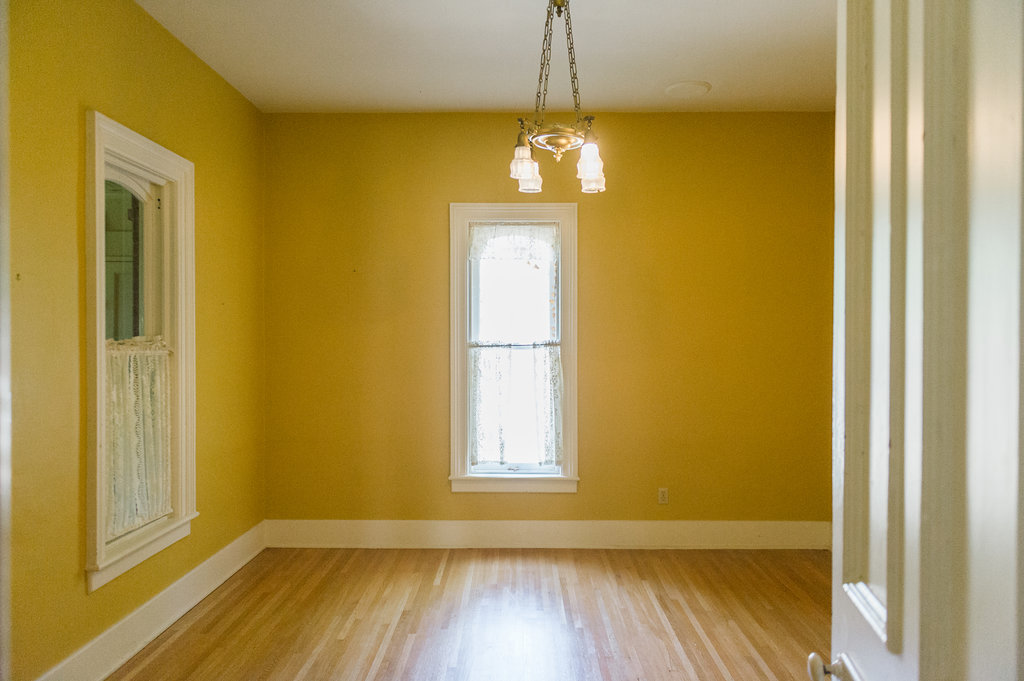 Servant Staircase
Another super cool part of this house is the old servant staircase that you access from a small door in the dining room! It's so fantastic! Every kid who comes over thinks that they've discovered it….love!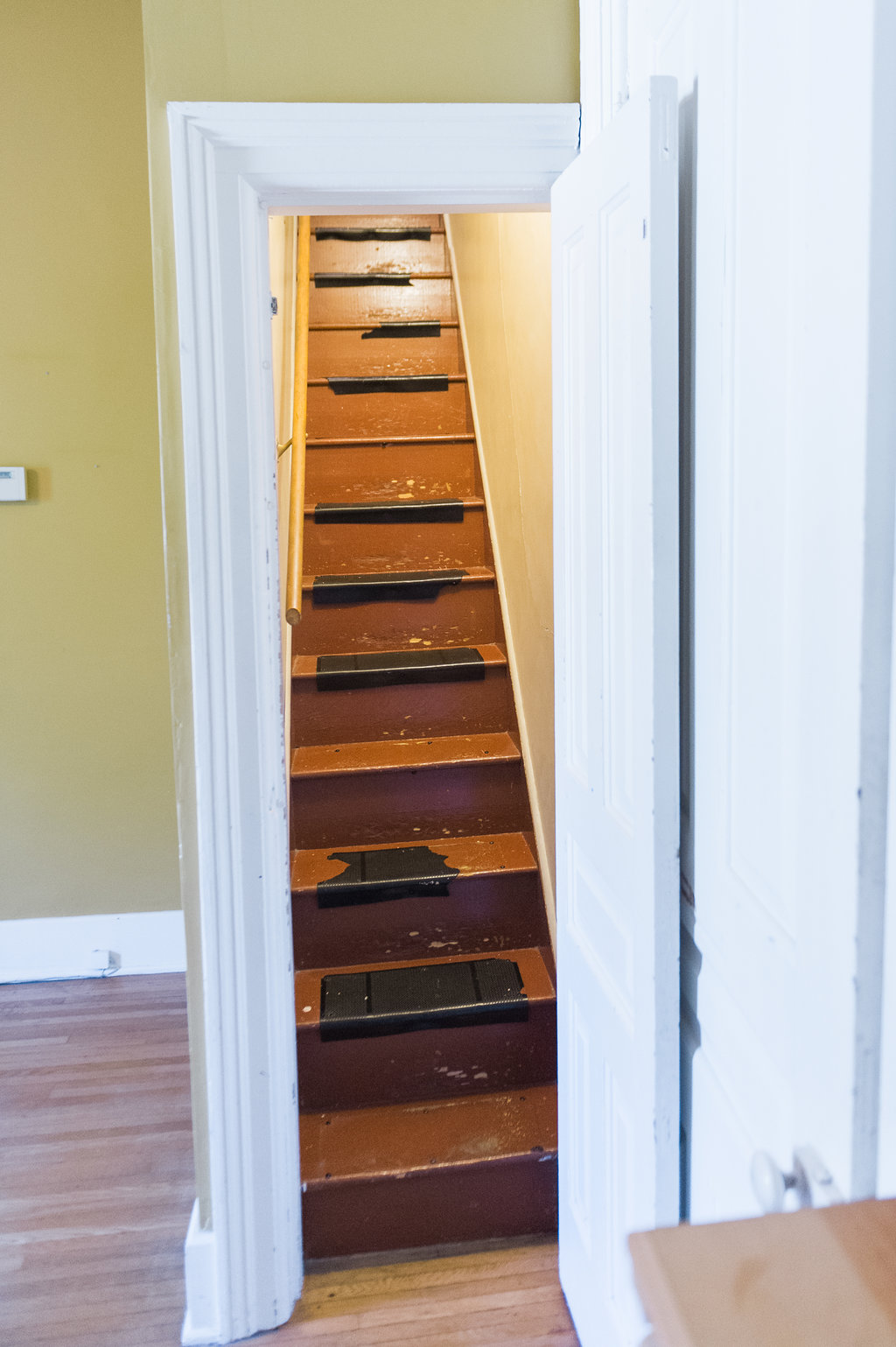 Covered Porch: Forever Home Before House Tour
The covered porch is going to become our dining room. It's right off of the kitchen and there is an amazing original door and window still connecting the spaces! It has exposed brick and painted floors. I think it will have amazing ambience for meals. One day I hope to build a huge deck off the door and move the driveway that is there right now to the back of the property. You can see a bigger tour and all of my furniture plans for the new dining room here!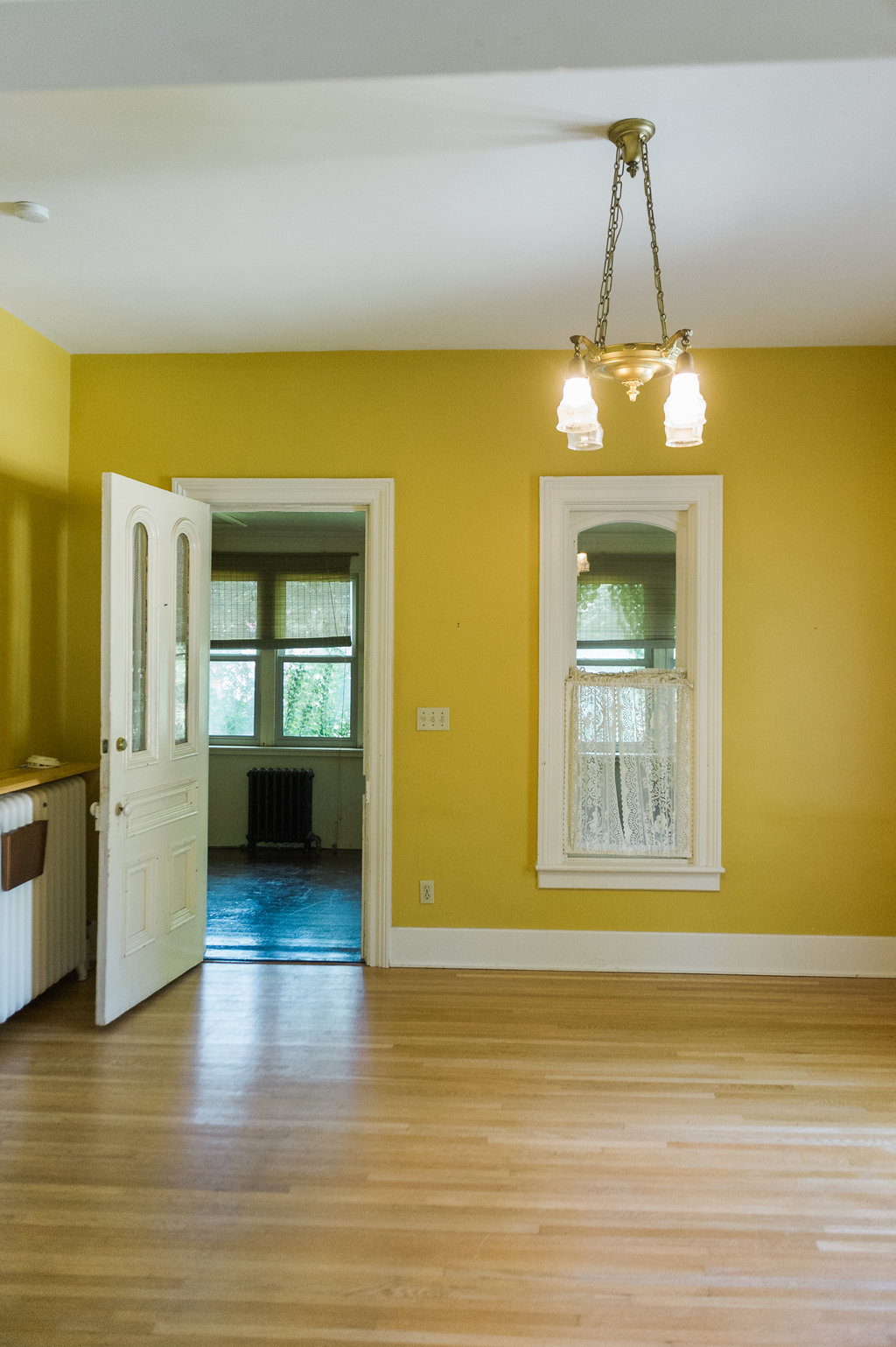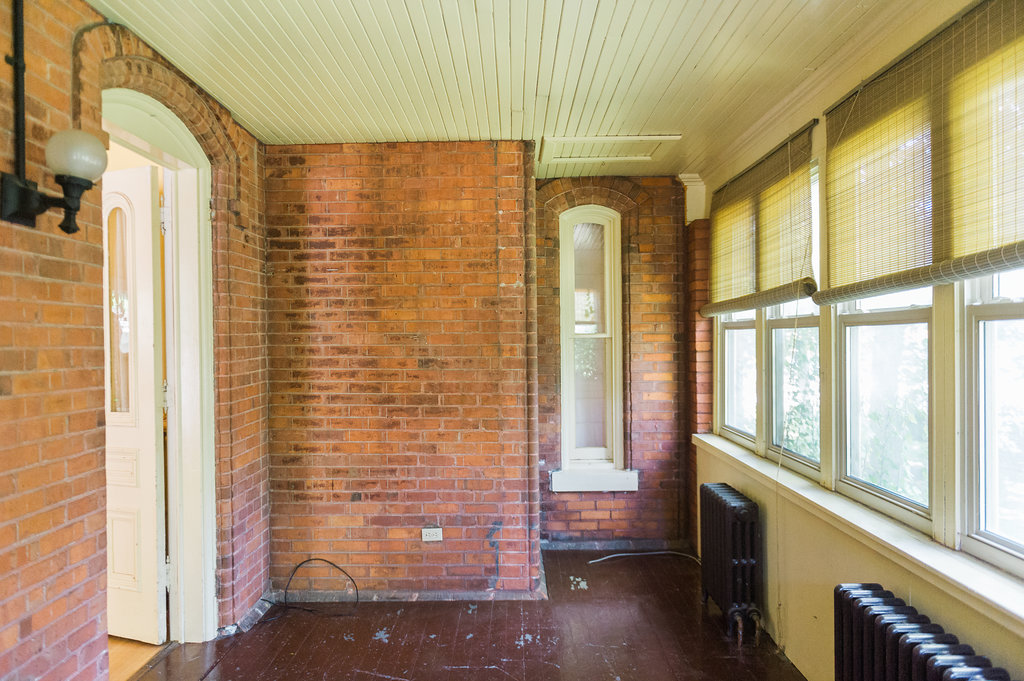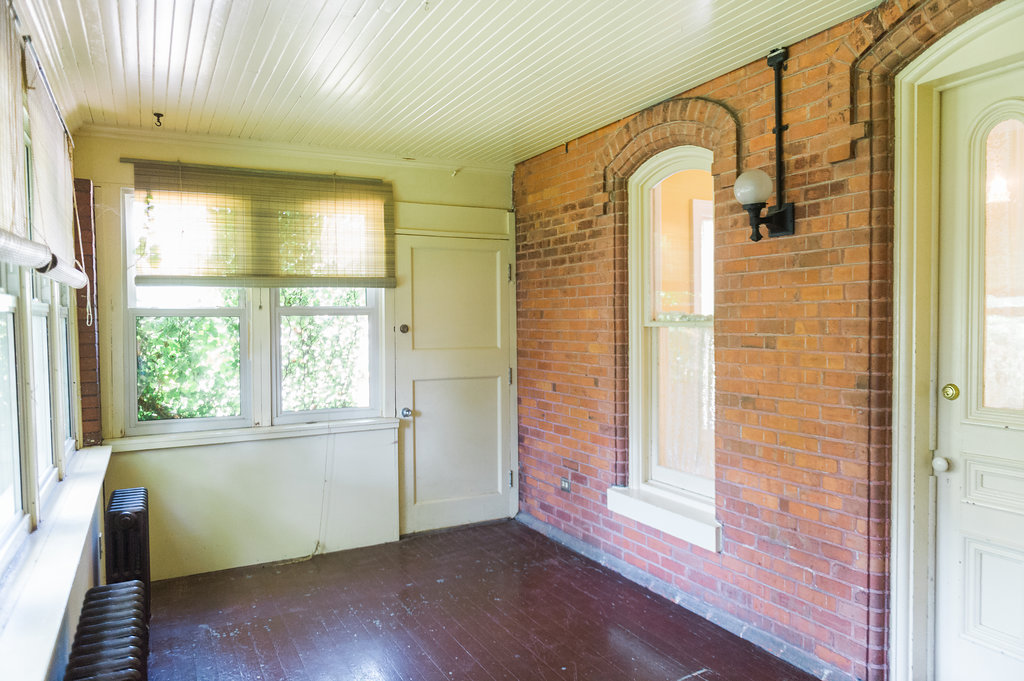 Kitchen: Forever Home Before House Tour
The original kitchen, is right off of the dining room and is also the main entry to the house, and was the most confusing space for sure. I really wanted to try and work with it, but it had no functionality and so much of the cabinetry wasn't actually original. If you've been following my story on Instagram, you know that we decided to put the powder room in here, the laundry, a small entry with hooks, and keep the original bank of cabinets that has the ice box in it. It's turning out to be such a fantastic use of space and we love it!!!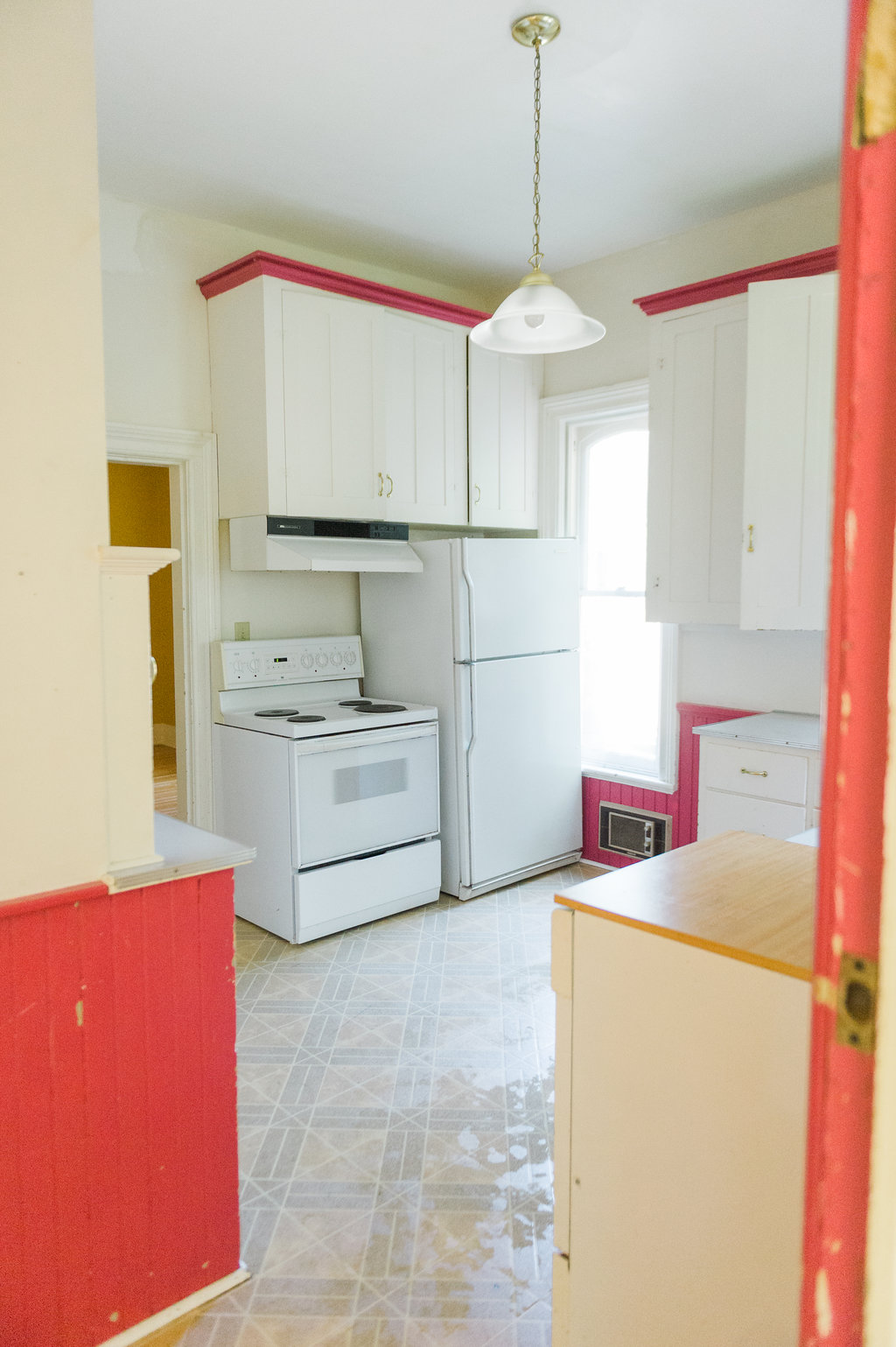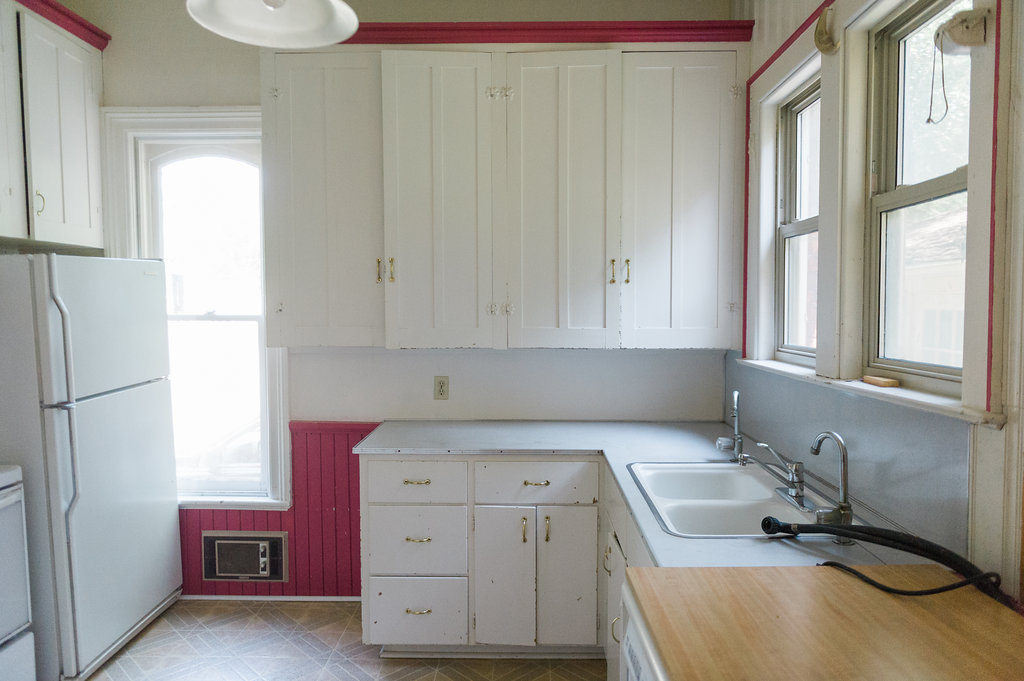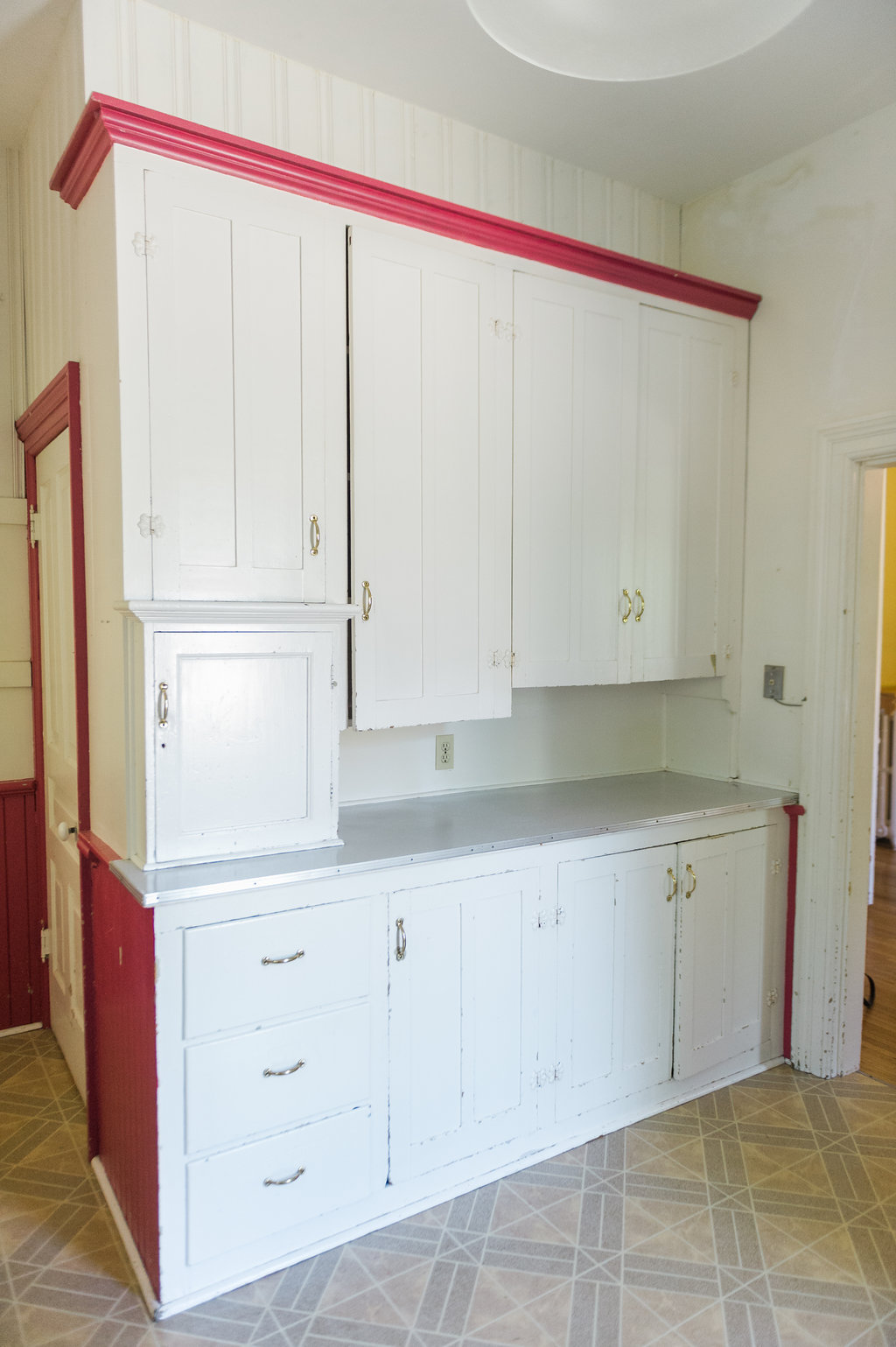 I can't wait to show you how we transform each space on the main floor! Make sure you subscribe and follow along on Instagram and Instagram Stories (the circles along the top of Instagram that lead to daily videos) of the project!
Next up, I'll share a tour of the upstairs and the basement(it has a fieldstone foundation!!)…both are so cool…can't wait to show you!
All before shots were snapped by Vicki Bartel!