The dining space at our new home is so special, and if you've been following along, you know that this is our forever home (cause I'm never moving again…ever!) I'm so excited to show you the before shots of the space and my dream Dining Room furniture to go inside…a girl can dream right?! I'm calling the design "Forever-Home Curated" because I want the dining room in this home to feel timeless and ensure that all the pieces are classic enough to endure the test of time, but still have the airy, modern, and feminine feeling that defines my style. Curated,  for me, means that each piece looks collected along the way, rather than a matched set. Mixing and matching tells a story and lends a designer feel.
Our home is from 1886 and has a ton of character. We're actually converting the original dining room into a new kitchen. That means that we're going to use this super cute space that was enclosed over the original porch, as our dining room. So this photo is the original dining room, and you can see that the porch is right off of it, but now covered and part of the home.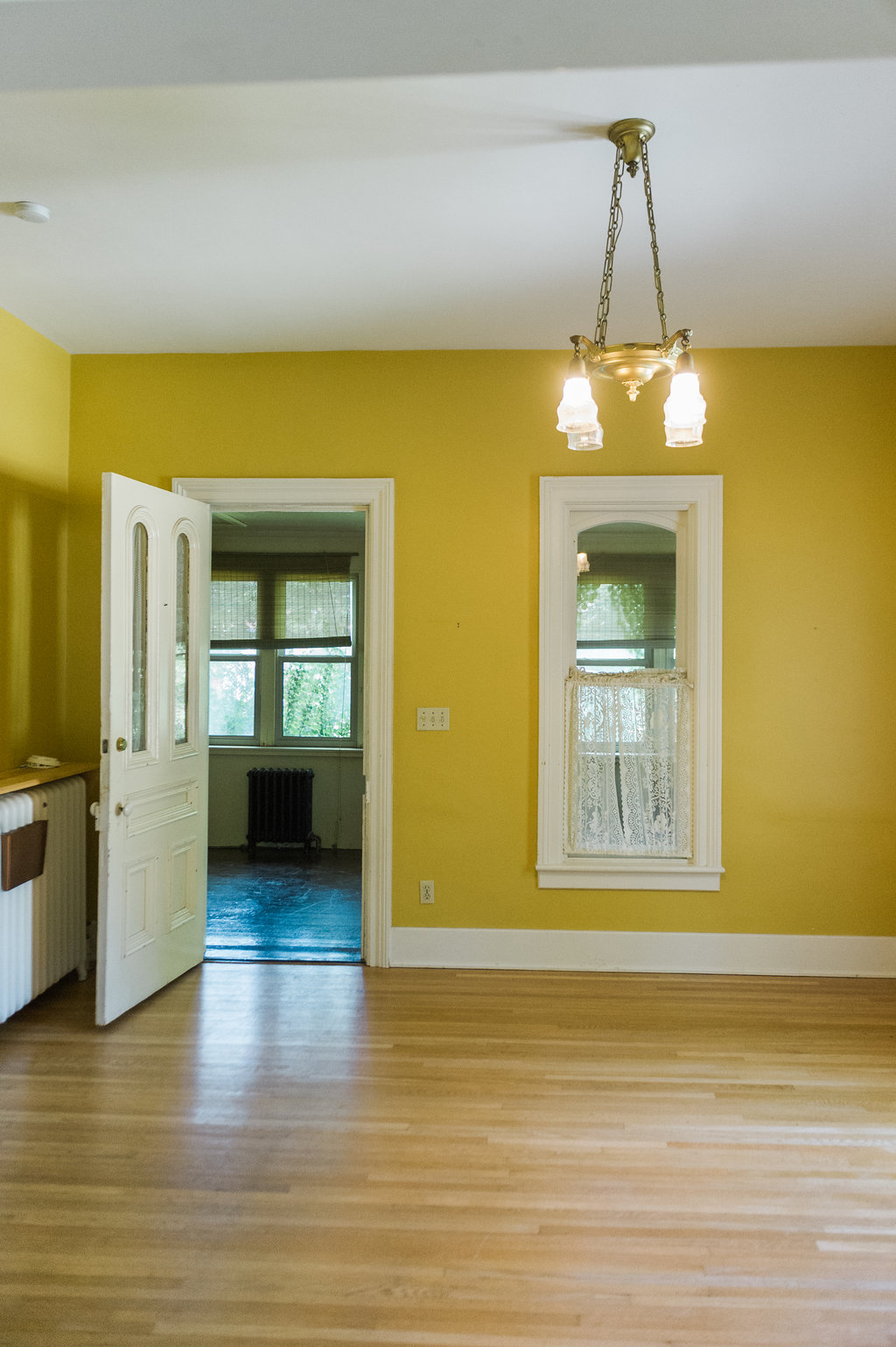 I love the covered porch because it's surrounded by windows, has exposed brick, and painted wood floors and ceiling. It needs to be painted, have a ceiling light added, and properly insulated, but I think with some effort it will be the perfect dining space.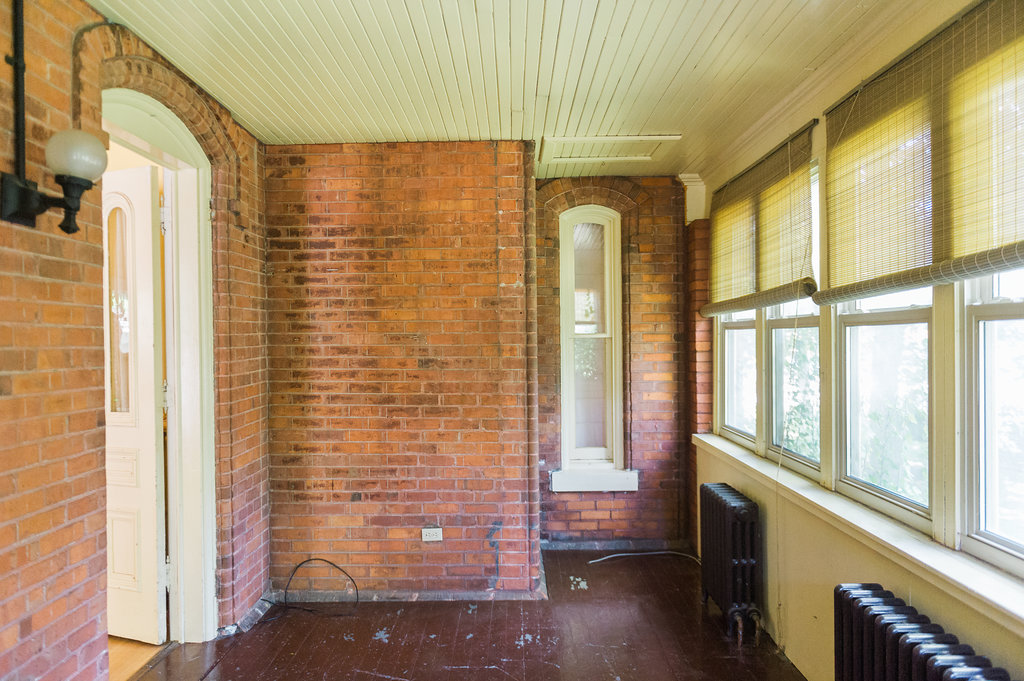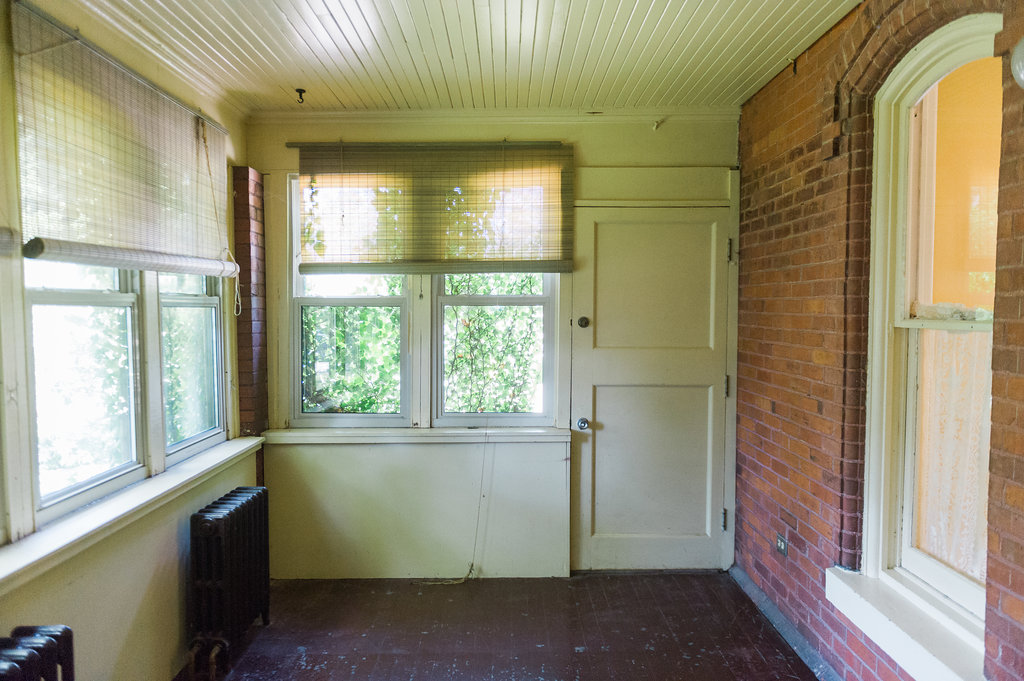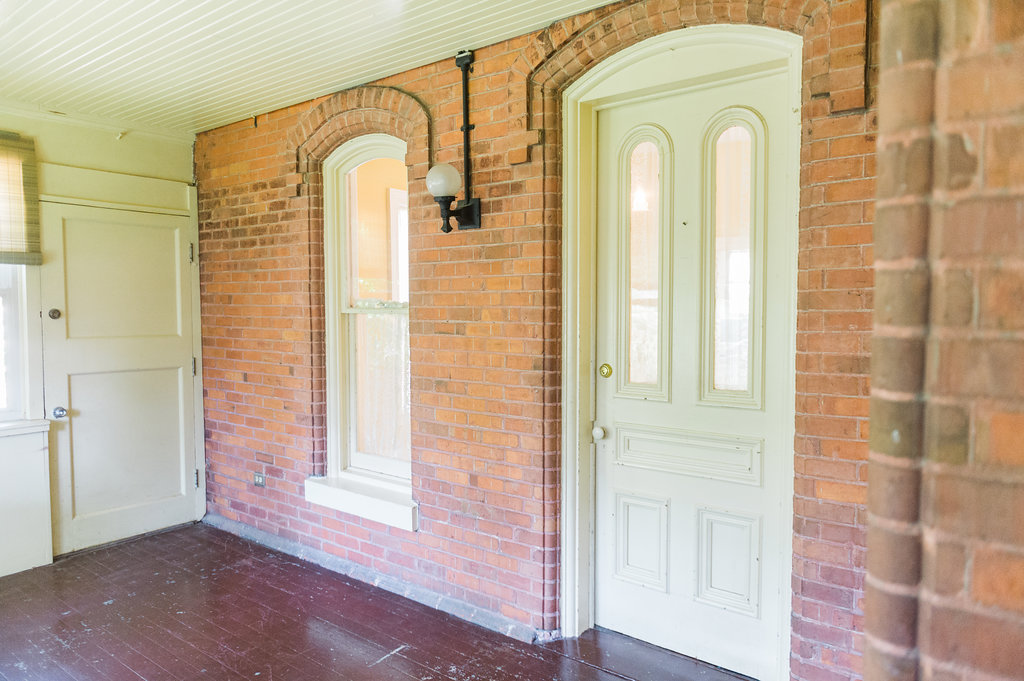 In this photo you can see the door and window that will be to the kitchen. We'll just keep the door open to keep it warm in this dining space, but I love the charm and character of the door and window! I call it "the sidecar"… I don't even know why, but it stuck.
Not only with the dining room, but with the entire home, it's so important to me that people feel comfortable and at ease in my home. We've downsized and left so many of our worries behind with moving to this home, so I need the "grounded, happy, and content" feeling that we want to strive for to resonate in our home. People need to feel like they can relax and not worry about the furniture. The atmosphere of the exposed brick in the dining space and the age of the home, along with the eclectic mix of pieces that I've chosen should ensure that guests always stay for one more glass of wine. Just for fun, I've made a moodboard, using pieces from the new Arhaus dining collection, for the new space!
Dream Dining Room Moodboard
Dining Table and Settee
My must have pieces for the dining room are a round table with a huge chunky pedestal, and a settee for the back wall. I love the look of a settee, covered in a throw and pillows to add a layered and relaxed look. This is going to be our 6th dining room table and I know exactly what I like by now! lol…don't worry I haven't changed my mind that many times, they have all been bought with our homes when we moved. That's never going to happen again, there's no more re-set button so I've chosen this…how dreamy can you get?
Giulietta 54″ Round BELL'ARTE Dining Table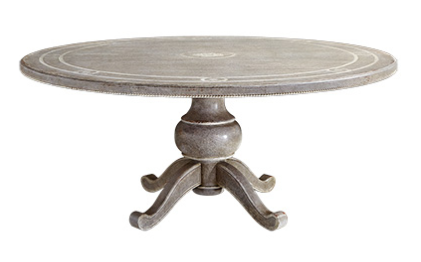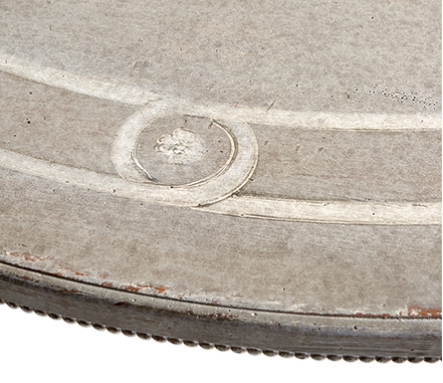 Omg swoon…details like the beaded edge of the table is killing me, the overall light and destressed finish, and the details on the table top…a girl can dream right?!? Plus my daughter's name is Juliette…it's fate!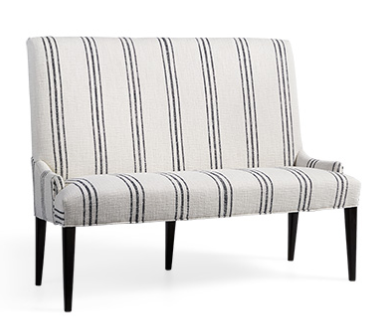 Chairs
I love mismatched chairs so much, and I'm so excited to create that look. The space is tight, so playing around with chair sizes according to where the space in the room varies is a fun way to take advantage of its quirks. When ever you mix and match in design try to get a variety of textures. I chose a couple wicker chairs, slipcovered, and a wooden chair. The eclectic mix will let people pick their favourite chair to sit in, and be easy to add more in the future. The wicker chair has a cute bow at the back, tying on the cushion, and the wooden chair is a "corner chair" which I have never seen but love the interesting lines.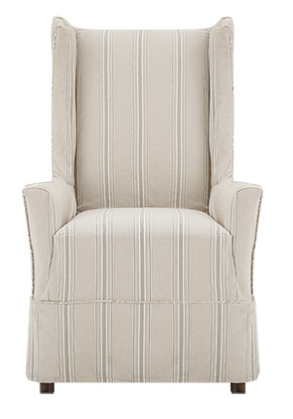 Oceano Dining Side Chair with Cushion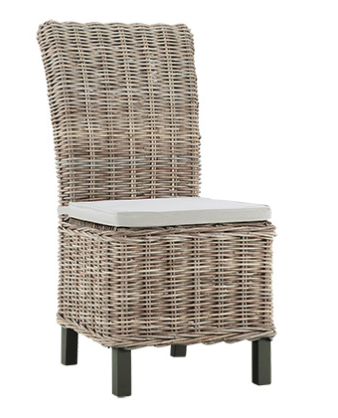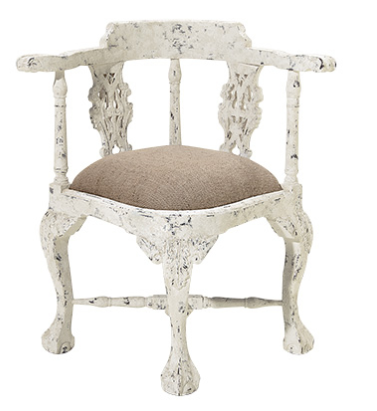 Hutch
There is also an interesting punch out in the wall that would fit a tall cabinet really well. It would be perfect for extra sets of dishes, silverware, wine, glasses, an ipod music dock, ….so many possibilities!
Cream Food Cabinet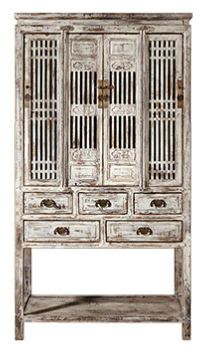 Area Rug
Another piece that I always have in every dining room is an area rug…I love how rugs make a space feel finished…it's like magic. It's also a great way to hide a floor that you aren't crazy about. I love this rug because it looks like an heirloom that just happens to be in amazing colours lol! I have an antique persian rug but it's red and therefore…umm rolled up in a closet waiting for the day when I'm into red again…haha!
Evangenia 5'6″ X 8'6″ Hand Knotted Floral Rug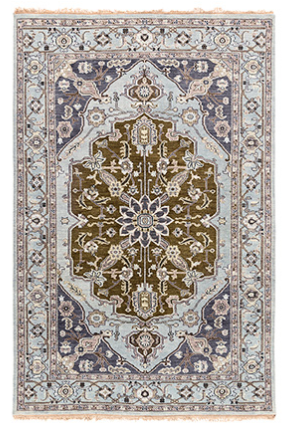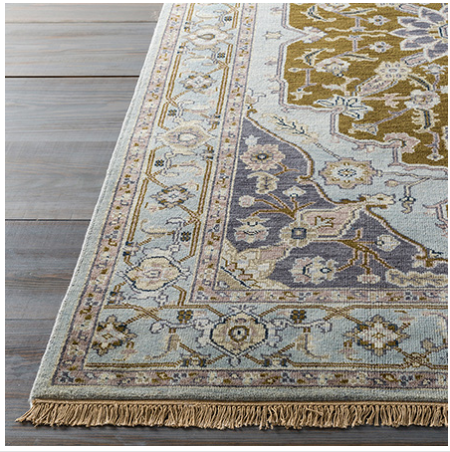 Lighting
Another key piece to any dining room is the lighting! I found this super charming chandelier, different from any that I've seen. I like that it's not too fancy but still has all the crystal to catch the light. My space doesn't have a high ceiling, so the barrel shape is perfect.
Baskets, Pillows, Throws, Candlesticks
Lastly, don't forget to include the little details that make a house feel like a home…lots of layers!
On the settee I'll have pillows, a throw (I'm always cold!), and baskets. I always have baskets in every room with extra throw pillows and blankets.
Get The Look
Here are some other pieces that I'm highly considering to get "The Look" click the photos below to see their sources and order online! If you're taken to Pinterest, just click lower than the "pin it" button. The table that I've linked below is actually the same chunky pedestal that Lucy from Craftberry Bush has, which is one of my favourite bloggers! 
Can't wait to start working on this space and share my finds for the dining room along the way! You can see my last dining room here!