Hi and Welcome to the Deck the Halls Christmas Home Tour!!! The bloggers involved in this blog hop are beyond amazing and I'm so happy to be a part of their Holiday Magic! If you're coming over from Lindsay Hill Interiors, isn't her style and dining room just perfection?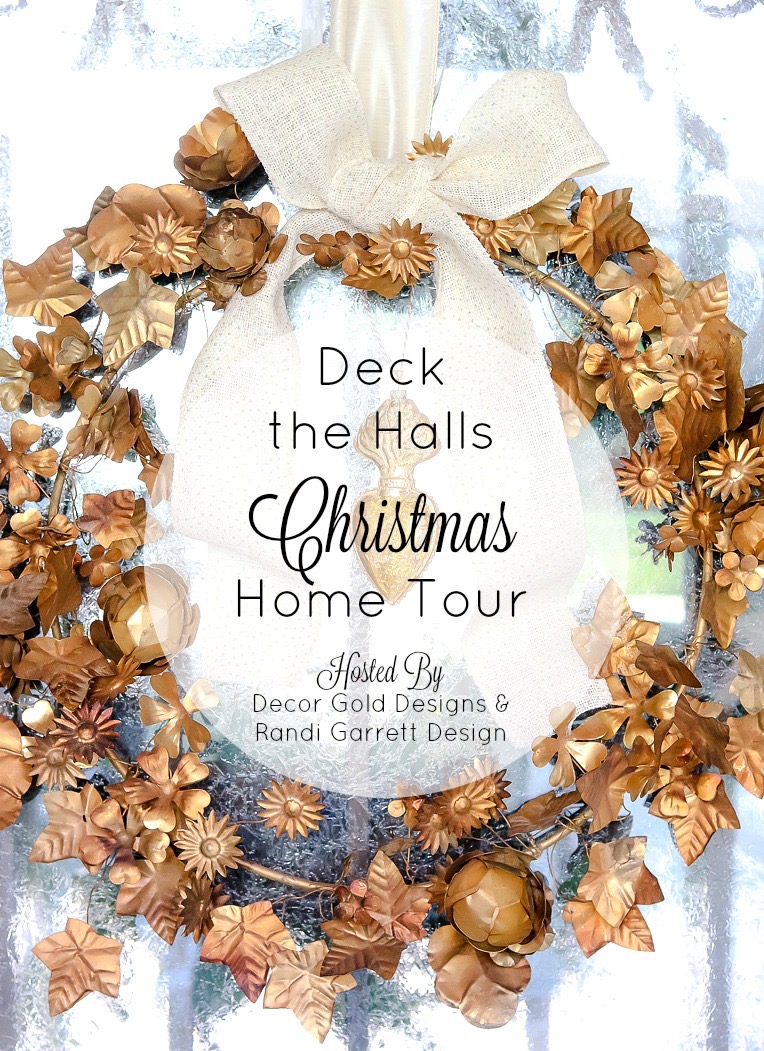 My First Holiday Tablescape
I'm actually so excited to share my holiday tablescape with you, I can't even tell you. This is my first holiday tablescape. I mean I've set the table for plenty of things in my life, but this is the first time where I had this whole vision for the details and the feeling that I wanted the guests to have and made it come to life. It's addicting and I'm already planning my next!!

Out of the Pages of a Magazine
If you're like me, you've been incredibly inspired by the blogging community and Instagram community which, I believe, is all about creating over the top beauty in your everyday life. You can create the same kind of lavish looks you see in magazines for your family and friends, and feel like you have a seat at the hottest holiday party or, literally, like you're royalty, if that's the table setting you're going for.
My Holiday Vibe

If you're sitting at my table, this Christmas, I want you to feel nostalgia for the past and excitement for what's new in design and style at the exact same time, and that's why I'm calling my decor this year Modern Vintage. You can see my Modern Vintage Holiday Living Room tour here if you haven't yet!
On my table you'll find modern terrariums filled with vintage Putz Houses and greens. Piles of brass candlesticks with white tapers and little antique brass vases filled with incredible flowers like magenta peonies and pale pink ranunculus.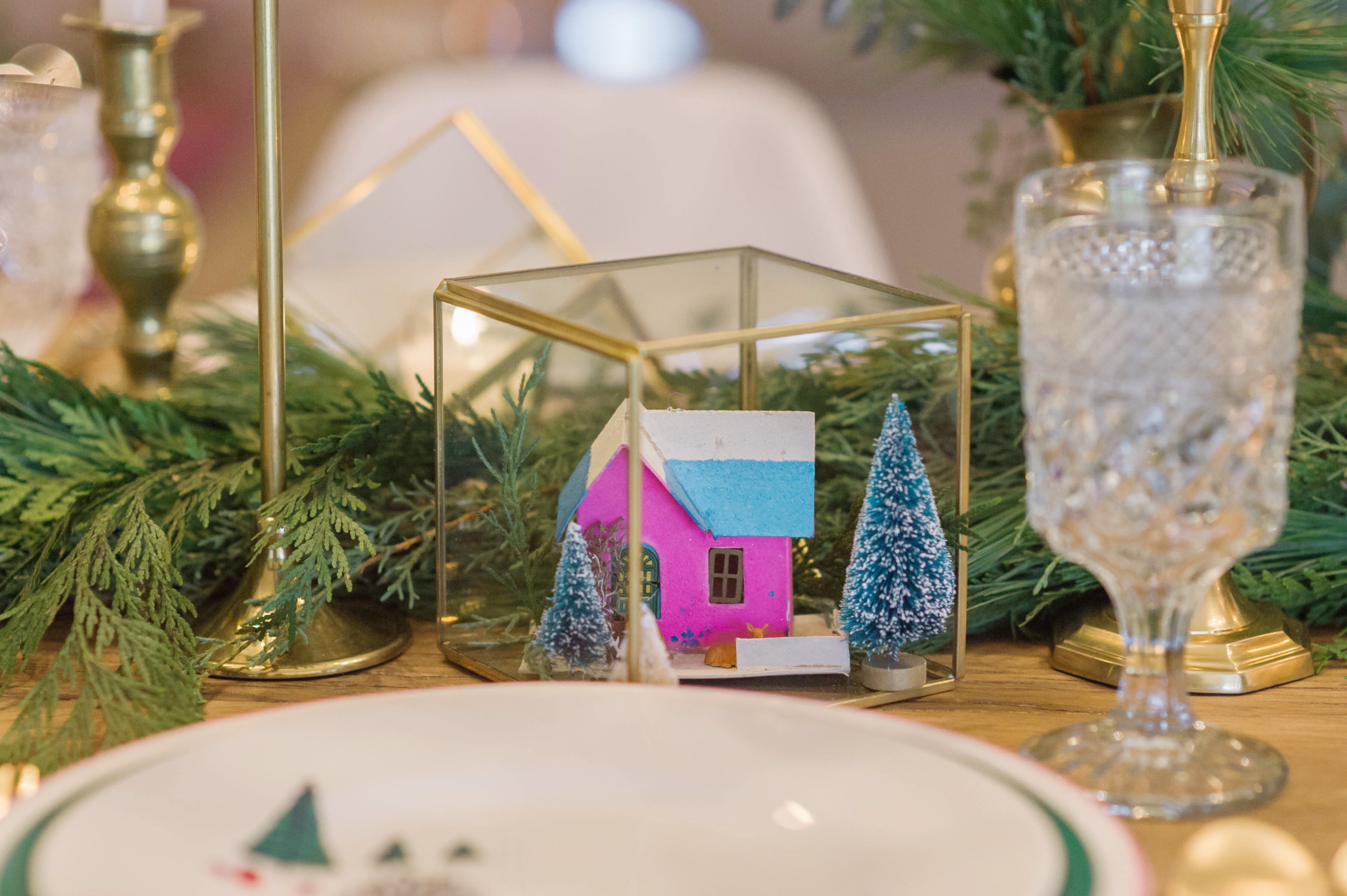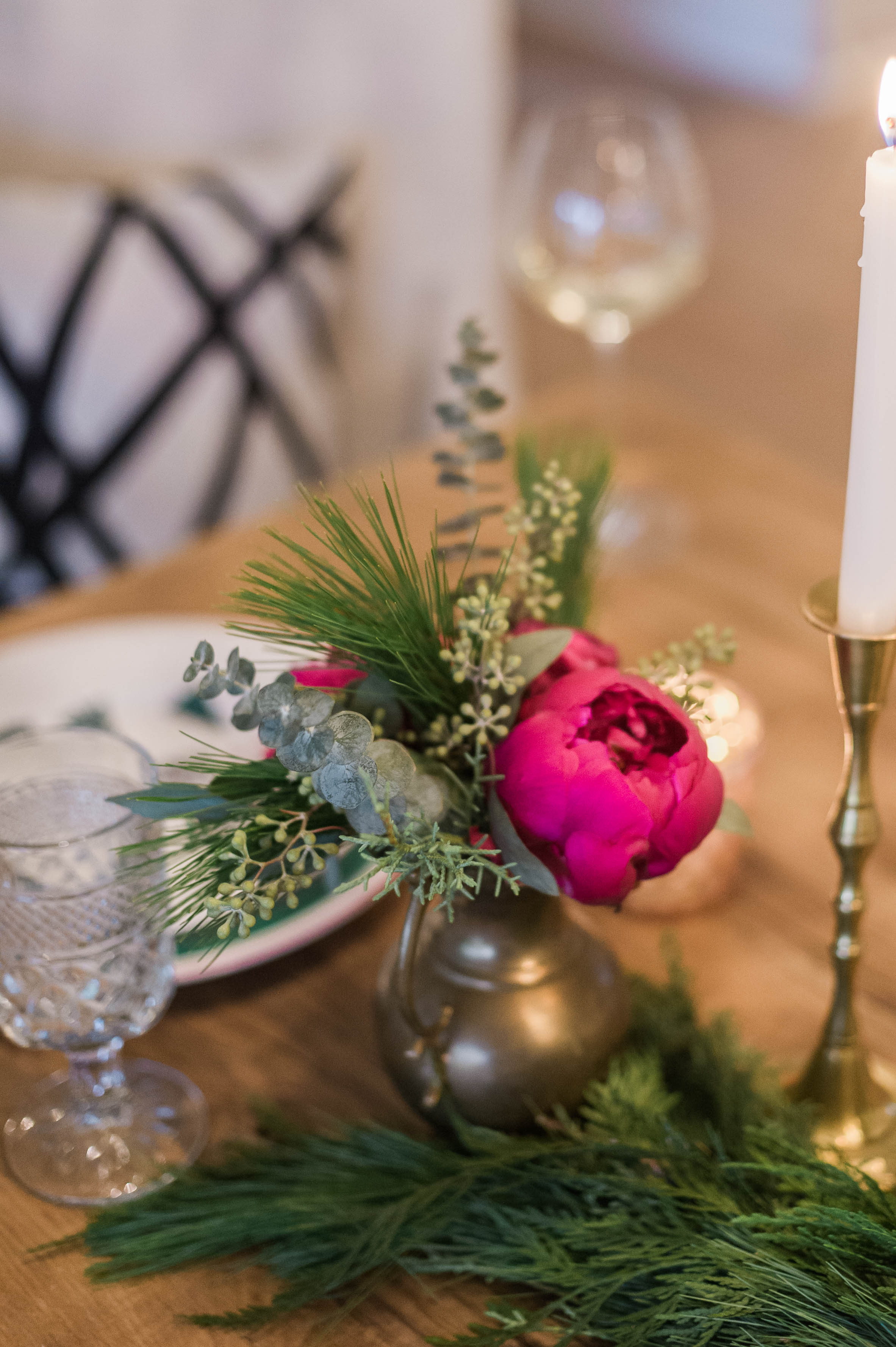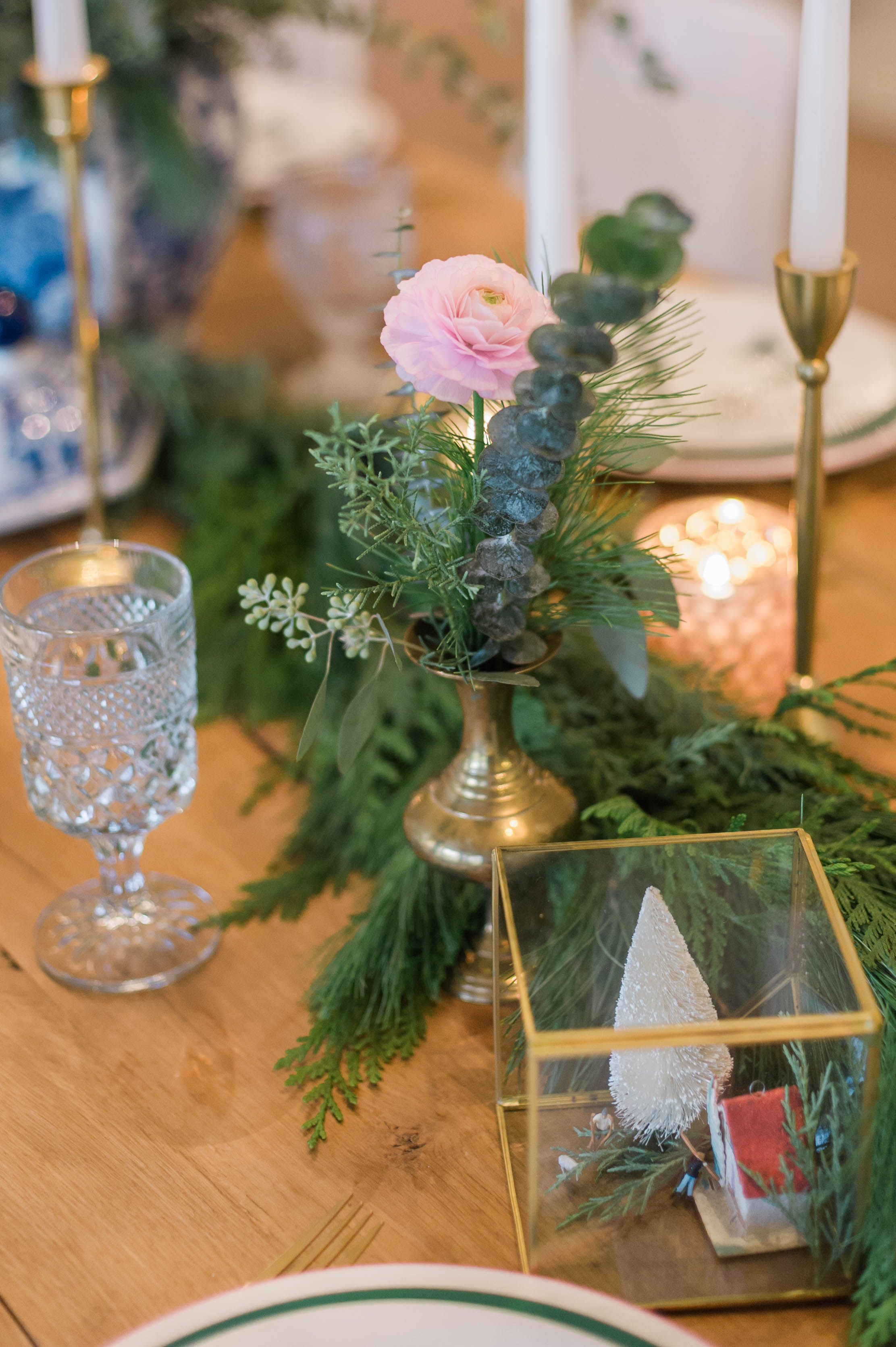 Centrepiece
In the ginger jar centrepiece, you'll find King Proteas which are just so stunning in person I can't even tell you. My centrepiece, actually,  speaks to my design inspiration for the entire dining room year around, which I designed around the idea of having incredible flower arrangements forever in bloom. There are four art prints in a little gallery wall surrounding our antique leaner mirror. Obviously, fresh flowers are incredible, but it's pretty nice when you can enjoy 24/7/365 😉 I fell in love with all of the art pieces on Maren Devine's site, but I decided to curate a little gallery wall using only the bouquets of flowers, even though I want all of her paintings. I've got some ideas for my next gallery wall of her work already;)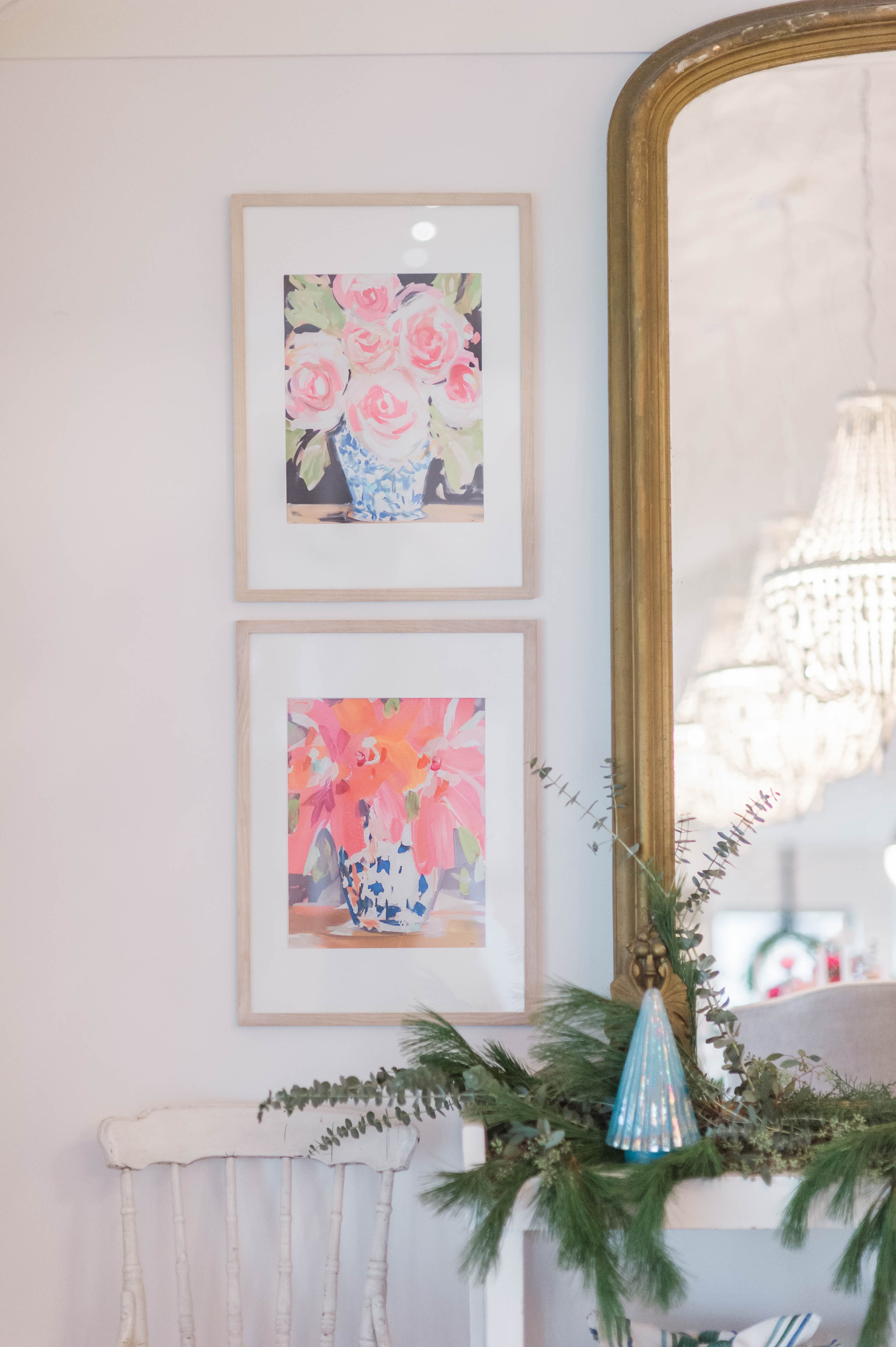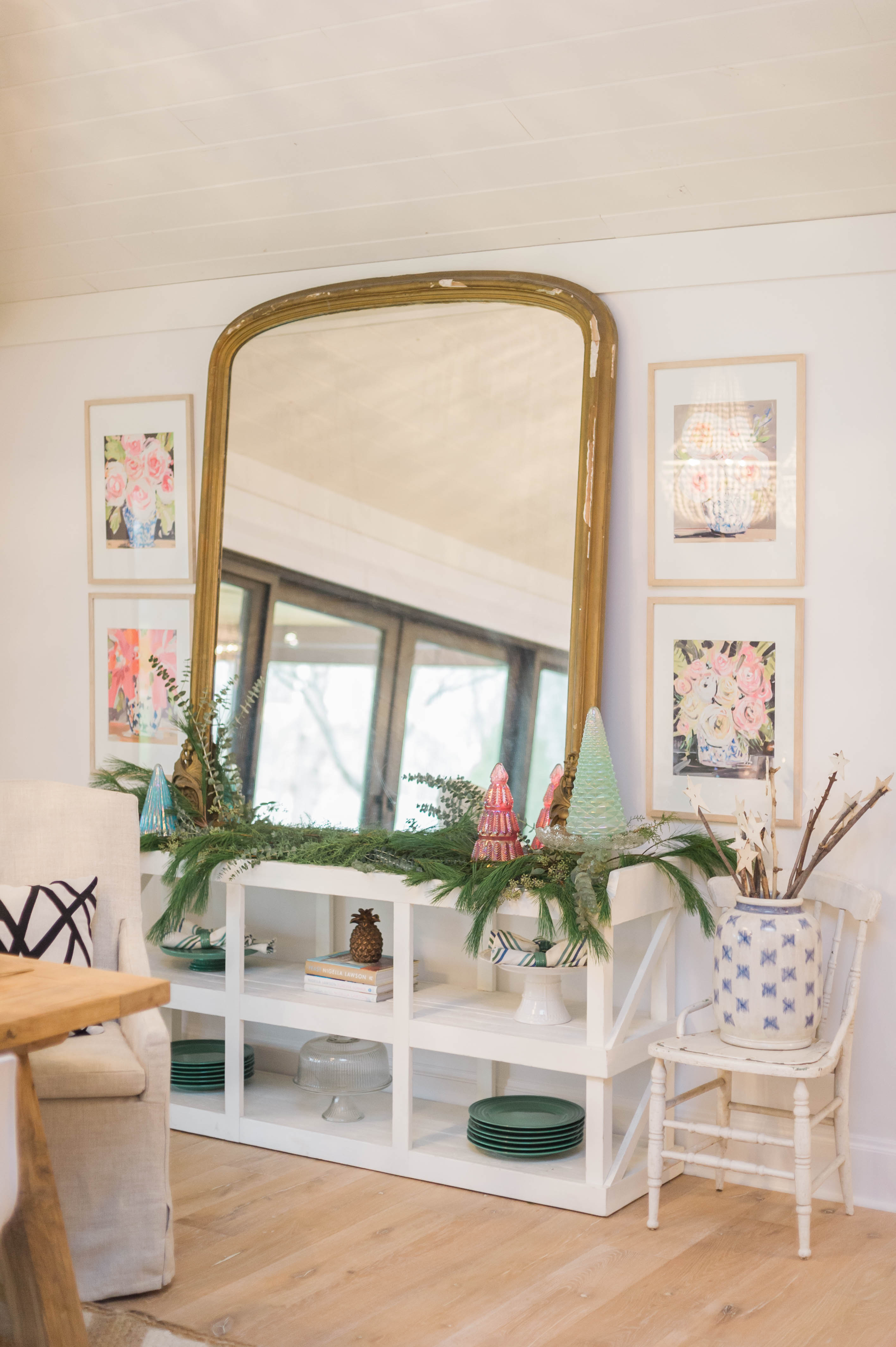 Colour Scheme
The jumping off point for my colour scheme this Christmas was the magenta runners under my dining room chairs. Both the runners and the chairs were amazing steals! You can see my entire Pop of Colour Eclectic Dining Room Tour for all the sources.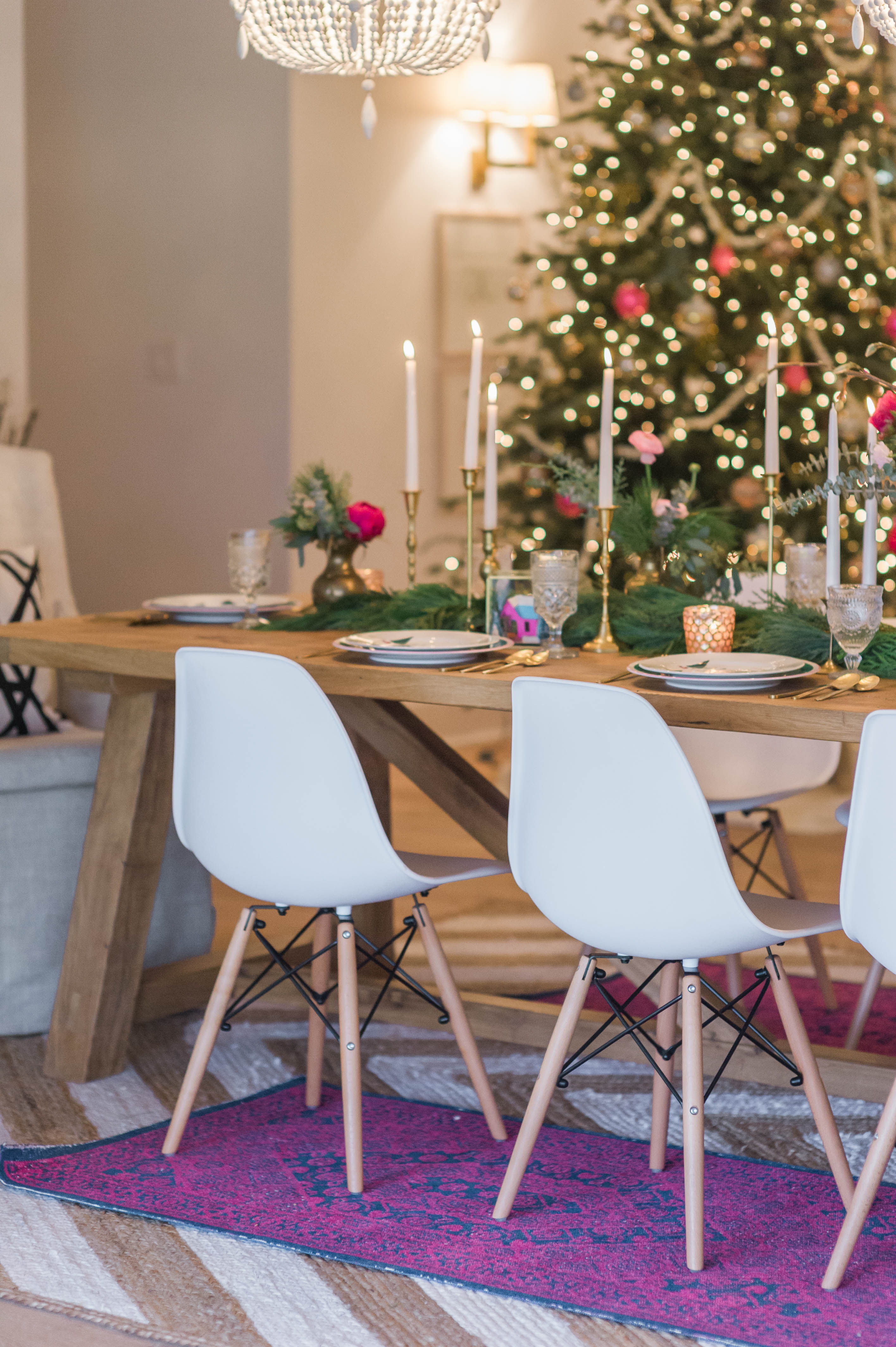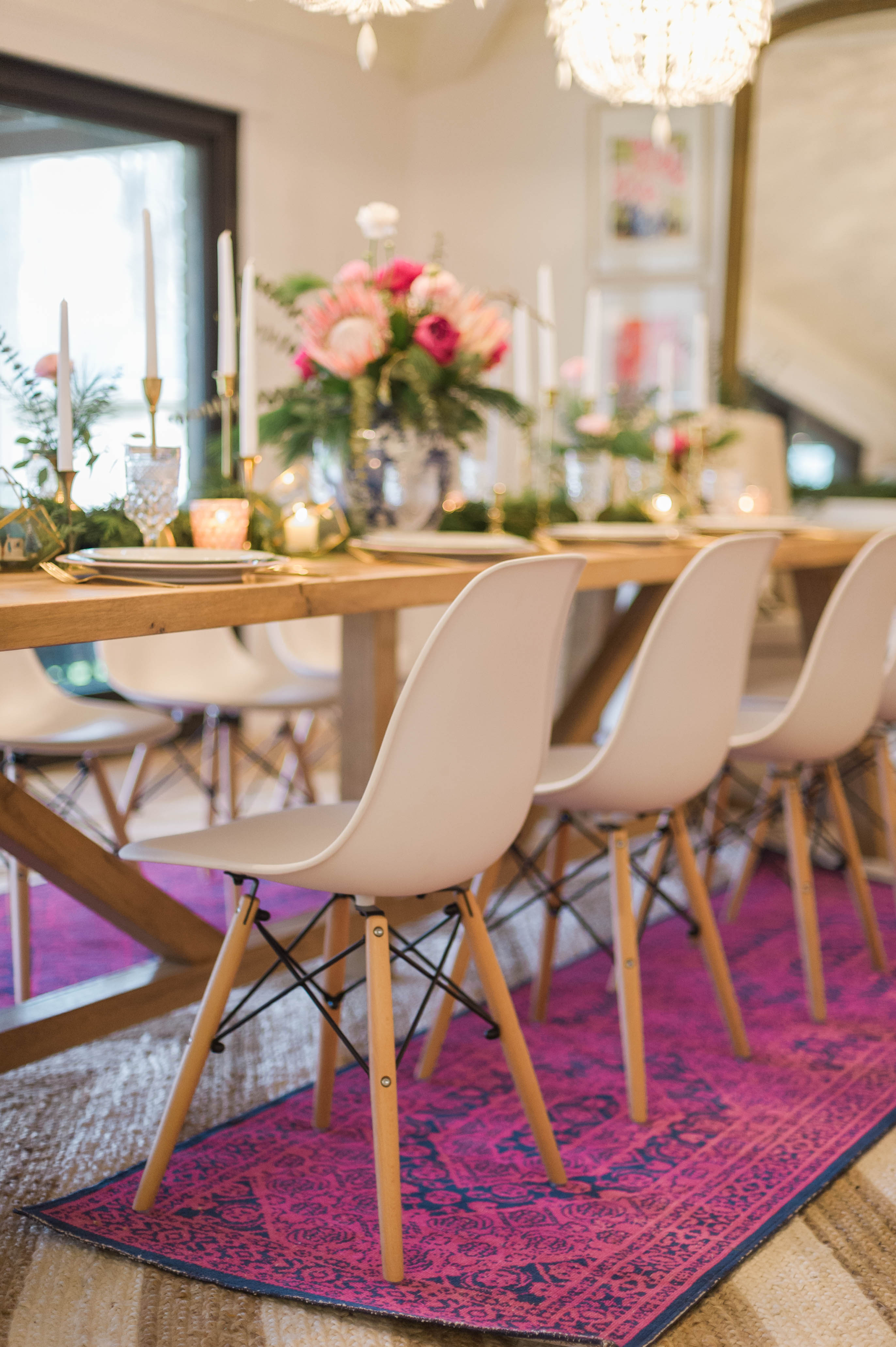 You might be thinking that my Christmas colour scheme isn't all that traditional, but I don't want my style to radically change when it comes to the holidays but rather be an extension of whatever I'm excited about in design. This year I'm excited about the "Pop of Colour" and I'm always juxtaposing modern and vintage in my home so it's the perfect blend of my personal style with a huge dose of holiday. I think that the holidays should amplify your style but don't have to influence your style.
Table Setting
My table setting was a steal/splurge situation. The plates are from Kate Spade and I got them at Hudson's Bay. (don't worry though, they were on a HUGE Black Friday sale;)…but they are still on a good sale now too!  They also sell the Kate Spade dishes at Macy's but the sale is way better at The Bay! The dishes are pink, green, and blue….I mean come on?! My everyday day dishes are green too. People say eating off of white dishes makes food look the most appealing, but I totally disagree…Green makes  everything you eat look healthy and fresh…even if it's pizza;) The gold flatware is from Target!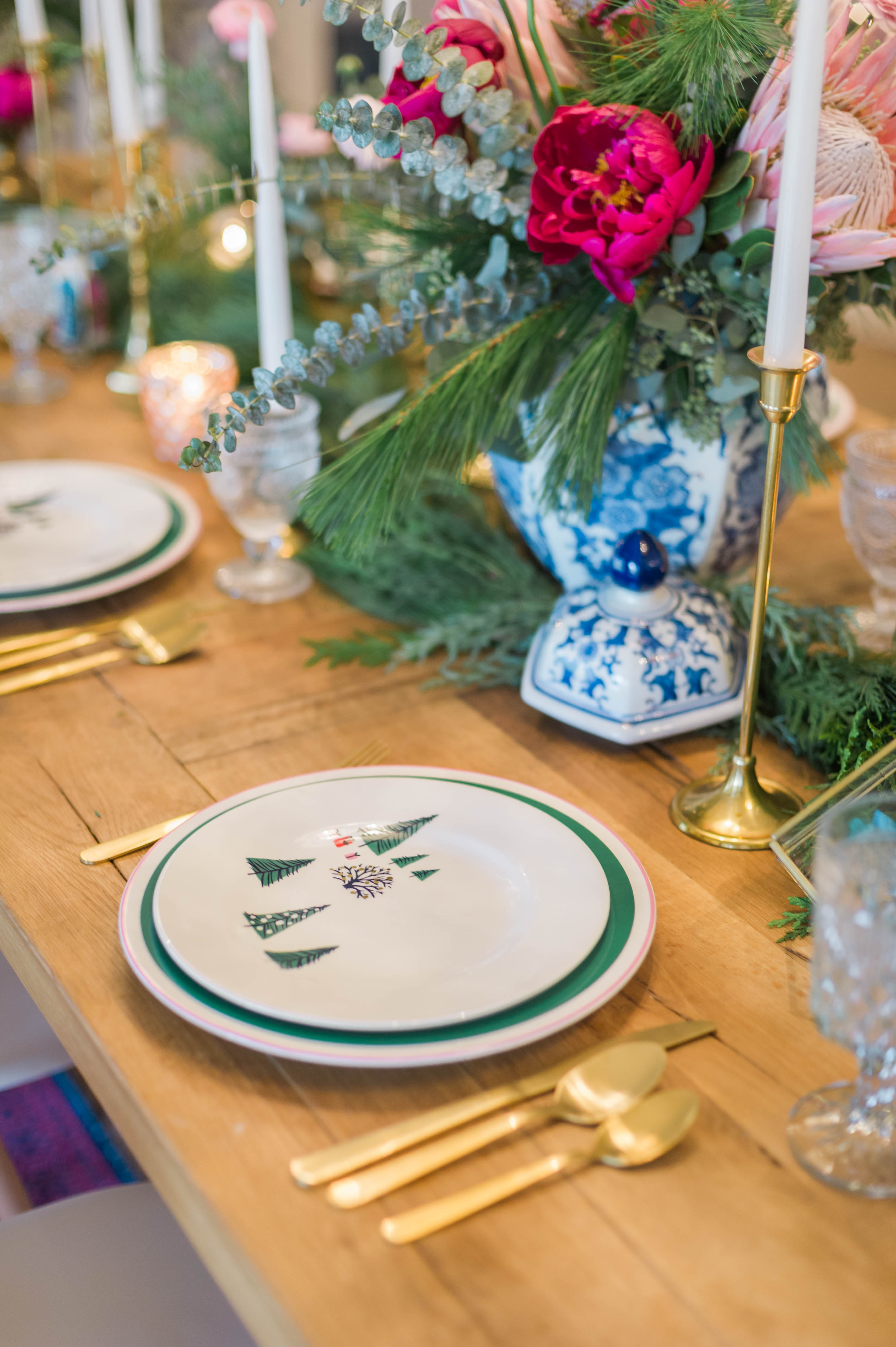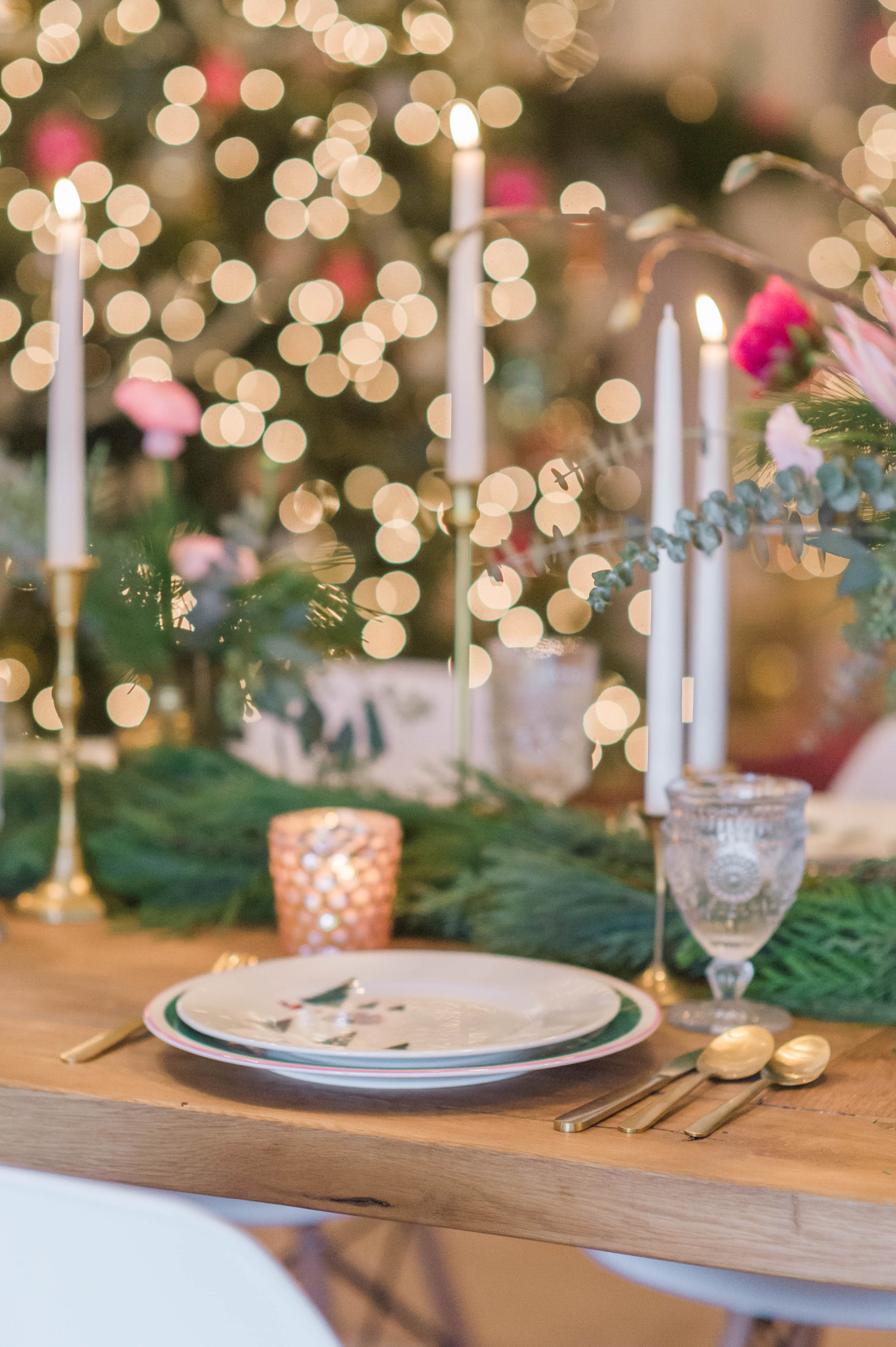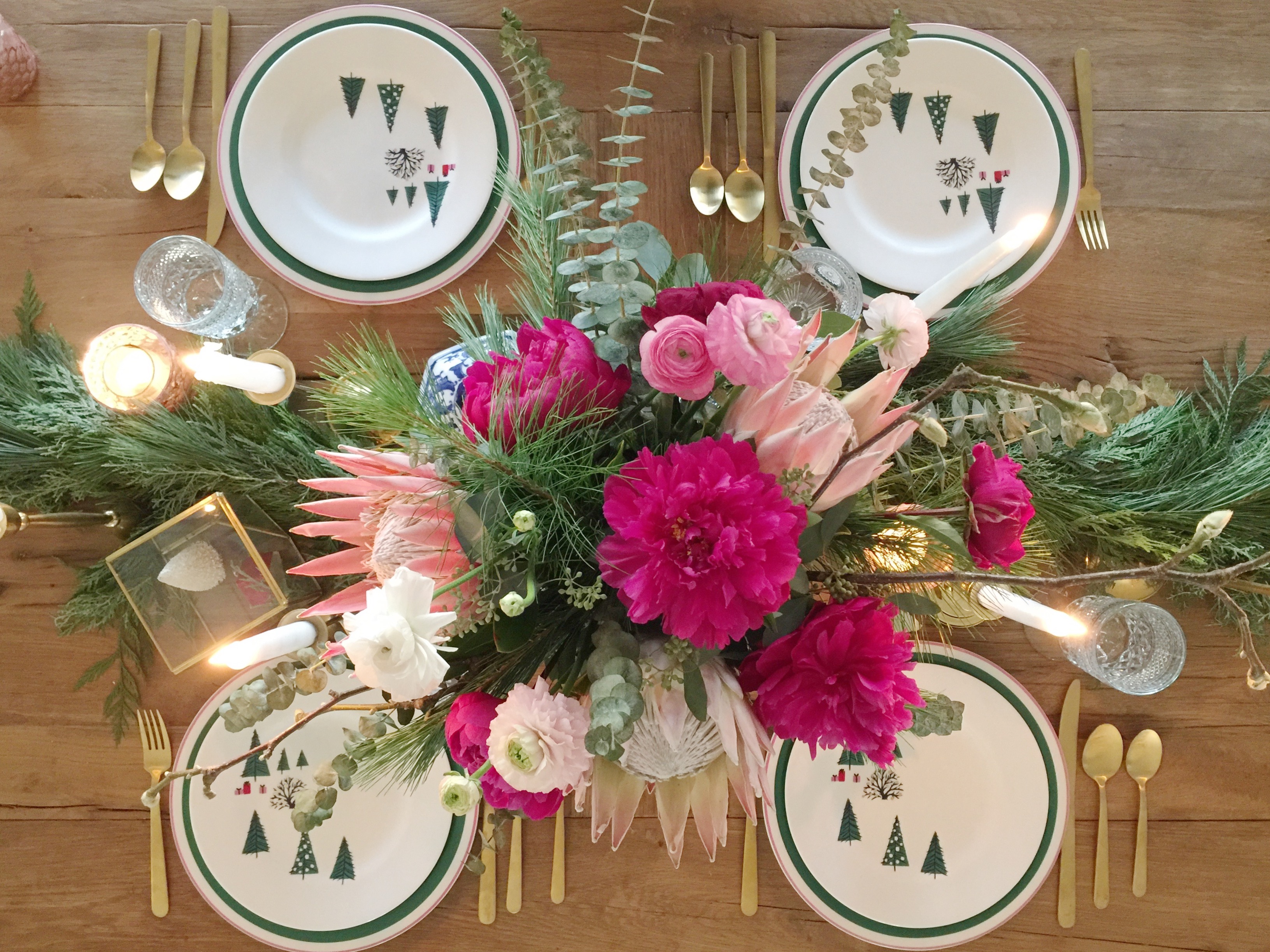 I love the romantic vibe from the candles and they burn for hours, so they can last for your entire party. the mix of votives and tapers makes things feel layered and intimate and whimsical at the same time.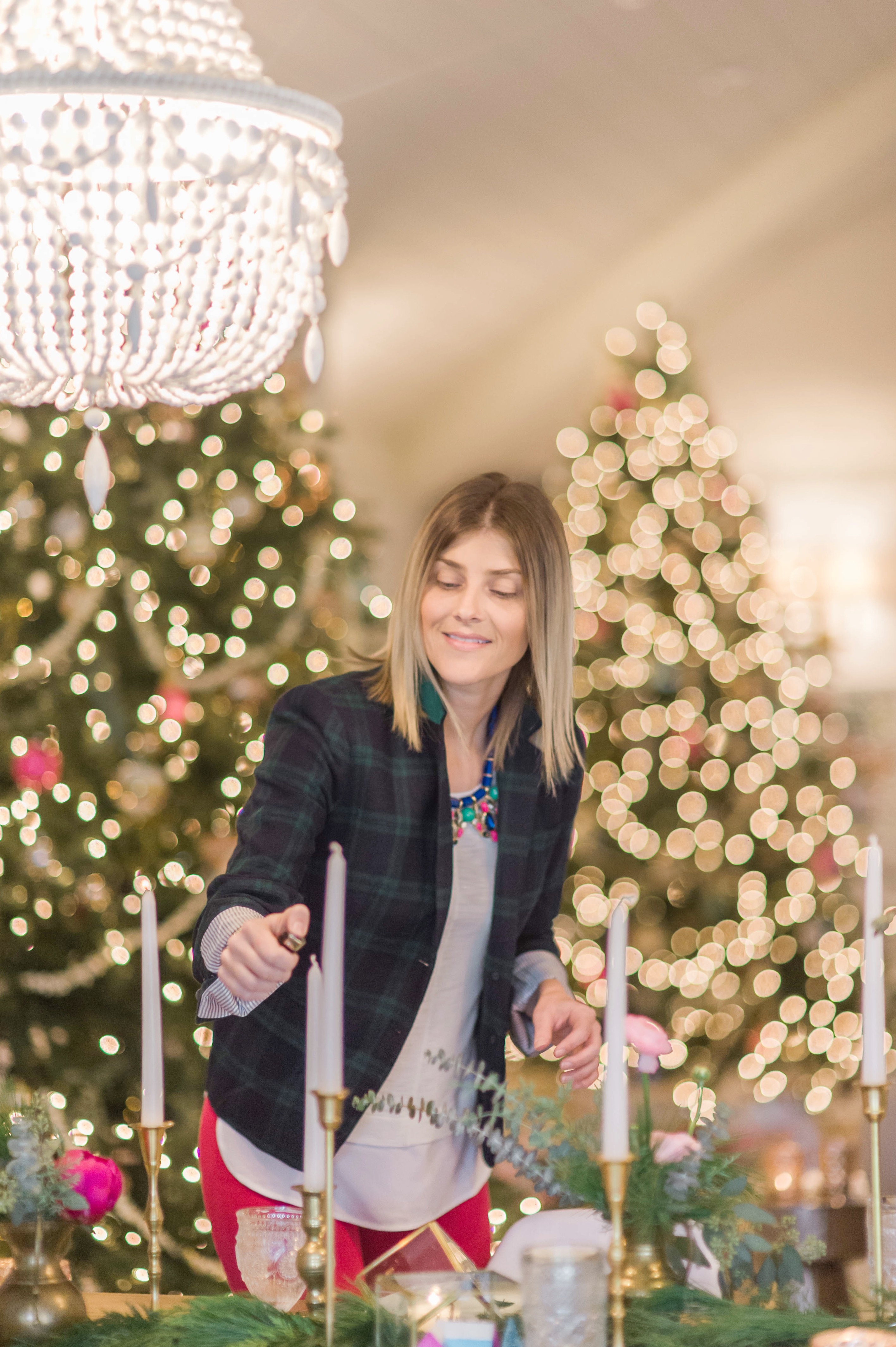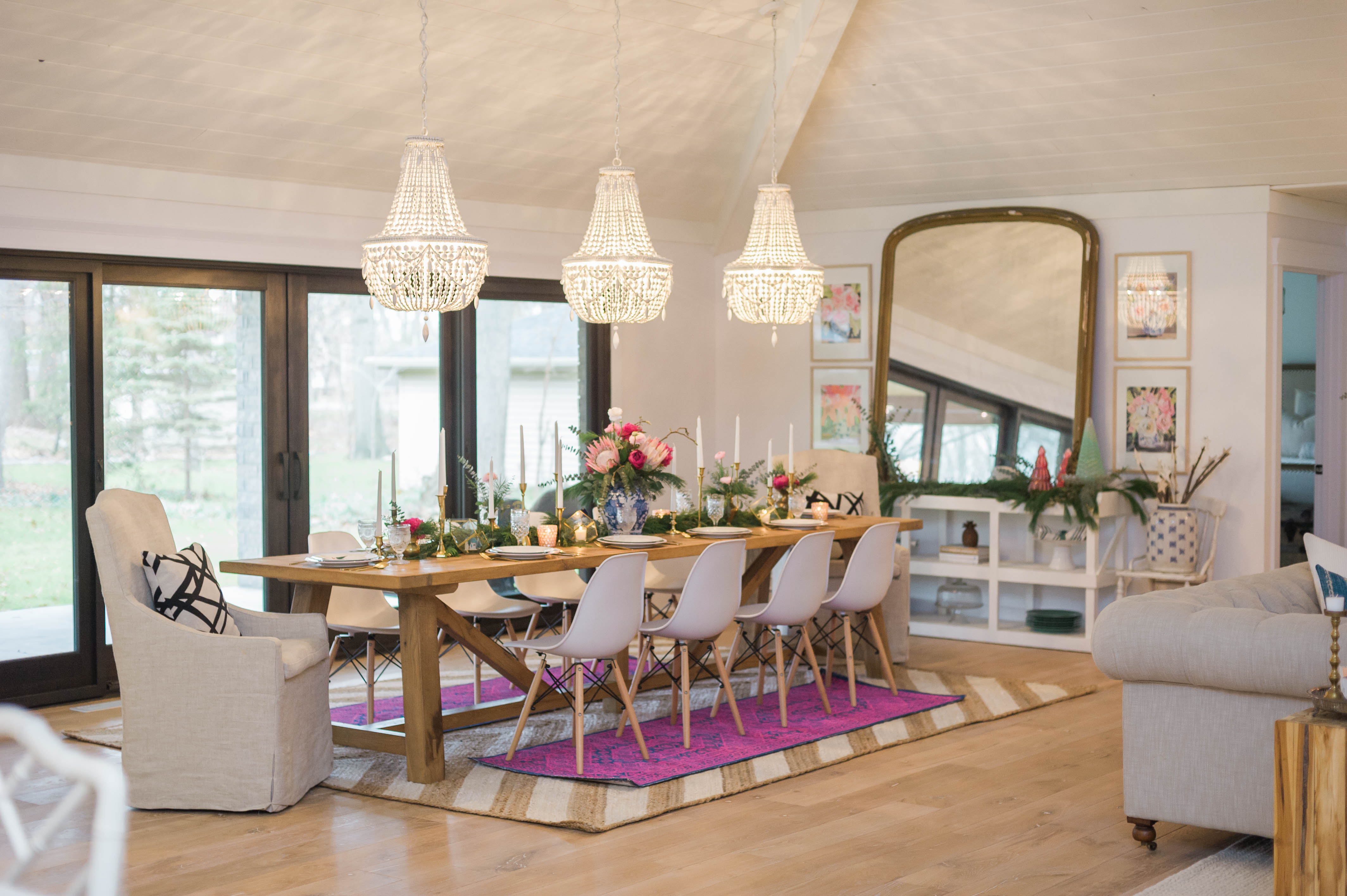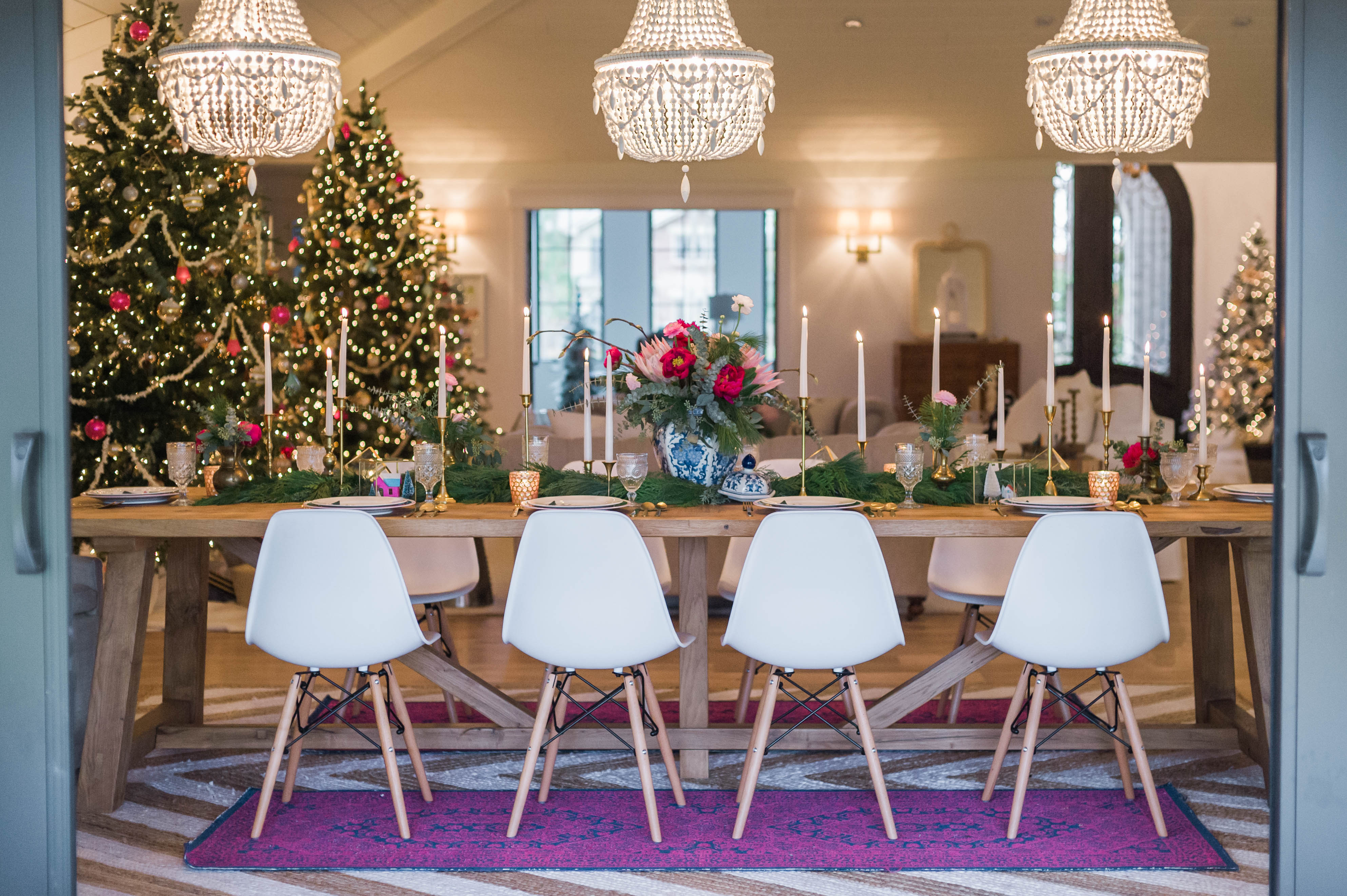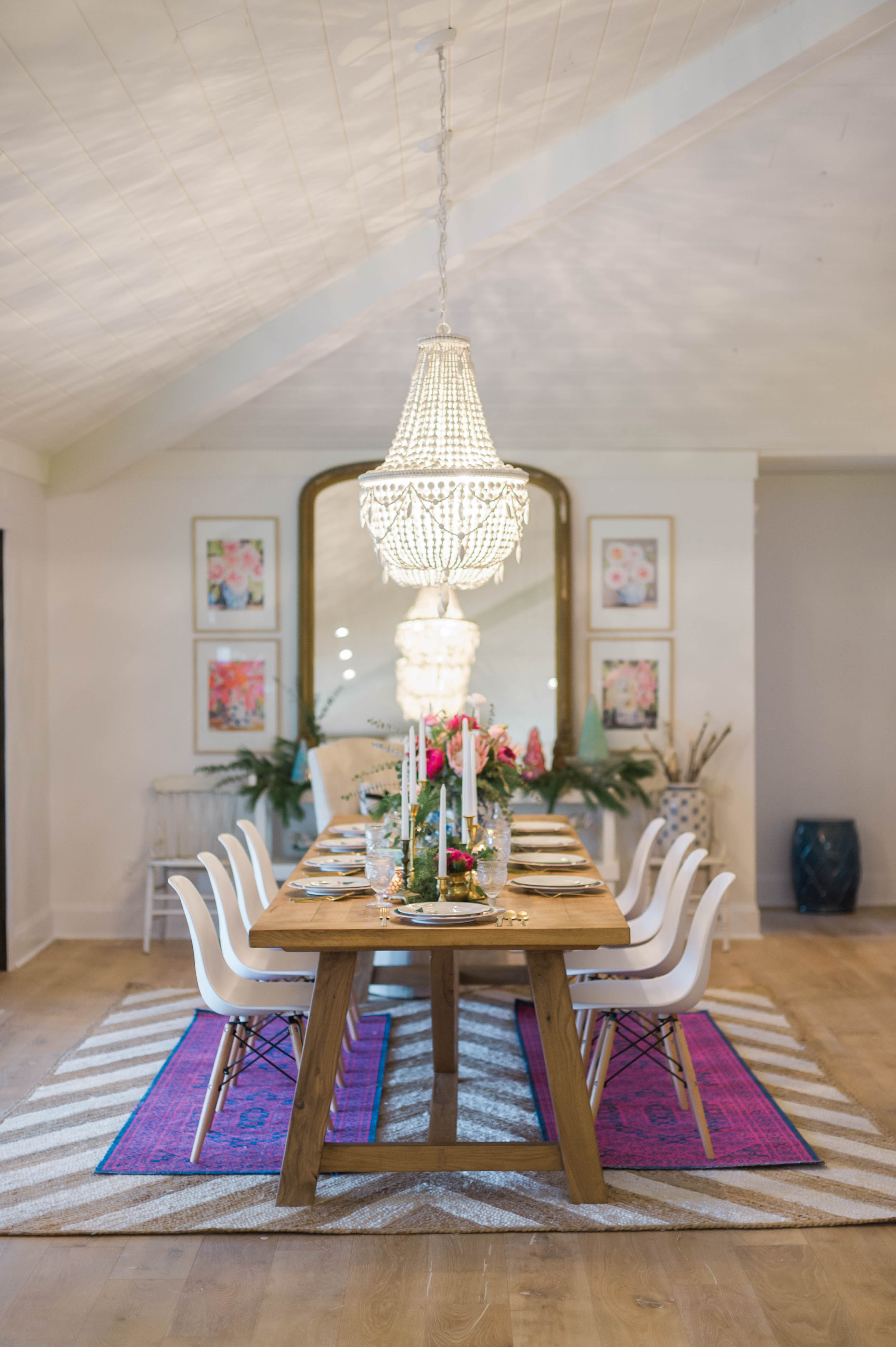 If you'd like to see my Modern Vintage Holiday Living Room tour, which was just featured on the Glitter Guide Instagram account!! click here!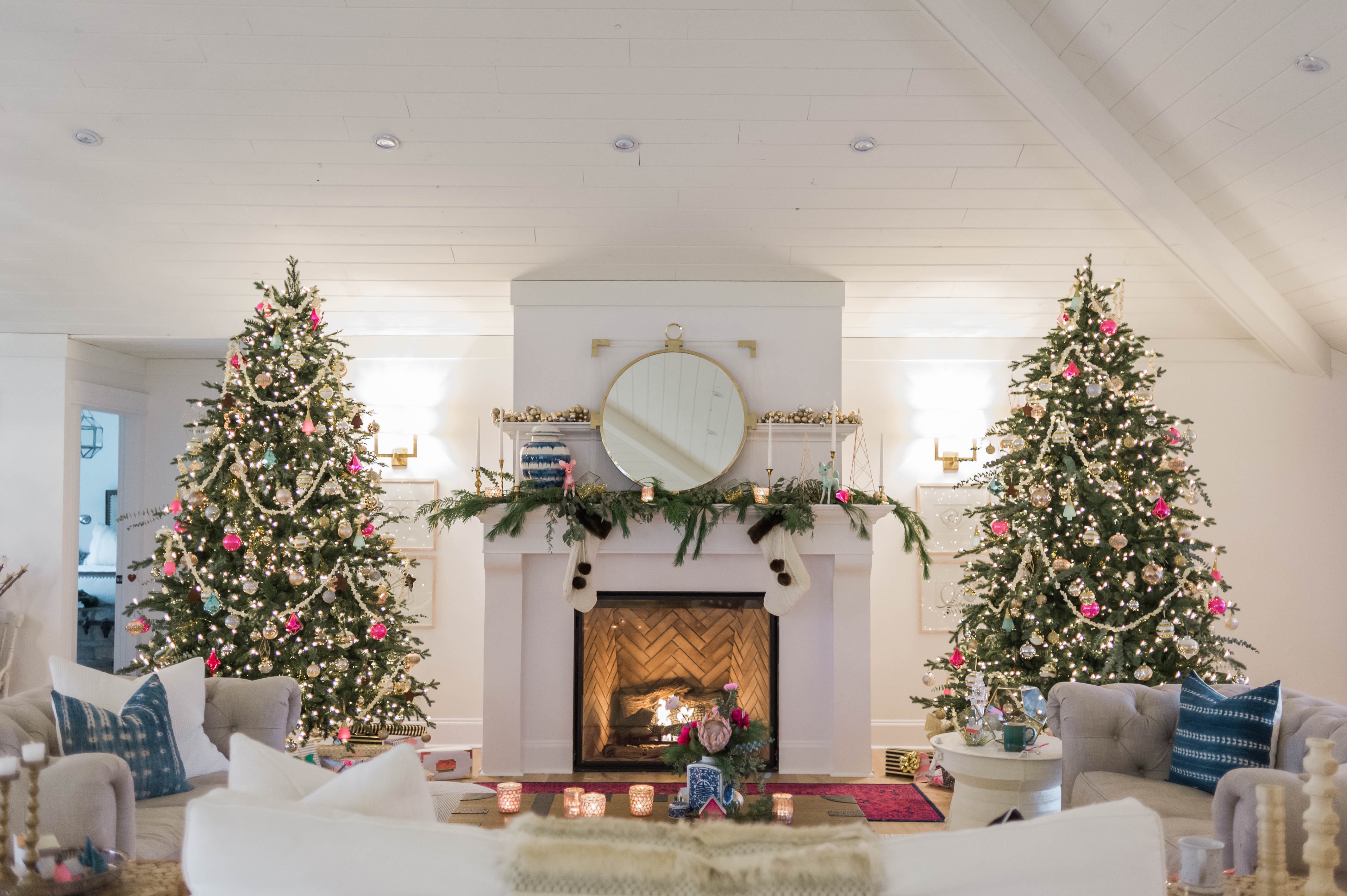 All of the Greens and Flower Arrangements were pure perfection and created by the super talented Cori Heer from CJH Florals
Photo credit: Vicki Bartel
Thank you SO much for stopping by! This was so much fun!
Your next stop on the Deck the Halls Christmas Home Tour is Eye For Pretty! You can also see all of the other amazing tours below!
MONDAY – ENTRY/PORCH
StoneGable | Decor Gold Designs | Eleven Gables
Randi Garrett Design | Dimples & Tangles | Dear Lillie | French Country Cottage
TUESDAY – LIVING ROOM
Jennifer Rizzo | Sita Montgomery Interiors | CC + Mike
Lindsay Hill Interiors | I Don't Know How She Does It | Shabbyfufu
WEDNESDAY – KITCHEN
A Thoughtful Place | Thistlewood Farm | Maison De Pax
Craftberry Bush | Shabbyfufu | CC + Mike
COMING
FRIDAY – BEDROOM
Edith & Evelyn | Randi Garrett Design | French Country Cottage
Decor Gold Designs | Life On Virginia Street | Zevy Joy