Hi Guys! It's week 4 of the One Room Challenge. Did you hear? Due to natural disasters affecting some of the participants they are extending the competition by 1 week, so instead of 6 weeks there will be 7 weeks to finish projects. You know what? I'm dying to reveal the kitchen, so I'm a little disappointed BUT my backsplash is not in and realistically I probably need every extra day that I can get! lol…I'm ready to be done though that's for sure!
If you're new to my Colourful Kitchen Renovation check out the full story here:
This week's update is all about the kitchen sink! If you've done a kitchen reno before you'll know that when the sink is installed and you get running water, you are super close to the end!
I've been hinting a ton about the fact that I wanted a pink appliance. If you remember back to my original inspiration pictured below I showed a pink range.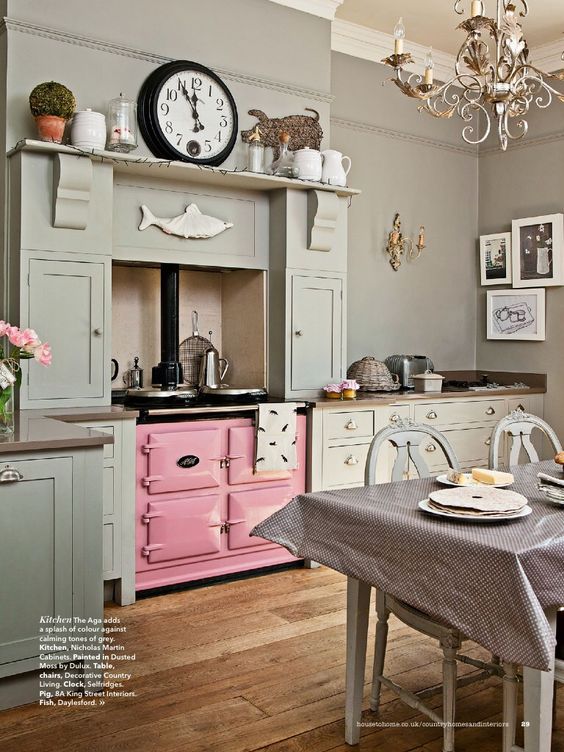 Well I don't have a surprise pink range, but I did get pink countertops!!
Record skip…no I'm just joking! No pink countertops…could you imagine that?!? lol! Better than a range, or fridge, or dishwasher in pink (all highly considered) I found a pink SINK. (This isn't called the Colourful Kitchen renovation for nothin'…colour explosion!)
Pink Sink
I'm serious. It's the most stunning, original, quirky, conversation starting piece in the kitchen by far! My 3 and half year old daughter keeps telling everyone that we have a pink sink. Her teachers have all asked me if they have heard her right and if we really have a pink sink. I'm over the moon to report that it's true, we've got a pink sink.
The cabinet makers kept asking if I was serious, the backsplash tile manufacturer made me send a pic. It's honestly all anyone is talking about….THE PINK SINK.
My sink is made by Whyte & Company. I know right?! They manufacture coloured sinks and the name is Whyte…I love it! They actually make every colour your little heart could dream of and I'm really proud to be the first installed blush pink sink. As far as "trend forecasting". I think coloured sinks are a HUGE one….why not personalize this aspect of your kitchen, bath, bar, or laundry?! It seems crazy not to!
I'm going with an undermount sink because I've had aprons in the last two kitchens and would love a change, so I'm so happy to have found a new take on the kitchen sink…I'm all in!
BUT WAIT…she makes coloured apron sinks too…mmmhmmmm….I'm just personally wanting to go to an undermount but I fully get the apron attraction people…it's a gorgeous option too. No discrimination, there are even drop in coloured sinks for people who just need the colour minus the renovation!
Here's a shot of the sink that I ordered….The Bobby! It's f'n dreamy! (had to swear…had to!)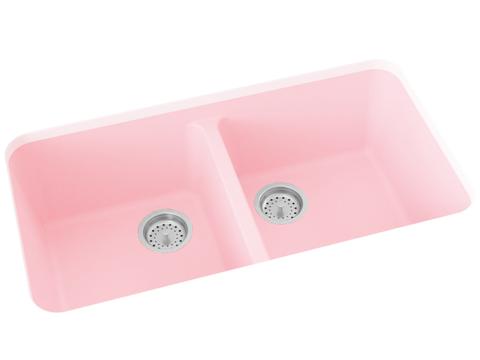 The CEO of the company, Kim Vance, started Whyte & Company, when she couldn't find a purple sink online. I remember laughing so hard when she told me the story. She said she googled like crazy and couldn't find a purple sink and realized she needed to start a coloured sink company because it was a completely untouched area in the market. Speaking to Kim on the phone is unforgettable…she has so much passion for what she does. If you order a sink, you'll get to talk to her because each sink is completely custom made for you…You're gonna love her and tell her I said hi!!
Another memorable thing this #bossbabe said was that people often ask her, what happens if you no longer want a pink sink one day?" Her answer was AHHHHMAZING! She said, "that's what Craigslist is for." She then asked me if anyone keeps anything "forever" anymore?! I loved her answer because it's so damn true!! We spend (well I spend), so much time asking myself if I can love something "forever" and it's such an unrealistic pressure to put on yourself. Live a little…let colour in you guys and you will never regret it!
I can honestly tell you that I'm not minding doing dishes at all, since I now do dishes in pink water…I hope this side effect does not wear off!
Sink Samples
I love her samples…it's an actual piece of the sink material (which is a blend of stone and resin), in its exact colour, that you can order to feel it and make sure it matches your space. Here are some of my favourite colours from the 30 OPTIONS….yes 30….bye bye white and stainless! Mine is the first…in blush and it's RIDICULOUS how much I love it. Just saying. However, there was a silver sage moment of indecision…lol!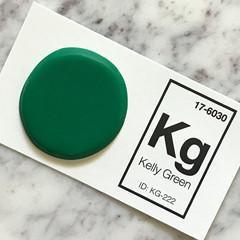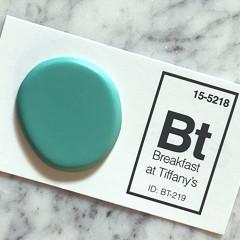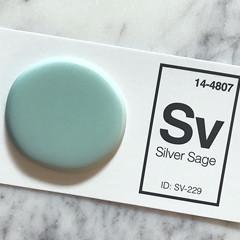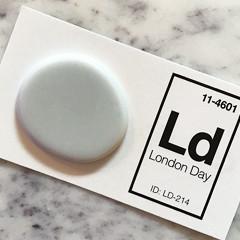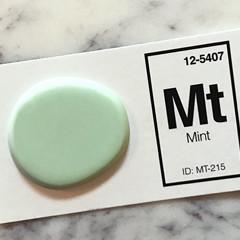 Ok so here is a sneak peek of our sink being installed…but I'm saving more for next week! It's just too good to give it all away you know?!?!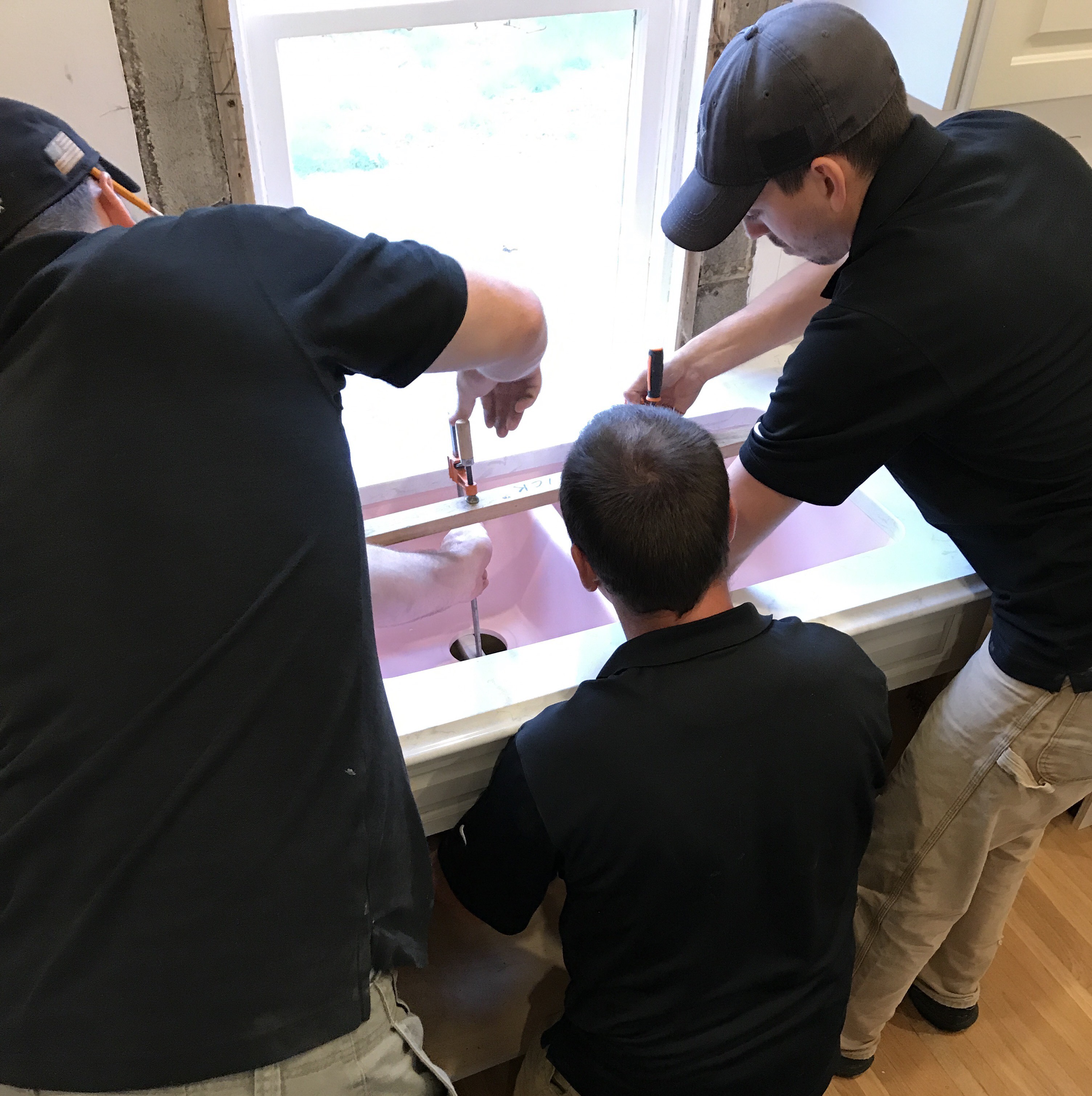 WAIT, how could I forget to ask this, what colour would you choose for your sink?!?!
Next week, I'll share our countertop choice and photos of it installed, as well as our new faucet! I am in the process of finalizing the backsplash…so there is a ton of fun details to come…and then I'll show you the sink in full effect too!
Don't forget to check out the rest of the One Room Challenge updates!