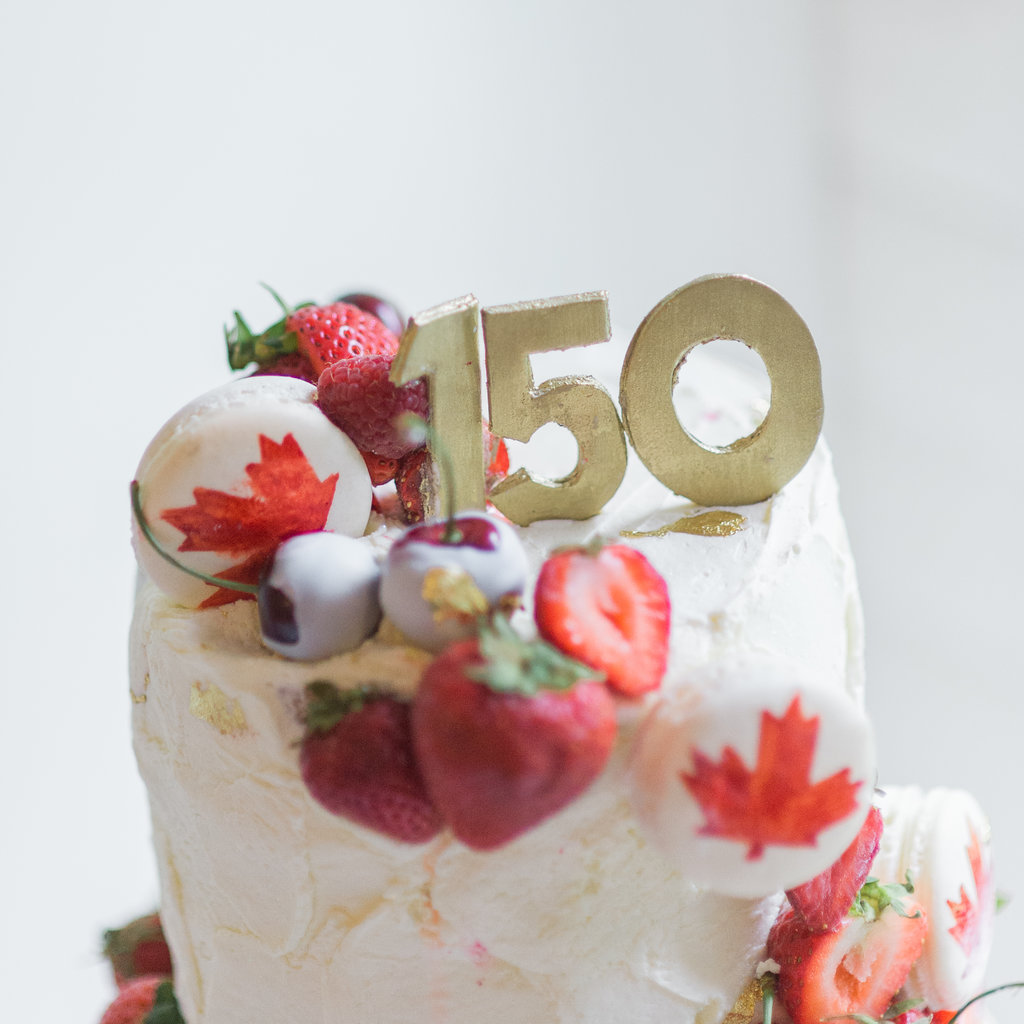 Honestly, Canada Day Festivities are on overdrive this year and I'm loving every minute of it! It feels like the entire Country is so excited for the iconic 150th Birthday! If you're like me, you like to take family photos that turn out beautifully!  So, this year, I'm sharing 7 Canada Day family photo shoot ideas! All of these ideas would work for the 4th of July, by simply adding in blue!
All photos were taken for us by Vicki Bartel
Get outside with a flag! Grab a flag and head outside with the whole family and run around with the flag. It's so simple and the photos turn out so beautifully!

String Canada Day Lights! (You can get the Red and White lights at Canadian Tire…they would be awesome outside, but I love the party atmosphere they create in my kitchen! And they really make the photos pop! At under $15 for a 24ft strand you can't go wrong. I used two strands to get my look. You can also share your patriotic shots with the rest of Canada on social media, by hashtagging #RedandWhite 
Get Baking! Bake a cake together, ice it, and cover it in strawberries, cherries, and raspberries! We were so lucky to get out 3-tier cake from Shelby's Sweetshoppe and then we iced it and decorated it with berries and Shelby's homemade maple leaf macarons!! Yummmm!  If you haven't been to Shelby's you are missing out. Check out her Instagram here but beware, you'll be ordering macarons within minutes!
Cool off outside with frozen treats! Drumsticks were out ice cream drug of choice  because they have such a fun and classic vibe! They are also covered in nuts which slowed down the melting, to make time for a bunch of fun shots! 
Wear your red and white and blow some Bubbles…We got these maple leaf bubbles from the dollar store and it's so cool that you can see the bubbles in the foreground of the shots!
Jump through the Sprinkler! I think this was my favourite idea, because it's so simple! I had no idea that there was a "sprinkler face" but apparently there is because we're all making it!7. Wear an eclectic mix of red and white clothing for your shoot!  You need to coordinate your clothing and props for a really put together look. I actually wrote a full blog post last year about how to style clothes for a photoshoot on Canada Day and the 4th of July. I have tons of ideas for both holidays and awesome photos from last year's shoot. Which reminds me, I've been officially blogging for 1 year because it was one of my first posts! Here's a couple images from the post, but read the full post with all of my clothing photo shoot tips here! I had so much fun making these Canada 150 memories! Let me know if you have more ideas…I'm addicted! Don't forget that all of these photo shoot ideas would be perfect for the 4th of July by simply adding blue to your colour palette! If you'd like to see other ideas for having a fun photoshoot in your kitchen check out this post!