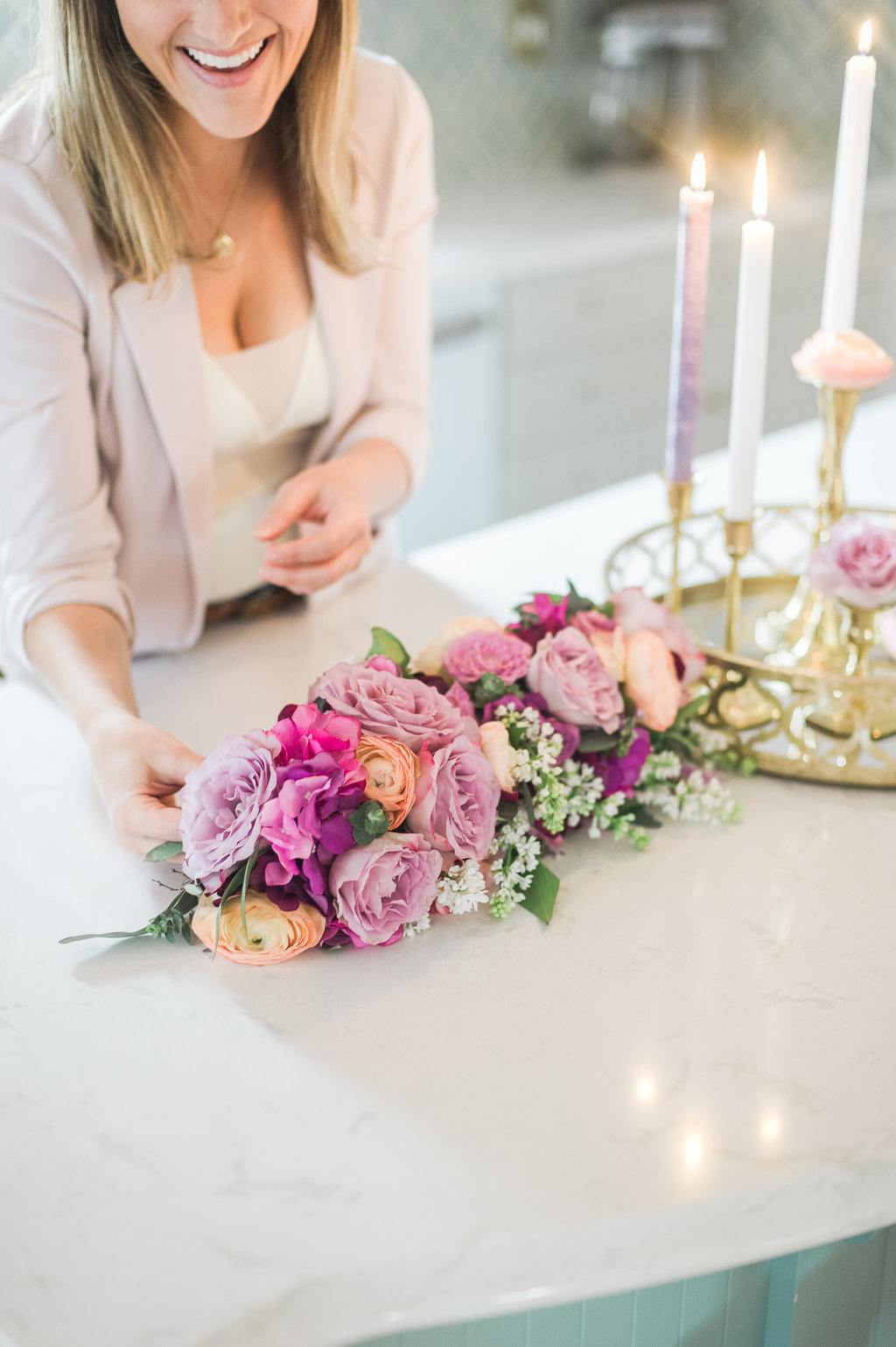 Happy Valentine's Day! I don't know why, but I love decorating for Valentine's Day! I think it's because the house feels so bare after Christmas and it's the perfect reason to go big again! AND no matter what holiday, I love kitchen styling!
Colour Scheme
I'm so obsessed with this year's Valentine's Day Kitchen colour palette! I could just eat it up…such eye candy! Cori Heer from CJH Florals just knocked it out of the park. My Christmas colour scheme was mint and lavender and now I'm tying in those same colours, but punching it up with peach and deeper purples! I love how the cooler lavender tones make the minty blues in the kitchen cabinets and backsplash really pop!
Kitchen Island Centrepiece
The island has a floral garland running down the centre broken up with a brushed gold tray. Right now I'm really into having less on the countertops and clean space in my designs, so the only things in the tray are a few brass candlesticks with candles and flowers sitting in them.  I love the look of the candlesticks holding the blooms (Such a good idea Cori!)…I'm going to be expanding on this good idea when I finally complete my dining room overhaul!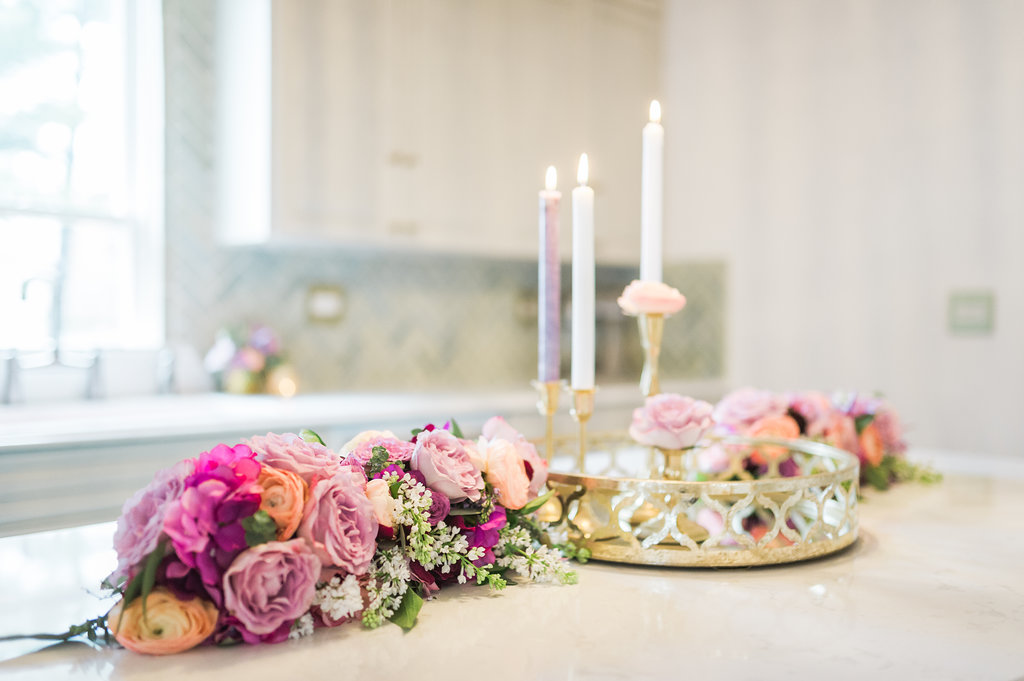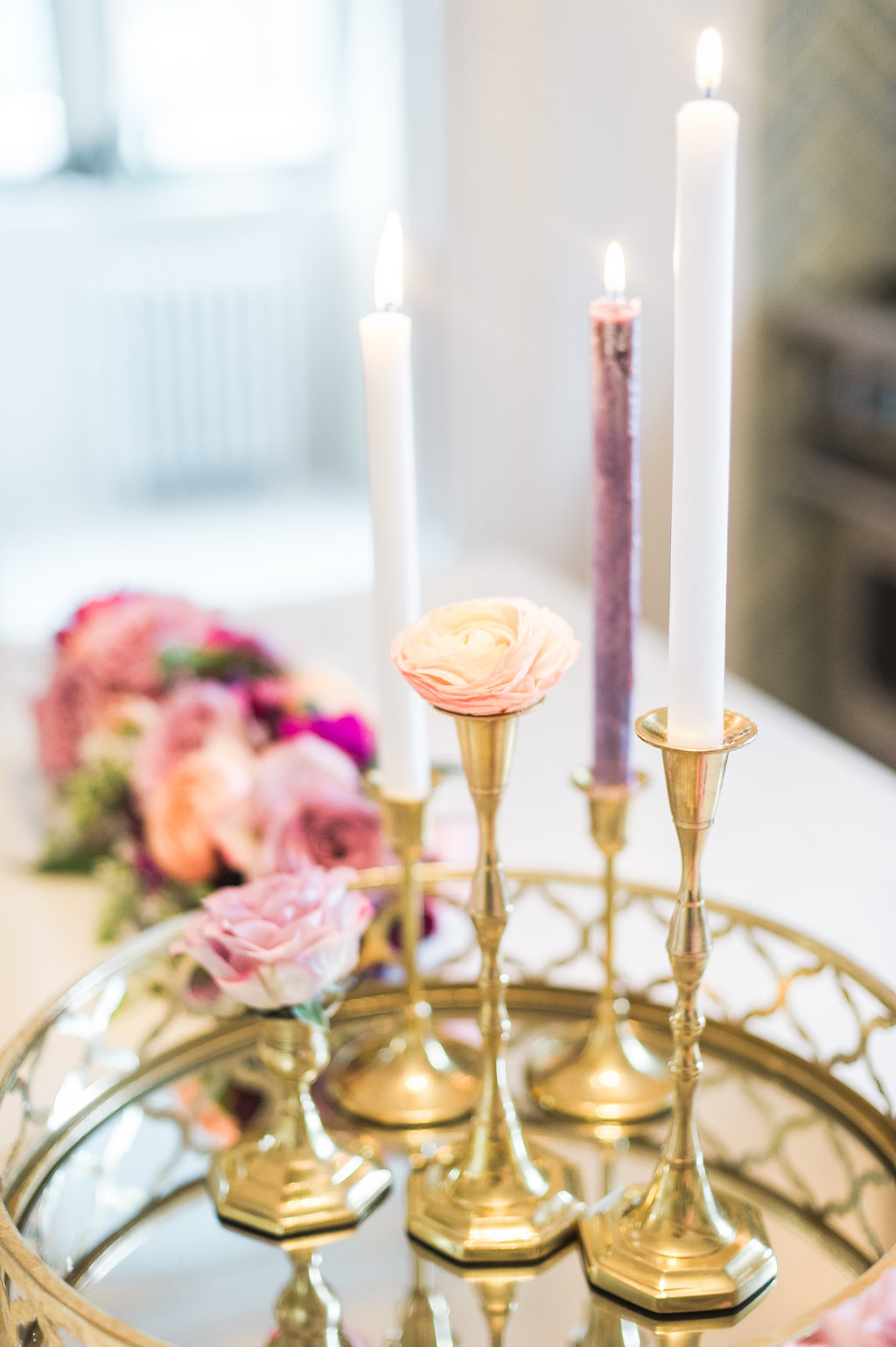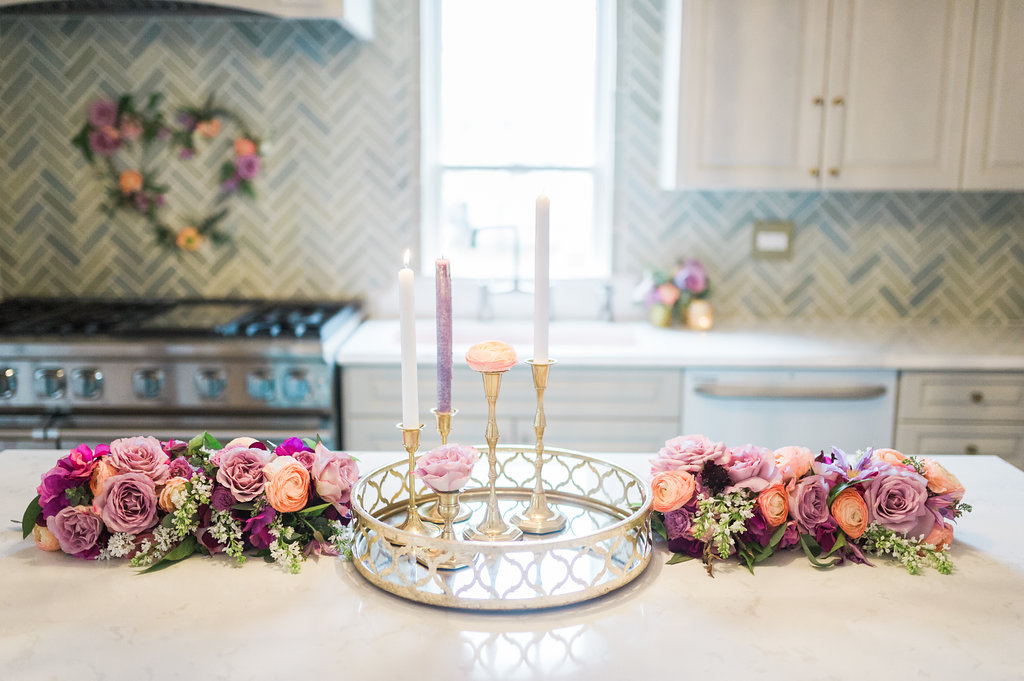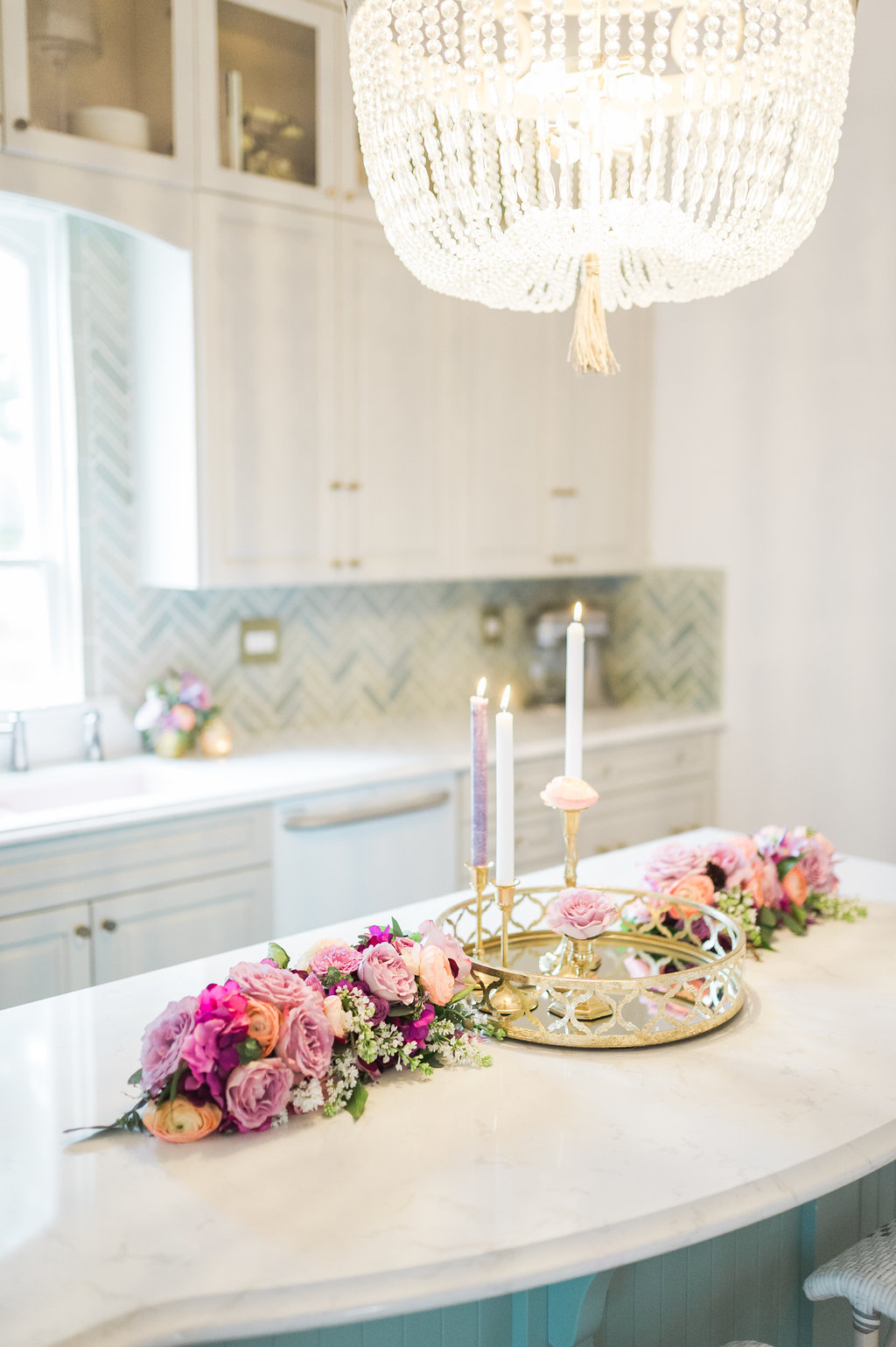 Gold Tray
Lastest Design Obsession: My Kitchen Mantle
My Lastest obsession is coming up with new and creative ideas to style the mantle above the range! When I designed the kitchen I wanted the shelf to be as deep as possible and the cabinet maker was so confused because he didn't think I would actually put stuff up there. Ummm hellllrrrr….it's like a second mantle! I like it even better than my fireplace mantle to tell you the truth! It's such a perfect "moment" to add detail in the kitchen. This thought makes me want to design another kitchen!!
One of my favourite Valentine's Day Kitchen styling details ended up being on this mantle and is the line of simple candlesticks above the range. This touch is so romantic and simple (a.k.a. uncluttered…I'm crazy about it!) I'm also loving the simple touch of a few lavender candlesticks for a little extra something. You would not believe this, but the lavender candlesticks are from the Dollar Store!
Design FYI:
You can never, ever get every taper candle to stand at the same angle so don't stress about that. I love having tons of tapers on a table and there are always, always wonky candles and who cares…you know!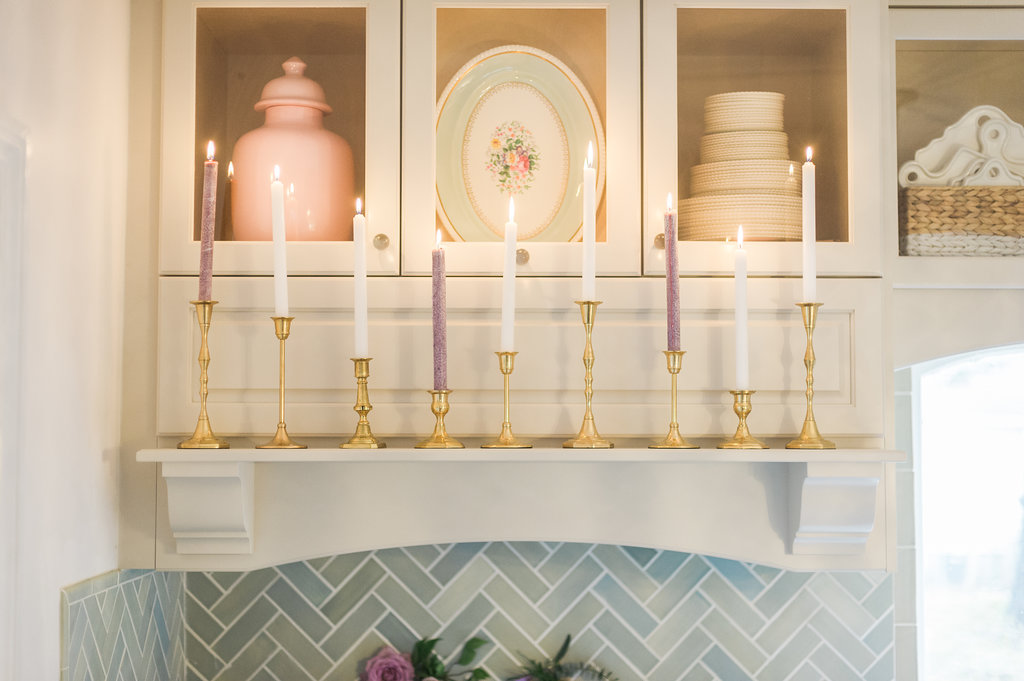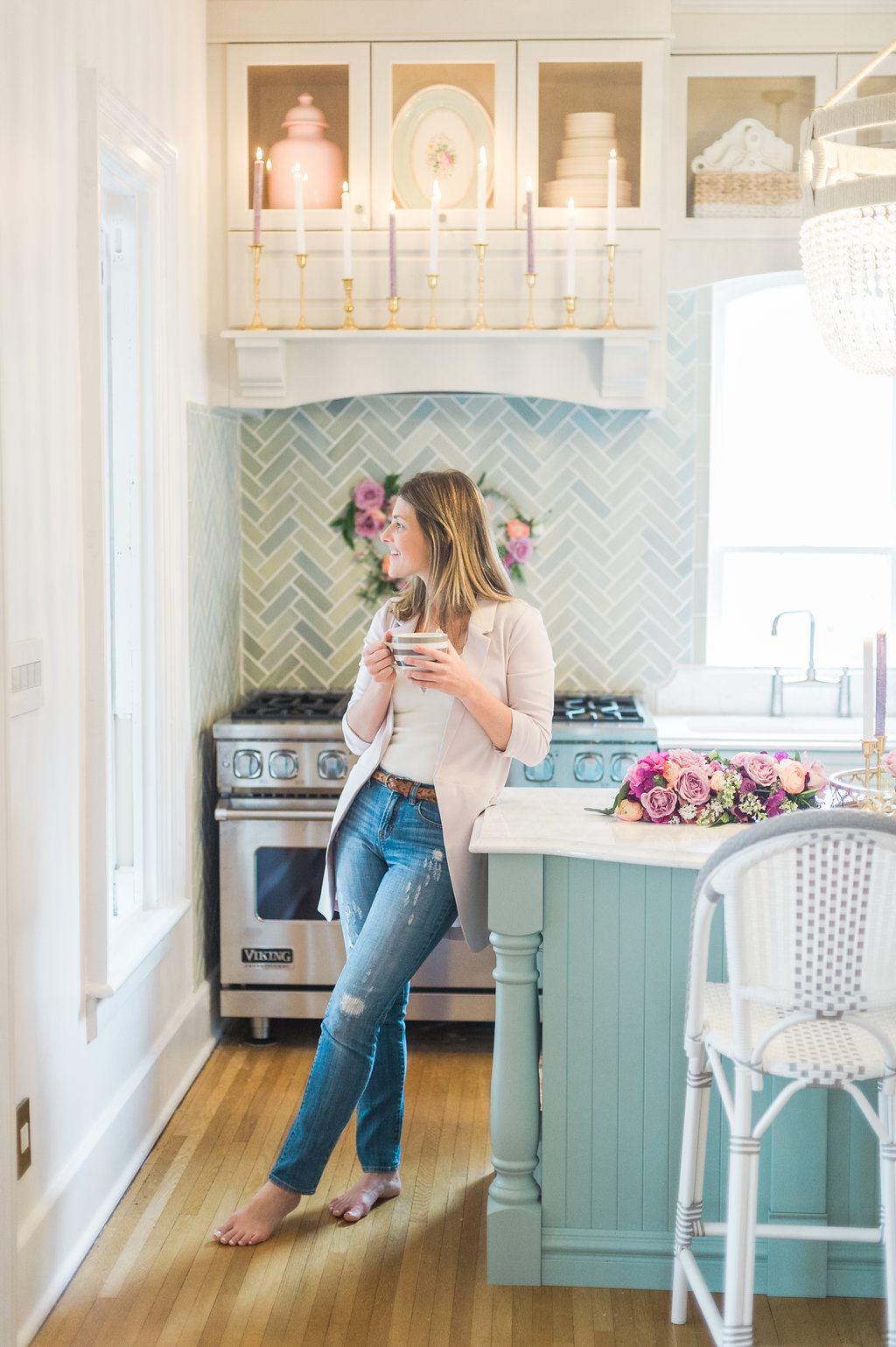 Other Obsession: Big Open Space Above the Range
I'm now signing some version of "Home on the Range" suddenly and I'm sorry…no one wants to be signing that…no one.
So yes the big, open spot over the range always makes me want to break up the backsplash somehow and is another exciting design "moment" waiting to happen…like teachable moments…which is what I should be thinking about! lol! (I'm a teacher in case you guys didn't know that) Side bar: The backsplash is one of my favourite kitchen details and I'll link the backsplash post in case you're interested.
In my kitchen reveal, I had really large cutting boards leaned up against the backsplash which is an awesome designer trick for that space, but instead I pulled the cutting boards and used the backsplash as a canvas for the prettiest little heart made of flowers this side of ….Canada?! lol…
I love how Cori was able to pull off my vision! She used floral tape to create the look!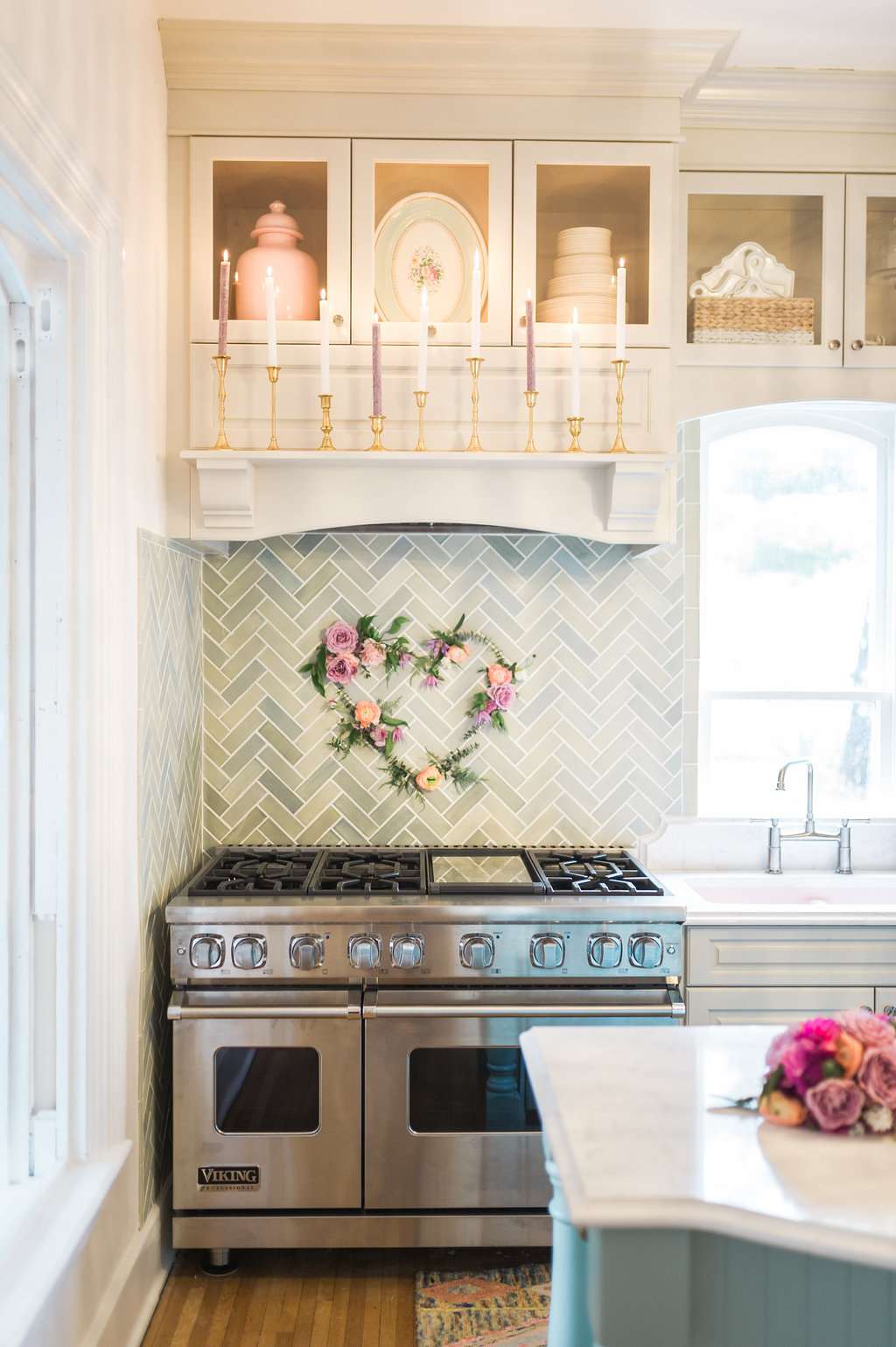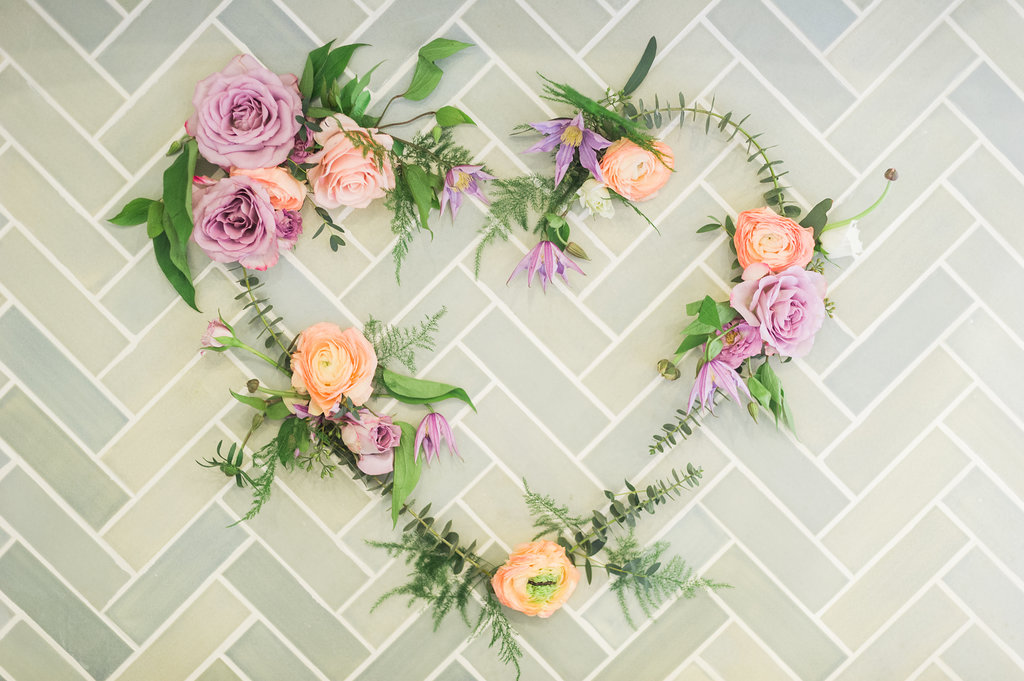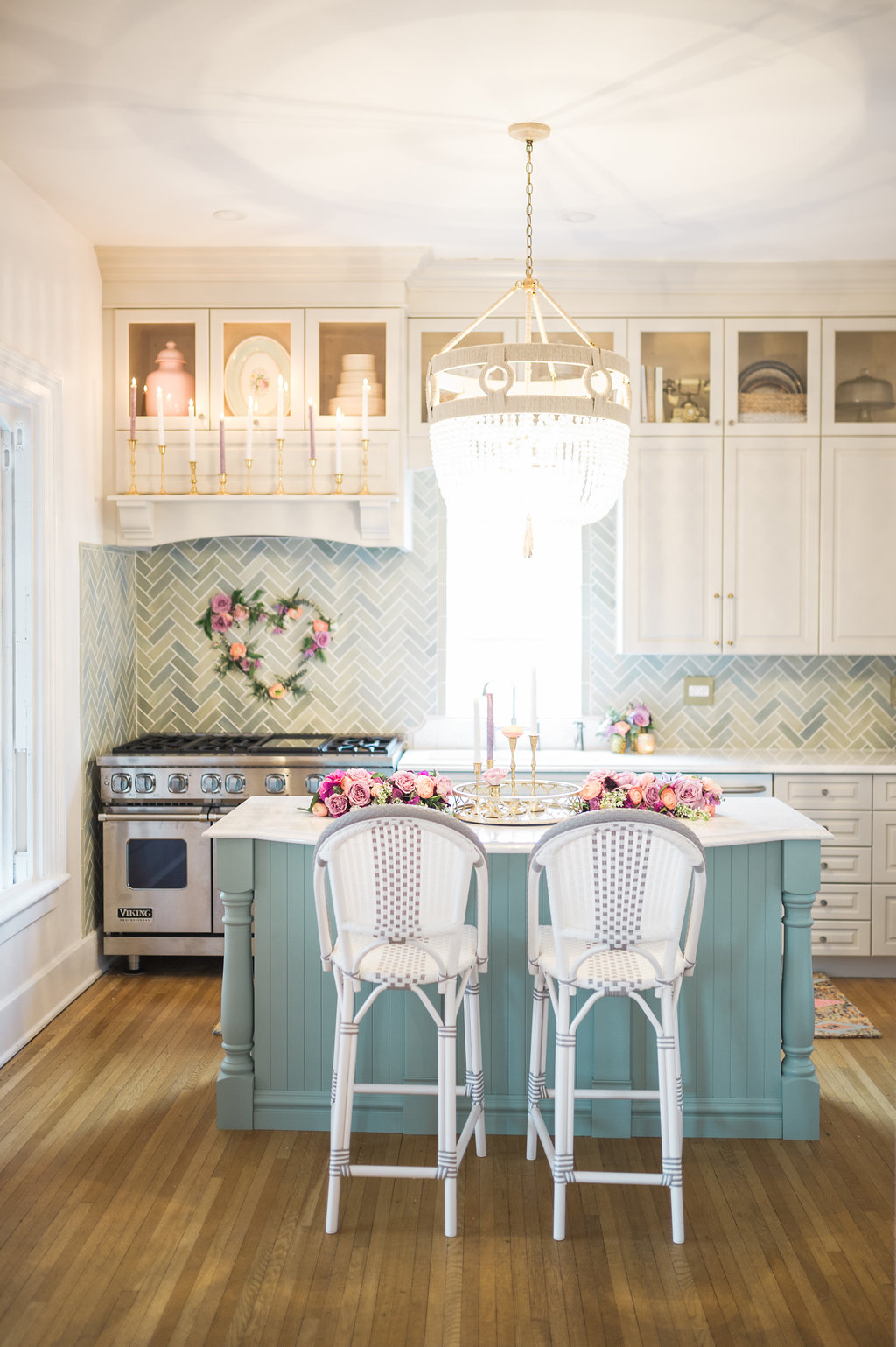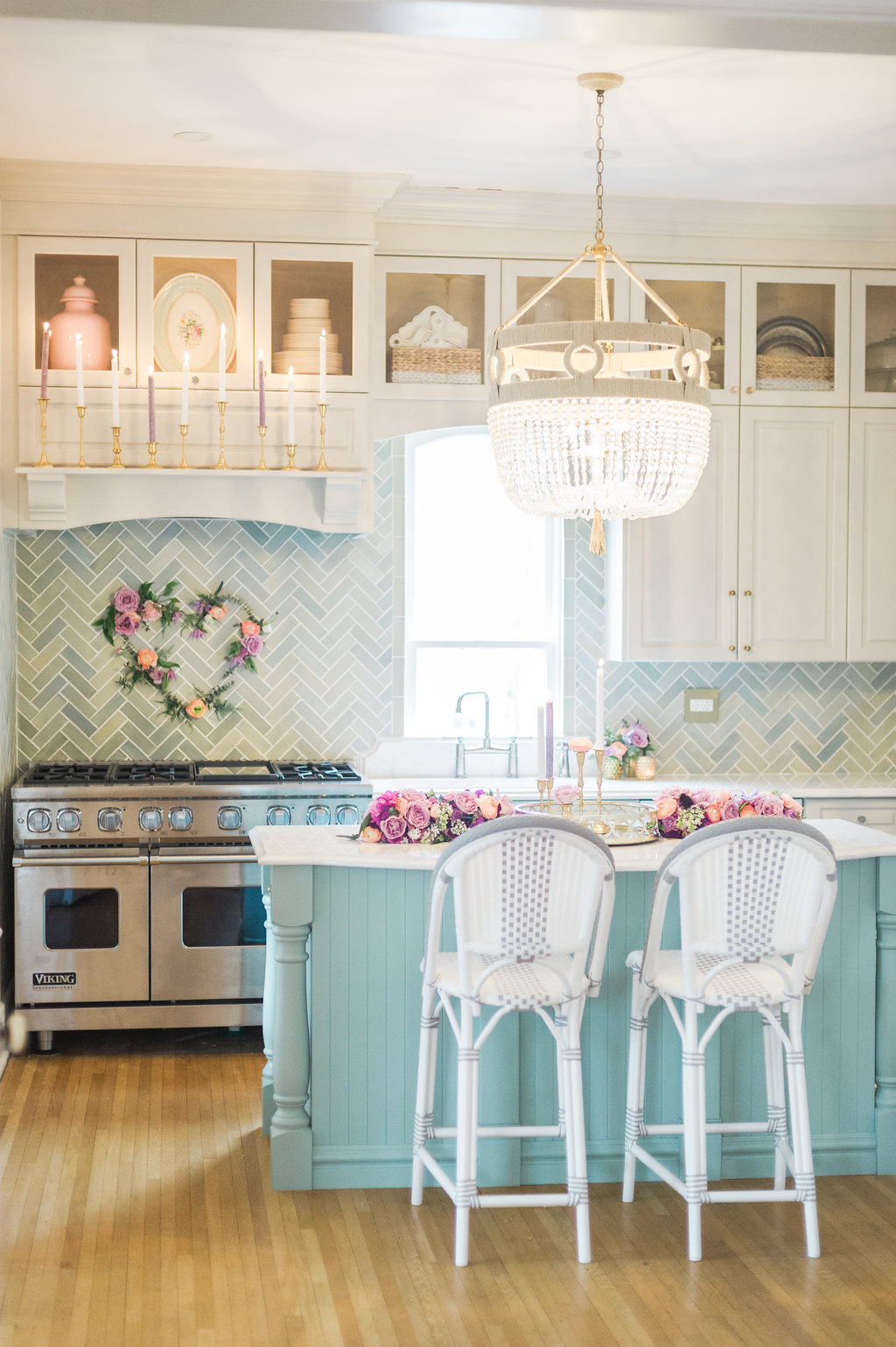 P.S. Did you see my Valentine's Day Kitchen Decor or our Valentine's Day Tablescape from last year? It was super exciting because the entire shoot was picked up by Style Me Pretty Living and you can read that article here!
Next week, I'll share a few Valentine's day touches in our living room. Don't forget to tell me what you thought about this year's take on Valentine's Day Kitchen Styling, ok!
Thank you so much to Vicki Bartel for capturing these photographs!