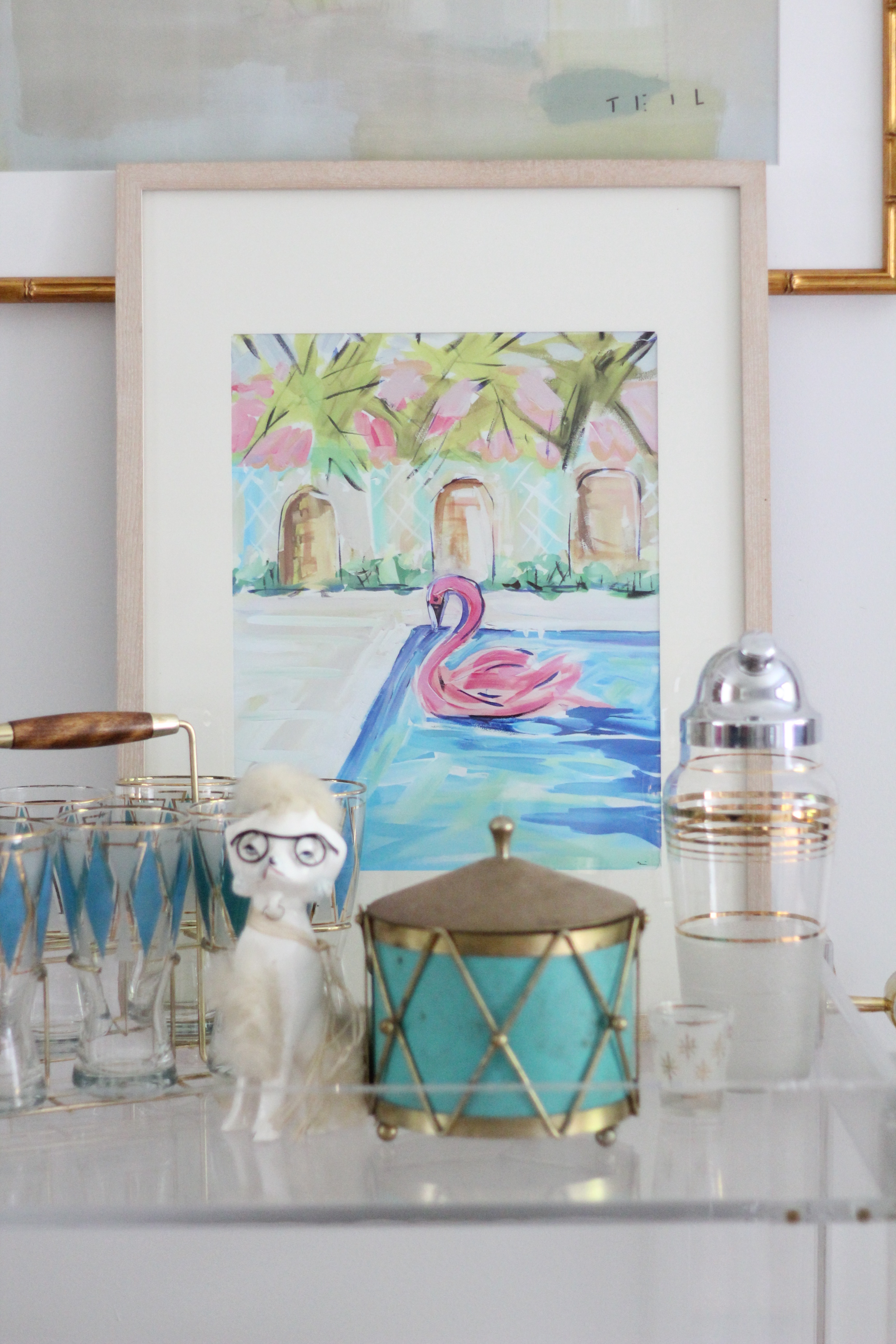 Hi Guys…well holy crap it's here, we're on week 5 of the One Room Challenge! This week's update is all about ART!! I even have a promo code to get your own…so keep your eyes on these…hint hint "framed" beauties!!
If it's your first time to the blog, Hello!! So pumped to have you! Here are the links to the past week's ORC posts so you can get caught up! Week 1, Week 2, Week 3, Week 4
Did you guys know that I'm an art teacher? Like in real life I teach high school art…drawing, painting, sculpture…all that good stuff. People always ask me what I "do" as an artist, but for me it's design. Interior Design is my artistic drug of choice. I do, however, have a huge love of art and can't get enough of appreciating other's paintings and photography. In all of my spaces art and artists play a huge role. I even have an original Hayley Mitchell painting hanging on the subway tile in my kitchen!
I need ART and it's actually one of the first elements that I consider in a space, and the art for this one room challenge was no exception. I'm calling this family room reno #Vintage Summer. So all of my pieces feel really summery and it's turning out to be the brightest, happiest, space to be in, which couldn't make me happier since it's the space where our family hangs out!
My current obsession is work from Teil Duncan. Her pieces make me want to move to Charleston and spend my days on the beach (a.k.a buy a house to renovate in Charleston and fill it with her beach art…I'm too addicted to renovating to take a day off…let's be real!!) You need to follow her on Instagram…her work and she are gorgeous and so addicting!
One of the pieces in the space is Vanilla Beach. I say one, because there are THREE!!!! Honestly this room is dreamy! How much do you love her signature?! I mean come on…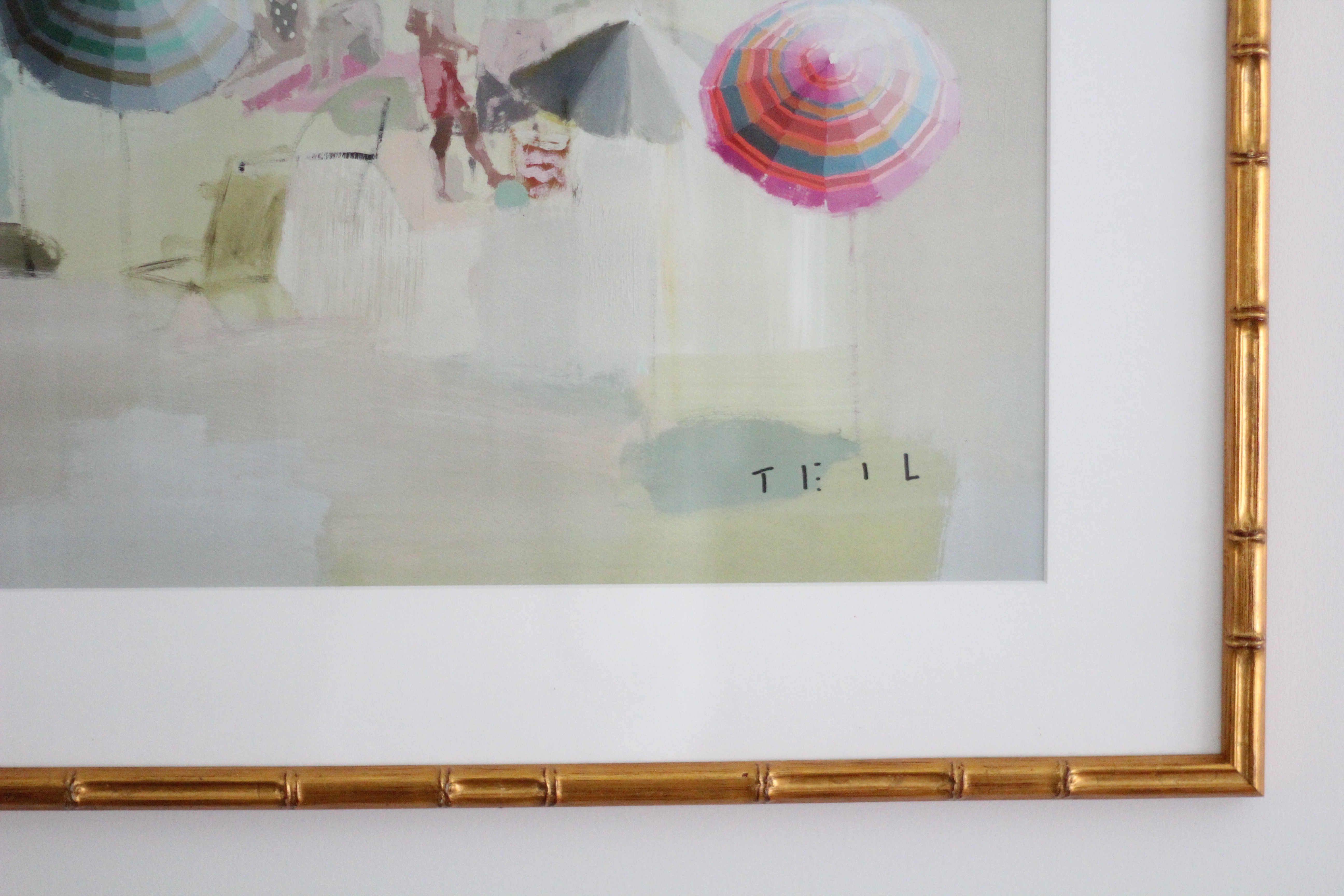 I'm really trying to get a close-up here so that you can see her brushstrokes and how she uses colour…it's intoxicating! Bucket List: Buy original one day.
So, you have to be wondering about the frame right? Cause this print and this frame together is like fireworks for your eyes!!!
I got the prints framed through Framebridge. I'll walk you through the process. You go online to Framebridge and you order your framed print. It's so easy, here's what you do (because if you're like me you won't do something that takes too much figuring out.)
You upload a screen grab of the print you want to frame.
You crop it, so that you can try it with different mats and frames.
You put in the size of your print, and find out the price.
It's so awesome because next, Frambridge automatically puts your print inside of every chic frame they sell! So awesome for indecisive people…i.e. ME! 
You make your selections and Presto!
Then Frambridge will send you a mailing label so you can mail them your print if you have it at your house. OR even better they will email you the label so you can email it to a third party that you're buying the print from, so they can send it directly to Framebridge and then Framebridge sends it to you framed for $149 including shipping both ways. YUP ….so freaking smart…it's like how did this company not exist before!
Last thing….Here's a 15% off PROMO CODE for you, from me…for ART …lots and lots of ART. I can honestly tell you that the art in my home fills me with joy every time I see it. It never gets old. Studying the details, picturing it being painted, the way Teil Duncan, in this case, describes light is just so captivating. SO much love for art!
Framebridge Promo Code: lesliestyle15
p.s. if you order by May 7th, you get the print in time for Mother's Day! You can even give Framebridge the address you want it shipped to, if your Mom leaves in another city. This world we live in is just wild eh?!
Ok how about more sneak peeks for the art and more new artists that I hope you'll love as much as I do!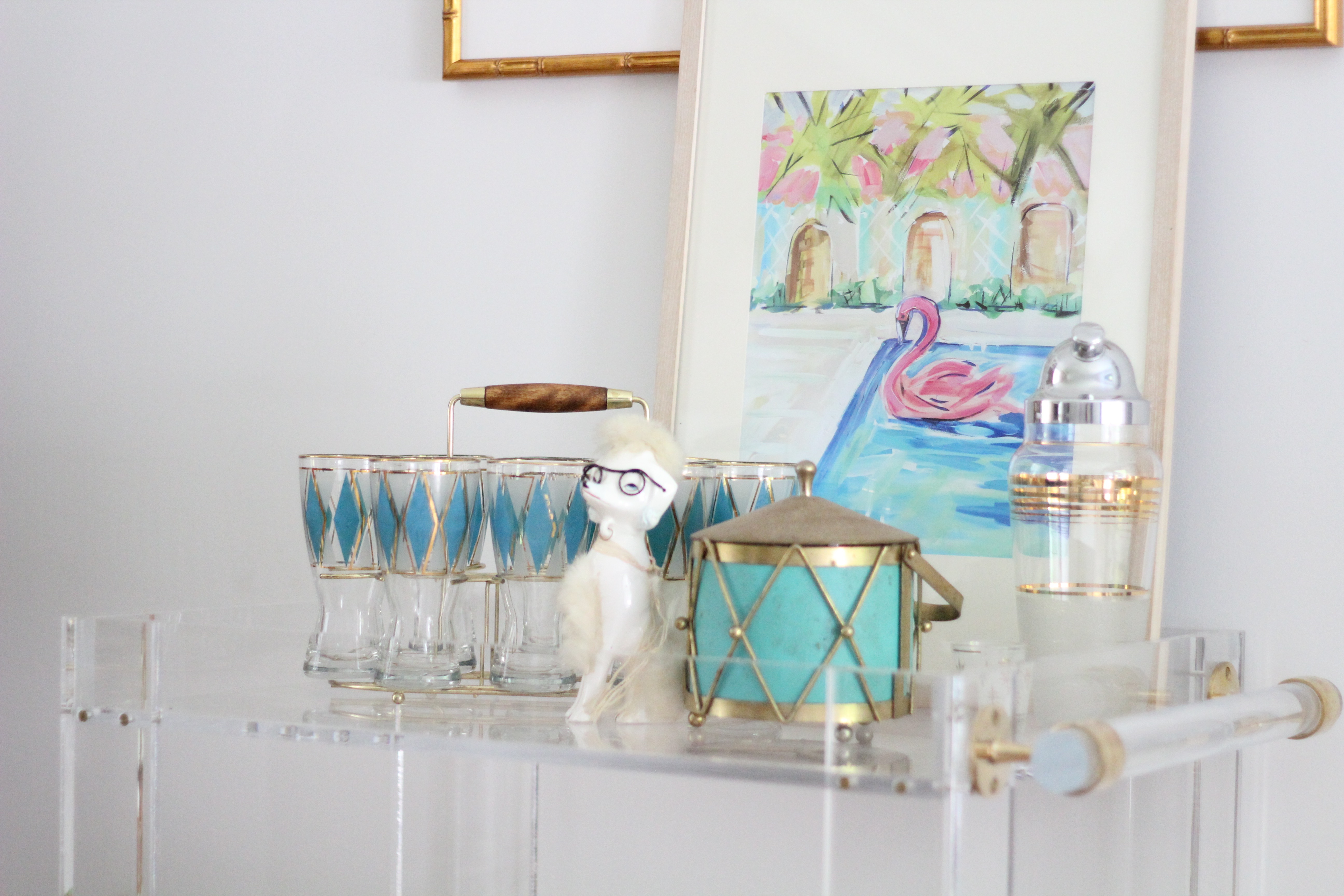 This piece is by one of my all time fav artists Maren Devine. You can see her work in my home in my dining room and in my bathroom. How perfect is this pool and flamingo floatie painting…especially with this Vintage Summer One Room Challenge theme!
Spoiler Alert! Can you even believe this lucite bar cart from Katie Kime?! It's unreal in person. Do you guys remember that I won it for my Christmas Photos  from a contest on Inspired By This, this year? It's such a shining star in this space. I'll be doing a special post with all the vintage finds I've collected for the bar cart. Every piece is from the 50's and 60's!!
The artist in this space is Laura Dro. She's famous for her pineapple paintings, but I fell in love with her hot pink Ginger jar and original on canvas Banana Leaves! Palm leaves and Banana leaves are such a hot print for textiles thanks to Dorothy Draper, so seeing this subject in a painting with pink background is so fun and so Vintage Summer!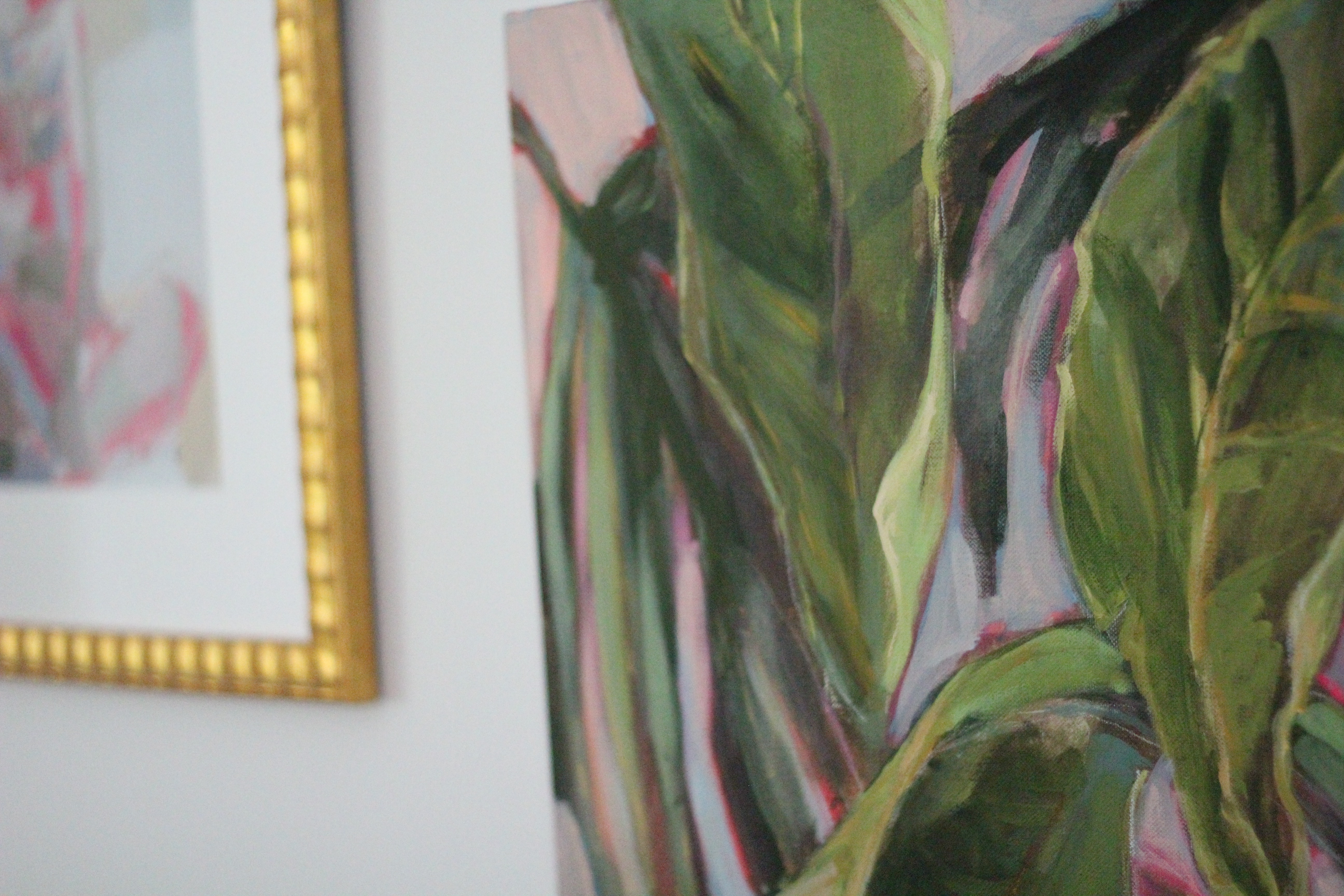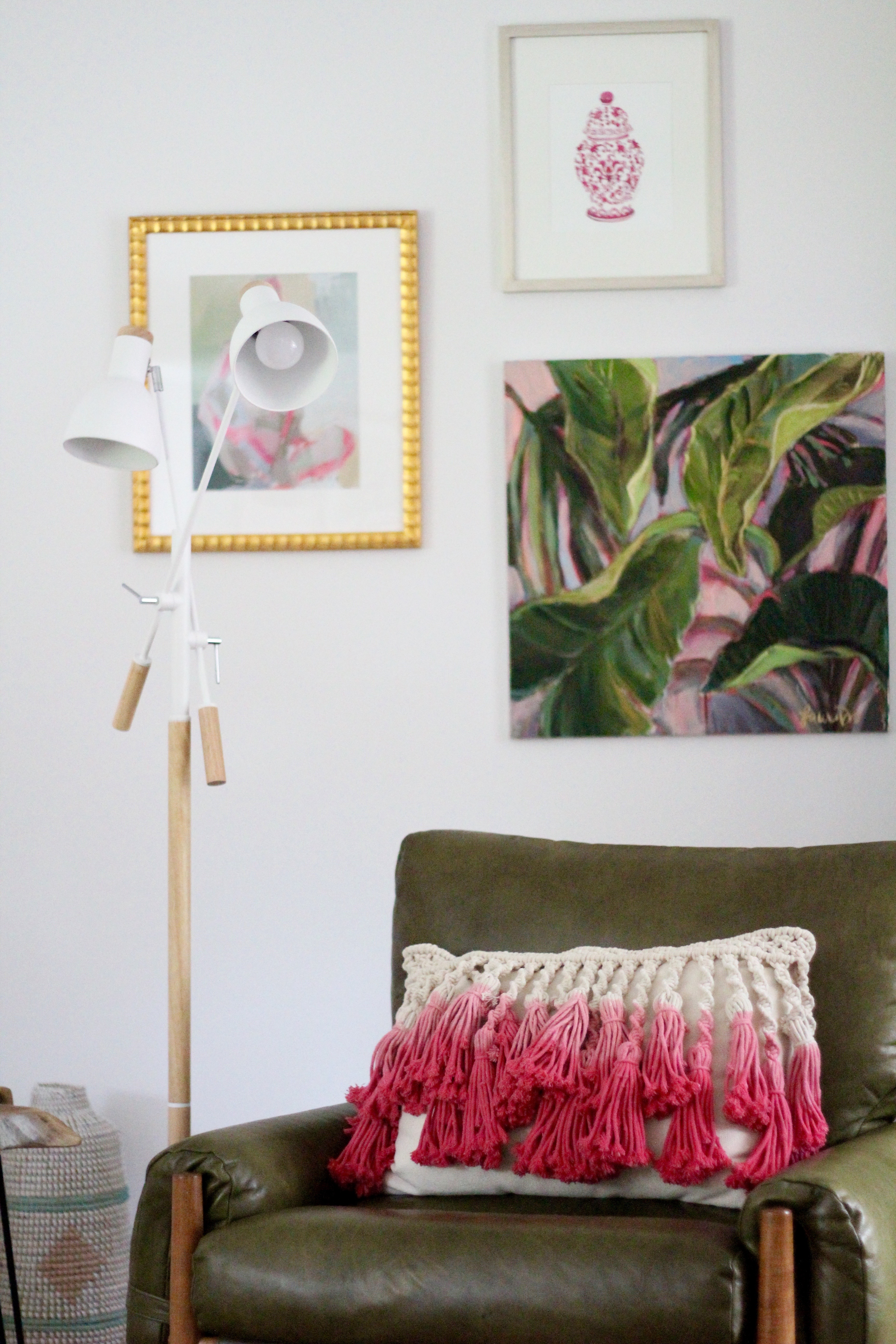 I'm purposely hiding the other print with the amazing lamp! But I also had to share a little pic of my anthropologie chair craigslist find! ummm and the PILOW HELLO!
I'll be showing the entire space next week including the most unreal art that is on the fireplace mantle!!!
Ok, so I can't not share a little more!!! What do you think so far???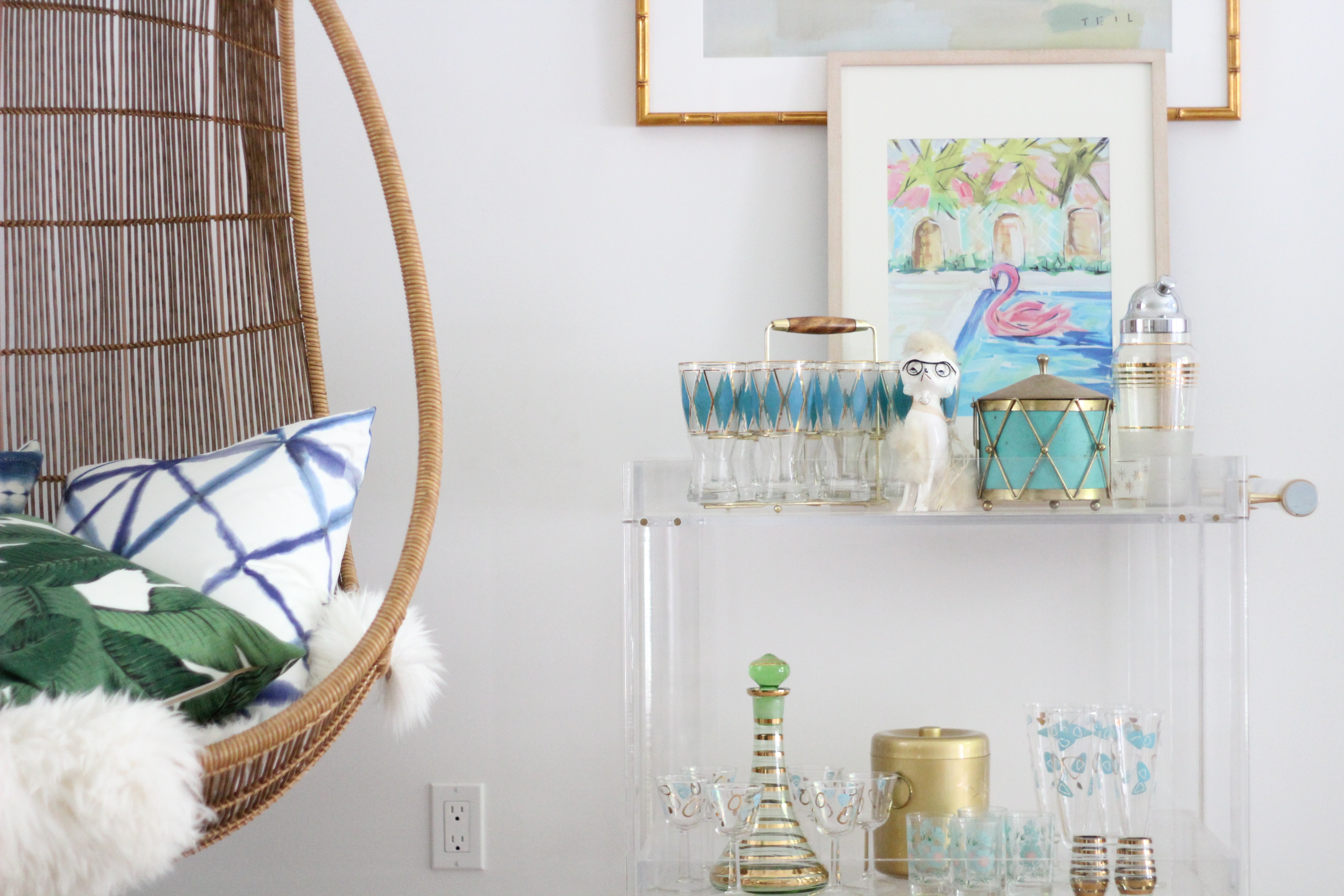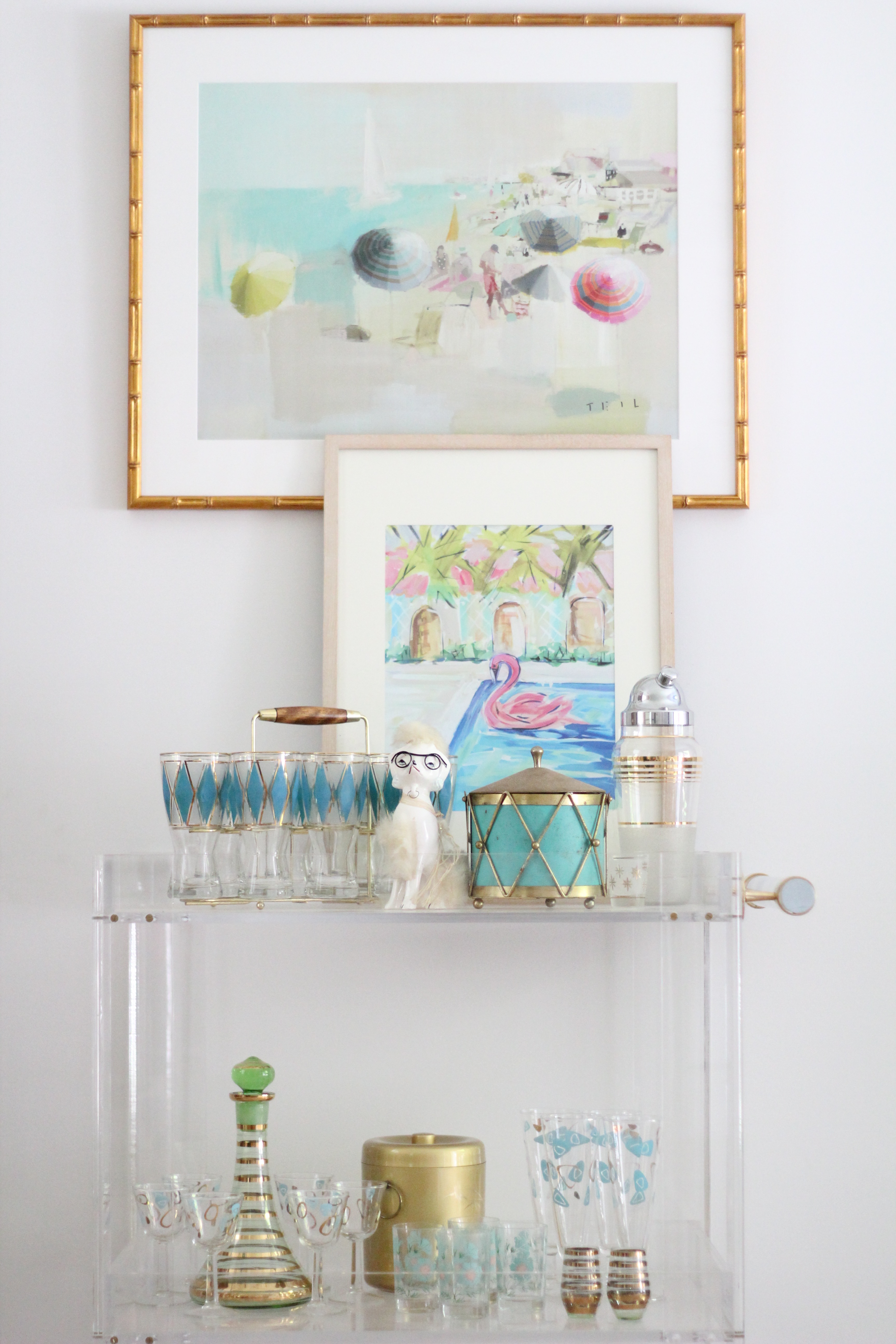 Thank you so much to Framebridge, Teil Duncan, Laura Dro, and Maren Devine for making this space come to life. I actually can't wait to reveal the finished One Room Challenge Vintage Summer Family Room next Thursday!!! EEEP!!! Subscribe so I can show you the minute it's posted ok?!