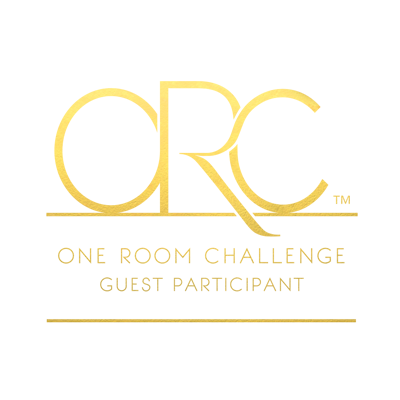 Hi Guys! Holy crap I'm so beat that my eyes are blurry. So, what's keeping the colourful kitchen from being done? Well quite a few things but mainly the backsplash…I'm picking up the handmade clay tiles on Friday in Detroit to bring them back to Canada! To hopefully get the install started on the weekend. Then it will be a mad dash to style it, and have it photographed, in time for the Big Reveal next Thursday!
One Room Challenge Recap!
No idea what I'm talking about? lol…get caught up on our Colourful Kitchen Renovation!
Week 1: The Inspiration, Week 2: Cabinet Colours and Chandelier,
Week 3: Cabinet Install and Hardware, Week 4:The Sink, Week 5: The Backsplash
I've been busy this week finishing up the rest of the main floor. Did you catch my living room Ceiling Reveal?!  If not, you need to see it!
My update for this week is about our appliance choices and the countertop.
Steal vs Stealy-Splurge
The story of the appliances is Steal vs. Splurge or no, actually, Steal vs. Stealy-Splurge!
We went all out and got a 48″inch Viking Range….like the boss of ranges. However, we bought a floor model and got a fantastico crazy deal on it….steal crazy splurge! lol! Here's a peek! Our kitchen is so small that it's hard to really show peeks without showing the whole shebang you know…so I thank you in advance for bearing with lamo sneak peeks!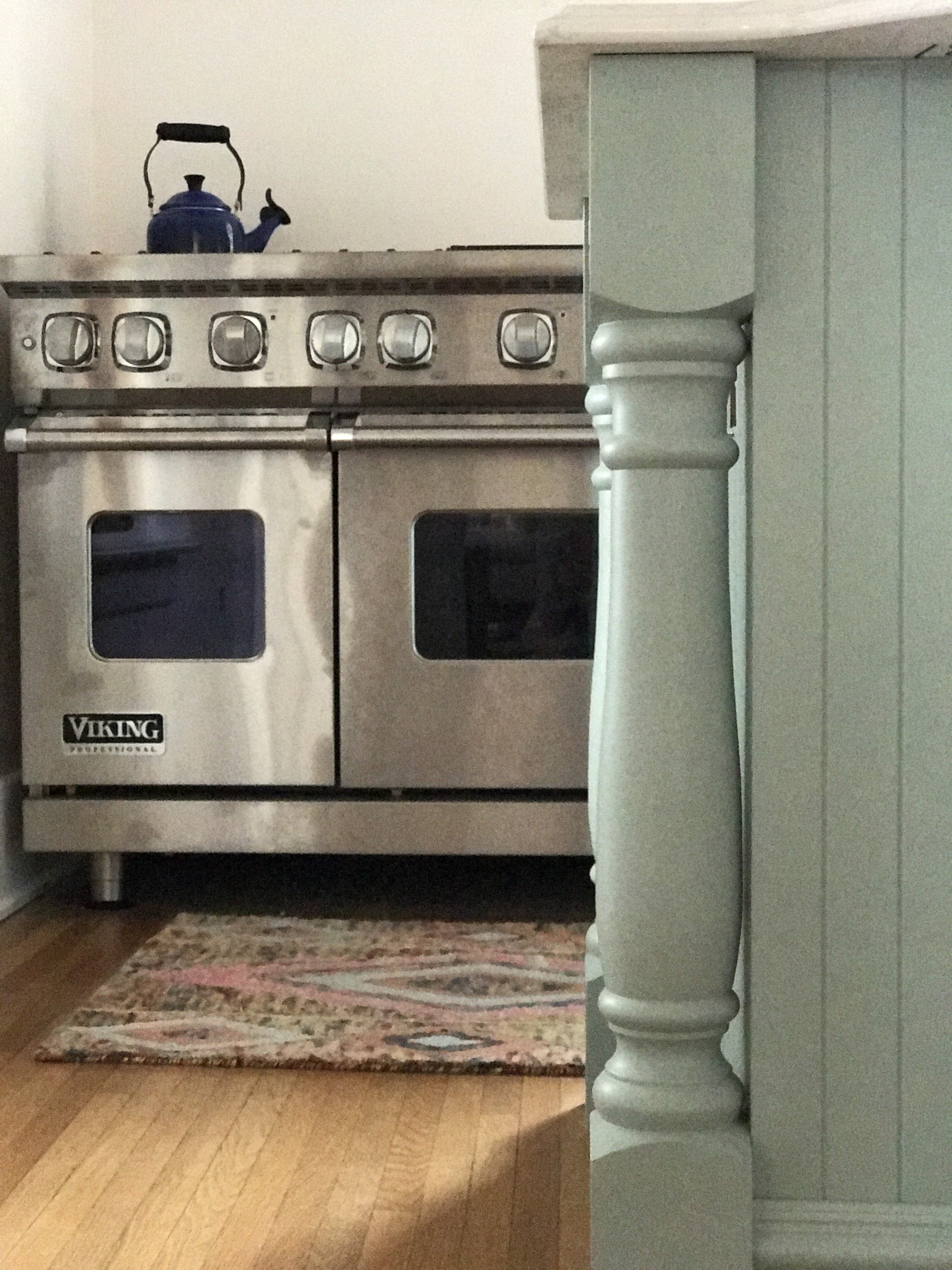 Next, I wanted to go super, super cheap on the dishwasher and fridge. Reason being, we can only fit a 30″ fridge and they don't make splurge 30″ fridges as far as I know. Secondly, we have room for a second fridge in our to-be dining room so we actually bought two fridges. It's funny because two 30″ fridges is sooooo cheap and way more storage than a huge expensive 36, or larger fridge.
I still wanted it to be cute-as-a-button though. Have you ever noticed the super cute appliances in the home of the blog nestingwithgrace.com? Well, I have and I became obsessed with them! They are called GE Artistry and they are discontinued and I needed to have them. Here are a couple pics of her kitchen remodel, which I adore!
I searched high and low and was able to get these exact appliances! I can't even believe they were ever discontinued because you can't touch a retro look in appliances, without a scary price tag, normally!  I'm actually a huge fan of white appliances right now, so it worked out perrrrrrrfectly! I got the fridge for $700! So good. Super cute, right size, and deal…win win win! Umm the dishwasher was $200! ridiculous!
I tried to talk my husband into getting the little white matching range, but he was like no way Jose! So ummm we splurged, but he's such a cook and loves it. I think it's his favourite part about the house! But looking at this picture, I wish I had the matching range because it's just so darn cute…k wait we have a really nice range…I'll shut up. sorry. lol!!
Countertops
I just remembered that I haven't talked about the countertops yet! Oh my goodness! Ok so I had thought we were going to do marble. Remember I showed you the slab in my story?! We picked a slab and then when it came time to template, the shop's machine was down (so strange I know?!) It was fate though because our cabinet maker kept telling us the entire time that we should go with Cambria because it was amazing quality and that installation would be so much better. I didn't really get it because I thought quartz was quartz. I was curious about better installation though. We were butchered by the last company we had used.
Anyways, when our marble fell through, I chose Cambria. I went back and forth with some of the busier new patterns and finally settled on Torquay. It has the look of marble and it mixes warm and cool greys, which you can really see in the second photo. P.S. I love it!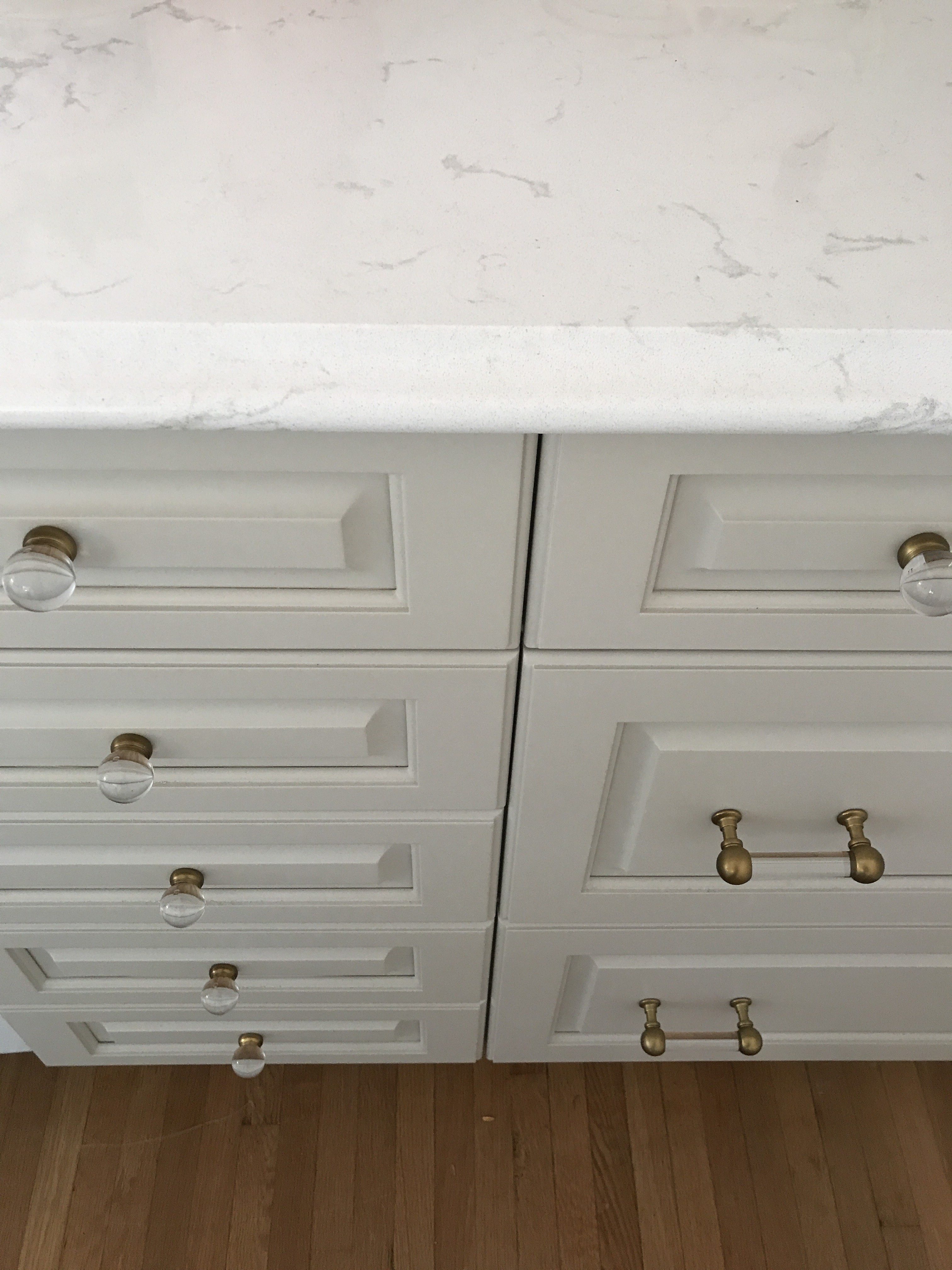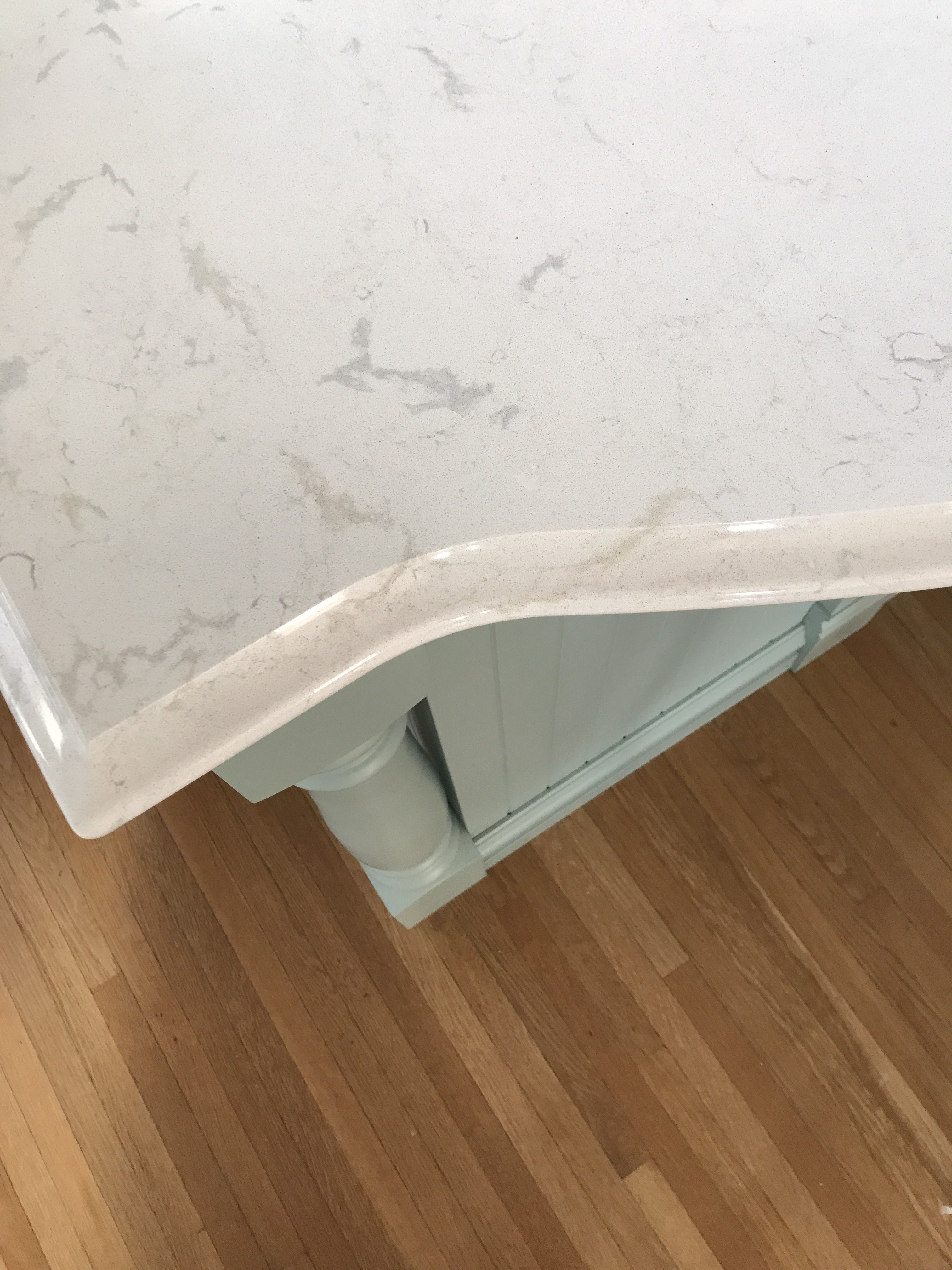 This is in no way sponsored– I WISH!
I LOVE the countertops more than any we have had in the past including Ceasarstone. The actual stone and the way they cut the edge is flawless. I'm just so happy with it. I new I wanted an ogee edge and they just did such a gorgeous job on it! The edge that I chose is actually called the Basin Edge. In case you like it, and if you're like me, you want exact details! Like everything suddenly in this world, it comes in like 300 options. I long for a simpler time…my crazy indecisive mind can't take it anymore. lol! (can you tell I'm so tired right now!)
Long super tangenty story short, I would recommend Cambria to anyone. You even have oddly amazing guarantees that they will come back and fix any chips or scratches for life…never even heard of something so awesome!
This week, I still need to tackle the window coverings. Remember the weirdo window that goes behind the cabinets?! Well, I have had to design something to try and compensate for that, and then I have something highly unorthodox up my sleeve to go along with it for a window covering, and I hope it works! Oh man I can't wait to share the details on this faucet with you next weeeeeek! Damn that sink is pink…in the best way ever!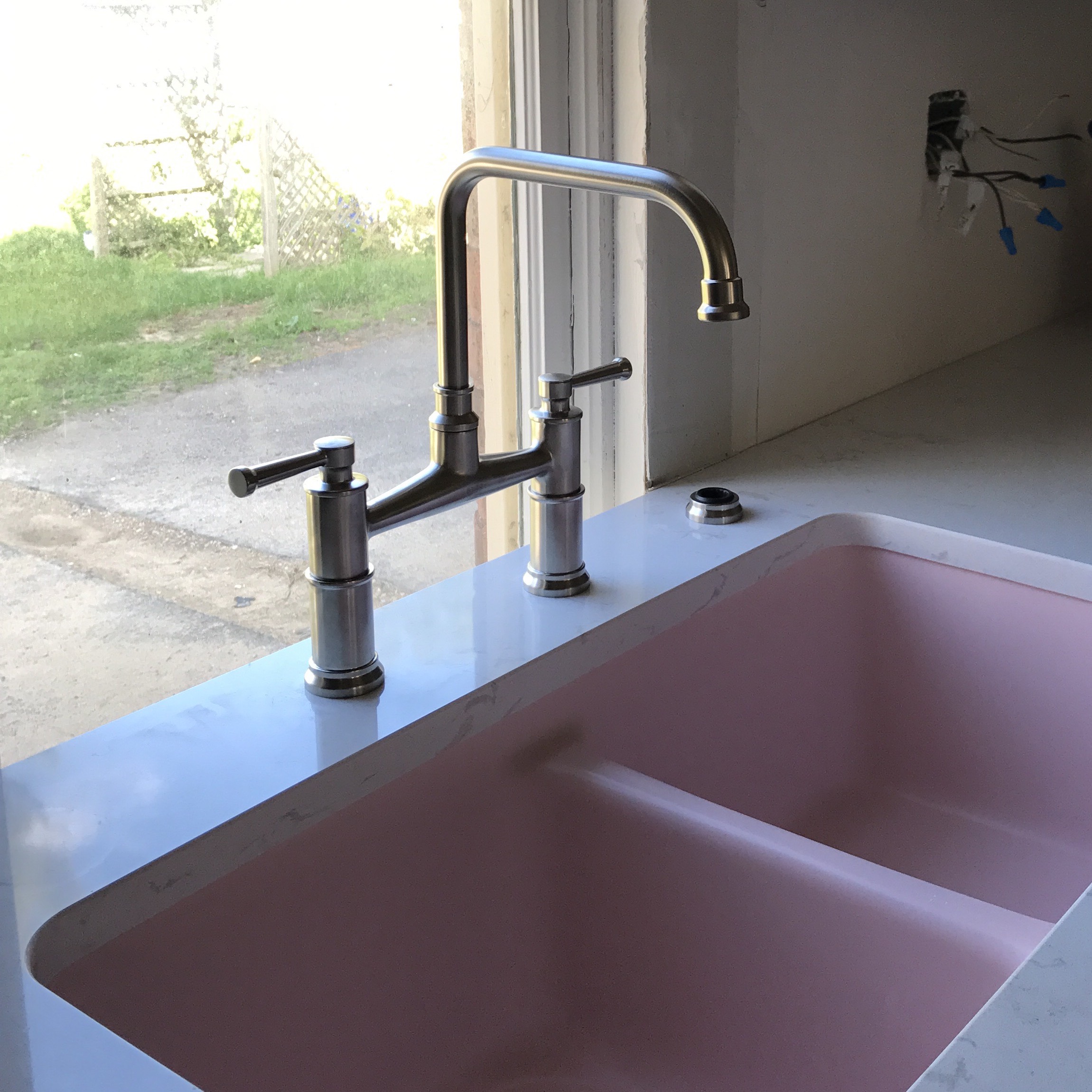 Oh and then of course finish styling and arranging for the reveal photoshoot, next Tuesday. I'm going to have the biggest glass of wine ever when I hit publish on the kitchen reveal, next week!
Real Talk
Can I ask you guys a serious question about what you've liked learning/hearing about through this process? What you'd like to hear more about? Leave me a comment and I'll get on it!
Please subscribe because my living room reveal is coming to the blog in a couple days! (If not sooner, because I can't wait!)
Don't forget to have a look at the rest of the One Room Challenge projects because they are incredible and everyone is working so hard!
Do you guys have any favourites? (Ok I'm really done now and off to bed!)