I can't believe it's already week 4 of the One Room Challenge?! This week is all about the built-in window seats that are on both sides of the fireplace! (I love my symmetry!)
In case you're new to my One Room Challenge you can catch up here: Week 1, Week 2, Week 3
This is where we started and where we left off last week!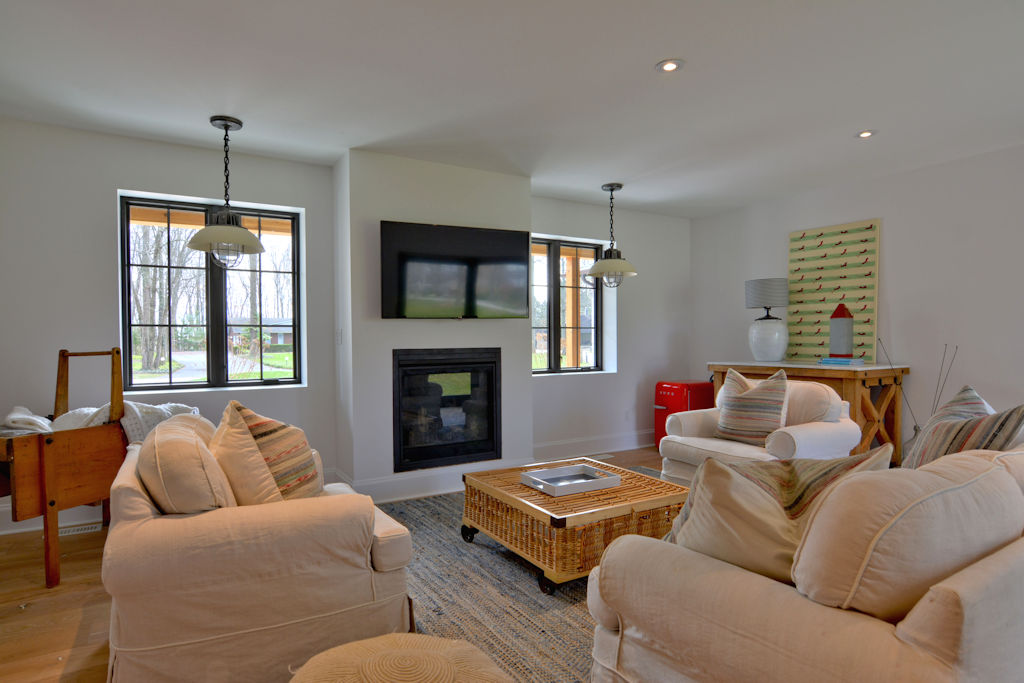 Not only did I find the perfect One Room Challenge bench cushions for the window seats, at last, but I hung the window coverings, light fixtures, found just the right baskets to fill the spaces under the benches, and finished the window seats off with the most delicious throw pillows. I'm tired just thinking about all that!
The window coverings are seafoam sheer Belgian Linen tie-up shades, and I found them through Restoration Hardware. You can get them in a few colours, but I'm in love with mint and all things sea-foam lately so my colour choice was a no-brainer.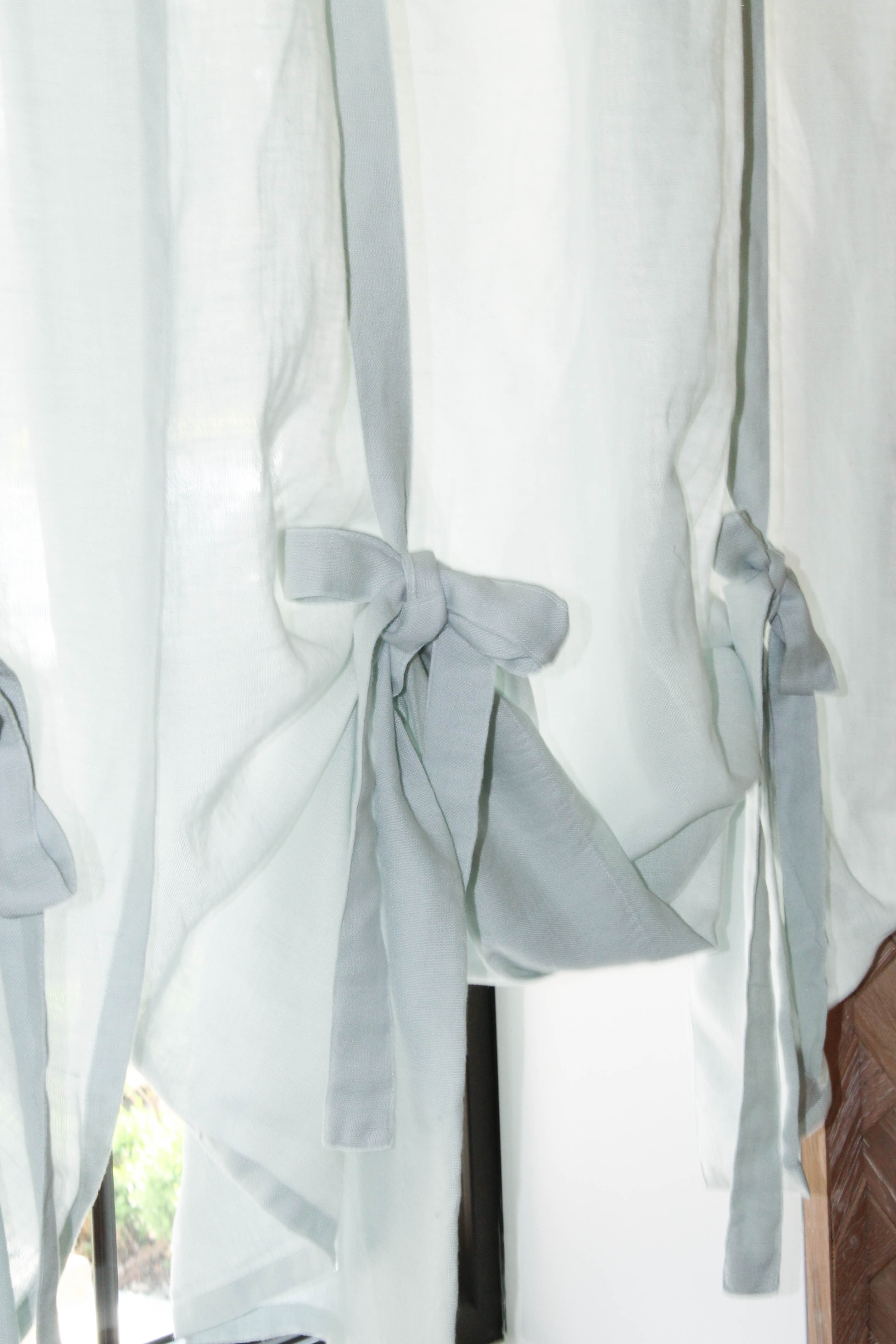 The chandeliers are from CANVAS, which is Canadian Tire's new line. I only used one extension rod (they come with 3), so that I could hang them as a semi-flushmount and still have the window seats be functional. The chandelier is shown with small round bulbs but I haven't found those yet, so I'm using candelabra bulbs for now…it casts the most perfect light, especially since there is one on each side of the fireplace over both built-in benches. When I initially designed this room I opted for two normal light boxes in these spots instead of pot lights to add interest beside the fireplace. With the window on either side, there wasn't room for traditional sconces.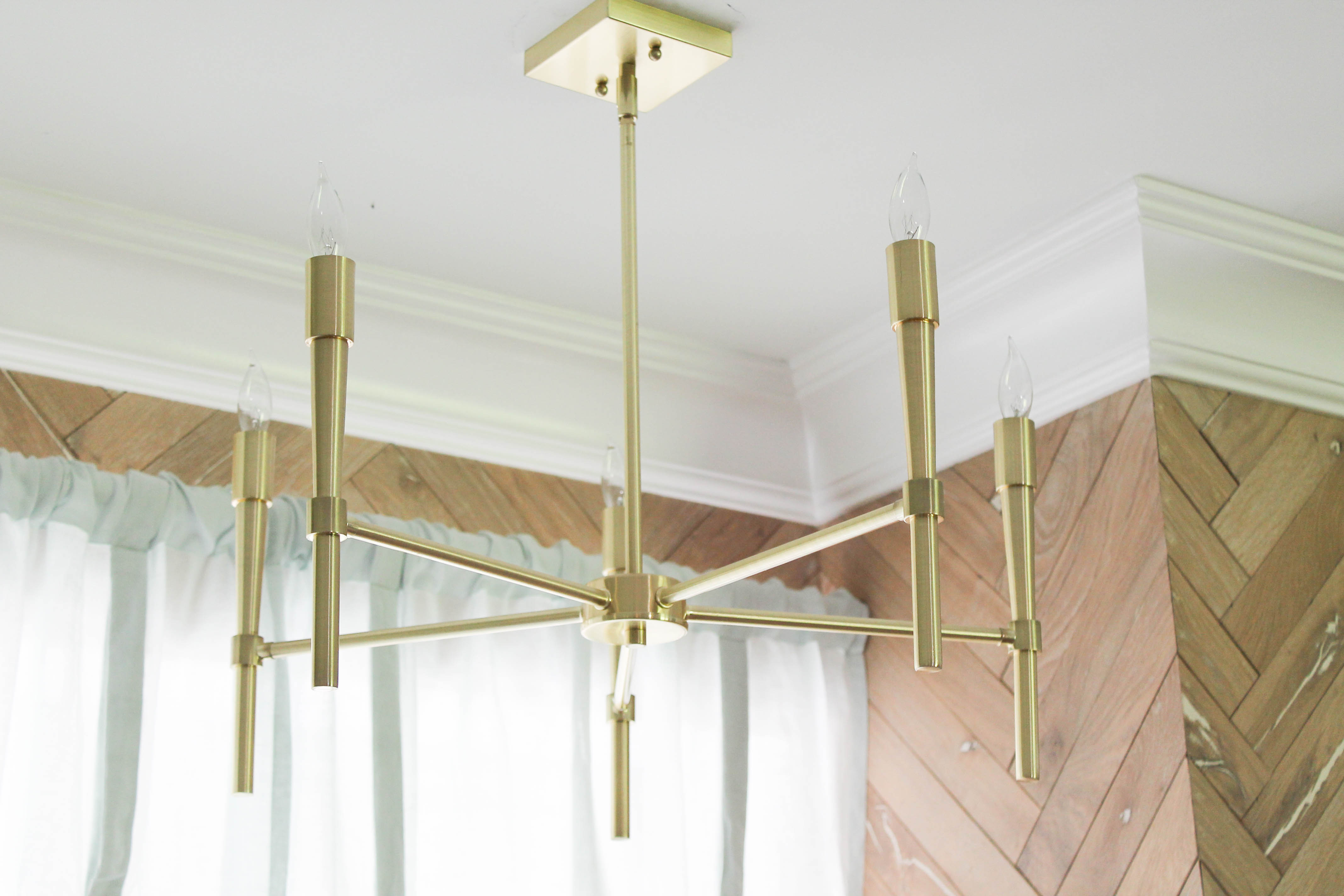 This past week I both made bench cushions for the built-in window seats (spent most of the rest of the week really disliking them), and then purchased new bench cushions. You can see the fabric I used to make the original cushions draped over my couch in this Instagram post. The silver lining here is that I'm madly in love with the new bench cushions and giving myself permission to have one "do-over" during this project. The reality is you can only be "so much" of a mind reader as a designer. Like you dream the entire space up in your head and it doesn't exist one iota in reality and then you trust your gut, bring it to life, and sometimes when you see the space something feels off. My advice is to NOT just "go with it" and punish yourself by "living with it". What you should do is fix it right then and there, so you can enjoy the space. (9 times out of 10 the thing that bugged you never fades away but just grows bigger and bigger in your eyes!)
I was so lucky because Pier 1 only had 2 available and they weren't getting them restocked for a couple months. That PROVES that I made the right decision…it's just fate!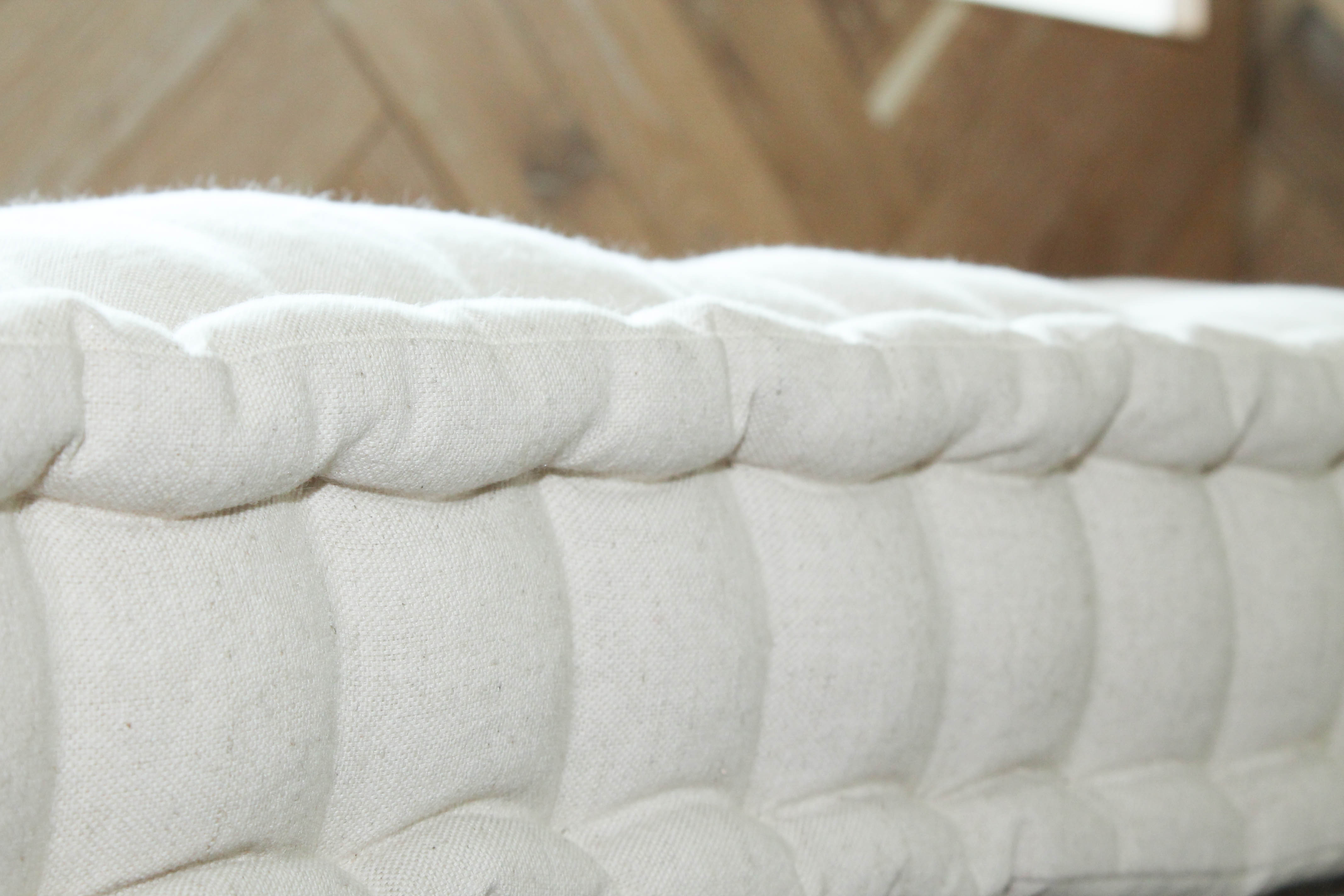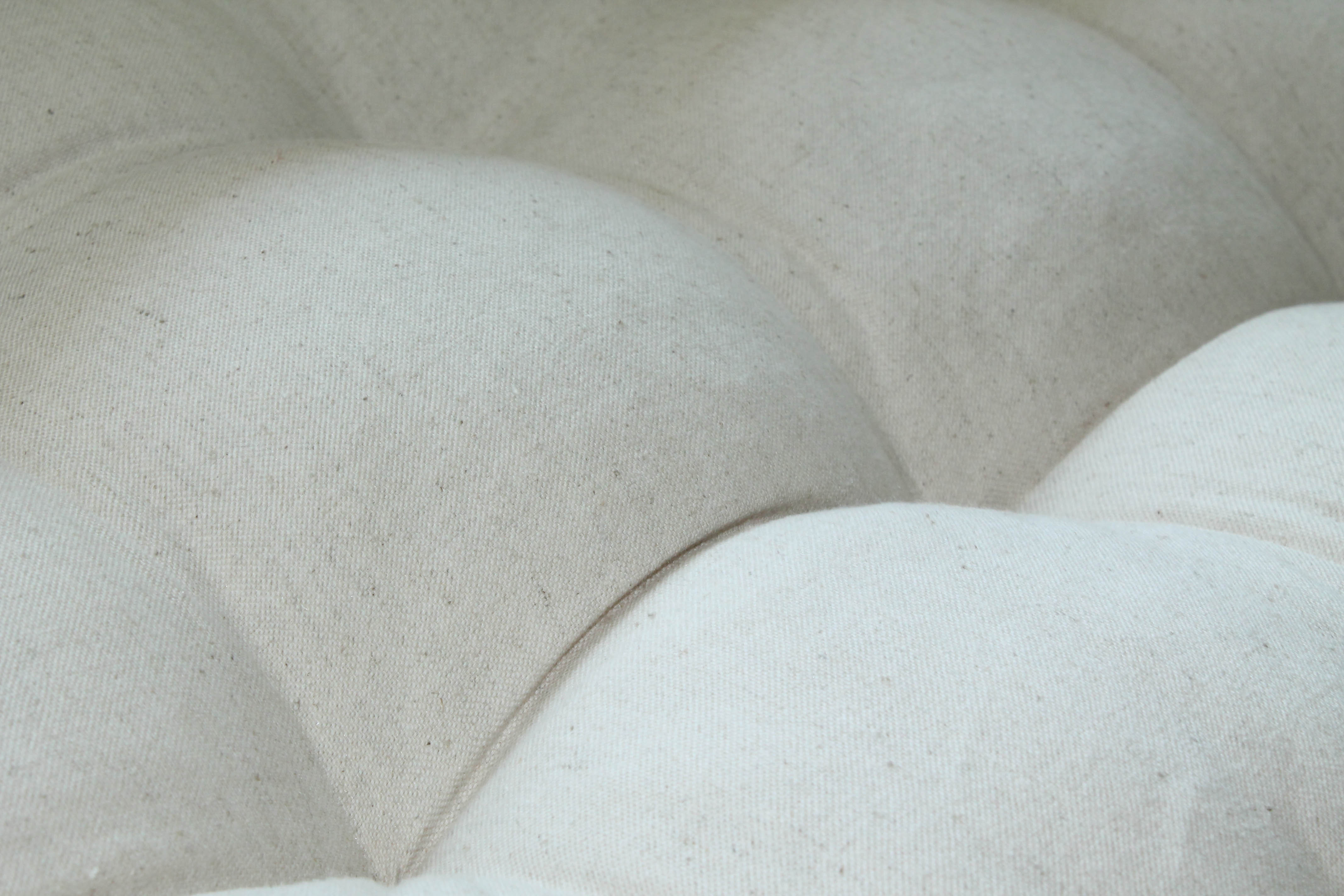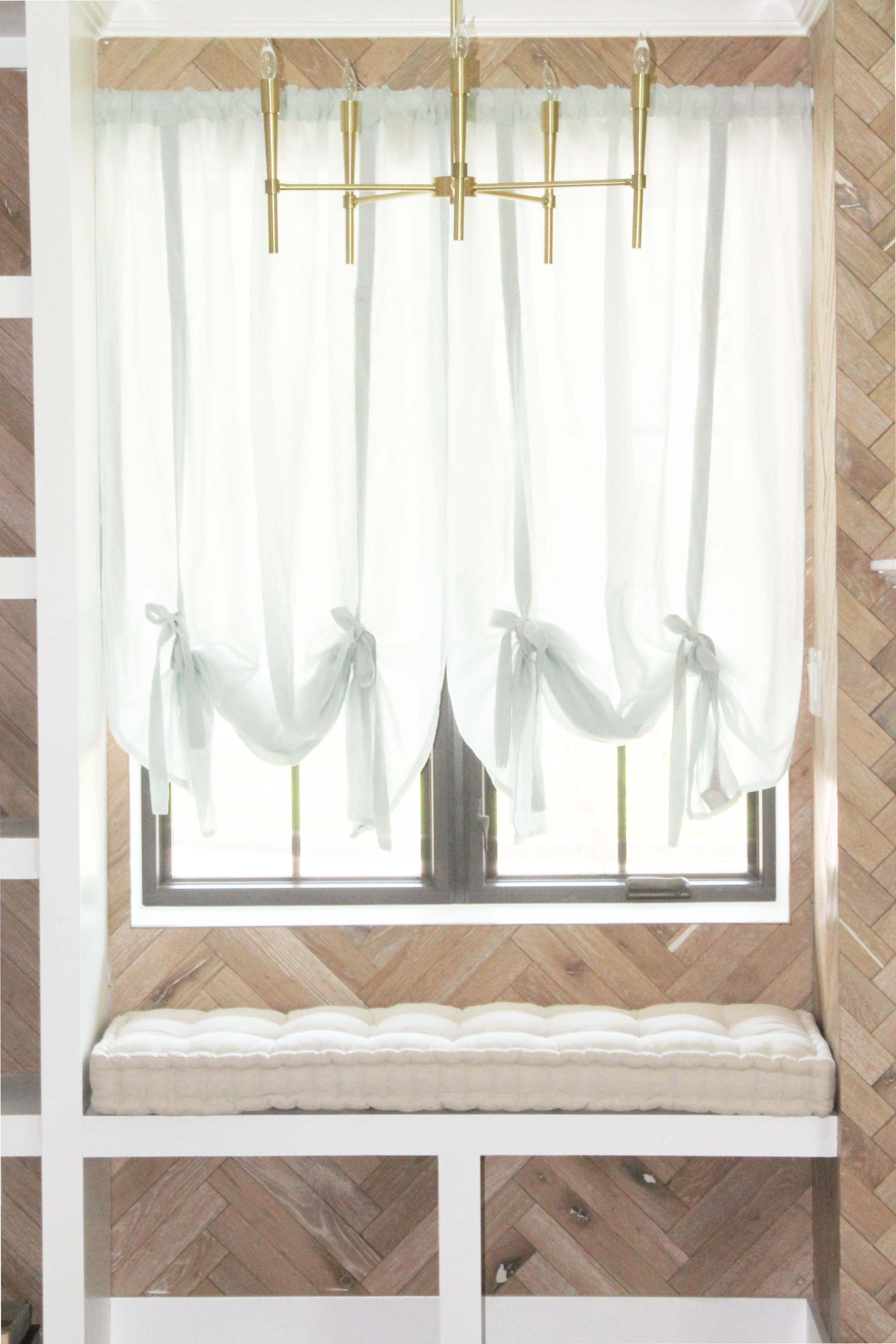 I love how the new cushions are constructed and I've always loved that look. I didn't immediately think of getting them because originally the bench wasn't going to be a standard size. You can only find pre-made bench cushions in standard sizes and I've only seen 4 feet. So the moral of the story is, if you're making a bench make it 4 feet wide so you can have your pick of awesome cushions if that's the route you'd like to take. Don't get me wrong, I've made lots of bench cushions that have turned out perfectly, but I had so much colour going on in this space that the fabric didn't need to be screaming like the one that I chose. You can see some awesome cushions that I made in the blog post that I wrote about our first renovation…we had two DIY bench cushions in our mudroom and they rocked!
Then I found some awesome baskets that were the perfect size for under-the-bench-toy-storage. 😉
Lastly, I added a mint throw pillow to tie in the mint linen roman shades, and a gorgeous pillow from Tonic Living with a brass zipper. The brass zipper is an extra touch they do that I LOVE so much!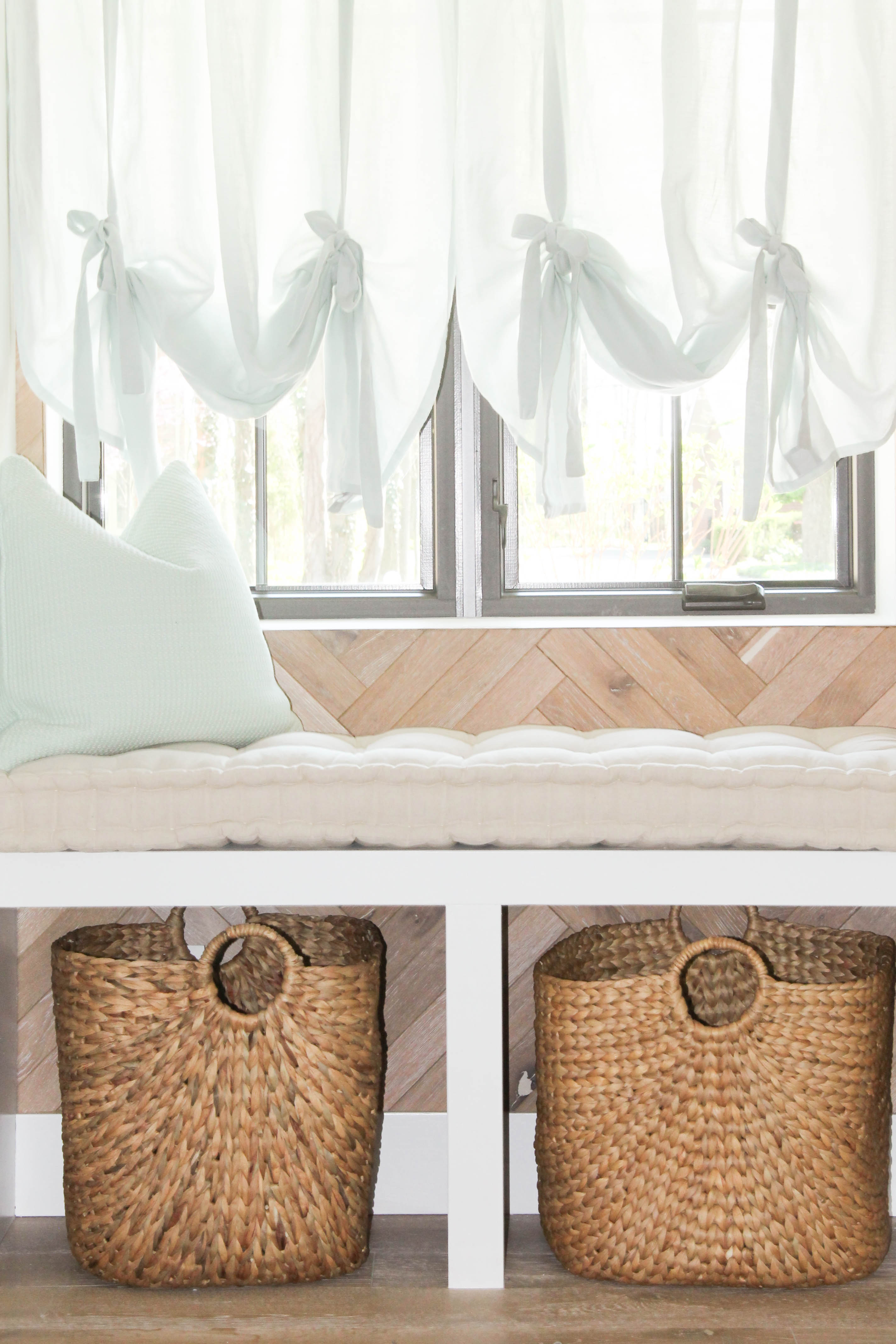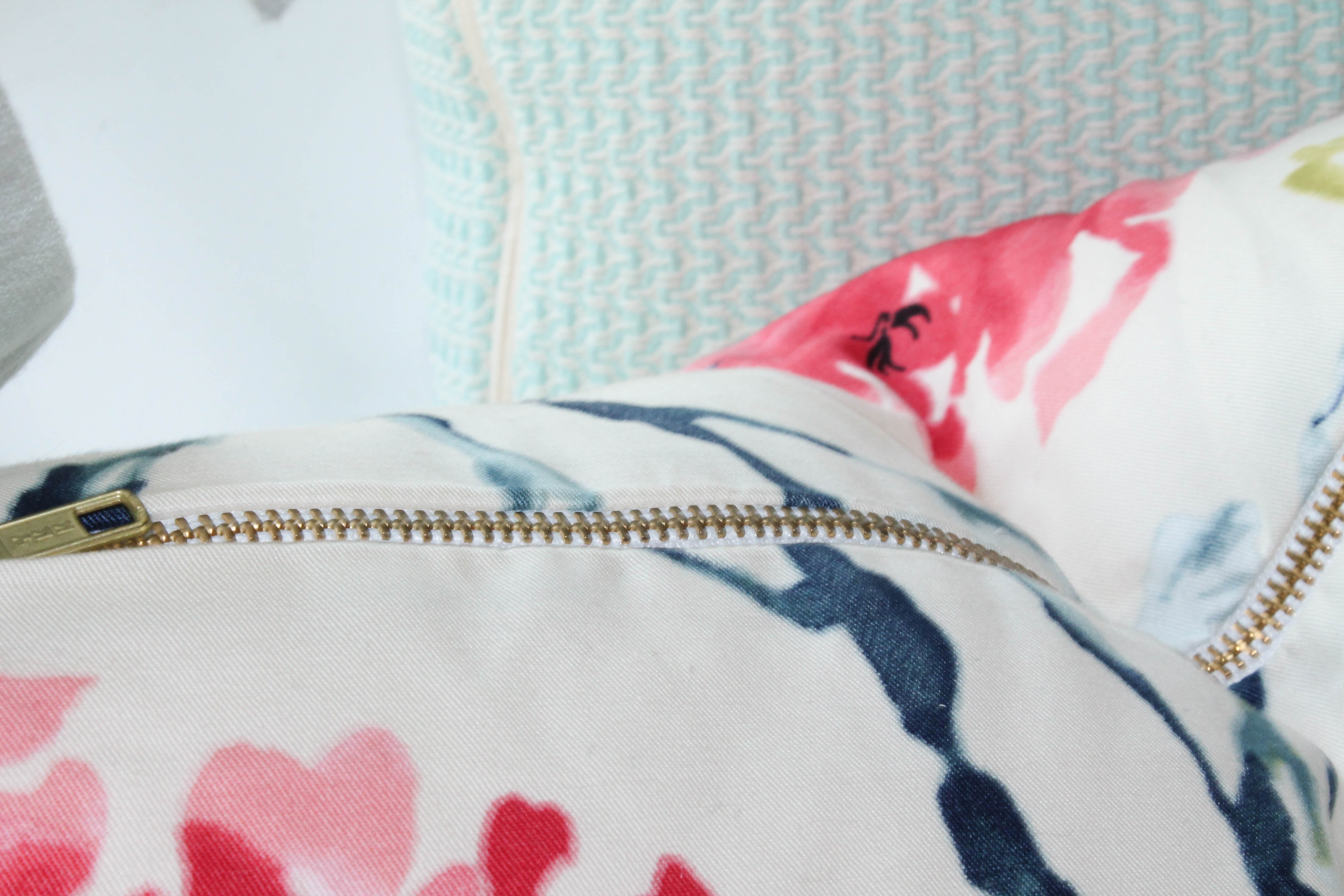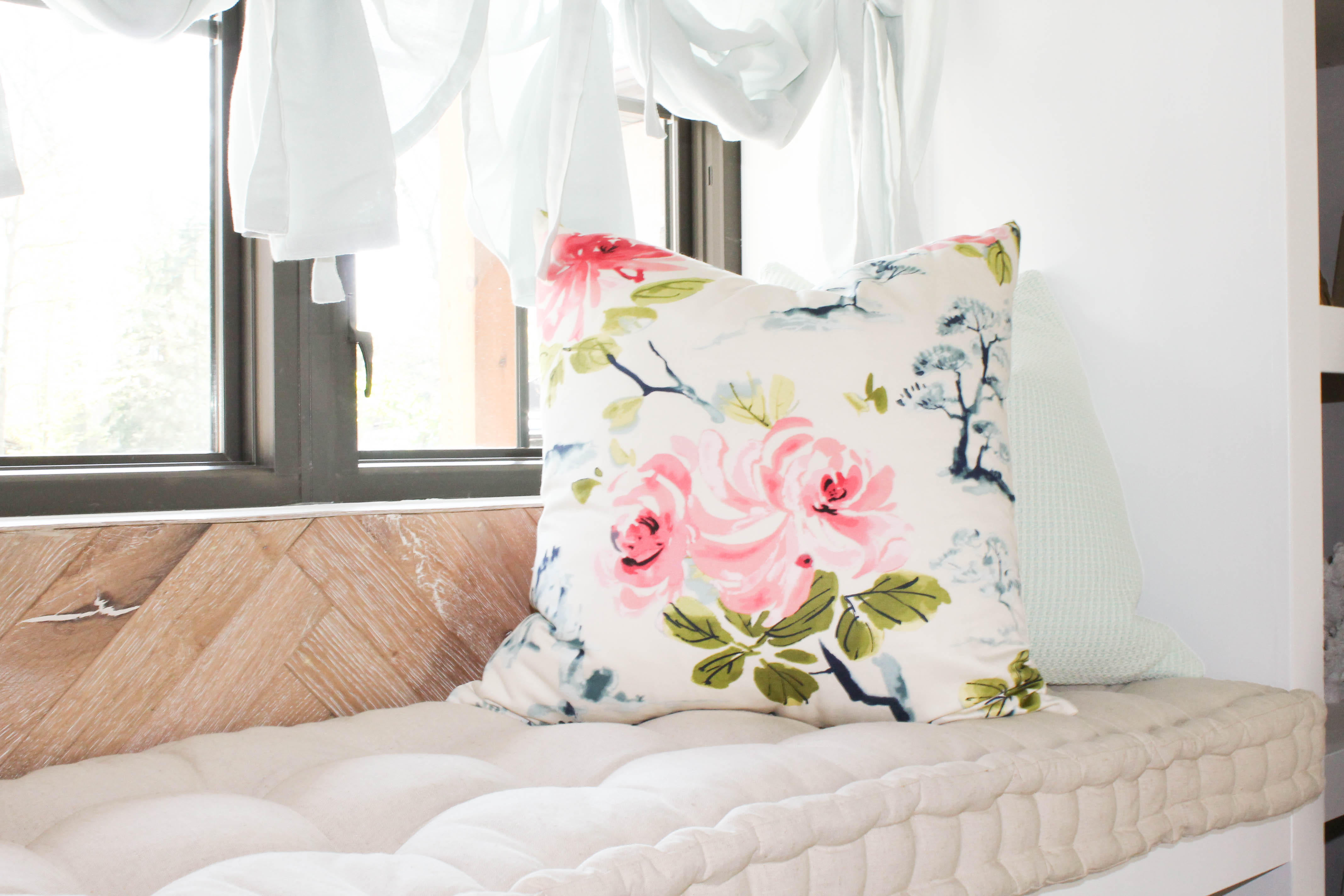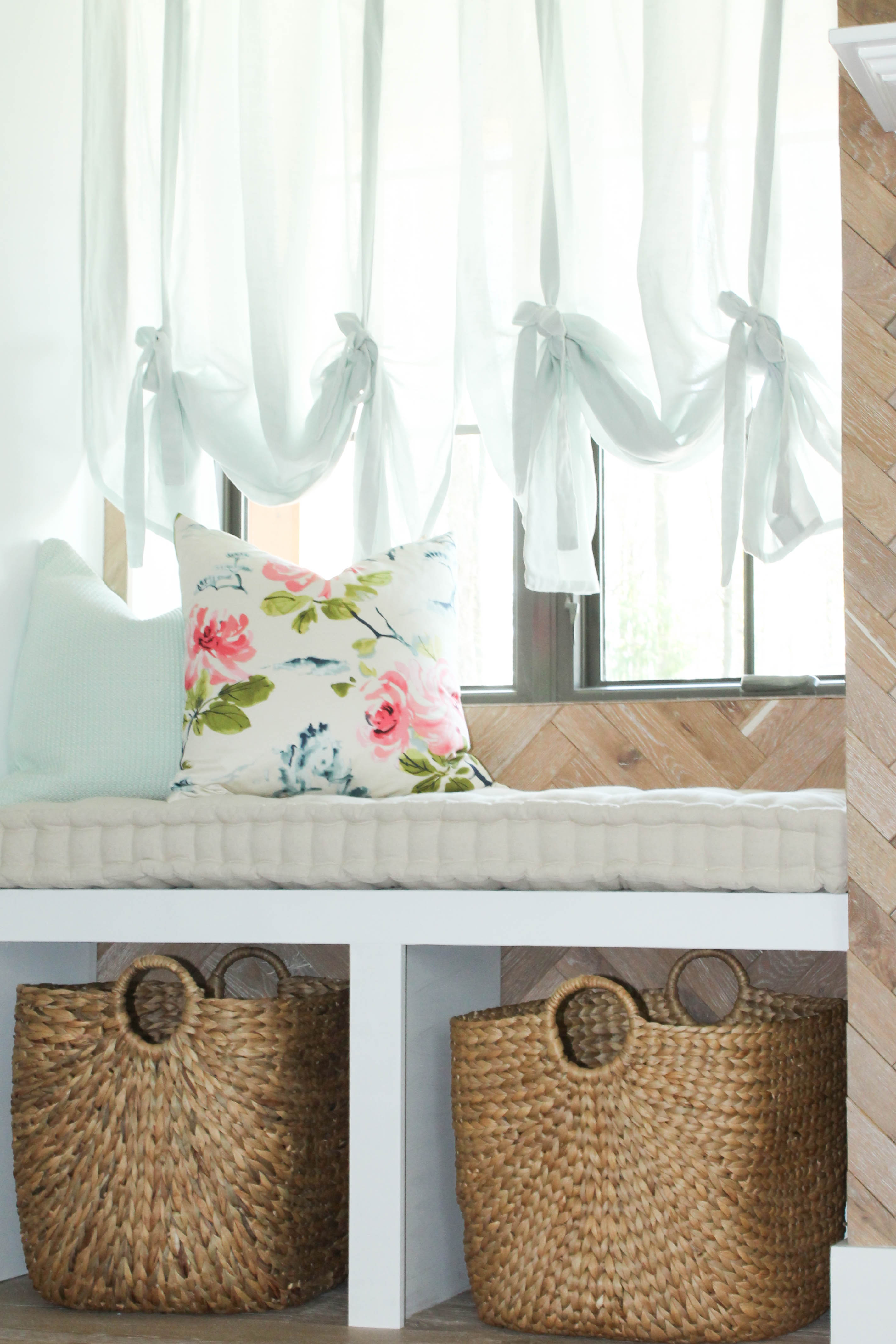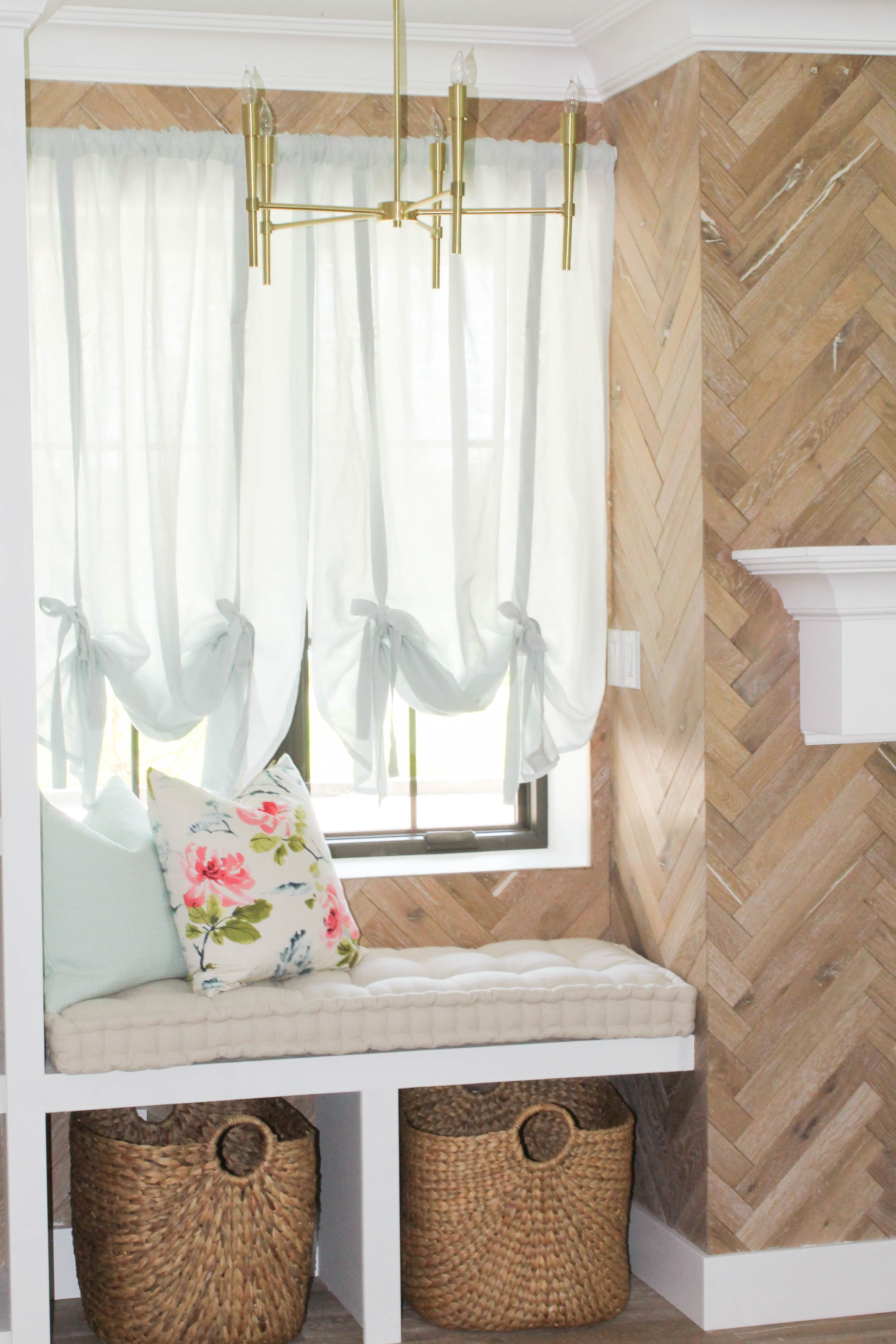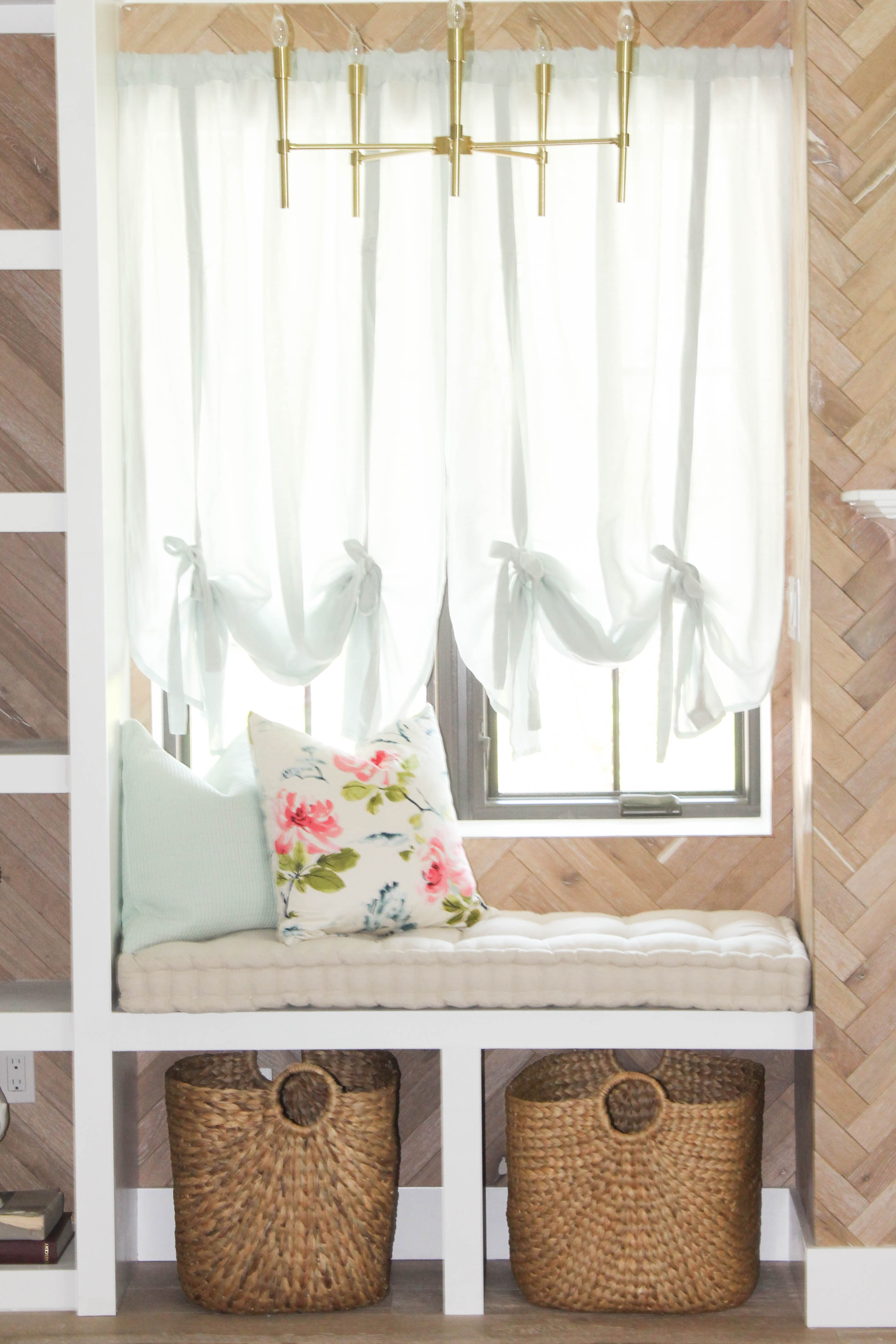 The big missing link in my One Room Challenge Vintage Summer Family Room is literally the biggest piece in the space! I still don't have a sofa/sectional. Originally I wanted a sofa but now that I'm seeing things come together I'm realizing that a sectional would be the perfect shape and size for our family room. How perfect would a sectional be to hangout on with our littles? The answer is 100% perfect. Calling all sectional fairies!!!!
Ok that's it for now, but subscribe so you won't miss any of the surprises that I have up my sleeve…there's only one more update until the big reveal!! This is so exciting! I really need a sofa! lol!
You can see all of the rooms being overhauled on Calling It Home blog…prepare to be inspired!