I'm honestly so excited to show you our new One Room Challenge Vintage Summer family room REVEAL!!! It's so fitting, too, because the entire family helped to get it done in time! There is so much colour that the space feels off the charts happy…the positive vibes are bursting!
Thanks so much for sharing in all the fun over the past 6 weeks and to Linda from Calling It Home for hosting such a wild time! You can see all of the 250+ room reveals taking part here!
Hyper Speed Bring You Up to Speed
If you're new to the challenge: week 1 the plan and the befores, week 2 the purchases, week 3 the herringbone wall and mill work, week 4 the window seats, week 5  the art work and bar cart!
A Walk Down Memory Lane…cue the tears!
2 Years Ago (when we were about to take possession of the home):
It's so crazy to see how big Juliette is now, and the old wall that the fireplace was on, and the old bathroom, and the hallway now has a mudroom…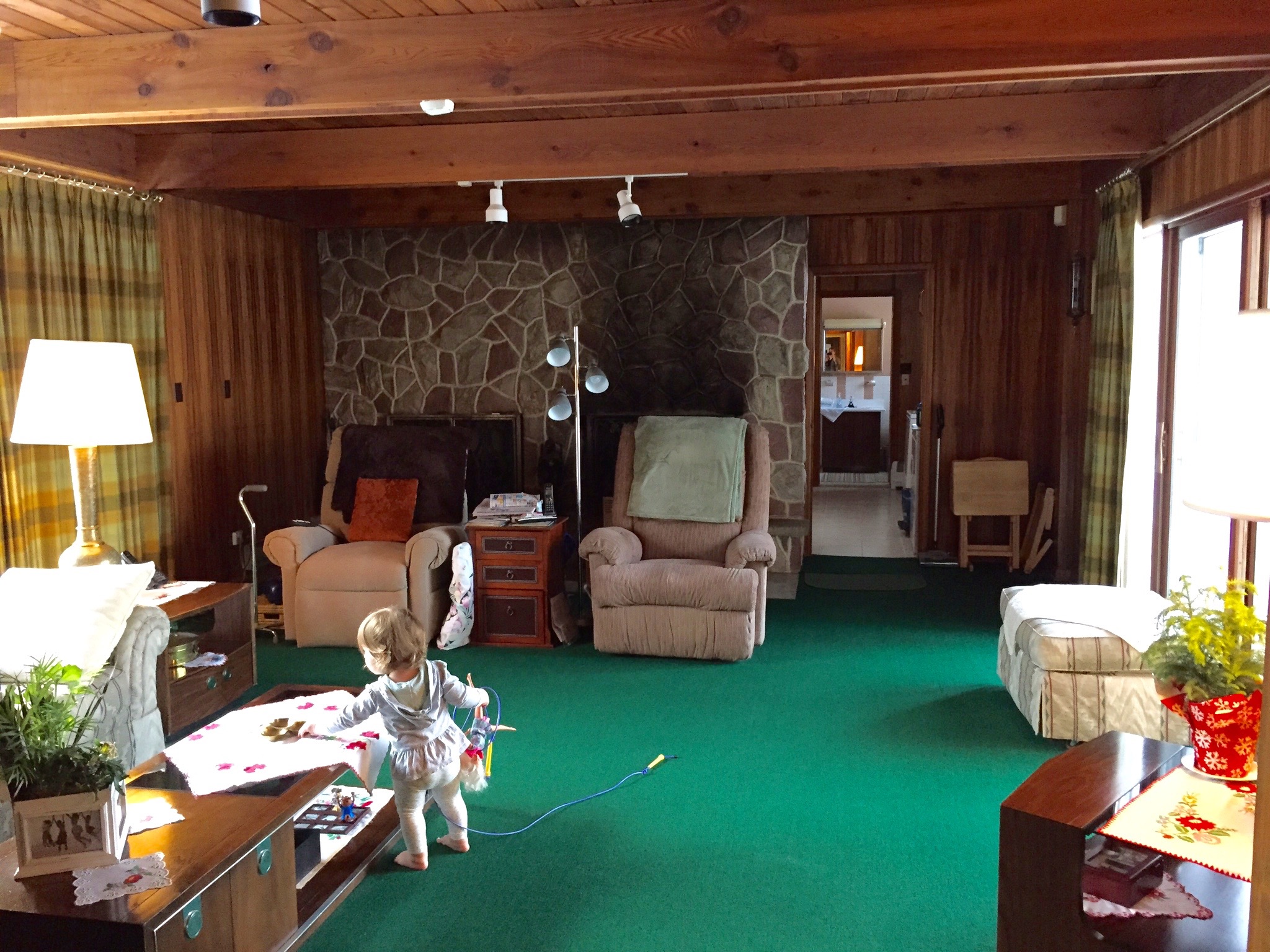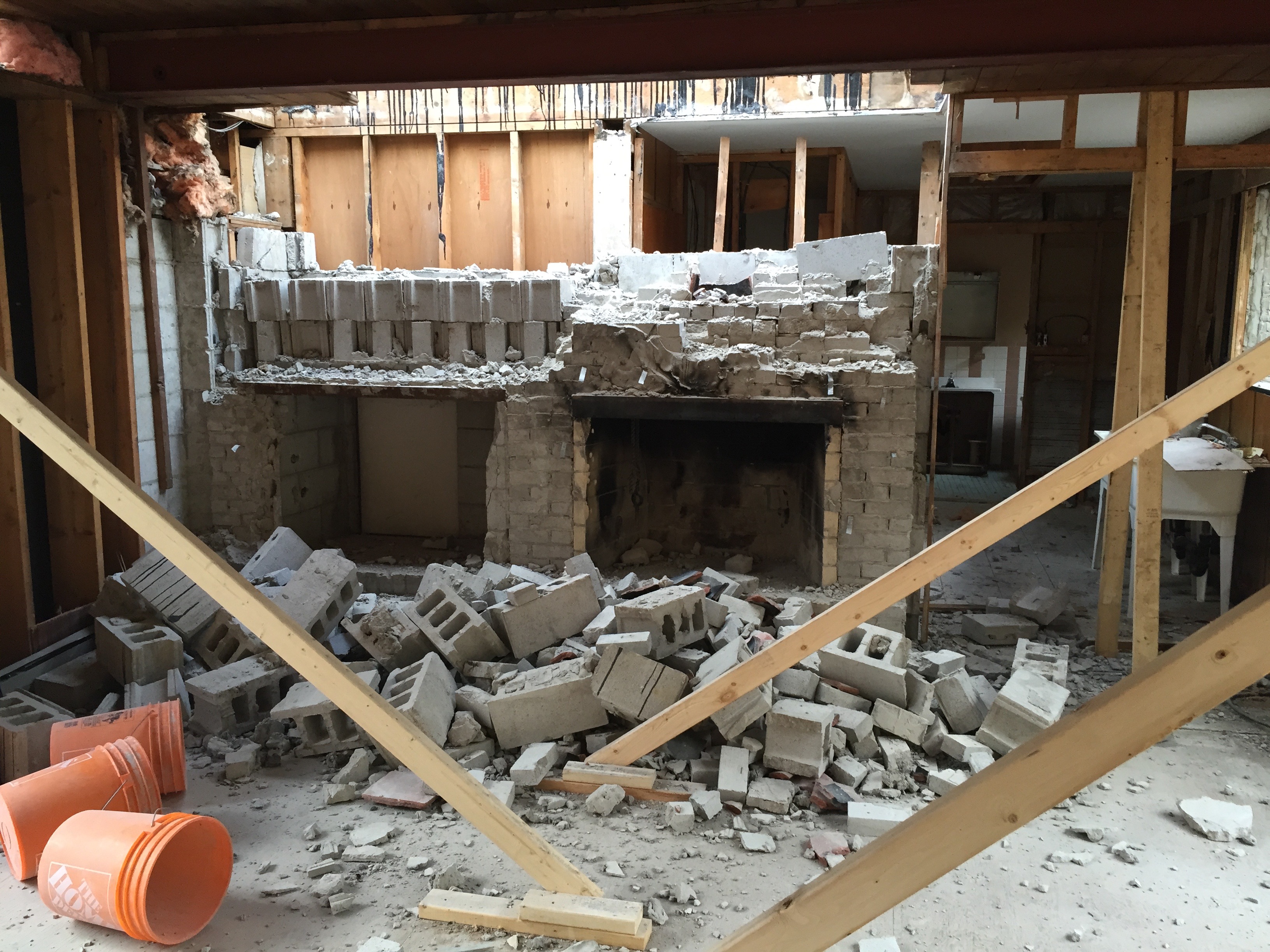 6 Weeks Ago:
It's a bare bones drywall space with lots of potential that drove me nuts because it had no character or storage…or mantle!!!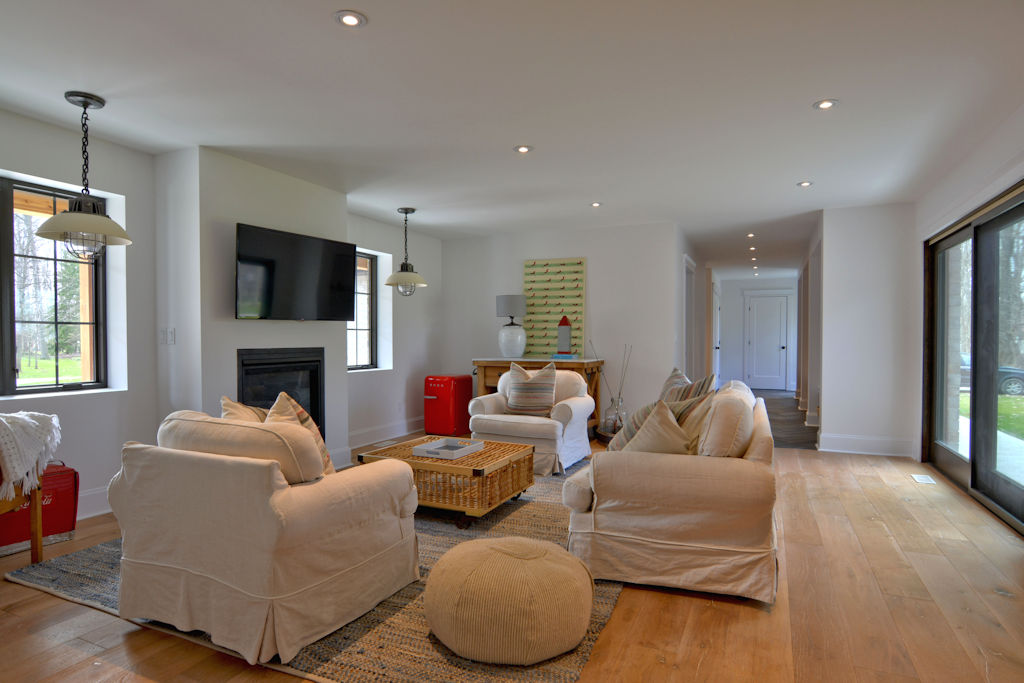 4 Weeks Ago: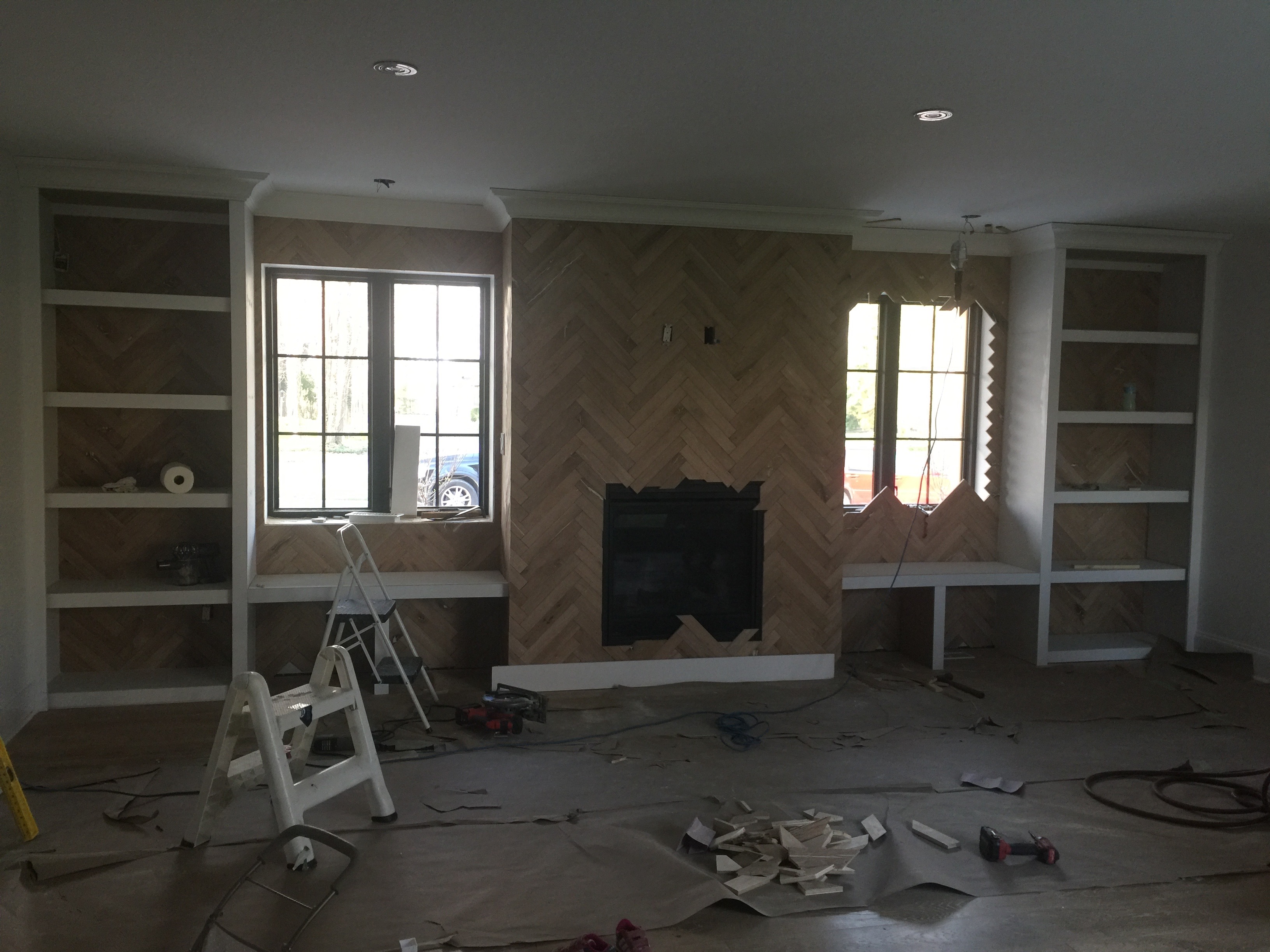 Today:
The fireplace is in a space that makes sense, the old fireplace is gone and a dedicated laundry room is in its place (a reveal to come!), there is a mudroom in the hallway where the old laundry machines were, a new powder room at the end of the hall…and then the finishing touches to our family room, at last!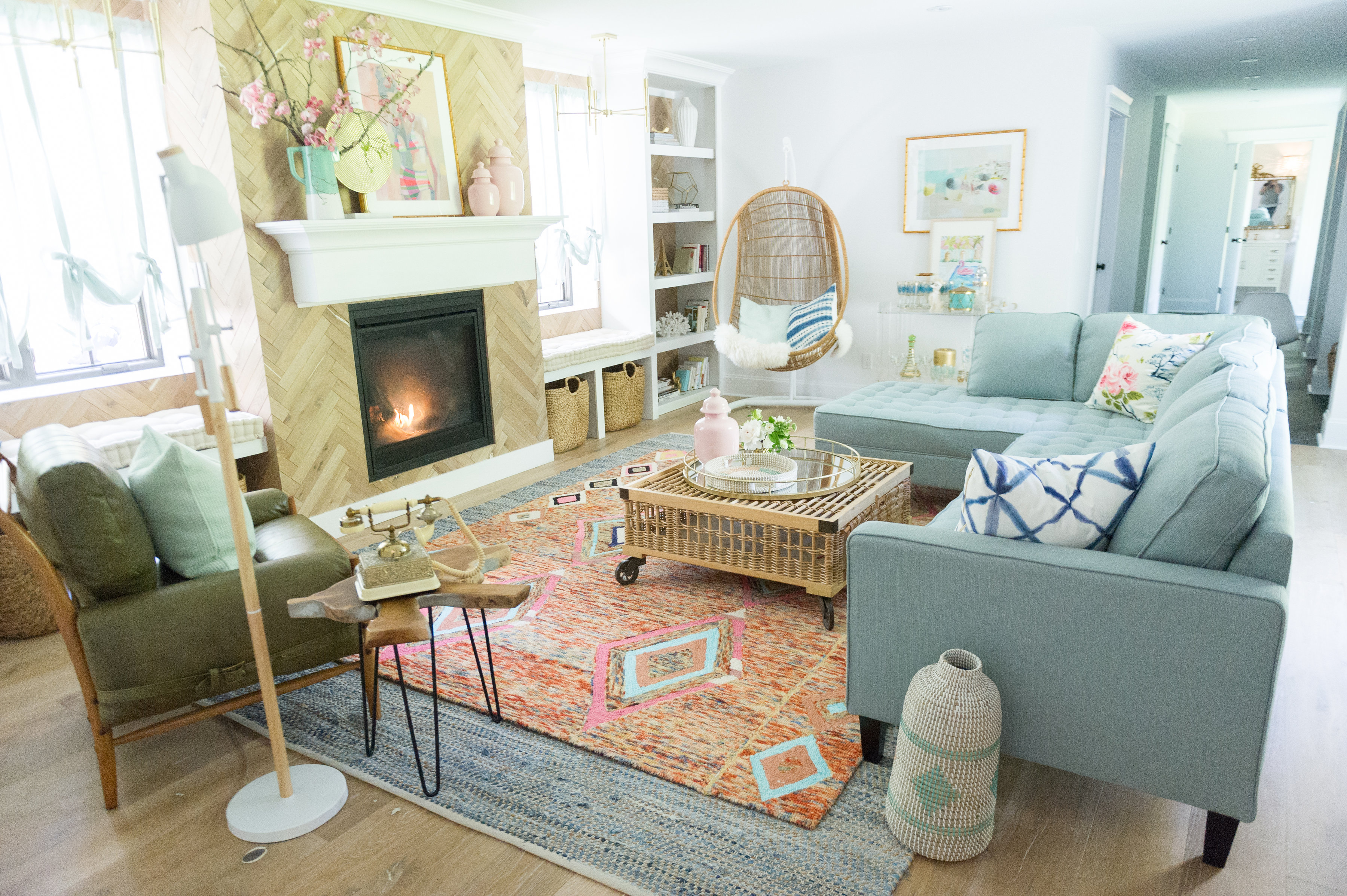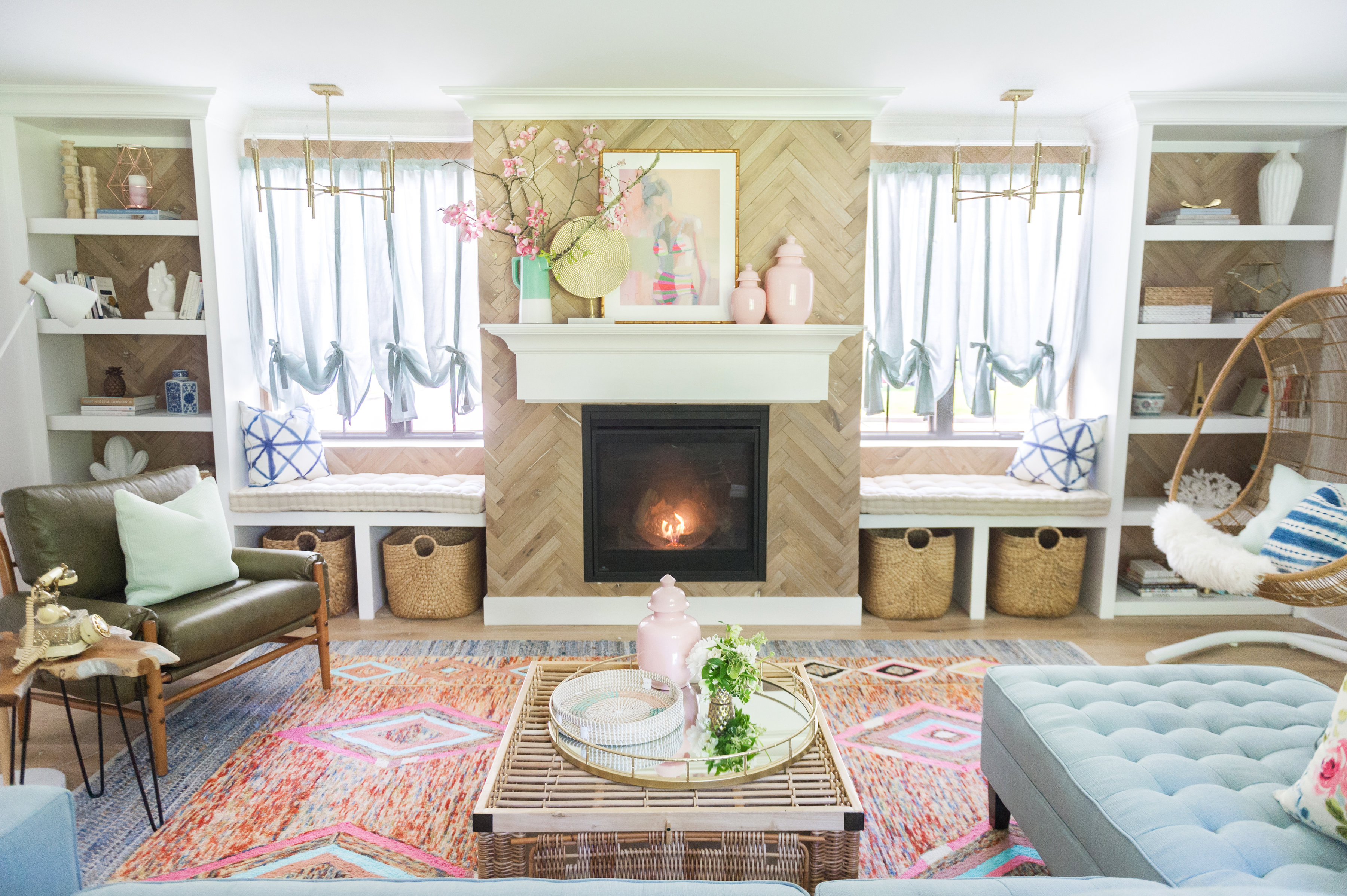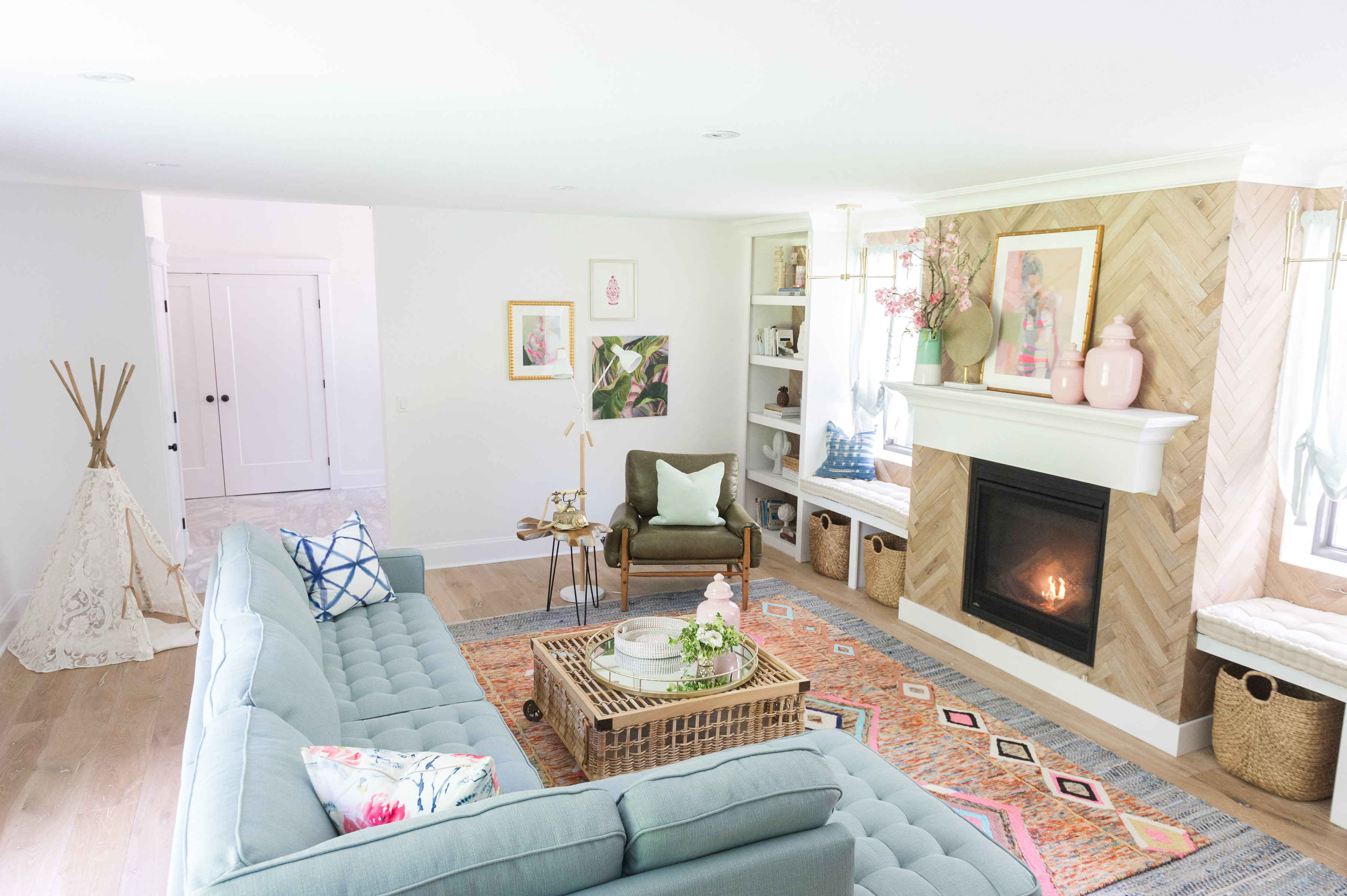 Colour
The colour in this new space really works for us but don't be fooled, you could style this room in so many ways. All the fixed elements are completely neutral and I think that's really fun. Our entire home is neutral, but I might have to point it out, since there are layers of colour and pattern in most spaces.
I was freaking nervous when I decided that we needed a seafoam sectional to match the linen-tie-up-shades, that nervousness is what makes it exciting!! The sectional upholstery came in light grey and that's the colour on display at the store. I brought my husband to look at it and the fabric samples and I said,  "I want the seafoam, but we should get the grey right?" He said, "will you be happy with the grey?" and I said, " no, but it's safe. I feel nothing when I look at the grey and when I look at and touch the seafoam sample my heart sings a little". Then all of a sudden I yelled, "SEAFOAM" to the lady and didn't look back.
Deep Thoughts on Design lol!
Design HAS to speak to you. Colours, textures, patterns, patina's: they all speak to you, if you listen. If you touch something you like, you feel the energy in your hand. Try it? If you keep paying attention, it gets louder. You should surround yourself by things that you love and it will be exciting to literally walk into the room, every time.
I'm always standing in different places at different points of the day to catch glimpses of the spaces in our home and it brings me joy. Don't get me wrong, it's not all sunshine and rainbows because I do the same thing when I'm not liking a space or haven't renovated it yet, to figure it out (helloooo did you see that painful before). The morning before the sectional was delivered I was so nervous it was amazing…I love that nervous excited feeling before installing a piece. It was the last piece too, which was extra crazy, nerve wracking, and fun.
When things are right, they just click and you don't have to give them another thought. That's what happened with the colour. It came in and it was perfect and I haven't thought about it. When something's not right it just kind of grates at you naggingly FOREVER…lol. It happens though…my advice is to switch out the problem. For example, if you paint a space the wrong colour, suck it up and get it the right colour cause it's not going to bring you peace until you do. It's OK to make mistakes. It really is OK. It's not your fault…shizz happens. You gotta break some eggs. (Hopefully it's not the most costly egg in the room…lol!) Remember how I got the totally wrong fabric for the bench cushions for the window seats?! Yup…I sucked it up and fixed it, and I'm so glad that I did!
Oh that reminds me. I made another mistake! Remember the vintage horse hair sofa from week two that I found on Craigslist?! What the hell was I thinking?! So NOT the right piece for the family room. But it is the right piece for an entryway, instead of a bench… LIGHTBULB!  Things evolve when a space comes together. All of a sudden the super wide space I was dealing with clearly needed a sectional with a left facing chaise, so that you could get a view of the barcart and egg chair on the wall perfectly when you enter the space!!!  Imagine a loveseat blocking those touches? nope.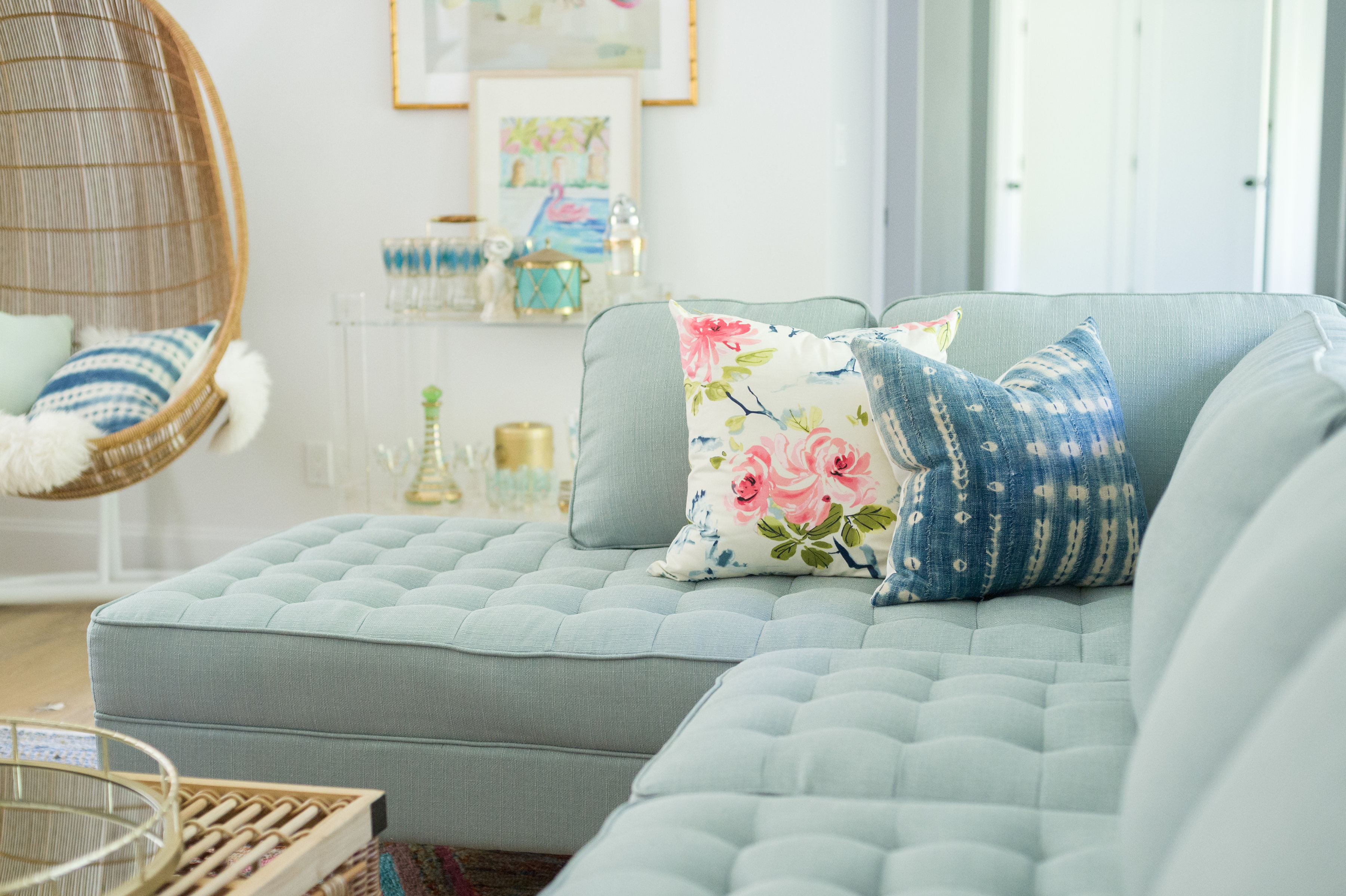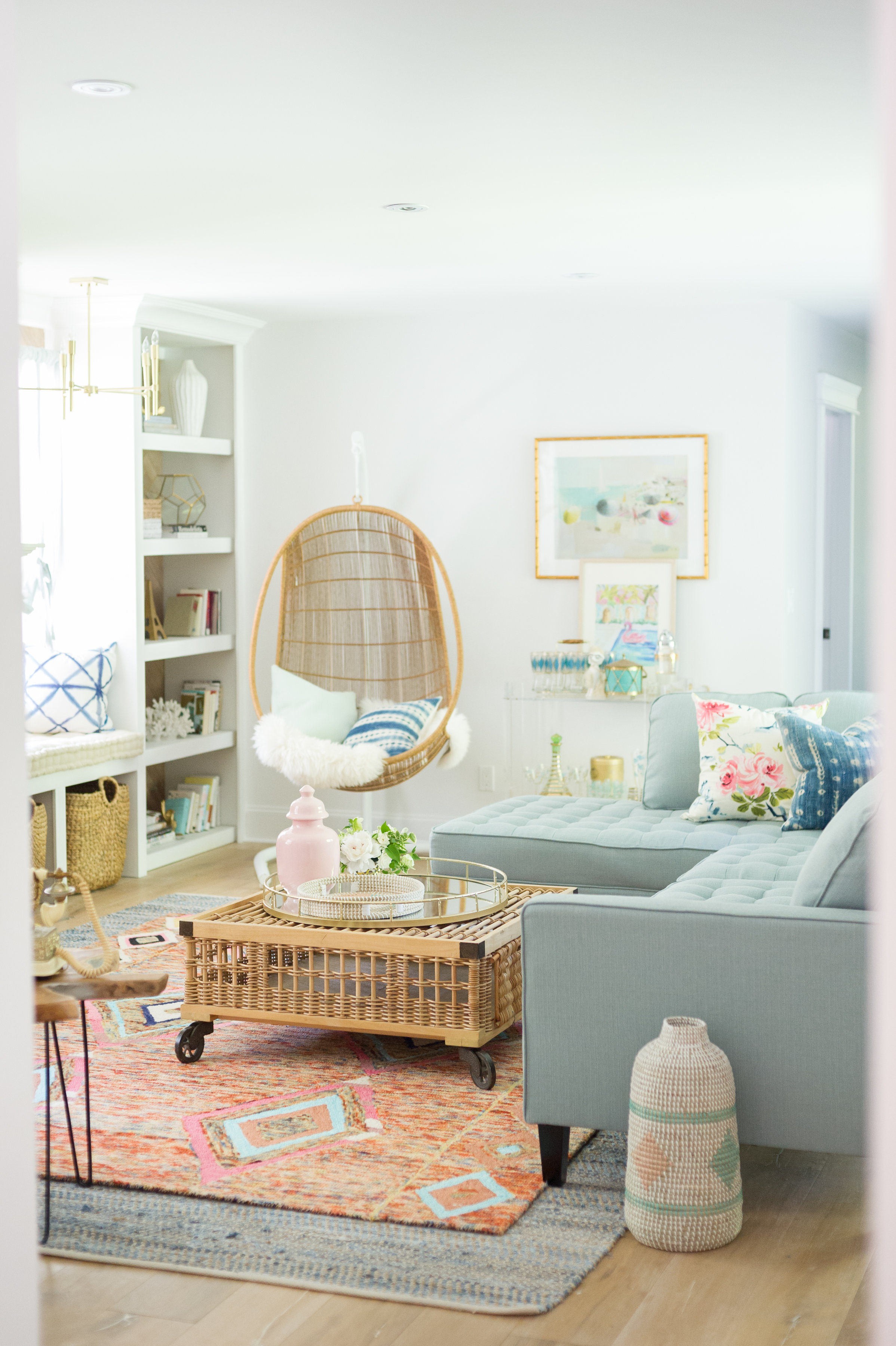 What's in a Name?
I called this space Vintage Summer. Vintage because there are a ton of vintage pieces, and vintage profiles in this space. E.g. hanging chair, sectional shape. Every piece on the bar cart is vintage.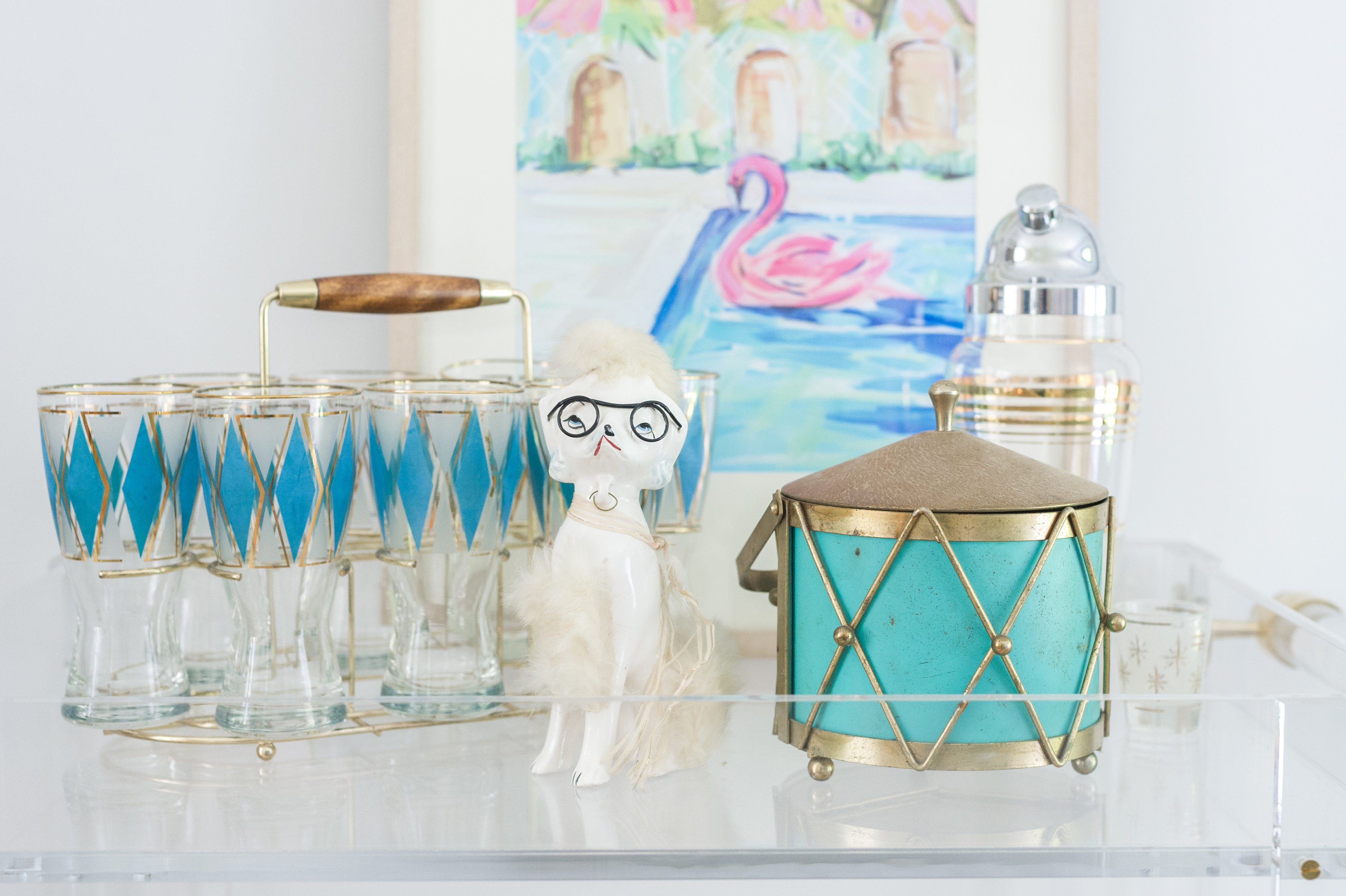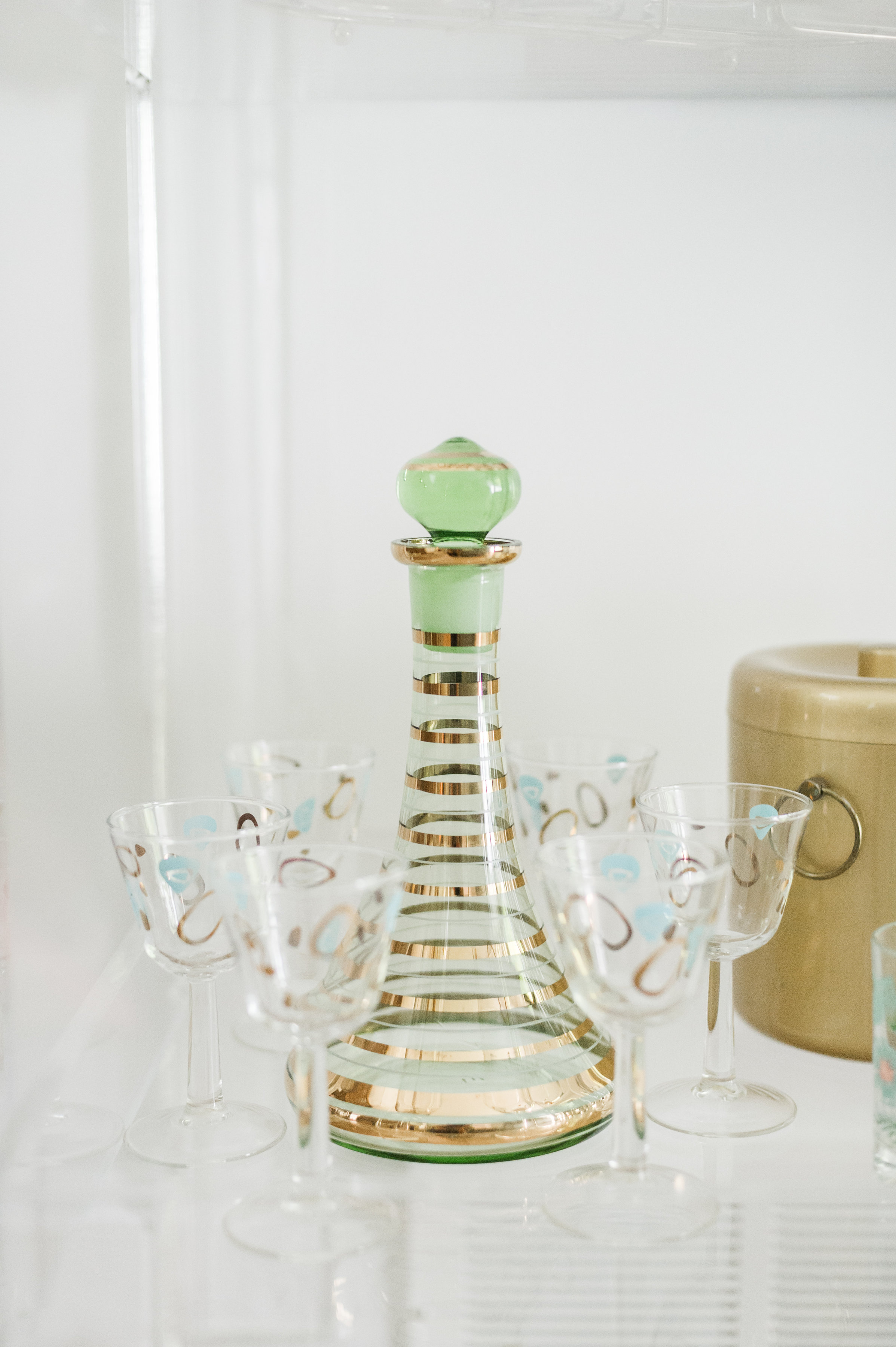 The set of 3 pink Ginger Jars is from a little antique mall. FIND OF THE CENTURY! $30 bucks for all 3…so in love! (the 3rd is on the coffee table ;)) 
And my grandma's phone!! I'm so in love with this piece!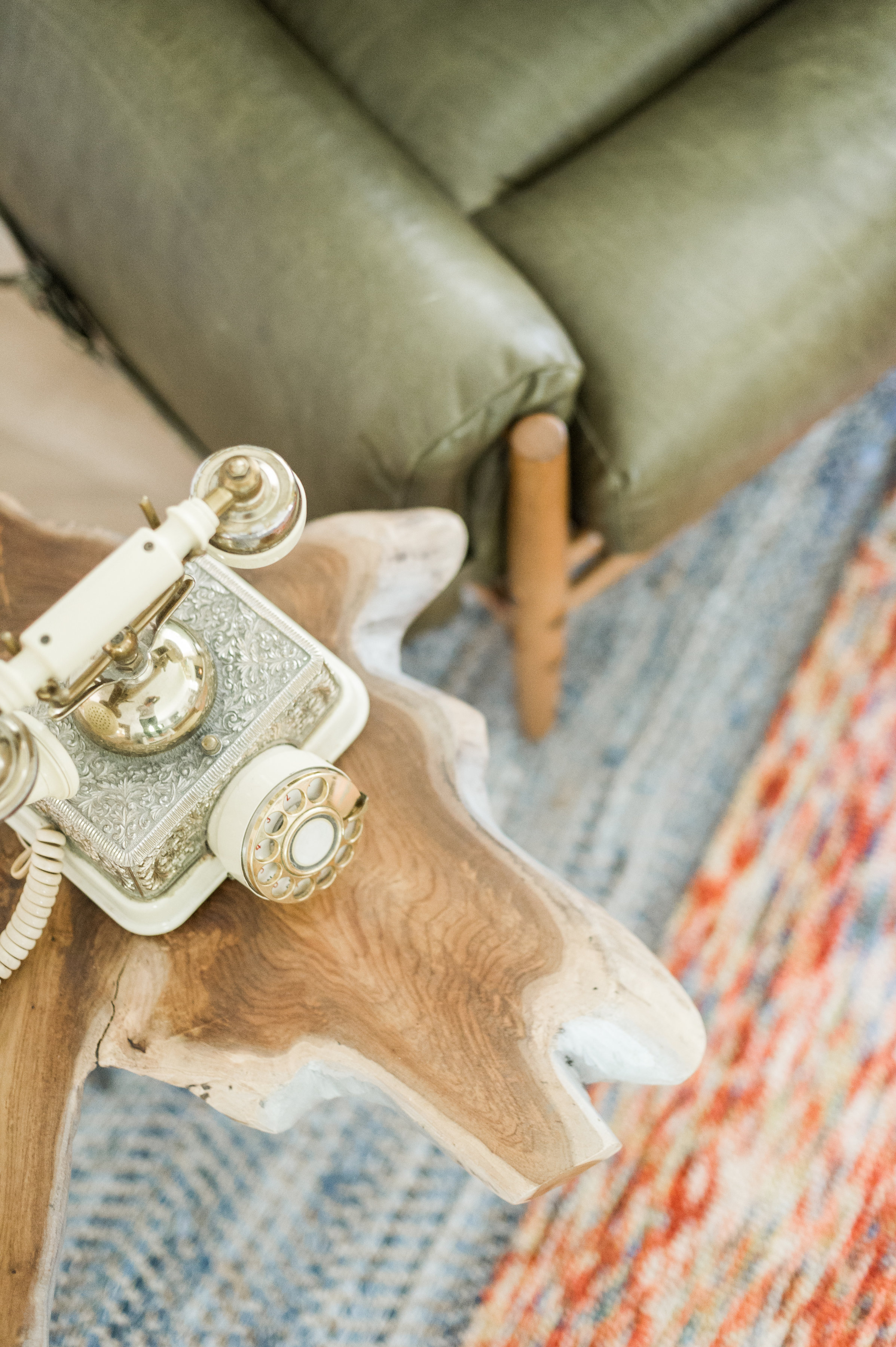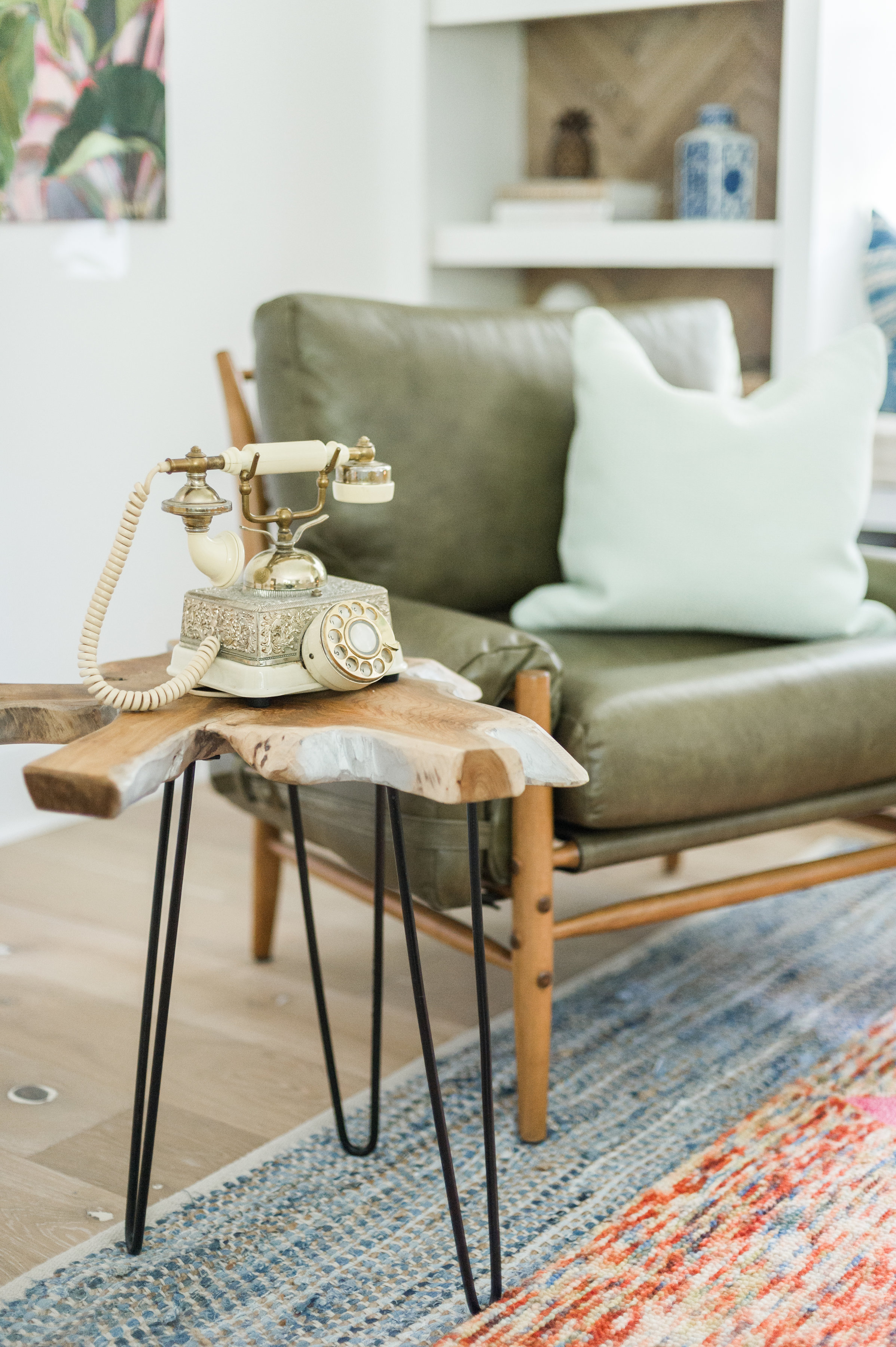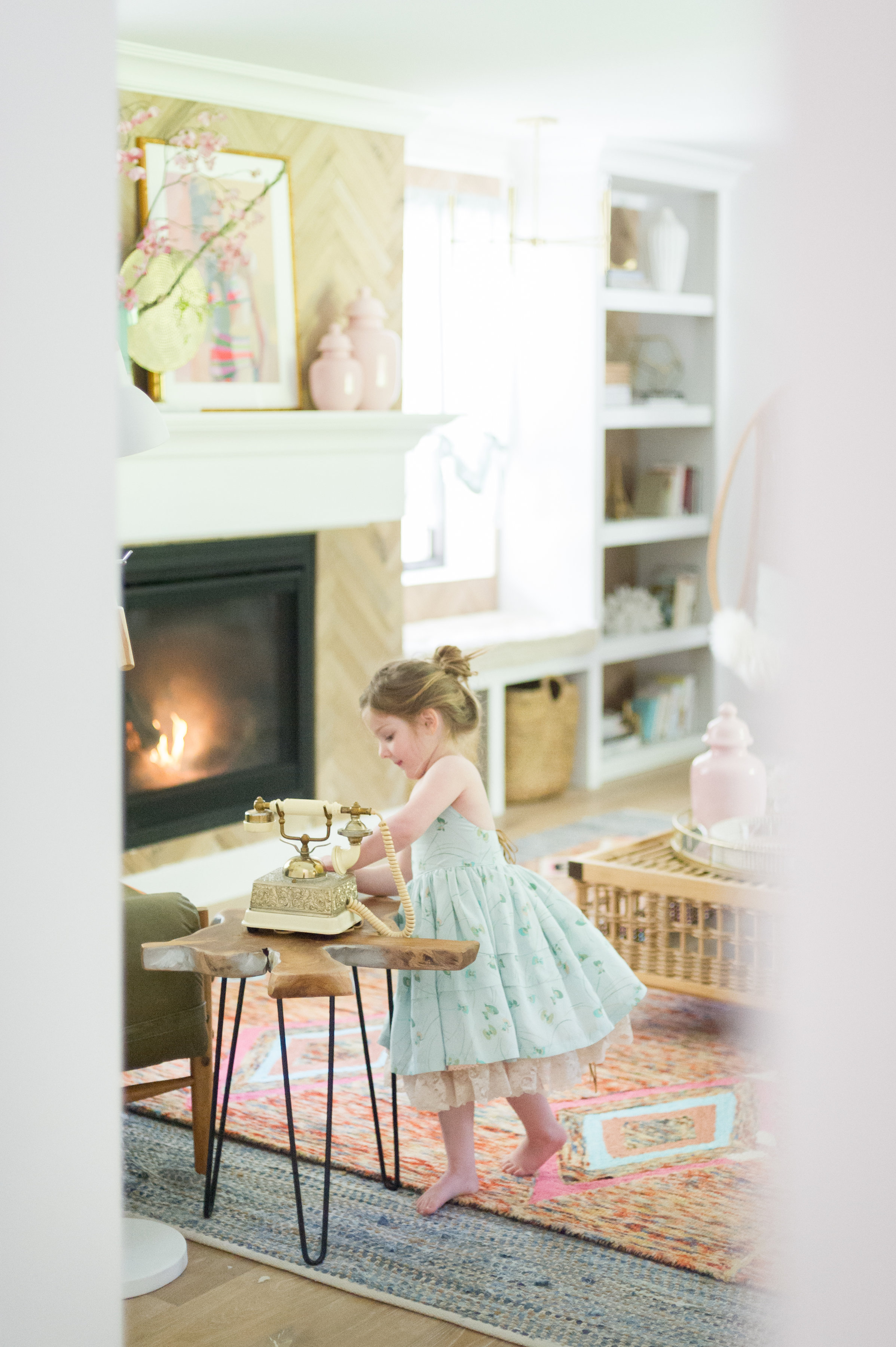 and Summer because of the colour in the room and the subject matter in the artwork. I think it's the perfect way to start Summer, but it will be equally fun in the winter when you need a dose of sunshine on a harsh day.
This print of the Teil Duncan painting entitled Vintage Swim…just totally and completely sums up my space and it's funny because it's everyone's first comment when they come into the space and the last thing they leave talking about! It's so beautiful and that frame…so swoon (I have a promo code in my week 5 post to get this frame from Framebridge for a discount;)).
The mantle was actually the spot where we came to blows on this reno. Ben didn't want a mantle because he wanted the space more modern and I get that and it would have looked good either way, but I really needed the mantle. Styling mantles is honestly one of the most fun things to do in life. I'm serious. LOL. but seriously. Look how happy and full of purpose I am…you can't make that up. LOL! I'm sorry Ben and I hope you forgive me and thank you for the mantle. xoxo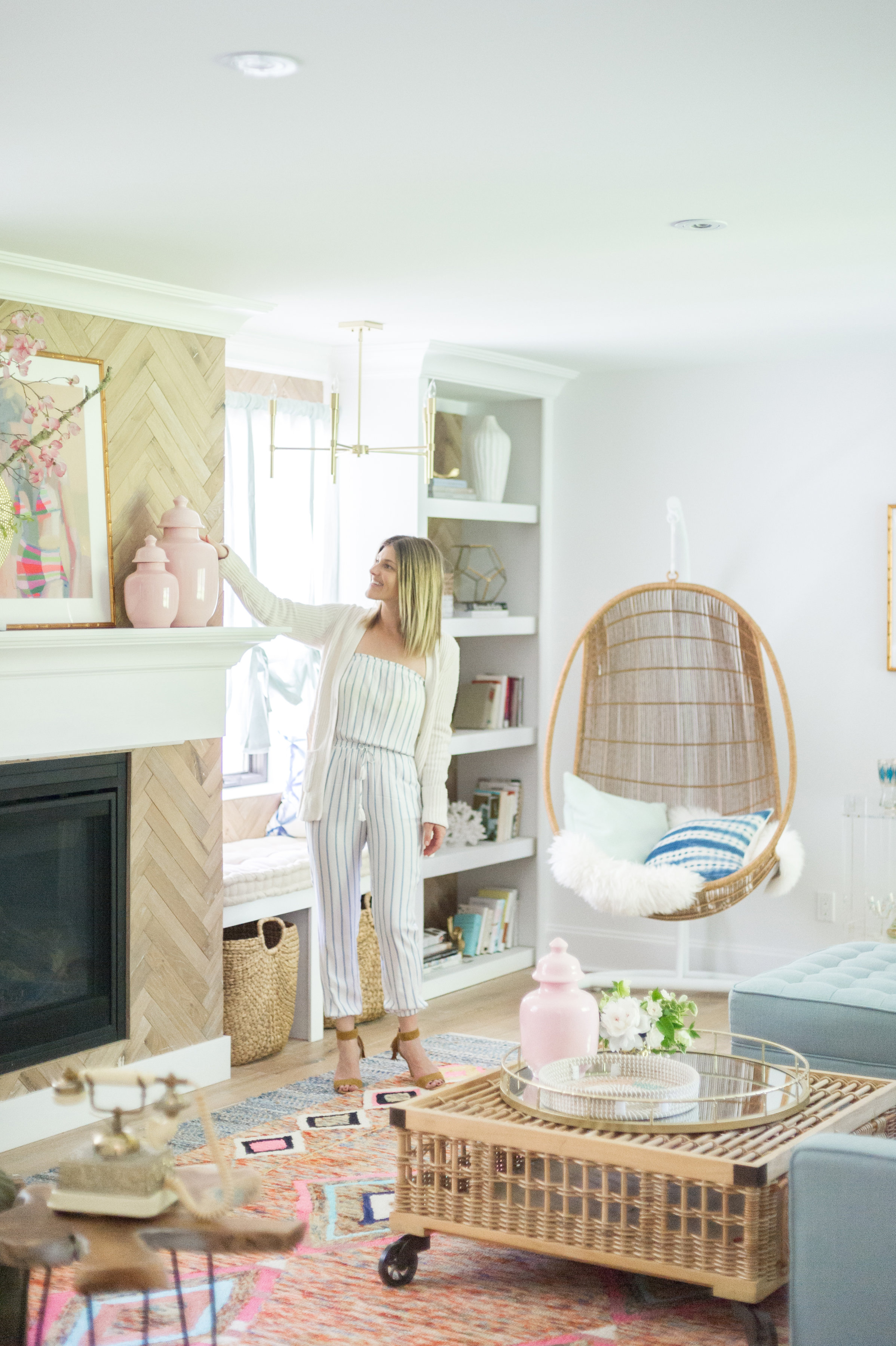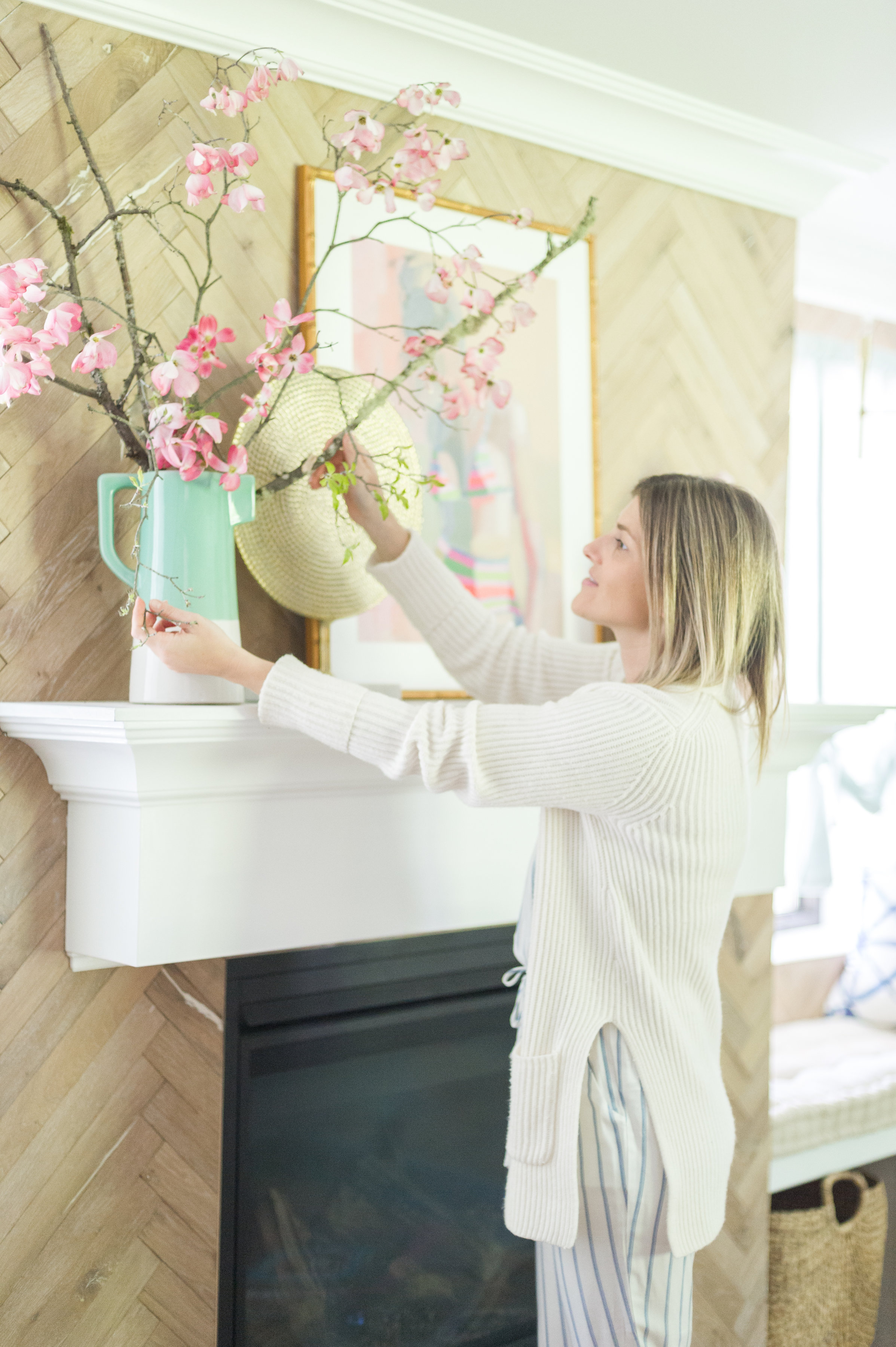 Millwork and Shelfies
I also just want to give another massive thank you to my husband's brother Ben and his friend Matt Cornies for the millwork and the herrigbone wall…in case you missed the detailed post on the highlight of the space read it here. The herringbone background gives so much depth to the shelves!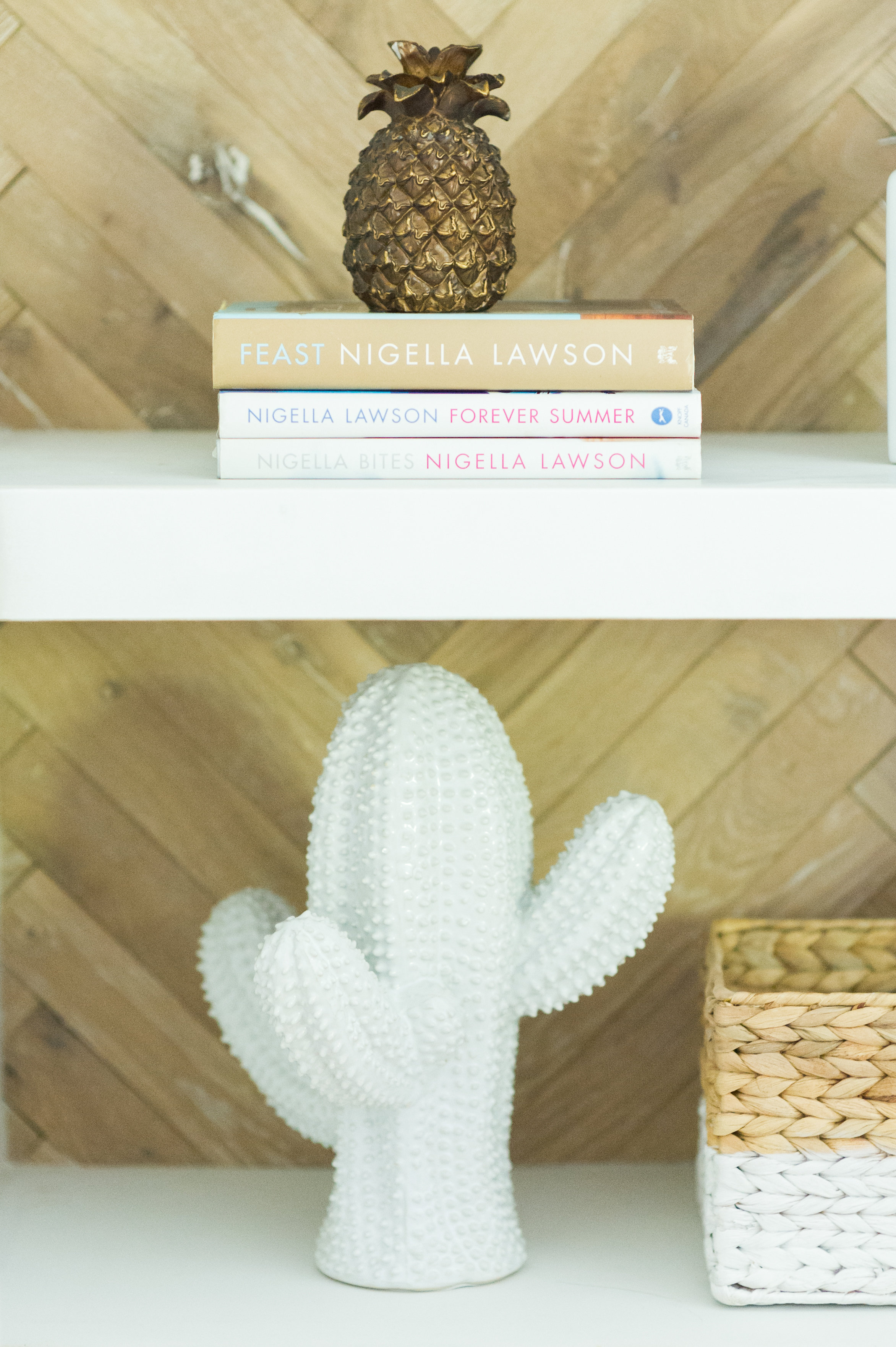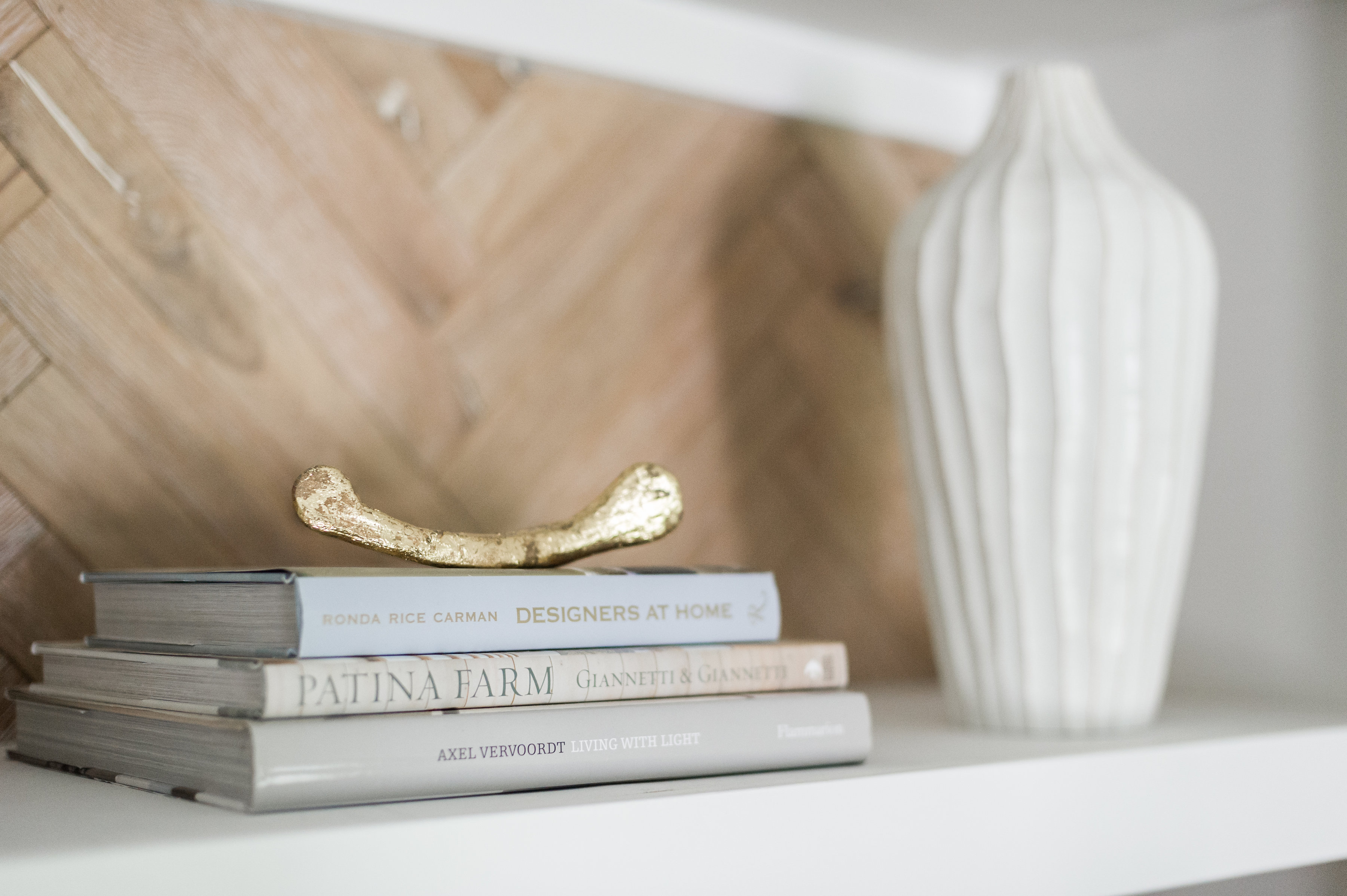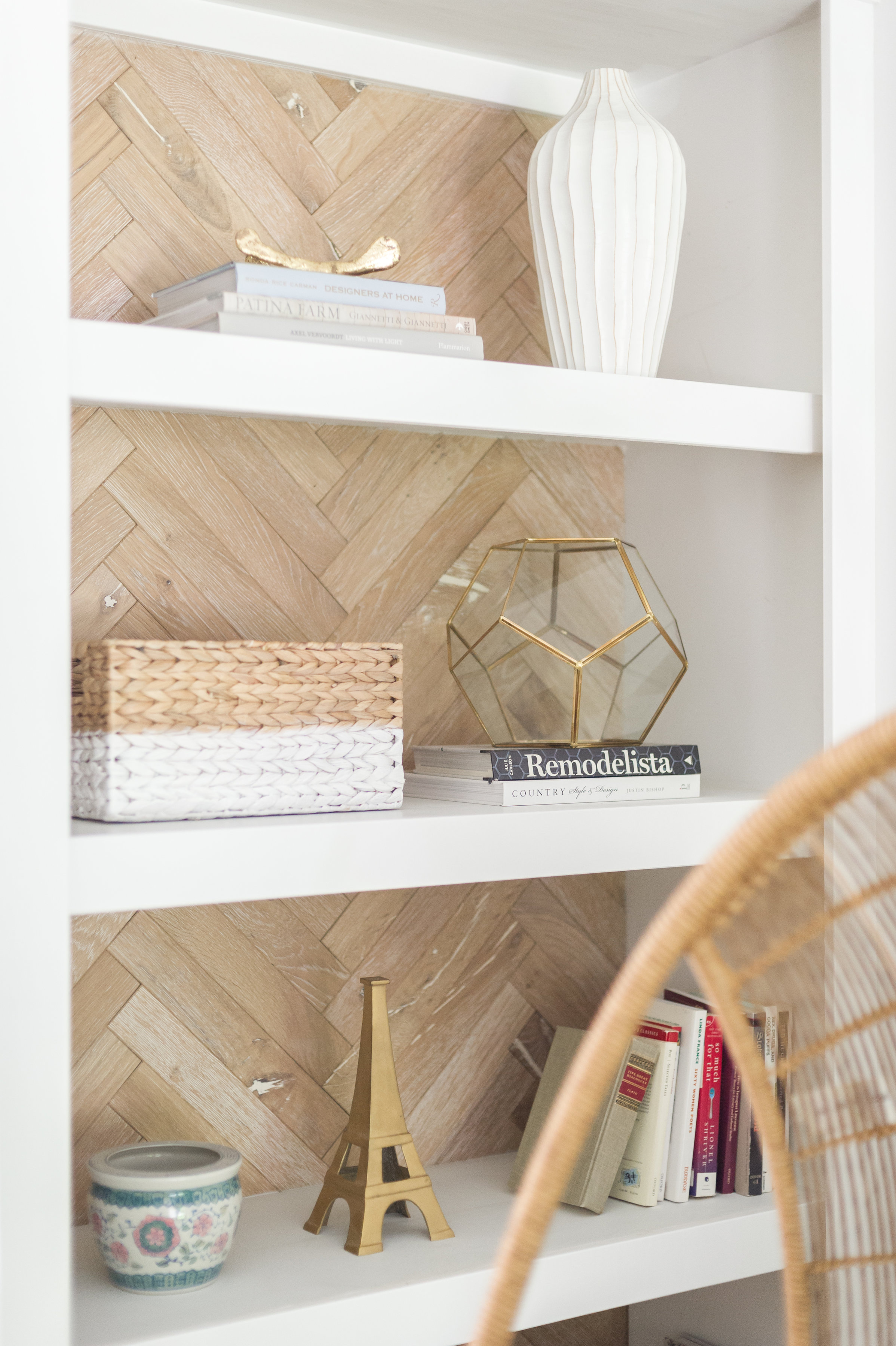 Layered Rugs
I layered the new rug over the recycled jean rug that I had in the space originally and I love the bohemian vibe that the mix of textiles adds to the space.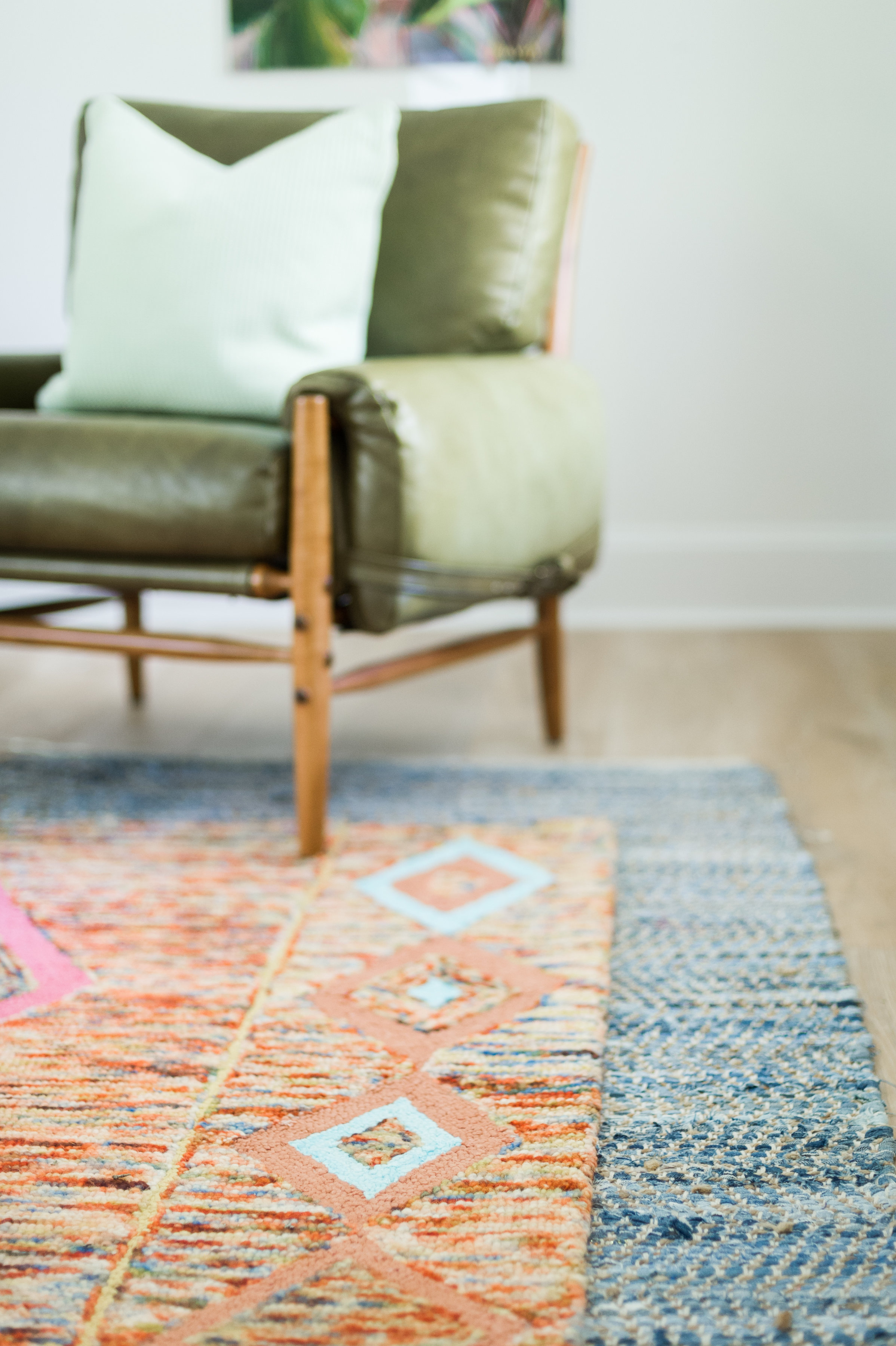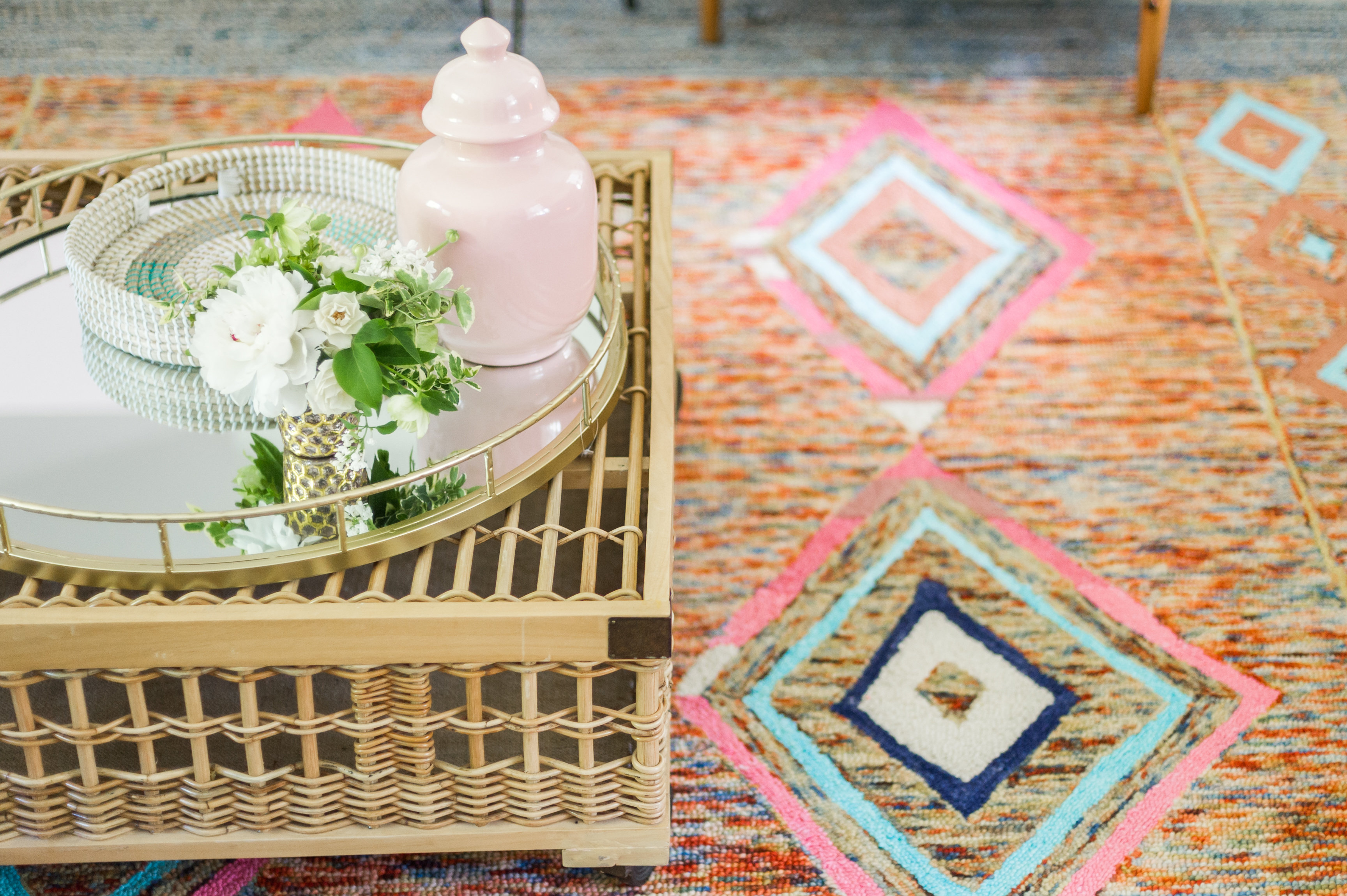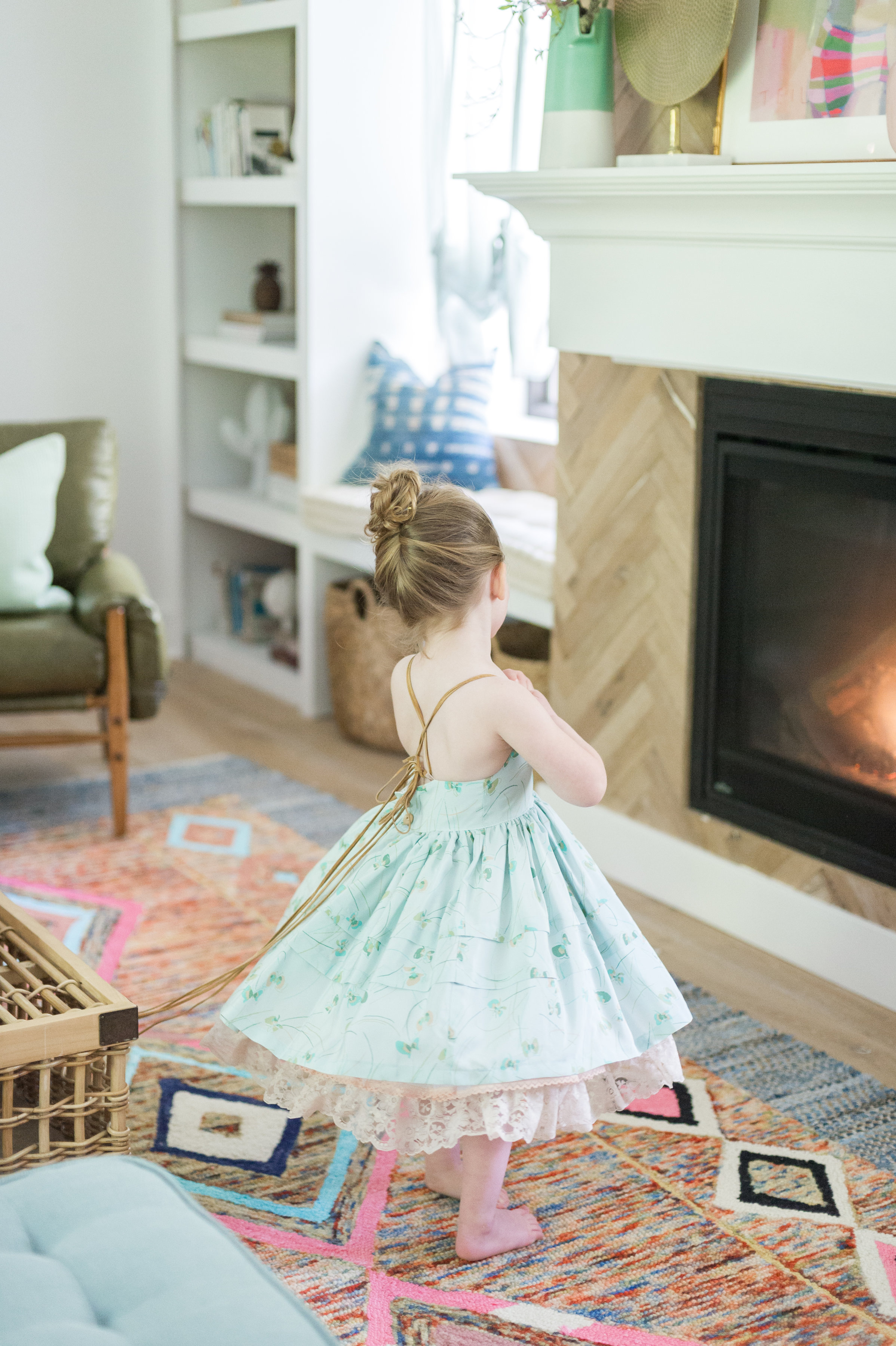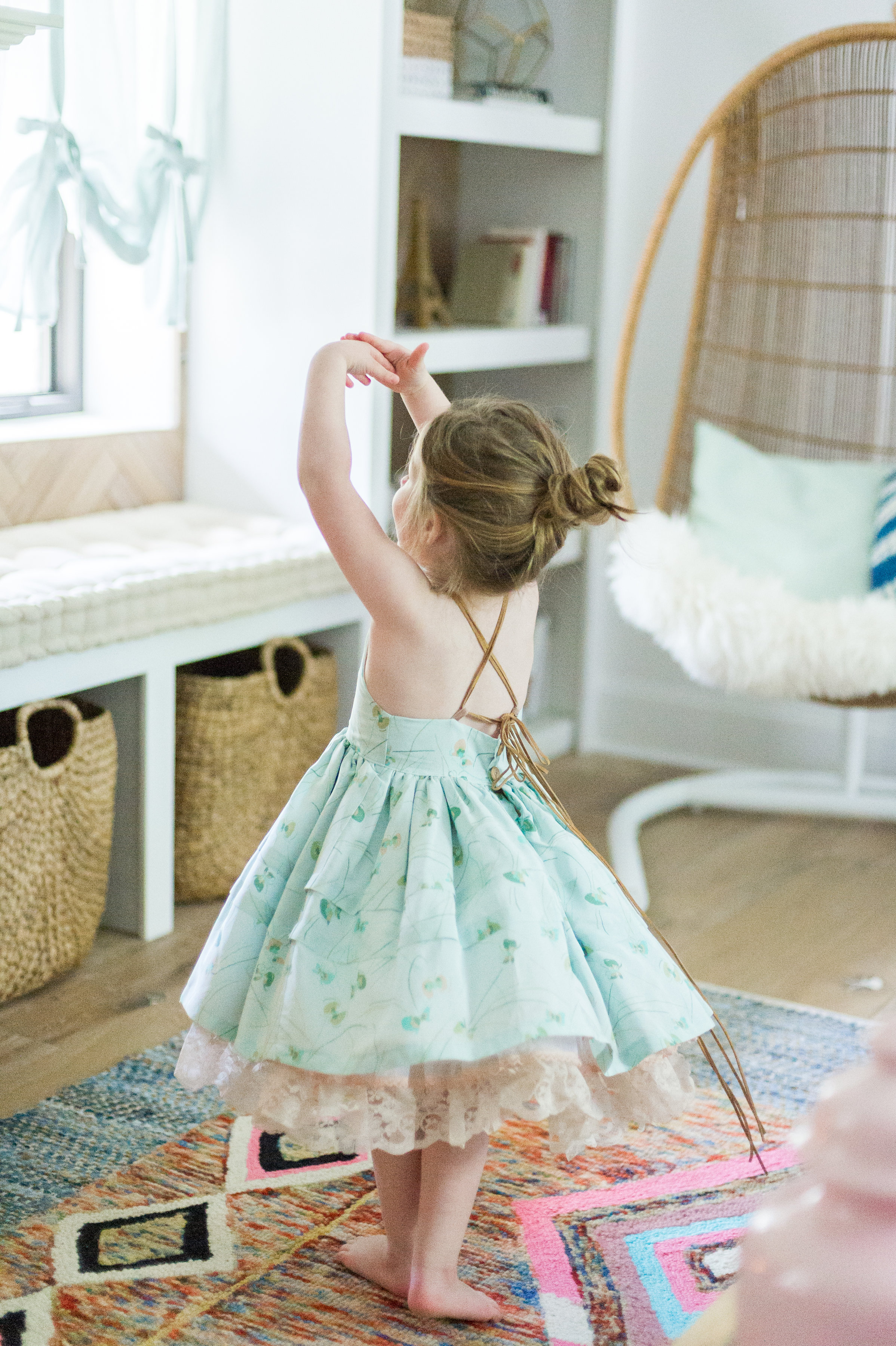 Coffee Table and Tray
We already had this Pottery Barn coffee table, but it looks so much better now, I'm in shock! It was never very functional before because we bought it on sale because it didn't have a glass top. I found this amazing round coffee table tray that has gold bamboo detailing like in the art frames and now it has so much functionality!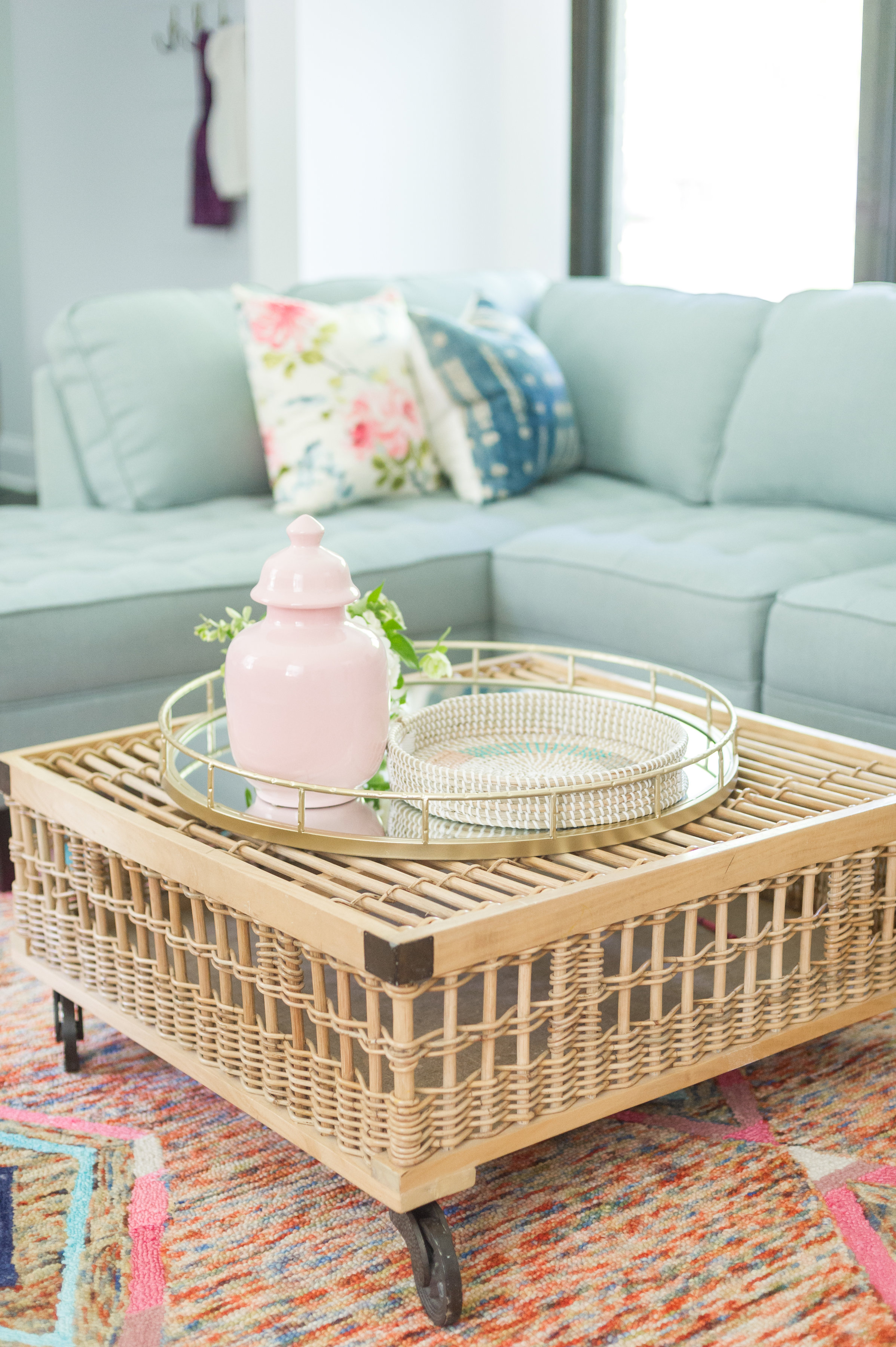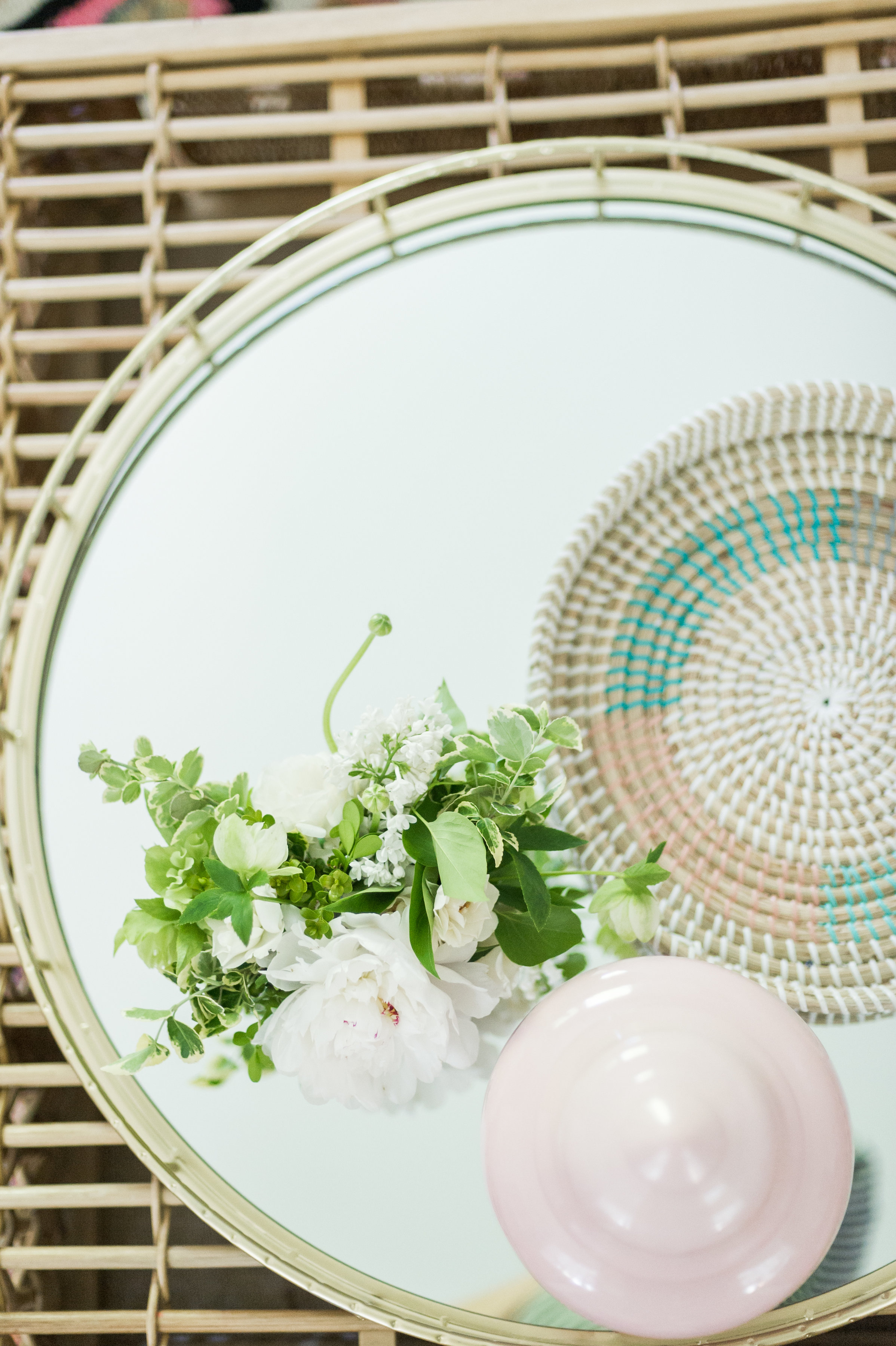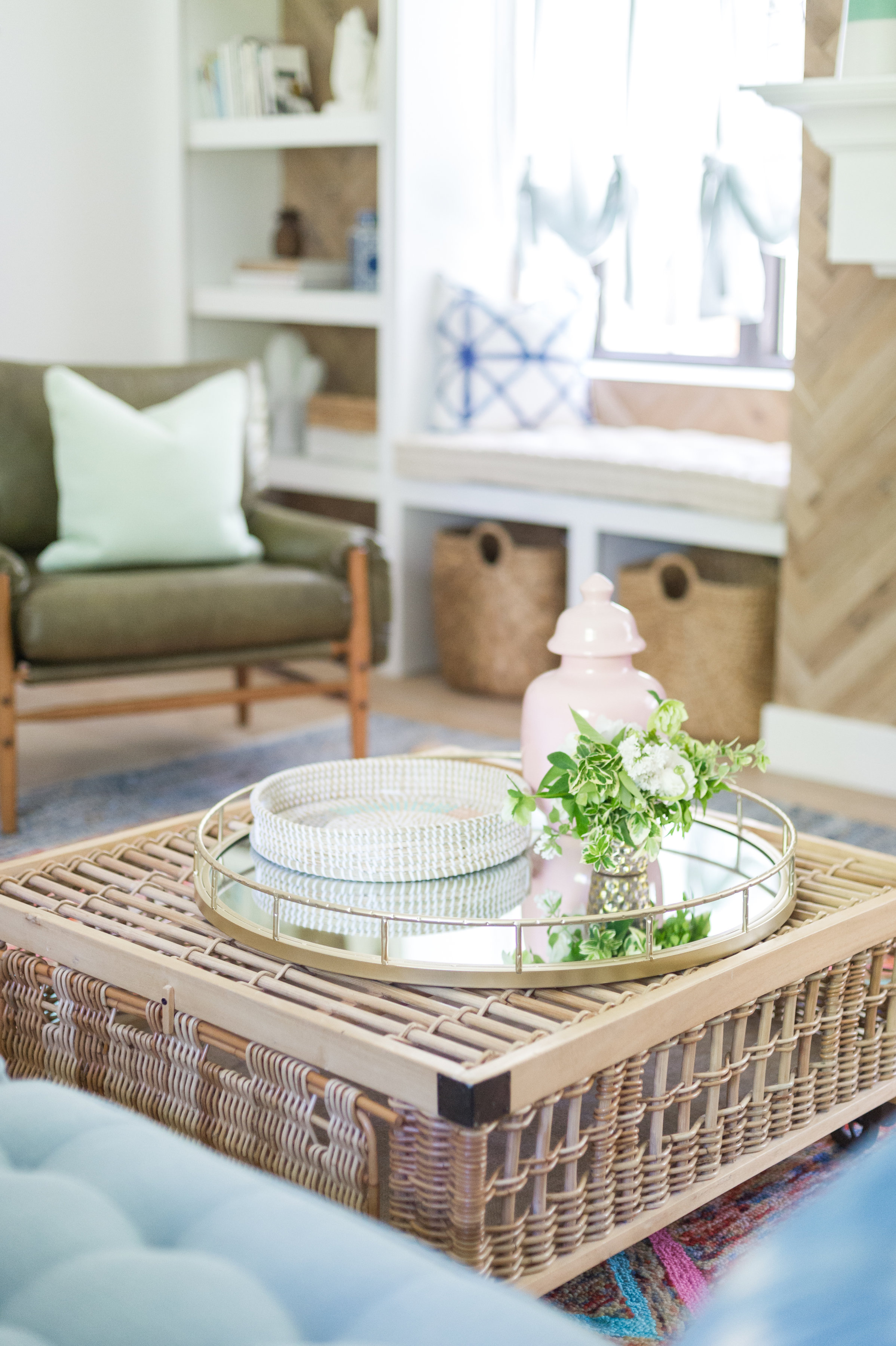 Anthropologie Chair and Floor Lamp
I've loved this Anthro chair for years and years and I found it on Craigslist! You can read about the find and source the chair here.
The floor lamp is so awesome and from Canadian Tire and I've linked it. I highly recommend!
Here are links to the 3 art pieces in this space: Nude, Banana Leaves, Ginger Jar.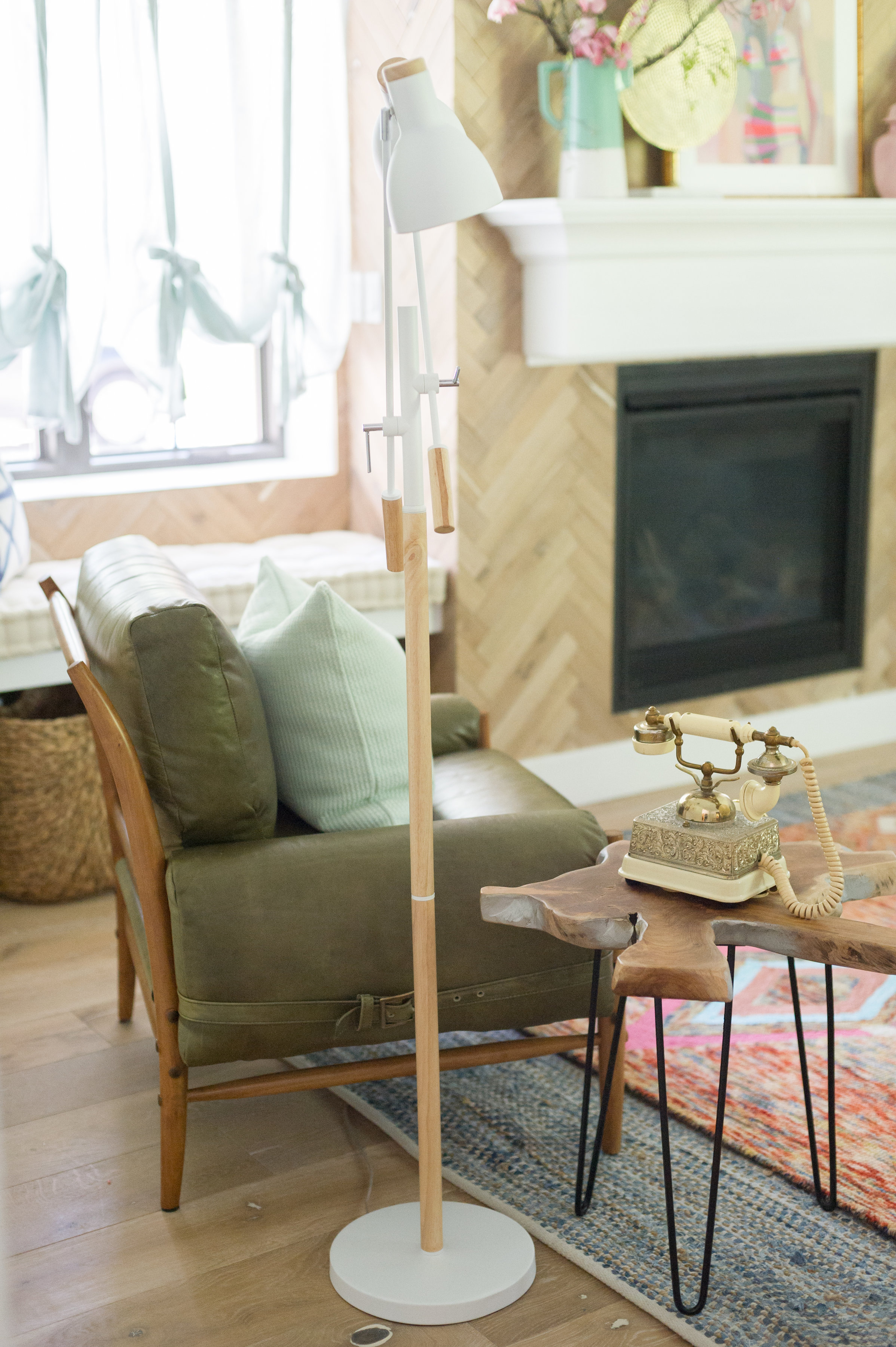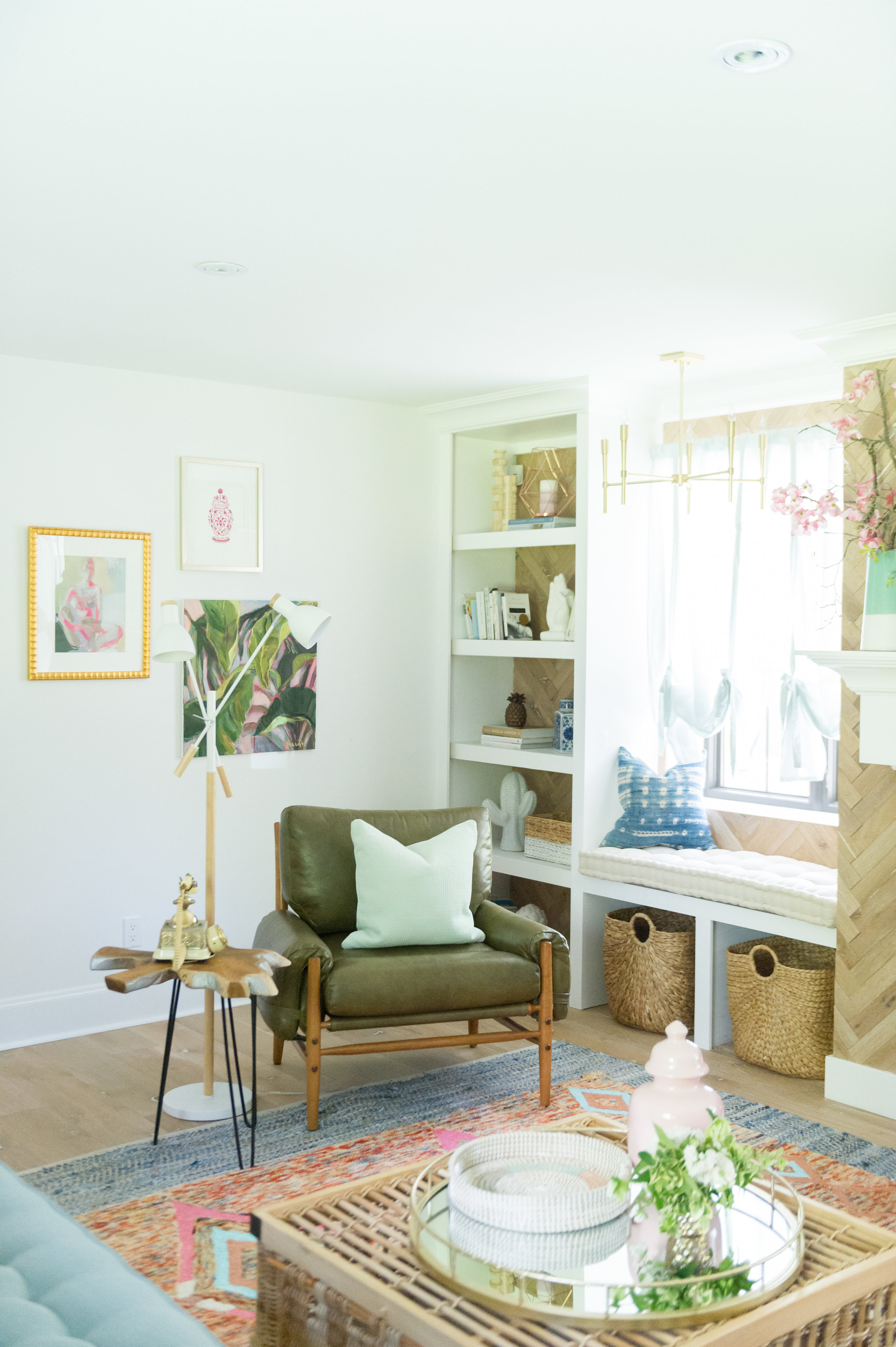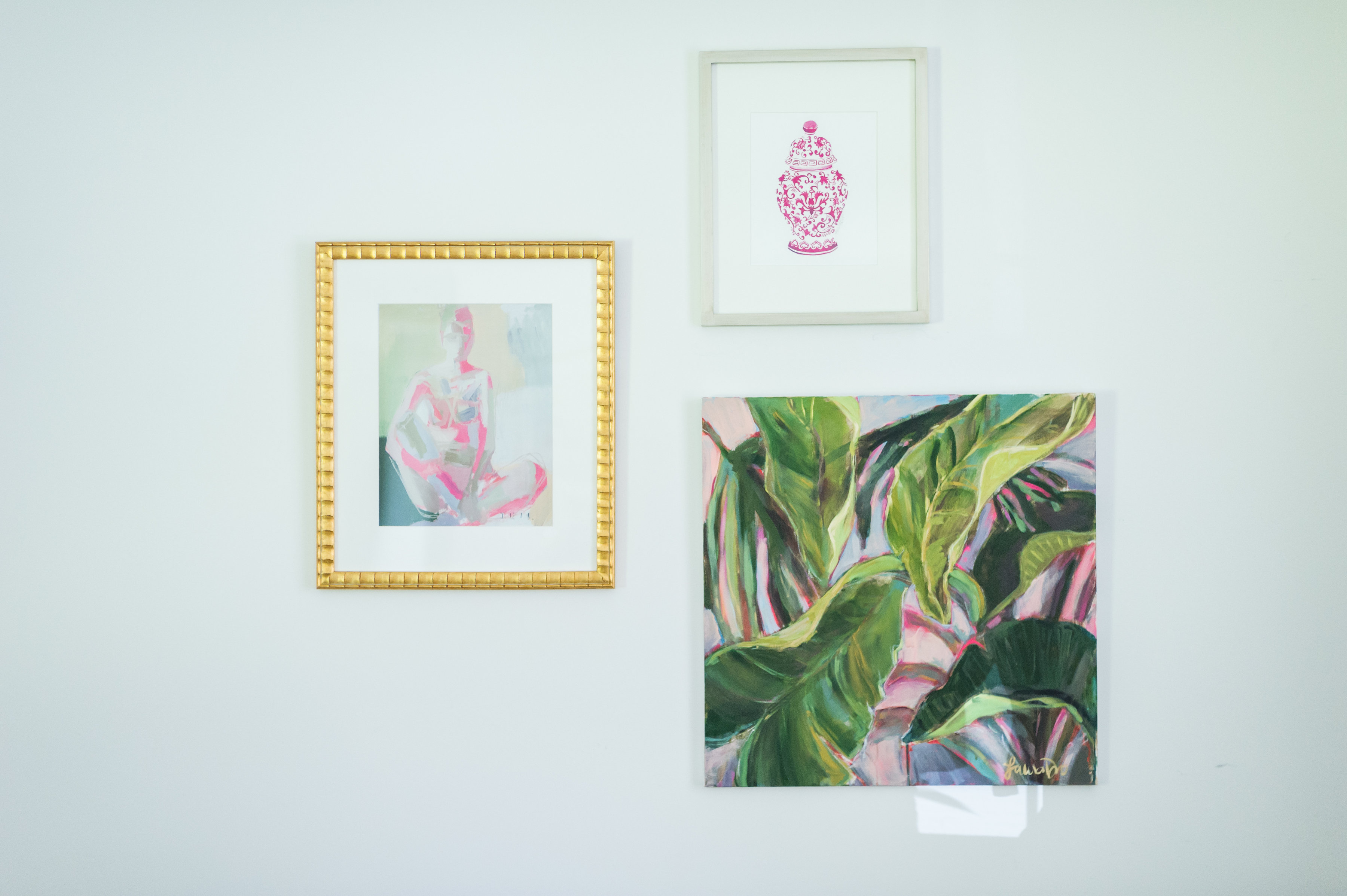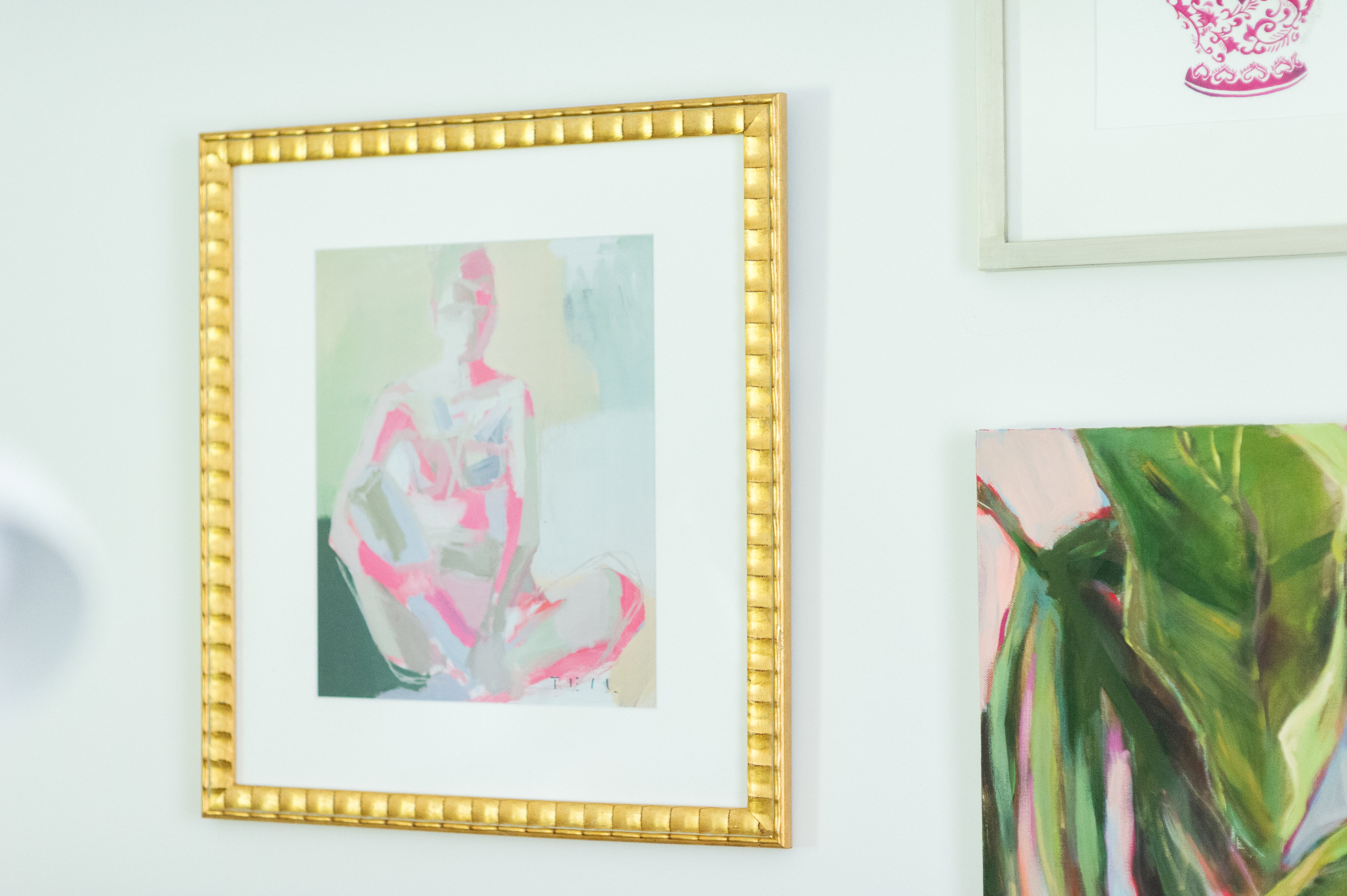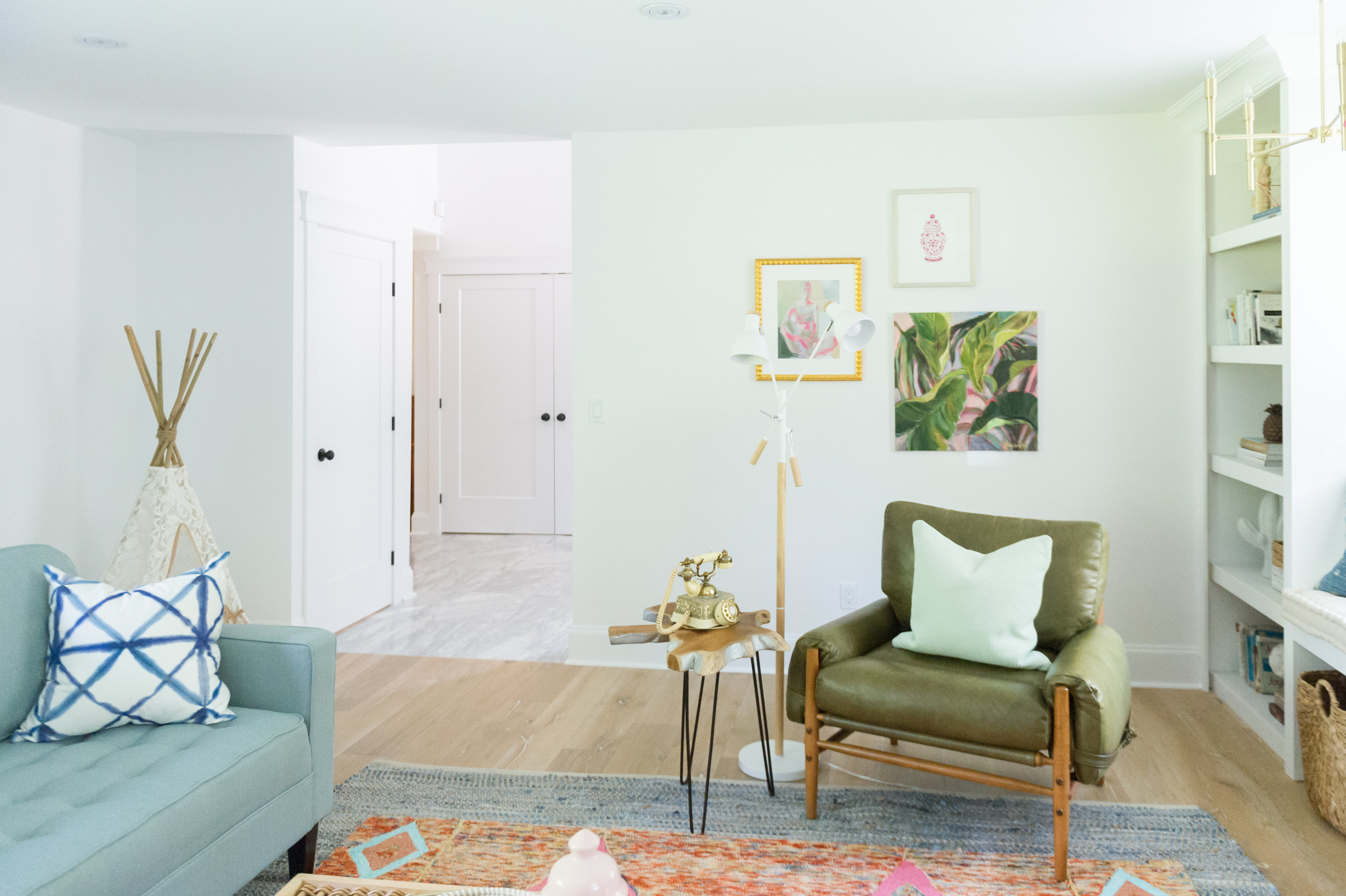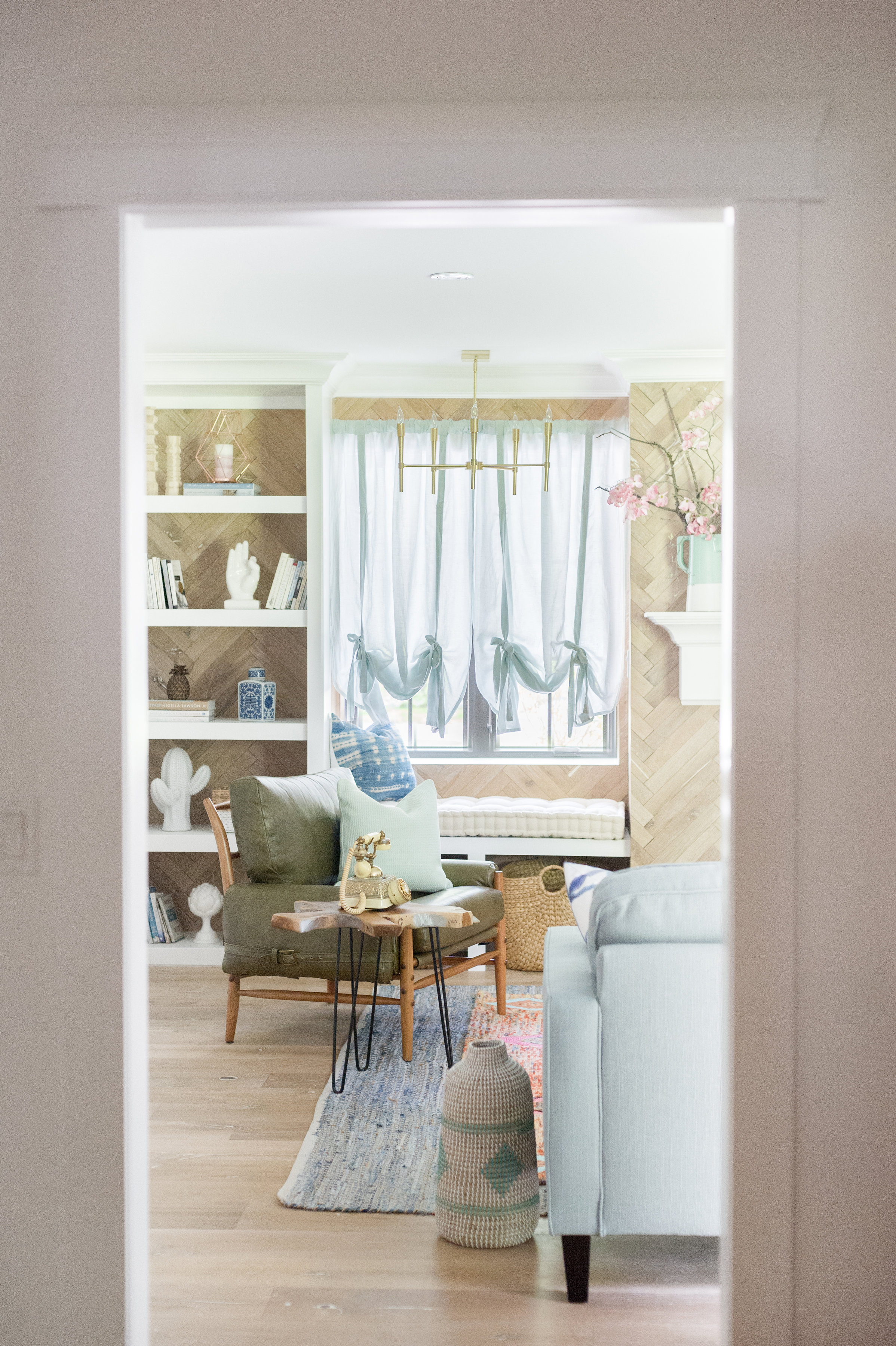 Window Seat(s), Chandelier, Bench Cushion, Baskets, Pillows
All of the sources for the window seats are linked in the week 4 update 😉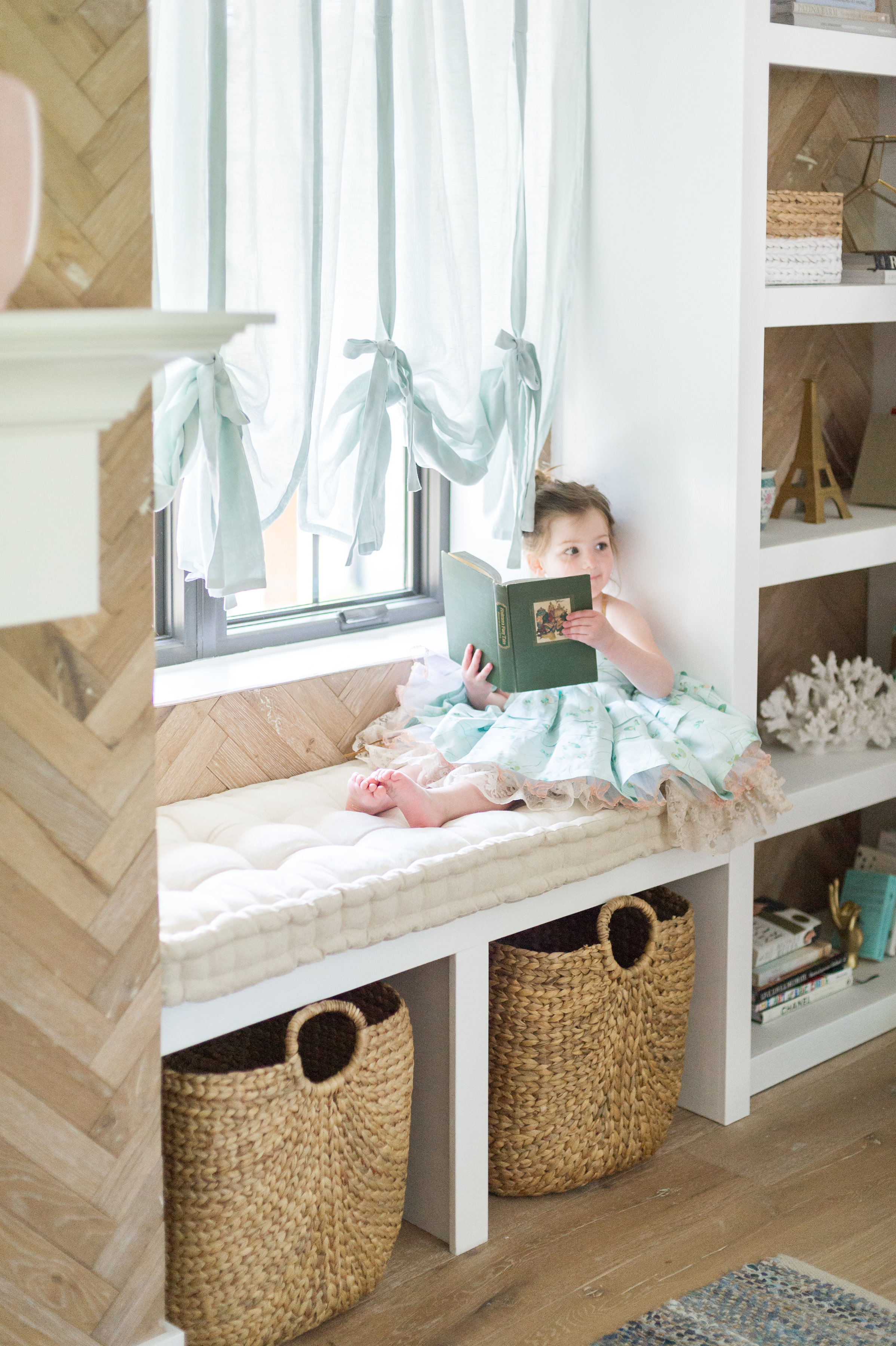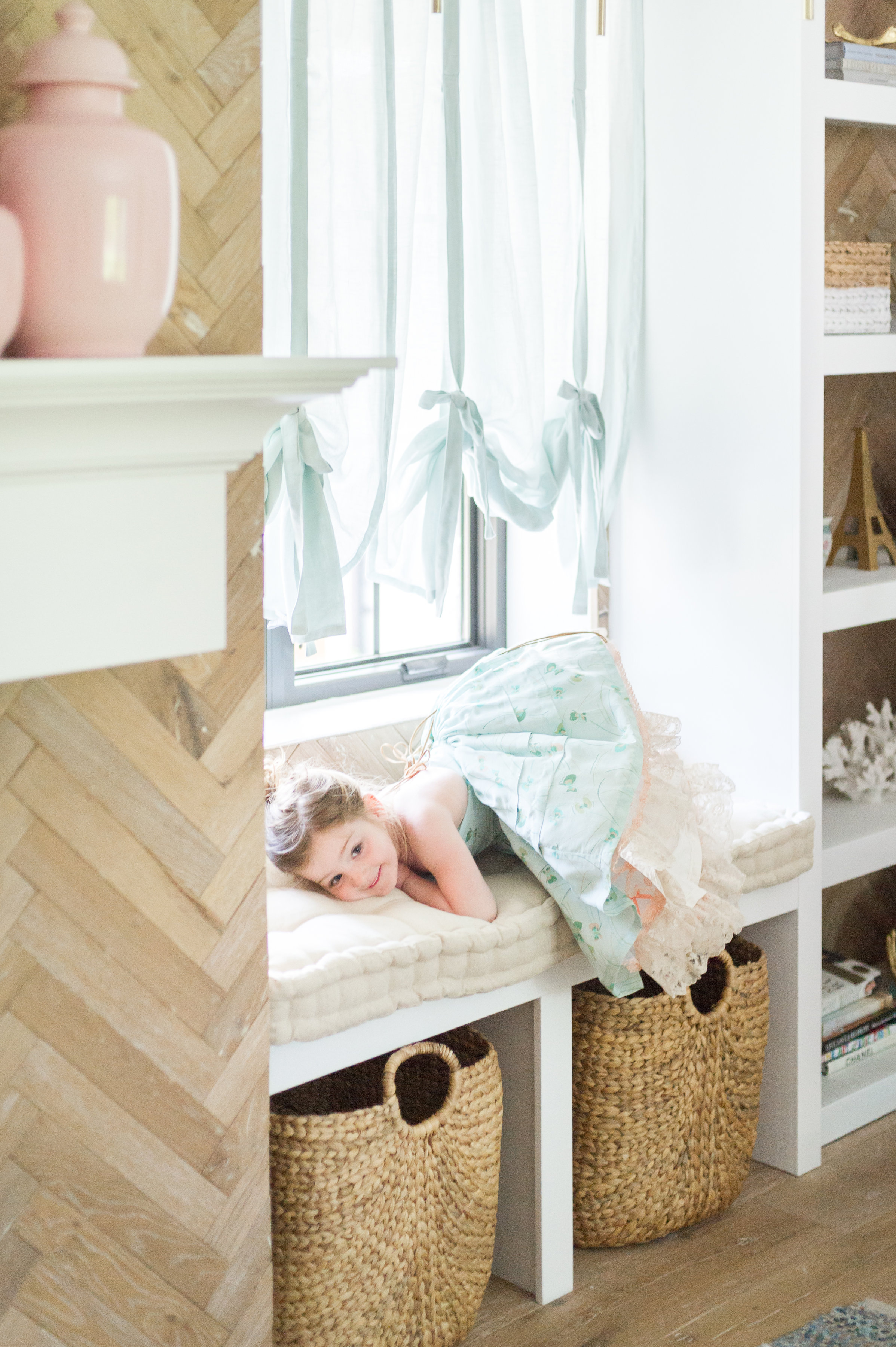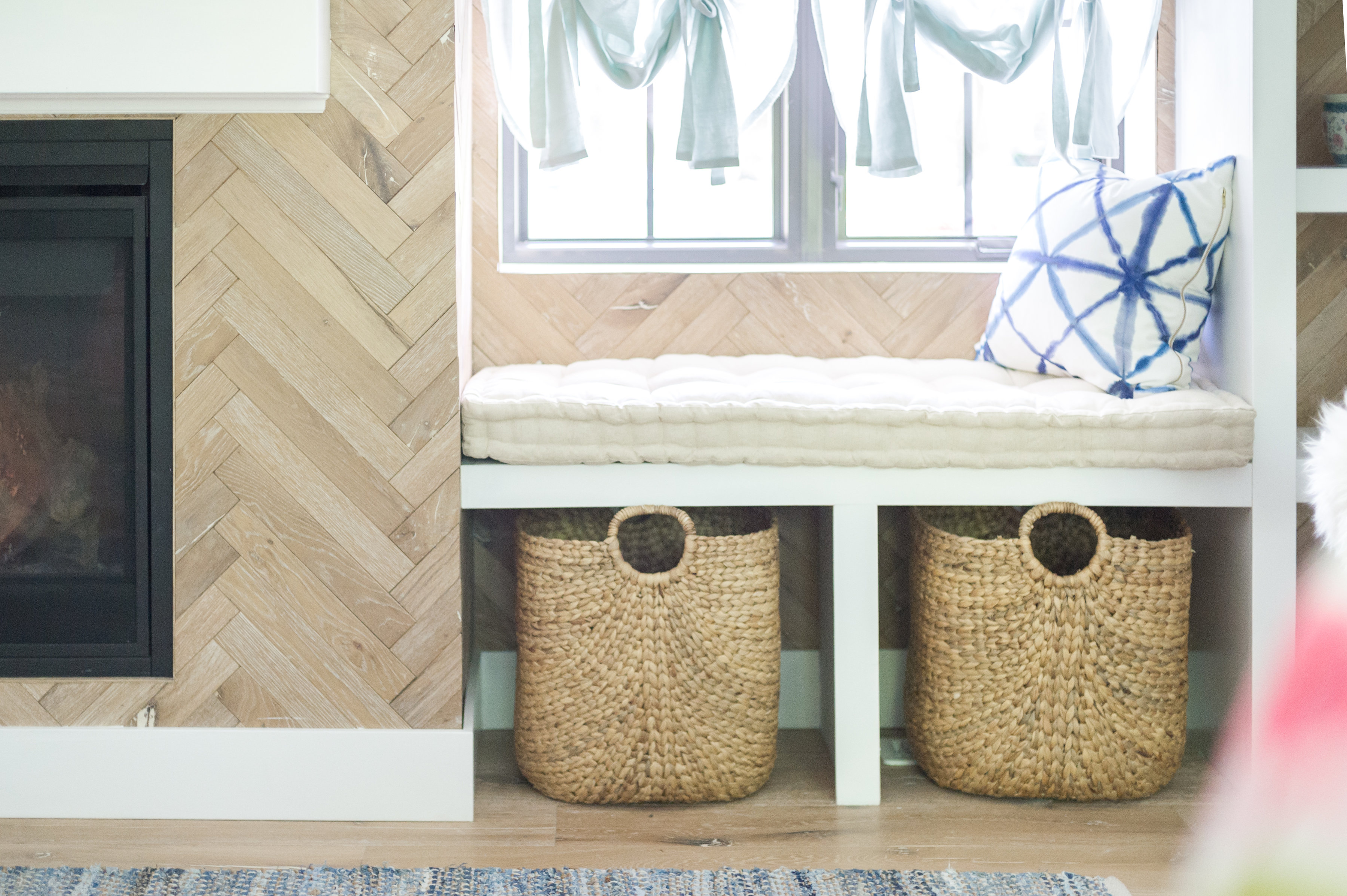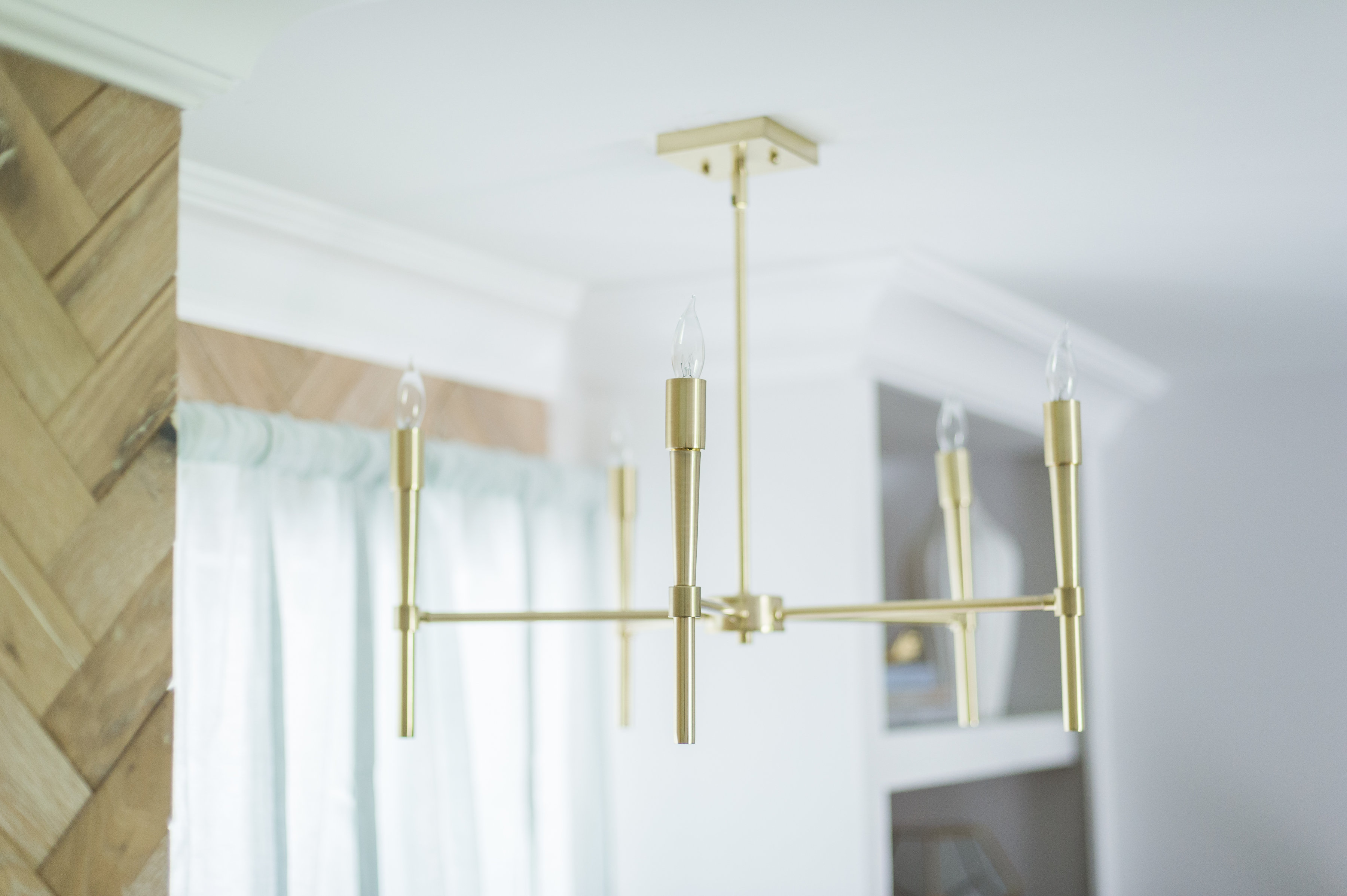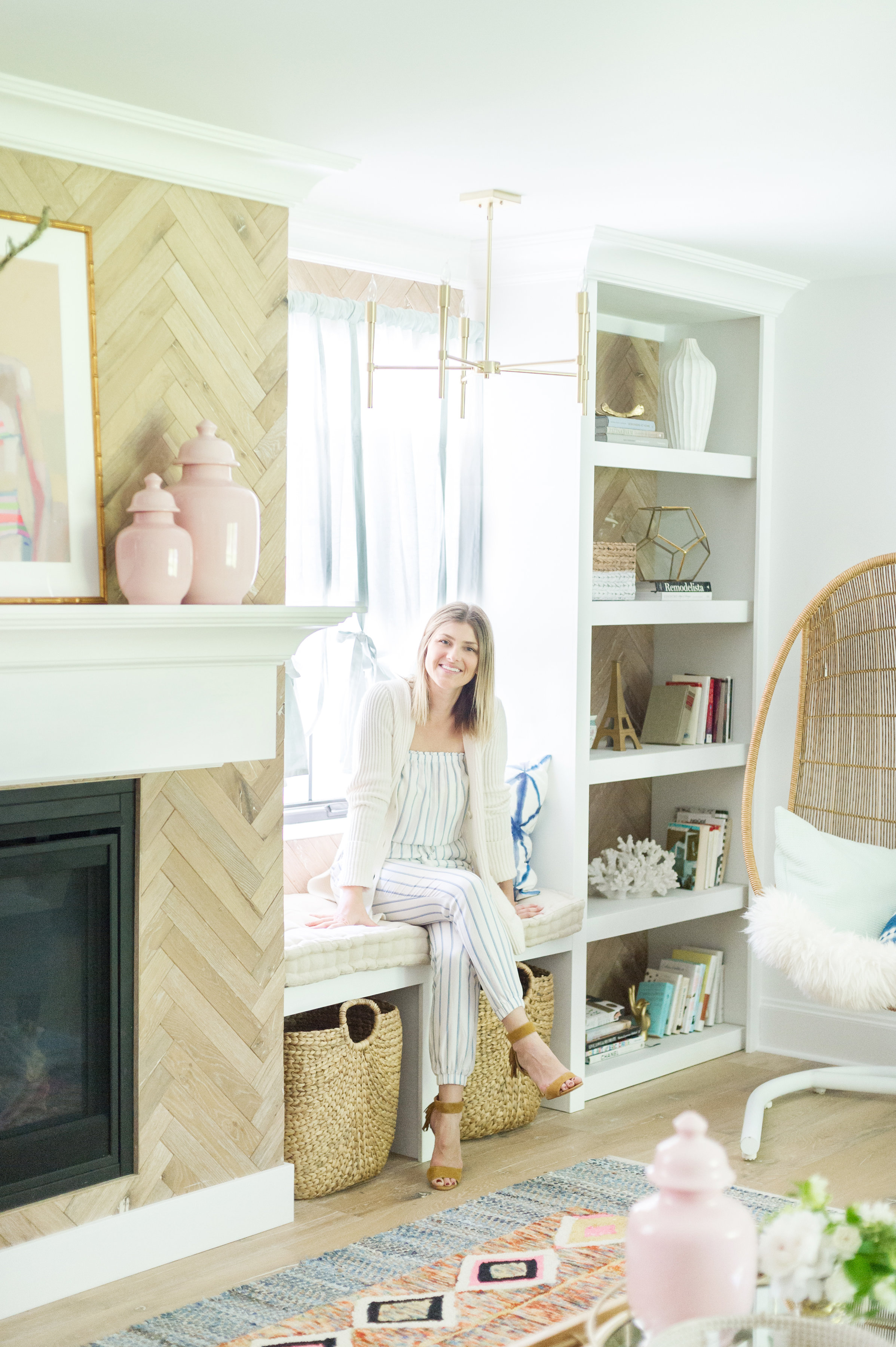 Hanging Chair and Bar Cart
You can find all the sources for the bar cart in the week 5 post and the hanging chair is from Homesense which is the Canadian version of Homegoods. I have too much fun in that chair!! I'll also be sharing a full post on the bar cart over on Inspired by This soon! All of the gorgeous artwork is linked here!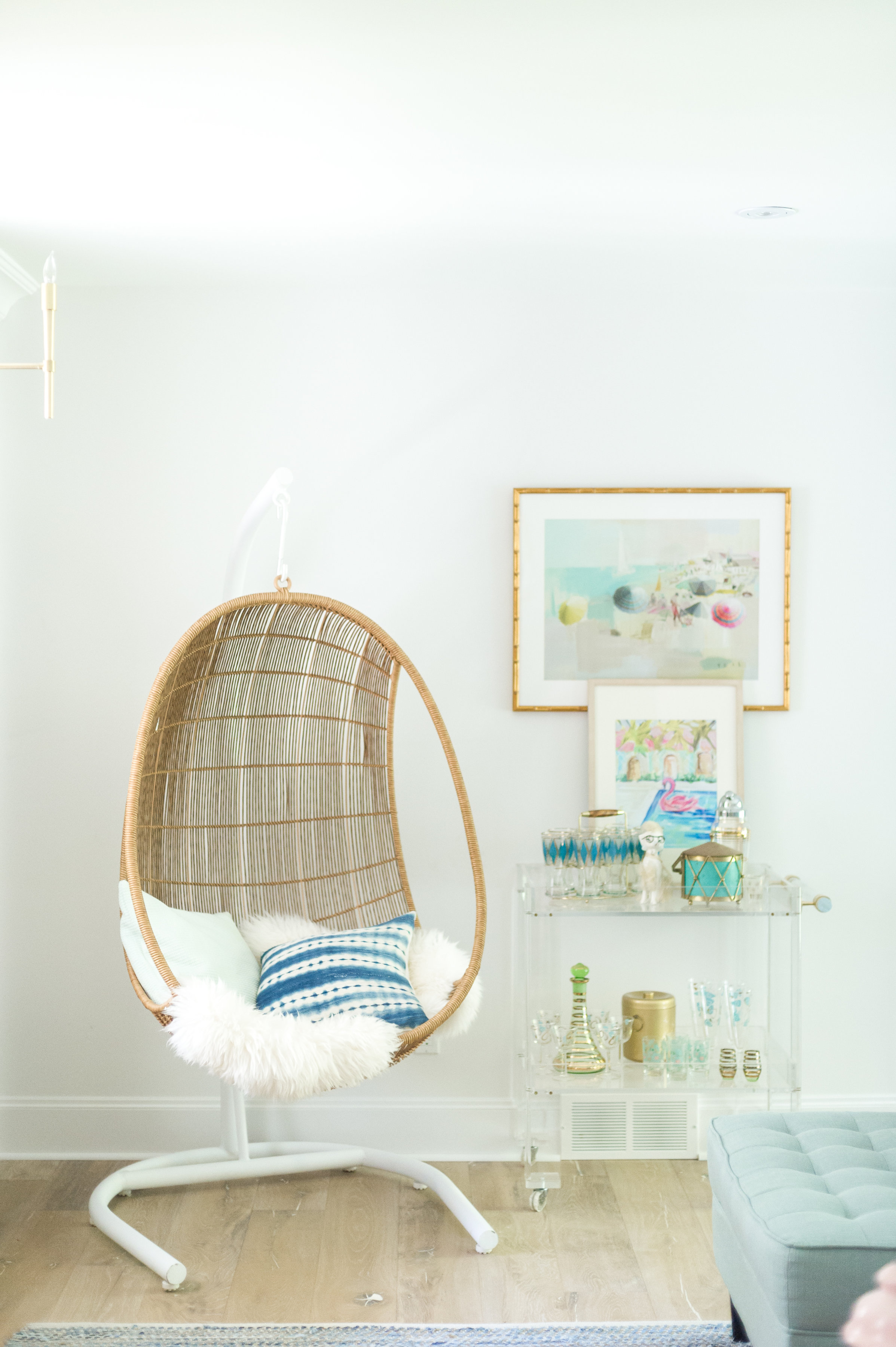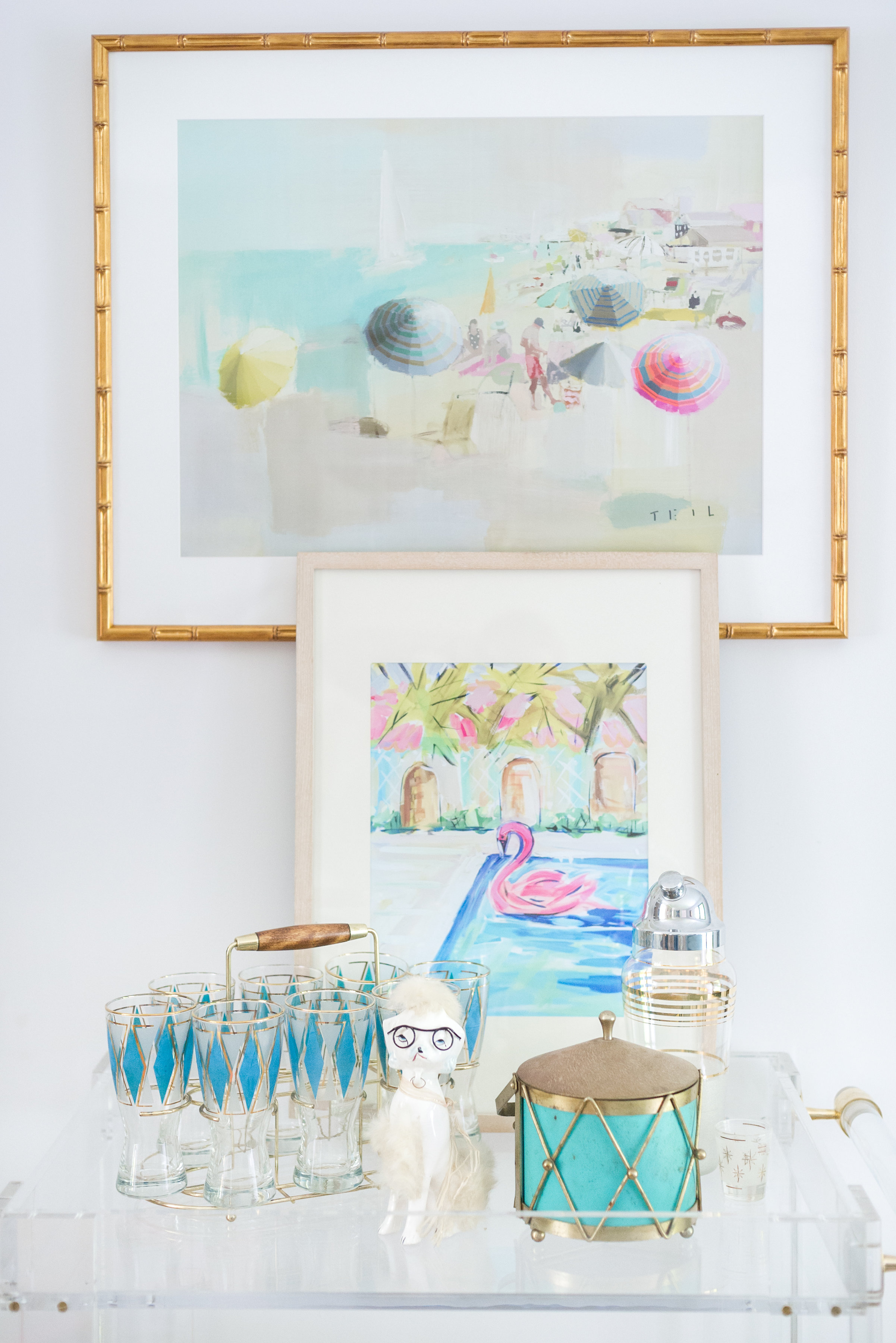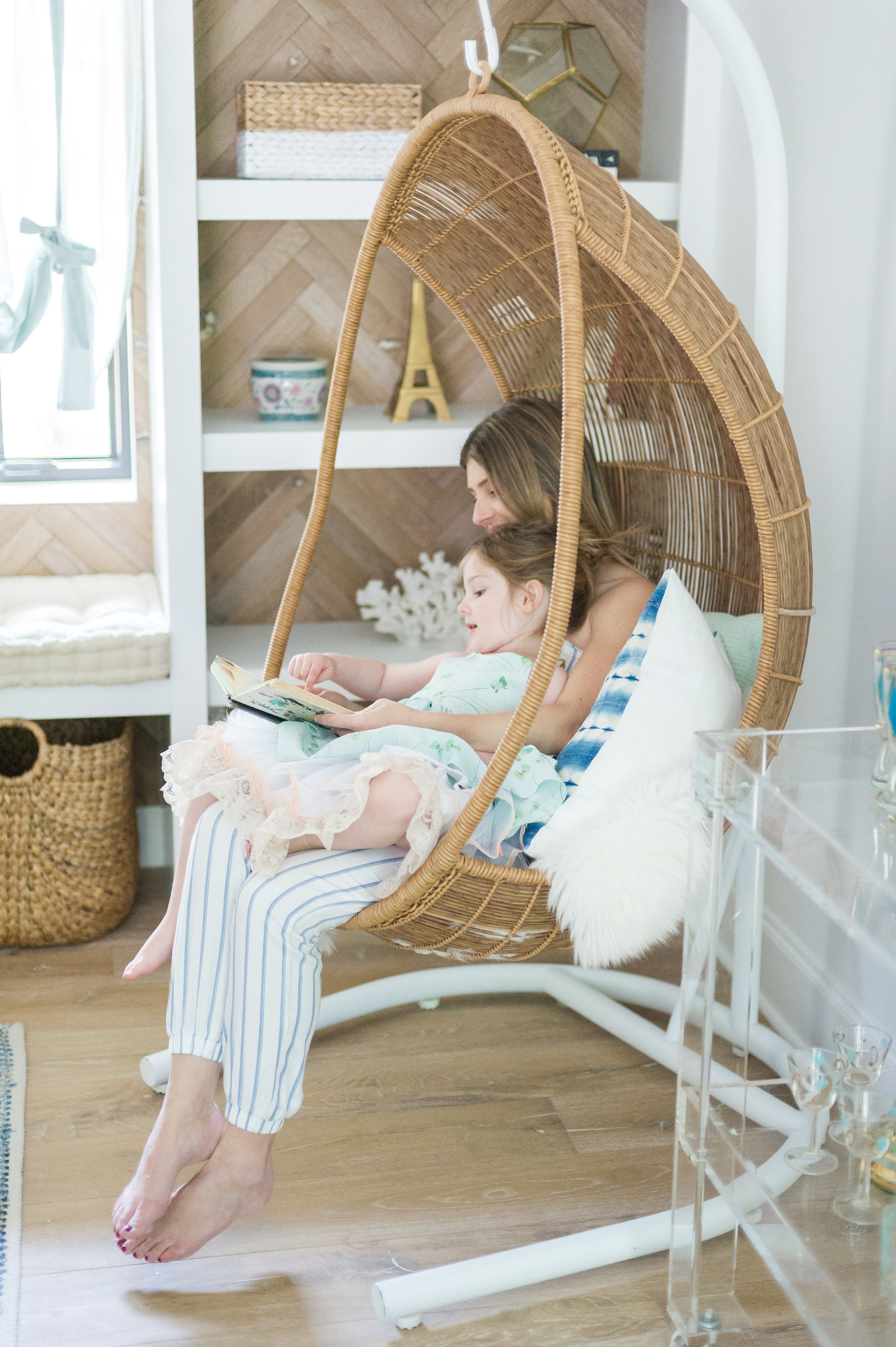 I hope you guys like the new space because we really do! I just want to thank Framebridge for the Framing, Canadian Tire's Canvas Line for the chandeliers, floor lamp, and baskets, Teil Duncan, Laura Dro, and Maren Devine for their stunning artwork, and RugsUSA for their sponsorship because the space wouldn't be what it is without their products and support.
And another special thank you to Cori from CJH Florals for the blooms, Aggie and Francois for the beautiful boho dress Juliette is wearing, and to Vicki Bartel for the stunning photography!!
Ok now a couple more pics….!!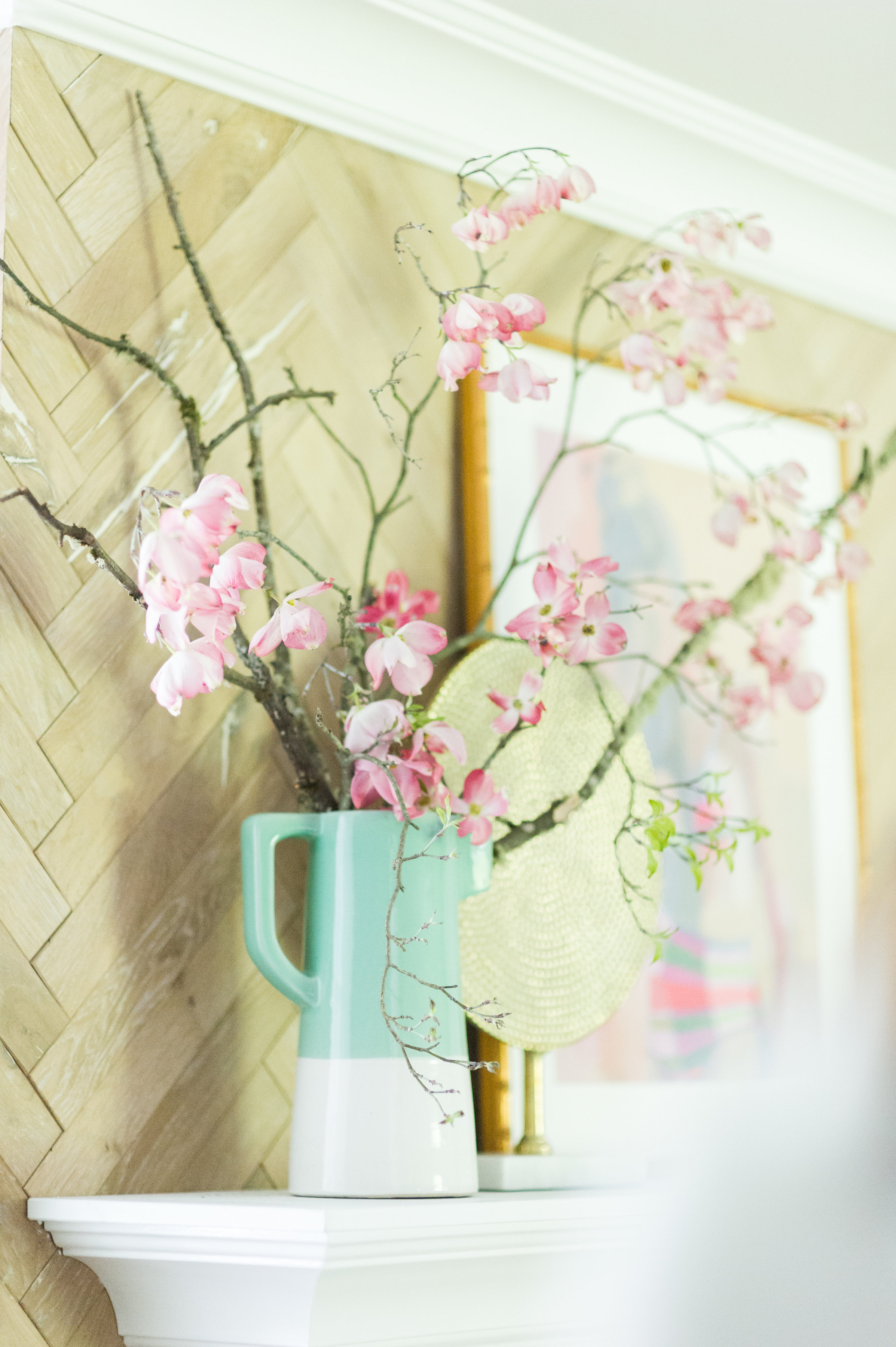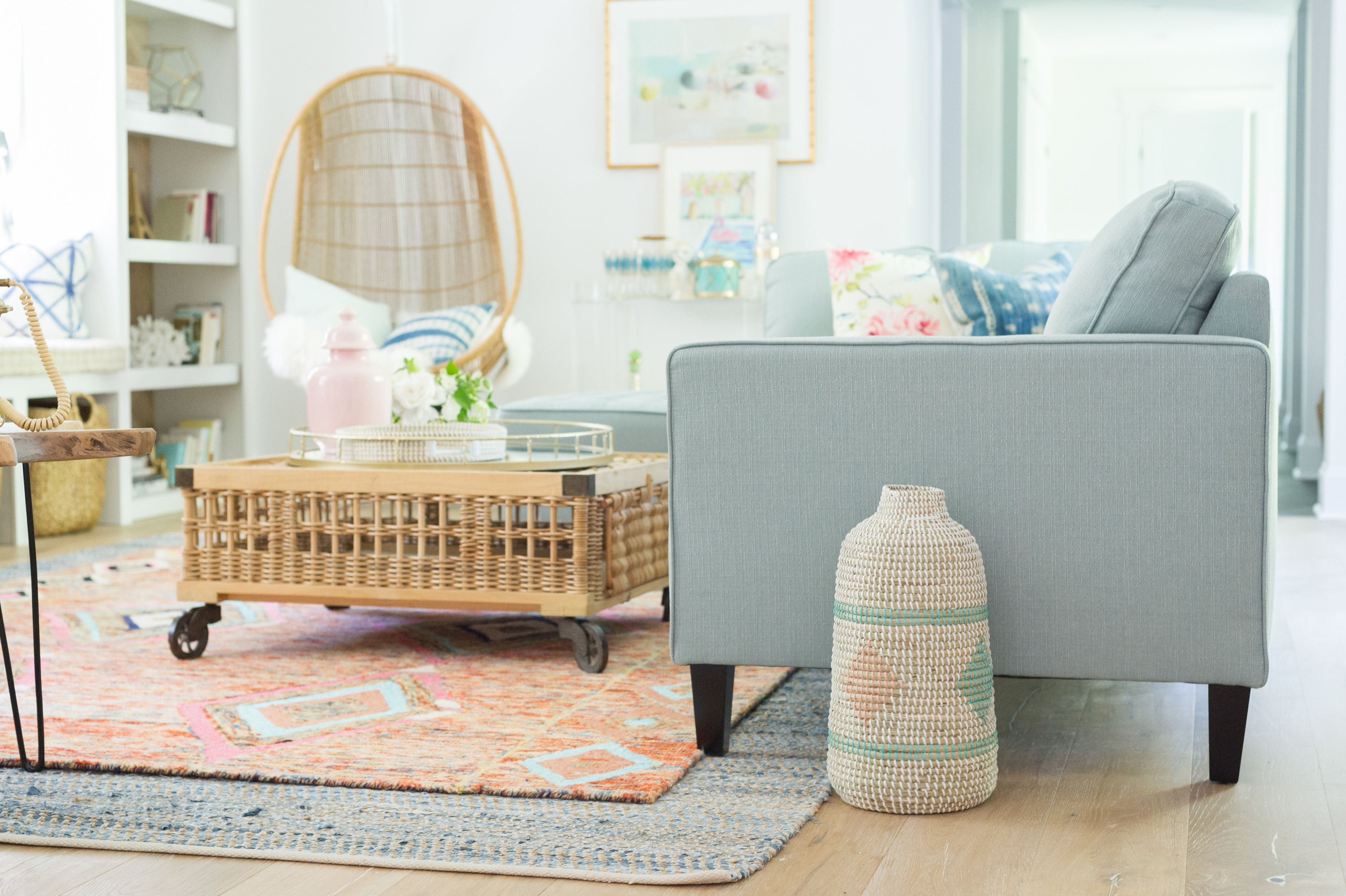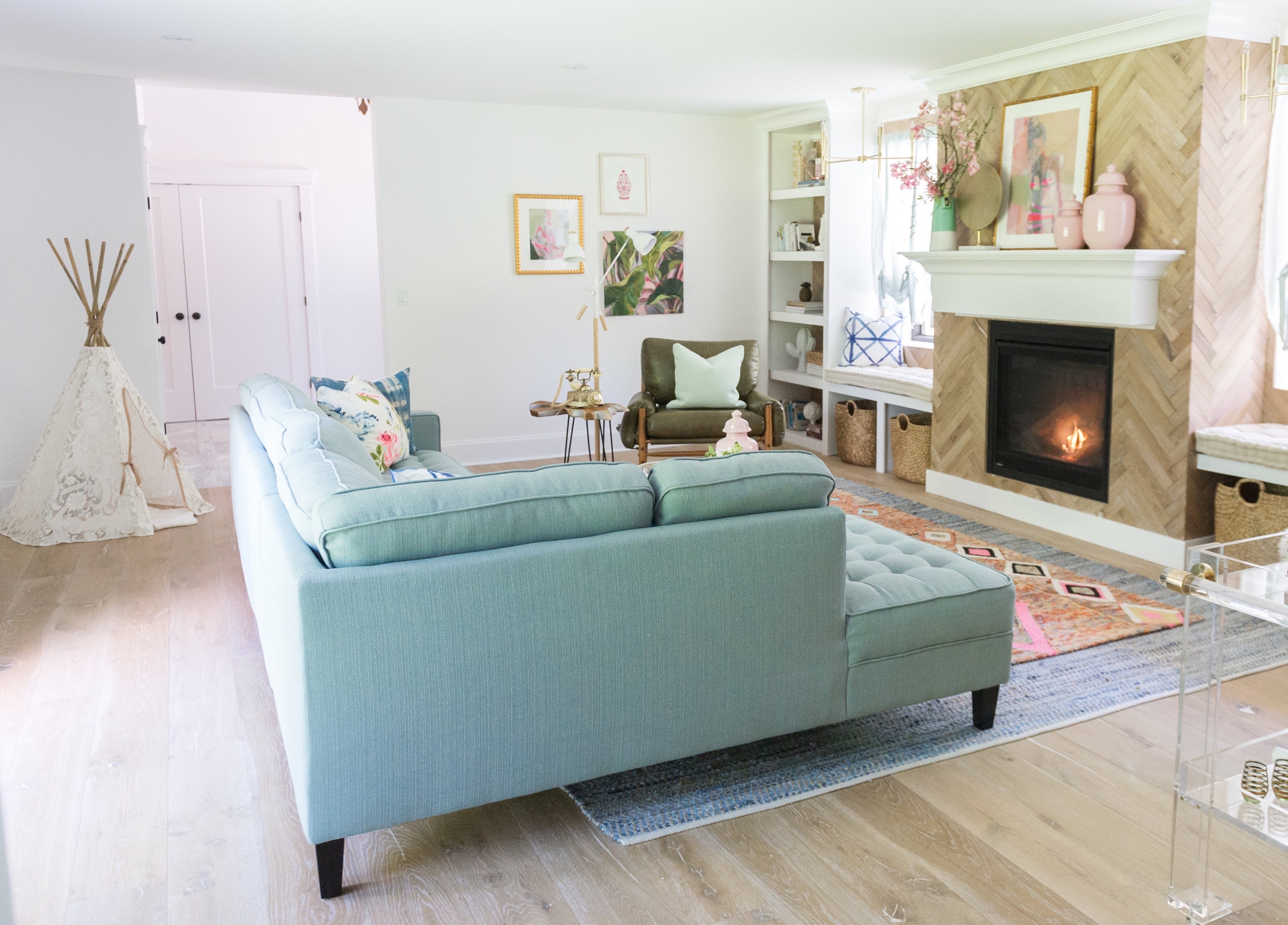 P.S. Honestly, this chair is way too fun! You gotta sit in one!