If you're like me (I hope you're not because I drive myself absolutely insane going through every single design possibility for a space) then you brainstorm multiple options for a room re-do. I wanted to share 3 bathroom mood boards that I made for my mudroom bathroom renovation. It's a full bath but all of these options are meant to work with a powder room as well, since that's essentially how the mudroom bath functions at our house…it just happens to have a shower because it had a shower when we bought it.
I'm so excited to announce that I'm partnering with Delta Faucets for my new home! In the mudroom bathroom I'm featuring a faucet and shower, from Delta's Cassidy collection (see mood boards below), and both are in their Champagne Bronze finish. This finish is unreal. The tone is really similar to the patina'd super trendy and majorly coveted unlacquered brass, but with no maintenance. Unlacquered brass means that it's normal old school brass, like your Grandma's nic nacs were made out of (back when people said nic nacs!) The kind of brass that tarnishes but that can be cleaned with brasso and brought back to any level of shininess you want.  Unlacquered brass is also known as a "living finish"…meaning always changing…where it stops nobody knows. The idea that I can't pause it when it hits perfection has me a little on edge. I like my finish "dead" thank you…frozen in the state that I buy it in…lol! However, brass needs to be the right patina, or you'll feel like you're in the 80's. Cue the Champagne Bronze finish from Delta…all the style, perfect tone, and zero maintenance. You don't even have to polish a fingerprint.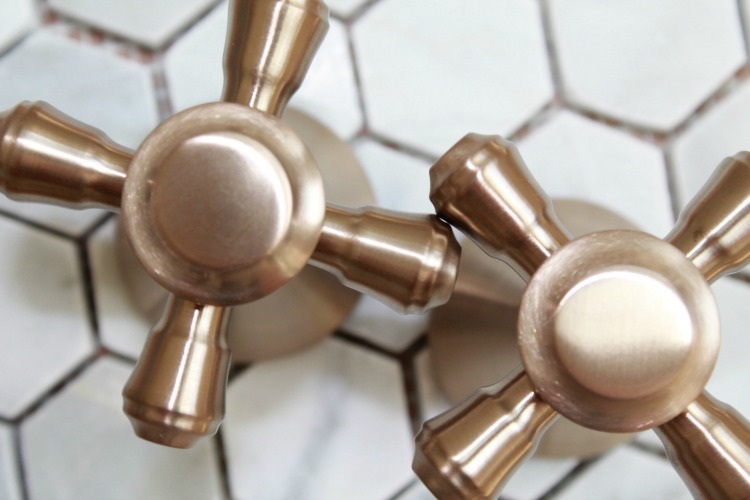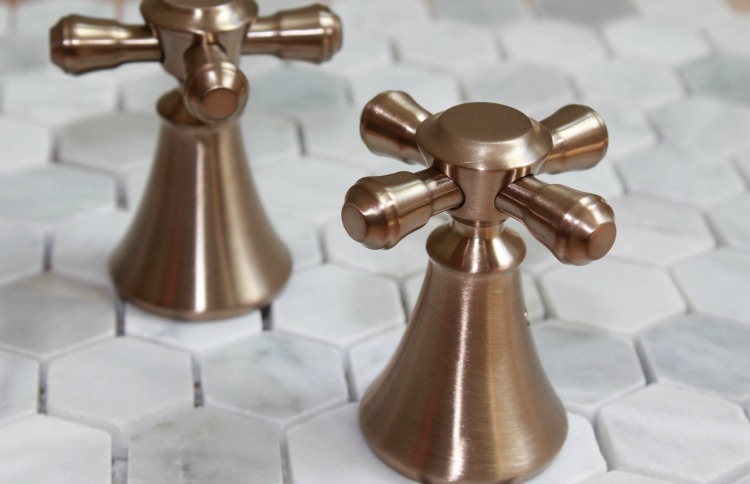 My favourite part about the faucet and shower that I chose are the cross handles! Swoon!! (pictured above) These handles add the perfect amount of character and charm and they come in 5 finishes, so they will, honestly, go with any style…and by "go with" I mean up the anti/take it up a notch/majorly compliment any style.  Once they are installed, I will give you the low down on any functionality you need. Now if only this was a cooking show and I could magically cut to the finished space…there's a whole lot of chaos between now and then!
Each mood board that I designed has a shower tile inspiration found from Pinterest, a vanity, a mosaic tile floor, an amazing faucet and shower head, and then the details that keep me awake at night because the world is full of two many beautiful things like: wallpaper, sconces, and vanity mirrors. You know what would be awesome?! I you customized the hardware on these vanities to match the brass! Trust me you won't find an affordable vanity with awesome brass handles…the industries try to appeal to the masses and high style is not the masses…so switch 'em out for next to nothing and create the high end look for so much less! If you need any help finding hardware just ask…I can think of about a million great brass hardware sources! (light bulb…next blog post!) I hope these ideas help to inspire you to smash up that old dated bathroom (the one that causes a squinty grimace every time you give a house tour, or if you're like me, every time you walk by it!)
So the big question is, which mood board do you think I went with?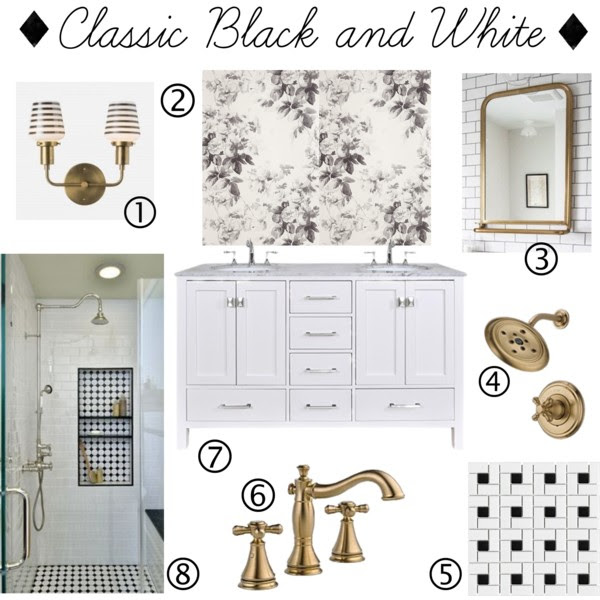 7.
Vanity
 * 8. Tile inspiration from Pinterest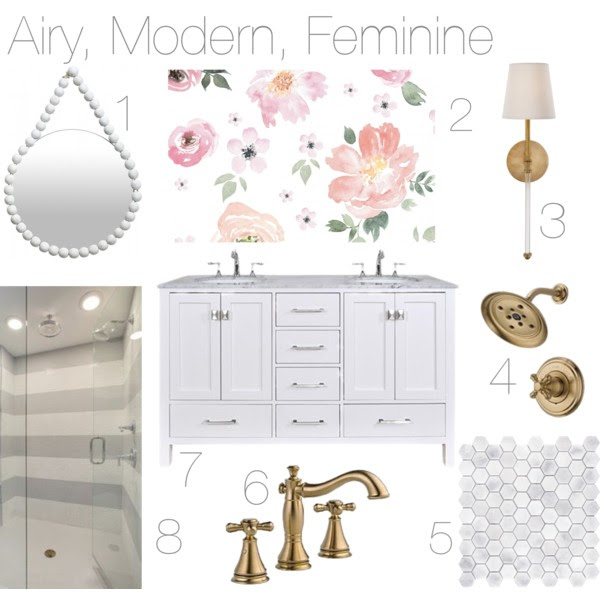 7.
Vanity
 * 8. Shower  Tile Inspiration Pinterest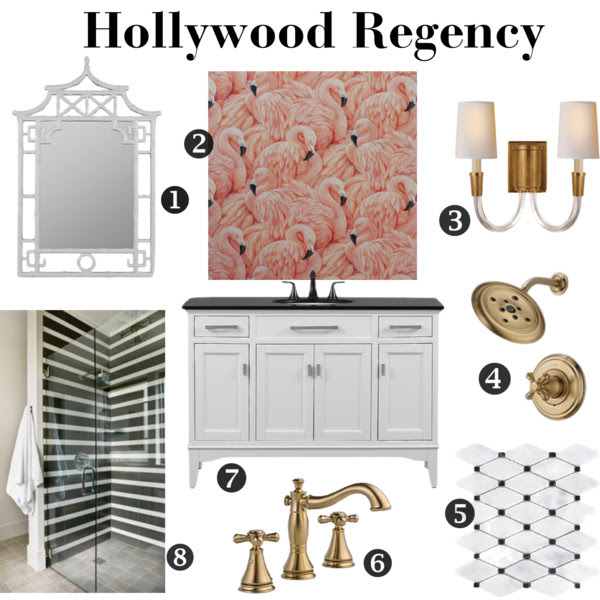 Some affiliate links were used
This post was done in partnership with Delta Faucet, however all opinions are my own