I really feel that Christmas decor shouldn't be a departure from your style, but amplify it. This year with just having completed a few spaces in our home, that I called Modern Parisian on Main Street, it made perfect sense to create a Modern Parisian Christmas!
Modern Parisian Christmas Inspiration
My biggest inspiration is for my tree and theme this year comes from my obsession with de Gournay wallpaper . It's the most incredible hand painted chinoiserie wallpaper. I adore it. Here are a few photos of their work.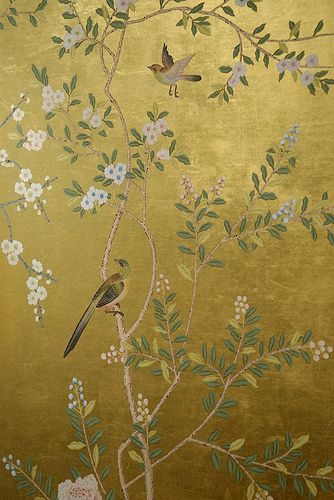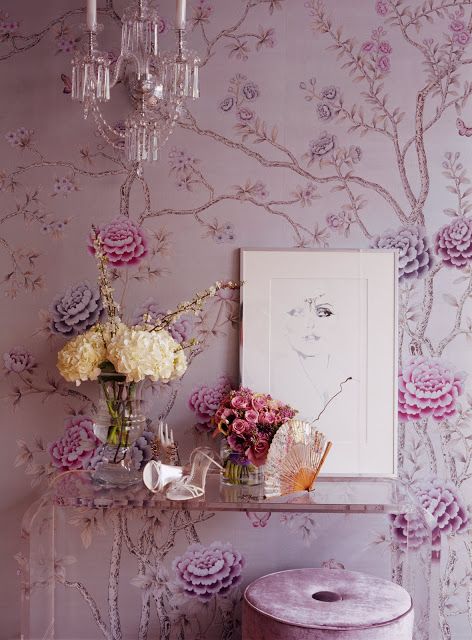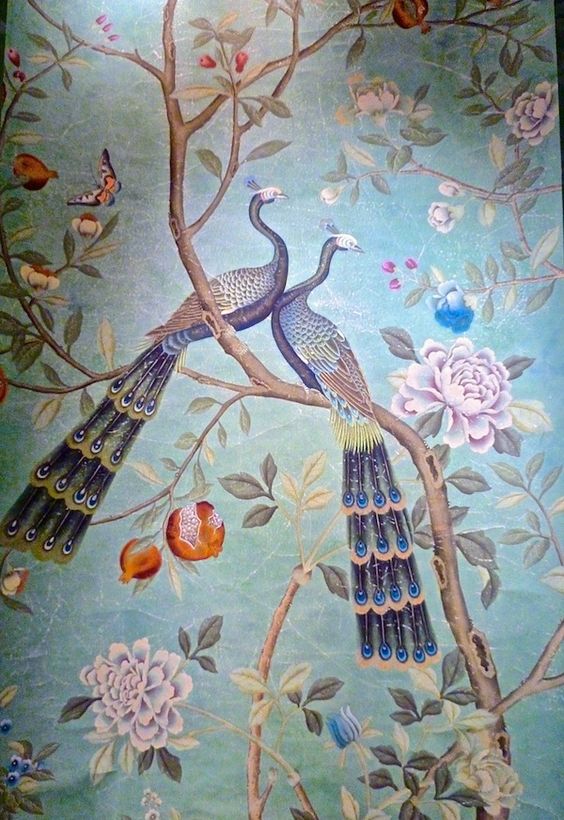 I wanted to pull elements from the wallpaper into our tree, like the birds and blossoms. I found all of my new ornaments at Canadian Tire. The peacock birds come in this mauve colour as well as white and blue…they are so gorgeous! I also love the white and gold balls with the gorgeous pattern and the blue ones with the gold glitter lines are to die for!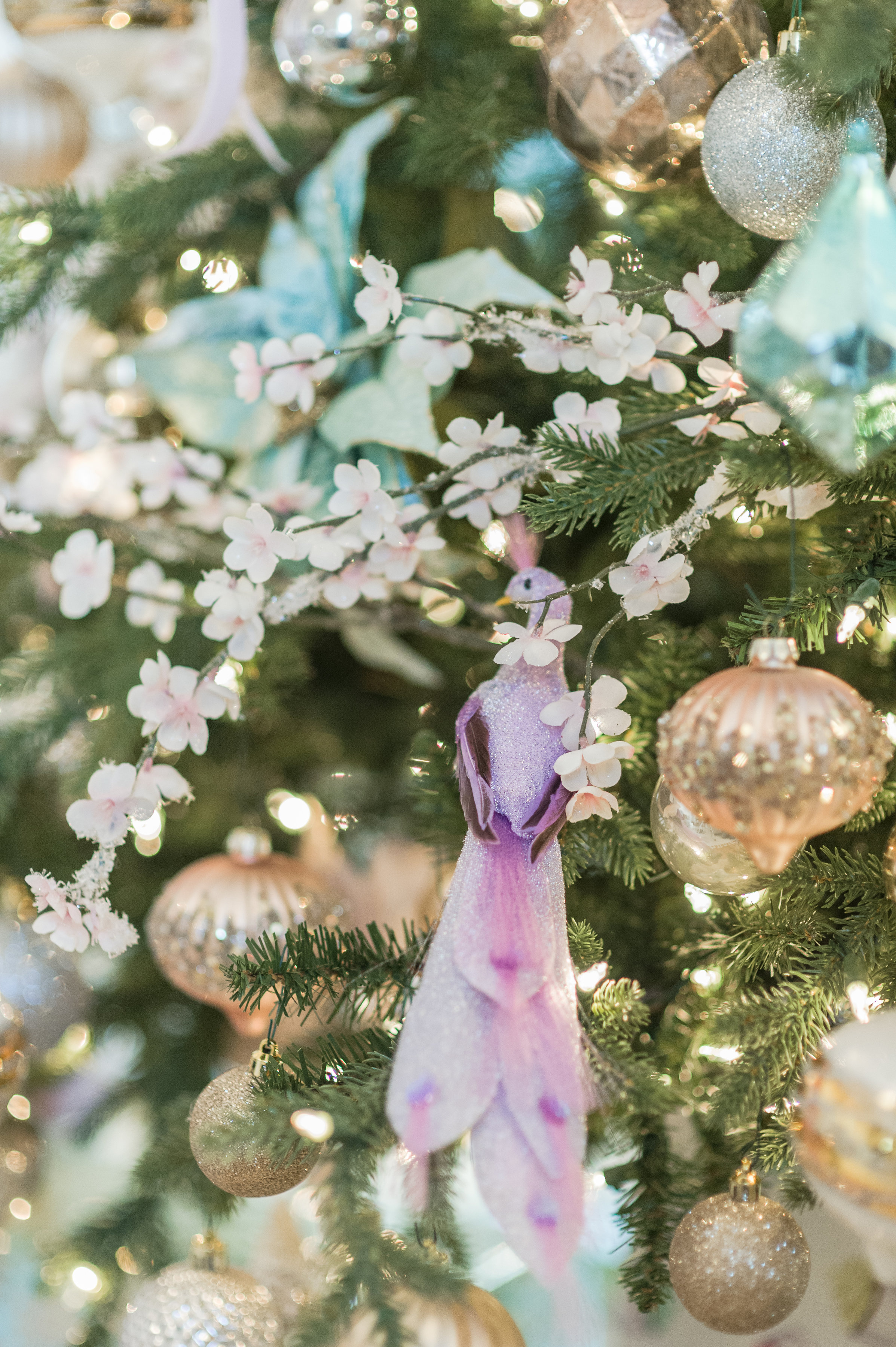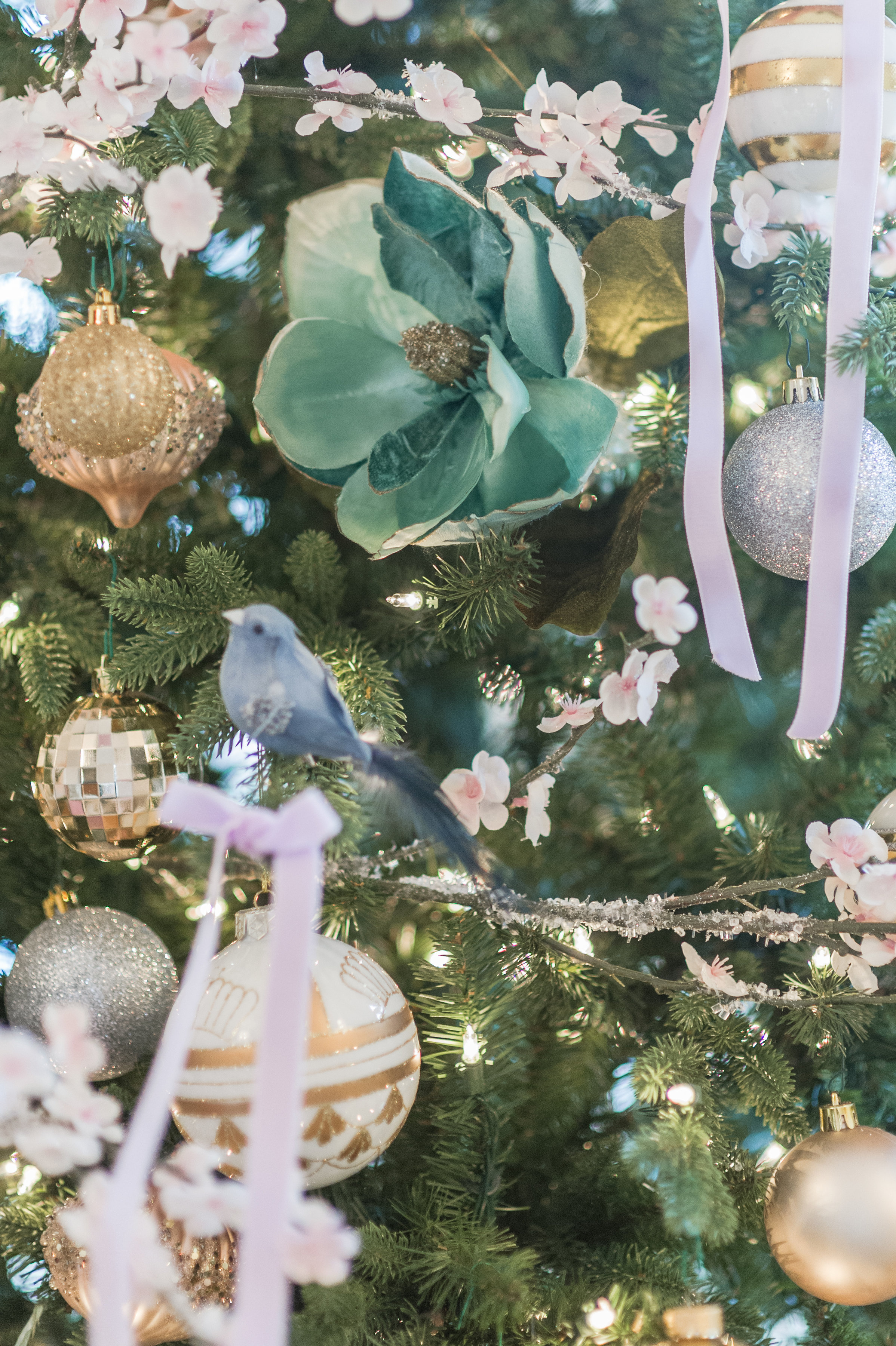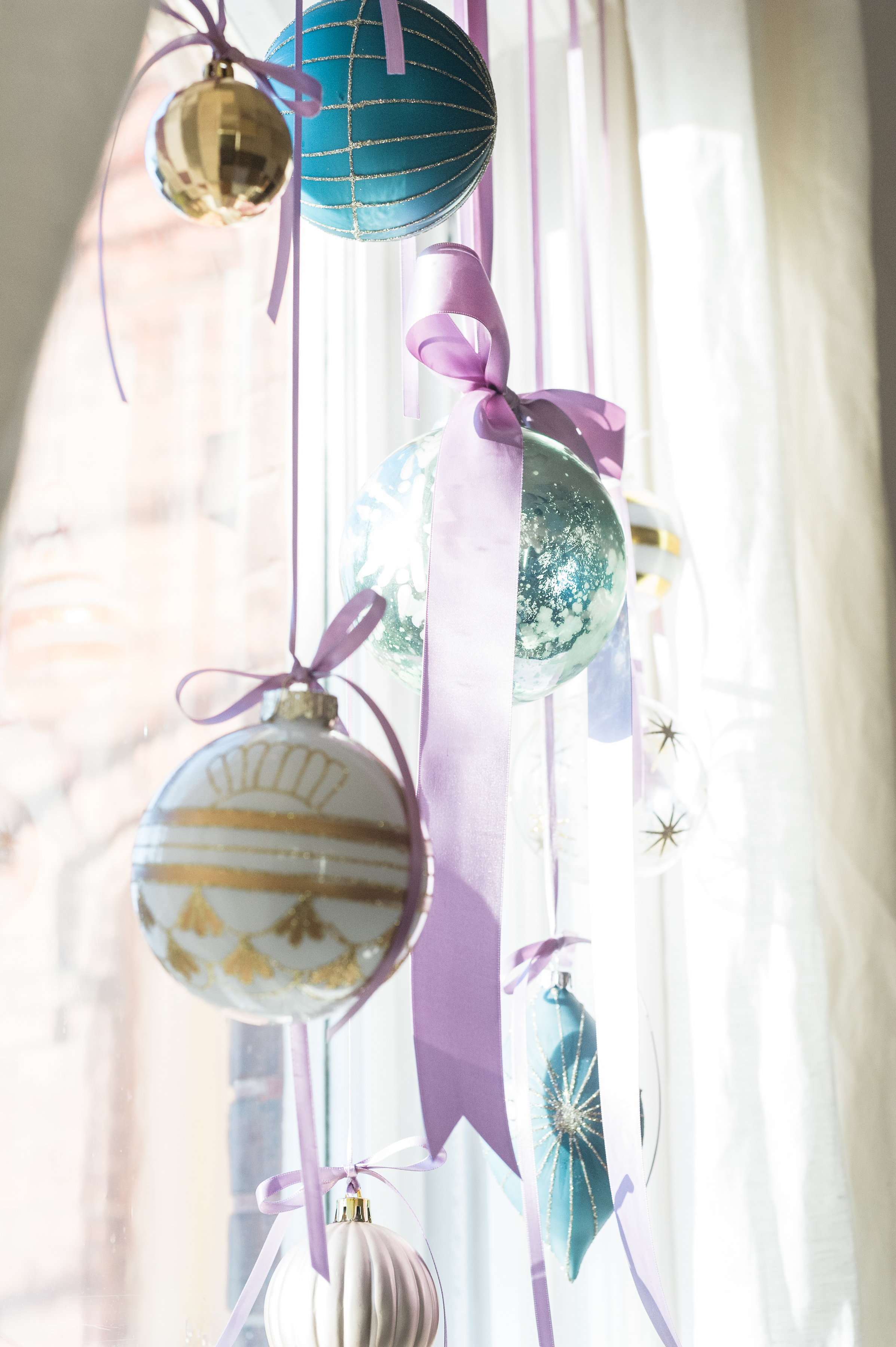 Modern Parisian Christmas Flowers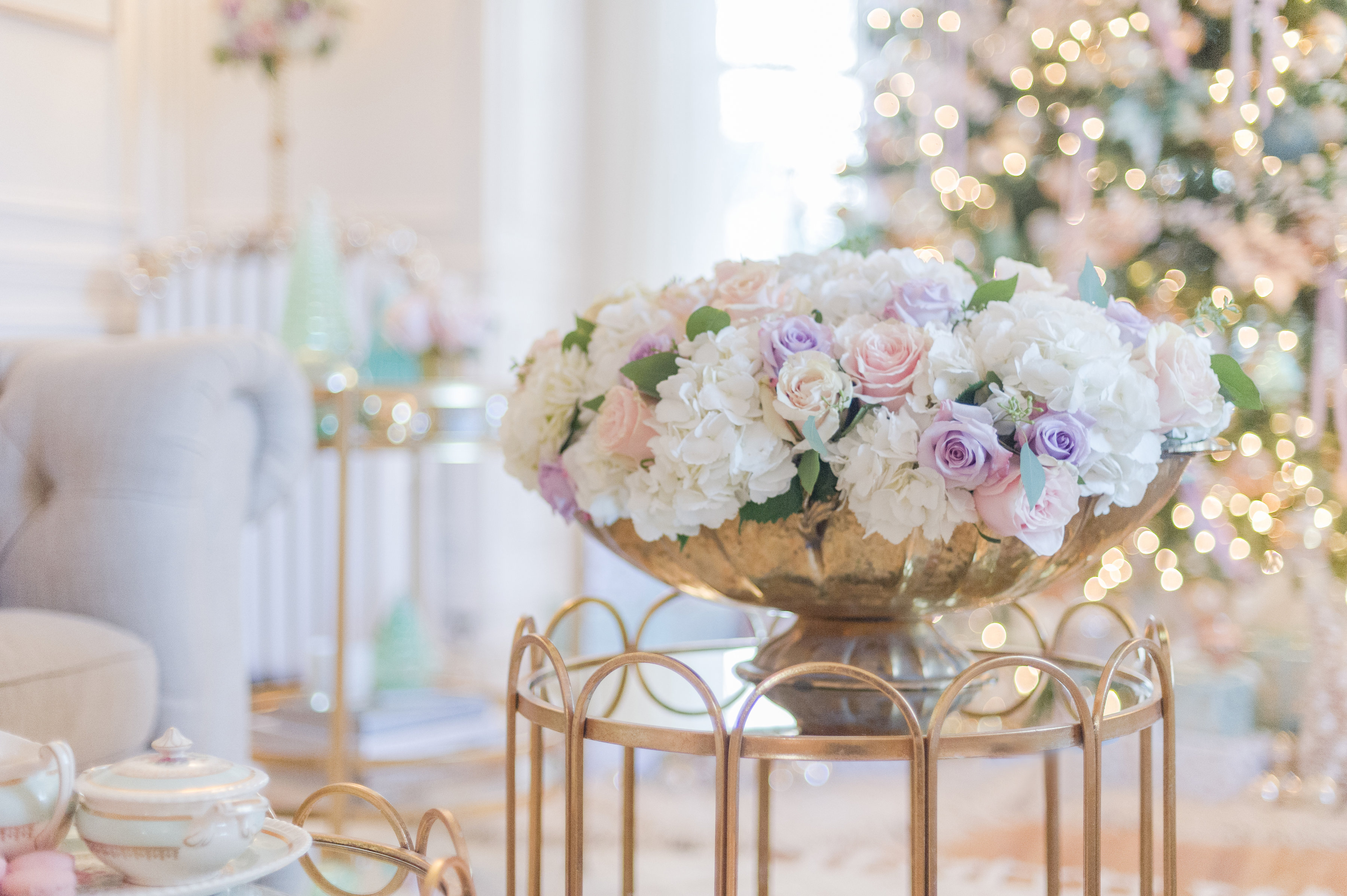 I couldn't do this theme without going over the top with flowers. I can't even tell you how blown away I was by what Cori from CJHFlorals created. They are just jaw dropping…I don't even know if the photos do justice to how huge the center arrangement is. I wish I could have you all over right now to see them and smell them. I can't thank her enough for creating the perfect Parisian atmosphere through decadent roses and hydrangeas.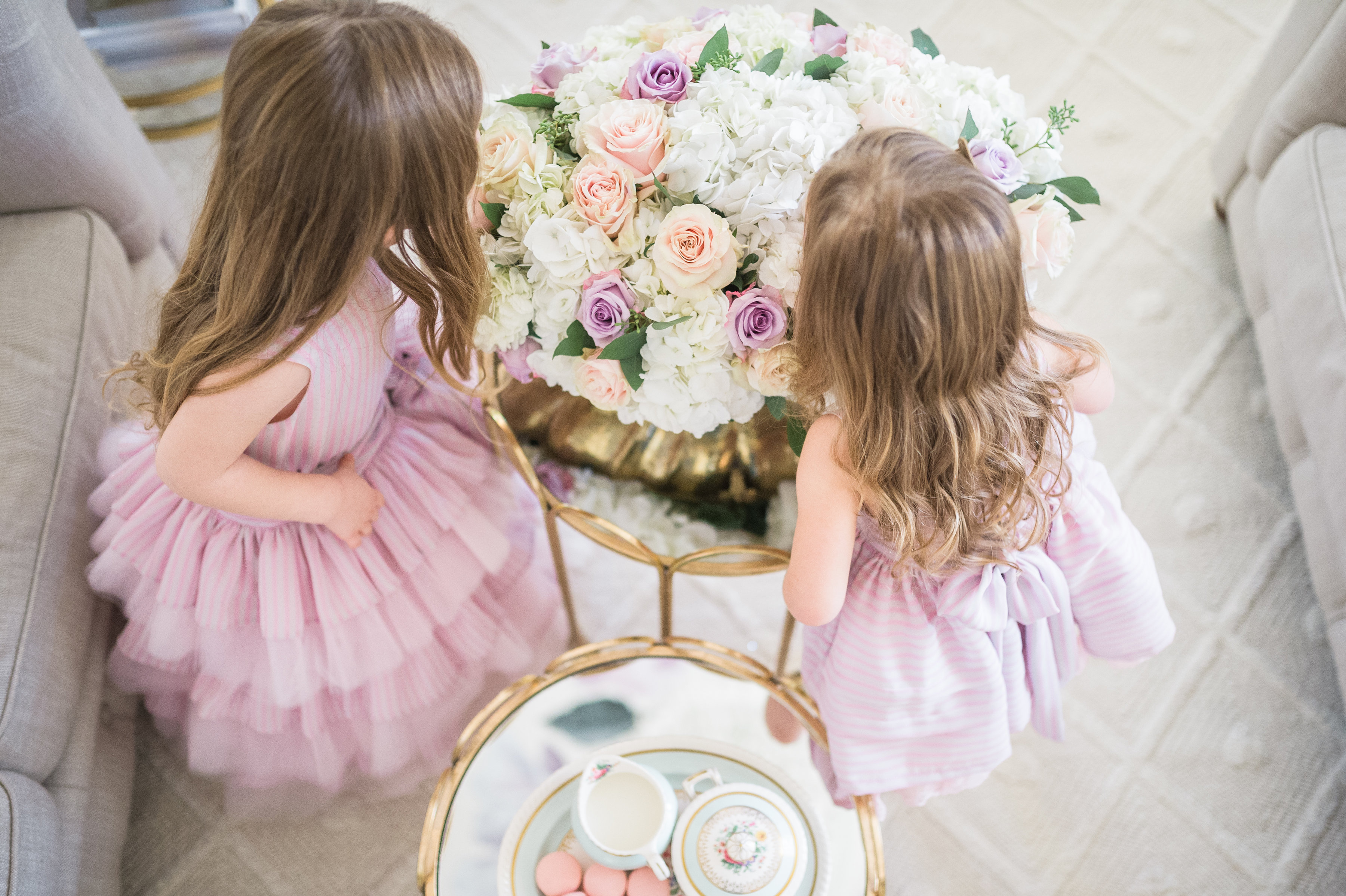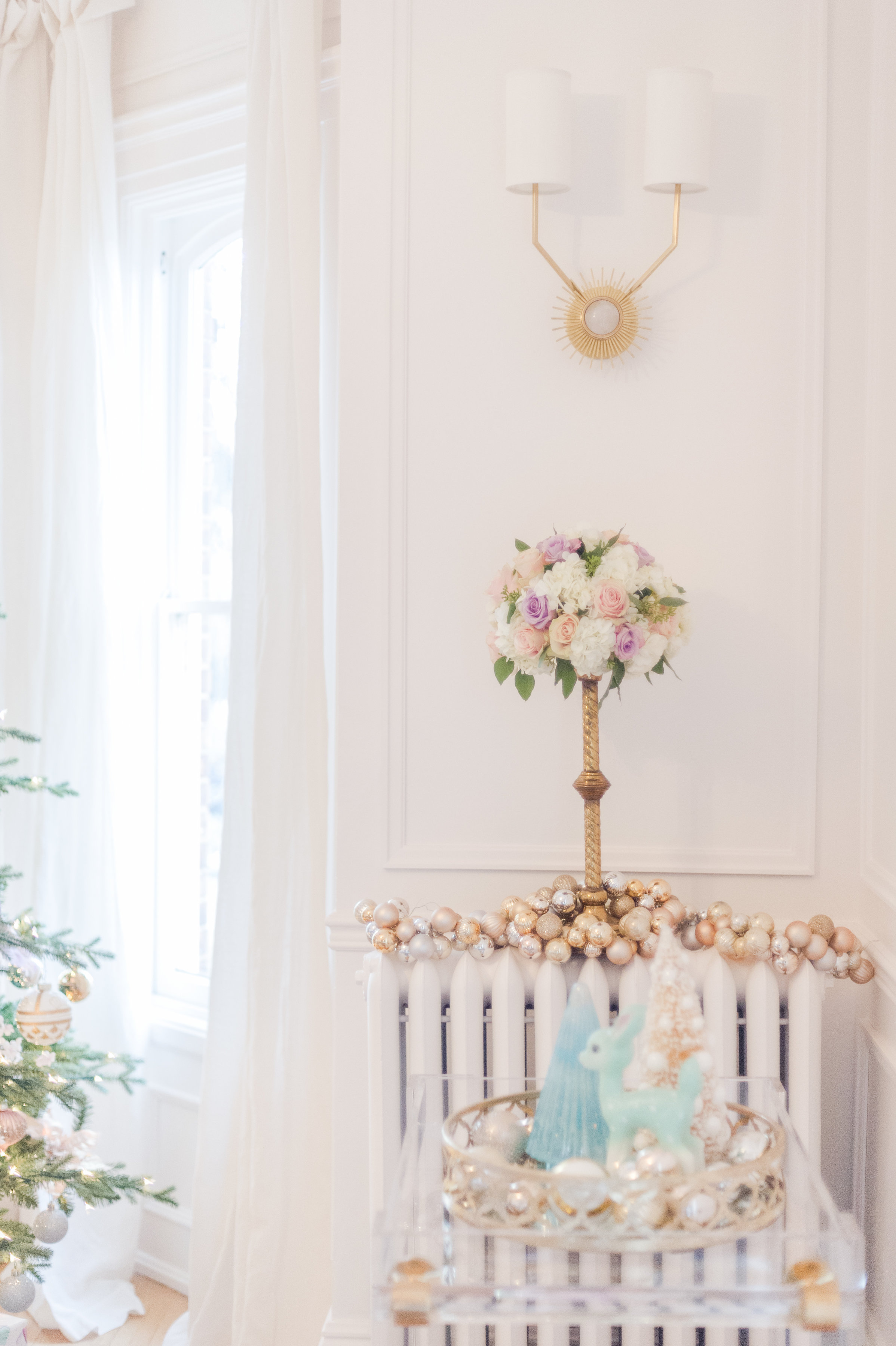 Lavender, Mint, and Gold Presents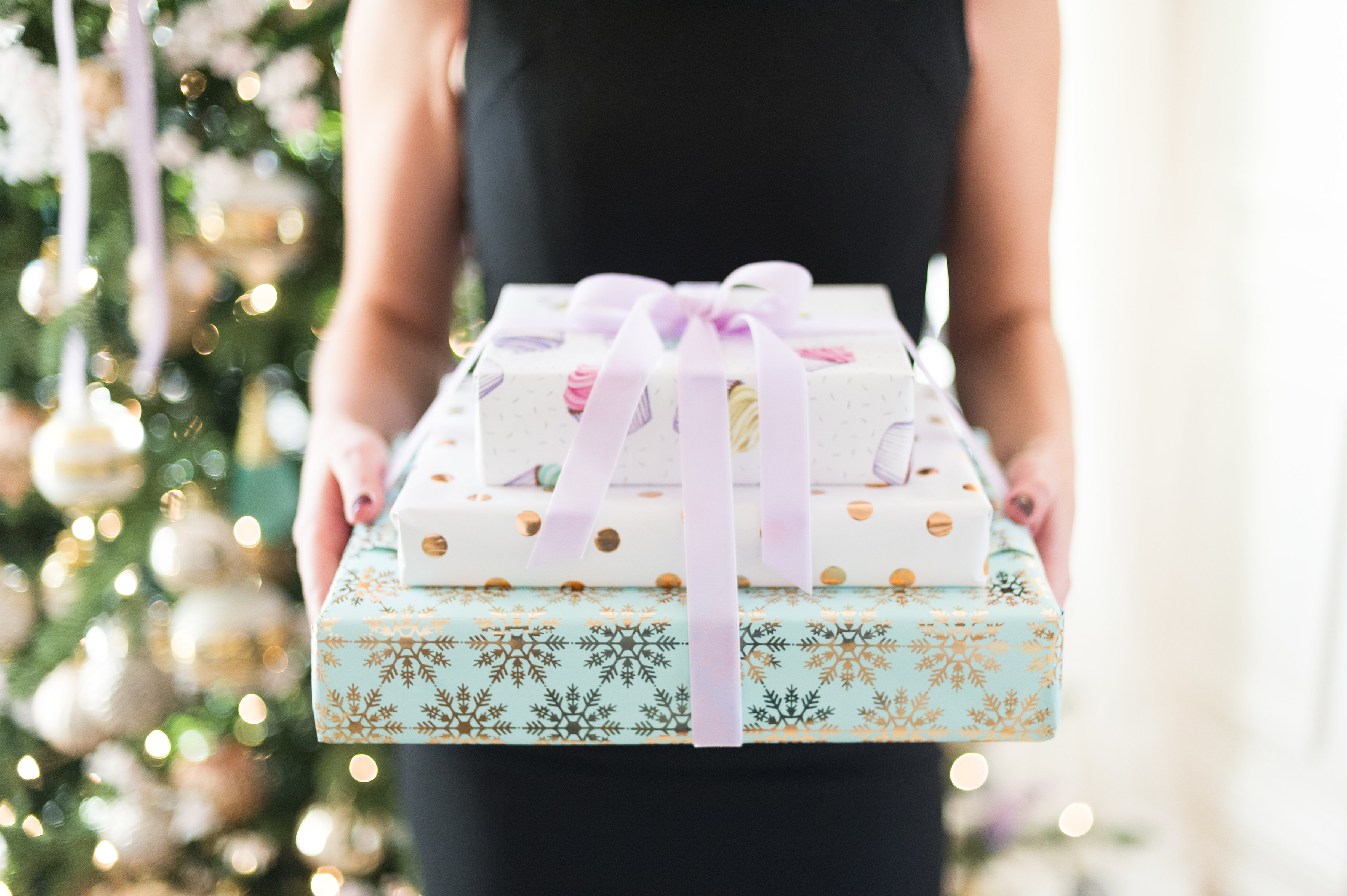 My presents are actually wrapped in Christmas paper, but I've narrowed down the colour palette to mint, lavender, and gold to fit our theme, so they feel unexpected. I really love this cupcake paper that I found at Homesense. The paper has such a great texture and the colours are too perfect for my theme. I found lavender and mint ribbon in velvet and satin, in different widths, to tie around the gifts.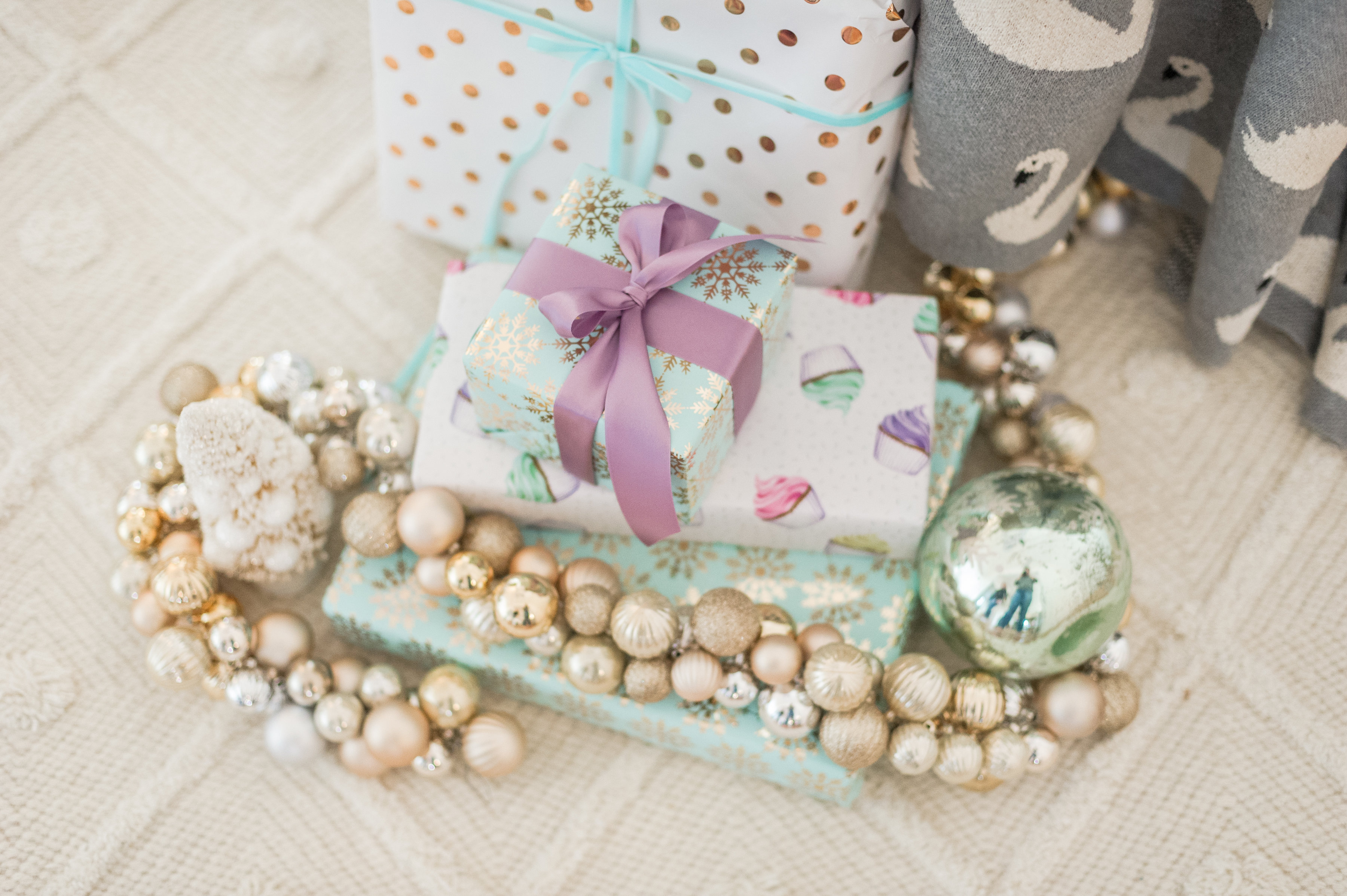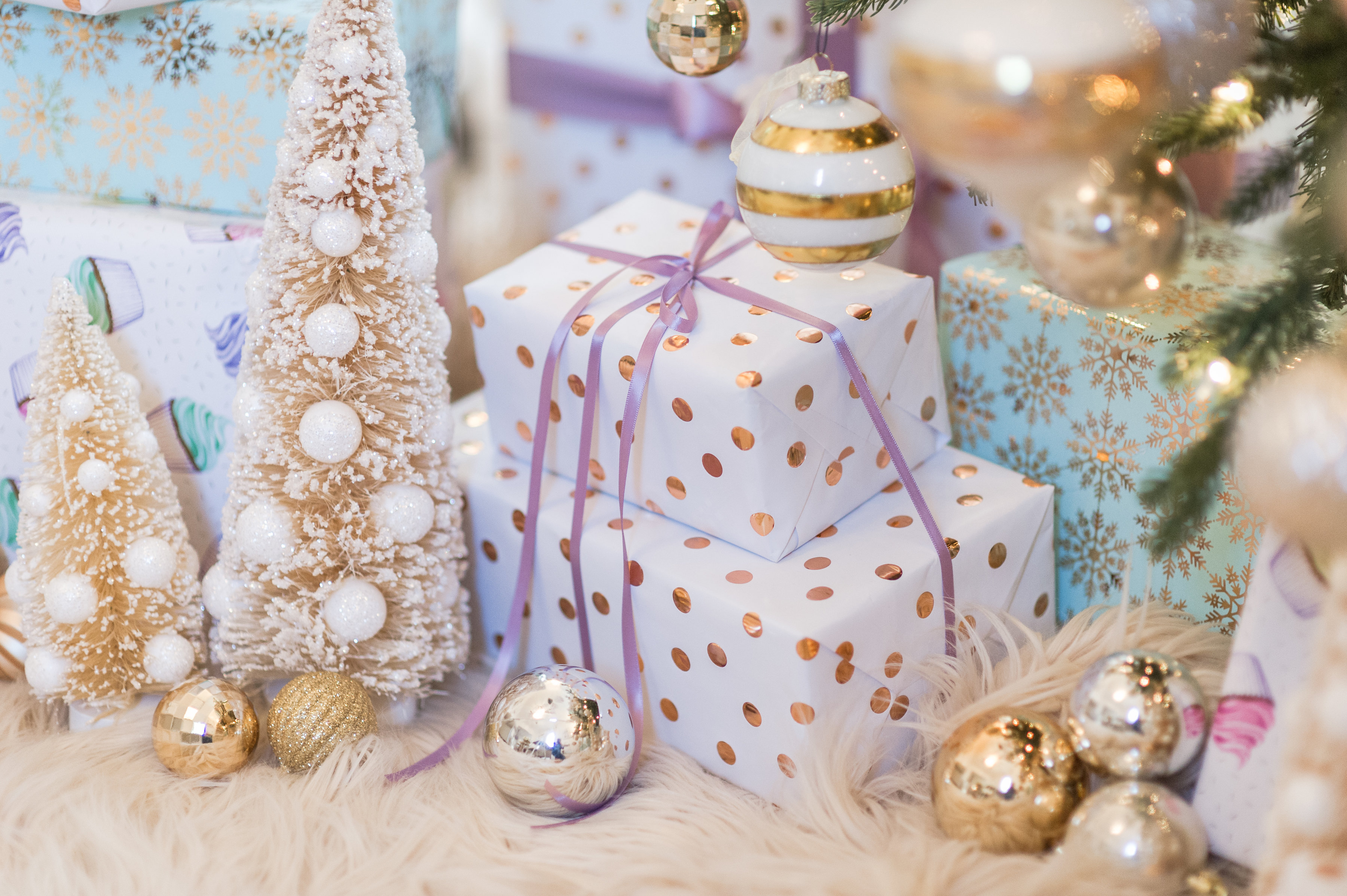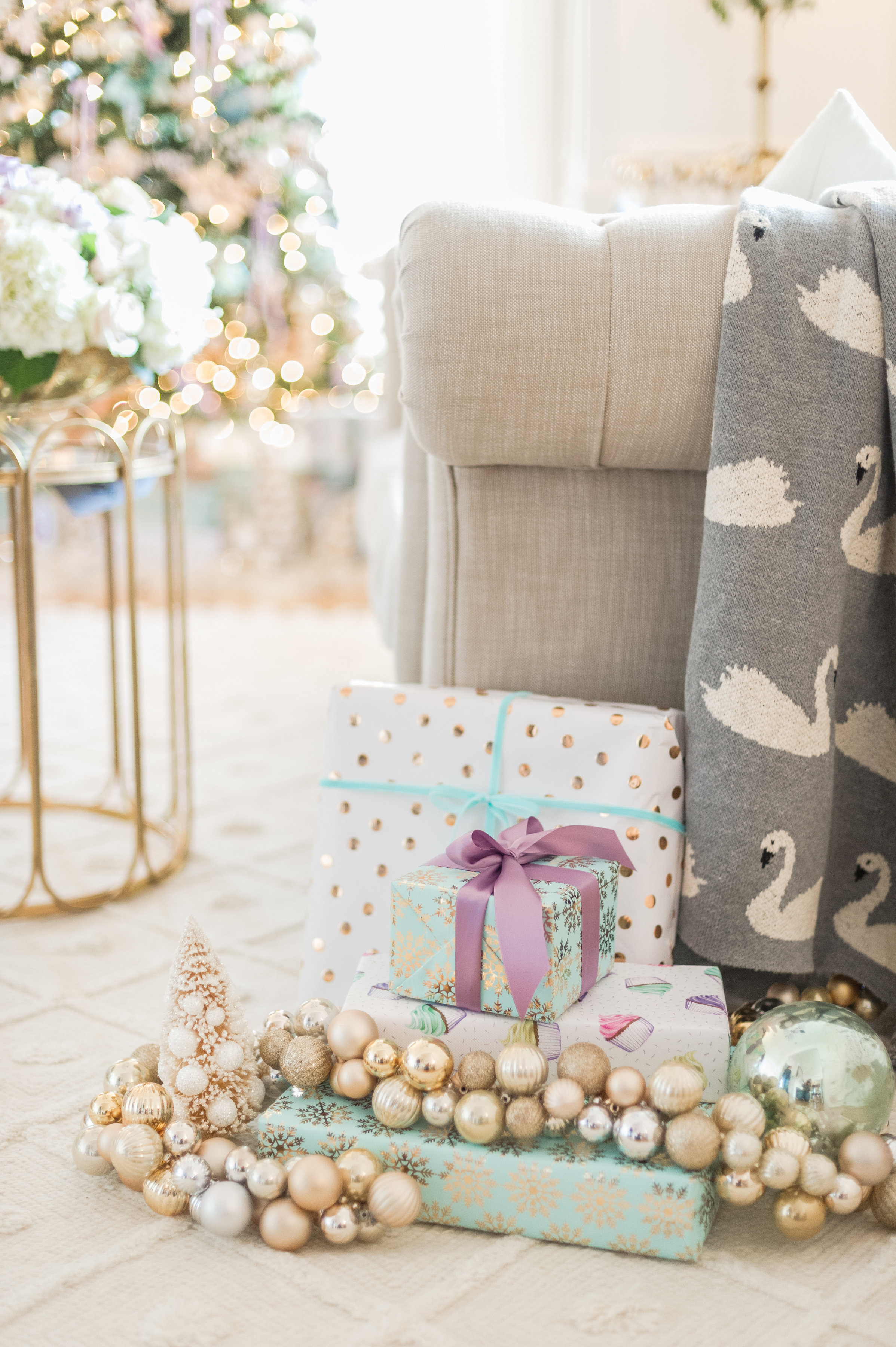 Christmas Tree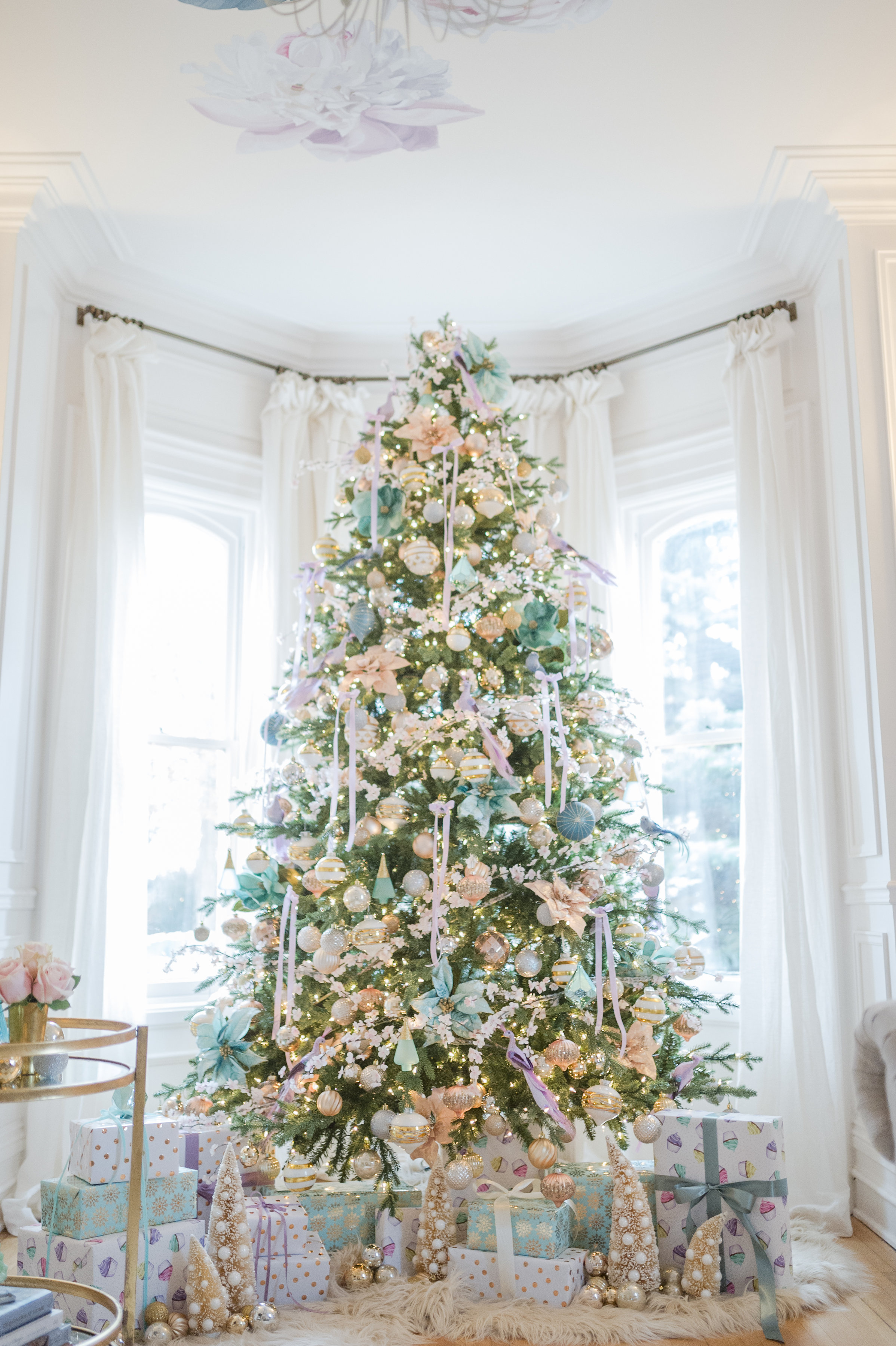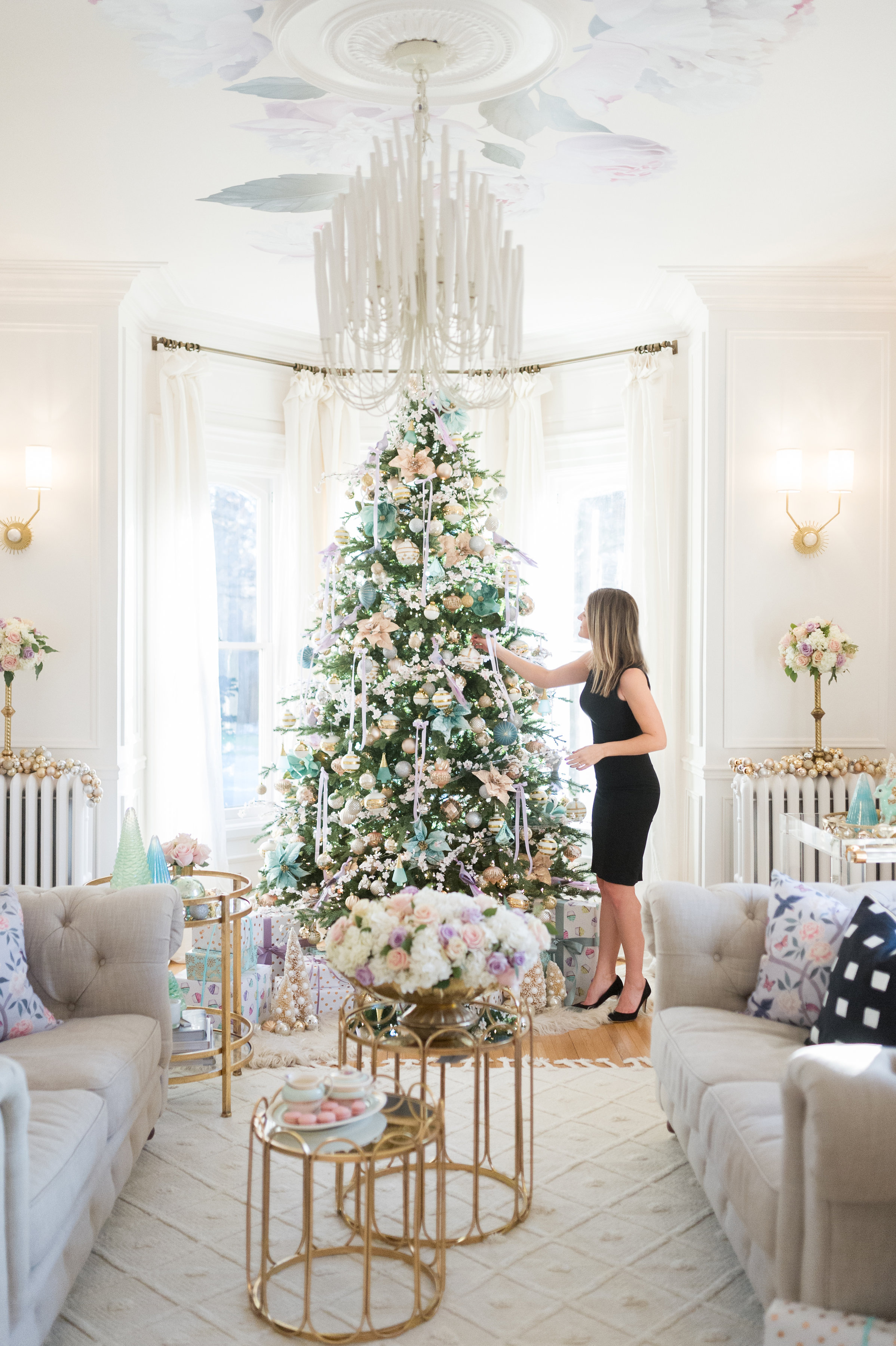 This tree is incredible. It's the same tree that I used last year and Canadian Tire still sells it!! It's called the Oxford Liberty Pine tree…it's 9ft. It also comes in smaller sizes. I will link it here but it's the perfect tree…it has life like branches on all the ends and everyone who sees it is in love.
Furniture Changes Since the Reveal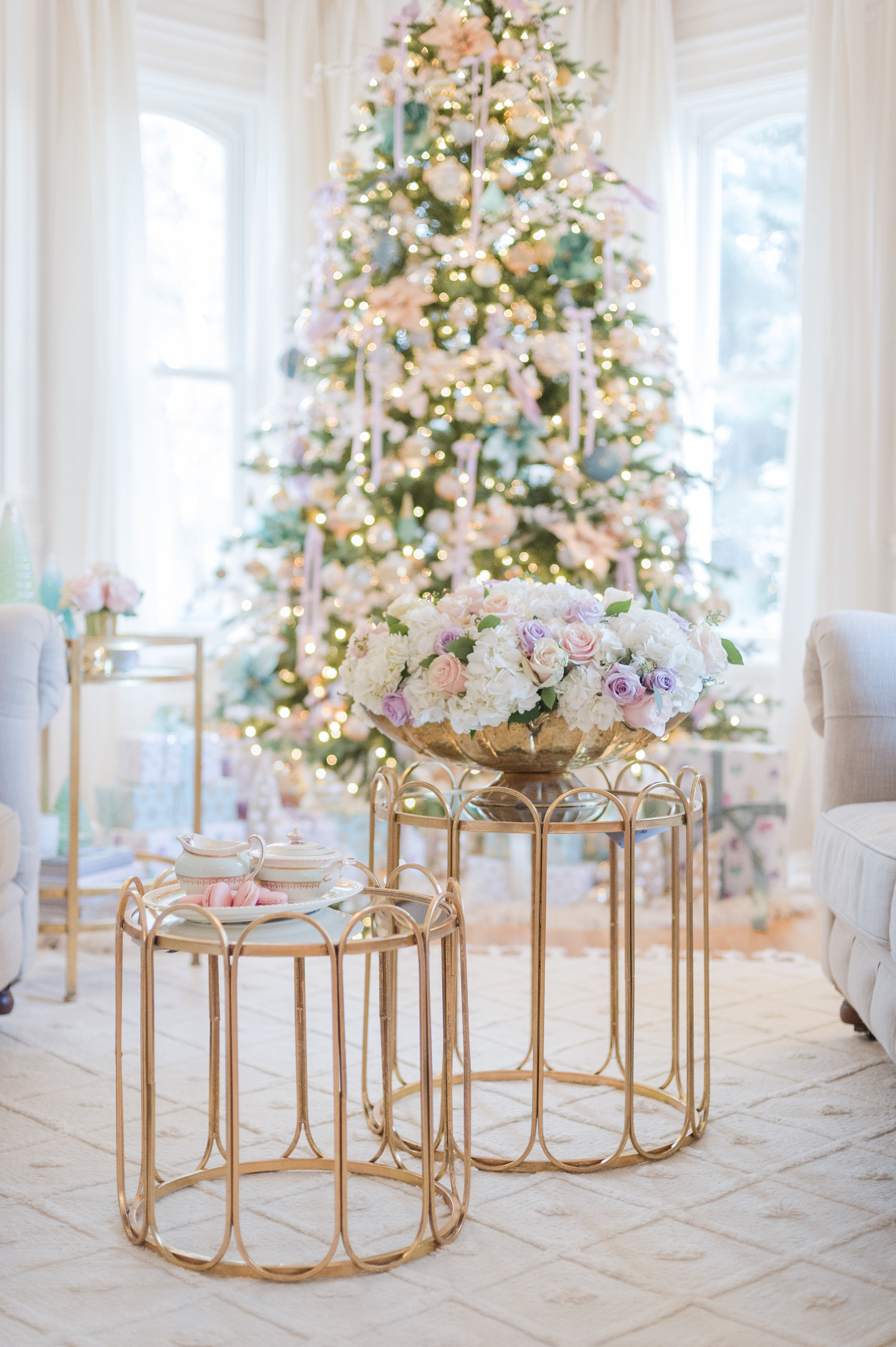 The big changes to the space are the 3 round gold tables. I added a side table and two coffee tables. I found all three at Homesense. I decided to move our trunk coffee table to the basement because it was too much of a heavy brick in the space. It was all you could see and took up so much space in the room. I'm so happy with how you can see right through the tables now to the tree and the rug below.
P.S. I had the hardest time ever finding a coffee table. I don't even want to admit how long I looked for one and then in the end my friend Cori said, what about a couple small tables nested together and I was like….holy crap that's it…and then I found these little darlings the day before the shoot…after looking since the summer. It was fate! lol!!
How Hard of A Time Did You Have?!
Ok since you asked, no word of a lie, I went to the states not once but TWICE to get a coffee table. Both times with Cori (the amazing florist and bestie)! K, so I dragged her to Anthropologie in Troy, Michigan to buy a coffee table that was on a floor model sale and when we got there it was so damaged that I could not possibly buy it…so sad.
Second time was a week ago. I dragged her 2hrs to Maumee, Ohio!! I found what I thought was a cool antique coffee table and so we missioned all the way there and it just wasn't right close up. However, we did discover the craziest cool and gigantic antique mall and are going back as soon as we can! AND right beside the Maumee Antique Mall is a bar that serves….wait for it… 1.75 huge and delicious margaritas!! I suddenly feel like I need to organize a "decor bus tour". Who wants to go??
I now officially need a bumper sticker that says "will drive for coffee tables"…lol!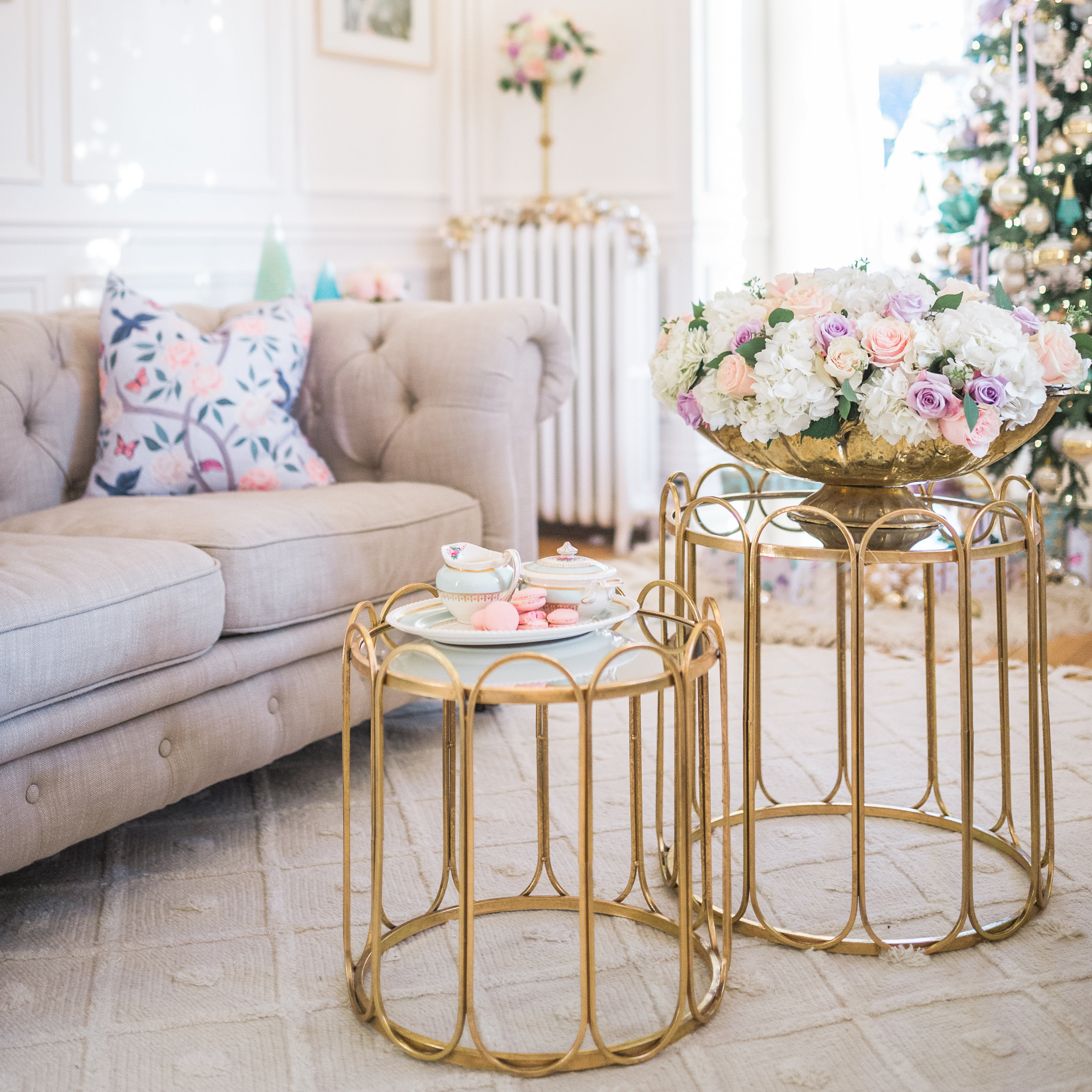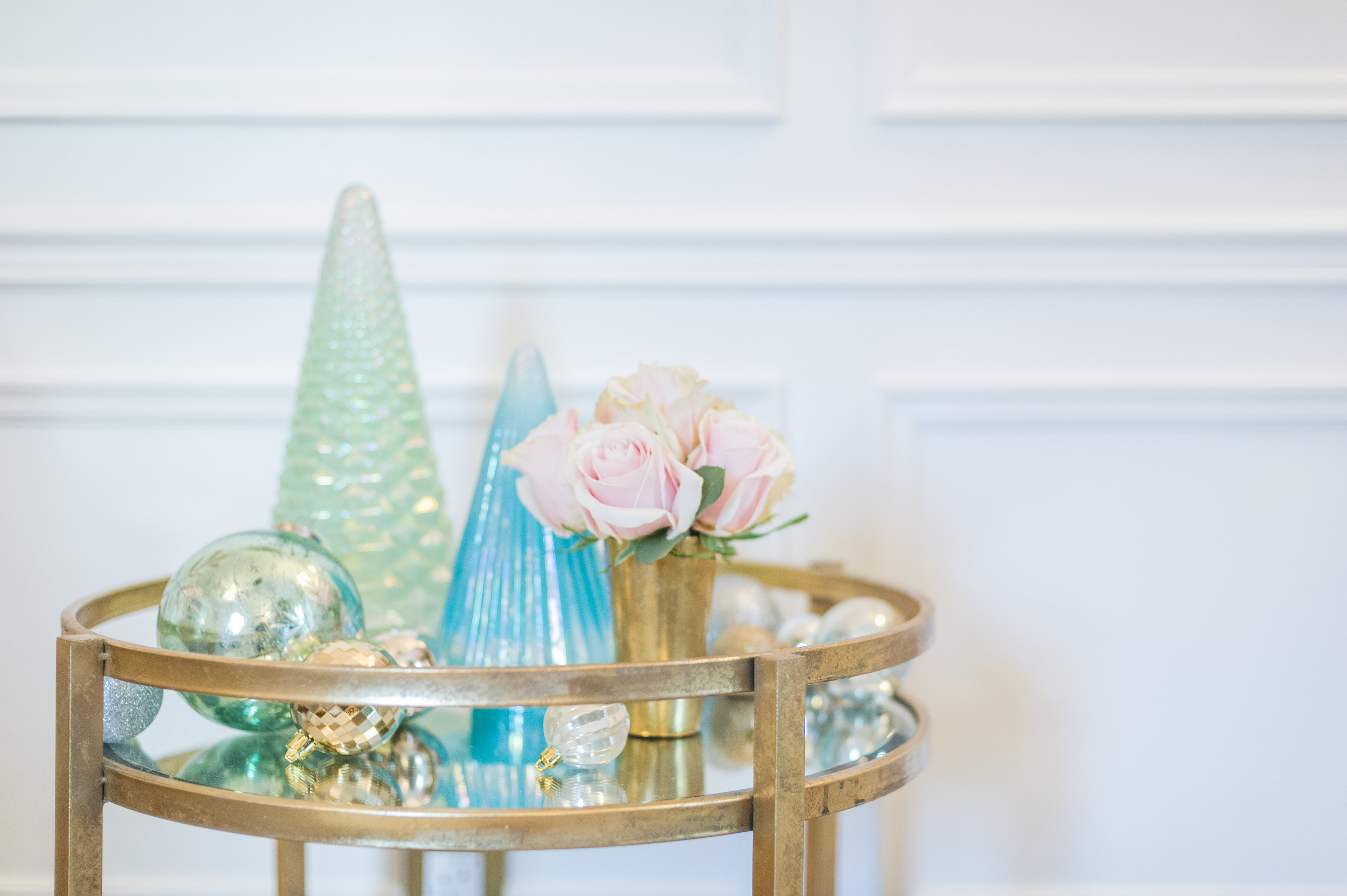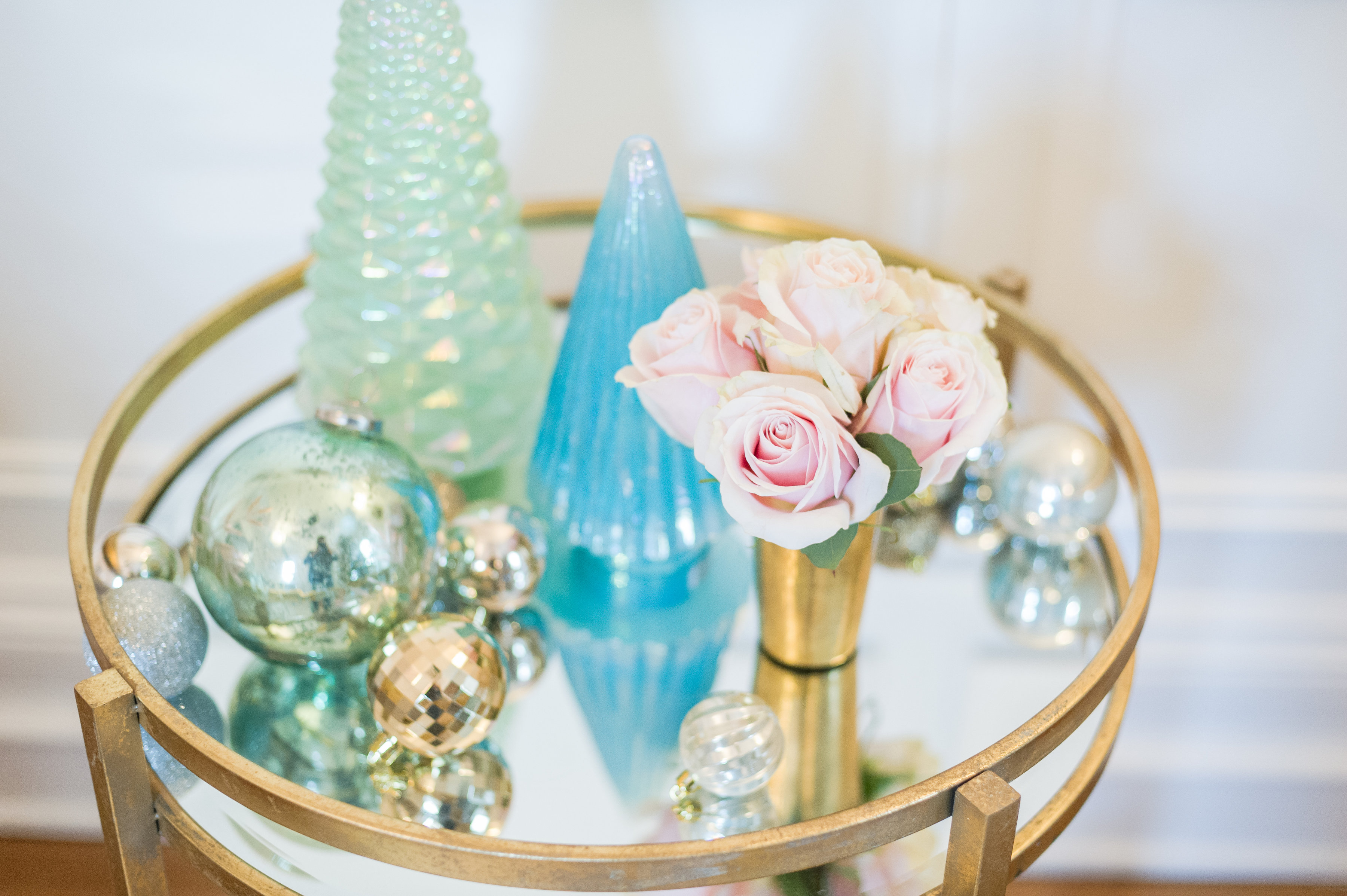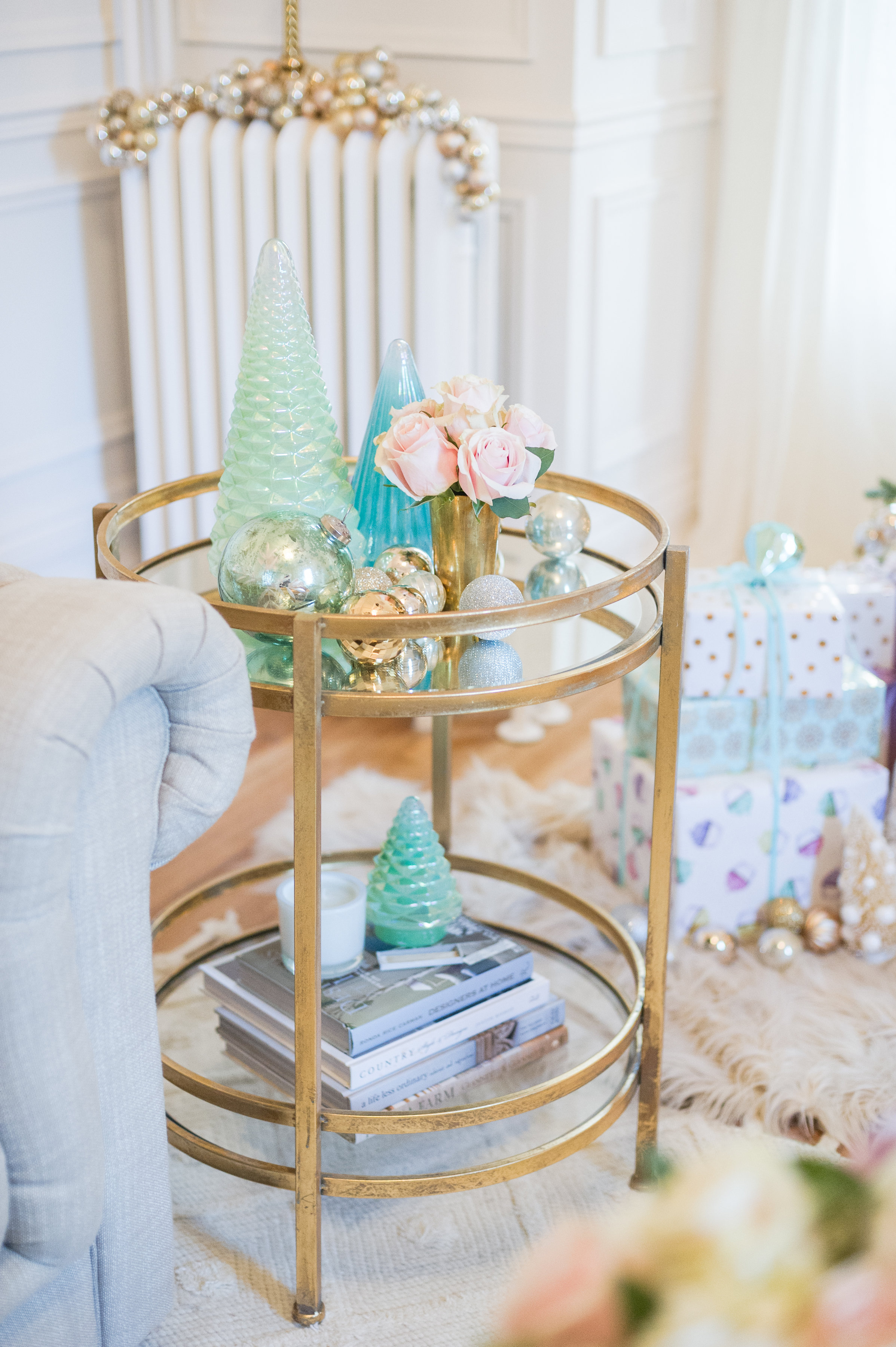 I also switched out our rug with one that I found on Black Friday. The original rug was under the dining table at our last house and wasn't the right fit for in here, but I had to wait until I found the exact right rug at a really good price to switch it.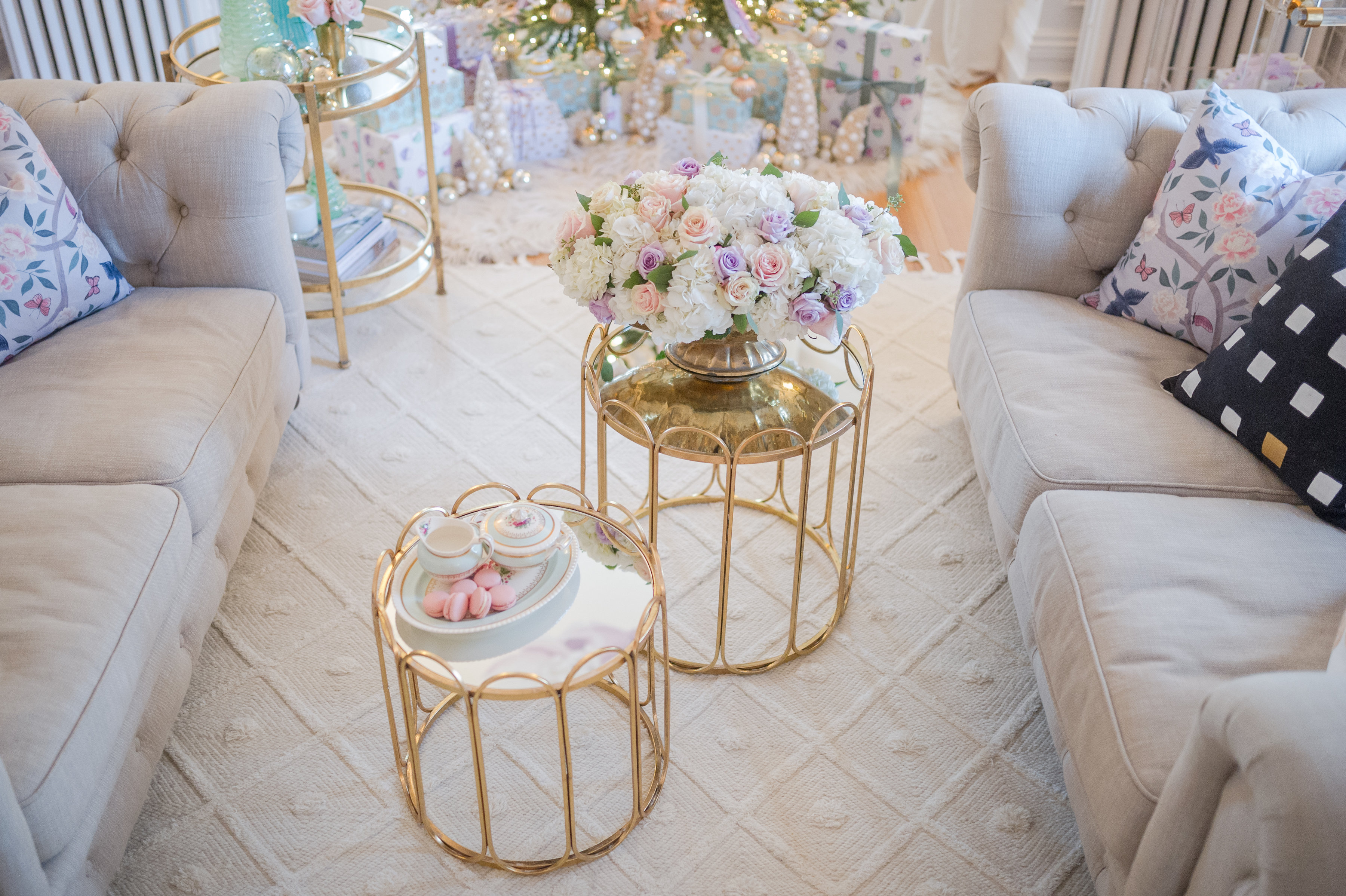 New Art Work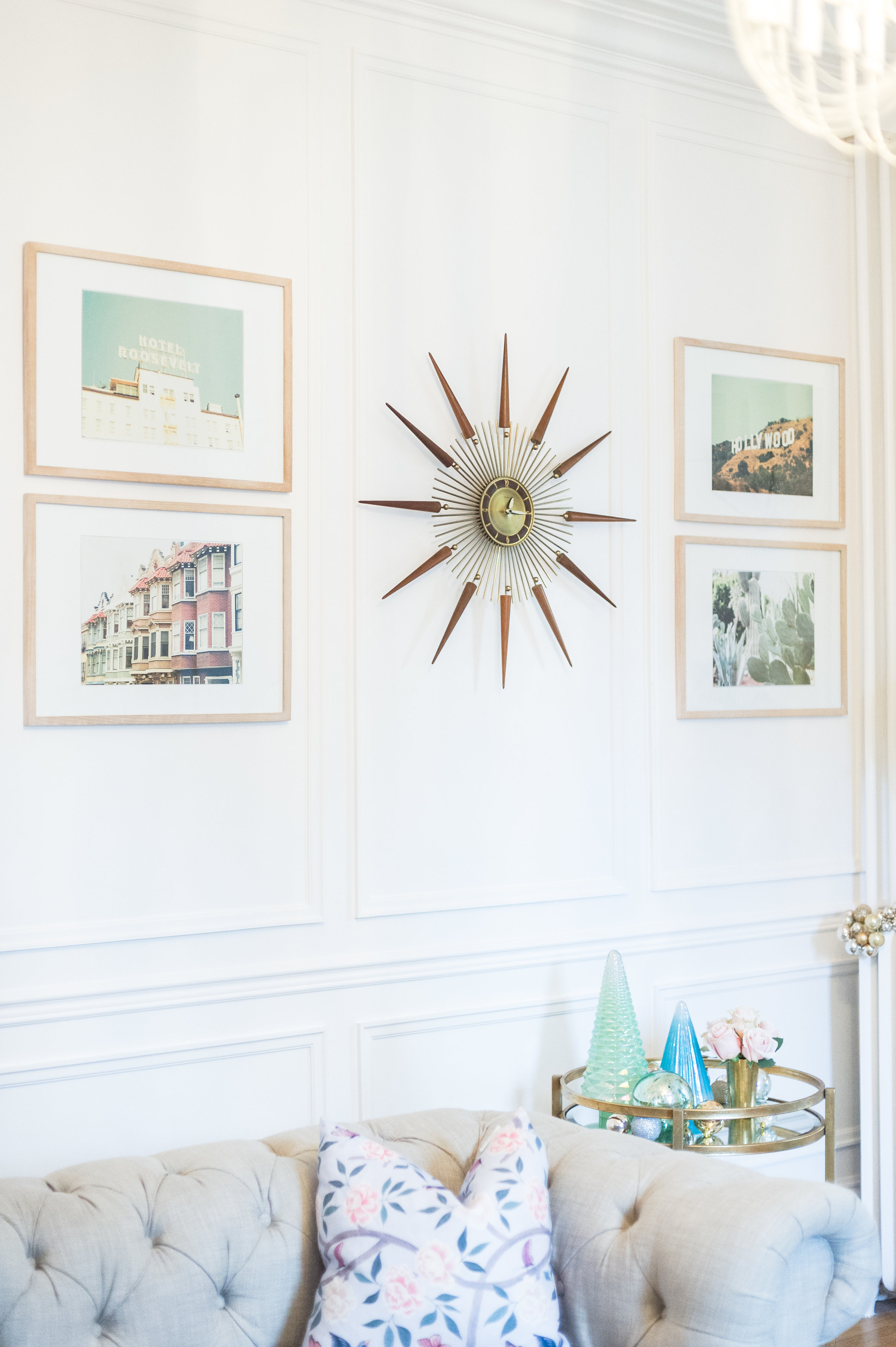 Roosevelt Hotel, San Francisco Houses, Hollywood Sign, Cacti
One of the biggest changes in the room is that I hung art on the walls! I had these frames originally in our dining room at the last home. I found the most incredible photography from the artist Bree Madden. All 6 photographs are hers and she has so many more that I love too! I'm in love with these lavender skies as well as her muted colours in so many minty green shades.
I'm really into a more muted and calming colour palette at this house and these photographs are perfect for this new vibe. All the photographs also go really well with the minty colours in our kitchen and help tie it into the rest of the home. You can see straight through to the kitchen from this living room.
The starburst clock belonged to my great grandmother and then my grandmother, and I had to ask for it when I first got a home 7 years ago, and now it's been in every house we've had. You can find them at Thrift Stores and they work with every style!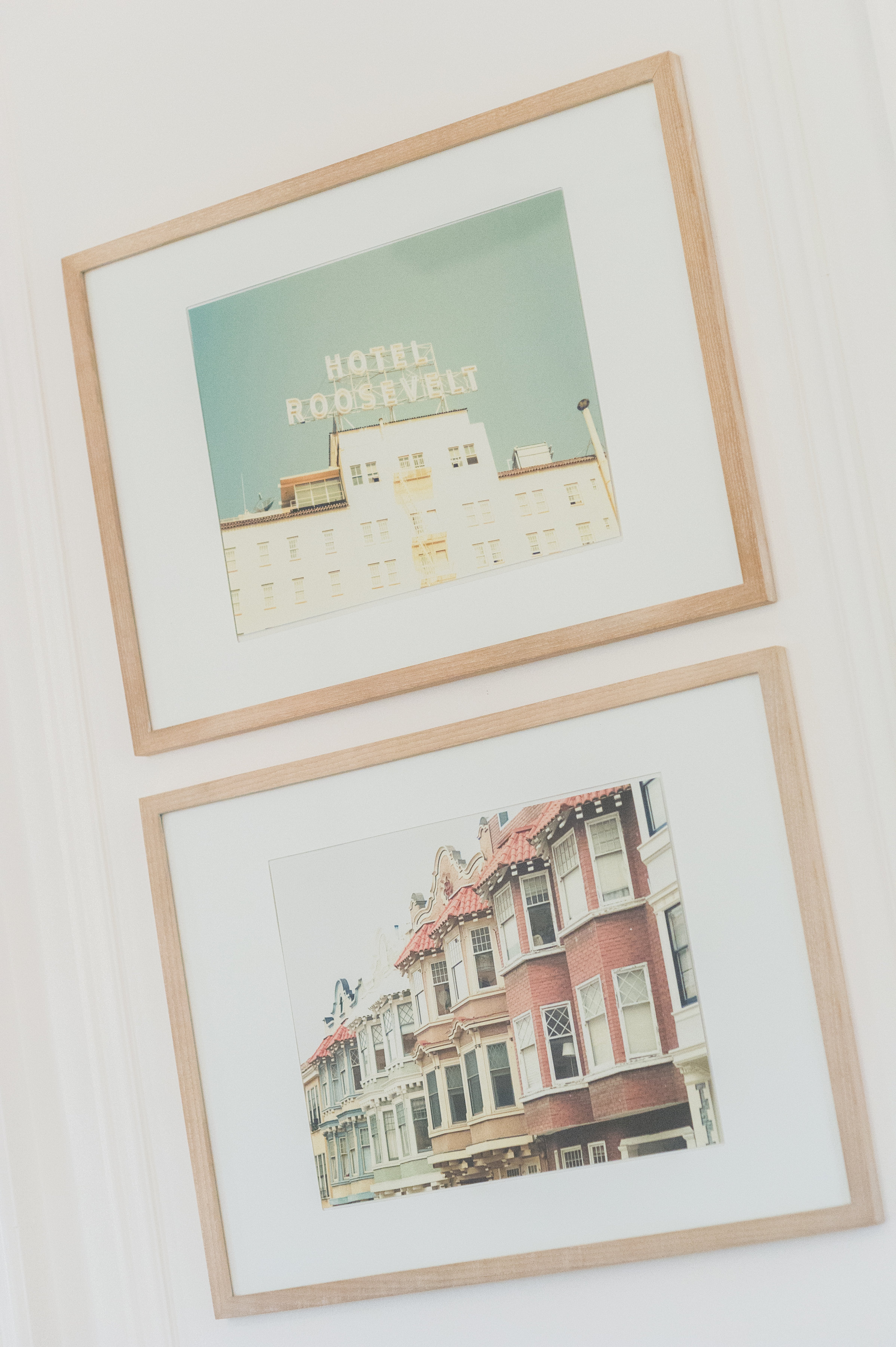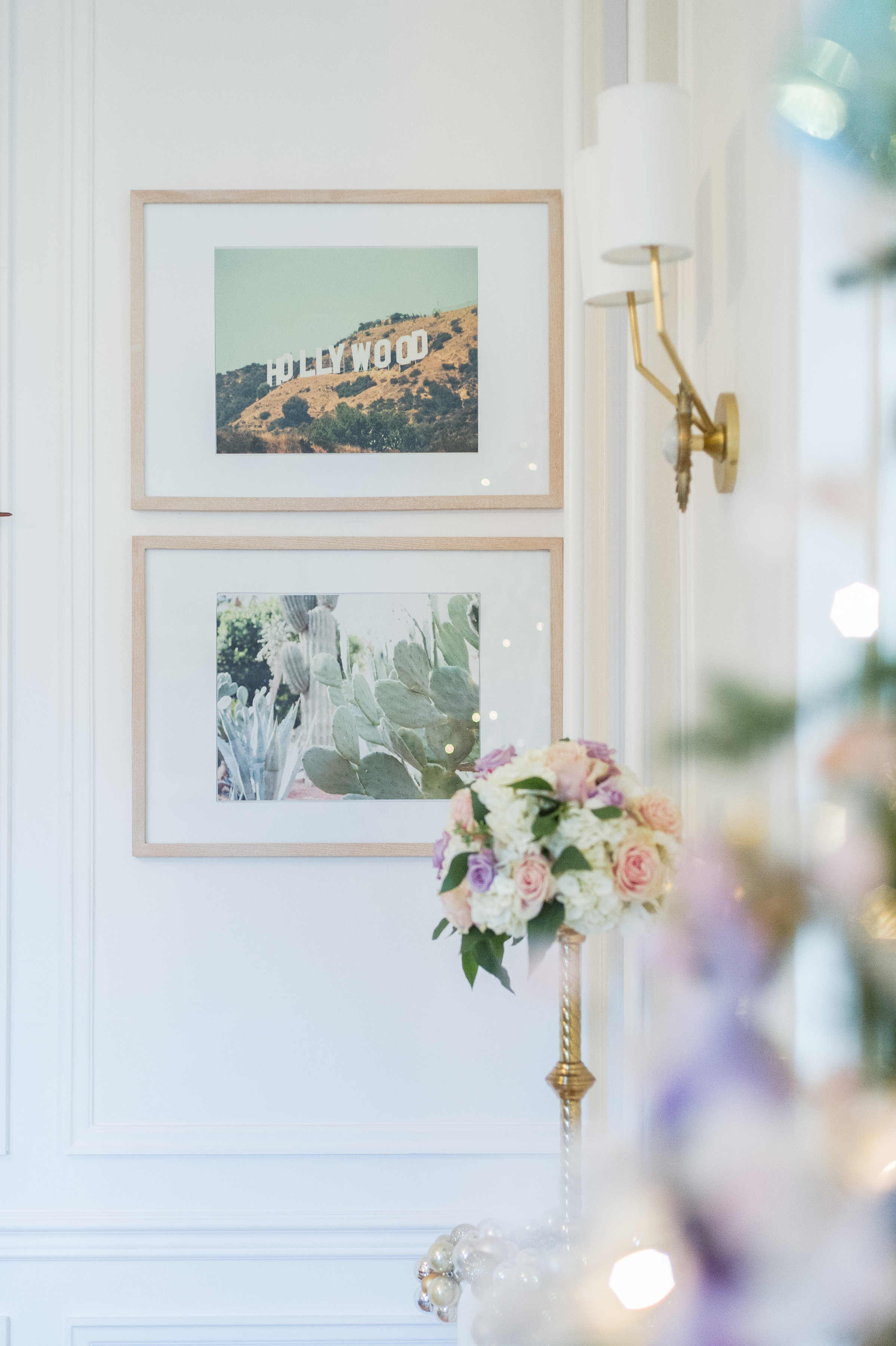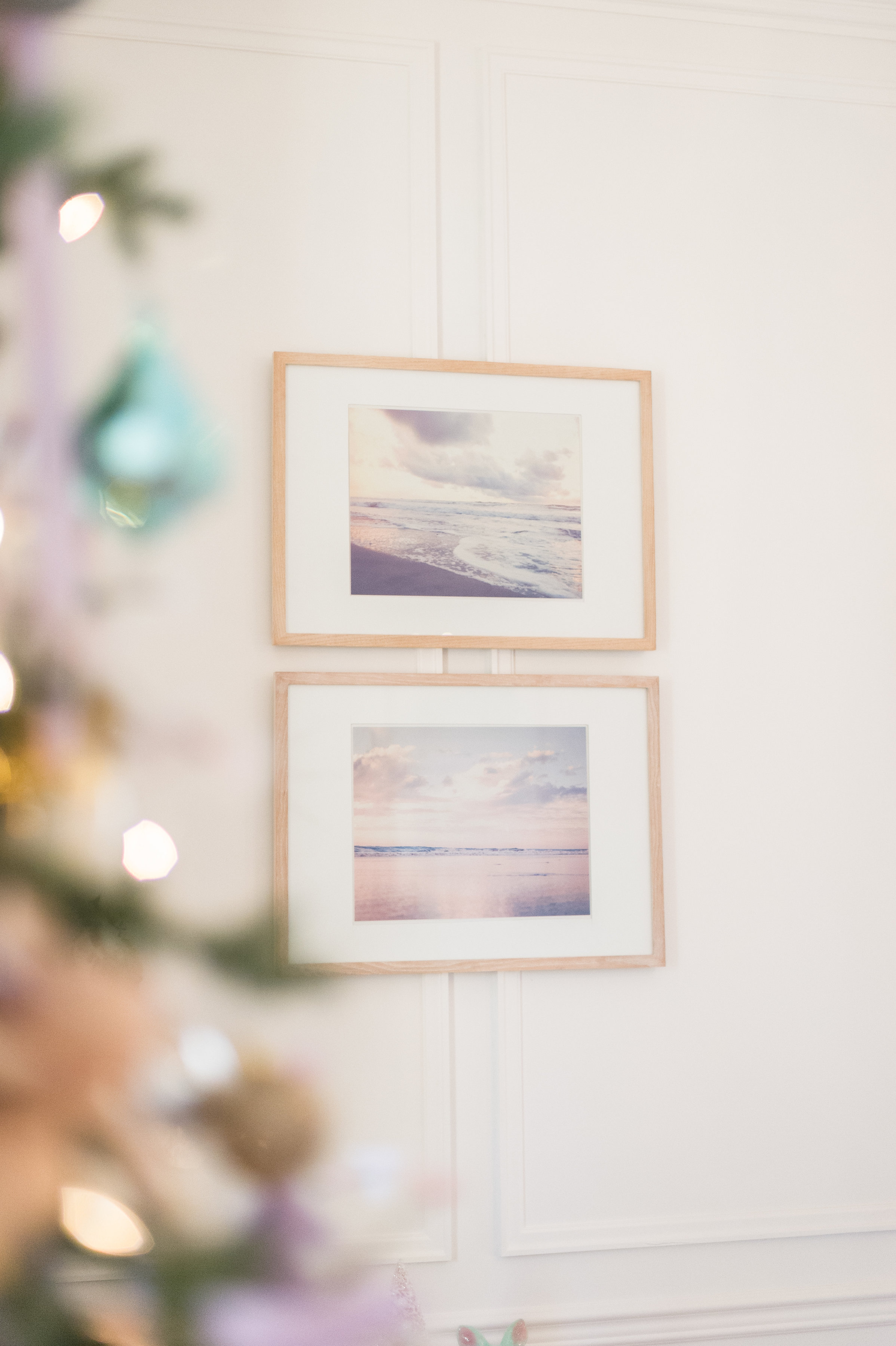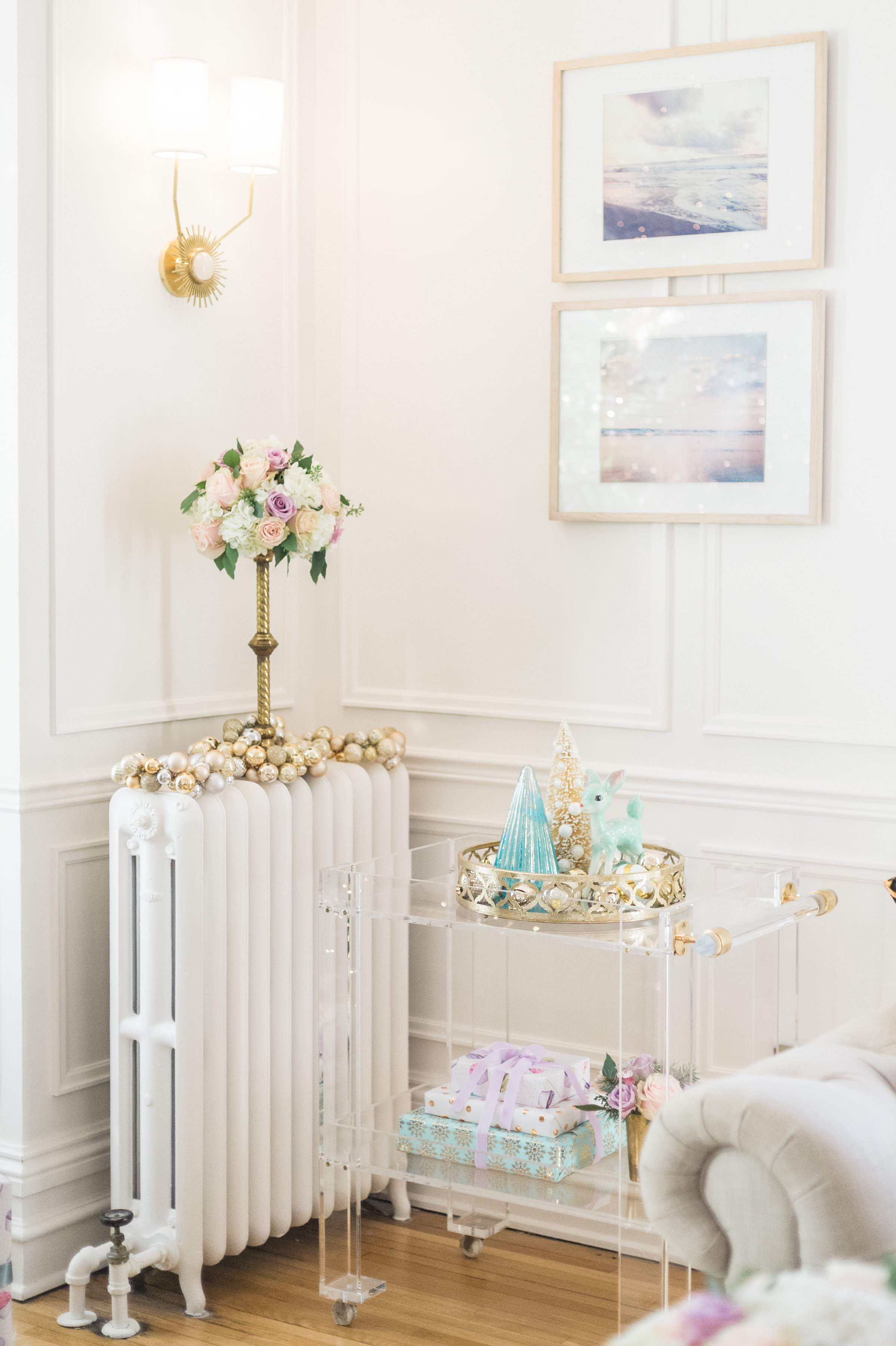 Lucite Bar Cart, Round Gold Tray
Dream Dresses
The girls are wearing the most exquisite handmade, vintage fabric, Aggie and Francois dresses! They are so dreamy. The photos of the girls sitting together under the tree are my favourite!!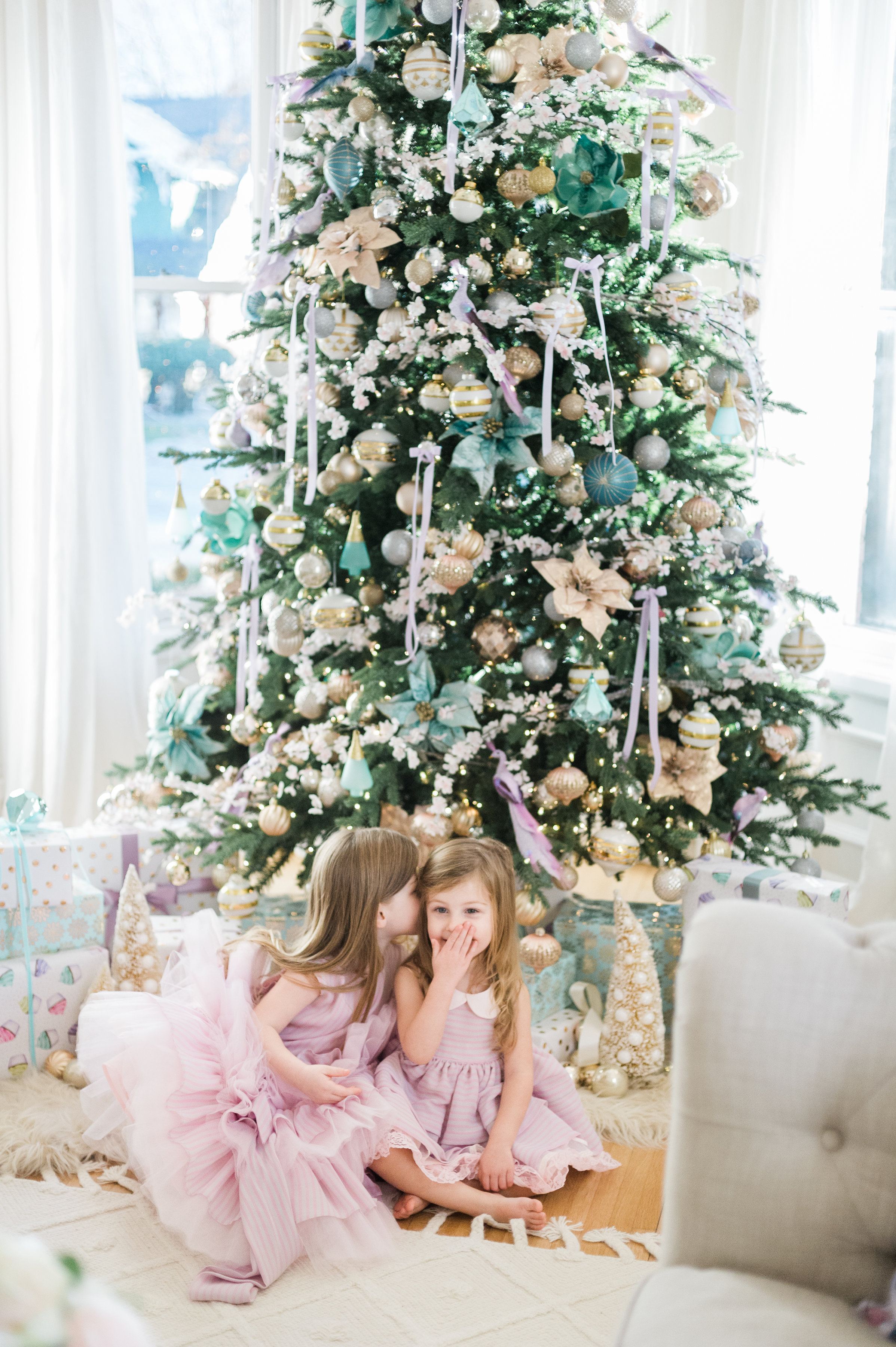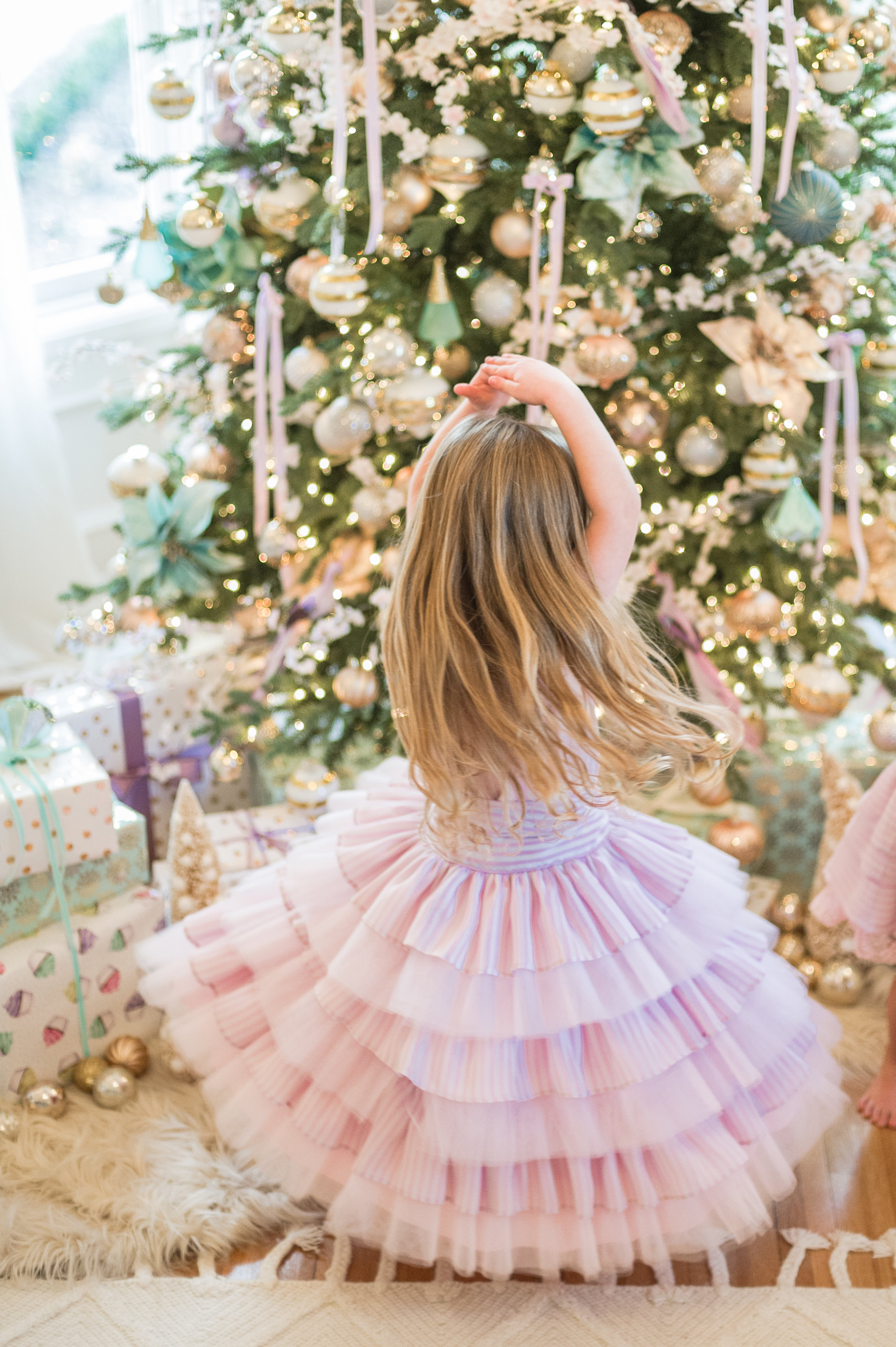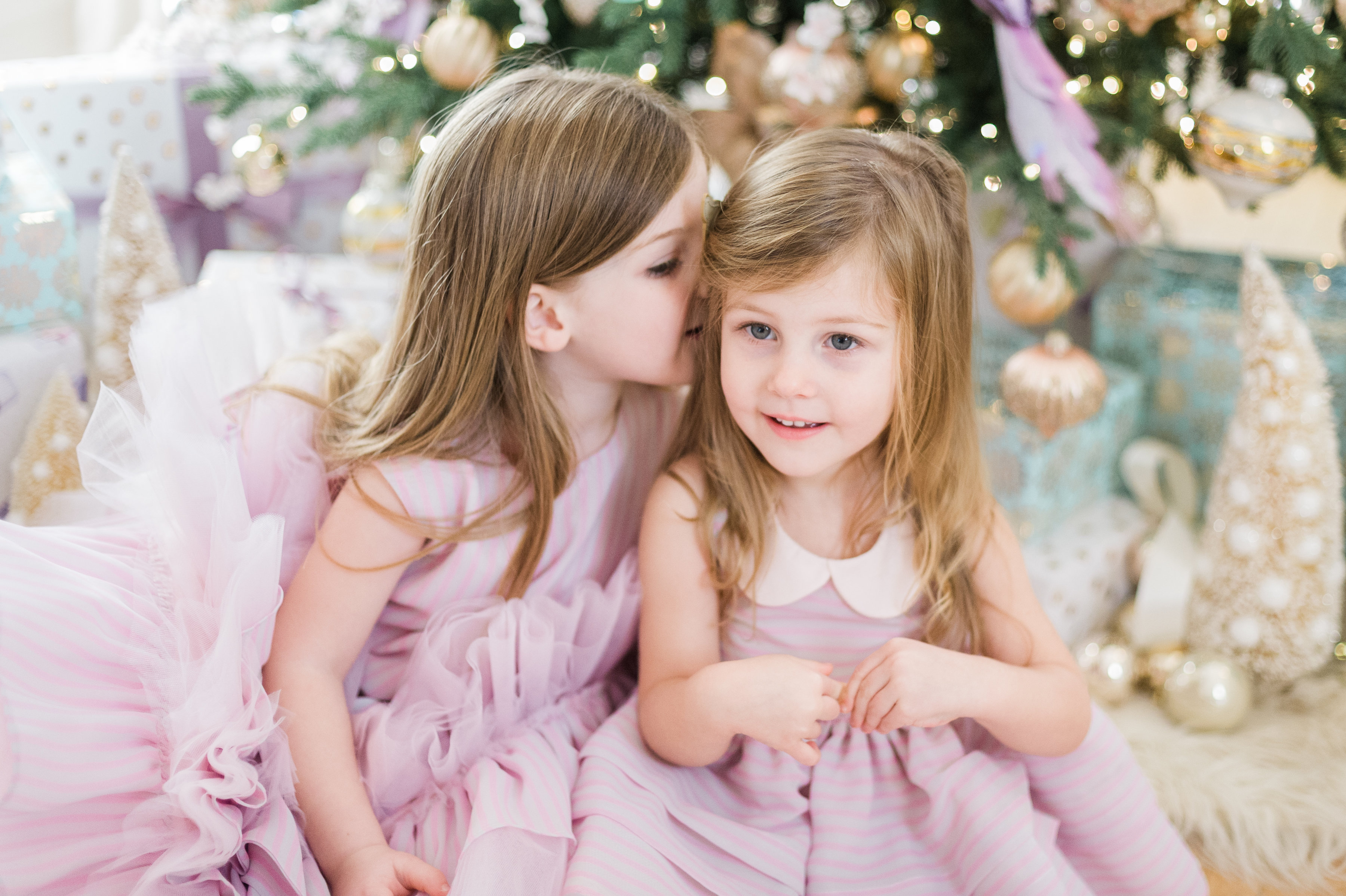 Chandelier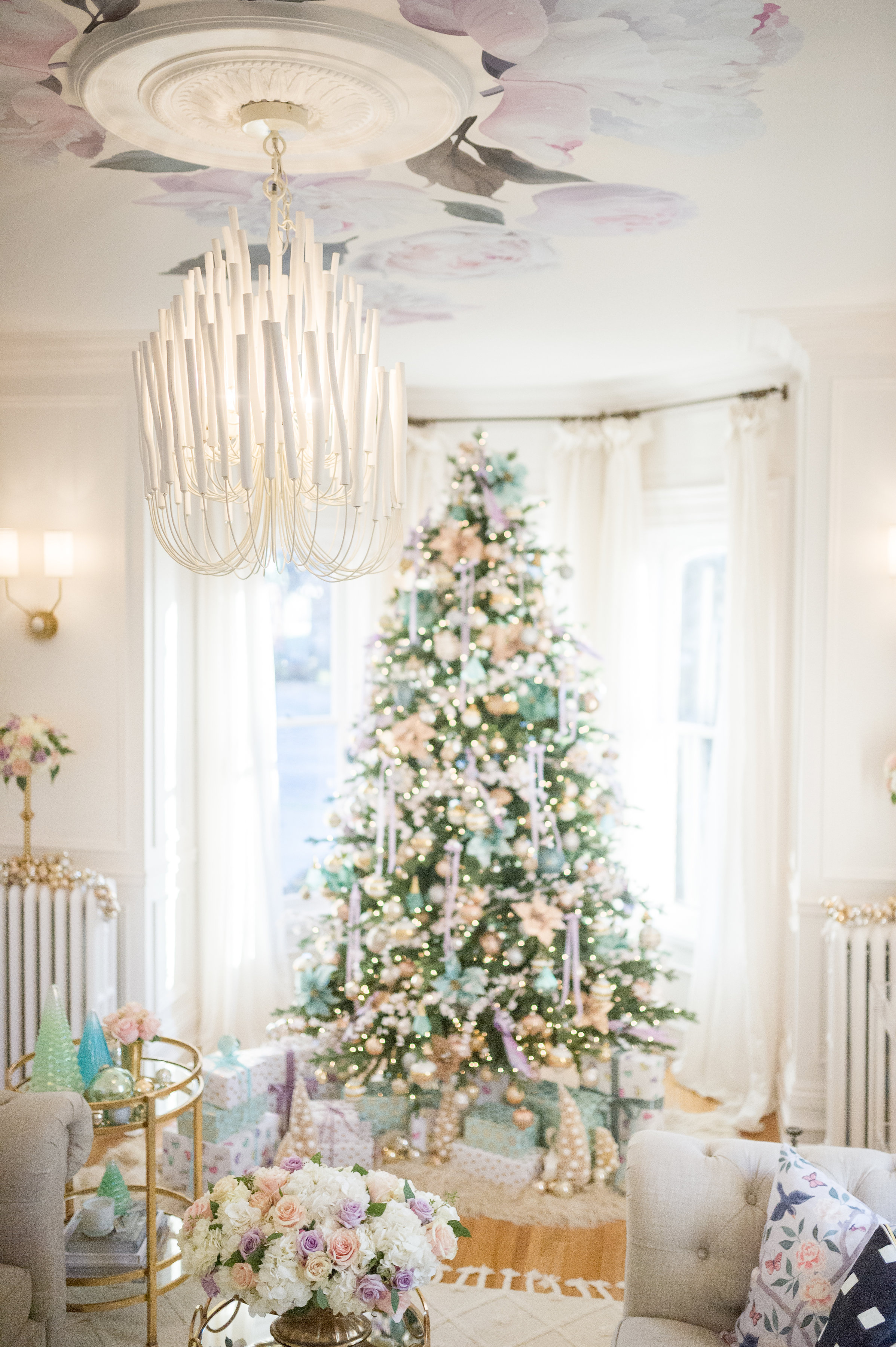 I'm still so smitten with our chandelier, even with all of the Christmas magic, it steals the show and catches my eye in every photo! I got it from Lighting Connection. I actually live across the border from Detroit in Kingsville, Ontario. In order to cheaply and super easily ship the light to myself, I sent it to Detroit Mailbox. If you haven't used the service yet, you are missing out! It's the easiest thing to do and saves you a ton in shipping and lets Canadians shop all the amazing cross border Lighting Connection deals.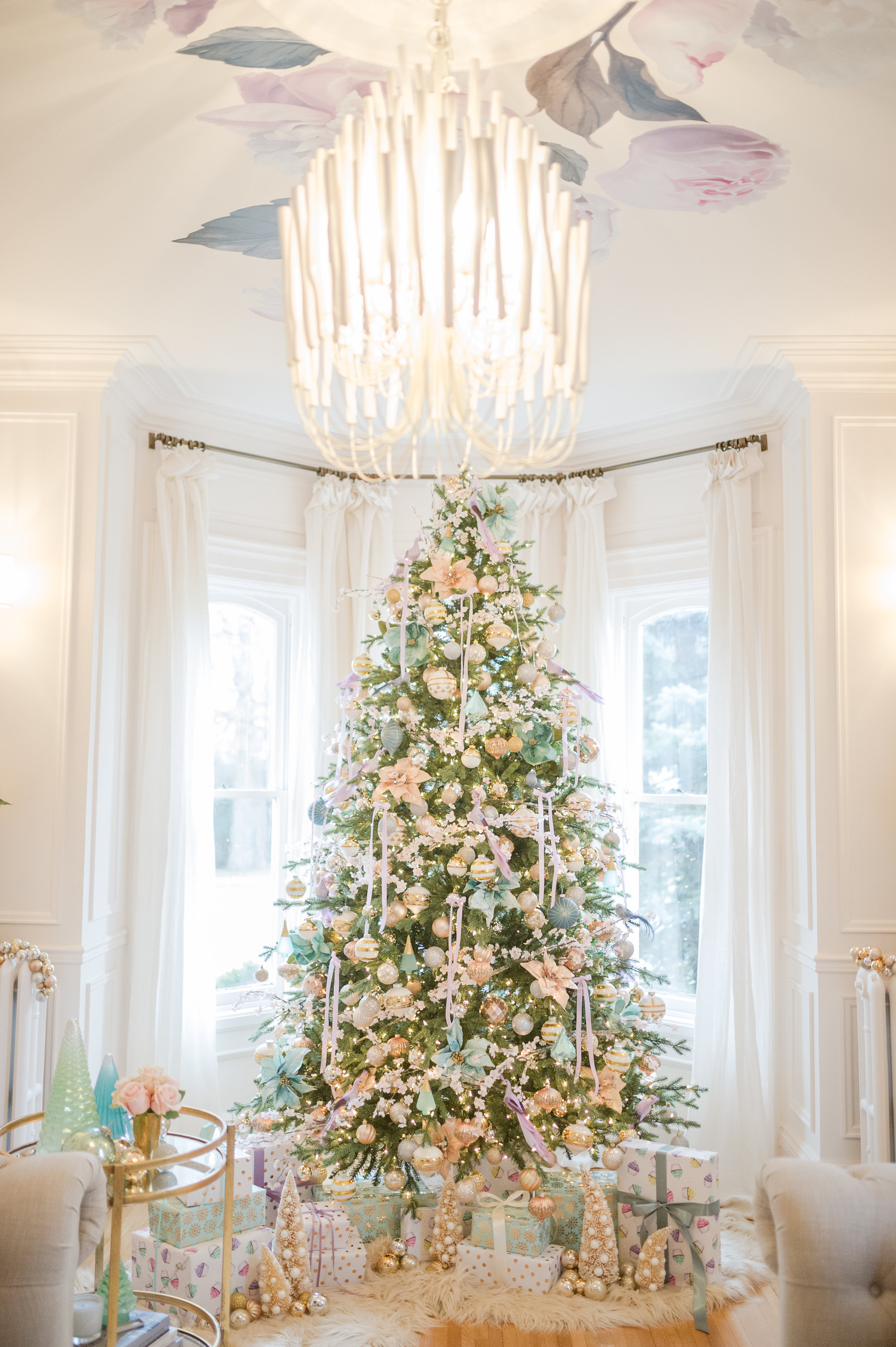 Before and After the Mini Furniture Refresh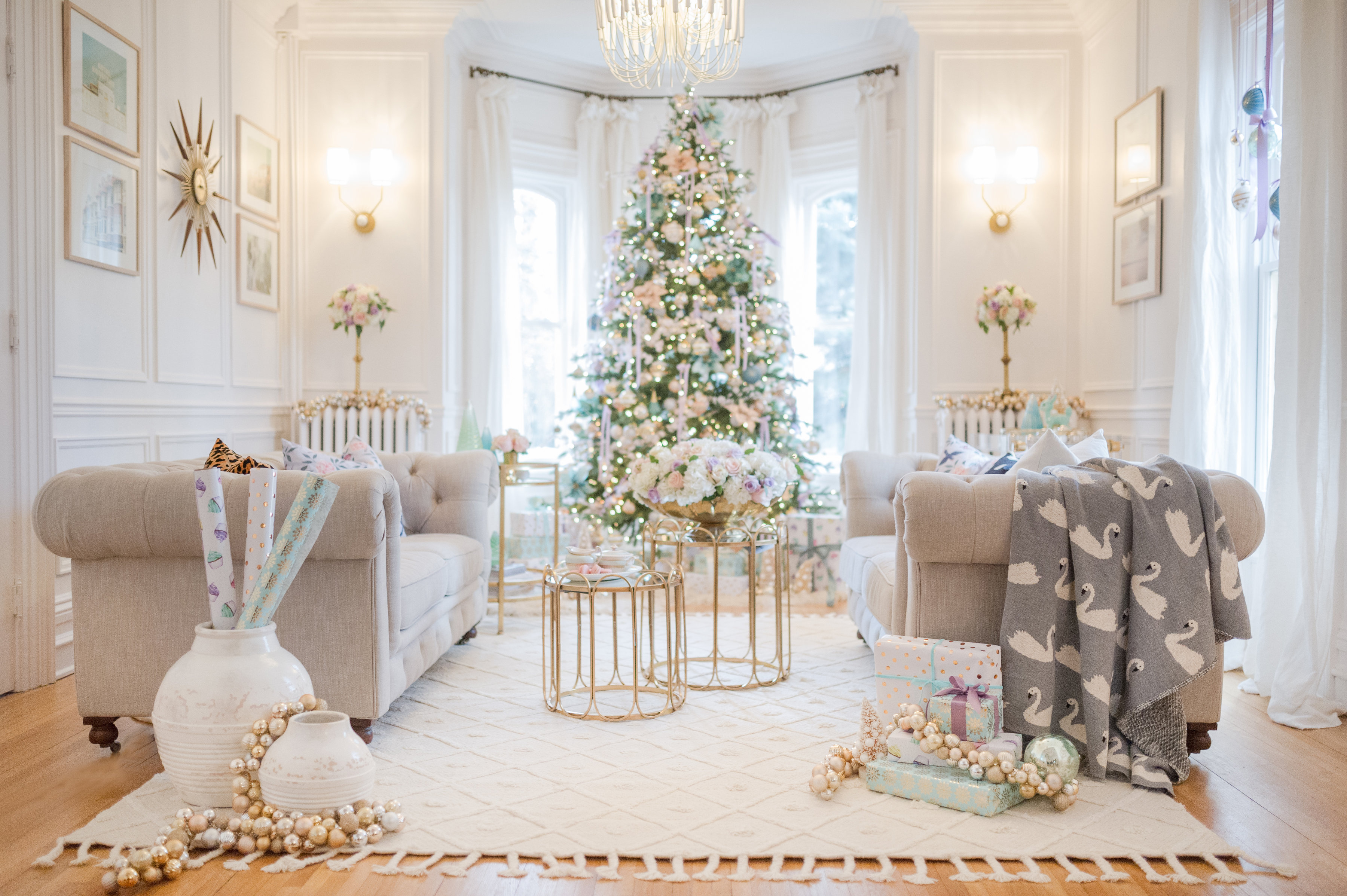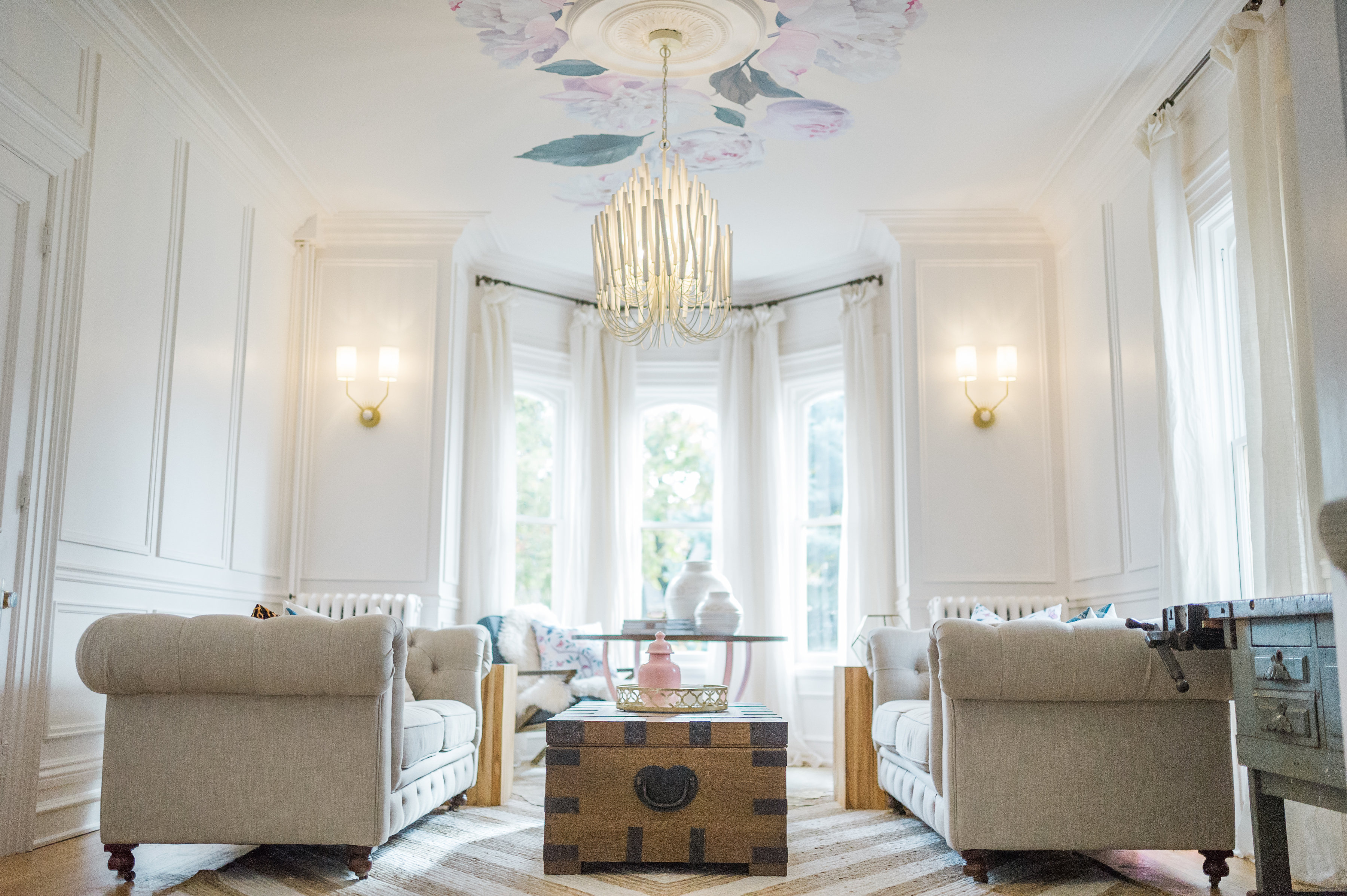 Here's a look back before I switched out the coffee table, end tables, and rug. All of the pieces were from our last home and will now be used when we finish our basement one day. If you haven't seen the Modern Parisian Living Room Reveal I've linked it…I share the details of the wainscoting, wallpaper ceiling decals, paint, lighting and all of the sources!
I know I say this every time but my favourite part of every post is when I'm done the explaining and just go on a photo blitz and it's that time! Merry Christmas everyone! Let me know what you think of this year's mint and lavender Christmas colour scheme in the comments!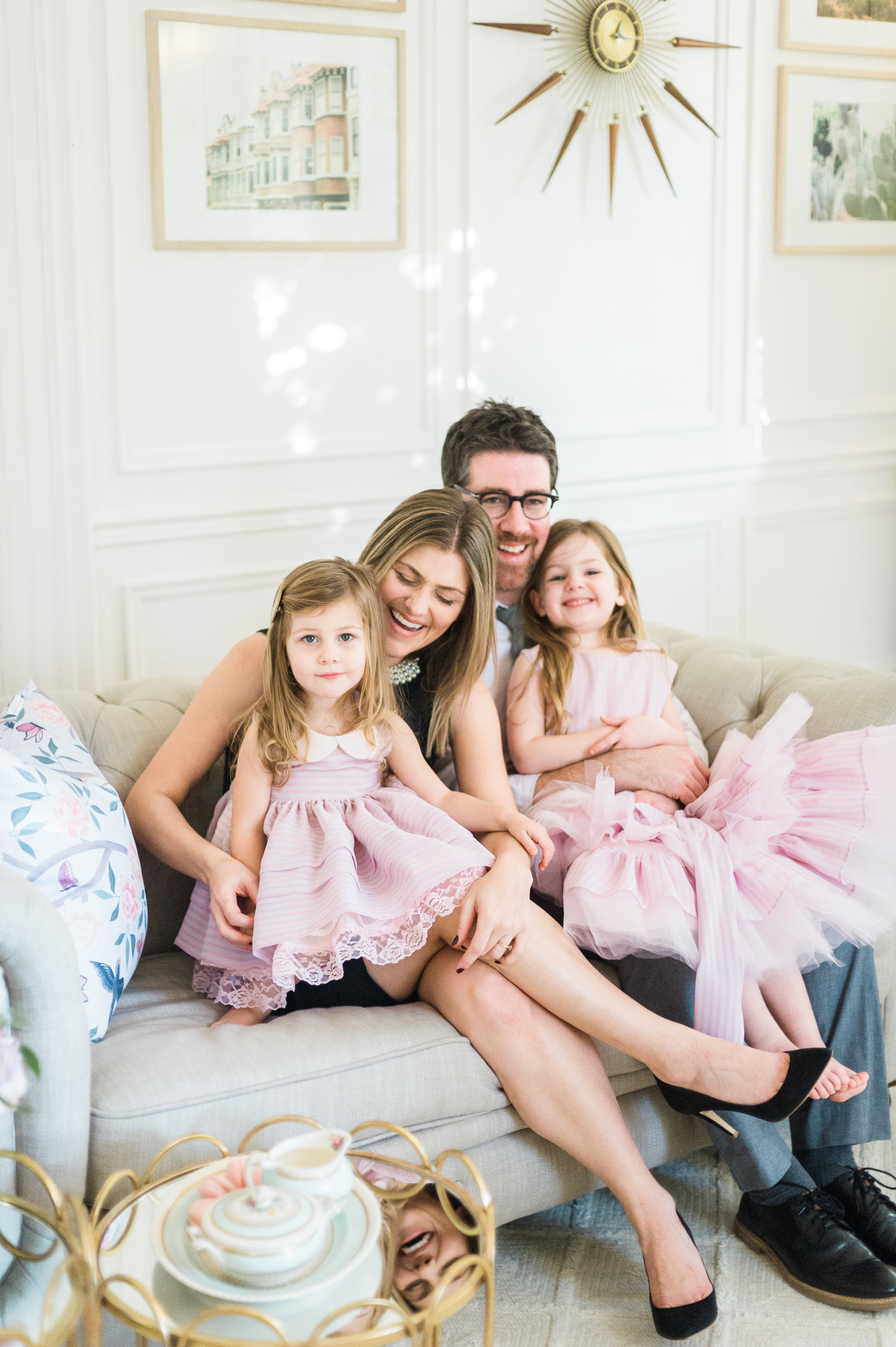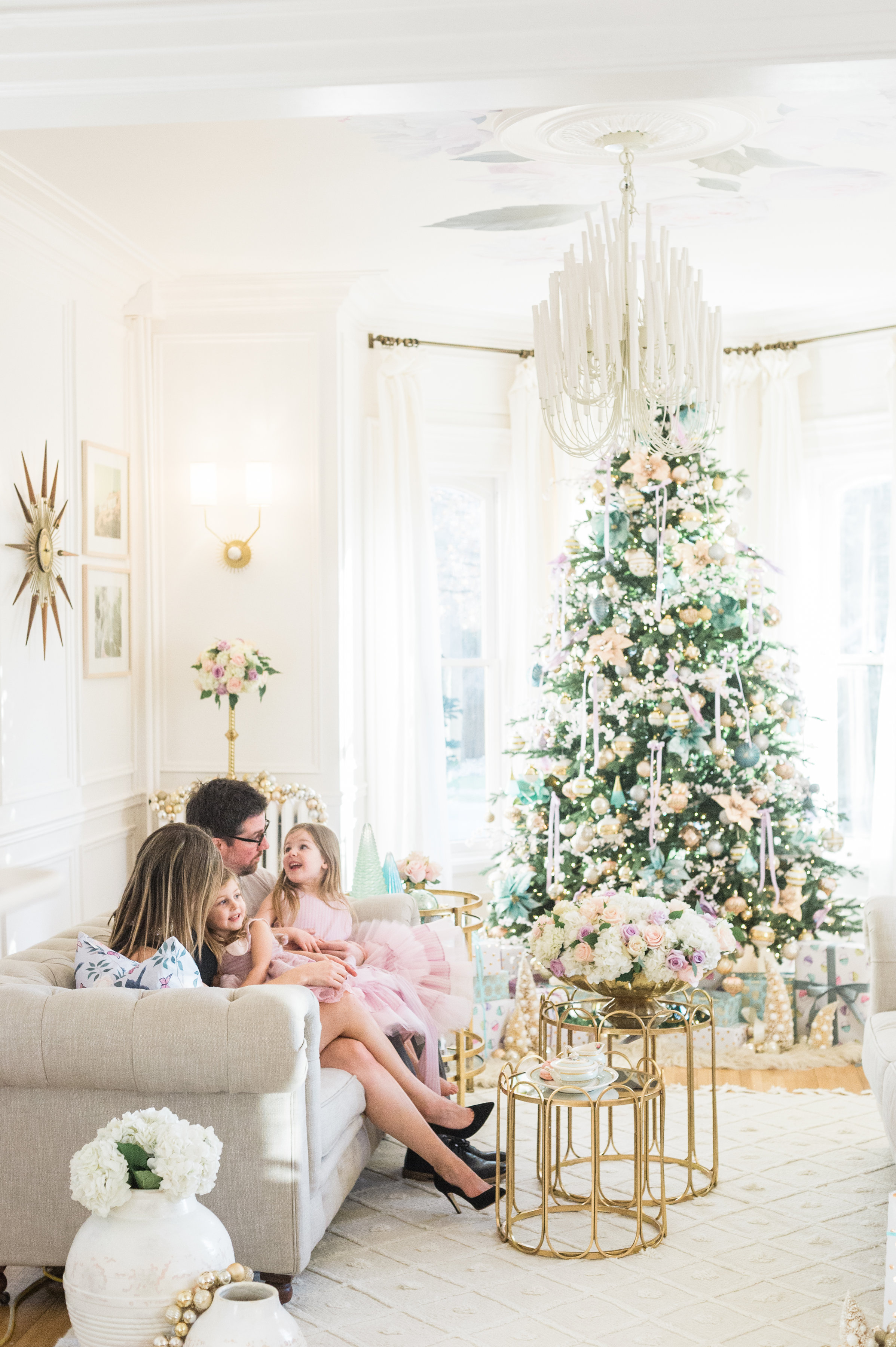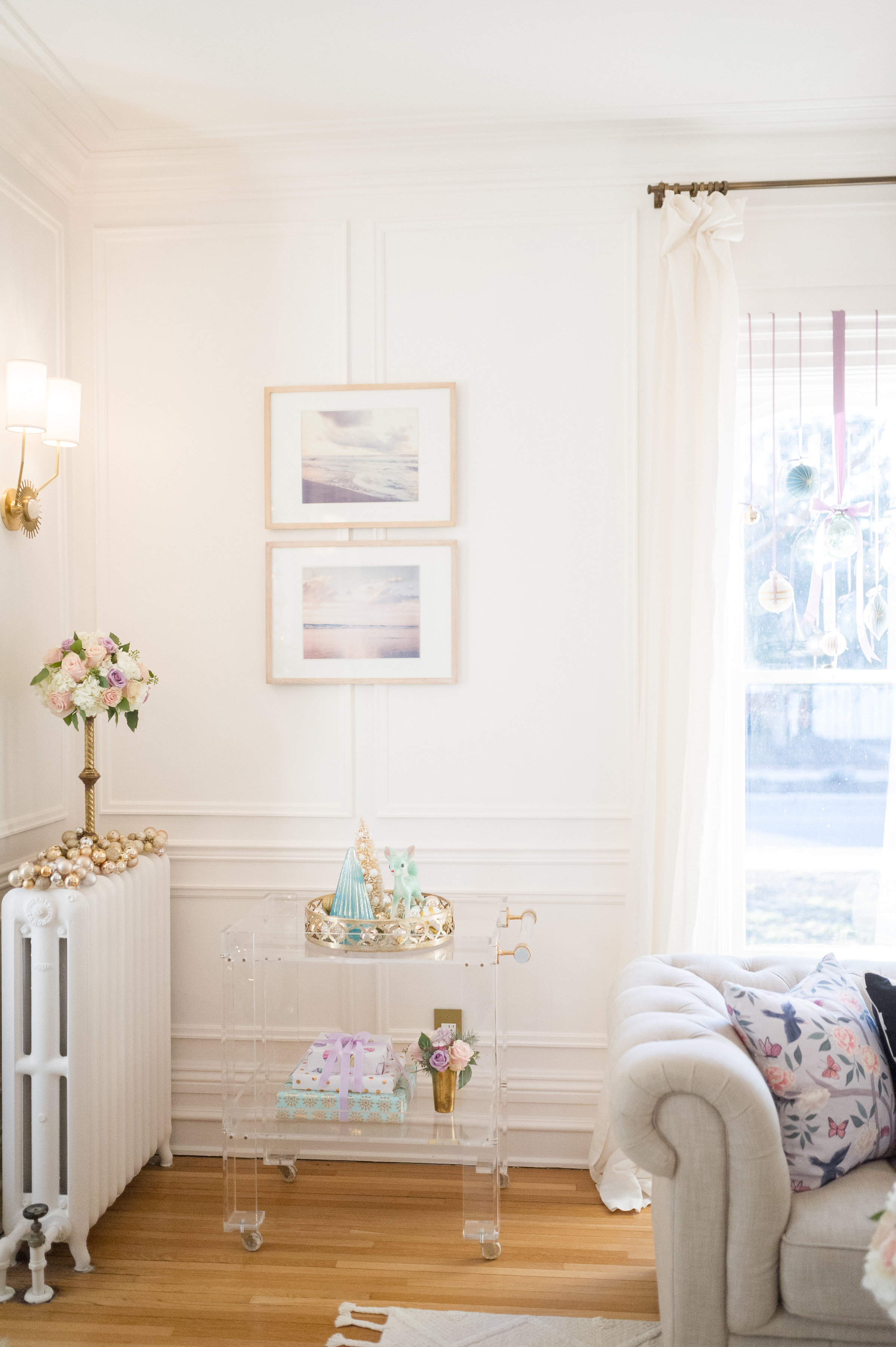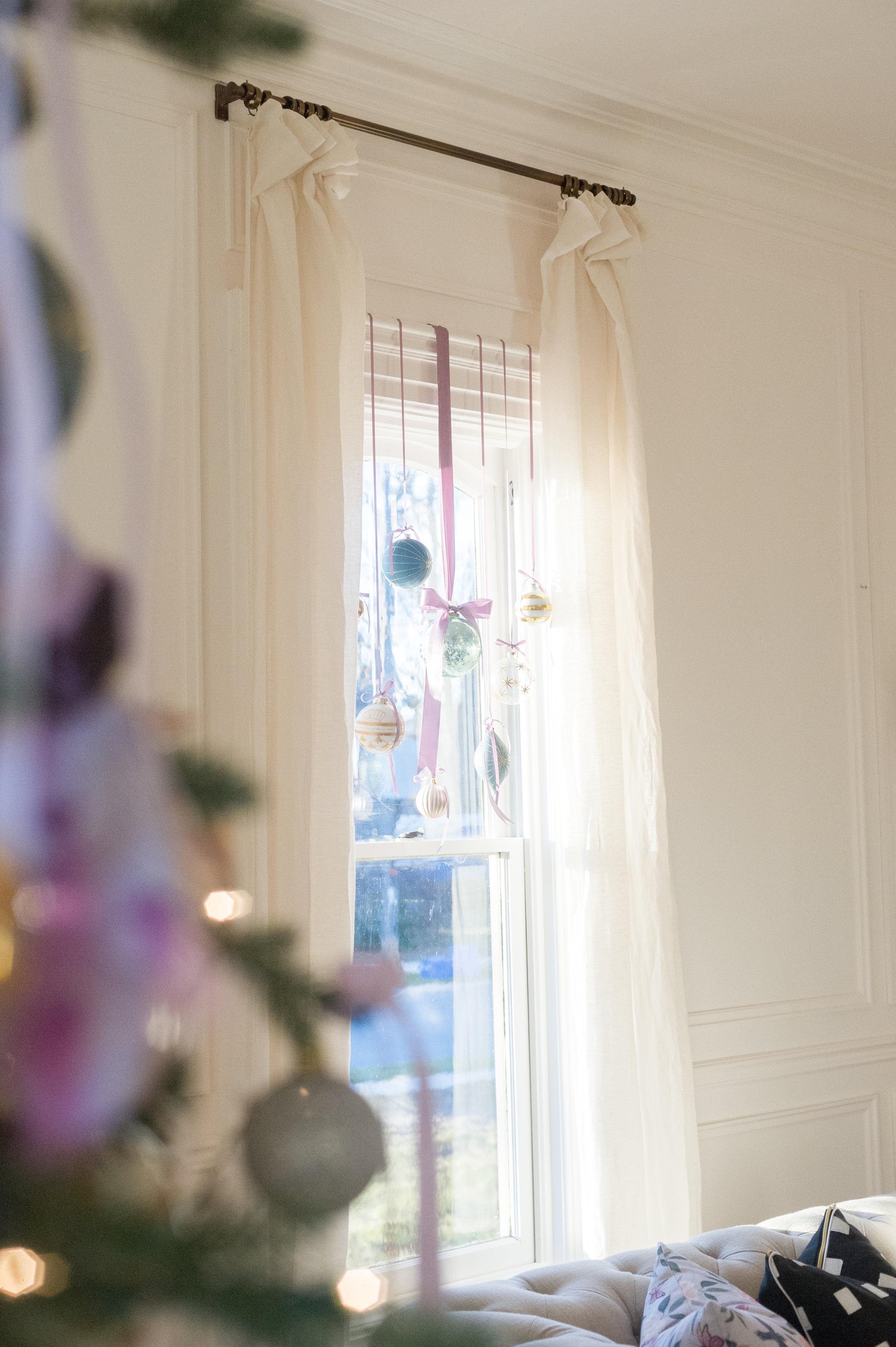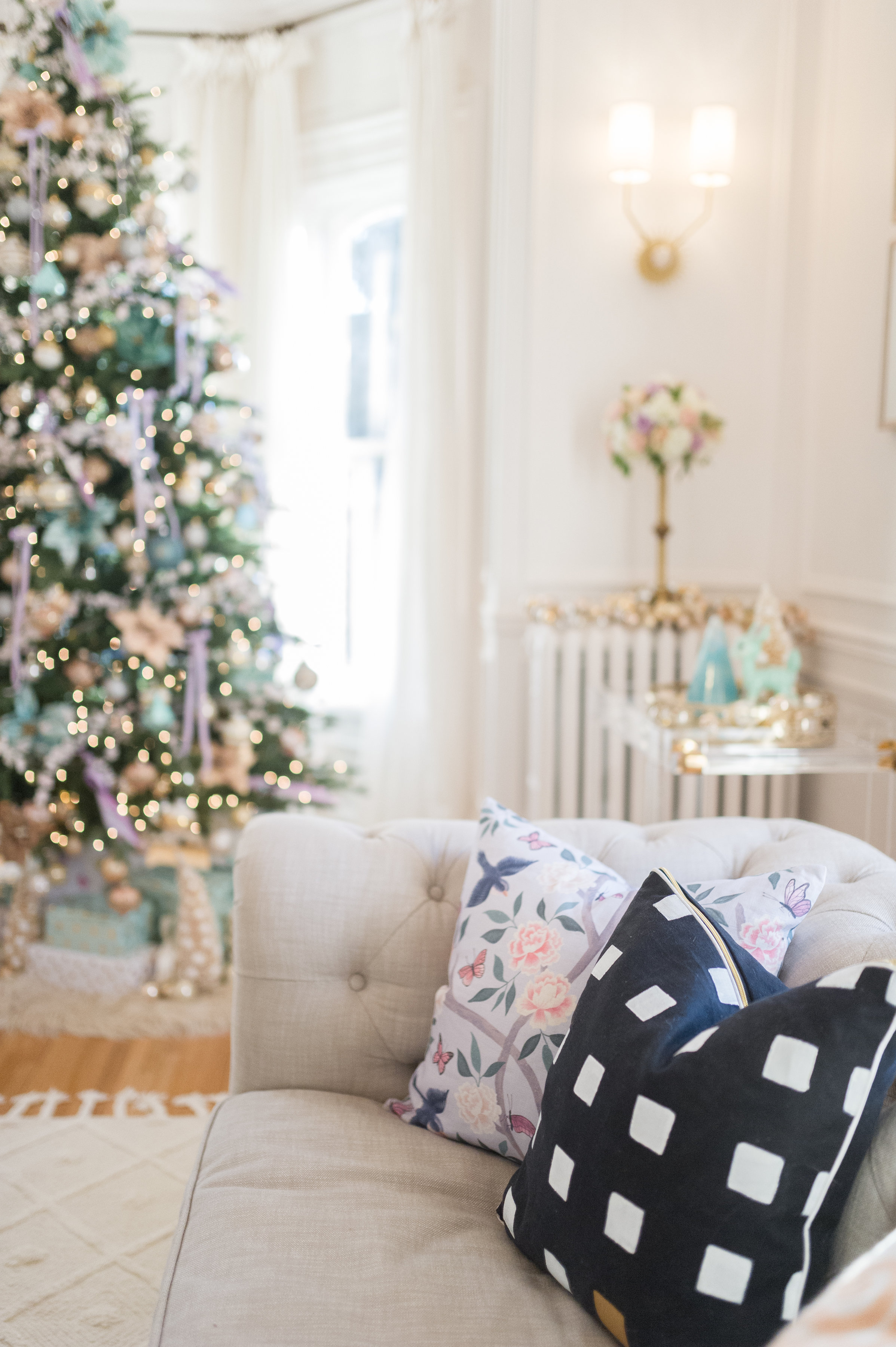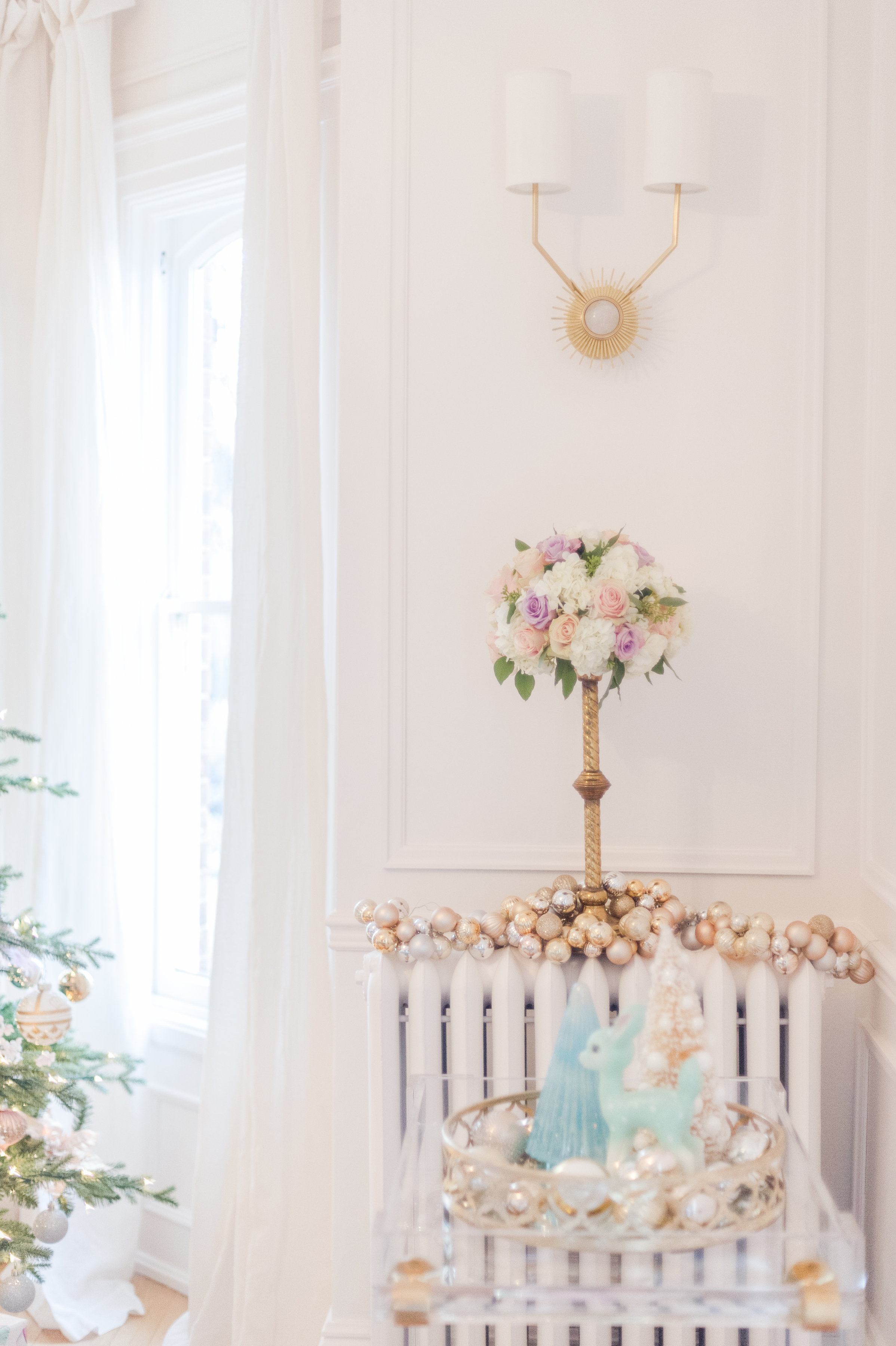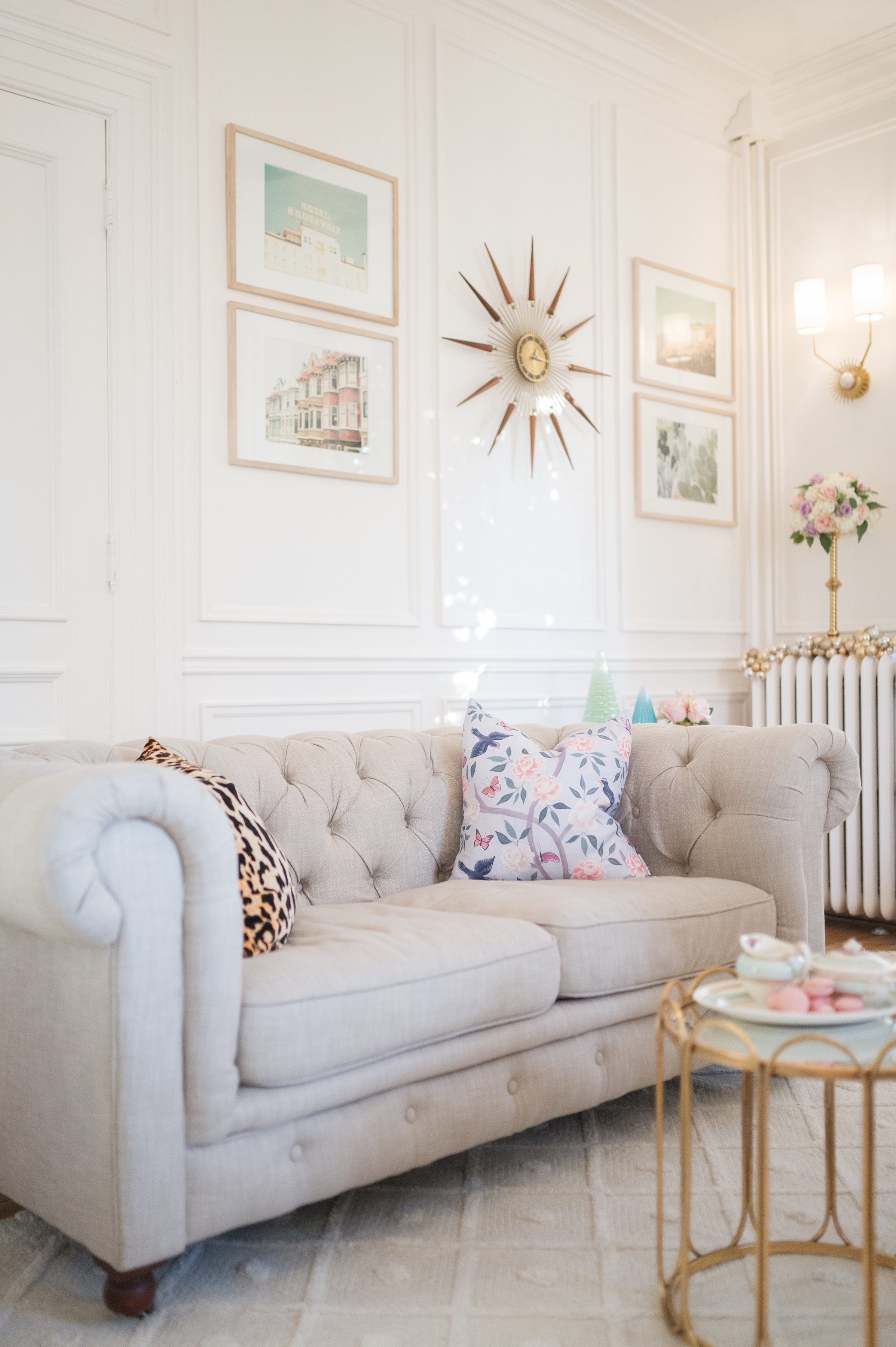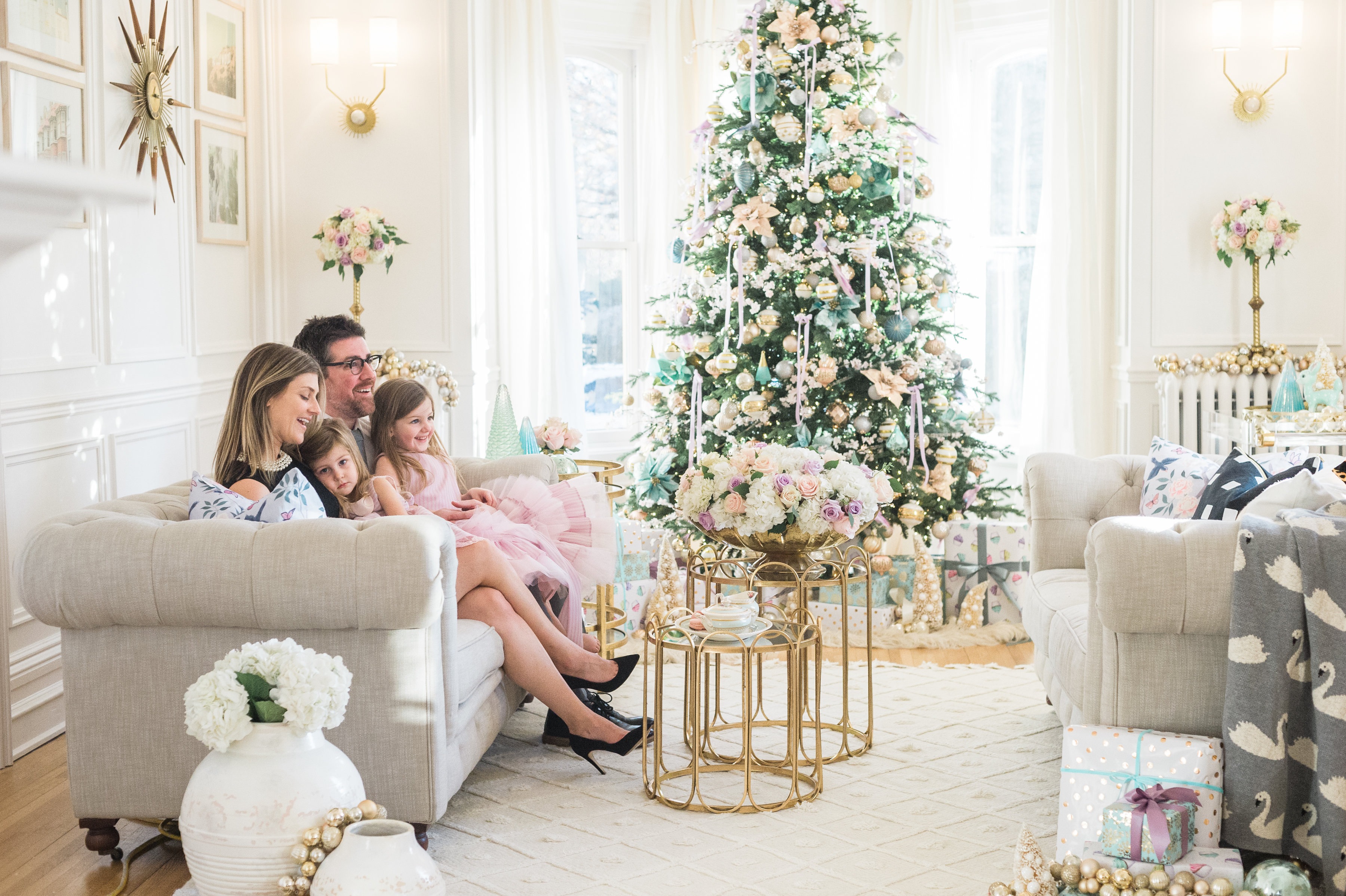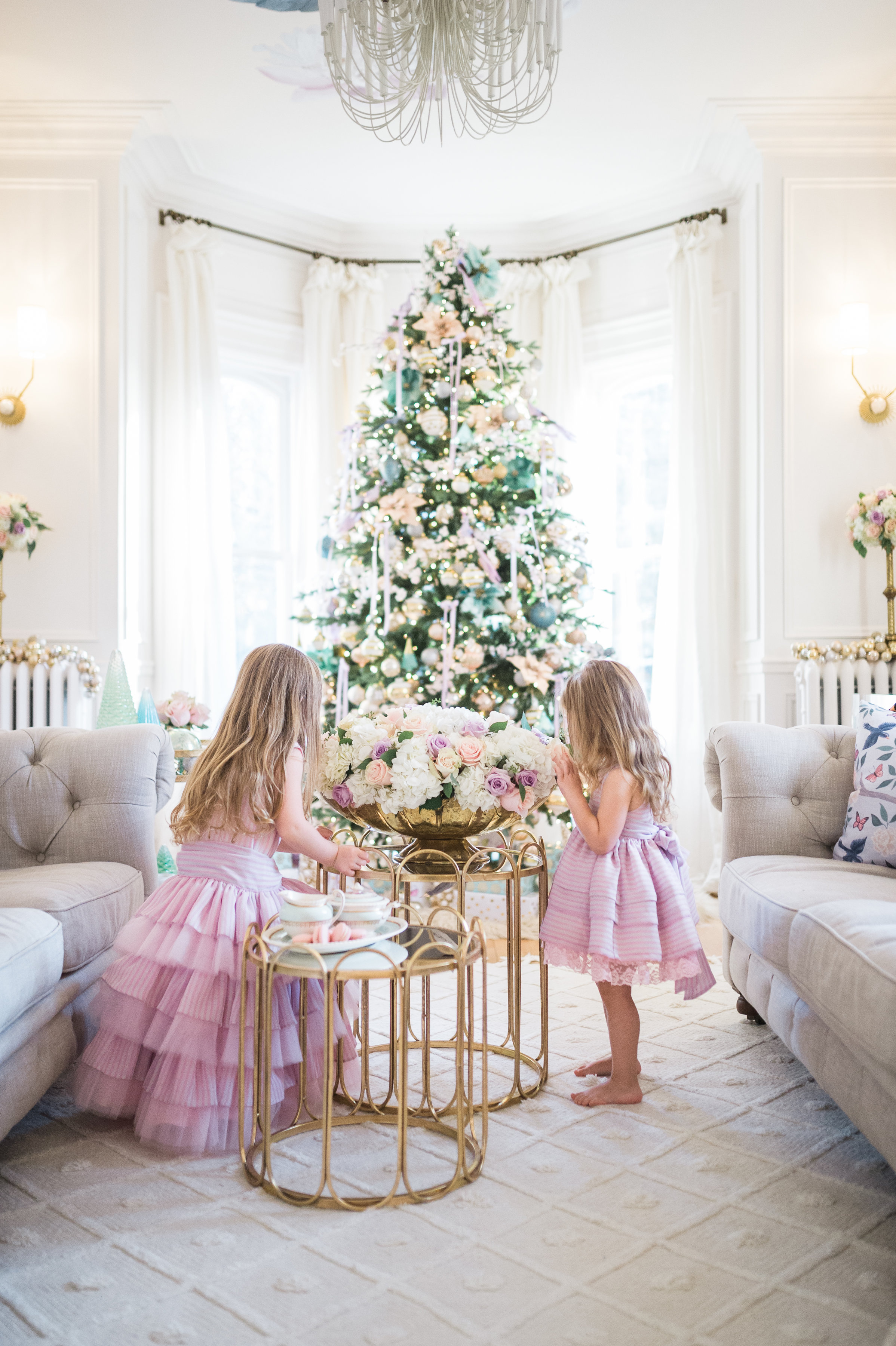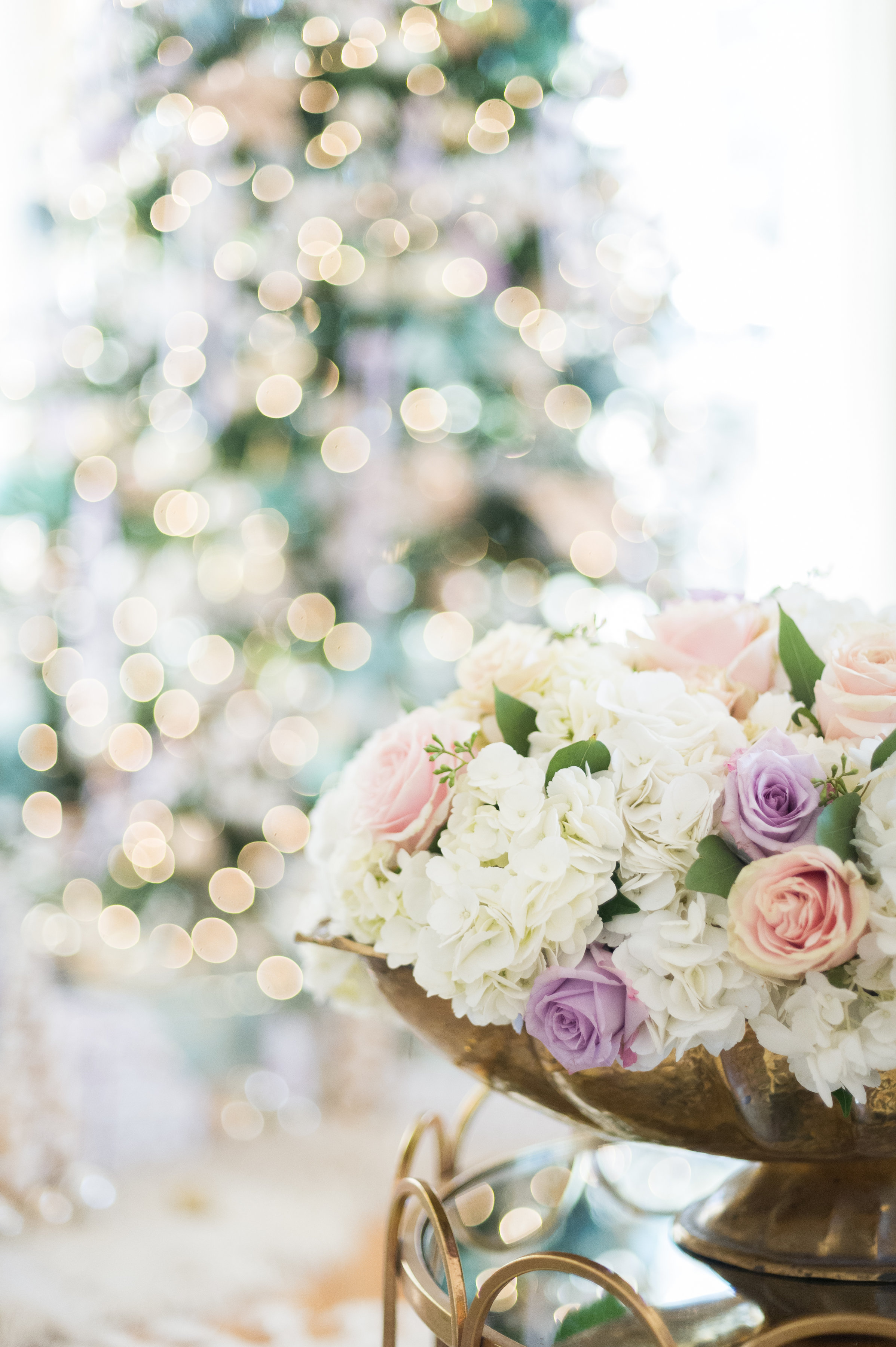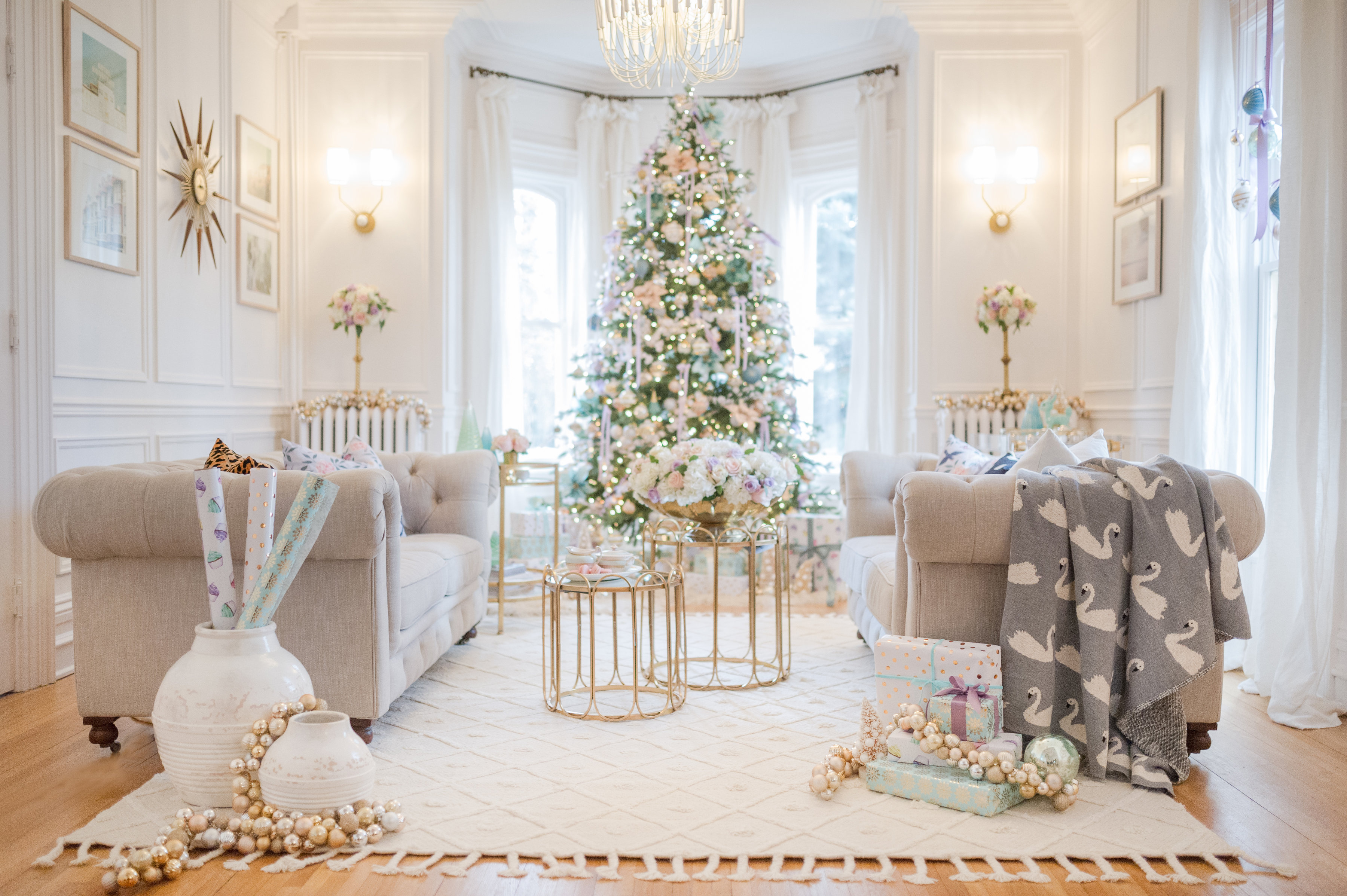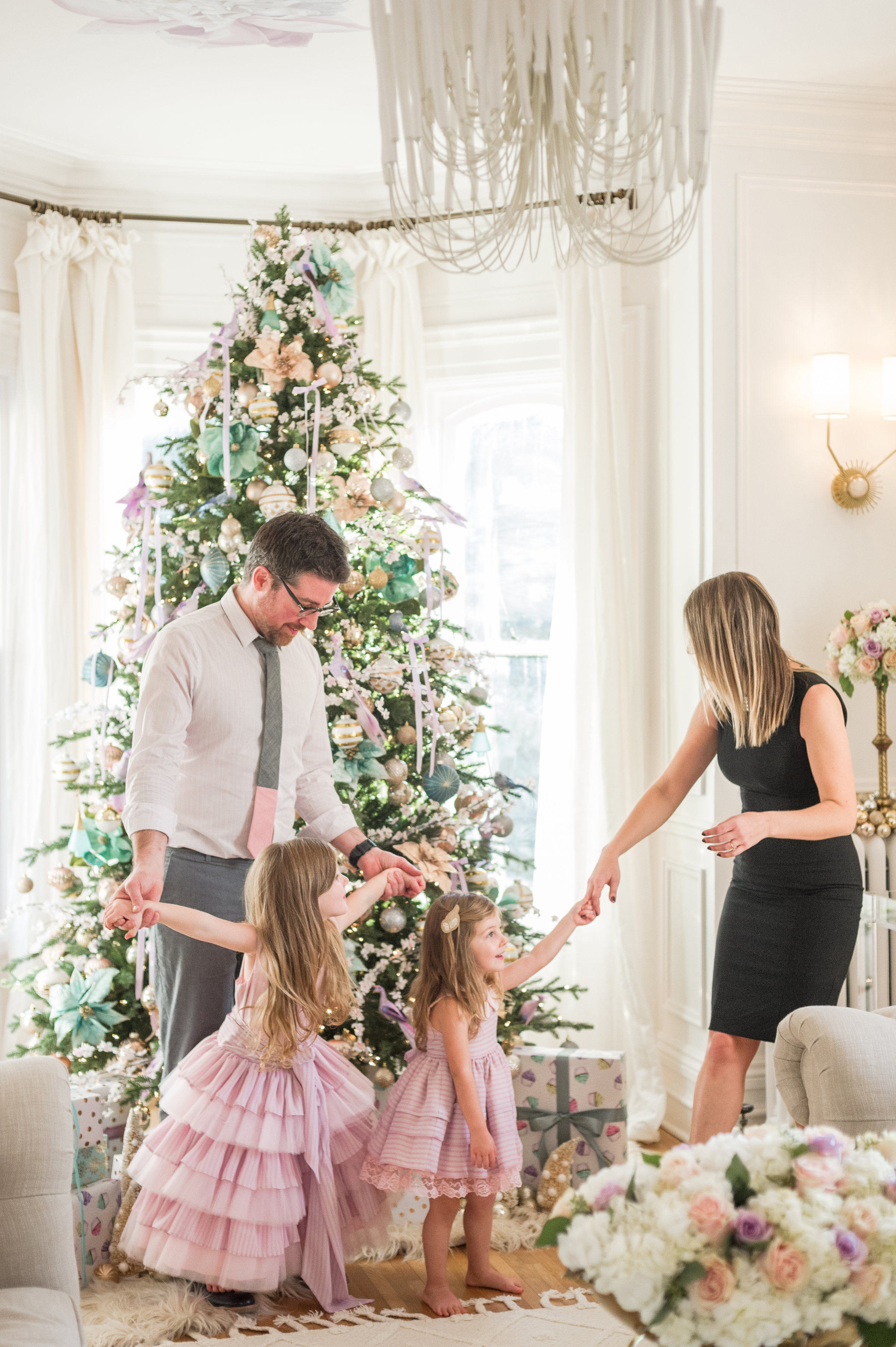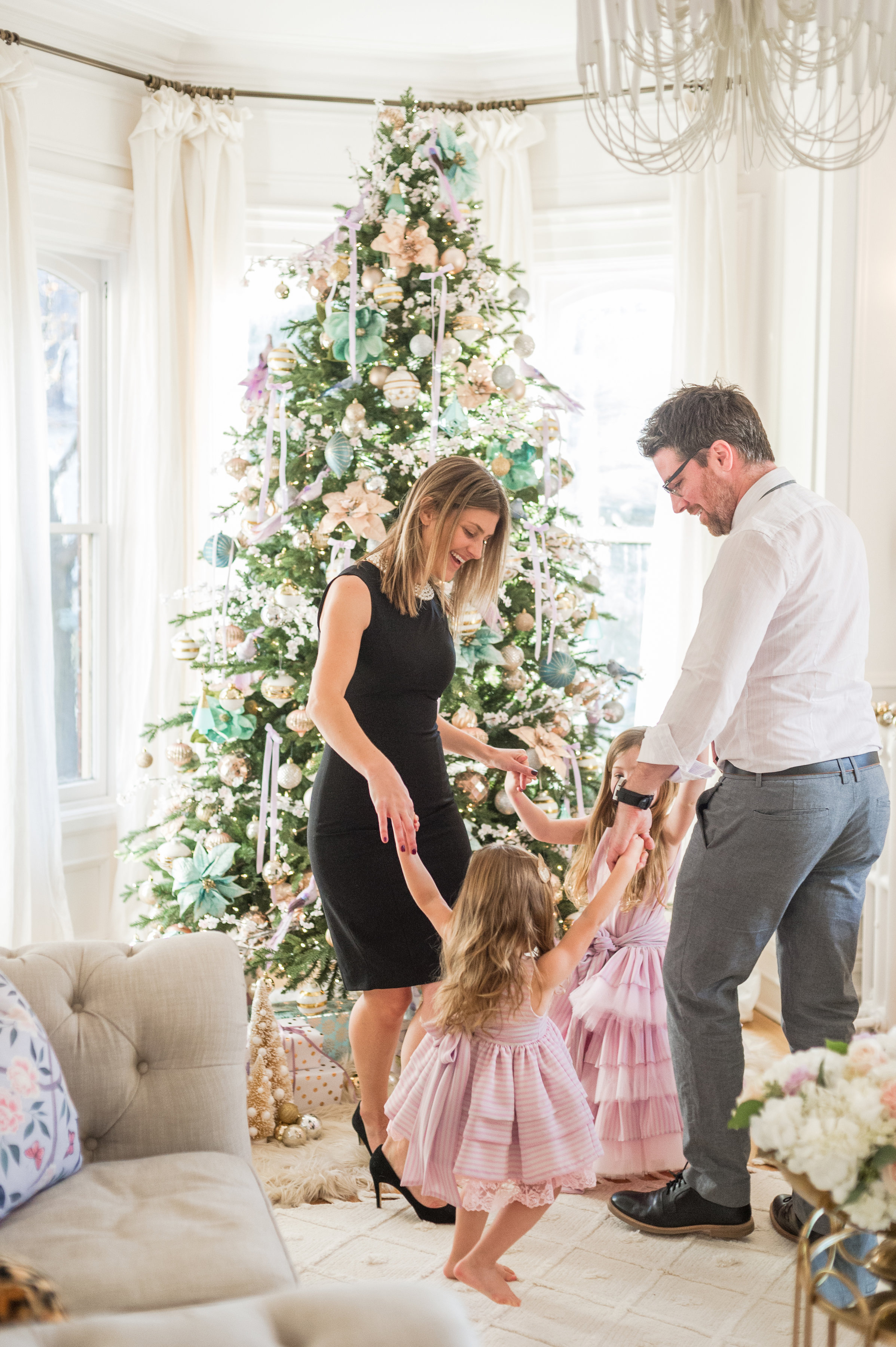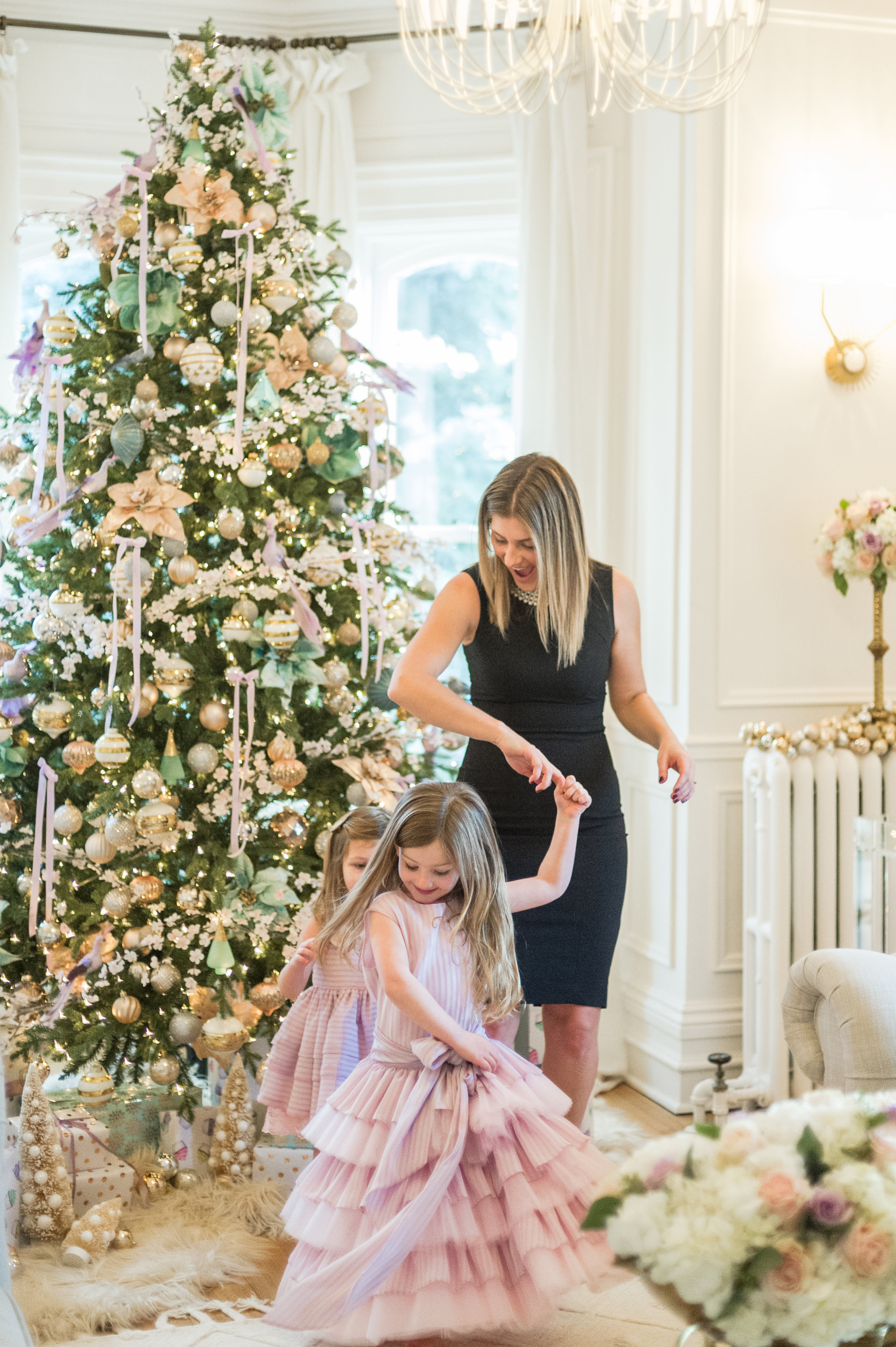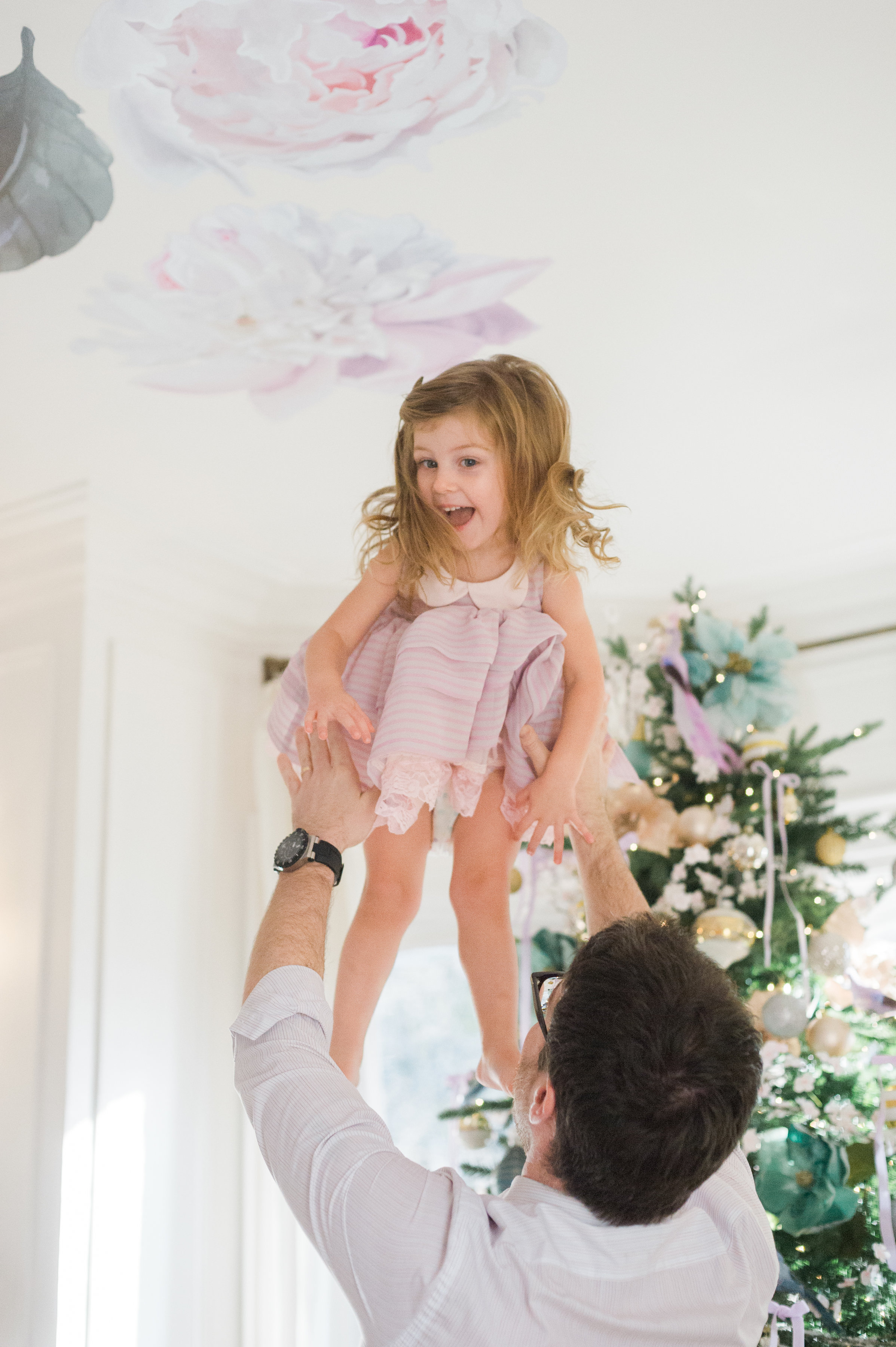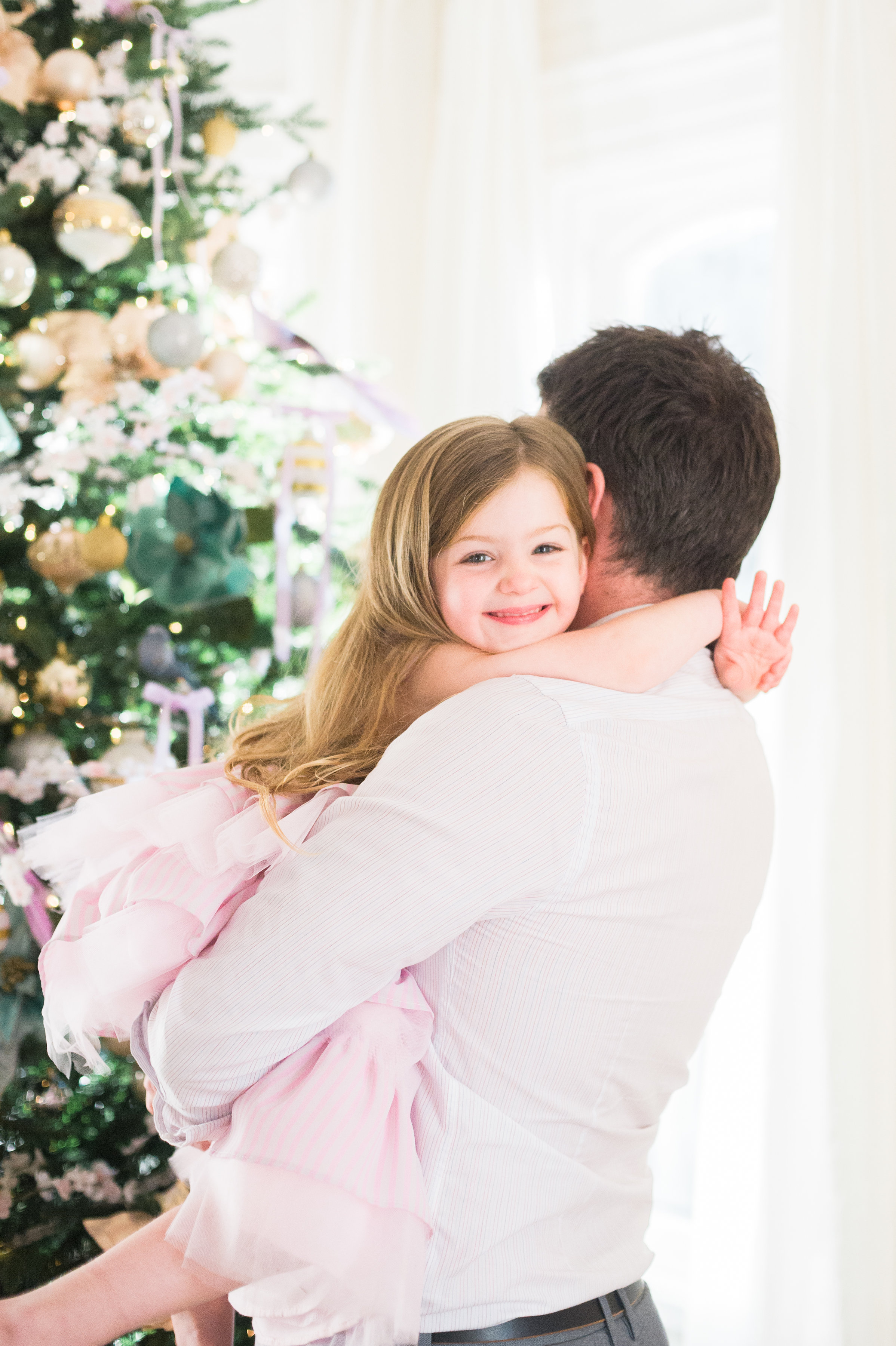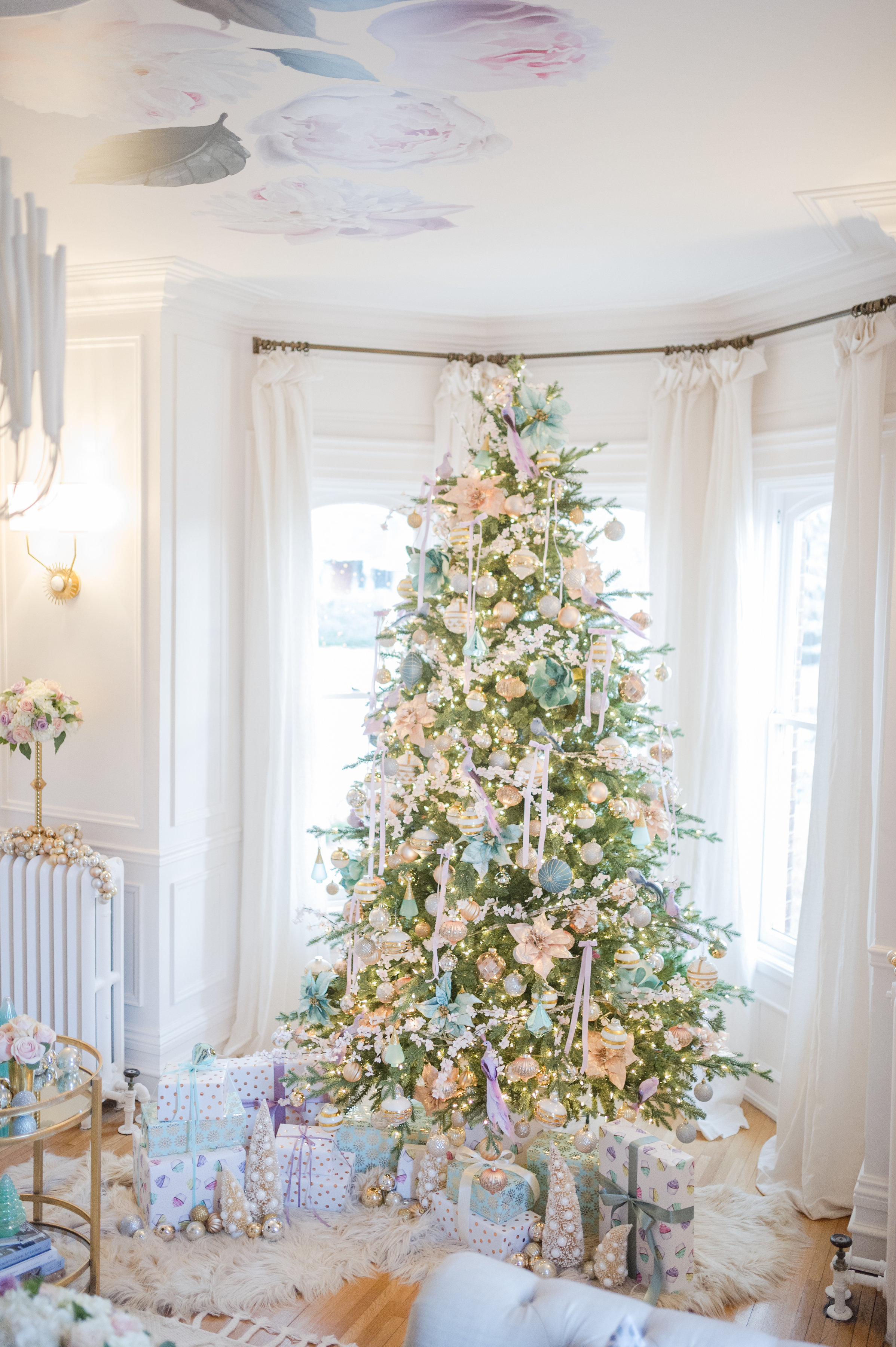 Happy Holidays!
Shop the Post