Recap
Oh my gosh we've finally finished the exterior renovation of our flat roof ranch into a Modern French Country home! We're so thrilled to announce that our renovation has just been featured by the Toronto Star!! Are you kidding me?!! This is going to be one of my top moments in life…I just know it! I hope you'll read the article that makes all of this insane hard work seem pretty worth while! Just to recap, this is the home that we started with…It's a 4000 square foot ranch. We didn't change the foundation whatsoever, and we didn't add or subtract any square footage, and it's still a ranch (meaning one floor plus a full additional 4000 sqft basement).
Follow this link
to read our Toronto Star article!! EEEP!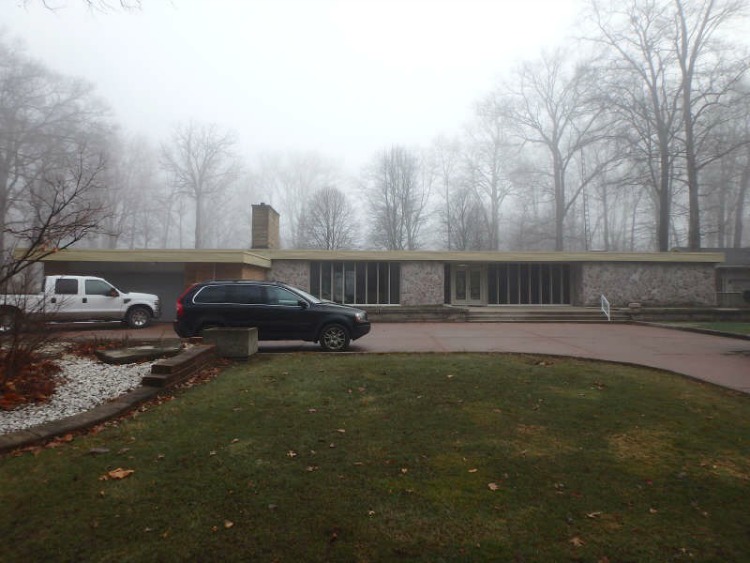 and this is where I last left off in my first 'Exterior Reno' blog post.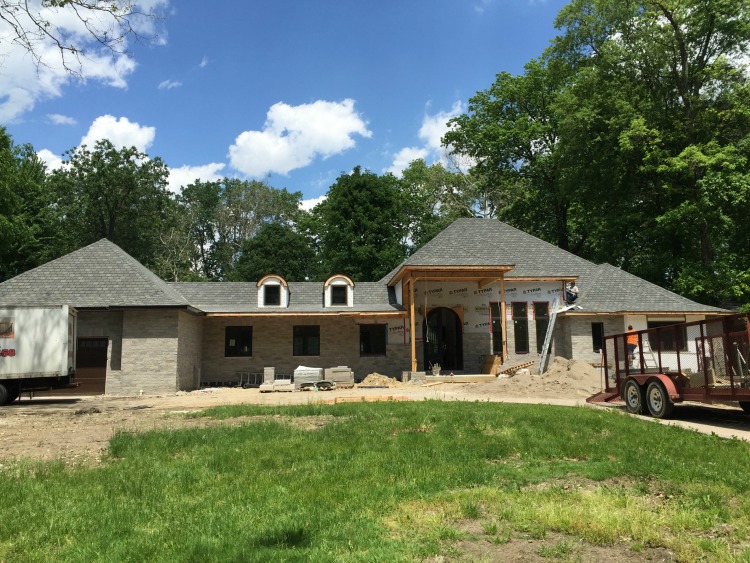 If you'd like to hear the story behind renovating the home and why we did what we did (and see all of the 'during' photos), you can read that here in Part 1 of the Exterior Renovation.
Finishing Touches
Over the last few months we've gotten to the fun details, that bring to life the "Modern French Country" style I wanted to create. We had the front porch surround done, we added cedar beams to the front porch, eavestroughs, lights, and landscaping. It's been almost two years since we first found the house in January 2015, and almost a year and a half since we began the renovation in July of 2015. I'd be lying if I said it didn't take way longer than we ever would have wanted, but we're super proud and excited with the finished product, that's for sure!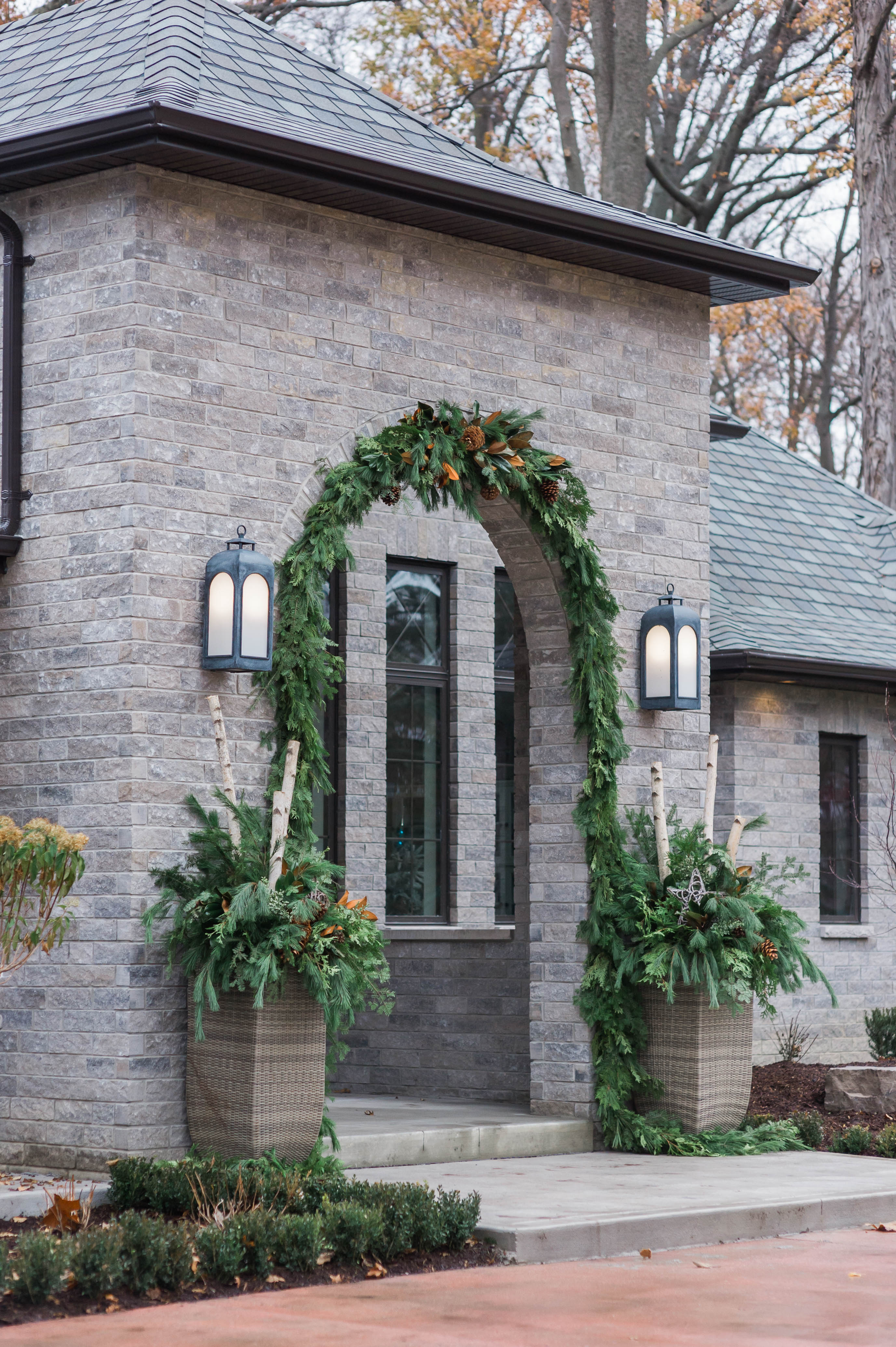 All of our Holiday greenery was made by Cori Heer from CJH Florals. If you live in my area (Windsor, Essex County) you're going to die when you hear this….she comes to your house and does your pots and garland!! Whaaaaa?!!! I am a customer for life!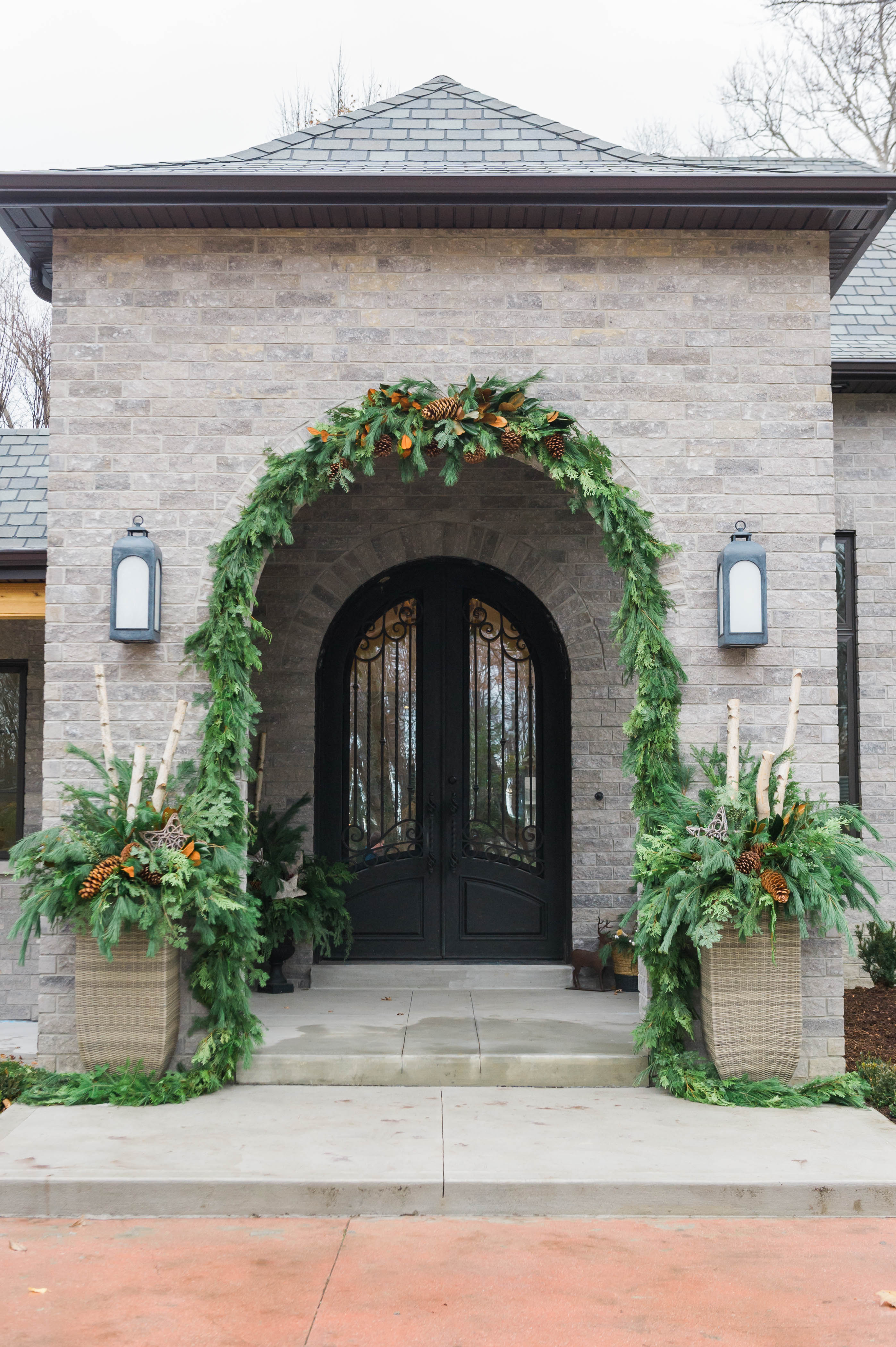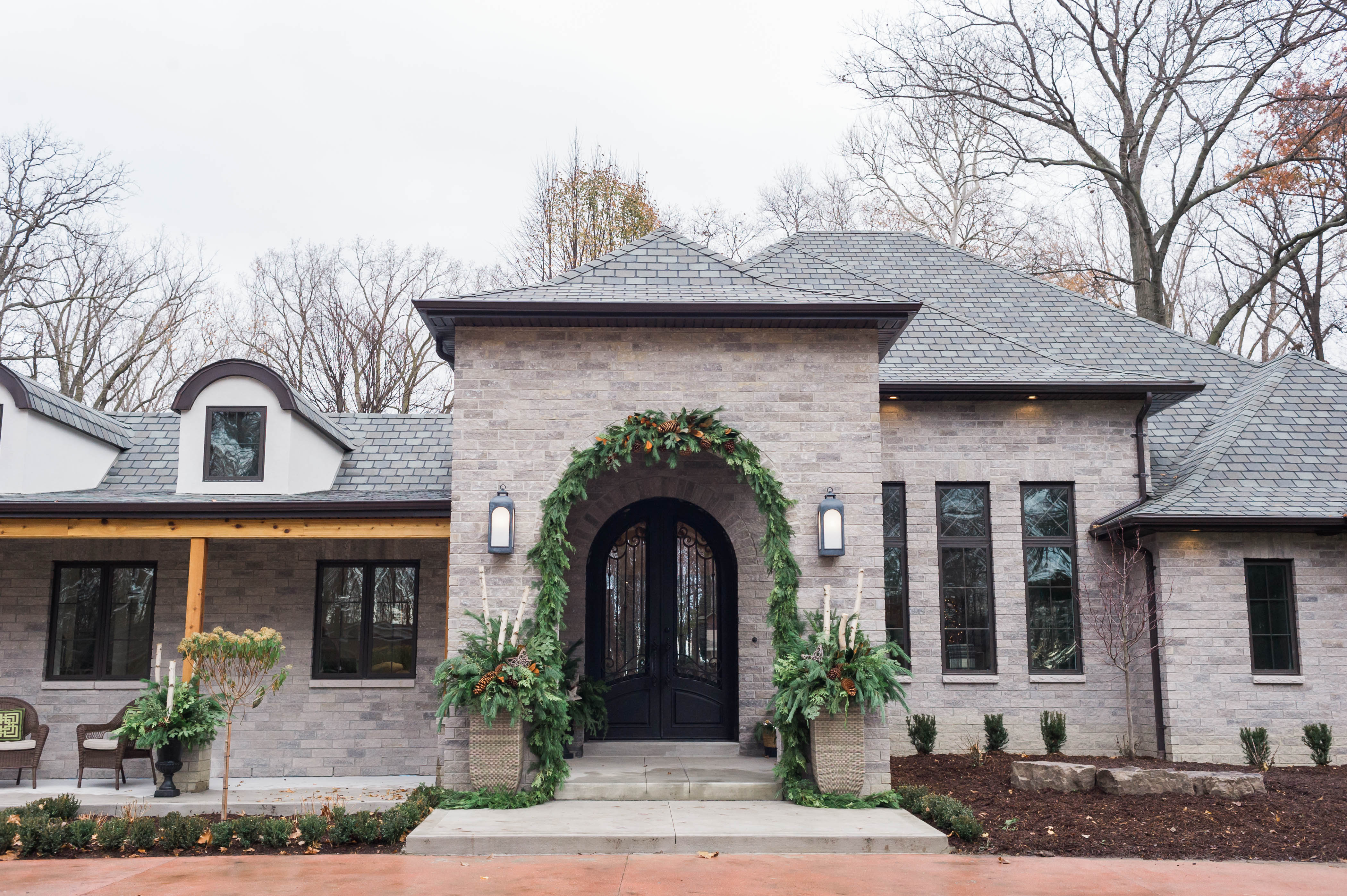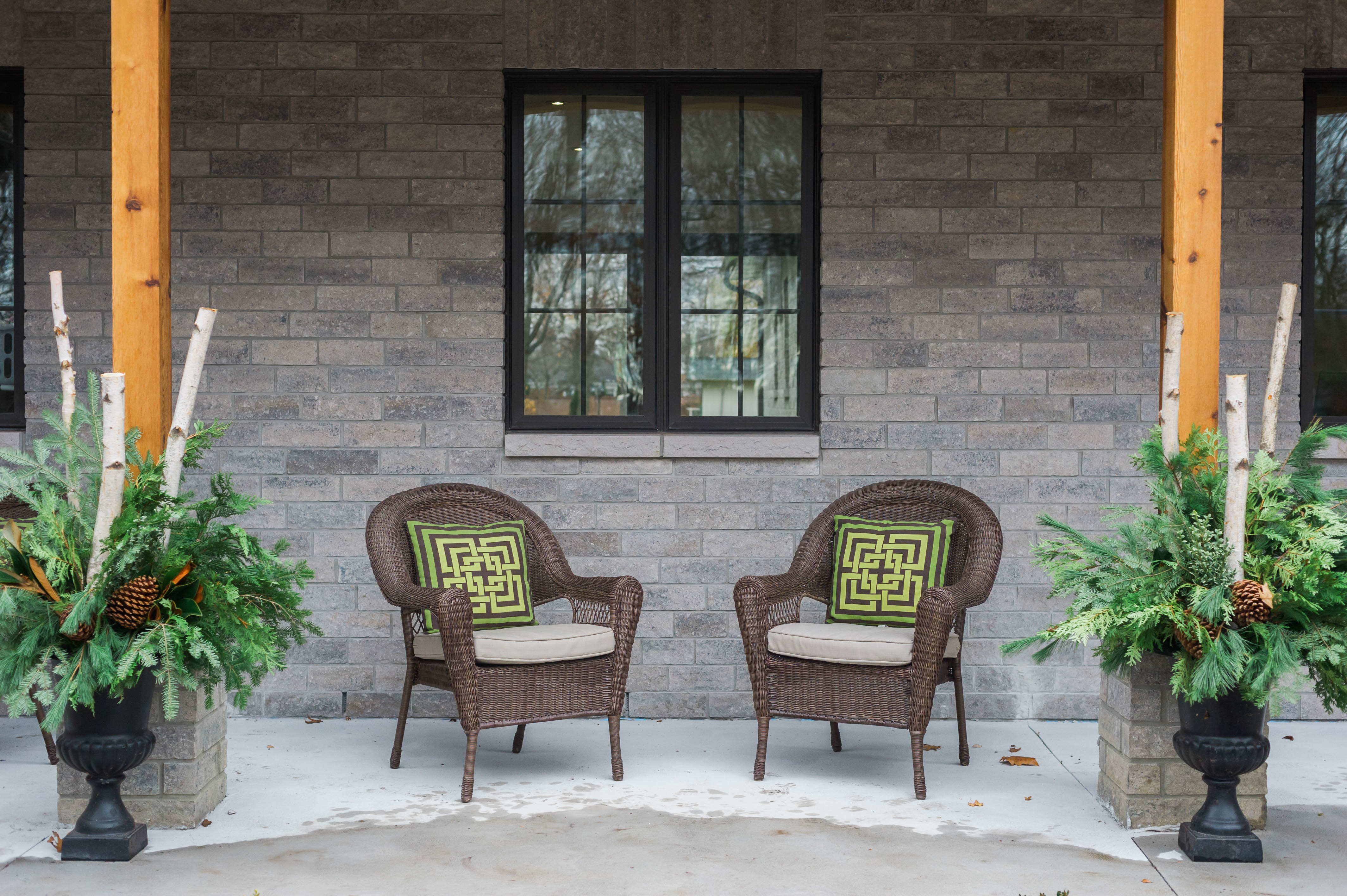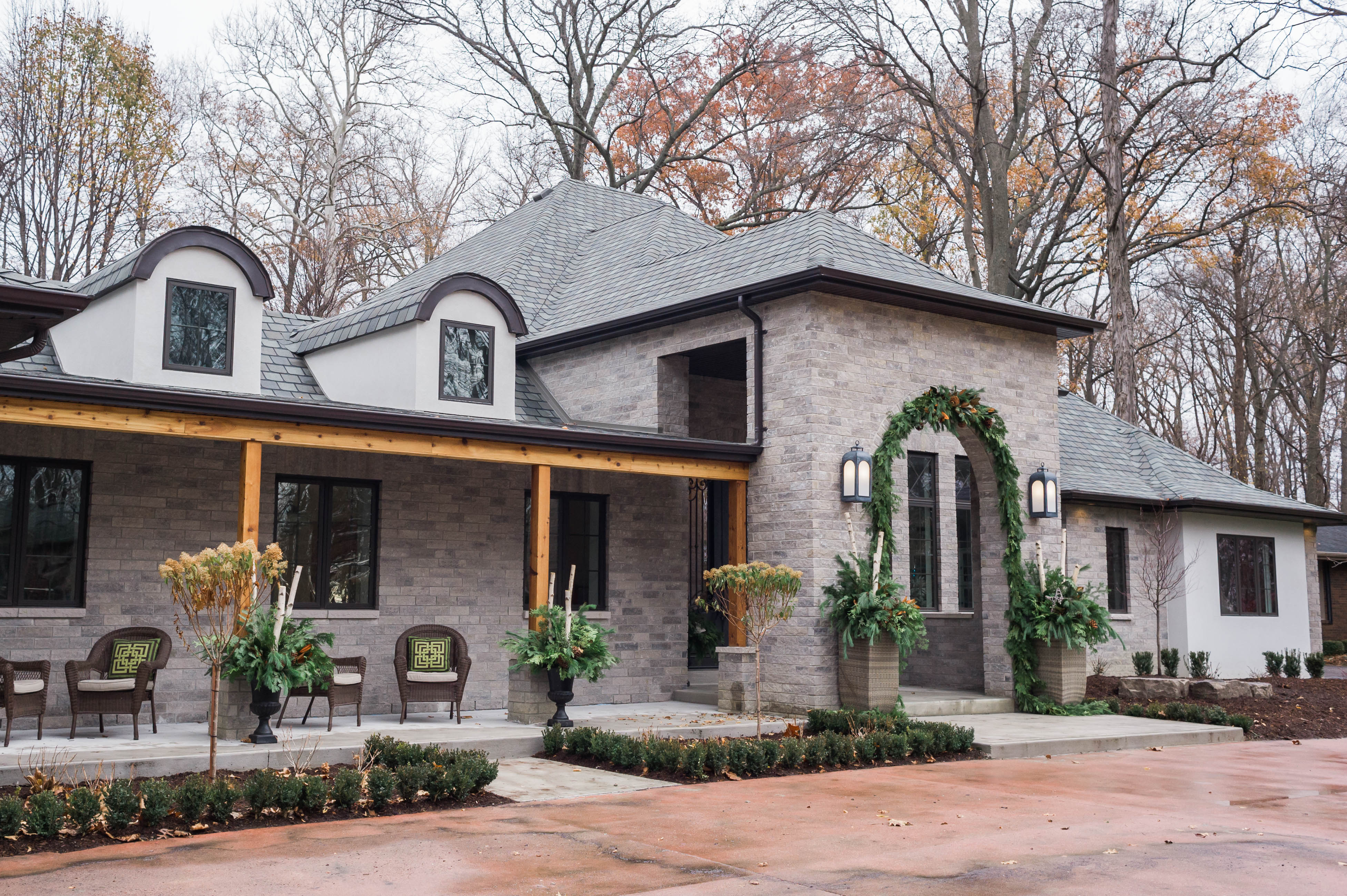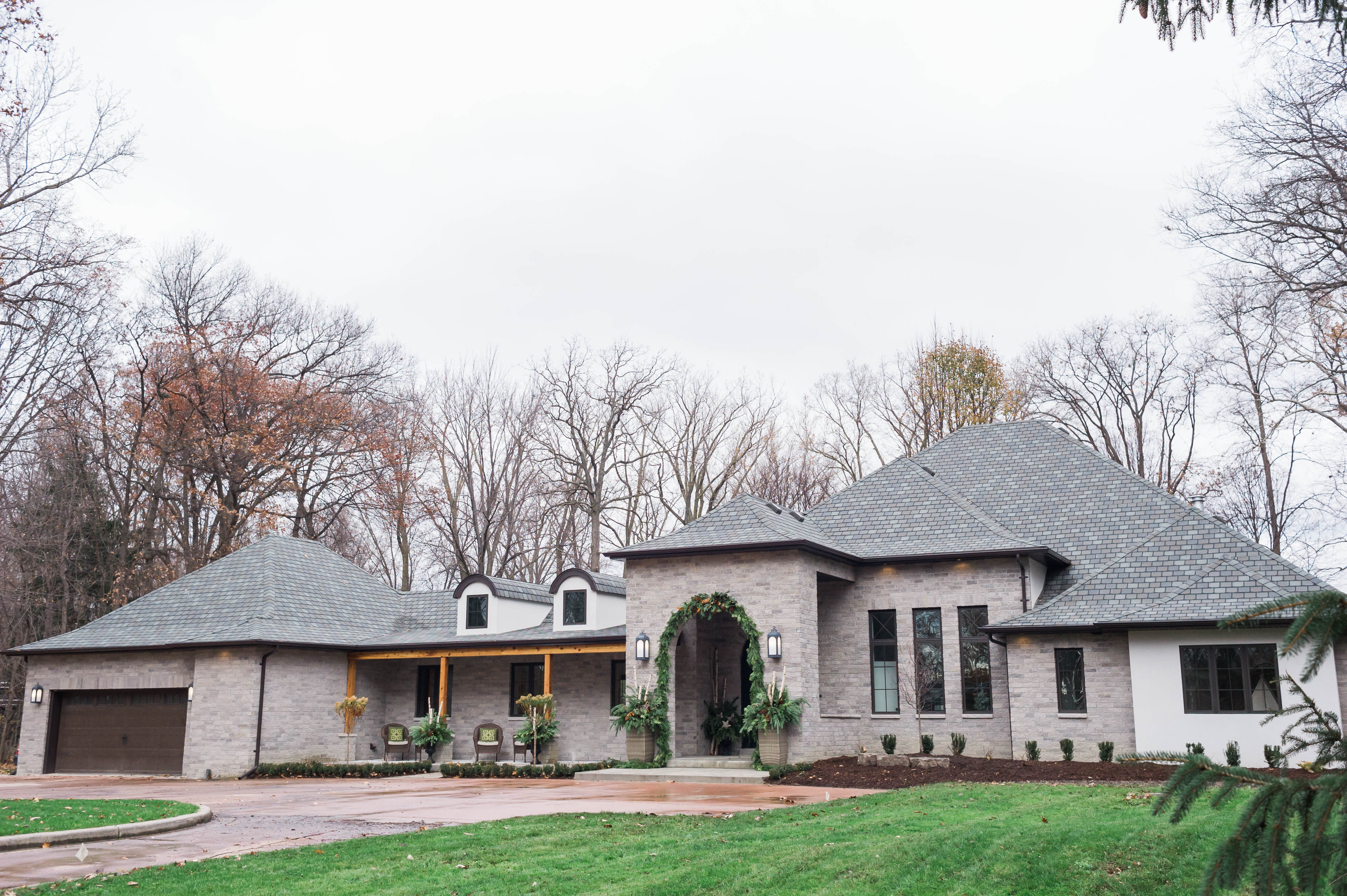 Last Look 'Before and After'
Exterior Finishes
I almost, or did if we're being honest,  lose my mind picking the exterior finishes. We've all seen homes that don't really mesh well on the outside and so it's stressful because you want things to be perfect. I chose a brick that I had seen on one home and liked, but had to wing it for how that would work with the shingles. For the shingles, I wanted the look of slate. Only one home in our area had ever used the shingle that I had found.  and it wasn't in our colour family. We hunted them down though and brought our sample to their house and asked if we could hold up our stone.  It was so hard to tell because the house didn't have a dramatically sloped roof like ours, but at least we saw the style in person.
Shingles
We used Highland Slate shingles by Certainteed. They were a 25% upcharge from a normal shingle but the look is 100% better and it is honestly one of the most worthwhile upgrades in the home. As soon as you see our home, you notice the shingles and they look incredible. Normally upgraded shingles cost a lot more, so I was so happy when we found this option.
Brick
We used Cinco Brick by Permacon. They come in five lengths and so the labor is a small upcharge but they look just like stone and the dramatic difference was worth every penny of the upgrade money. Stone is timeless and when Brick shopping everything felt like it had too much colour, and no staying power. I also love reclaimed bricks but they were too expensive and not the exact look needed, for this project. These Bricks also come in stone shapes, so you can create accent stone areas. I didn't want any accents for our home, just one cohesive look.
Oh my goodness choosing Brick and Shingles is a daunting task(understatement), so I hope these sources help!
Merry Christmas from my Family to Yours!! P.S. It was impossible to get the girls to smile on cue, but we tried! lol!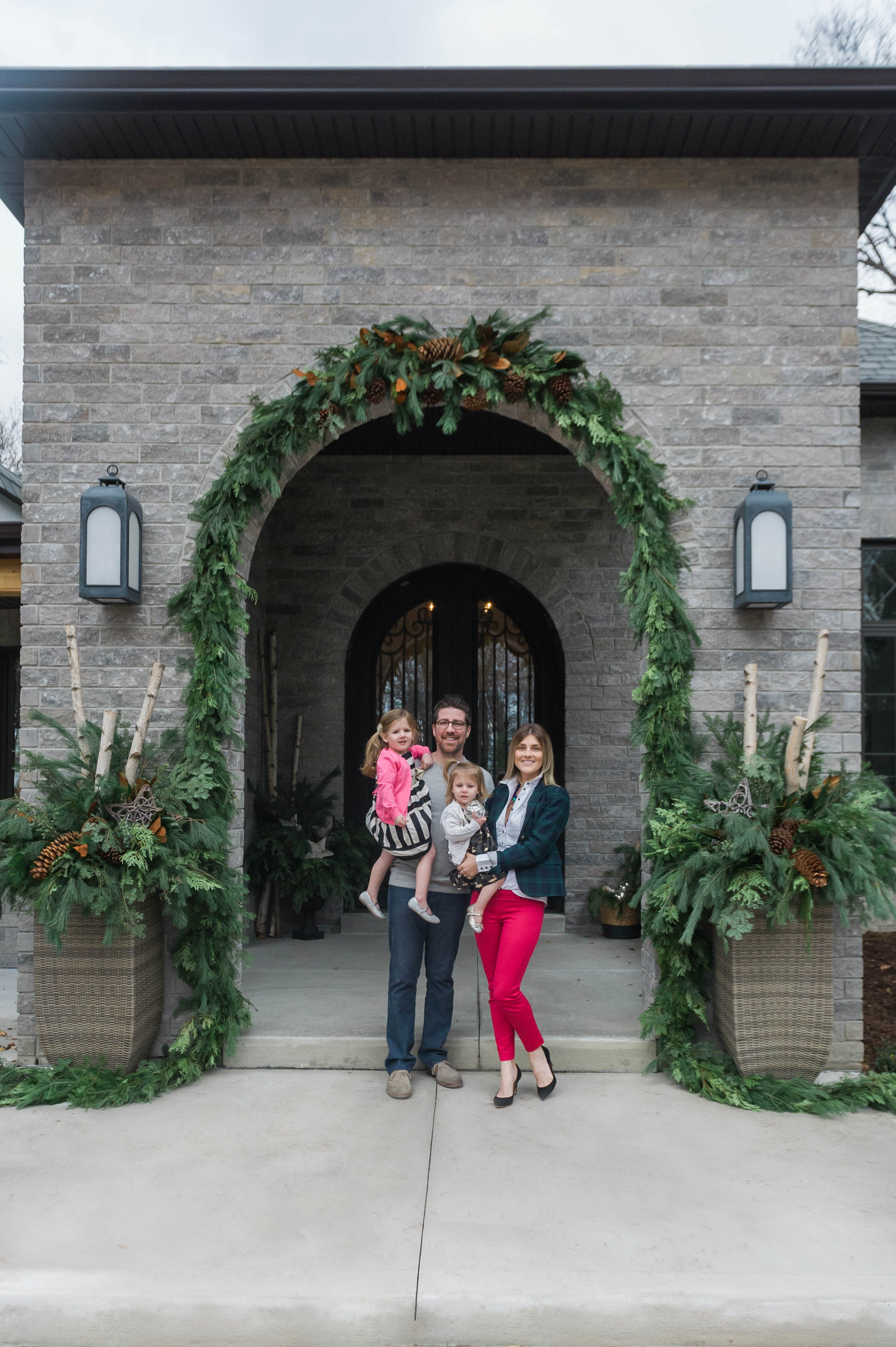 Photos taken by Vicki Bartel