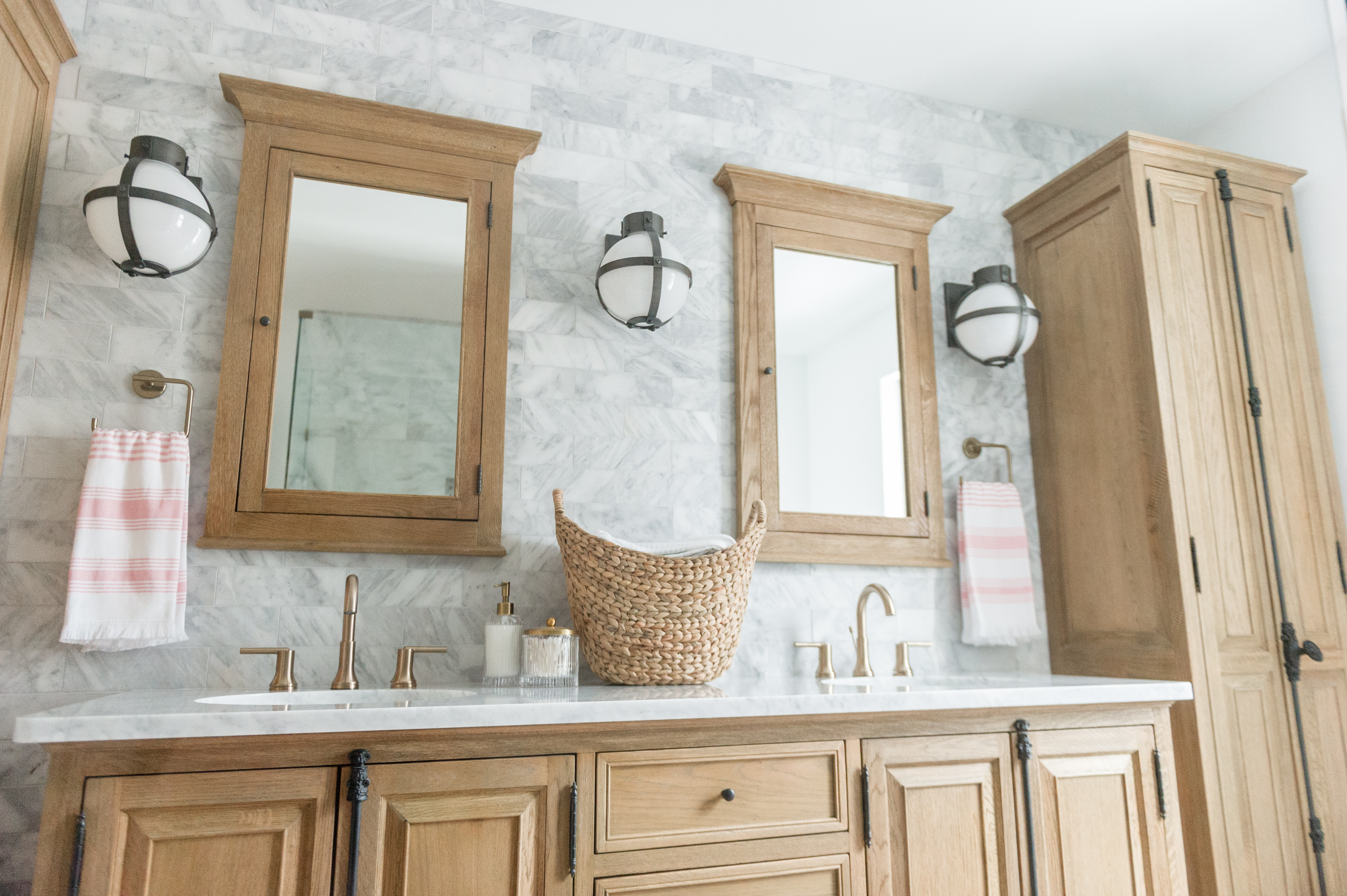 I'm beyond excited to share this modern boho bathroom renovation reveal with you guys! The space has modern faucets, cabinetry, and lighting with boho styling brought in through the textiles and artwork. I love how the mix of styles came together in this space.  Can you believe that this bathroom began as a renovation?! For serious. We completely gutted the bathroom, but kept the original layout. The vanity, shower, and toilet are in the same place as they were originally, which means we saved big plumber moula. Check out these before shots!
This looks like an eerie horror movie shot!! Ok, so see how in the photo above, on both the left and right sides of the entrance, there are linen closets? We made the bathroom a lot larger by taking down the walls between the bathroom and linen closets and making it all one space. (I can smell the old house when I see these pictures and it's freaking me out!!) Next we took down the walls around the tub enclosure and replaced the tub with a shower with glass walls on two sides. We also added a window. Natural light in a bathroom is so important!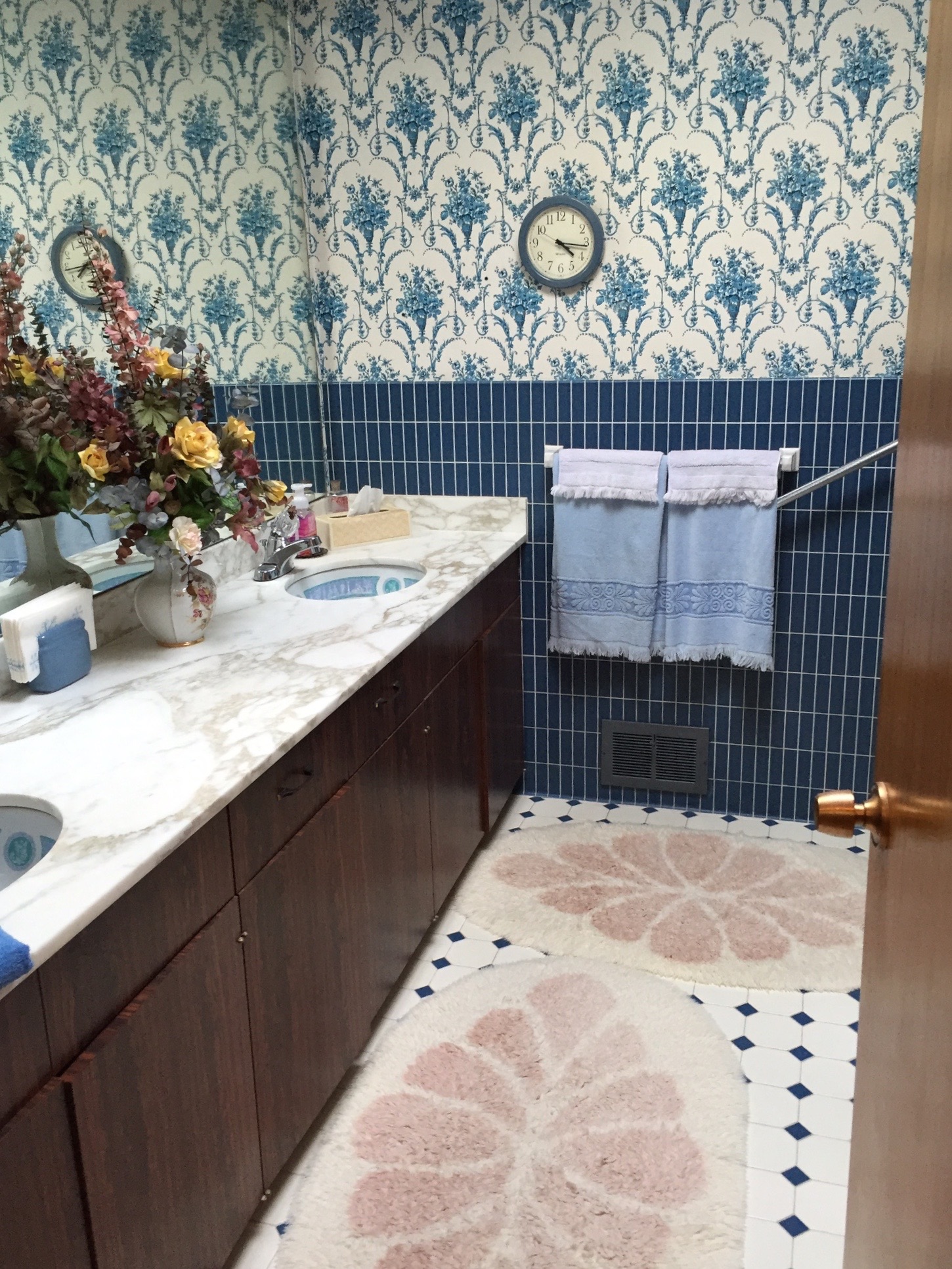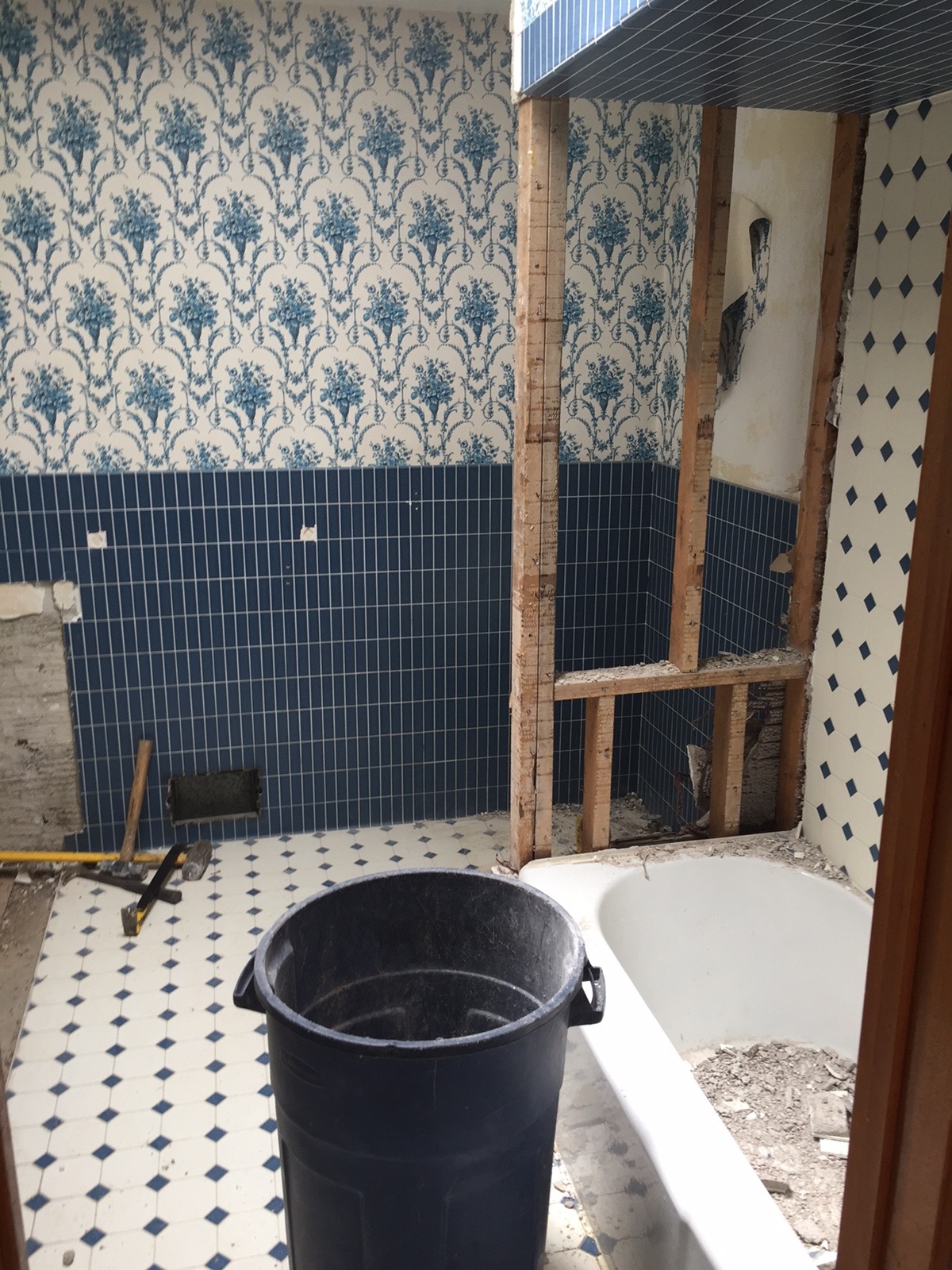 Ta Da!!! Instead of a linen closet inside the bathroom, I opted to use up the extra space we gained removing the linen closets by replacing them with two tall cabinets on either side of the vanity. The cabinets provide really functional storage and the eclectic feeling of furniture, in contrast to the plain nondescript look that a closet door on a BO-ring linen closet would have had. (no offence linen closets but you ugly!)
Cremone hardware is the name of the long bar style lock on the cabinets and is one of the most striking elements in the bathroom. I tied the black iron hardware into the black iron on the wall sconces, and in the window's frame. I like to keep things light and airy, so those are the only dark elements in the space. However, a little dark adds polish and sophistication, right?!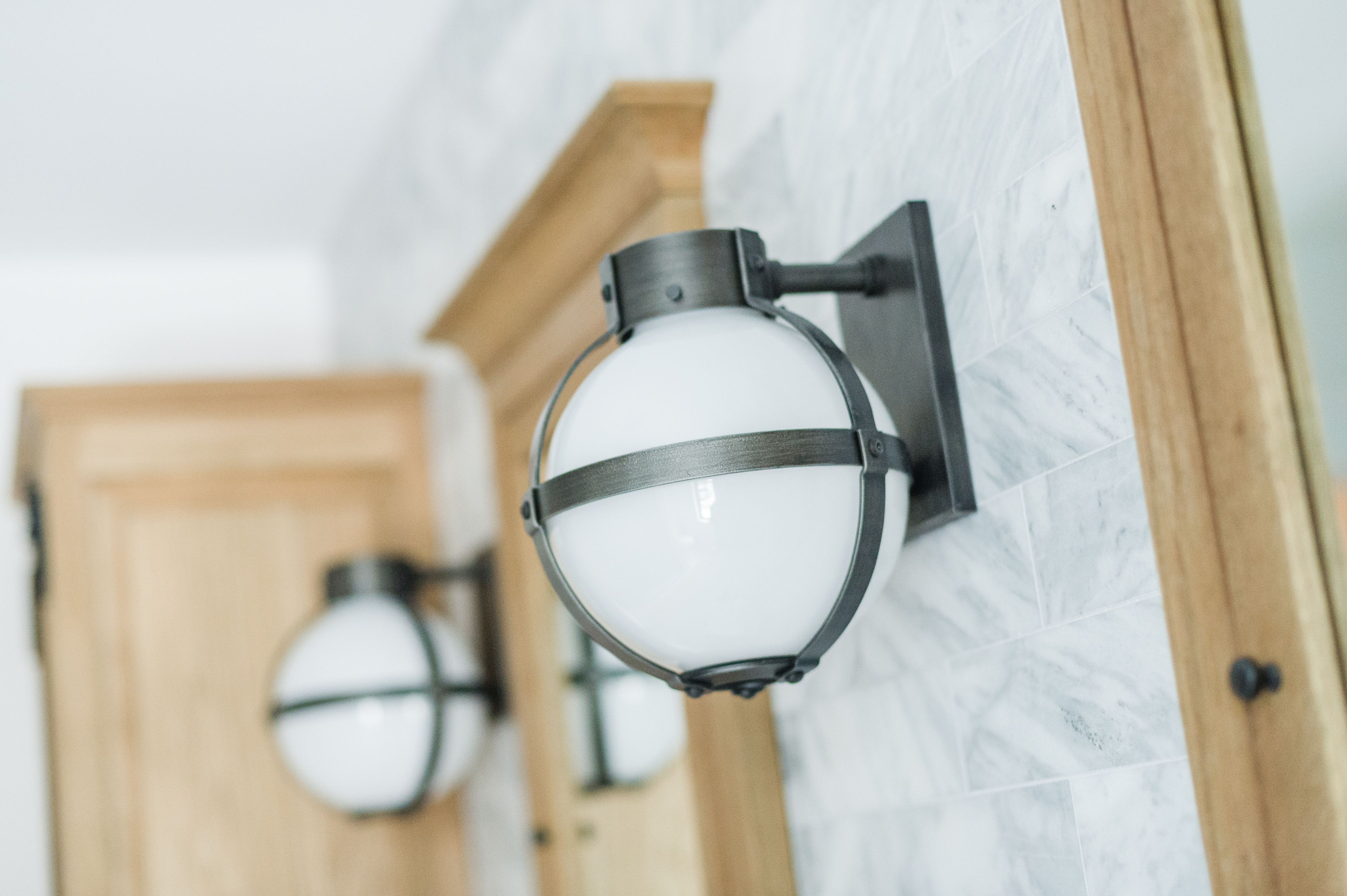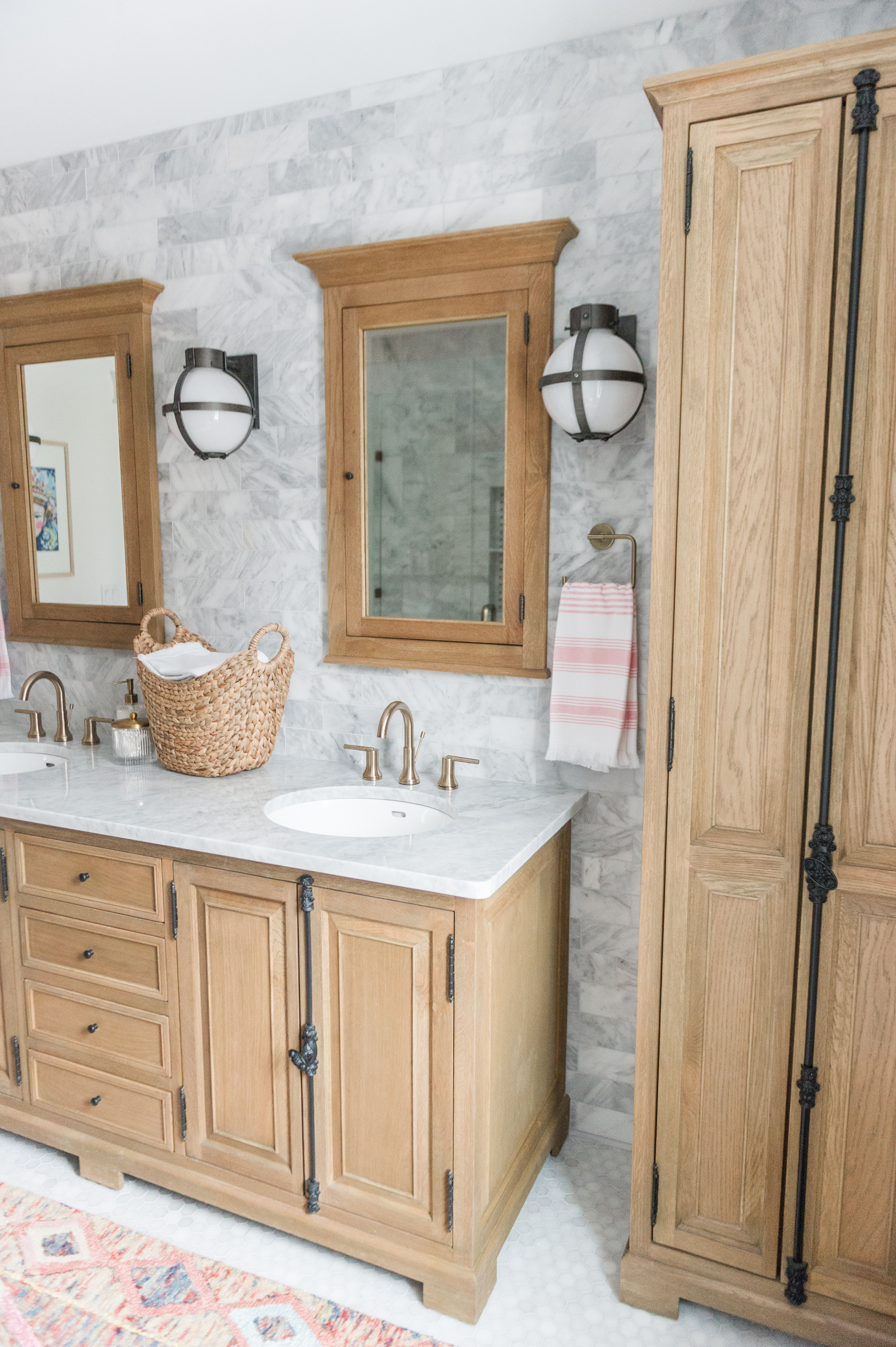 I chose weathered oak for the cabinetry because I love the look of raw wood, especially against the carrara marble tile and countertops. All the tile is marble and from Anatolia Tile. I used a 3×9 subway, a hexagon mosaic, and a 12×24 in the shower.
All of the jaw dropping plumbing fixtures are from Delta Faucet. Delta is the only brand with affordable fixtures in the matte brass finish that everyone wants. It's called Champagne Bronze and the best tone imaginable. We used the Trinsic collection. I love how the modern fixtures pop against the weathered wood cabinets. You can also see the Delta Trinsic Kitchen collection in my home here.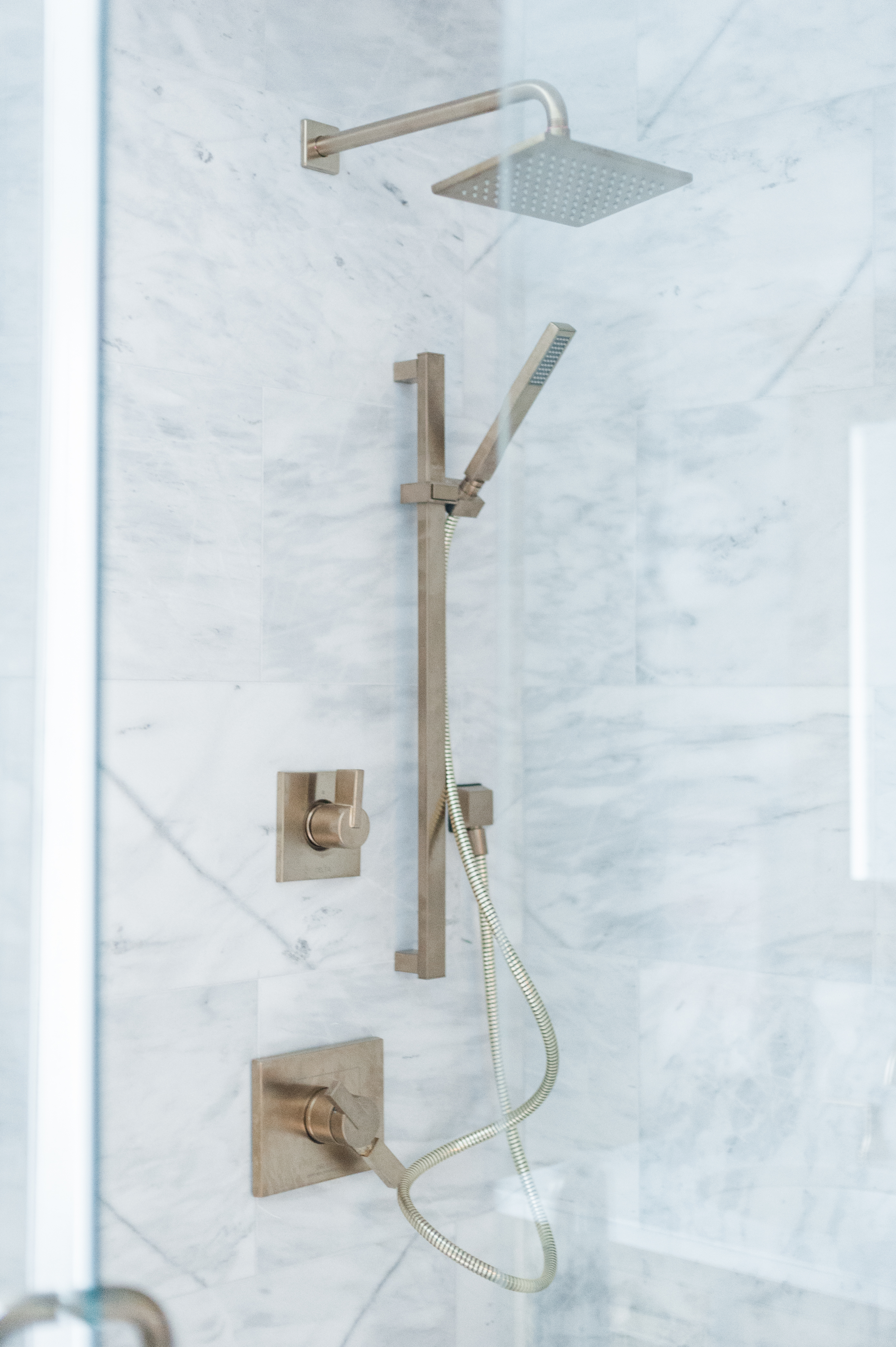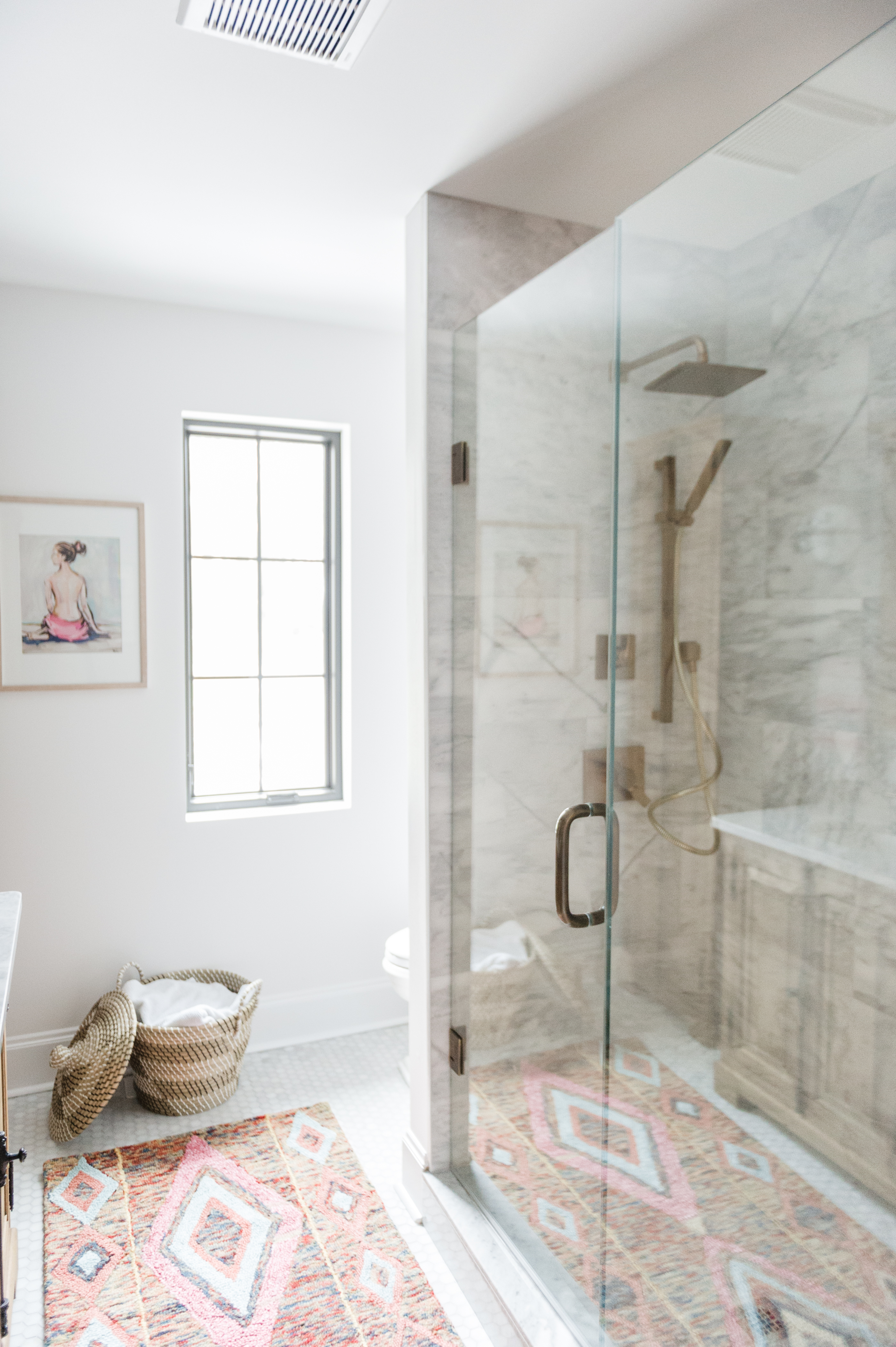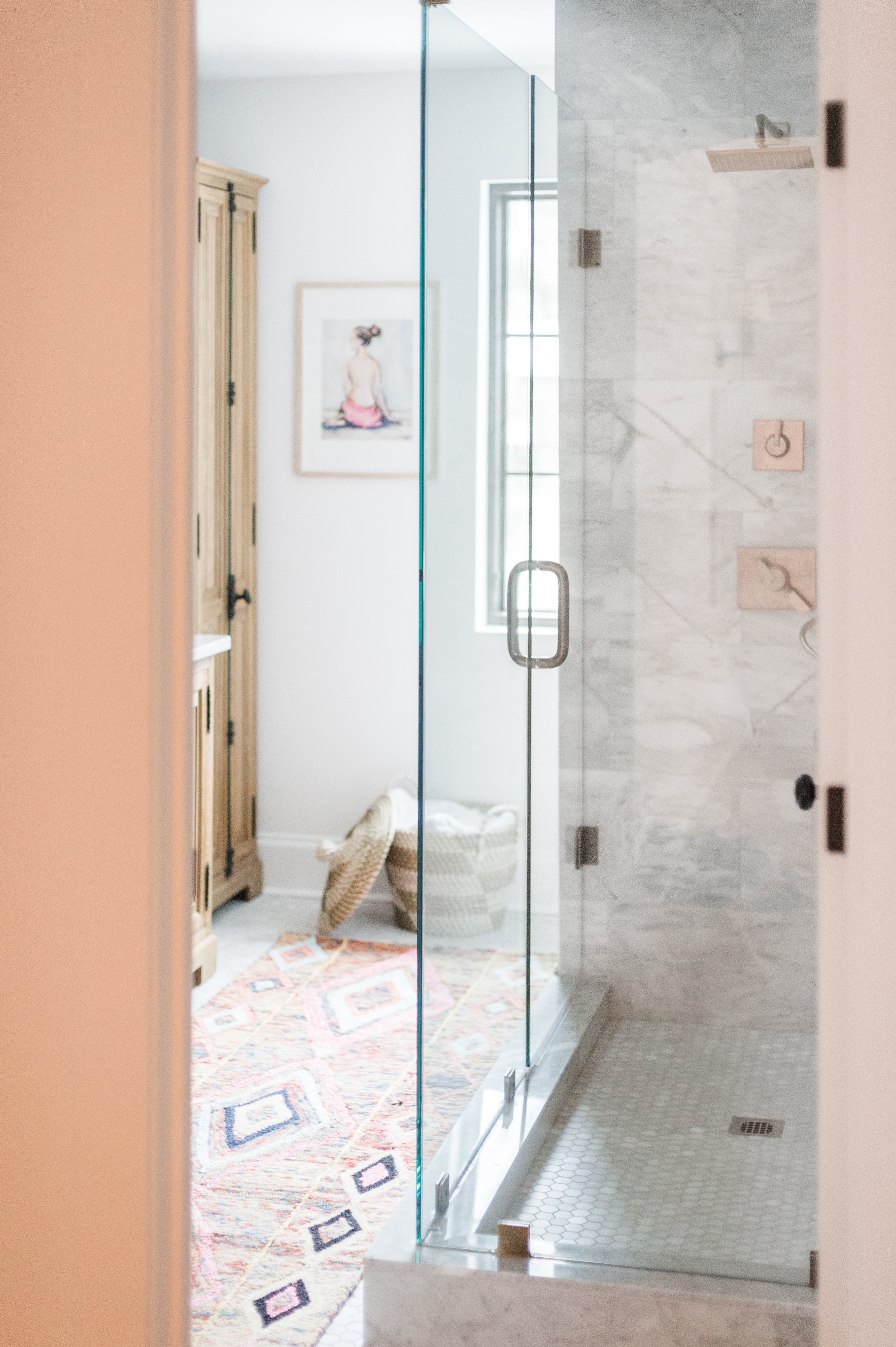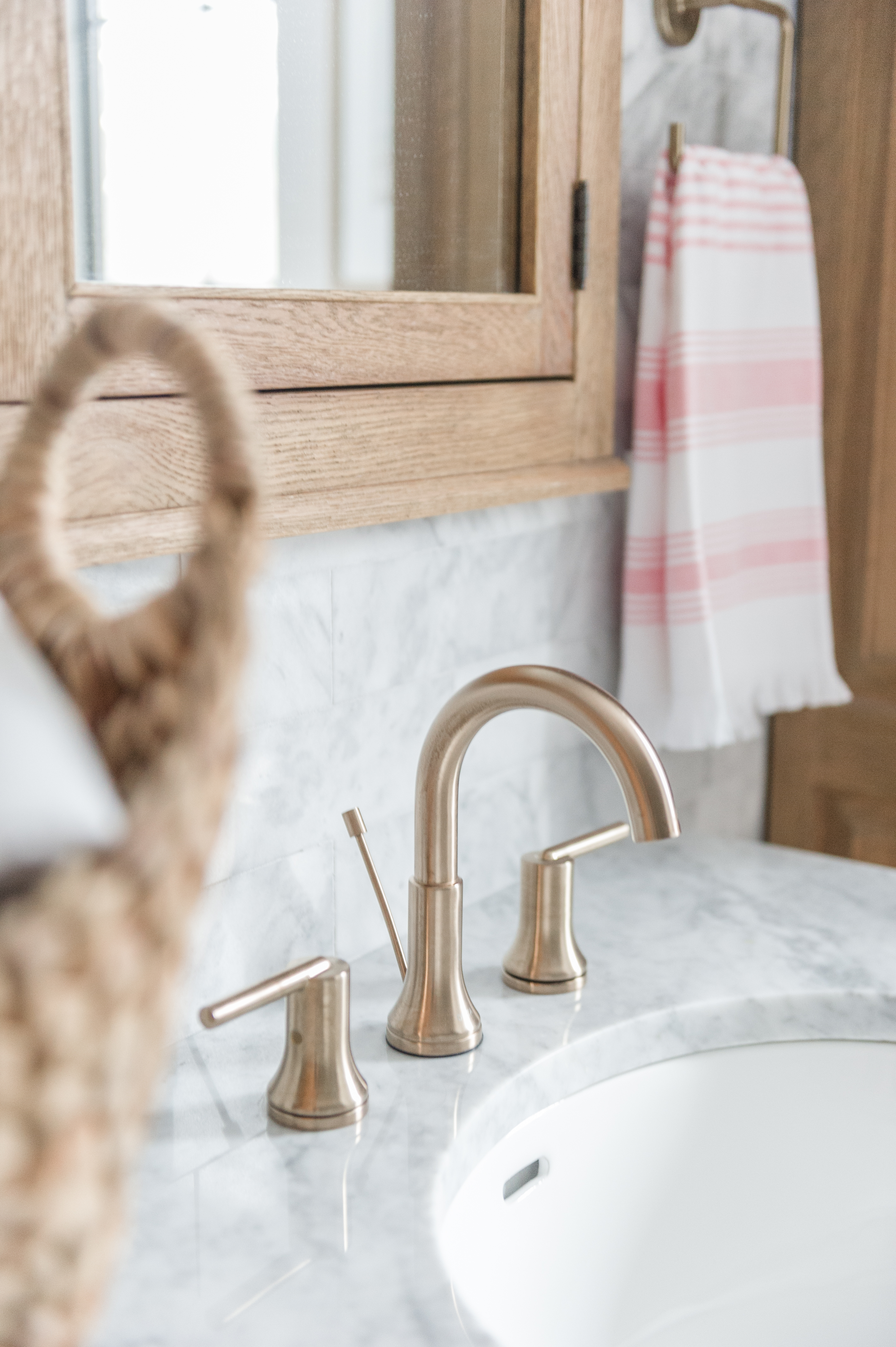 One detail that I've always wanted in a bathroom and got to finally try out in this space are inset medicine cabinets!!! I love how flush they are with the wall and layered over the tile the look is so polished (and by polished I mean "like a boss"). Inset cabinets over tile is ABSOLUTELY going to happen again anytime it's possible when I'm renovating.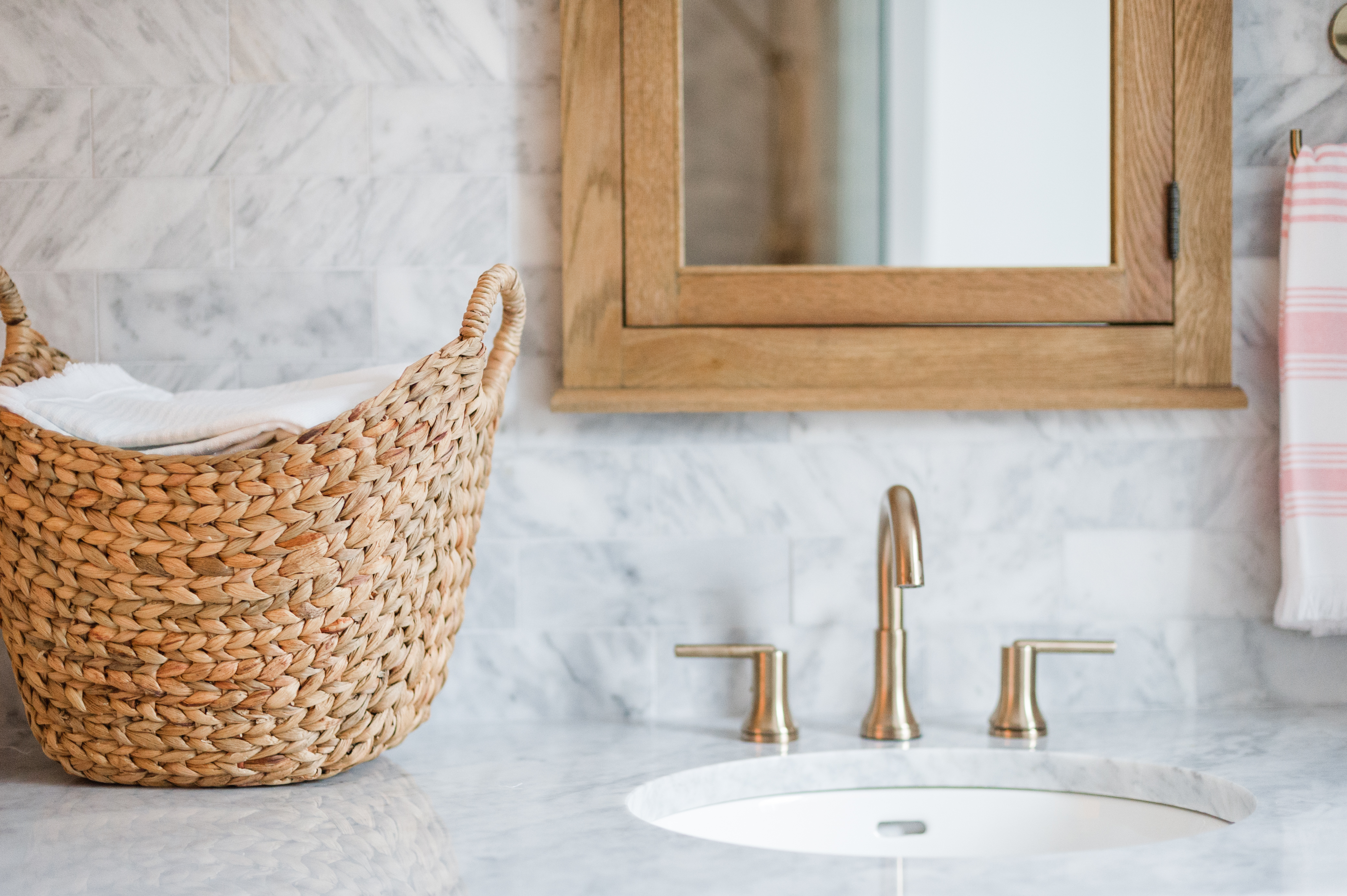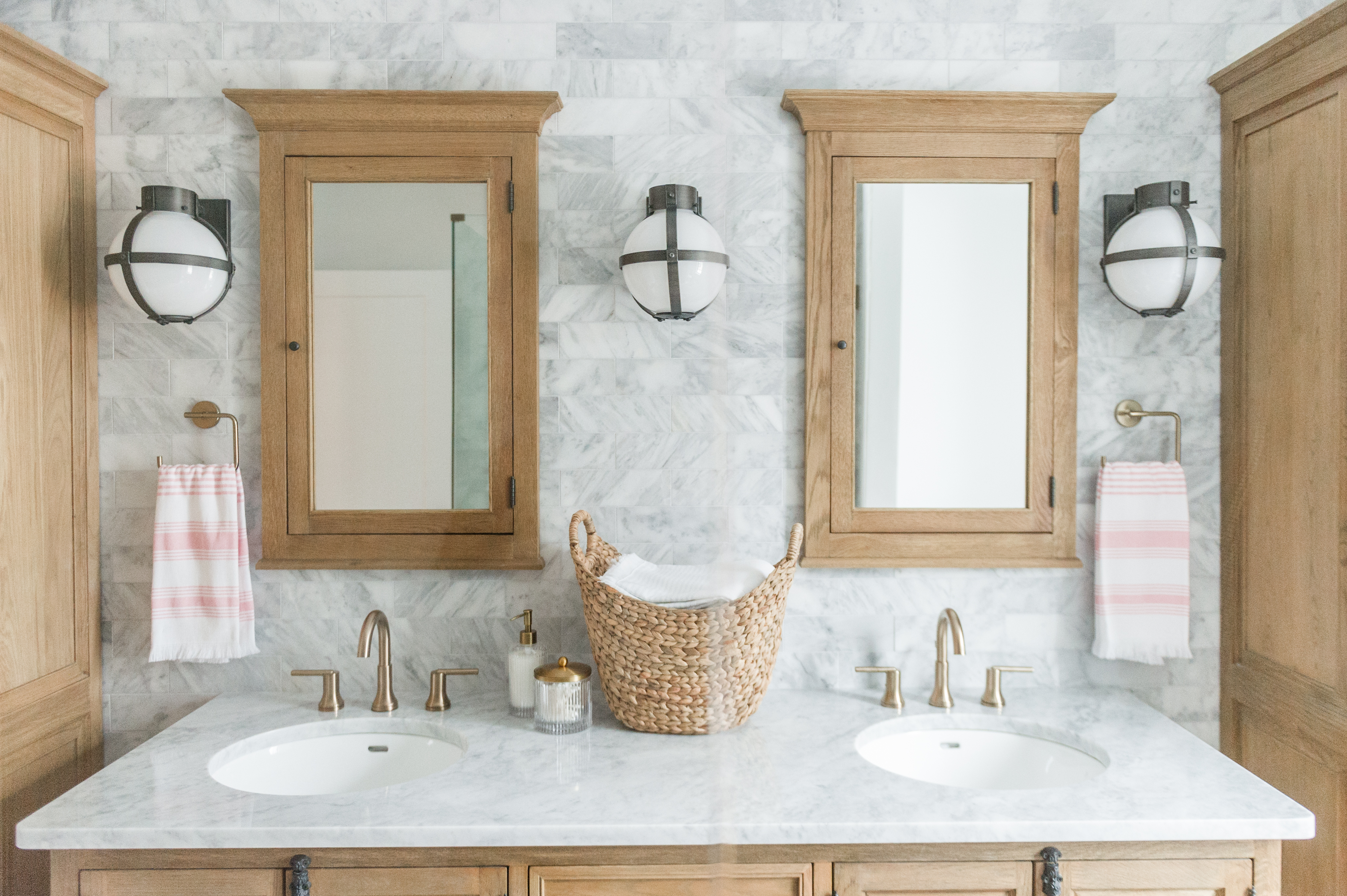 I need to pause for a second and appreciate the amazingness of this Canadian Tire CANVAS basket. Ok. I'm done now. The basket is filled with hand towels, so it's totally functional, but more importantly I love the texture and softness it gives to all the hard smooth tile.
Now that we're on the topic of details and styling: this bathroom honestly just didn't "have it" before it was styled. All the awesome hardware, tile, and fixtures in the world can't make a space feel finished. "Finished" is my ultimate goal in design and really hard to achieve. So often we have to move on to a new home before getting to this point. Here's a look at the bathroom before I got to the finishing details.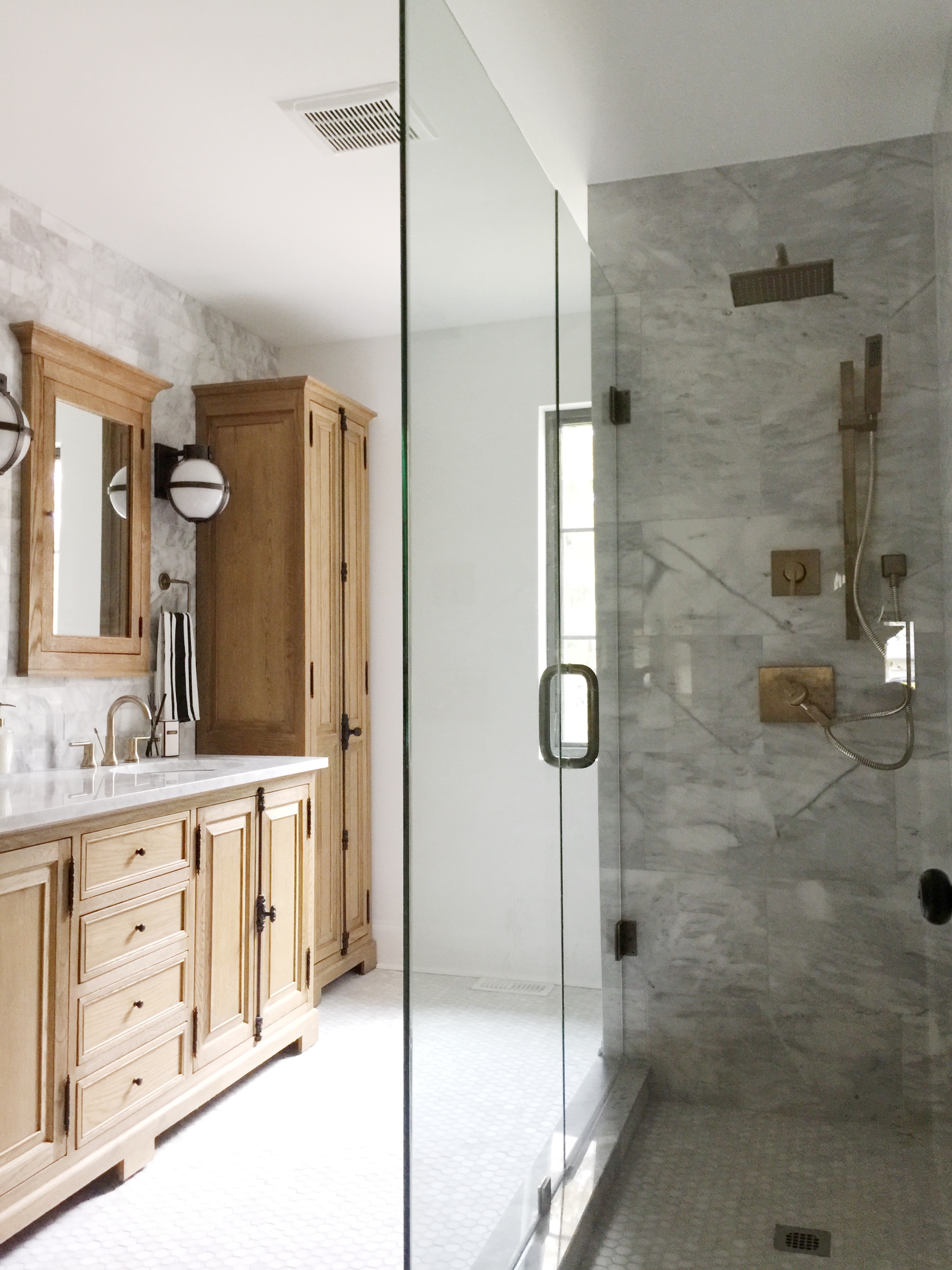 It's great but it doesn't have the 'wow' factor and it doesn't speak to my personal style and brand which is airy, modern, and feminine. From this point I added artwork, towels, a rug, the baskets and toiletry accessories. Not a whole lot really, but the difference is staggering. Everyone who uses the bathroom marches directly back out and mentions the rug and the paintings. You know what? People don't really talk about the tile, so it's taught me that maybe my obsession with real marble is a little misguided and I could do a faux ceramic marble and then put that money somewhere else…like the next bathroom! I don't know though…I love the feeling of real marble…what do you guys prefer?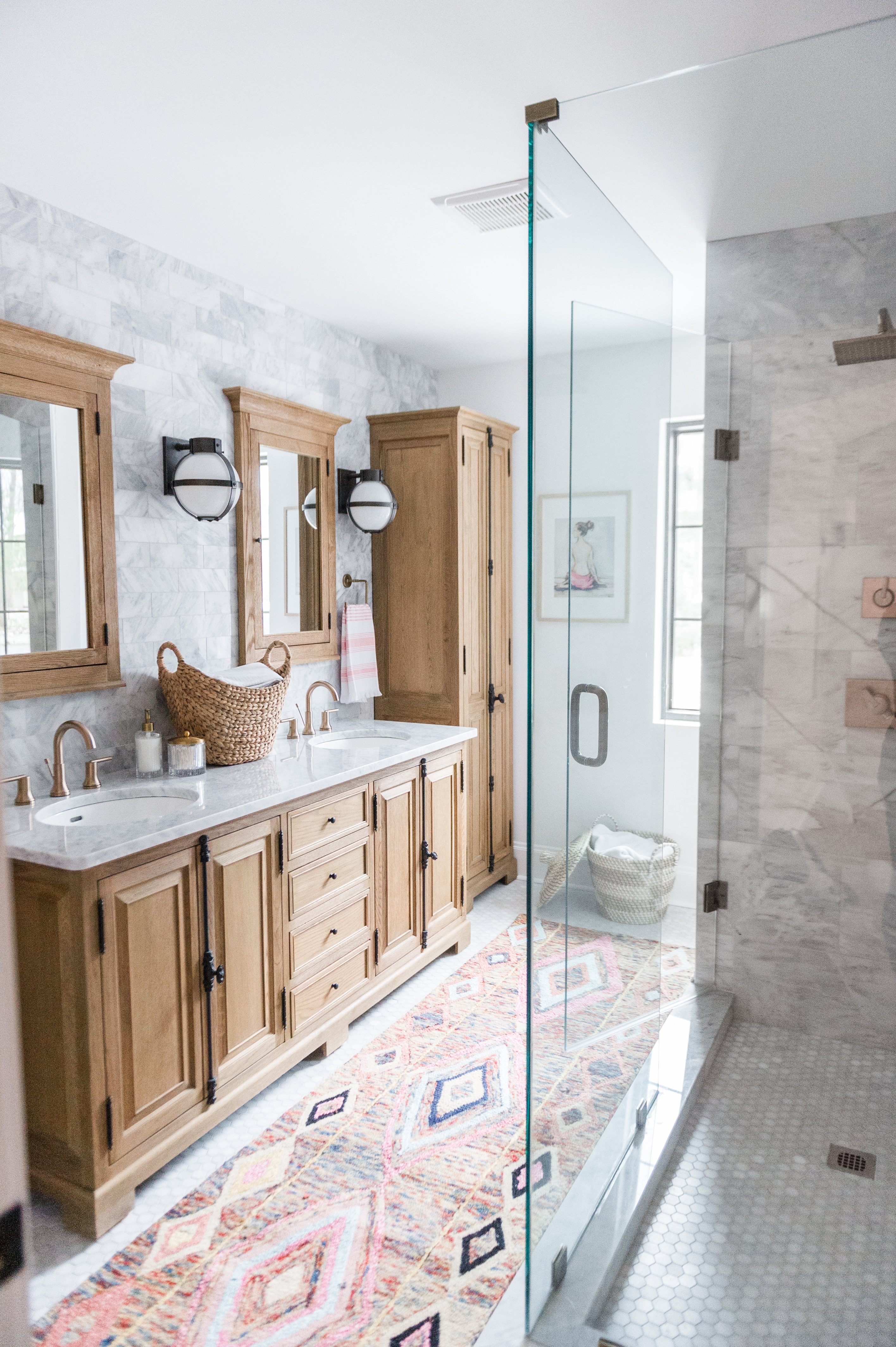 Right now, if you're following along, you know that I'm in a deep-love-obsession with Maren Devine and have sprinkled her prints everywhere! Like in my dining room!  You can see more of my dining room and Maren prints in my Christmas and Valentine's Day home tours, by following these links. There are two of her prints in this bathroom. I first chose a few works that I was interested in, then hunted down the perfect rug, then got the prints, then tied the prints and rug together further by grabbing Turkish towels that pulled all the colour together.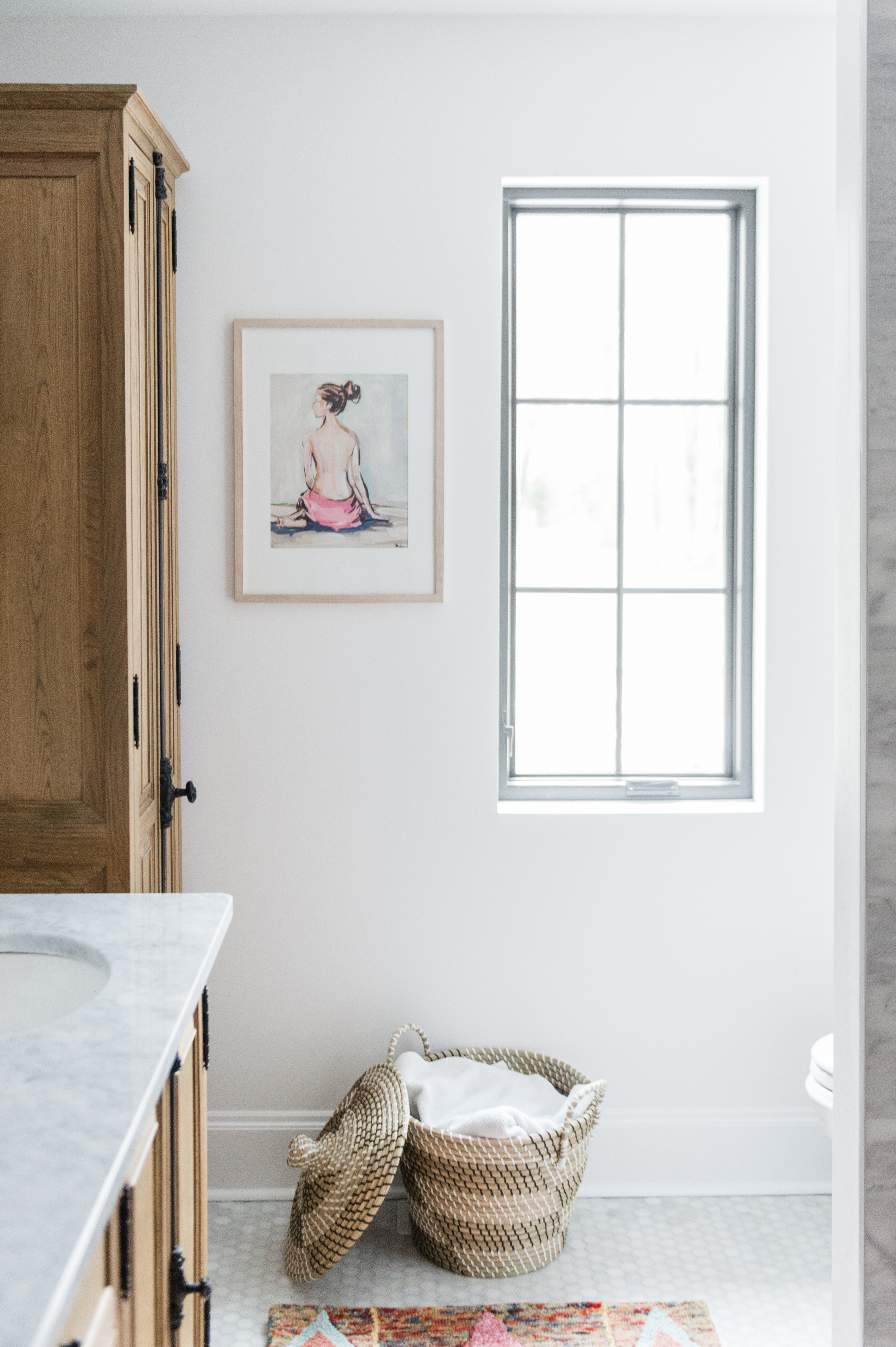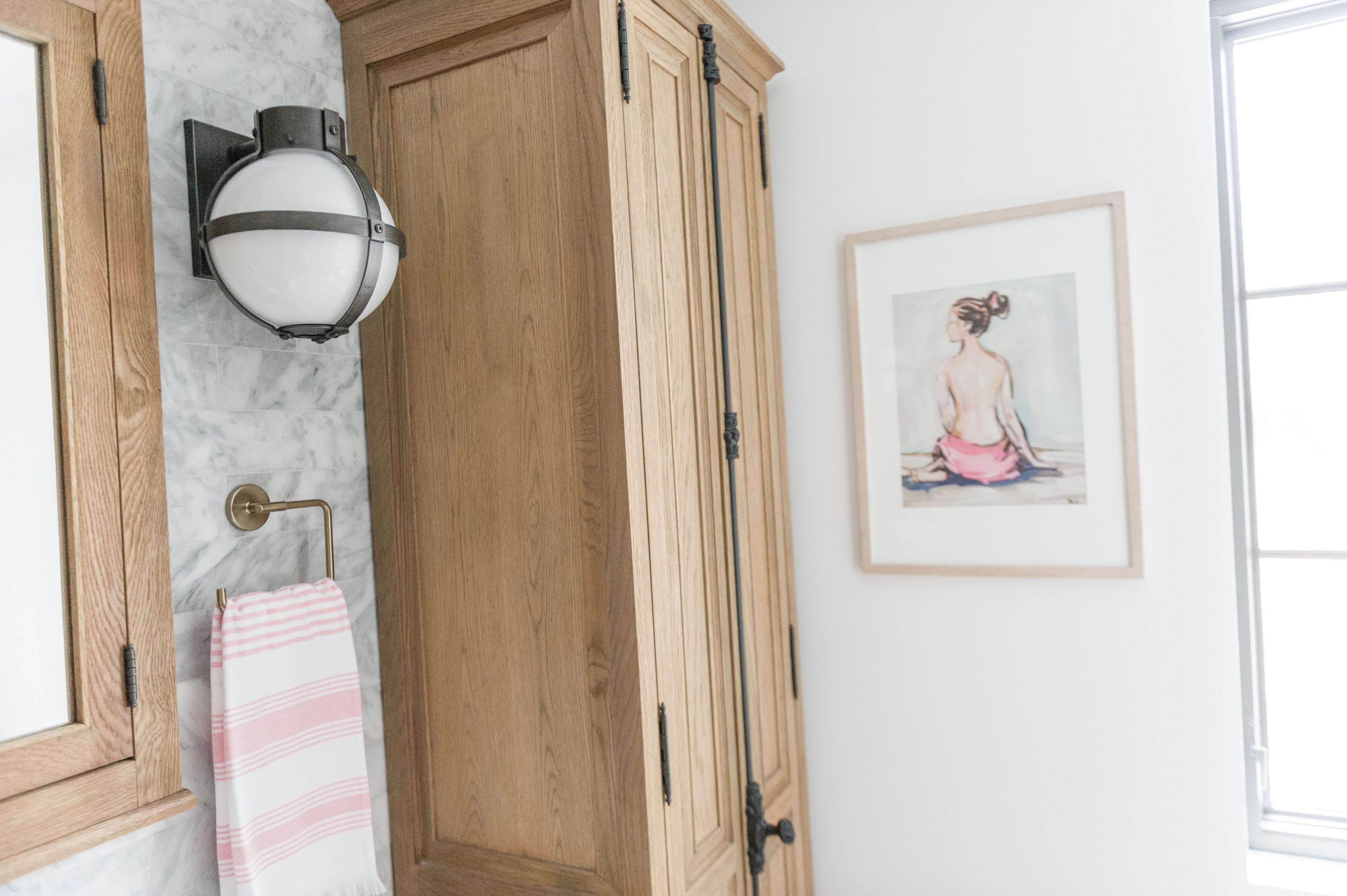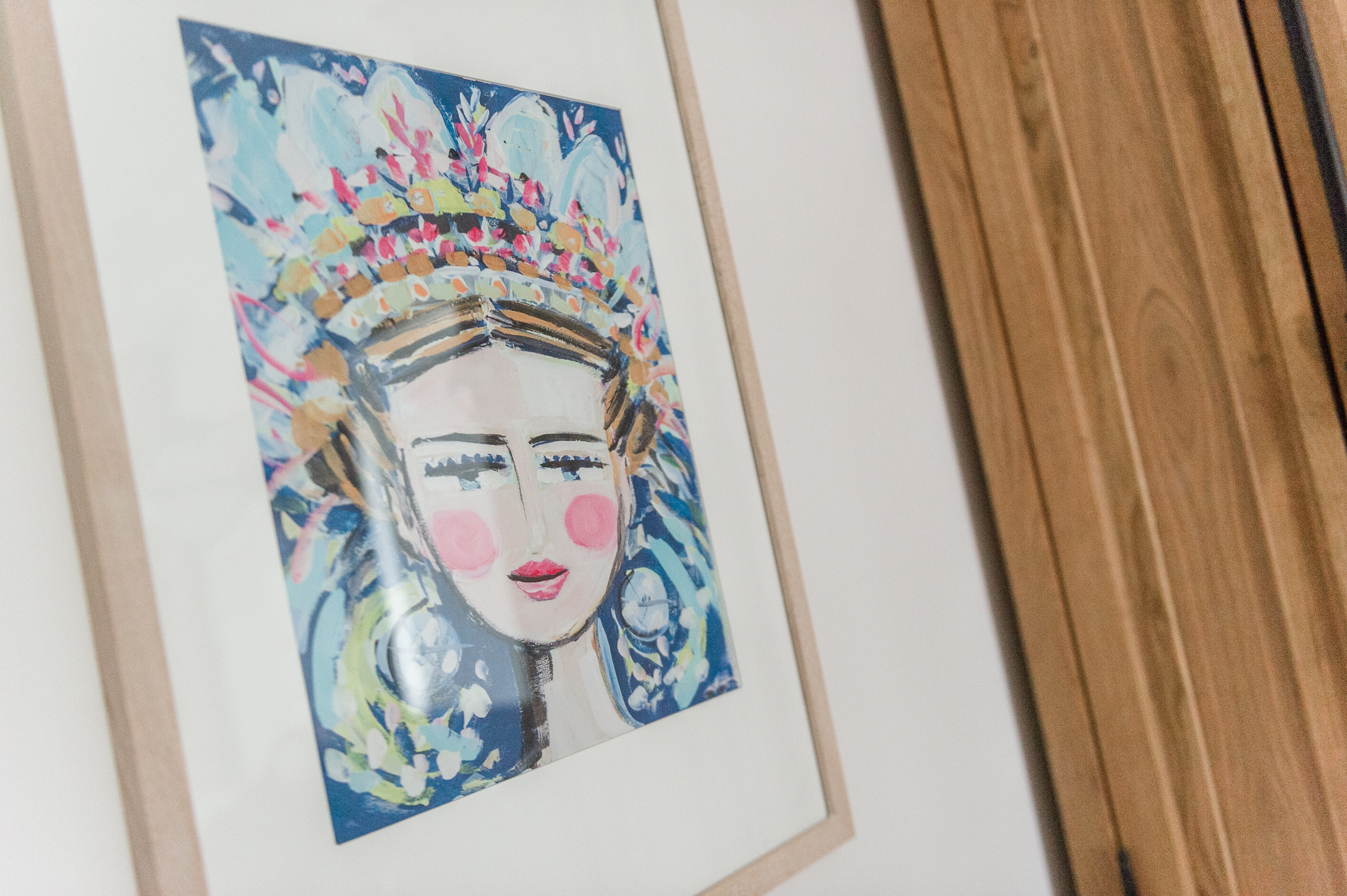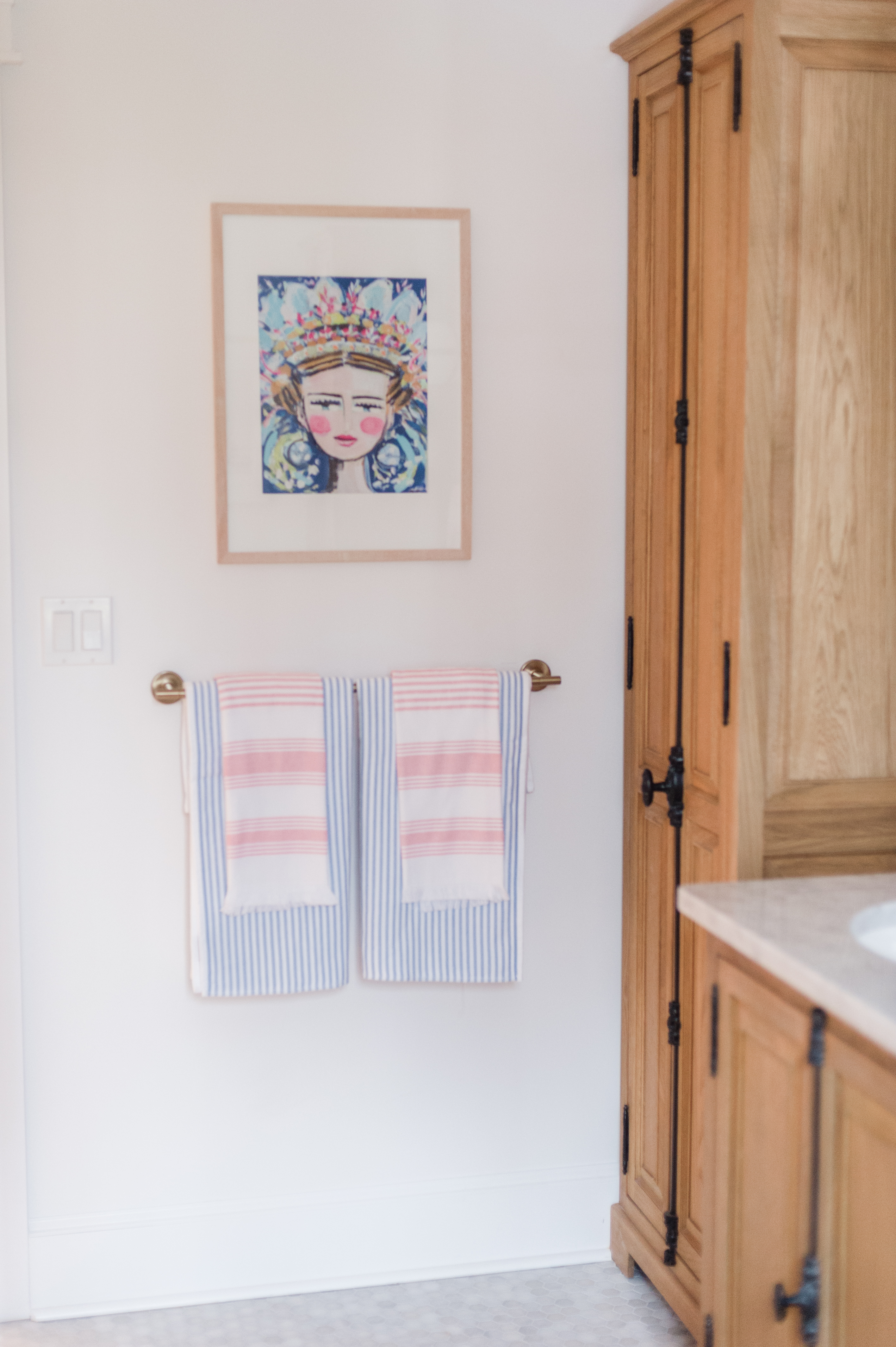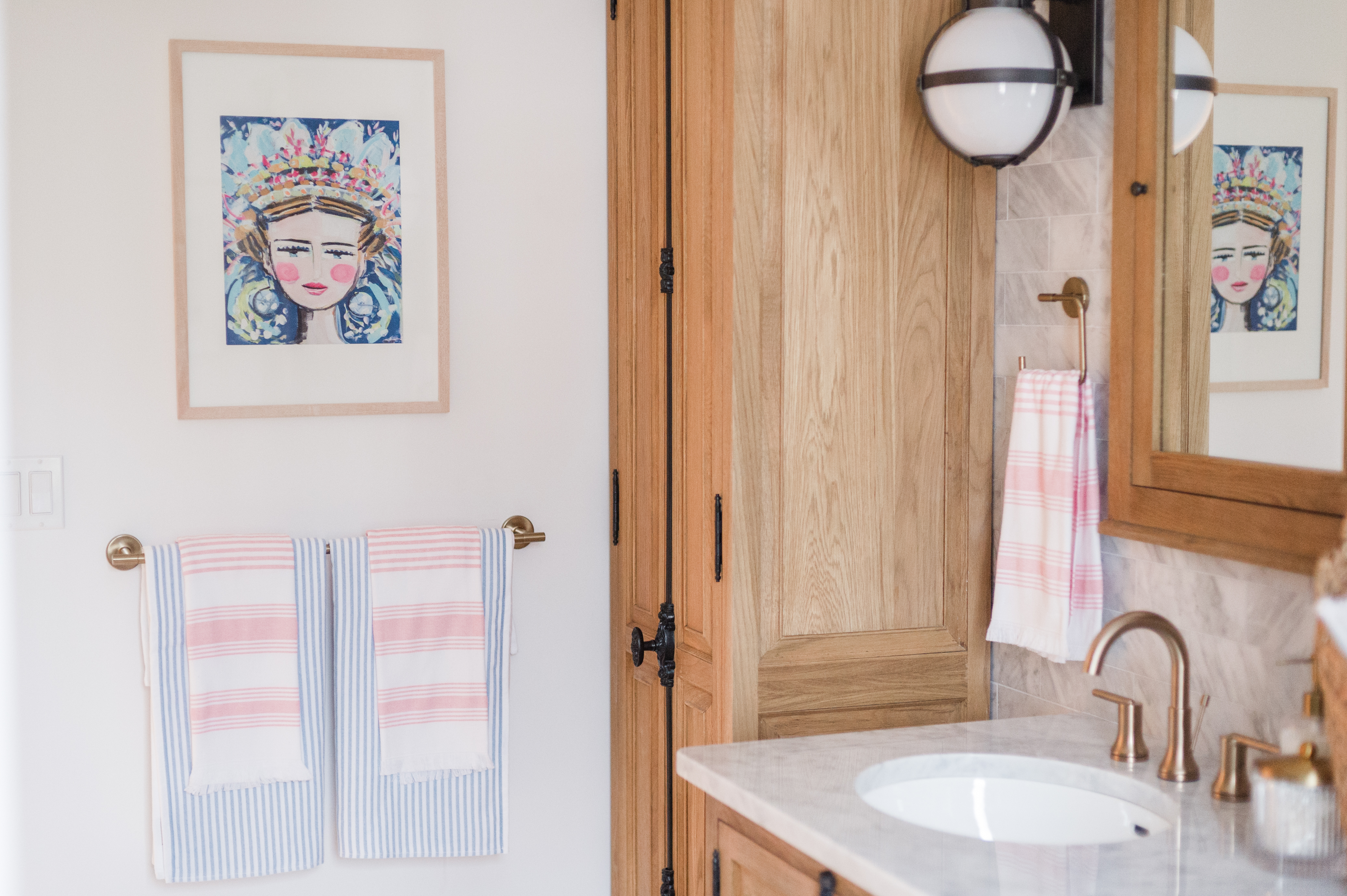 To say that the artwork in my bathroom makes me happy is an understatement! I seriously can't take my eyes off of the pieces. People don't leave my bathroom without coming back out and talking about them and telling me which one is their favourite. (In case you're wondering, it's a total 50/50 split!)
I'm also in serious "swoon mode" over the runner. You know I'm a repeat offender with RugsUSA runners like in the kitchen and dining room! I first saw this rug a couple years ago at my last home. I really wanted it, but we had already sold the home, so I had to sit tight and hope that I'd find a place for it some day and that day is here!!! I actually want to use the larger size as well…I have a serious rug addiction!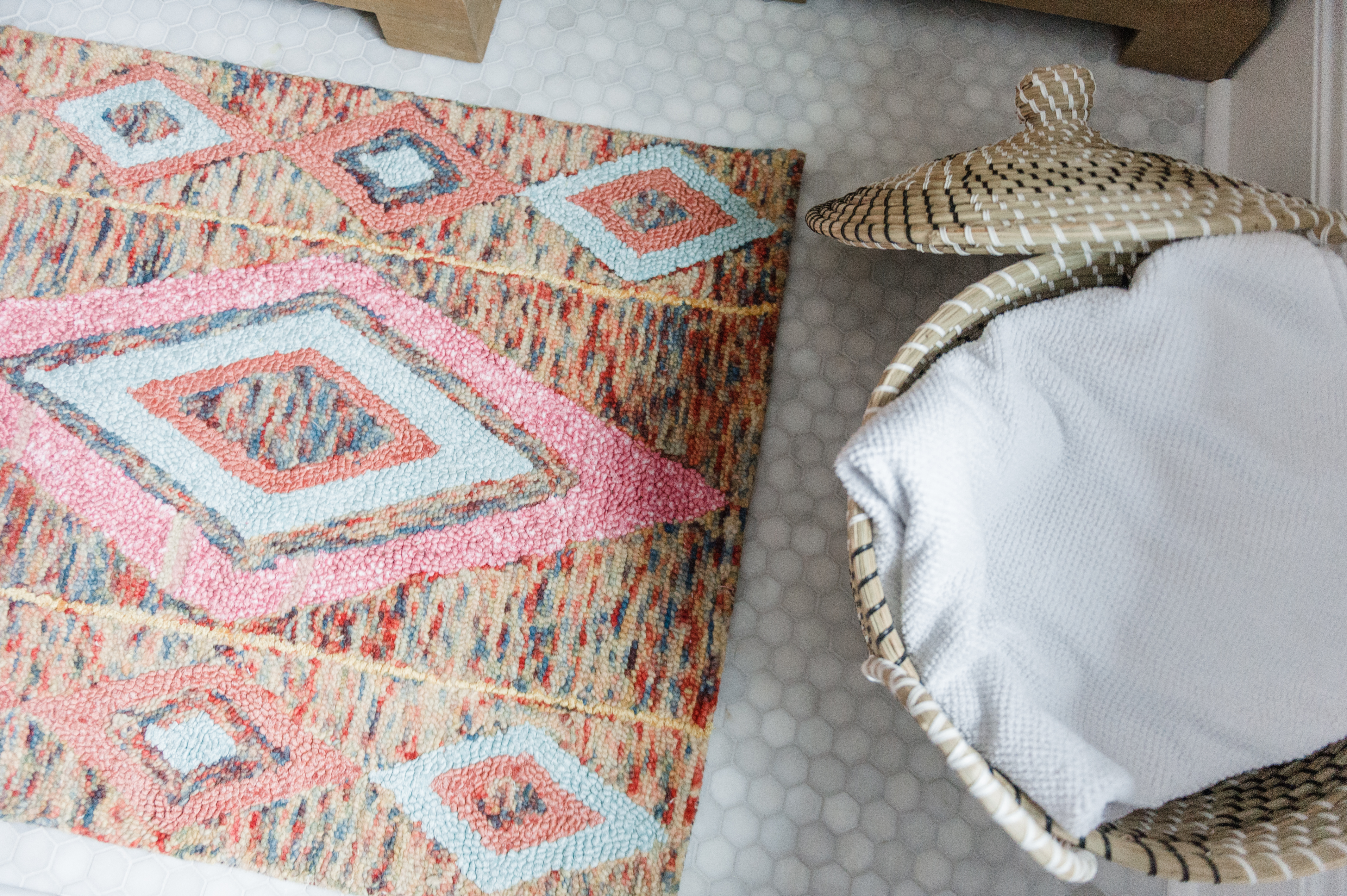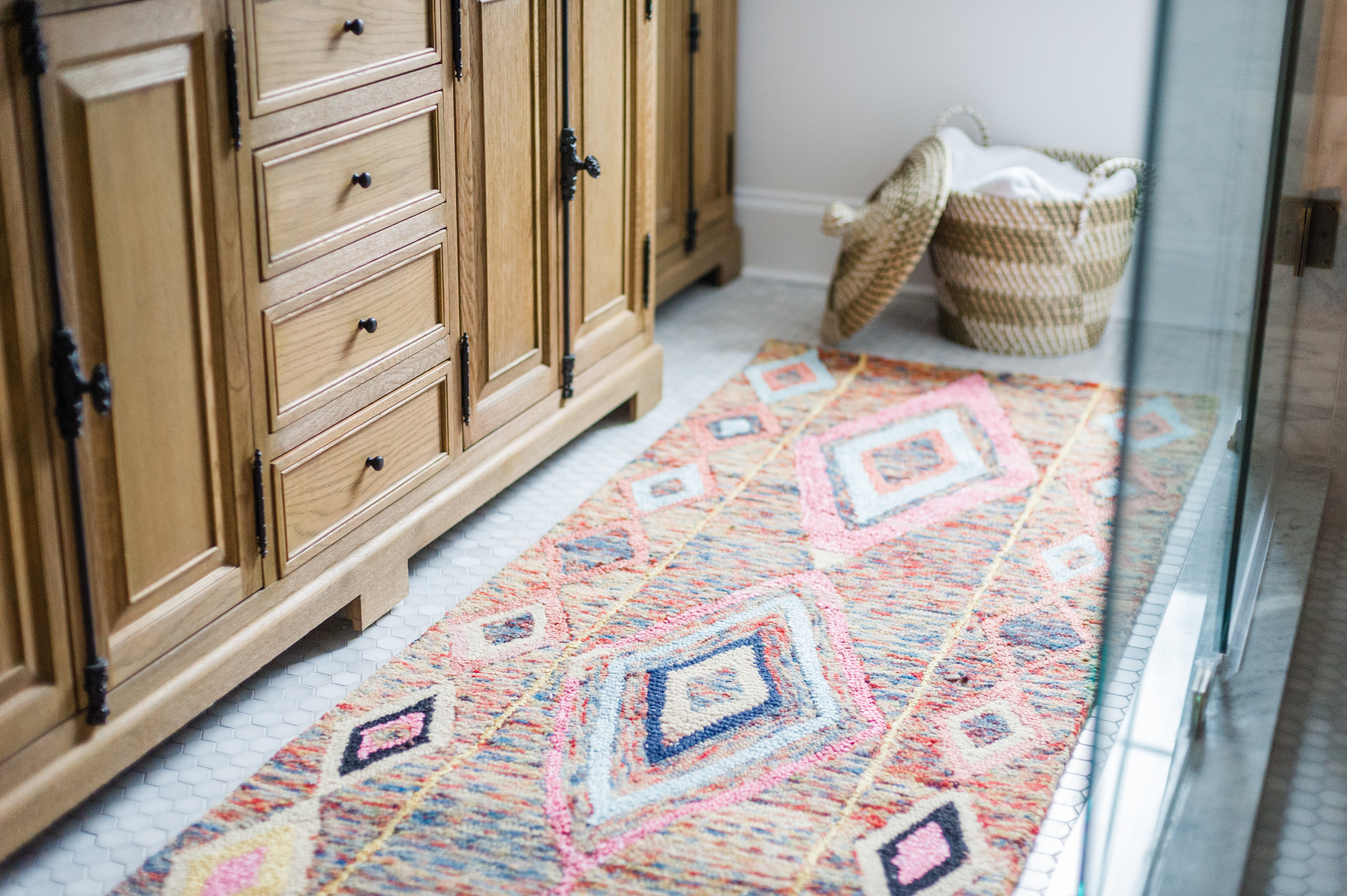 That to-die-for lidded basket is from the CANVAS line at Canadian Tire too…what can I say? They are turning it up!  The baskets are such good quality and they add so much character. I love just putting pillows or towels inside, like in both the baskets in this bathroom.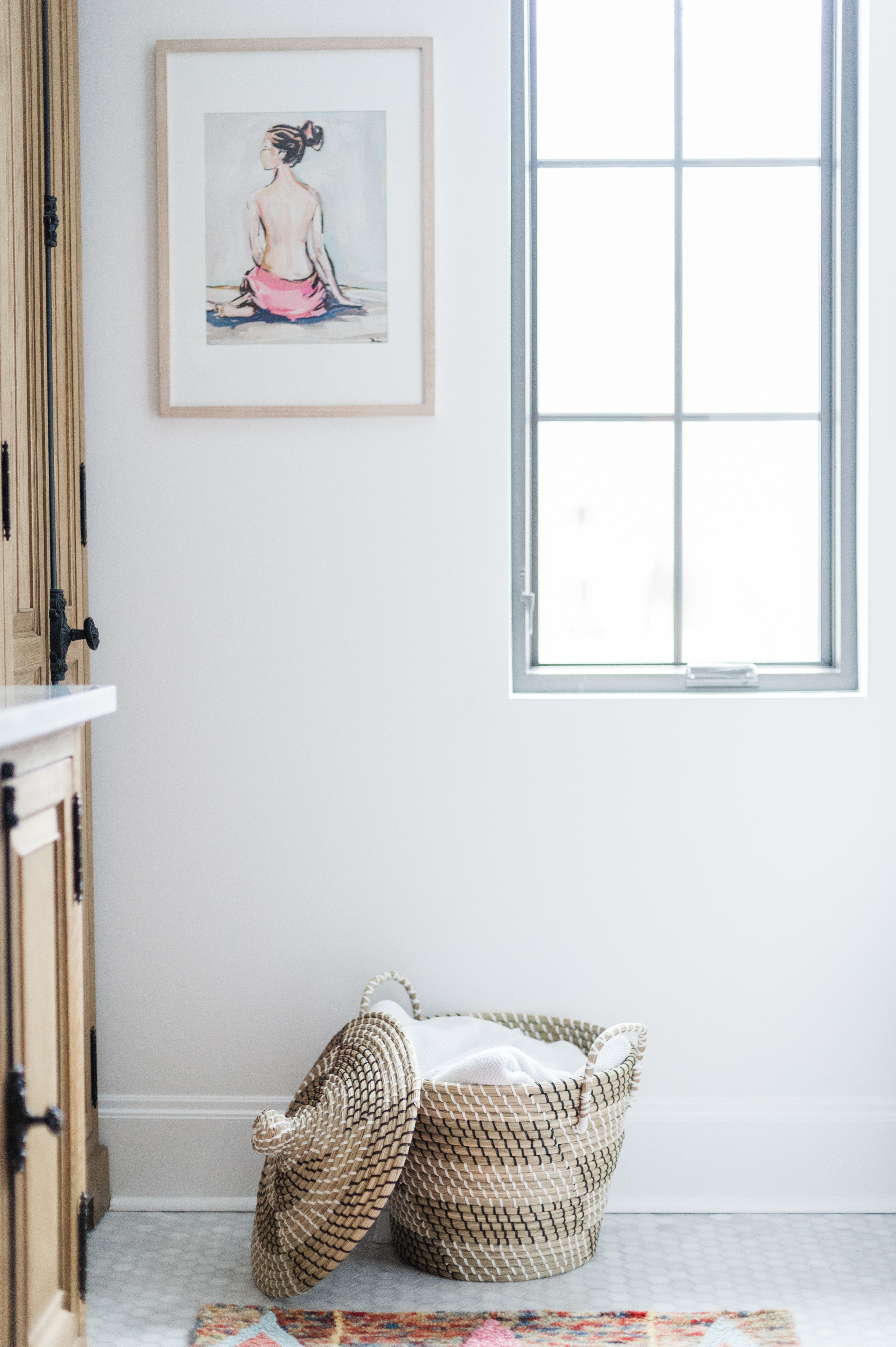 I found the glass and brass bathroom accessories as well as the Turkish towels at Homesense, which is the Canadian version of Homegoods.
How about a couple more before shots? I'm sorry I know it hurts your eyes…squint k?!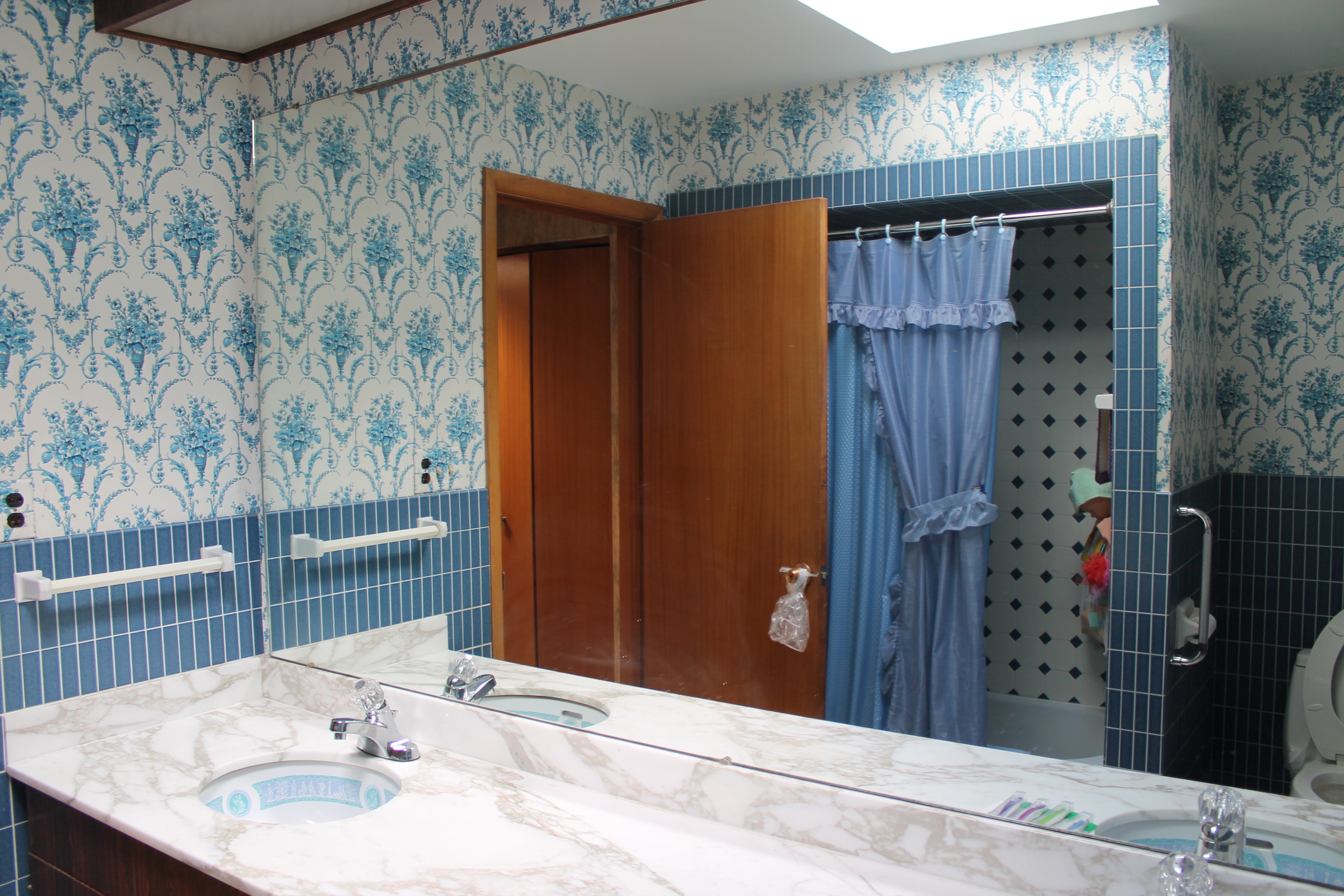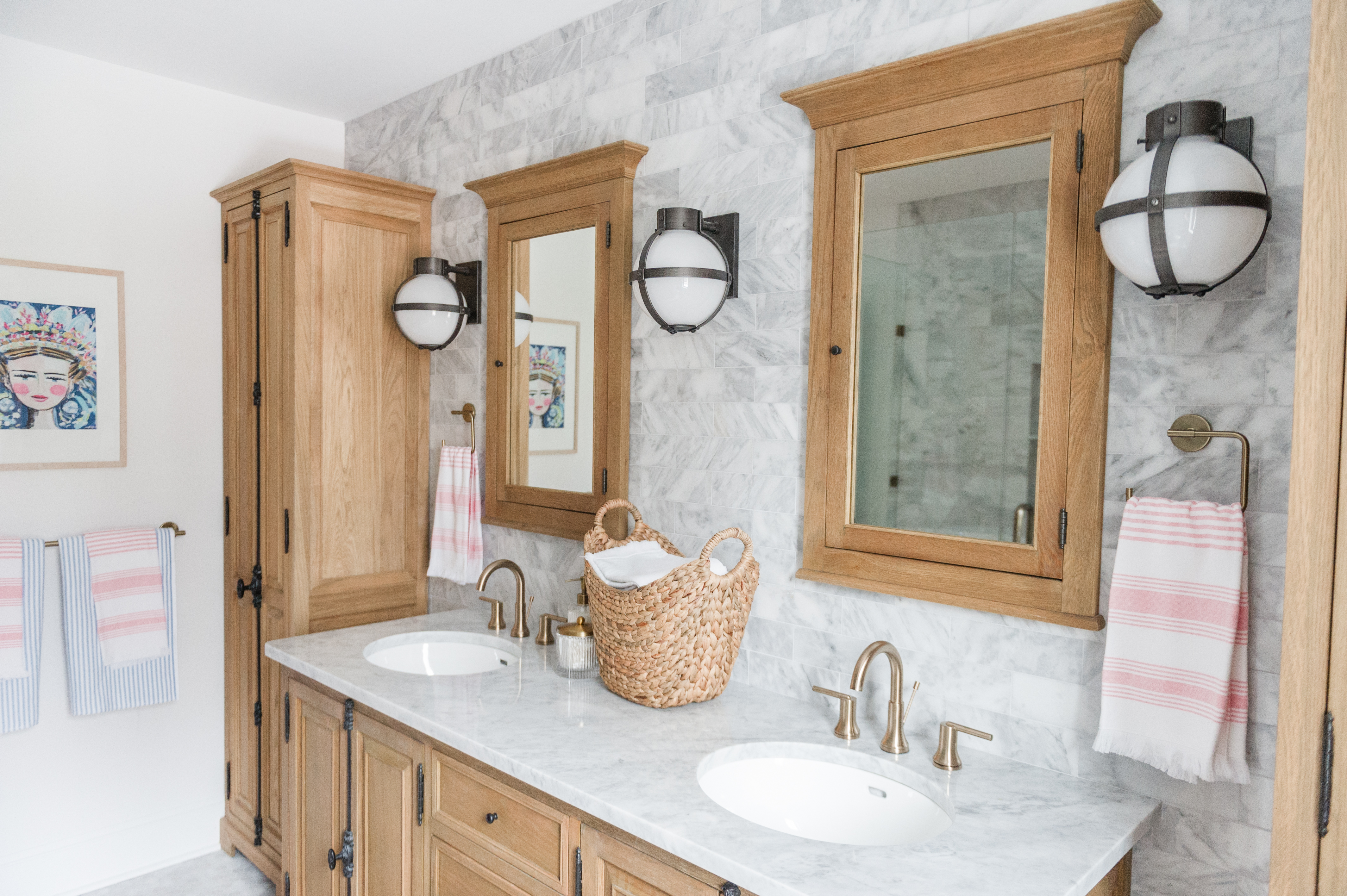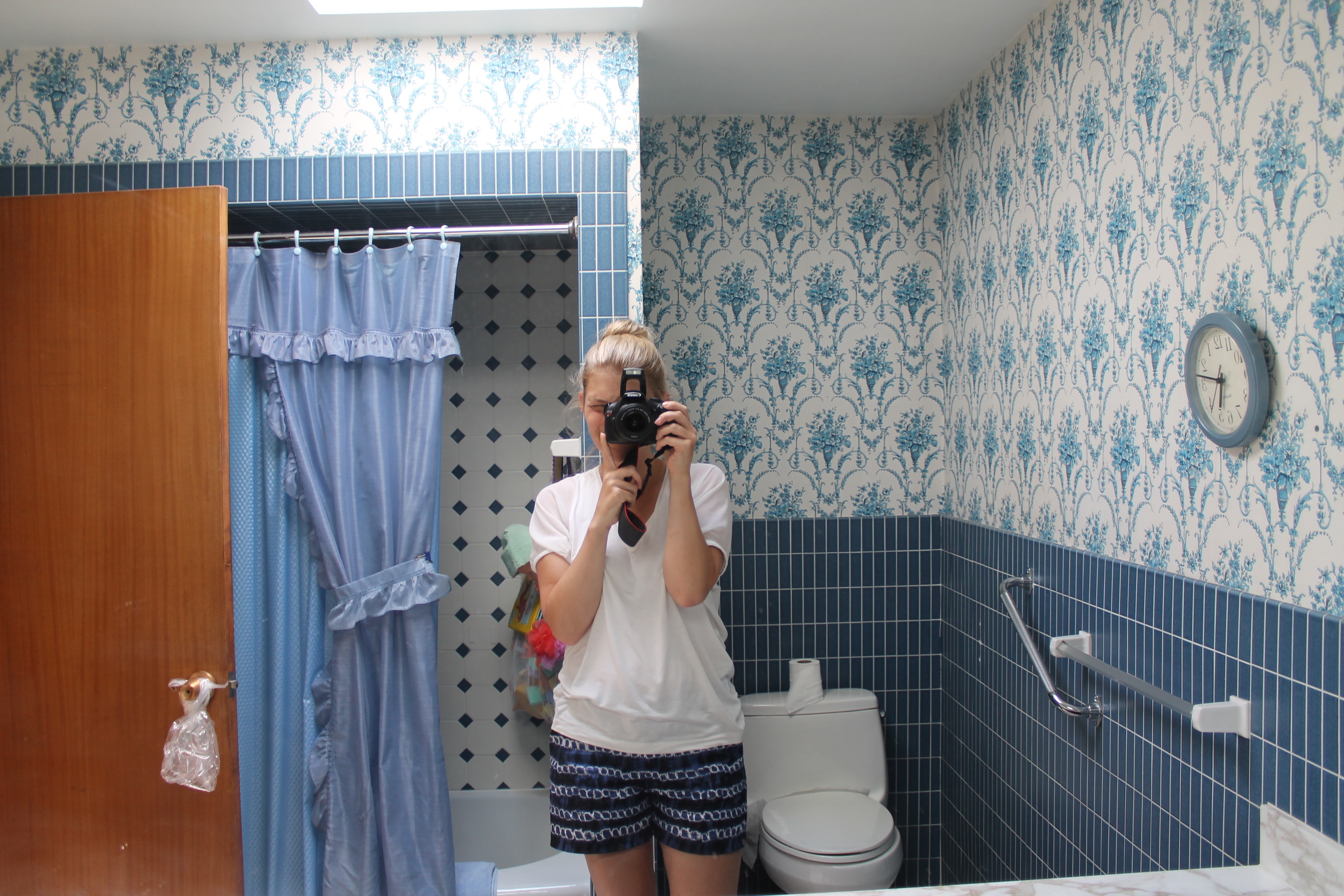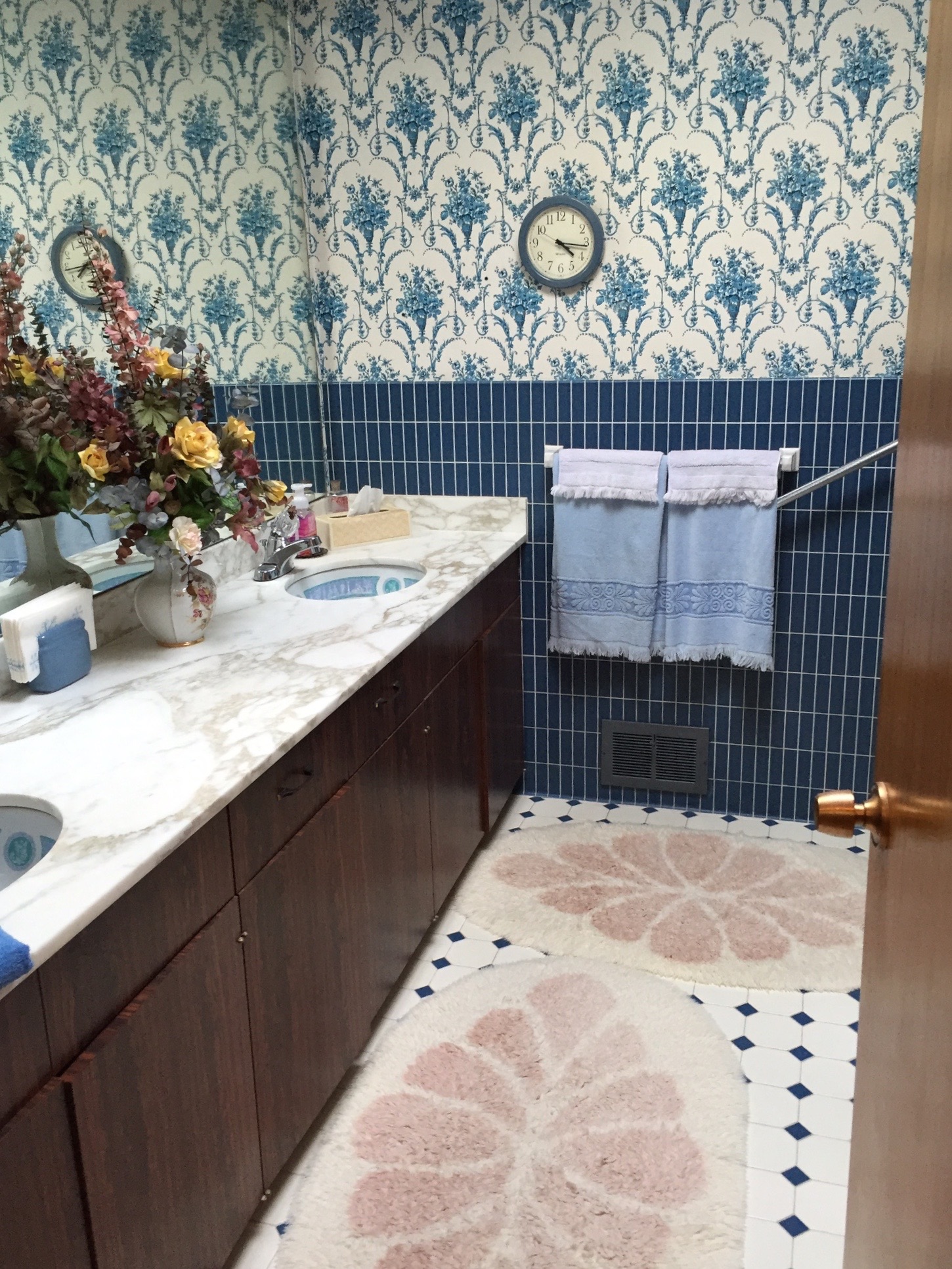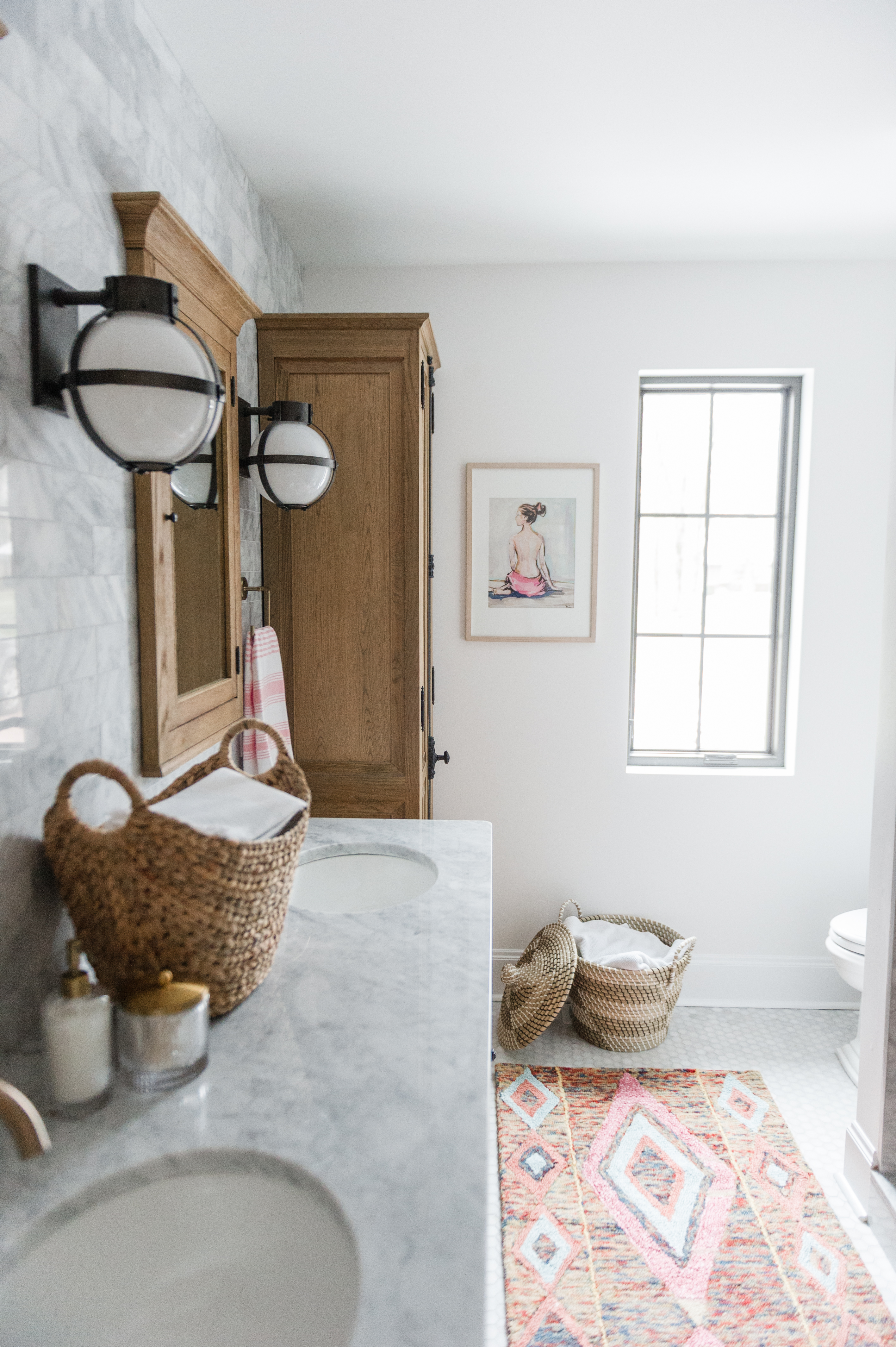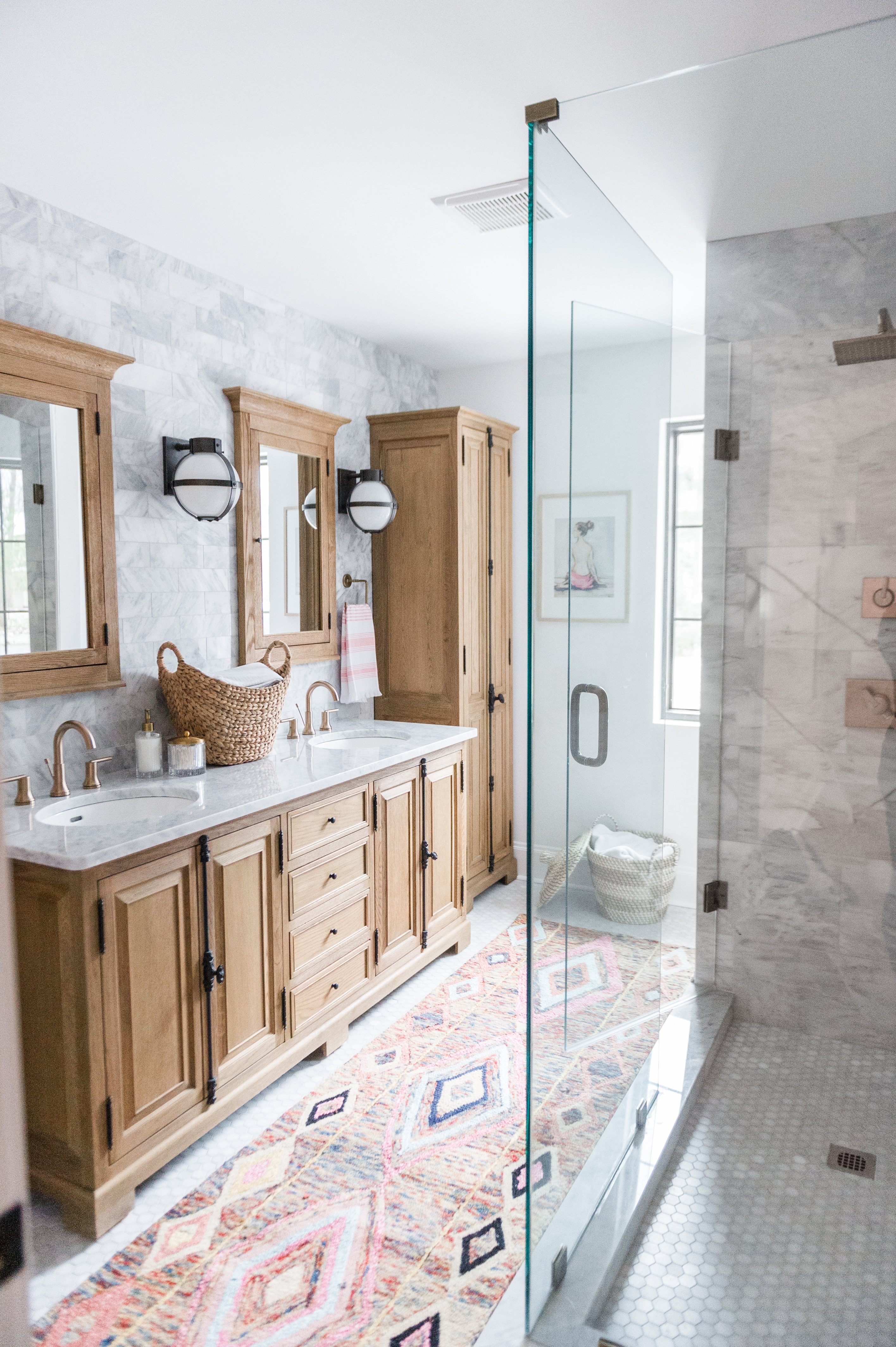 All photos were taken by the super talented Vicki Bartel.
Thanks so much for reading and I'd LOVE it if you subscribed…pssst there's a giveaway for this rug, coming later this week;) 😉
This post was done in partnership with companies, however, all opinions and designs are my own.