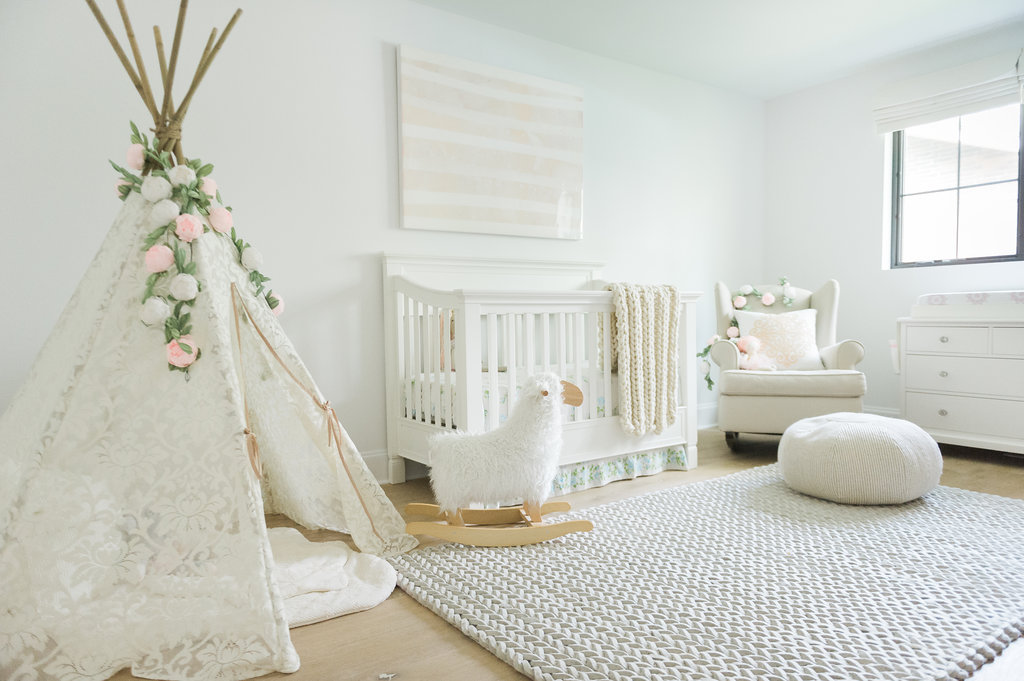 In order to create a clutter free nursery and arrive at my 5 little girl room ideas with purpose, I had to embark on a journey of decluttering! One of the biggest and most impactful changes that happened in our home was that we got rid of our toy room which was always a mess!  I also got rid of all the miscellaneous toys (the ones that couldn't be categorized and put away, but that just sat in baskets, etc. We didn't want to keep anything that didn't have a place to go and a purpose.  I ended up actually bringing the girls' favourite toys into their girls rooms and set them up, so that they could be easily played with. Here is a list of 5 little girl room ideas with purpose that really spark joy in Penelope's room.
1) Little Girl Room Ideas with Purpose: Play Kitchen
The play kitchen is the best example of really great toys that weren't even being used because they were cluttered in the old toy room. You honestly couldn't even get to the appliances because I had plastic bins stacked in front of them with all of their food in it….?! so silly!
Now all of the food sets that we have are in their boxes or in ziplock bags and fit in the fridge and are right where they should be. The little appliances are in the shelving area inside the oven, and the dishes are under the sink. I arranged them all together and added the table, and now the girls play with it like a centre at daycare or school.
You know what? getting rid of all the excess random toys and setting up a "house centre" makes it super quick to clean up, because it's always easy to clean when and item has a home.
The table was mine from when I was little, the tea cups are vintage and so is the table cloth. You can find awesome retro tea cups and table cloths at thrift stores to get the look, for super cheap!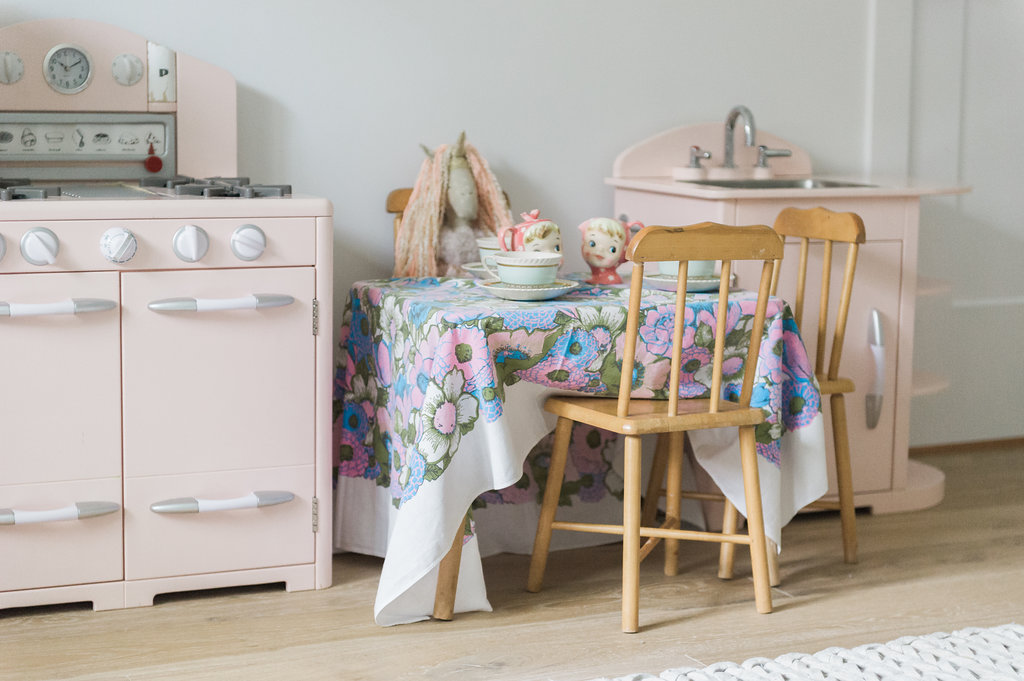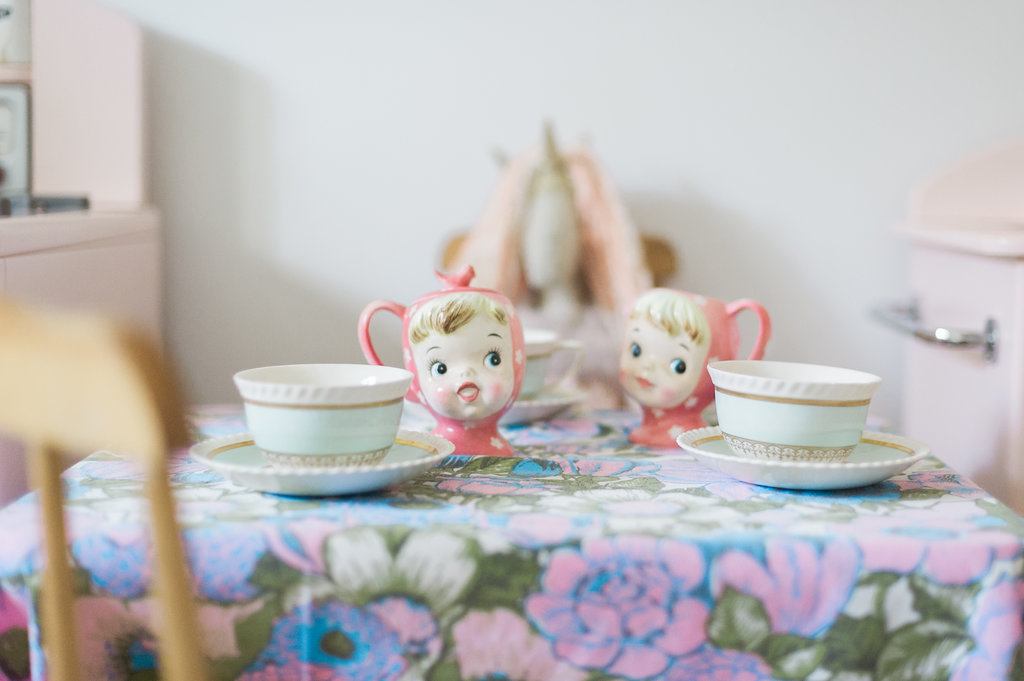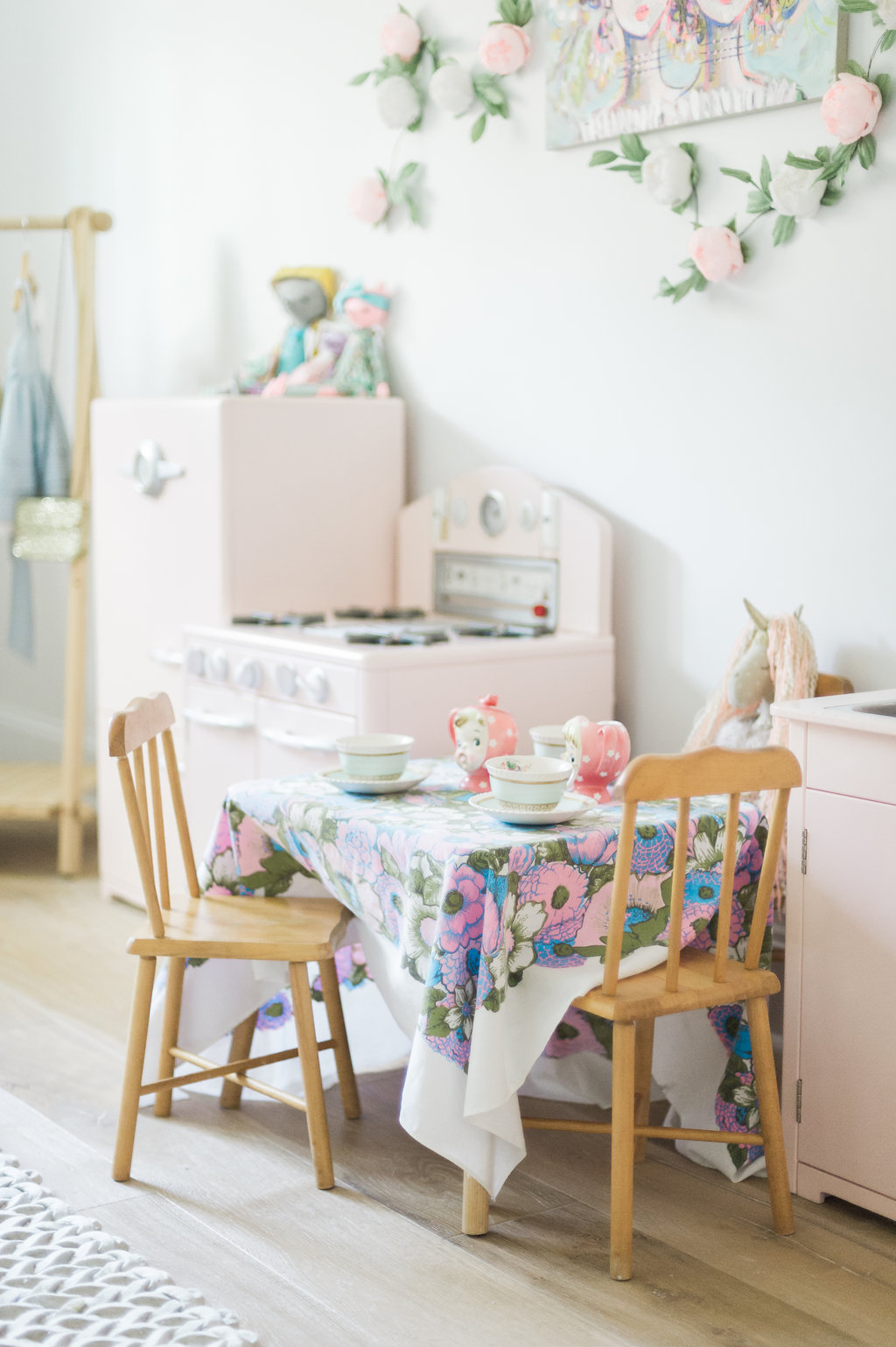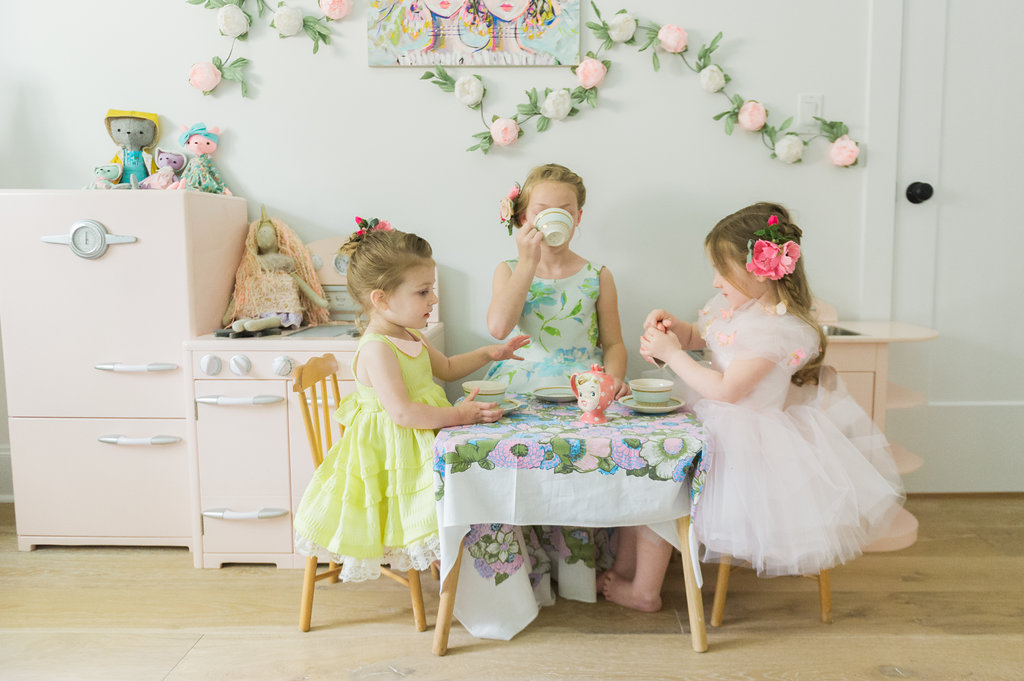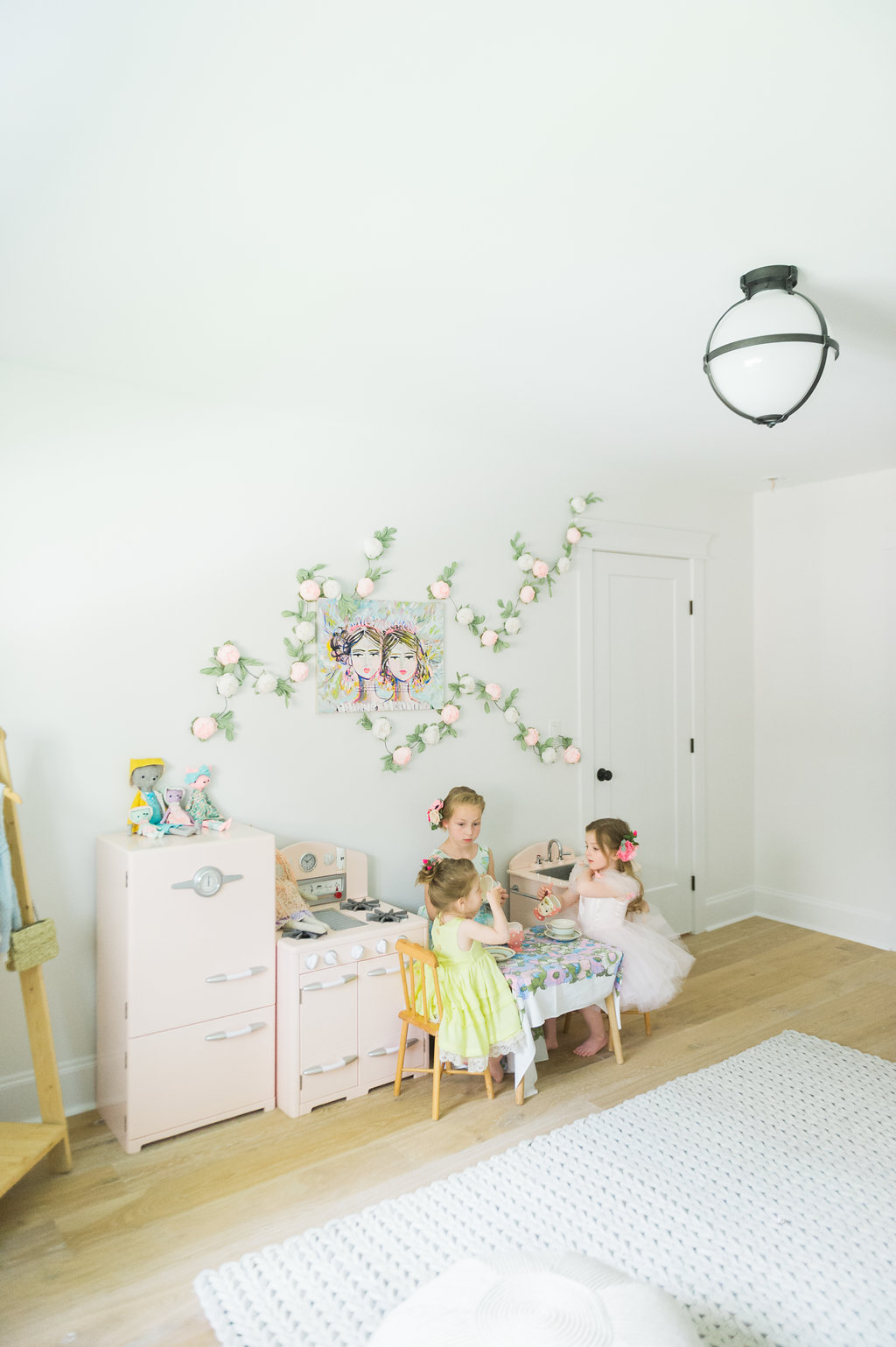 2) Little Girl Room Ideas with Purpose: Art Work
I really believe that we should be surrounded by beautiful art work that brings us joy every time we see it. I was very affected by Marie Kondo's book, The Life Changing Magic of Tidying Up and the Netflix documentary The Minimalists.  Both stress that it's ok to have "things" but you should really love them and I love art and thought that it would be wonderful to use real original art work in Penelope's room. She only has two pieces and the peonies hanging on her walls but it feels like so much more. It's funny because Penelope's favourite part of her space is the art work! She loves to paint and every single time she went in or out of her crib she would stop and say, "painting on the wall" and touch it lovingly. I'm not kidding!
Artist Craig Wellbrock
I actually got the gorgeous original artwork over her bed a year and a half before the project was complete. It's by Craig Welbrock of Welbrock Art. Have a look at his Instagram…he makes really gorgeous pieces and commissions. He made this with my colour scheme in mind and I love it!
Artist Maren Devine
The second piece is by Maren Devine and I fell in love with it!! She has a large series of Warrior Girl paintings and prints. I have another you may have seen in my Modern Boho Bathroom. Well I have so many of her works, actually. Like the gorgeous Ginger Jar vases that you guys really liked in my Dining Room. This piece is an original painting which I really suggest you get too, because her work is so much more affordable than most artists and so special. The thickness of the paint is amazing. I immediately fell in love with this one because it reminds me of my two girls and it turned out to be called Warrior Sisters which is totally them. They will stand up for each other but also battle each other like crazy!! If you know them, it actually looks just like them.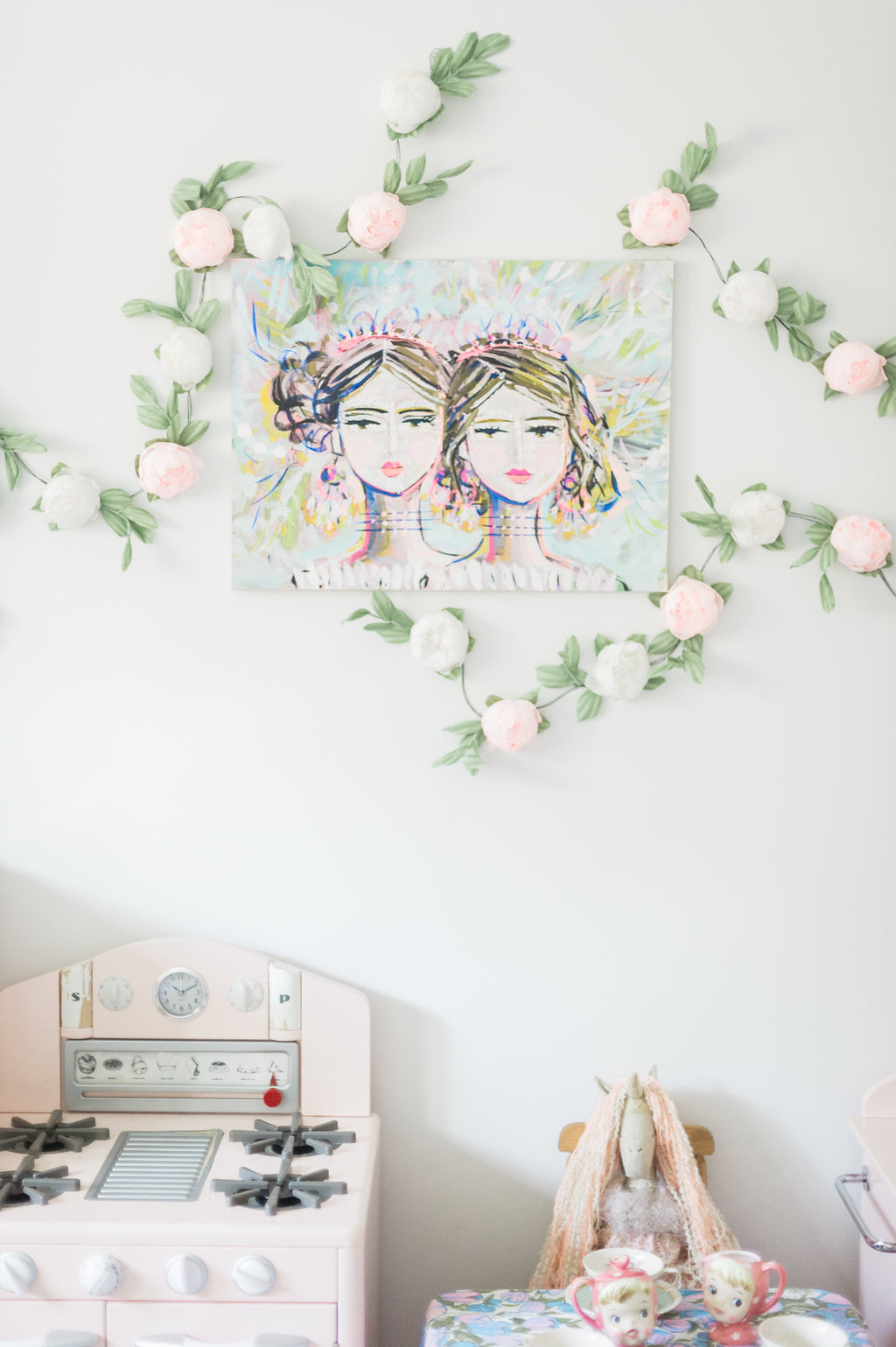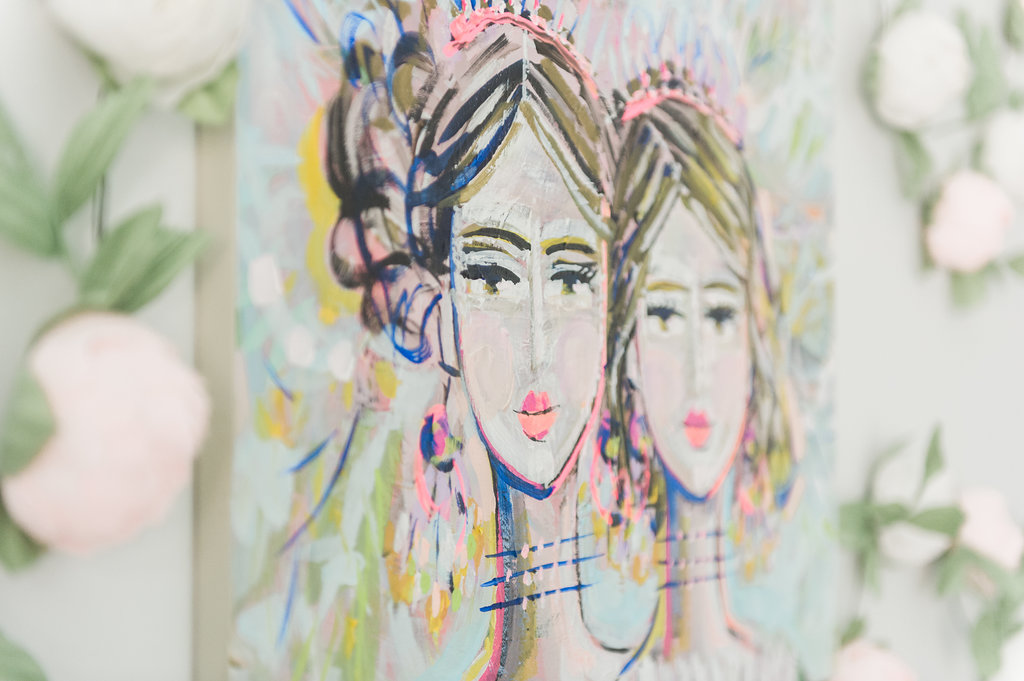 One of my favourite parts about her room are the paper peonies applied to the wall. The flowers are art as far as I'm concerned, as each one is handmade and so delicate. My friend and florist Cori from CJH florals helped me put them up using florist tape which is like a double sided tape that is like a strong goo almost and it comes in strips…super useful. It took off a little bit of paint though when I removed them, so that might be a concern if you don't want them up indefinitely. (The older so sweet blonde girl in the photos is actually Cori's daughter Robyn and my girls adore her.) I'll link these paper peonies at the end of the post, so you can shop them.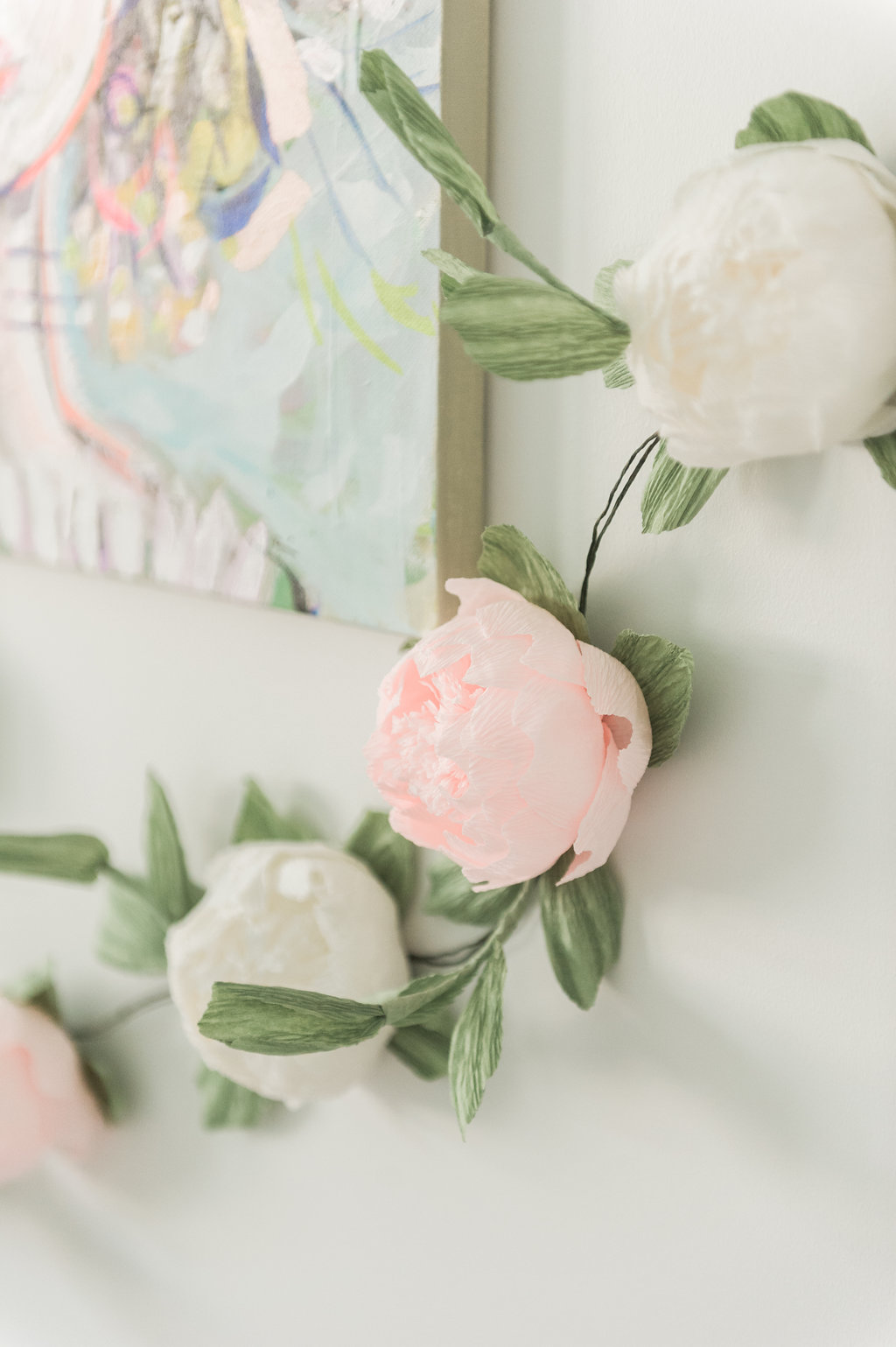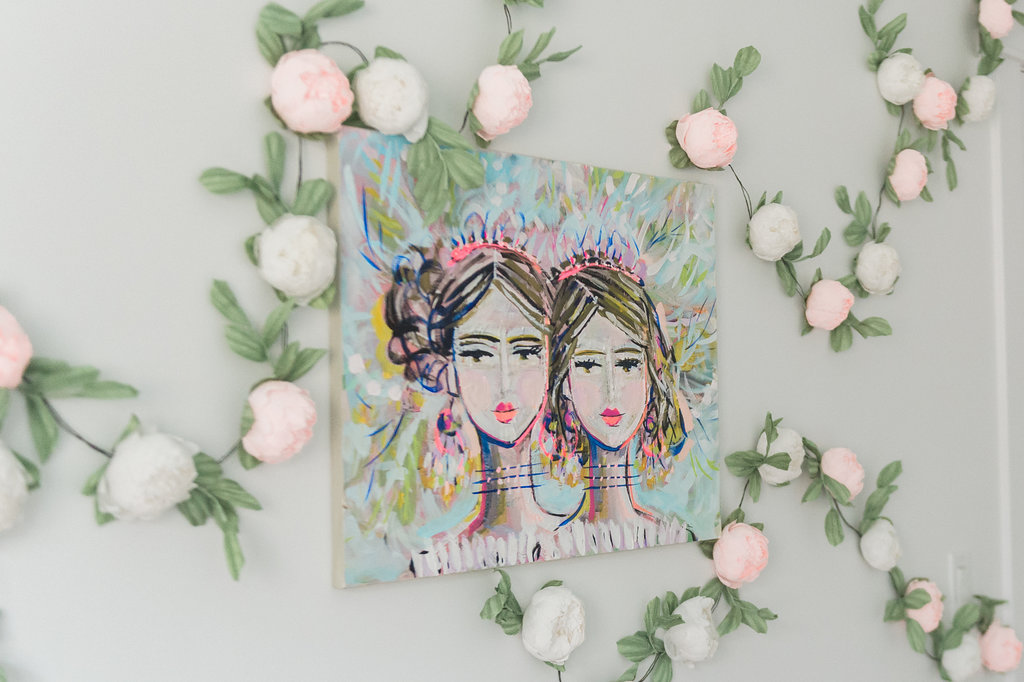 3) Little Girl Room Ideas with Purpose: Teepee / Play Tent
The last purposeful touch in Penelope's space is this lace teepee. Juliette has a teepee too and they are the best. I love how the girls go inside to read, with their stuffed animals, and friends. The tent gives them a a really peaceful and soft place to hangout. The paper peonies perfectly dress up the teepee. The teepee and peonies are from the same handmade shop and are linked below!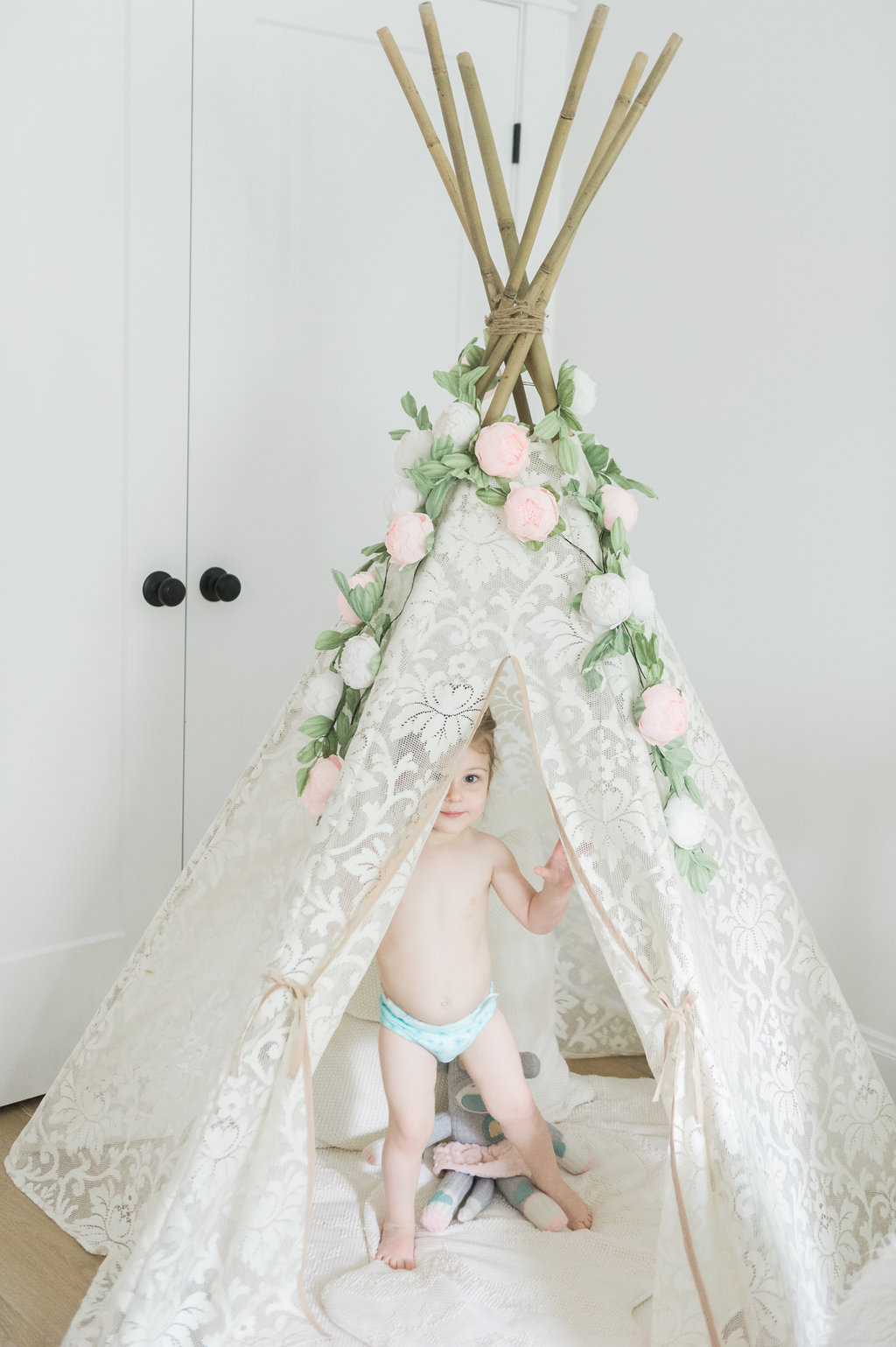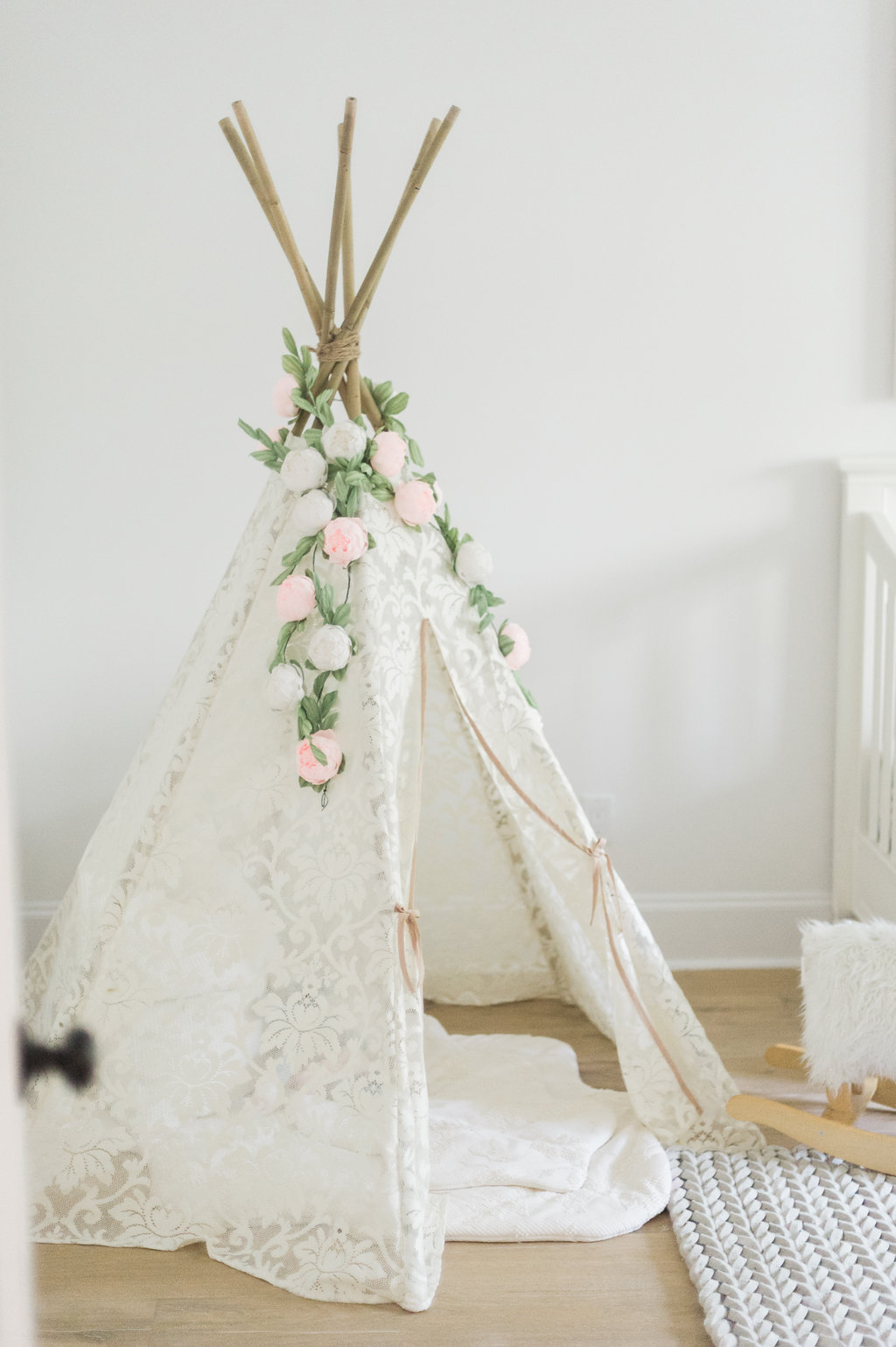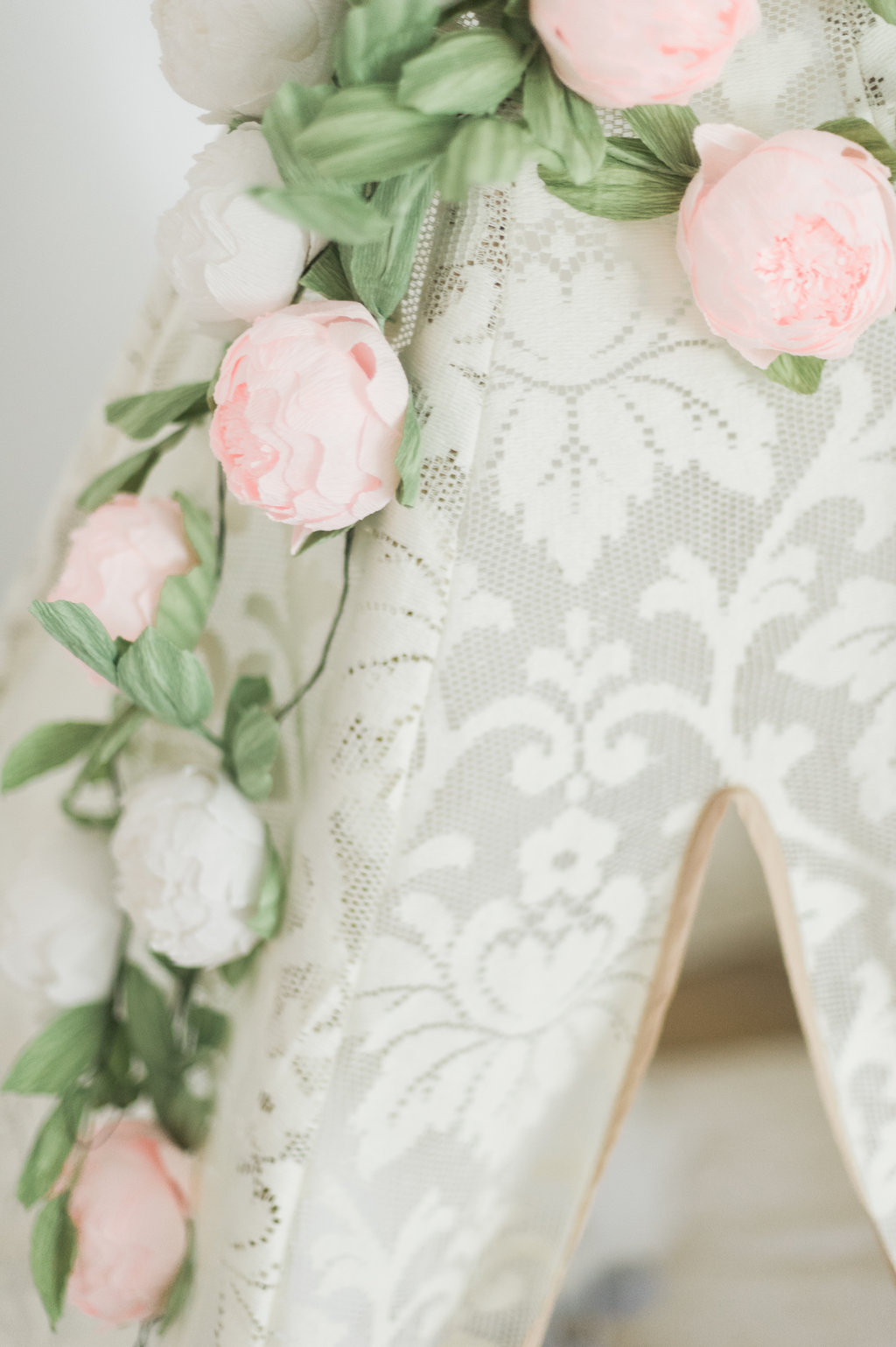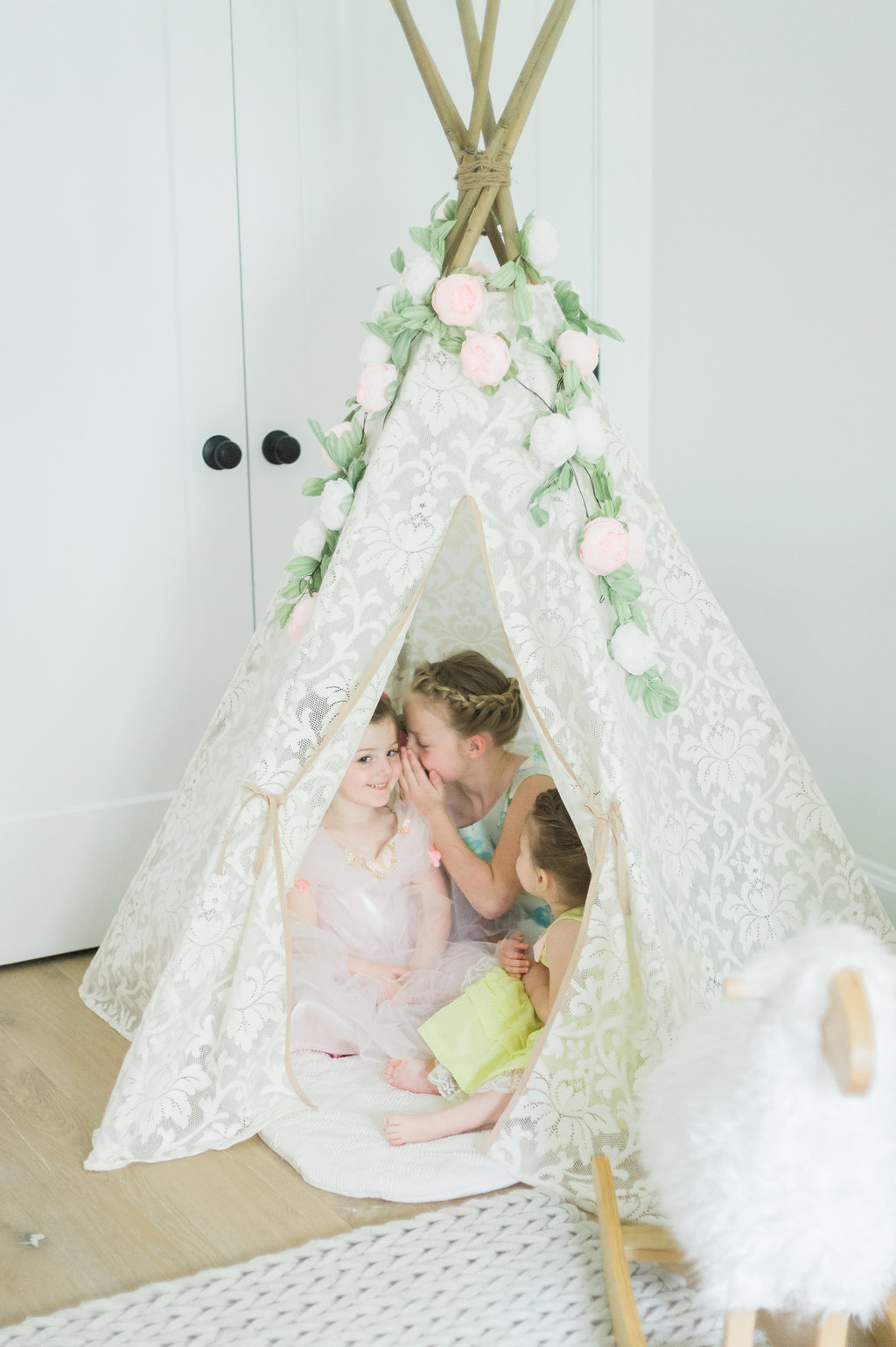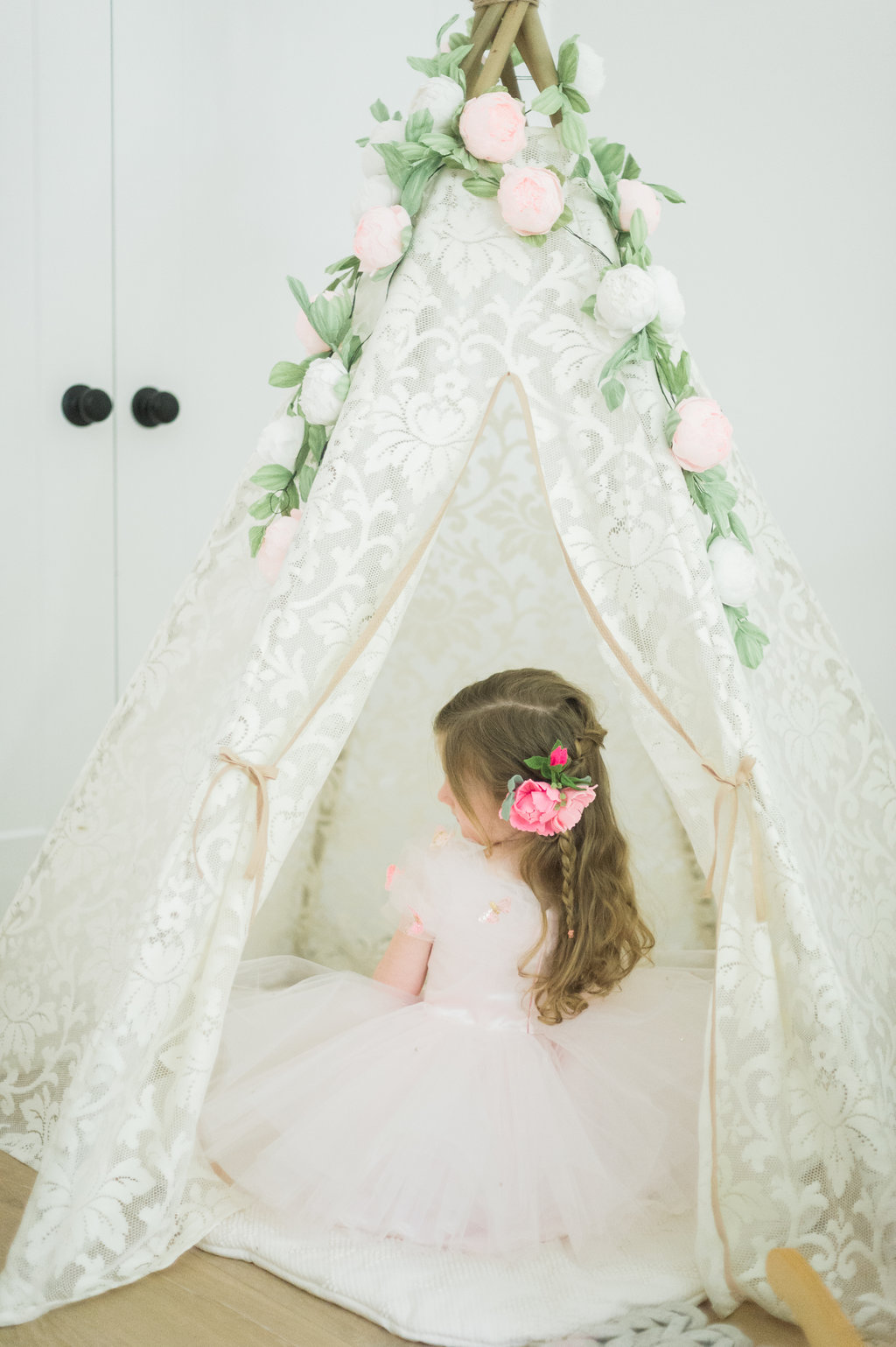 4) Little Girls Room Ideas with Purpose: Handmade Dolls
I got rid of a ton of their stuffed animals and kept the creative handmade ones. P's favourite is her sock monkey…in fact she's got it with her right now, as I type. I love how you cherish something that is handmade while so many of kids toys today feel disposable and junky. I'm kind of obsessed with handmade dolls and stuffed animals. In fact, her new room is going to have its theme designed around them! If you live in Essex County, I get mine from Morning Dew Wild She made the sock monkey and their unicorns!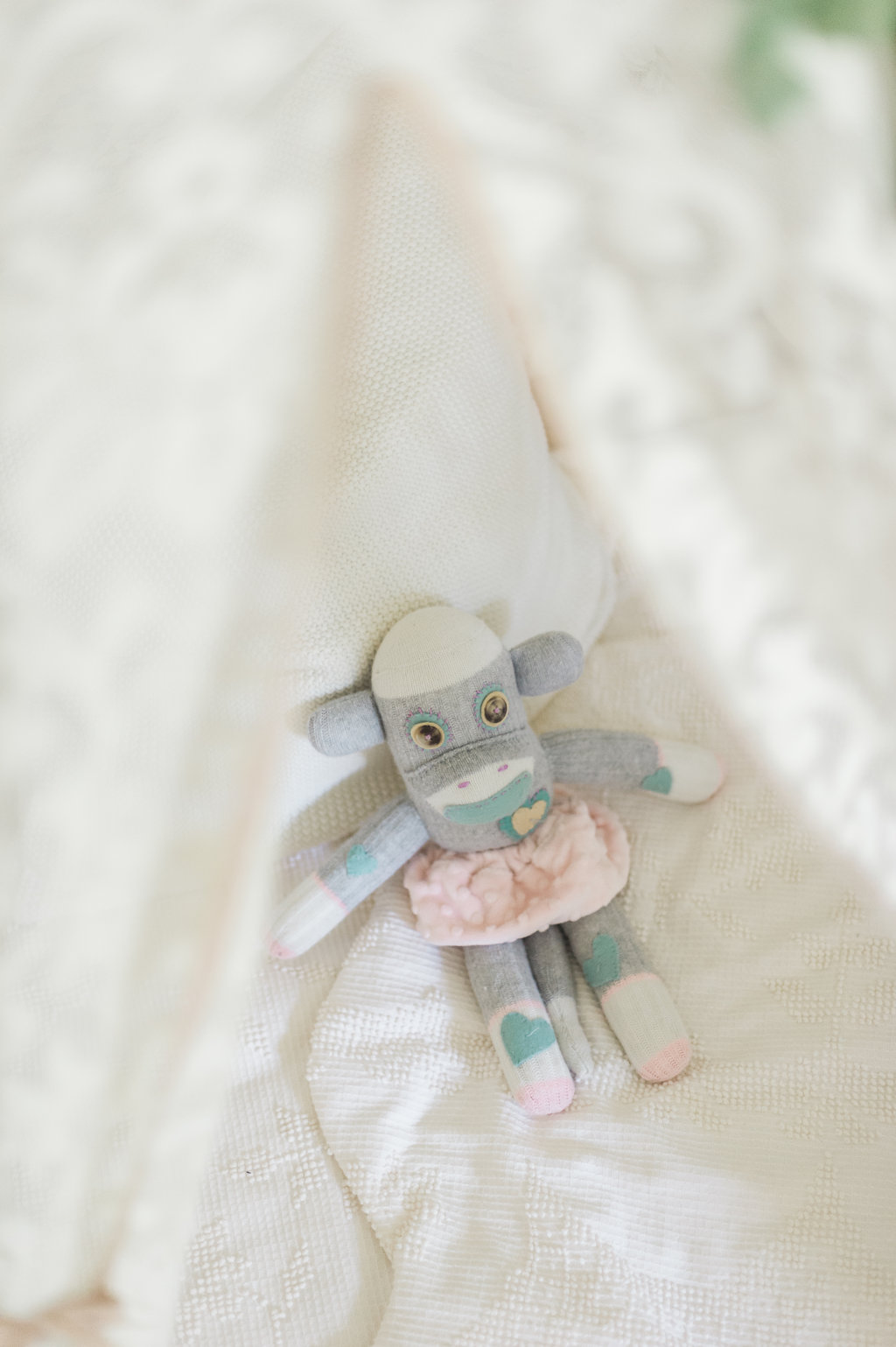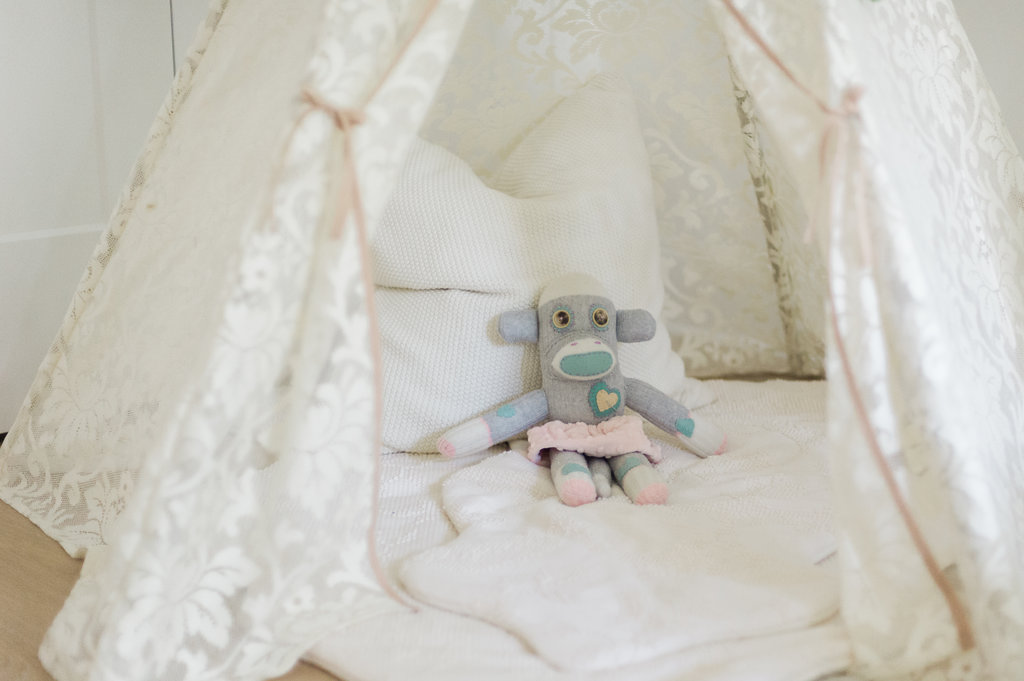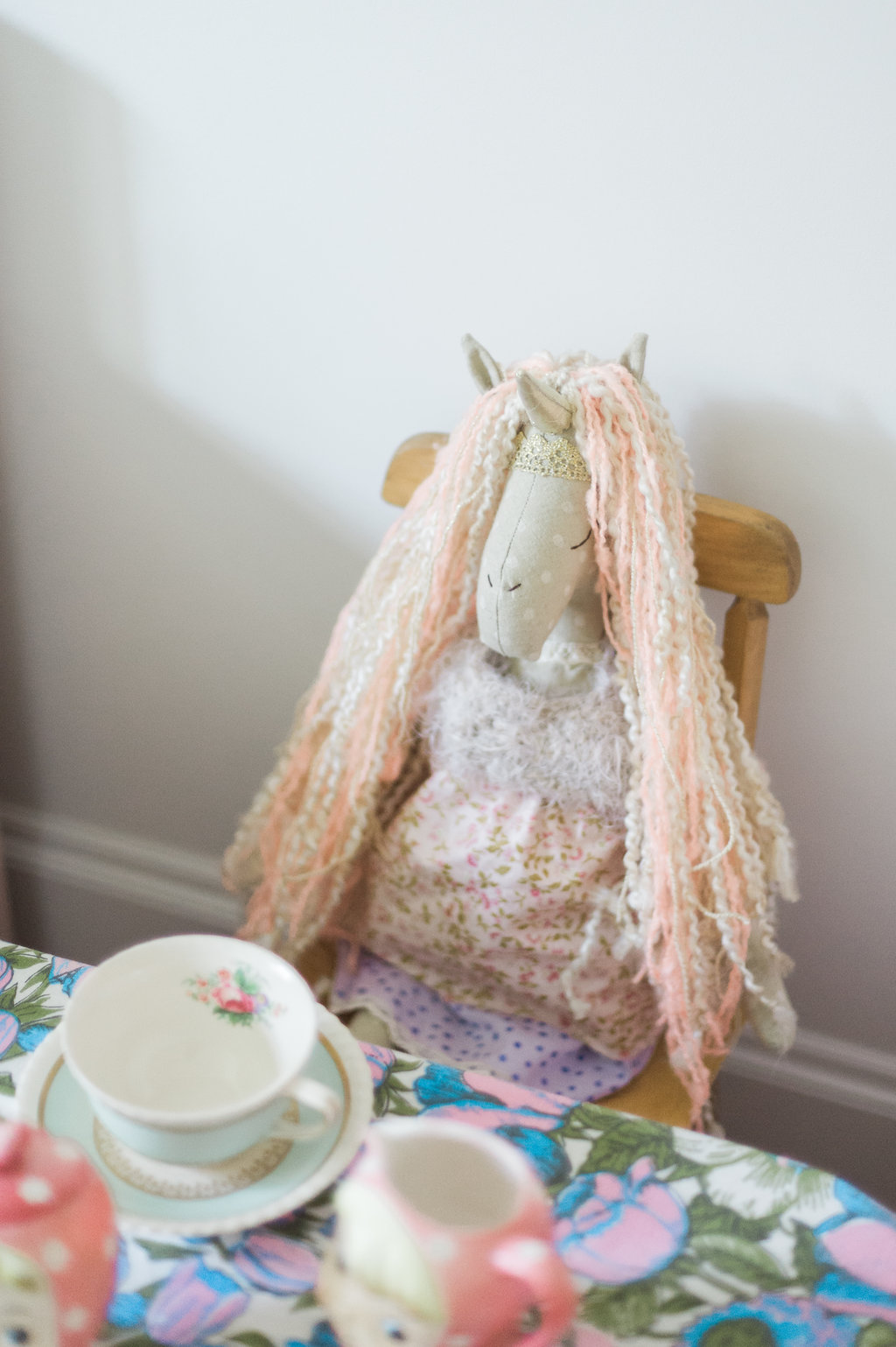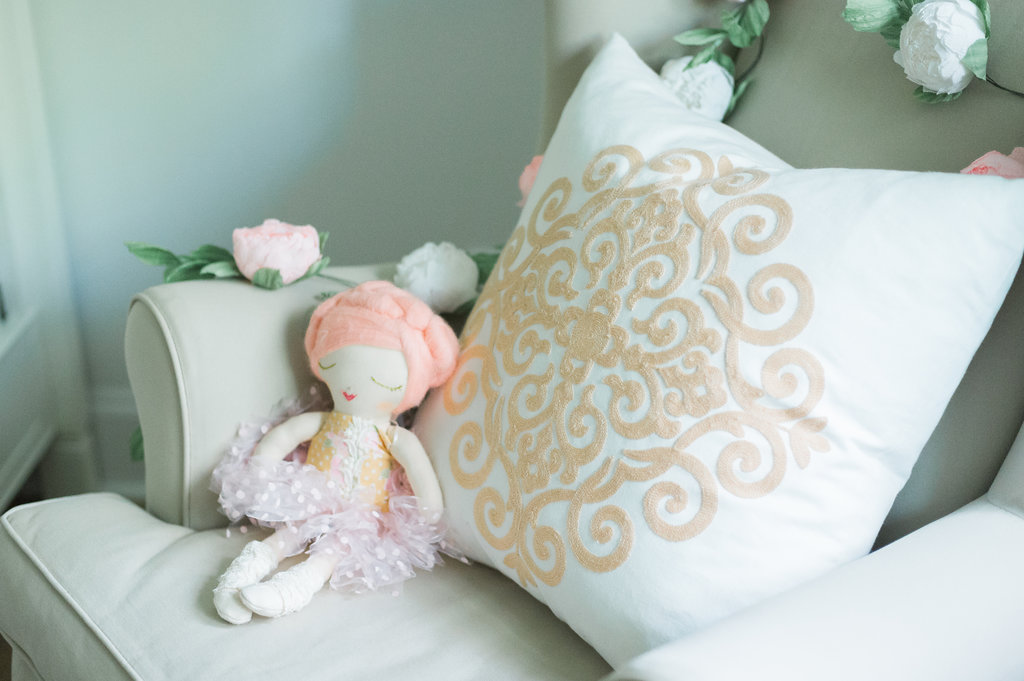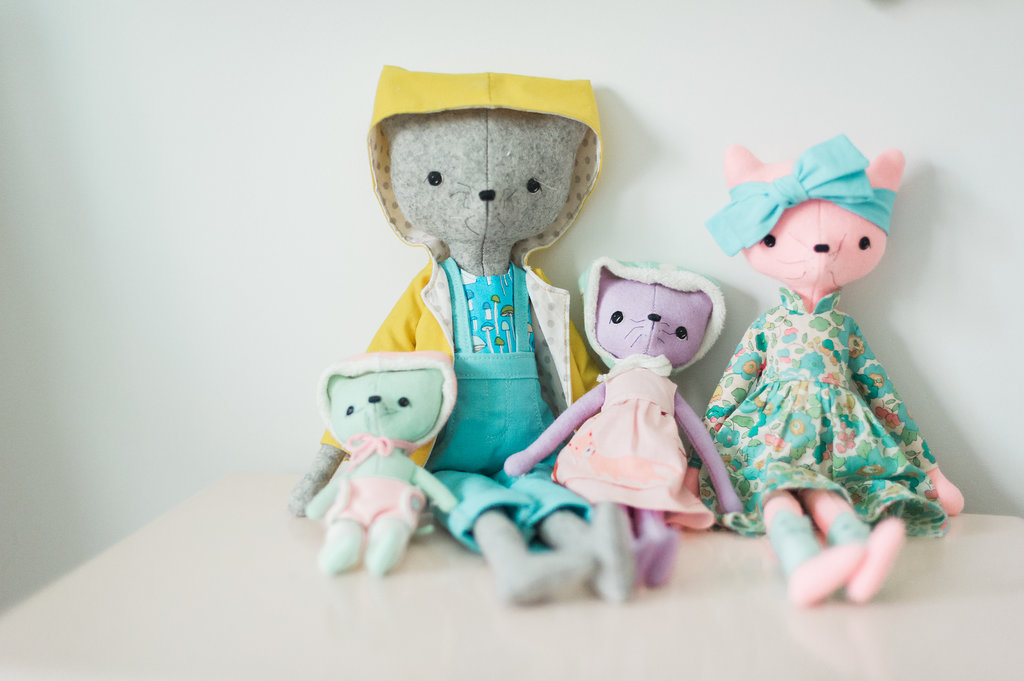 5) Little Girl Room Ideas with Purpose: Wardrobe Rack
The girls love their clothes and dressing up!! When the clothing and costumes were hidden away in a closet they weren't really bringing anyone joy, so with purpose, I selected the most fun pieces and got a wardrobe rack for the corner of Penelope's room. Now there is a gorgeous focal point in the space and their beloved costumes and outfits are beautifully displayed. I love the functionality of a wardrobe rack in a bedroom design, so much, that I did a separate post on this must-have piece and I've linked a bunch of wardrobe racks that you can purchase to get the look as well!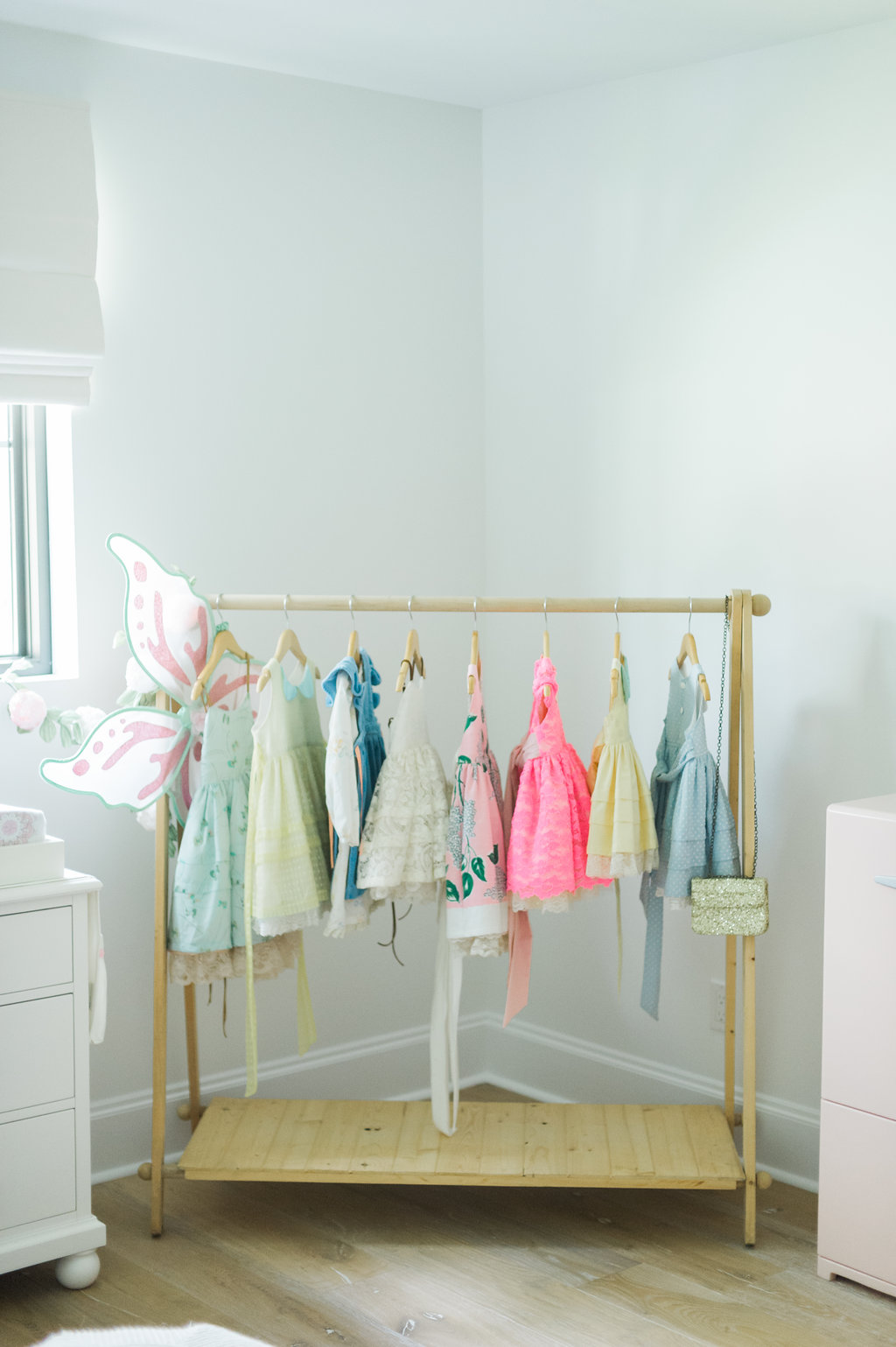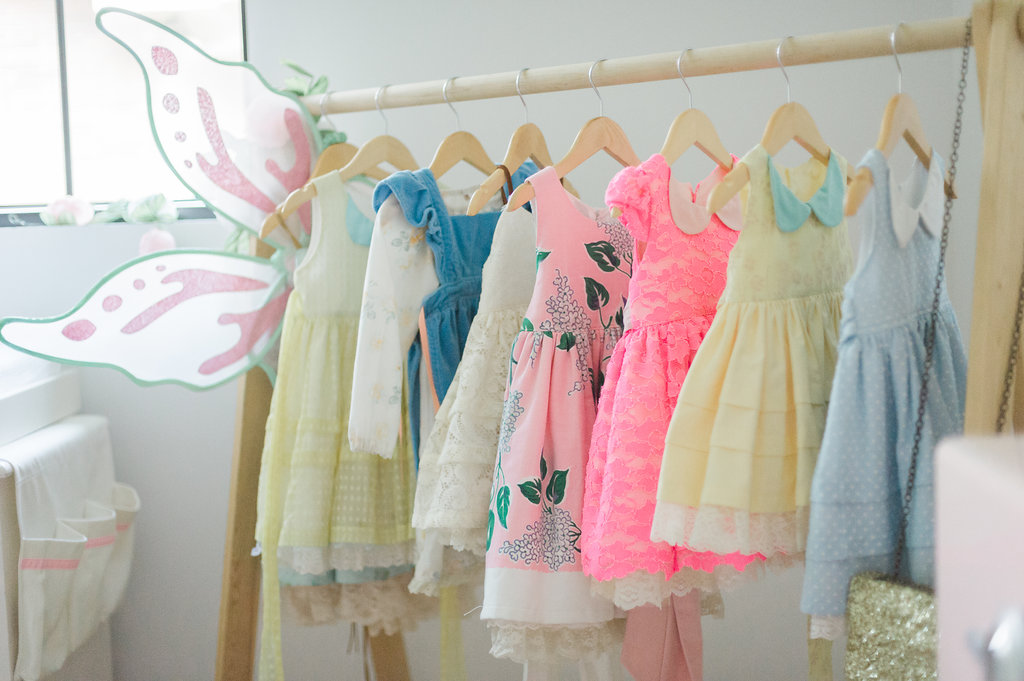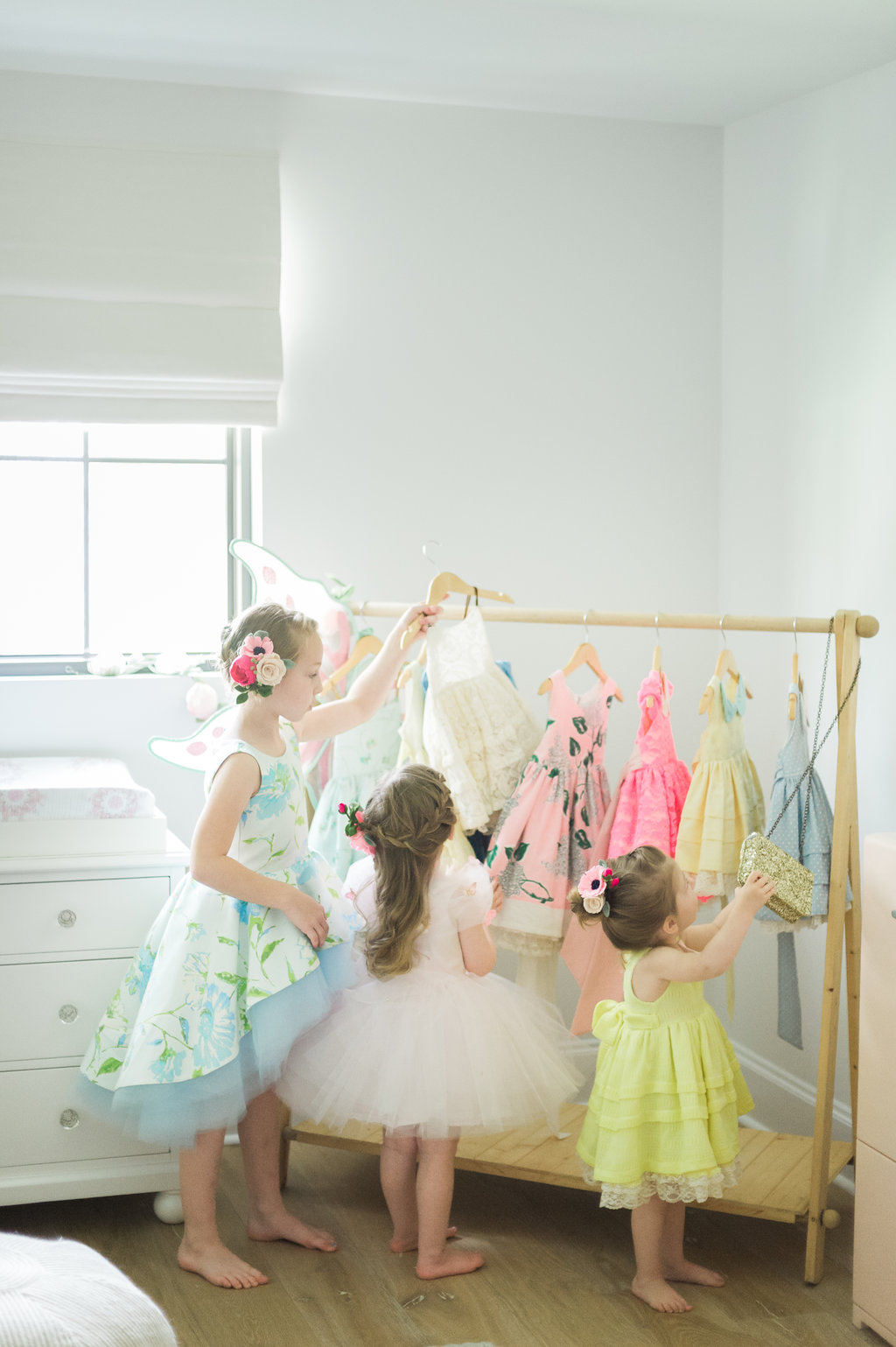 Here are some shots of the full space. I love this room because she can sleep and play in here and it's so easy to tidy because there isn't a million things in the space but what is in her room she loves and has spot for.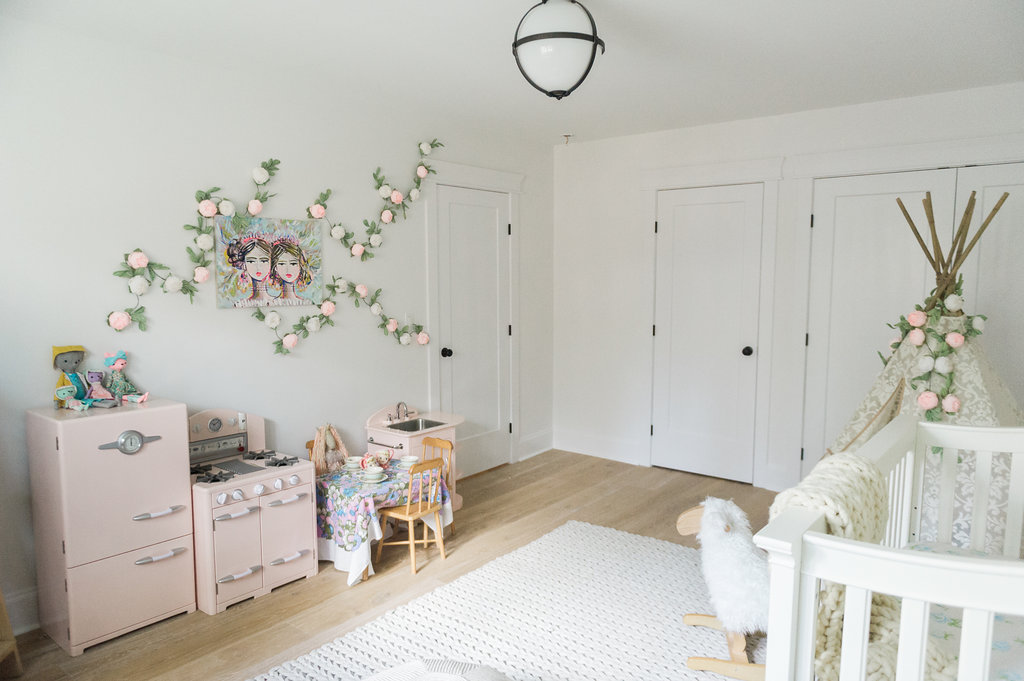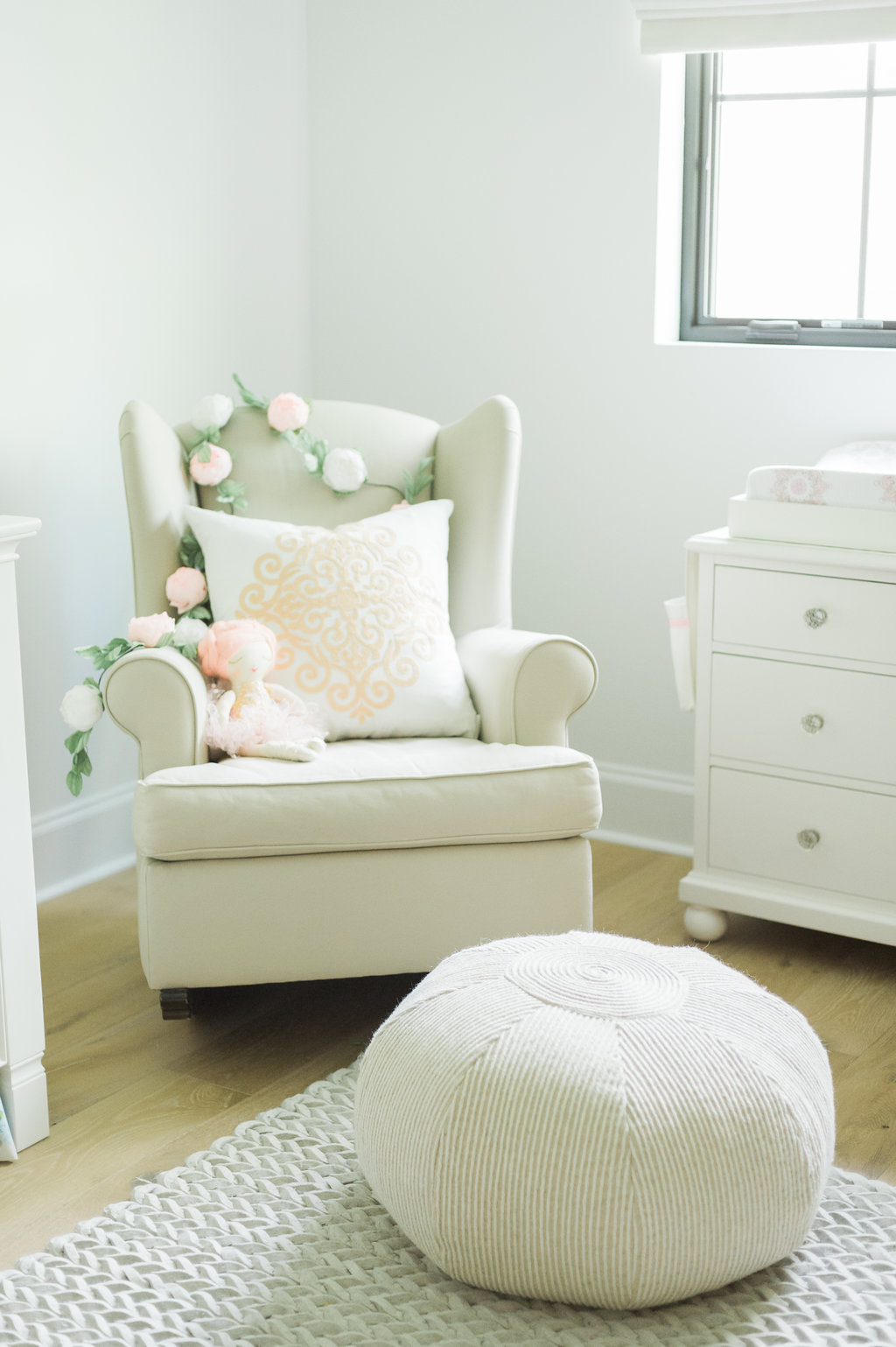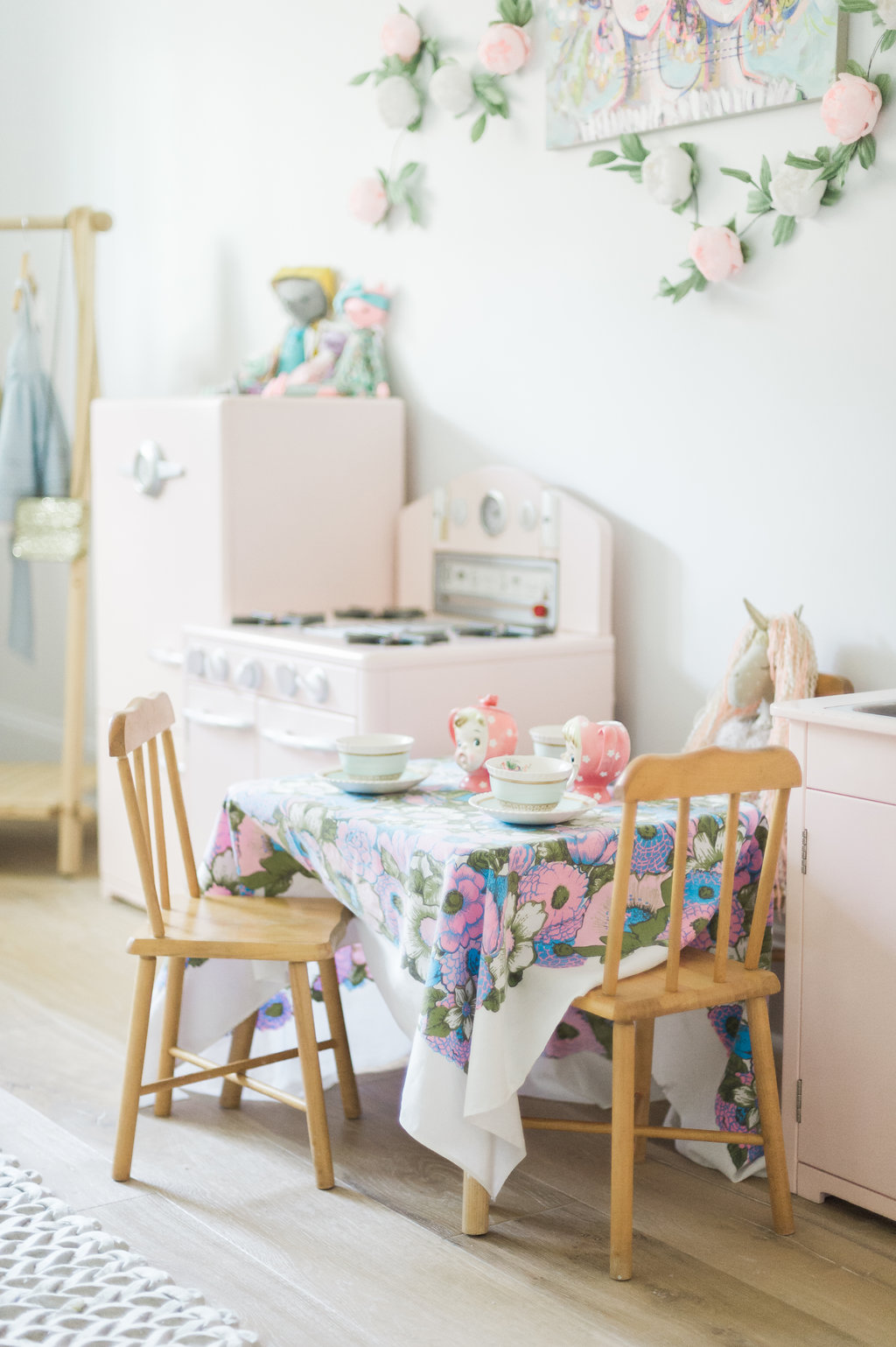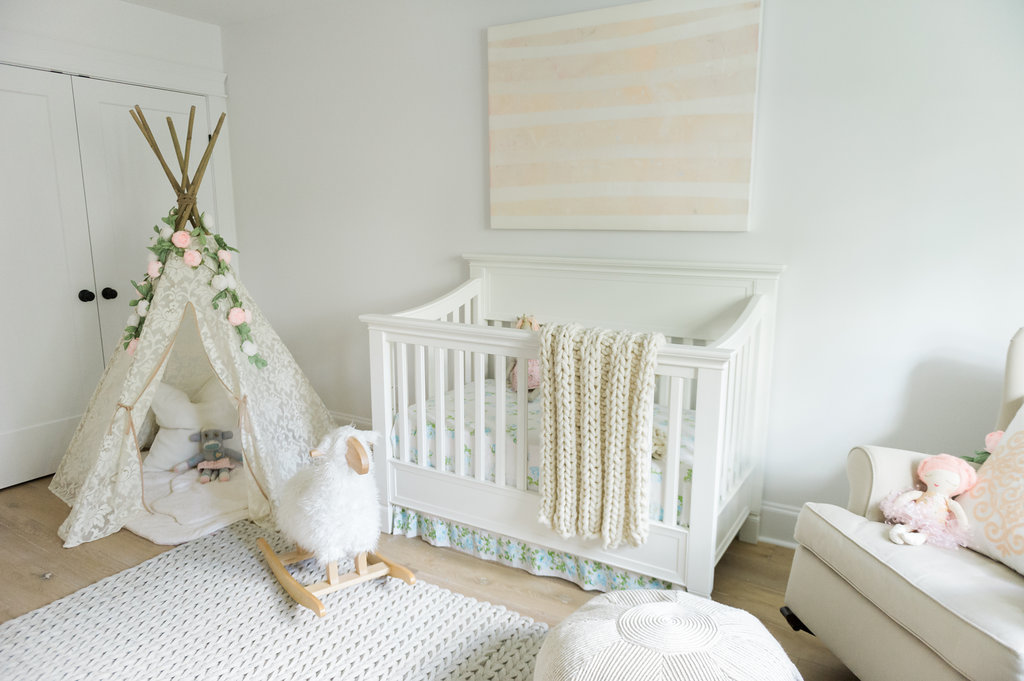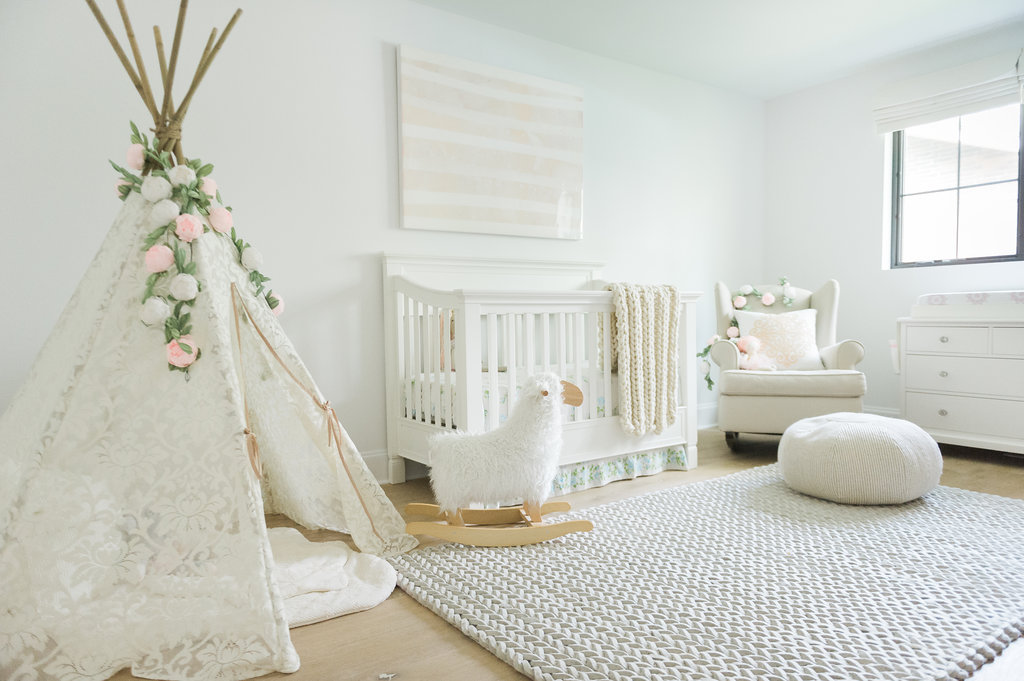 All photography by the super talented Vicki Bartel!!
Shop Penelope's Room
[show_boutique_widget id="632948″]