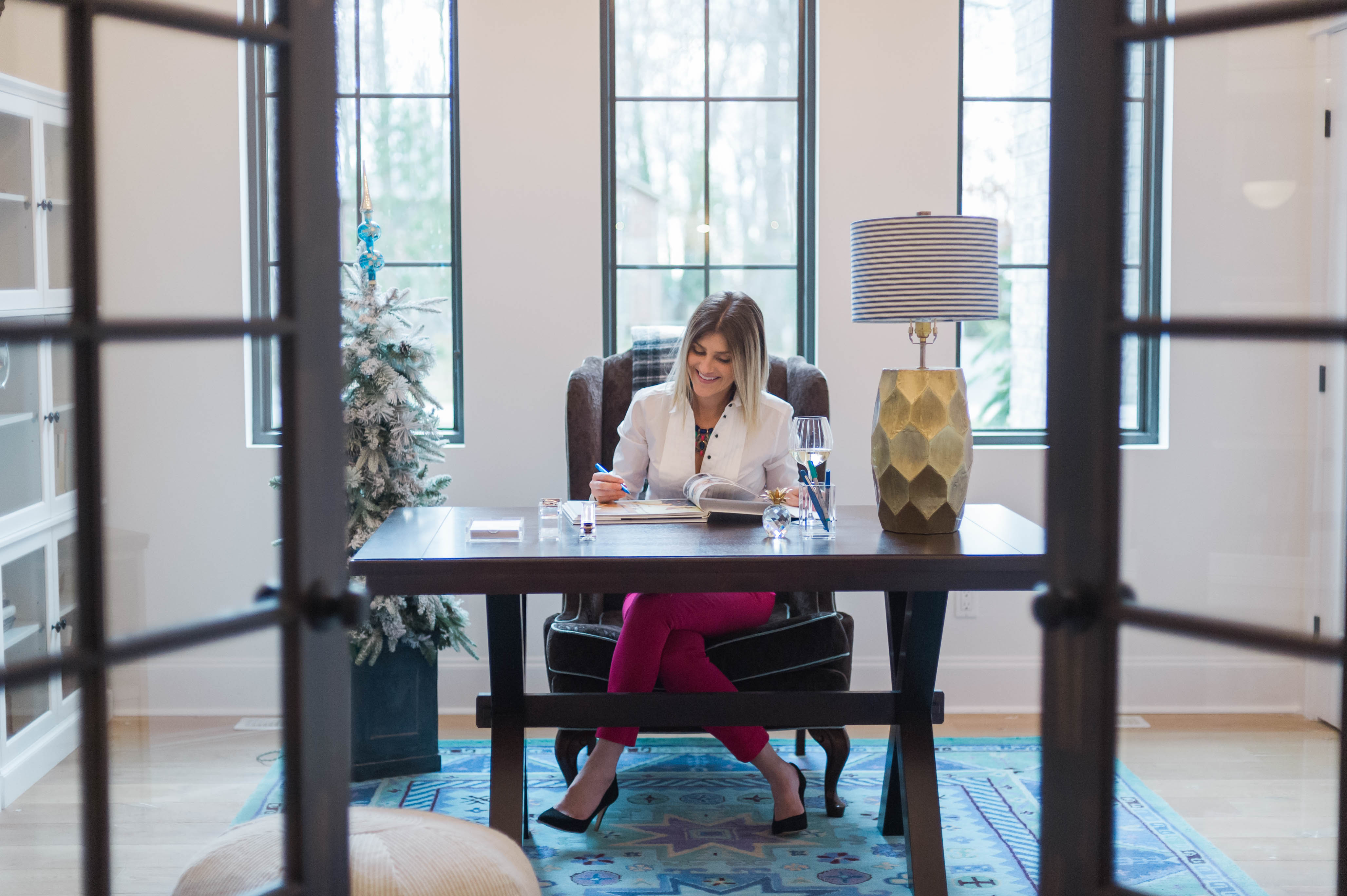 I first started sharing my interior design passion on Instagram in October 2015, so it has been just over a year and 30K followers since I started! But if you do the math, I have been renovating and designing SO much longer! What does that mean?: I had a passion and wasn't sharing. In case that sounds like you, I'm writing this post to help motivate you to share your passion. In this post you'll find the story of how I made myself start sharing, as well as real people and resources that motivate me and can motivate you, so please read to the end!
It took me so long to get up the courage to share my work because of a few myths that I was carrying around.
The Fears (…that are actually MYTHS!!!)
There are already too many design Instagram accounts and bloggers, so there's no room for me.
I won't have anything important or different to say.
Why would anyone be interested in what I have to say, if I don't have a degree in design or real credentials?
I have no idea how to use Social Media.
I'm starting so late, I'll never catch up.
I'm afraid of not being accepted and that people will criticize or not like my ideas.
Ok now I'm going to admonish every one of those myths above that kept me quiet for a long time. Everything written above (my worst fears) is completely untrue!!! There is space for everyone's unique take on their passion. Not a single feed or designer that I've gotten to know through Instagram has a degree in design! Like no one…not even a lot of the super professional designers don't…I swear! ( of course a couple do, but I'm telling you that all the big feeds that I work with have no professional background…just their passion.) Please don't think this advice is limited to design…I'm sure that food bloggers aren't trained chefs and that most fashion bloggers don't have fashion degrees either…it's all wide open…thank you SO much Internet and Instagram for blowing a huge hole through that entire degree stuff…we're all so lucky!
New accounts are started everyday and they are growing quickly, just like you will. Last but not least, the Instagram and blogging community is the kindest community that I have ever belonged to. The people that I have met have turned out to be great friends and the relationships are so strong…you won't believe it until you see for yourself, but bottom line: people do not criticize but build you up. Of course there are a couple trolls but it's like 0.000001 percent of the people you'll encounter.
Share Your Passion: Just Start
I don't know how else to motivate you other than to say that you need to make yourself do it. How I made the jump was by telling myself that I had to give it my best shot for two full months and if nothing came of it I would at least have tried my best. You can't post one photo or one blog post and expect results. I did that kind of "start-stop" type of posting both in Instgram and with my blog and it doesn't work. You need to be all in and post regularly. So for starters, every morning and every evening. I post around 8:30 am and the same time at night. It varies from day to day but that's pretty much my timing. Sometimes I get down on myself and overwhelmed and I stop posting for a week or so, and sure enough, my account immediately stops growing. Consistency is KEY! You won't grow if you don't share content. So, give yourself a big time frame, 2-3 months for example, that you're going to give it your all and then evaluate at the end.
Follower Count
Celebrate every milestone. Getting your first followers is the hardest part! Getting to 1k is harder than 10k because the beginning is the hardest….so push to that initial 100 followers and then 500 and truly celebrate the first 1000k because anybody who knows social media knows that the initial growth is the hardest and that you deserve to be very proud of yourself.
Document Everything about Your Passion
The best advice that I can give someone who is watching and wishing they were sharing their passion is to document like you already are a blogger, and I mean constantly. Photographing all of my work was my one saving grace. I photographed everything that I ever did because I had always wanted to start a blog. On the day that I started my two month Instagram explosion, I didn't even have a house! It's true!
We were renovating the home we're in now, and there was an entire year where I didn't have content and I used all of my past photos (which were so many you wouldn't believe it) and I built my following to 10K without a home. So even if you're too shy now, I can't stress this enough: document everything you do and you can still use it once you've gained the courage.
Resources to Get You Motivated
If you're really wanting to get up the courage to share your passion and you can't find it within yourself you can get motivated by some of MY favourite people in the world! Honestly, the best advice I can give is by sharing a couple people that I have been fortunate enough to run across.
Watch:
Gary Vaynerchuk on You Tube….I mean anything you can get your hands on- because it's all so valuable for building a brand and for staying motivated.
My husband and I literally quote Gary Vee everyday. It's insane how much I muster up courage to do things by first giving myself a Gary pep talk. This is a true story…I work on blogging and Instgram posts over my lunch hour but while I'm eating and can't really do much…for those 10 minutes I watch Gary everyday at lunch and get super pumped up to keep hustling. I watch everything he posts but if you're new to him I started with his keynote speeches. One of his mantra's that I love is to not waste time on trying to improve your weaknesses, but to put all your effort into fostering your strengths. This was HUGE for me. Our society is all about self-help and improvement and the idea of just tossing aside what you're not good at in favour of putting all your time into what you are good at just makes so much sense to me. I could go on about the positive change that Gary has made in me forever…so just have a look.
If you are already a blogger / instagrammer, I loved this video that was about the importance of Documenting vs. Creating. This video really inspired me to start sharing candid photos and taught me that things didn't have to be perfect but that putting content out trumped everything. Looking back now, my most liked picture on Instagram was a candid shot of my littlest daughter vacuuming. Not only is the shot not set up but it's taken at night and therefore dark compared to my aesthetic, which also had me crazy trying to make sure that each picture was bright enough. So everything went out the window when I got up the courage to post this documented photo (pictured below). I mean some of my photos were like setting up for a wedding, so I'm so glad that I learned that valuable lesson. I was so caught up in posting final images that I missed the process.
I'm really excited about my next home renovation because I'm going to do so much more documenting versus creating. Also, it really encouraged me to share on Instagram Stories more…I've slowed down on "Stories" and I need to get back into it, it's a great way to get lots of content out. He recommends sharing 10-20 times a day and I really need to up my game and make some goals for myself. Can't stress it enough…he can motivate you…so check him out!
The above photo is the "most liked". I'll link the runner here…because I know you're going to ask! It's the best ever!
Read:
The Sell by Fredrik Eklund
I first fell in love with Fredrik's passion watching Million Dollar Listing New York because buying and selling houses is a massive part of who I am…but this book has even more to offer in terms of motivation.
The book literally covers everything that makes Fredrik a success and I learned so much. One of my favourite sections was on naysayers and negativity. I have dealt with a ton of negativity from "friends" and "family" who are no longer friends or family. On the road to success you need to cut all kinds of toxicity out and there was incredibly pertinent advice on this topic. I also love that he addresses physical fitness as part of success in any business and I'm taking that advice very seriously right now. Lastly, I loved how he pushed me to spell out my goals and WILDEST dreams and write them down…honestly they are all coming true and I thank him for the tools in this book daily!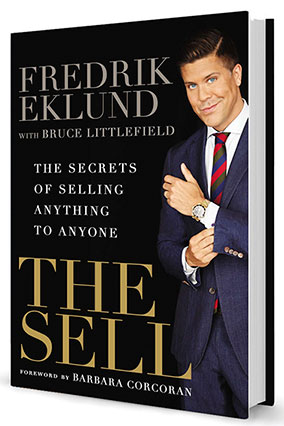 I hope you find these ideas motivating and I'd love to hear about your passions and who motivates you!