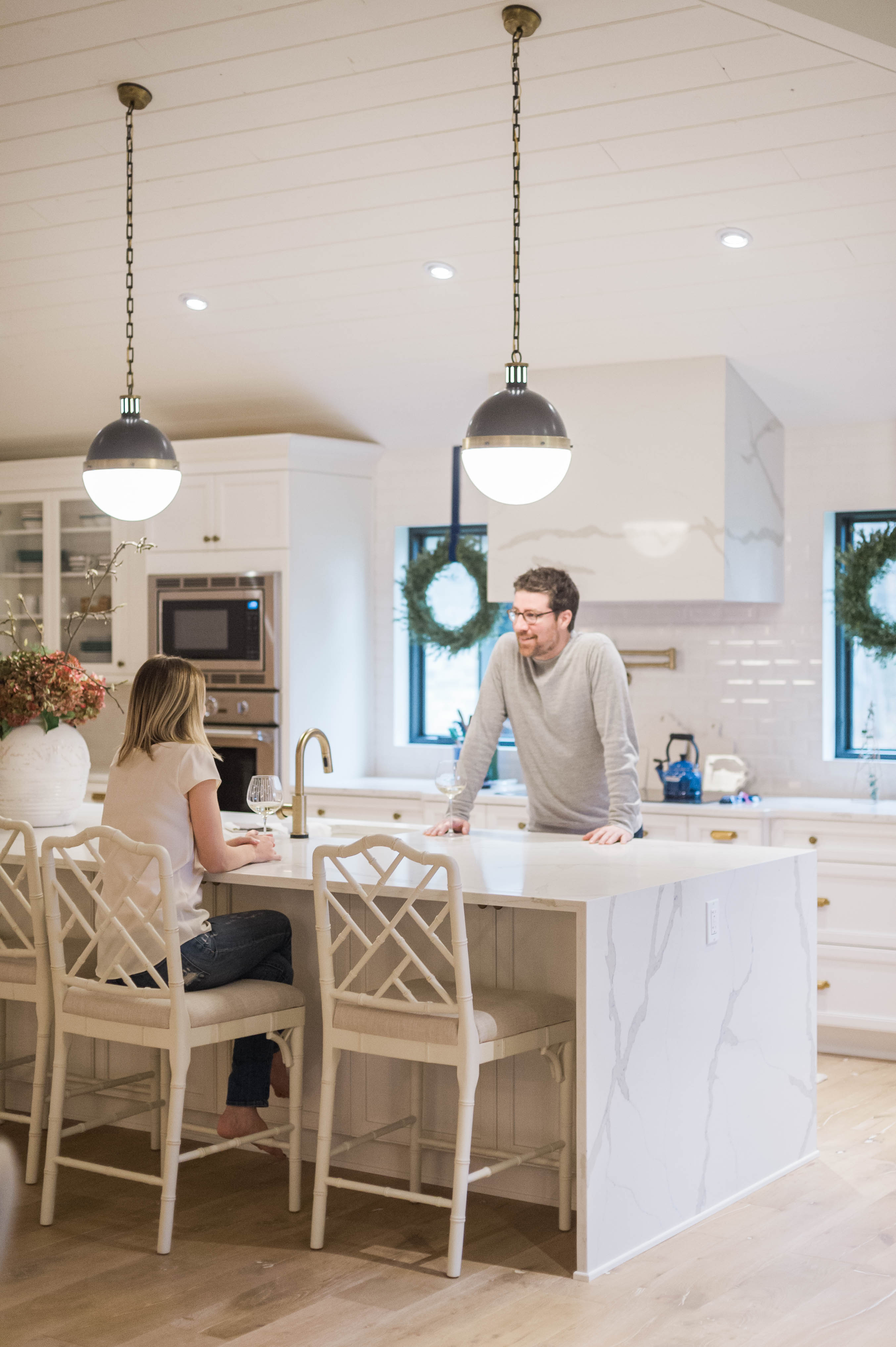 I'm writing this post, in honour of my husband Matt. I really want to share with you his secrets to healthy meal planning, grocery shopping, cooking, and how he archives his meals. He's so passionate about cooking and talented that he needs a little spotlight!!
My family and I are Vegetarians who also eat seafood, dairy, and eggs. I'm sure there is a some legitimate name for it like ovo-pescetarian? But the bottom line is we don't eat beef, pork, or chicken. I WISH we didn't eat seafood but as of today we do. I started eating this way 10 years ago and I haven't looked back. I began eating this way because I had a lot of stomach pain. In addition to the physical benefits, a friend recommended that I read a book that had a profound effect on me called, Diet for a New America by John Robbins.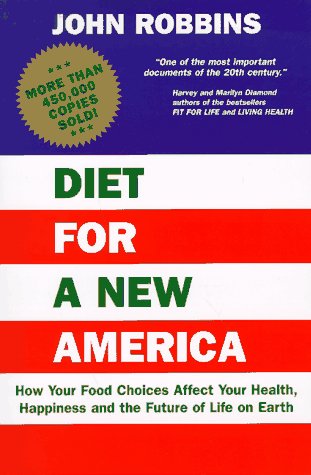 It's kind of crazy that this book was written in 1987 and his ideas are just really being talked about and understood now. It's an incredible and life changing book. The book looks at animals, how they are treated, and how that treatment affects us when we ingest meat, as well as the effects of the food being raised on the land and so much more. For example he talked about how as a result of the hormones animals are fed the majority of the animals have cancer and we are eating those animals. That idea is JUST being talked about now in pop culture food movies. It's so eye opening I can't even tell you…better than any of the trending documentaries that I have watched currently on the subject.
So not only do I feel better and I'm harming the environment less, but it helps me maintain a healthy weight….whereas before I would gain and lose weight and grow out of clothing. I was always afraid to try something on, not knowing if it would fit. Ever since I changed my diet, I stay the same within about 5 lbs. I usually gain those 5 lbs, find that my clothes feel tight, and then cut out the late night vegan nachos!
Side bar- My one and only tip about weight is to change your ways before your clothes don't fit and no matter how "uncomfortable" those extra Christmas lbs may make your clothes feel…don't buy new larger clothes when things feel tight…I just deal with the tightness while I work on making things looser. It's really key to catch yourself before it becomes the new normal. However, I attribute the ability to maintain a healthy weight completely to eating, mainly, a plant based diet.
My kids eat the same way and my husband does, mostly. He does however eat meat when he craves it, which is completely fine…I just don't crave it.
In my home my role is the motivator. Everyday I'm thinking about a new thing that we could "work" on or be better at. It's kind of a really annoying curse because I always think we could do better at everything…but it's a bit of a blessing because our vices never get too out of control. Matt on the other hand is the take-action-do'er! If it's an issue with cooking he's all over it! In fact he's out doing our weekly grocery shopping with our daughter right now, while I'm typing!
Weekly Groceries
Matt makes a master grocery list after creating a list of meals that we'll eat for the week. The master grocery list has every single thing on it that we need to make the entire week's meals. He loves to cook! (I'm so lucky!!) He organizes the list by section in the grocery store so you're not running back and forth. His categories are produce, dairy, cans/boxes, bread and lastly the stuff at the Bulk Barn which is a separate store. Sorry that this pic is all scratched out but he scratches once we get the things. If he couldn't get something the list goes on the fridge until we get it all. (by "we" I mean "he" lol!)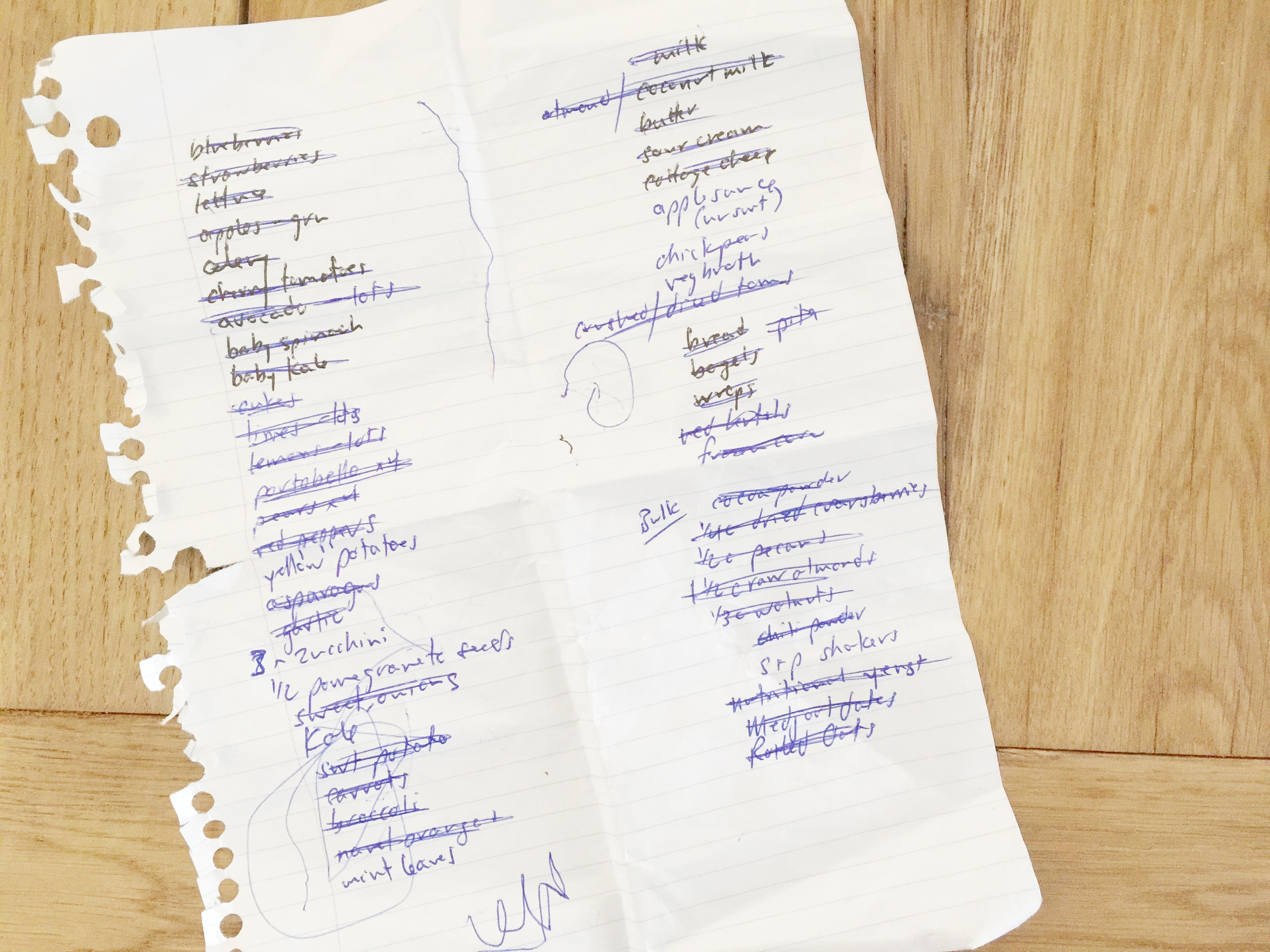 Meal Planning For the Week
Sunday morning, Matt buries himself in his 30 or so cookbooks and curates a menu for the entire week. He loves recipes…finding them, trying them…we just like eating them! We often yell out something we'd like and he jots it down. Cooking and cookbooks are Matt's happy place. Sunday afternoon he grocery shops for the entire week. No matter who does the cooking/shopping I think planning on the weekend and getting the shopping out of the way is an awesome idea.
Throughout this week, on Instagram Stories, I'll show us cooking and prepping the food. At the end of the week I'll update this post and show some photos of the actual food we made (no food stylist here!) and talk about tips and tricks for the recipes. My husband loves to write down, in the cookbook next to the recipe, his notes and a rating for the recipe. For example he'll write to add an ingredient or to double the batch, or he'll cross a big line through the page if we're never going to make it again.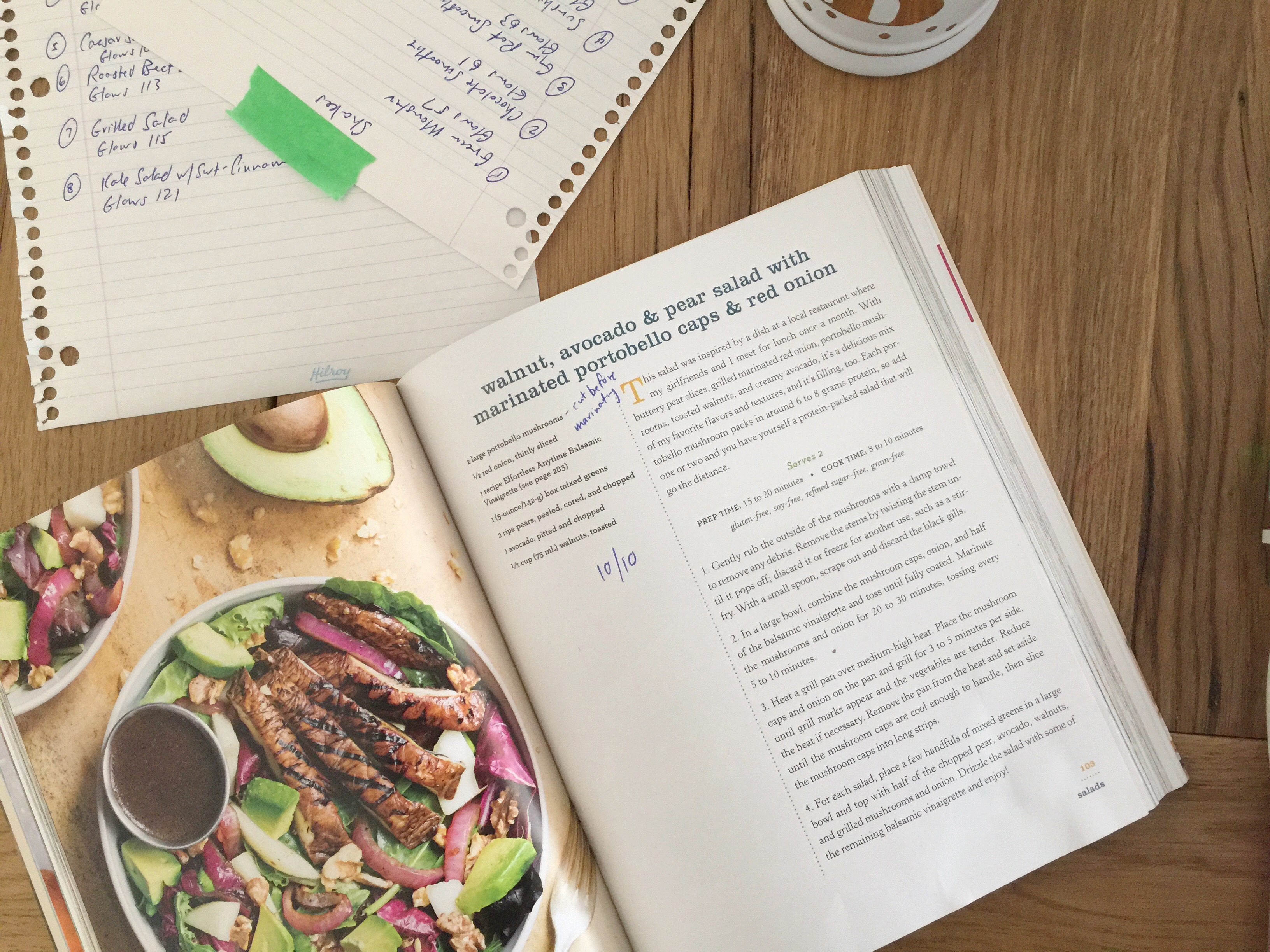 In this note he wrote, "cut before marinating". In the cookbook it said to cook the portobello mushroom and then slice before serving, but he sliced it before he carmelized it in the pan, so that he could get more carmelized goodness surface area…very smart guy! lol!!
You'll notice that when my husband meal plans, he lists a bunch of meals and then it's up to us to pick what we feel like that night, since he's already got the ingredients for everything that week. He posts the recipes in the cabinet door so we can take a look if we're wondering what our options are. It's nice to post the list on the fridge, if you have magnets.  At the bare minimum he picks 5 things to make, so there is a dinner every night and we take leftovers for lunch.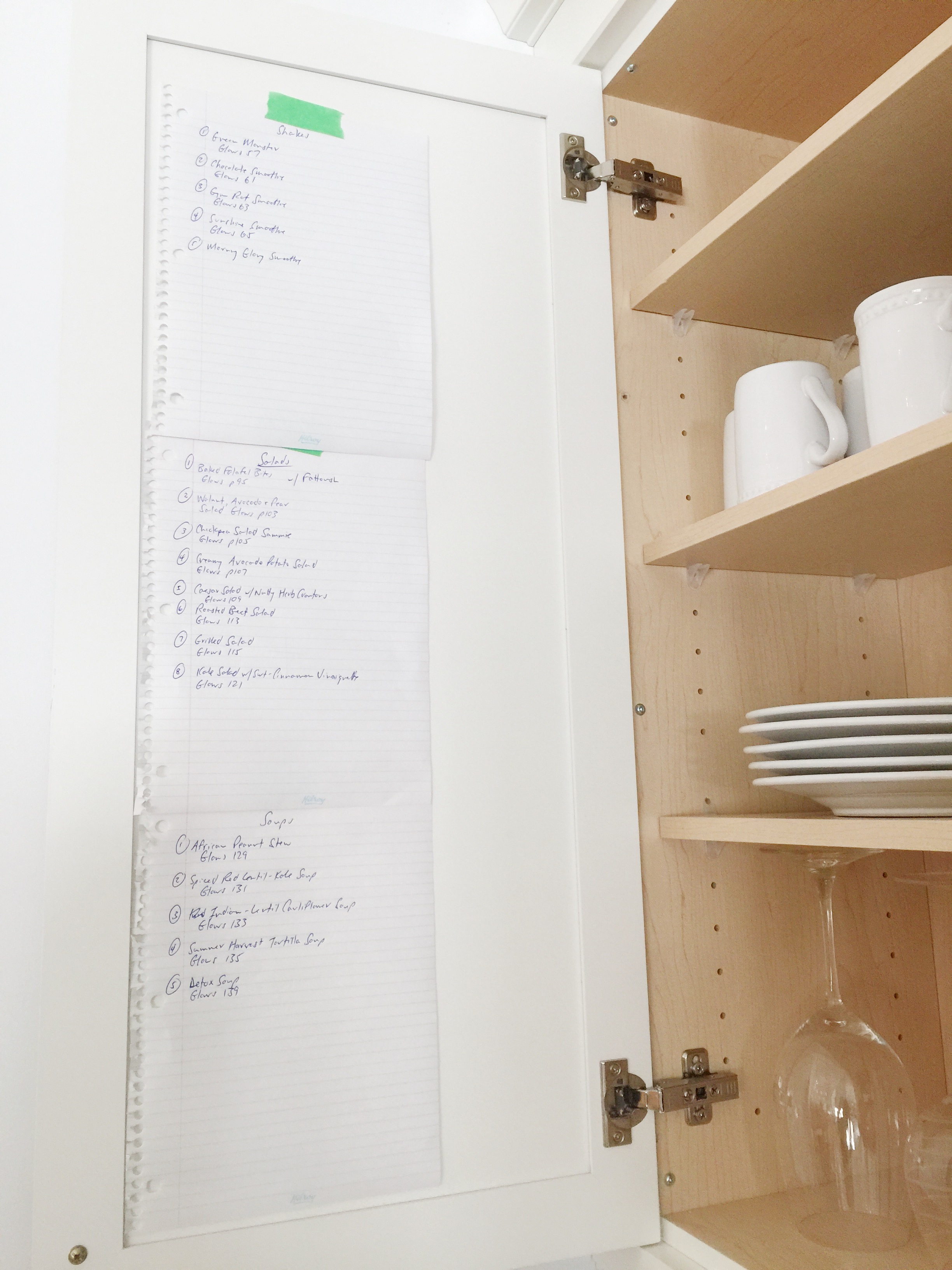 This week in honour of over indulging over the holidays, he's making an entire week of shakes, soups, and salads. Every recipe is from a new cookbook he bought called, The Oh She Glows Cookbook by Angela Liddon. He recently made the Walnut, Avocado and Pear Salad with Marinated Portobello Caps and Red Onion salad from it and I almost died because it was SO good! (the cookbook page from that salad is pictured above;))
Our cover looks like the one of the left, which is a Canadian edition I believe.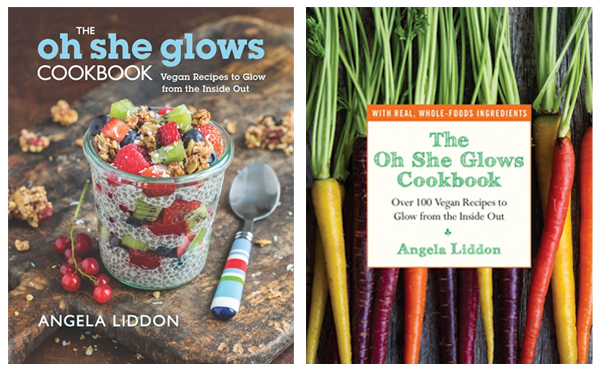 Matt usually works from a bunch of cookbooks, so he'll write the title of the recipe and the book that it's from and page number on his master list that he posts in the kitchen for us to choose from.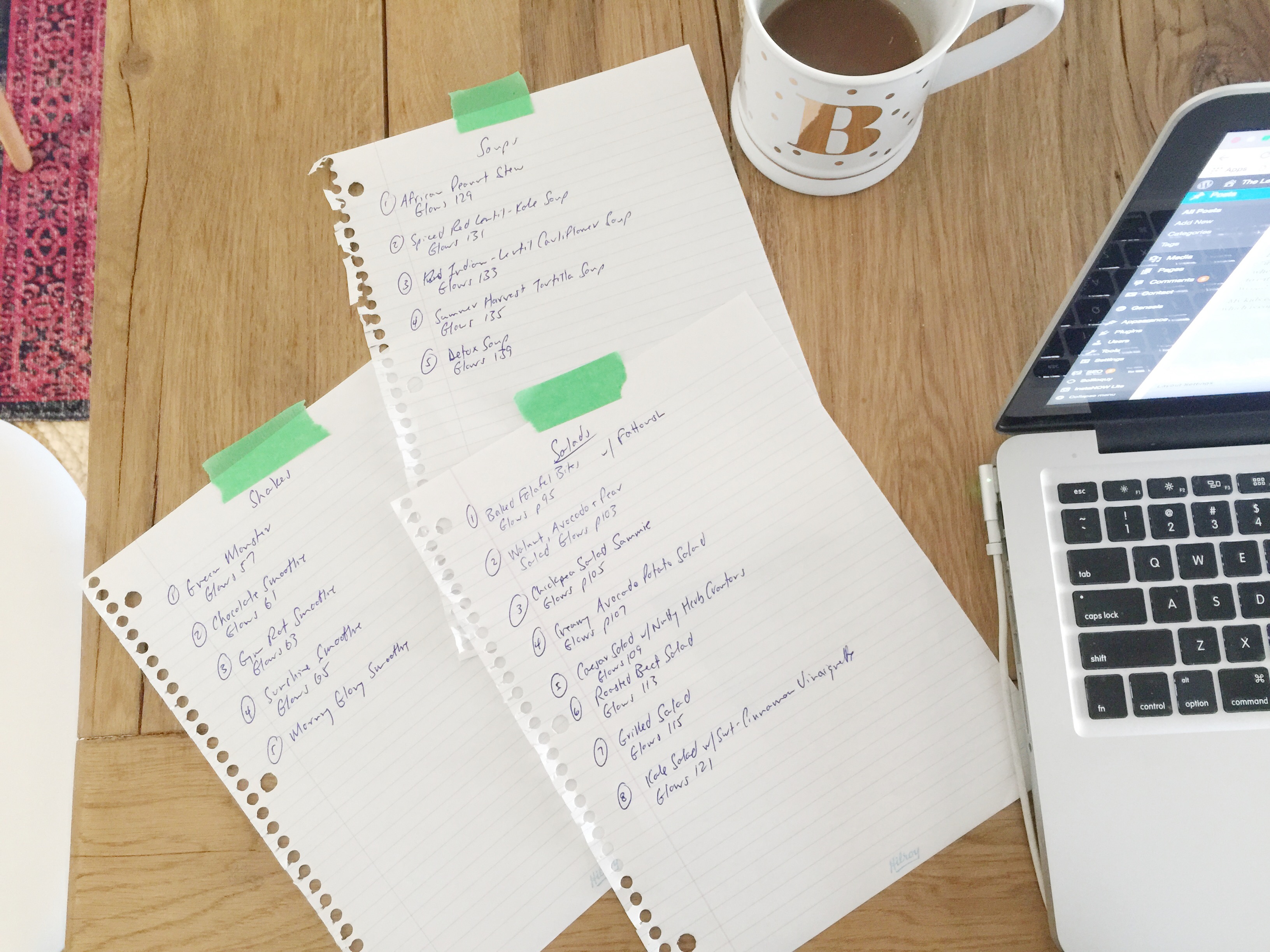 This Week's Recipes
Shakes
Classic Green Monster  pg 57
Cheerful Chocolate Smoothie pg 61
Gym Rat Smoothie pg 63
Flu-Fighter Sunshine Smoothie pg 65
Morning Glory Smoothie pg 66
Soups
Soul-Soothing African Peanut Stew pg. 129
On the Mend Spiced Red Lentil-Kale Soup pg. 131
Indian-Lentil Cauliflower Soup pg. 133
Summer Harvest Tortilla Soup pg. 135
Eat Your Greens Detox Soup pg. 139
Salads
Baked Falafel Bites  pg. 95,  Fattoush  The Complete Vegetarian Cookbook America's Test Kitchen p.277
Walnut, Avacado & Pear Salad with Marinated Portobello Caps & Red Onion pg 103
Perfected Chickpea Salad Sandwich pg. 105
Creamy Avacado-Potato Salad pg. 107
Chakra Caesar Salad with Nutty Herb Croutons pg.109
Roasted Beet Salad with Hazelnuts, Thyme, & Balsamic Reduction p.113
Long Weekend Grilled Salad p.115
Festive Kale Salad with Sweet Apple-Cinnamon Vinaigrette & Pecan Parmesan p.121
Archiving
To know my husband is to know that he LOVES systems and organization! If gets a "keeper" recipe that we love and want to have often he puts it into an Excel spreadsheet that becomes part of his master "go-to" recipes. He categorizes the types of recipes, and lists the rating, the book title, and the page number. I'm serious he has so many cookbooks you wouldn't believe it! He prints the list and keeps it with his cherished cookbooks. We use these recipes when we have people over to entertain because it's all the best food that we would forget if we didn't have "The List!" We also use it for when there's no time to dig through cookbooks for new ideas.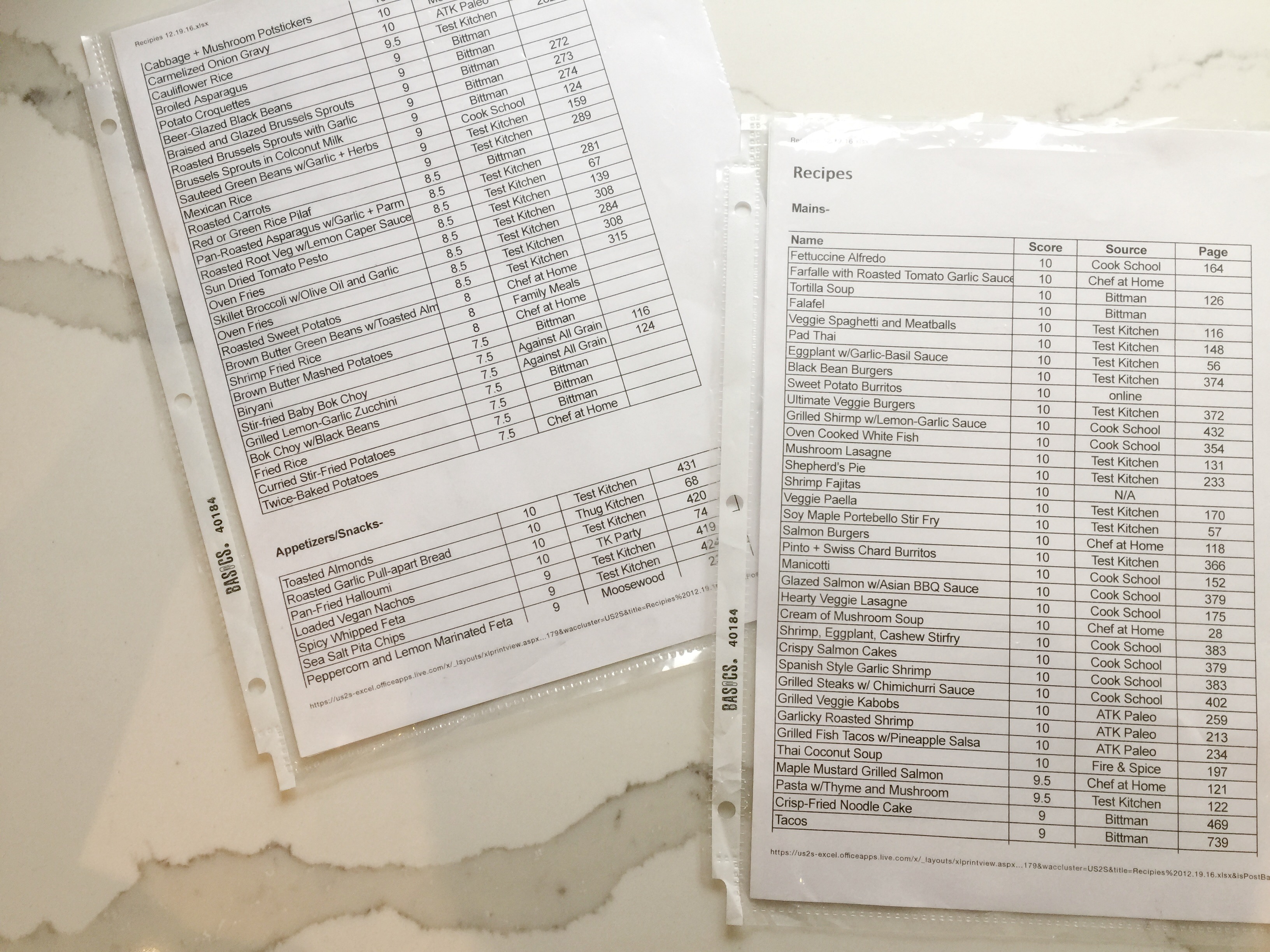 Matt's Favourite Cookbooks…trust him he knows his shit!
Cook's School America's Test Kitchen (Anything by America's Test Kitchen!! he has many)
Chef at Home Michael Smith (Canadian Legend….love him!)
Party Grub Thug Kitchen (oh my goodness…vegan party food…you're gonna die! all I have to say is cauliflower beer and lime nachos)
Moosewood Restaurant Favourites The Moosewood Collective (sweet potato burritos that change your life!)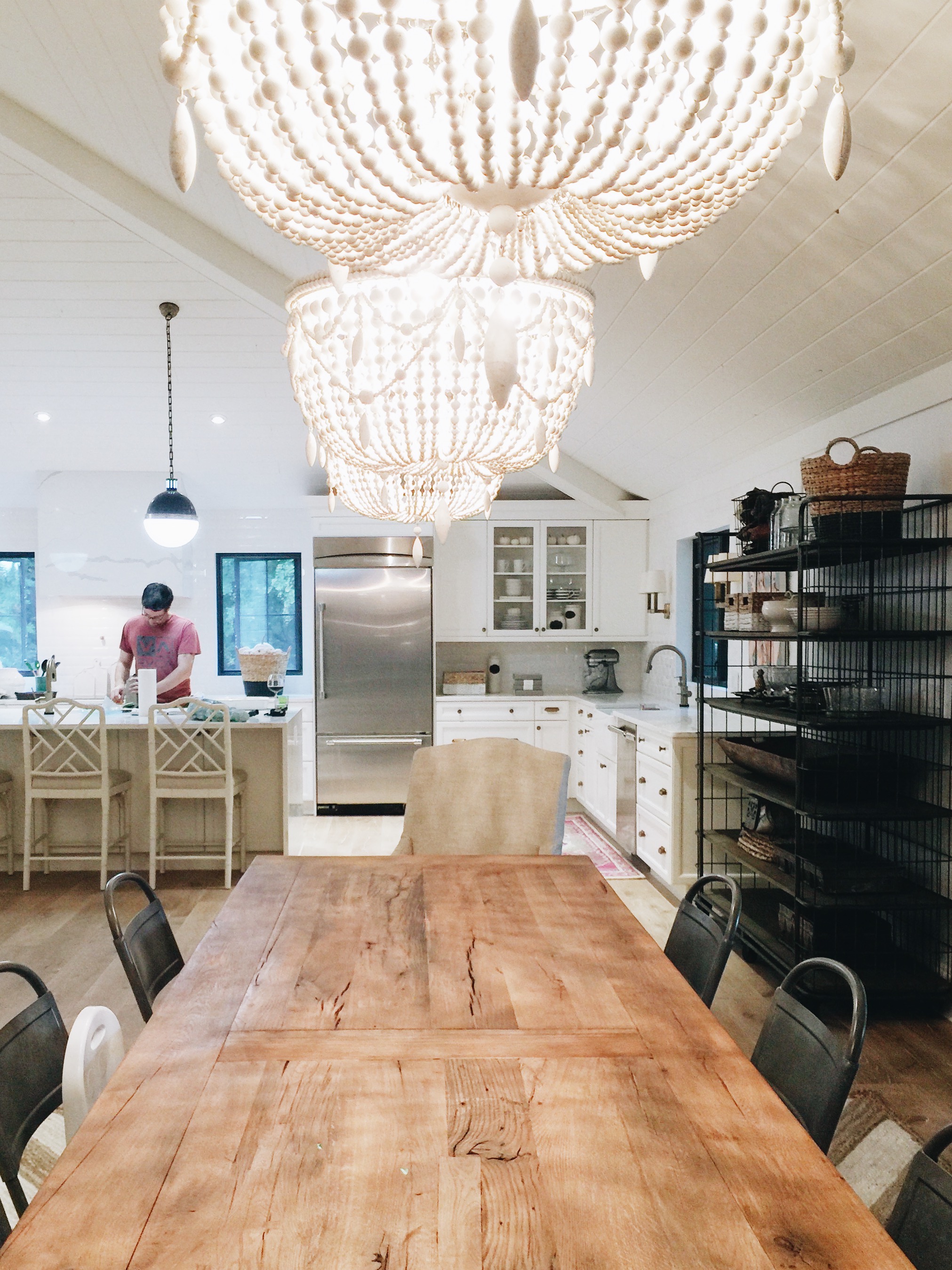 Ok towards the end of the week I'll start posting photos of the actual food we make with reviews of the recipes and tips, please subscribe so you can get all the latest right to your inbox and make sure you comment if you make any of the dishes!
P.S. here's a sneak peek! We just made the Cheerful Chocolate Smoothie and it was awesome!!! Here's a pic. The girls absolutely loved it!