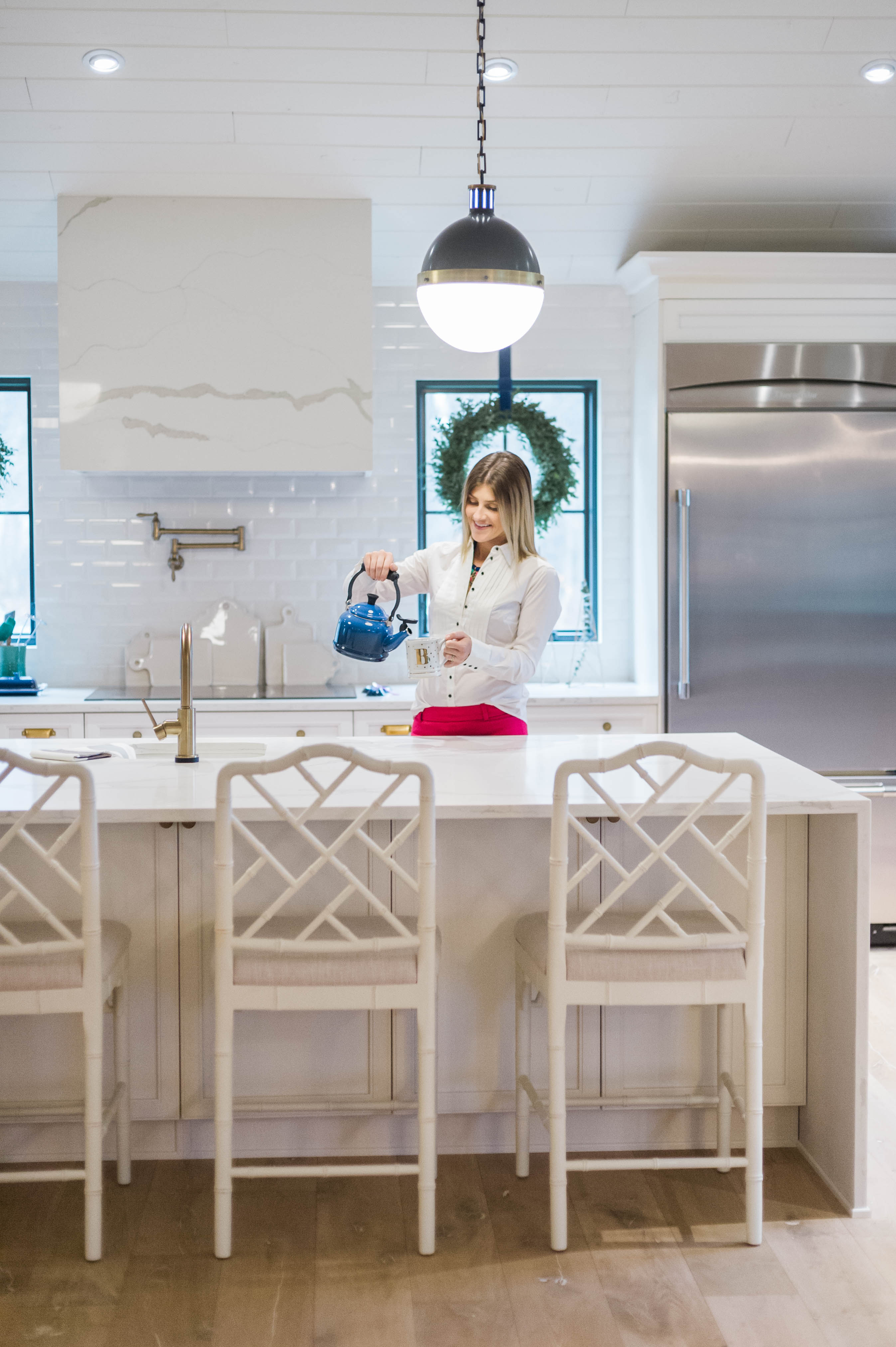 I'm really excited to share some of our holiday decor in the kitchen! If you've checked in with my last two Christmas decor reveals in the living room and dining room, you'll know that I don't want the holidays to influence my style or colour schemes, but just amplify them. So the 'pop of colour' in my favourite kitchen runner was the inspiration for the holiday decor in this kitchen. I wanted to mix together accents of blue, green, and magenta. A shot of my holiday kitchen is actually featured on Beckiowens.com in a post about how to decorate with holiday greenery! Seriously, such an exciting moment for me!!
My Favourite Holiday Decor in the Kitchen
My favourite holiday touches are the wreaths that hang in the windows beside the quartz hood. They are hung from blue velvet ribbon. Everyone keeps asking how they are hung. They are simply tucked over at the back and then nailed in from underneath with tiny little nails.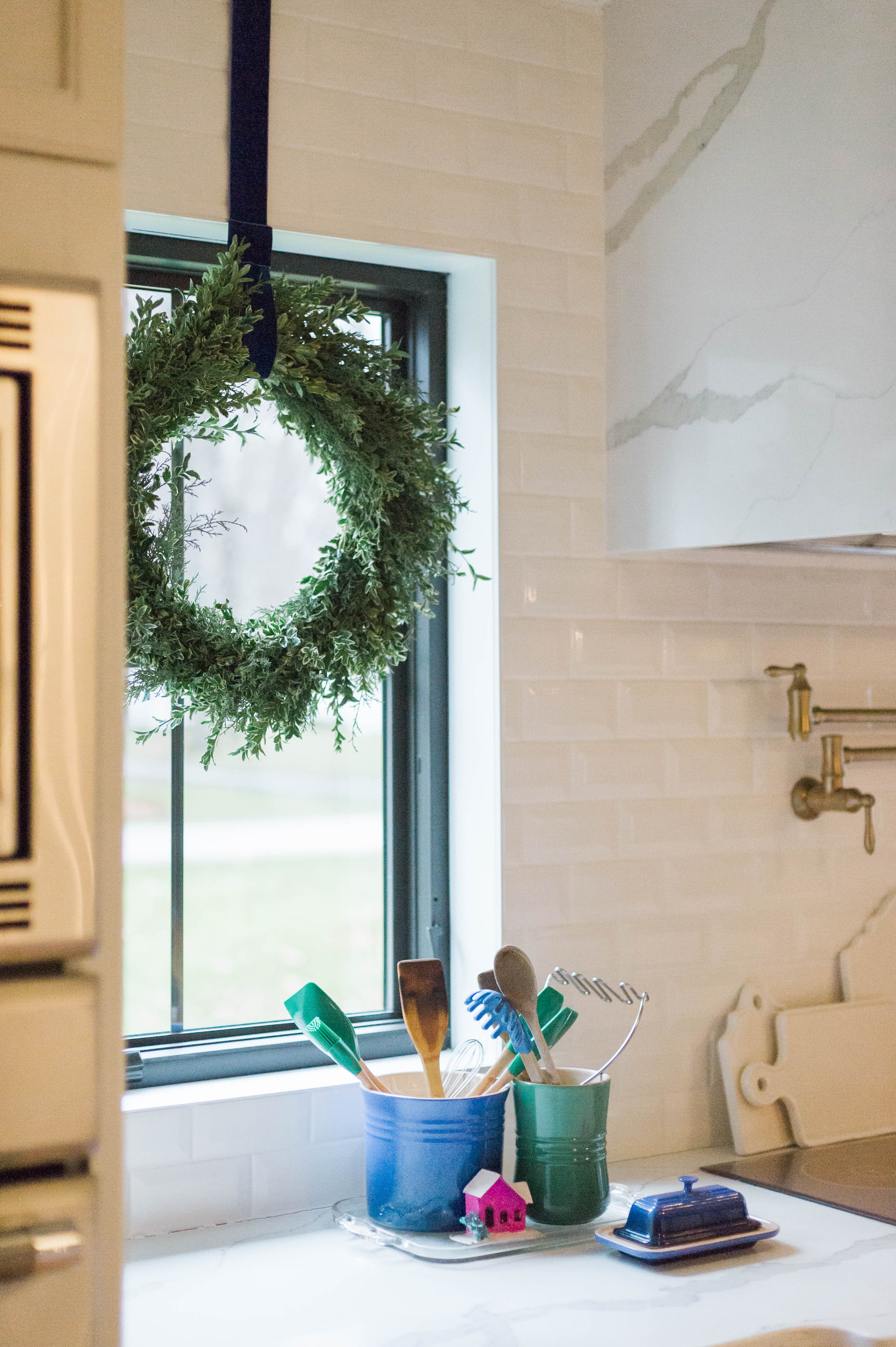 Tying it All Together with a Colour Scheme
I tied my magenta, blue, and green scheme in through my Le Creuset collection. I started out collecting blue, and then I changed my mind and started collecting green and put the blue away for a while. Suddenly, this year when I knew my colour pop was magenta, it hit me that all the pieces would work so well together. The little magenta house is an authentic vintage Putz house from Japan (my mother started the collection for me and they are my favourite Christmas decor and the best gifts I've even gotten).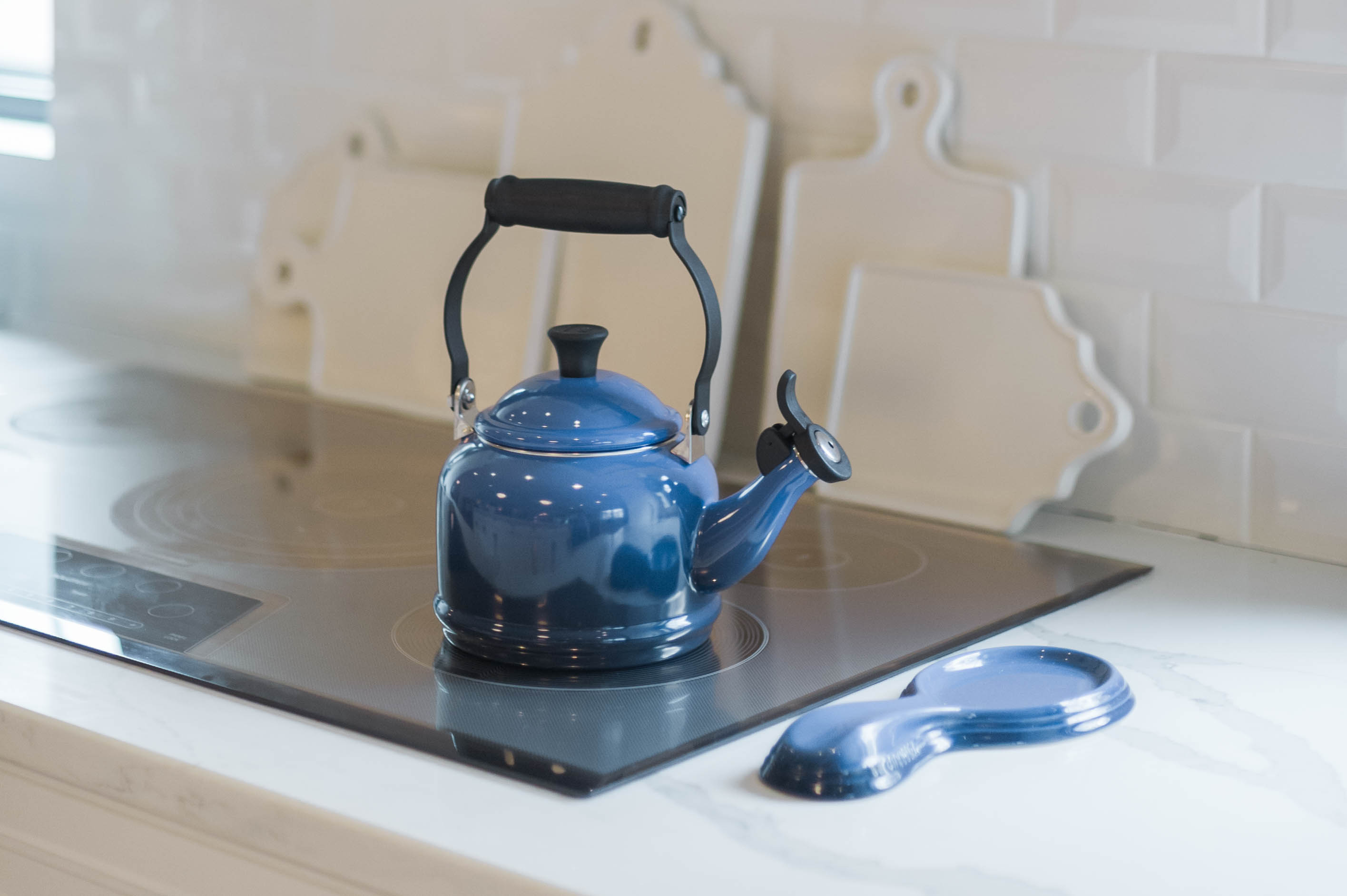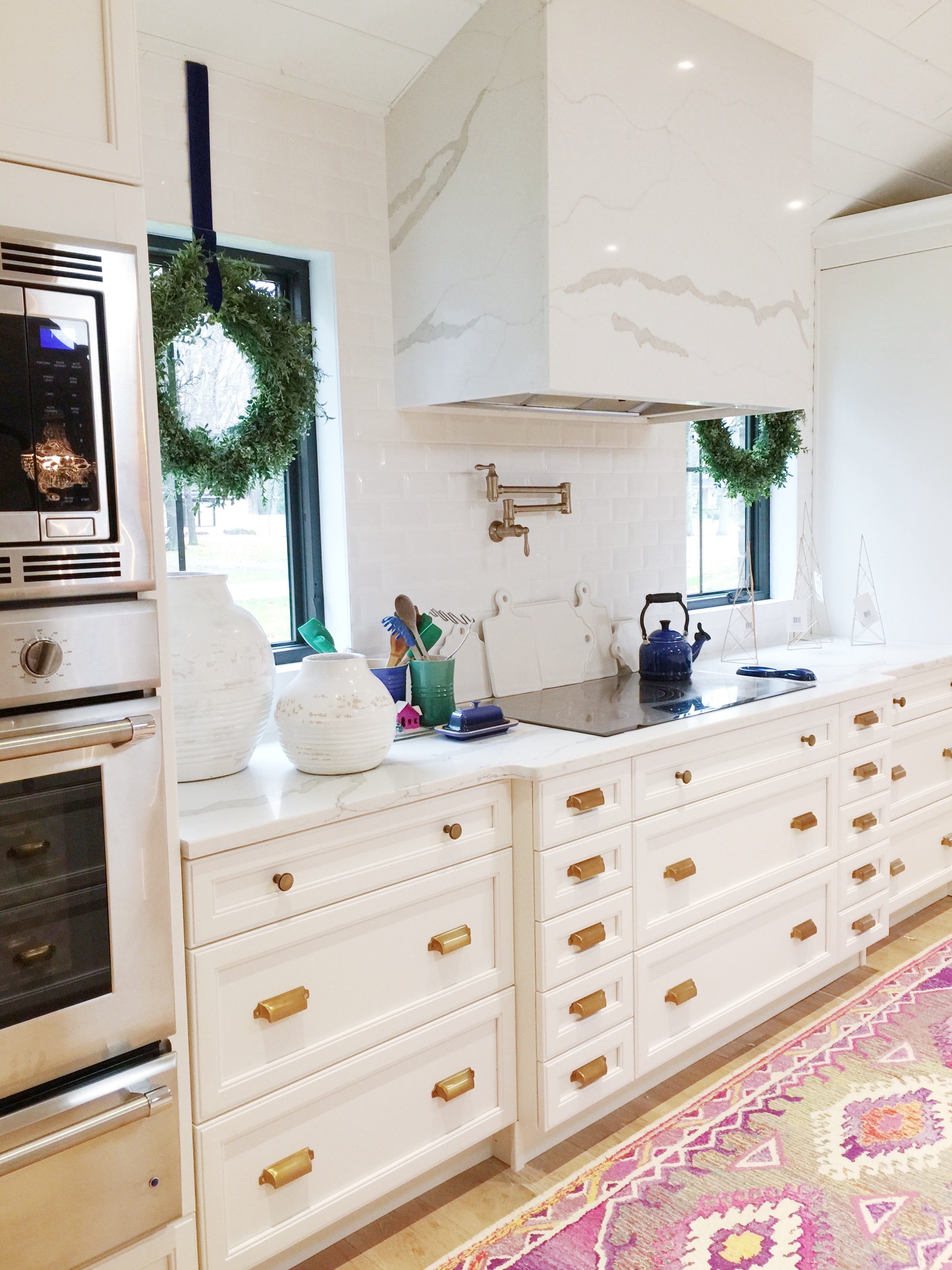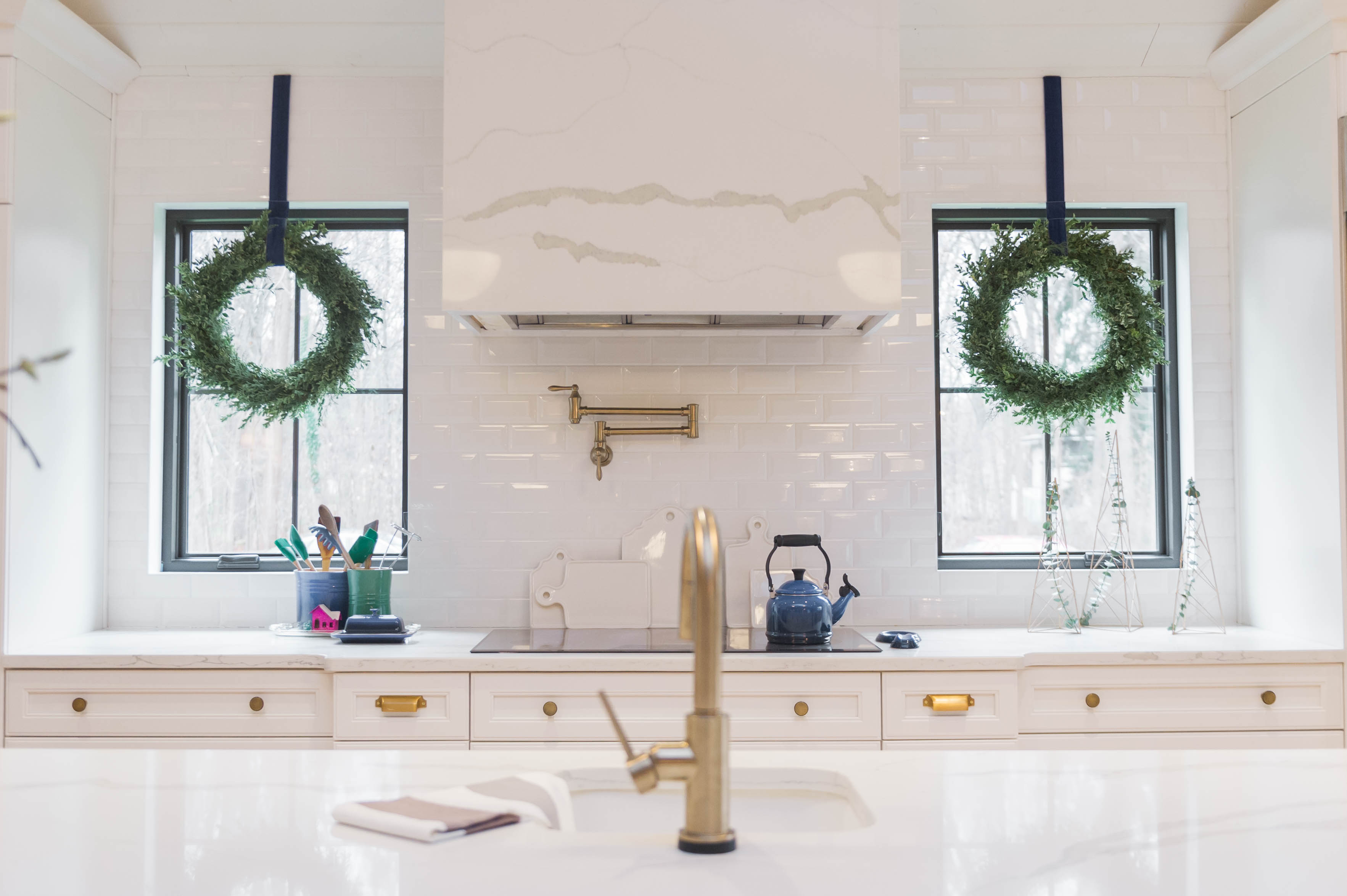 The little Geometric Christmas Trees are from Canadian Tire and I added a little eucalyptus to them. I like them with nothing in them too though…they are perfect. I also have them on my mantel. You won't believe this but they are $5.99 -$9.99 for the 3 sizes! I'm also really loving how the brass hardware and plumbing fixtures add glam to the kitchen…they feel so Christmassy!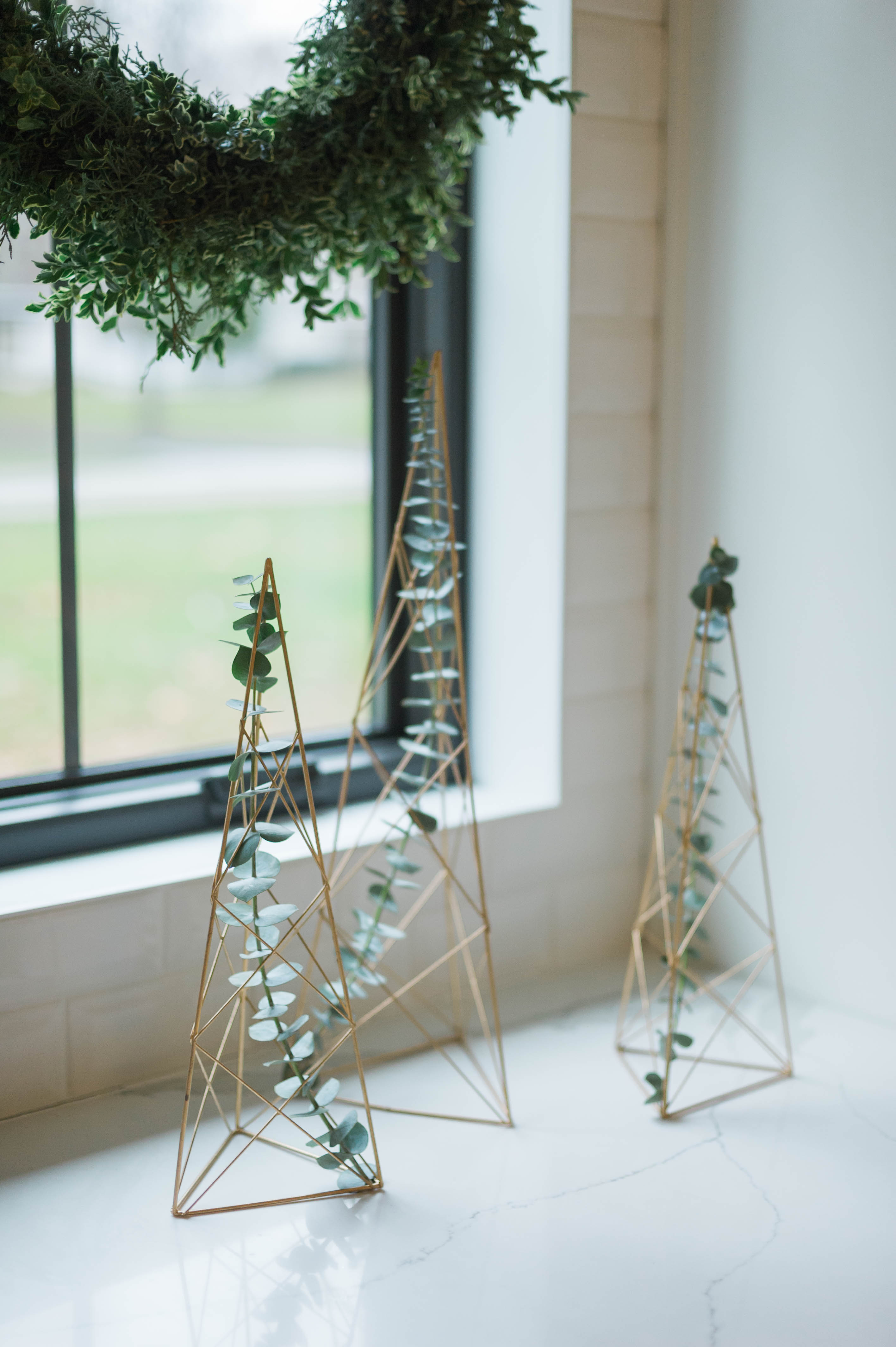 Everything Including the Kitchen Sink!
Another one of my favourite holiday decor spots in the kitchen is the wall with our kitchen sink. I've got another Geometric tree, some votives, a Putz house, and some glass trees; each piece picks up a gorgeous colour in this painting by Hayley Mitchell. I bought this piece a year ago for our new home and almost died holding onto it till now. Thank god I did because she's blown up so much that I couldn't afford to buy another…even though I want to every day! lol…but seriously! I'm not even going to tell you what I paid because you'll be so jealous you'll hate me, or you'll come to my house and steal my painting and I couldn't bare the thought of either! 😉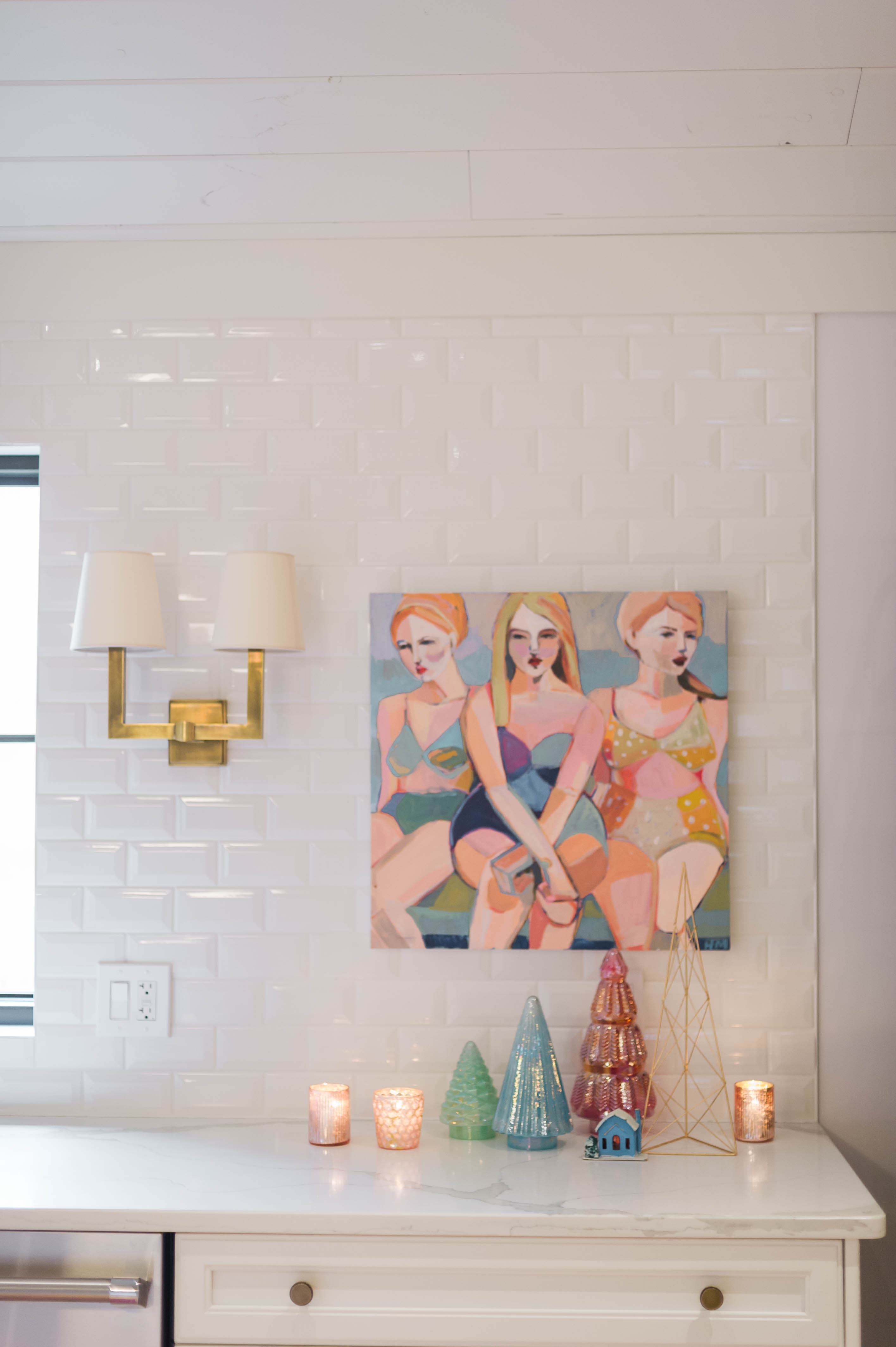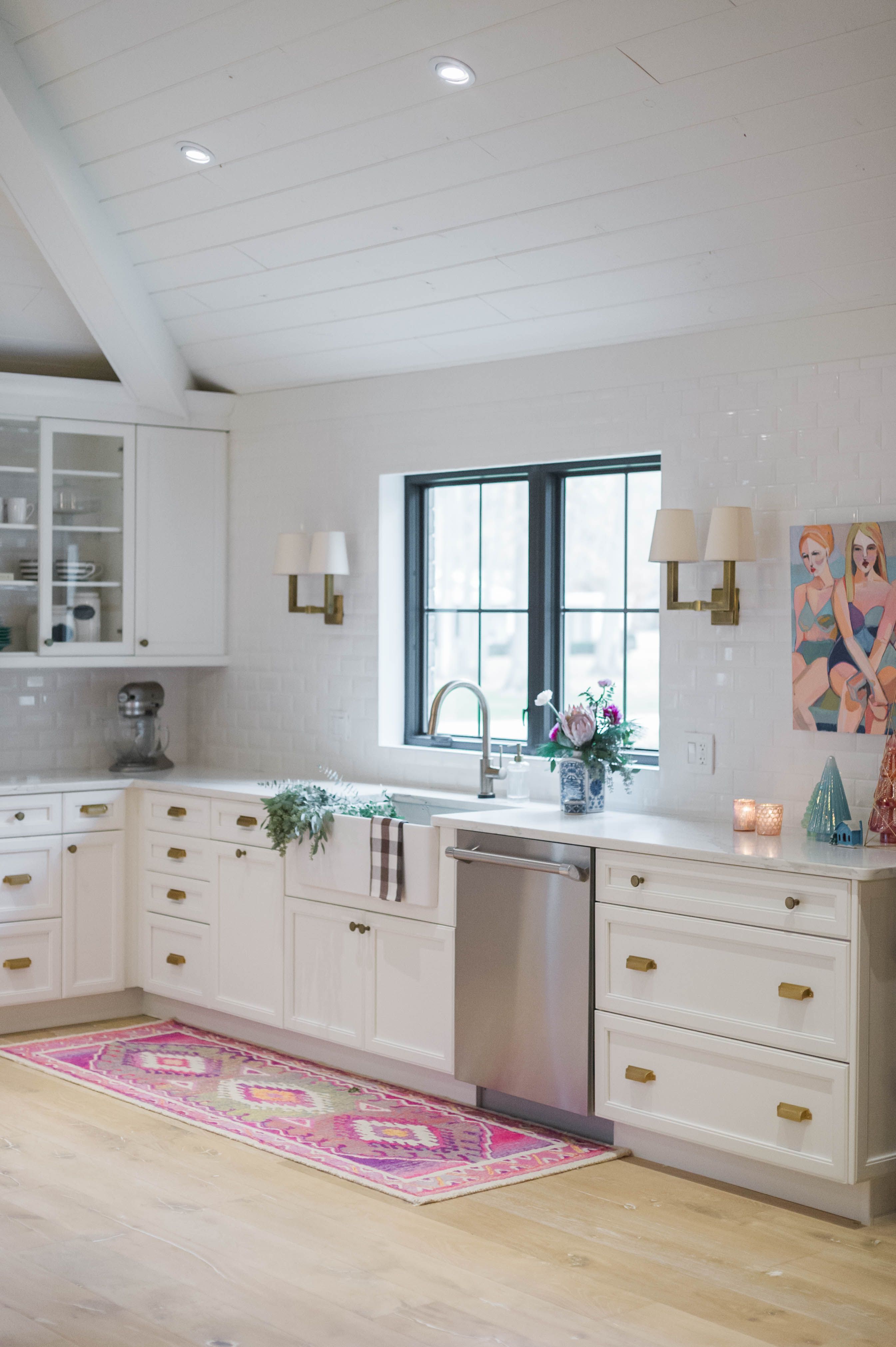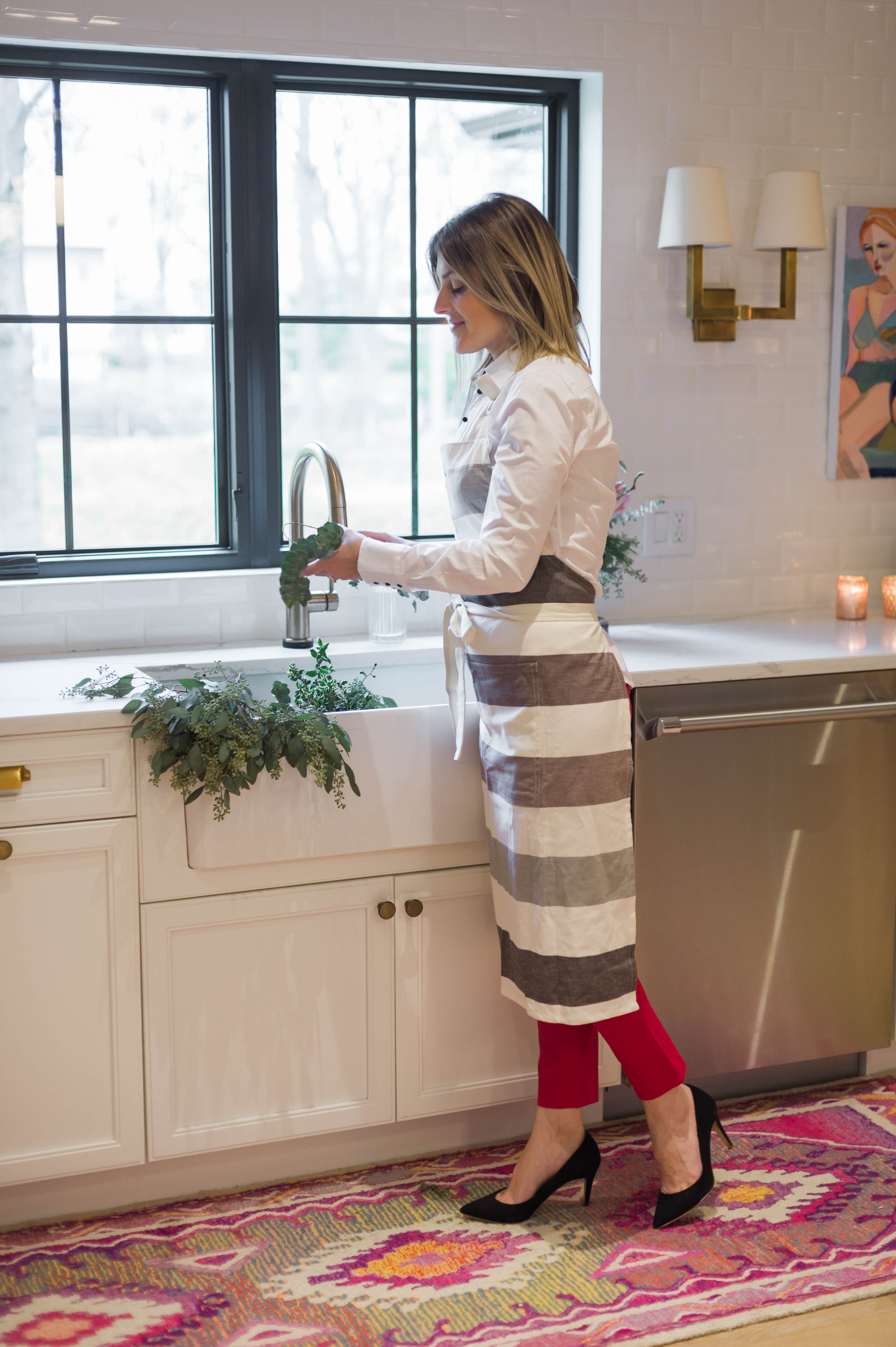 Oh no big deal…just clipping some eucalyptus in heels! hahaha….this picture was from the shoot we did for The Toronto Star…sigh…most dreamy day ever!!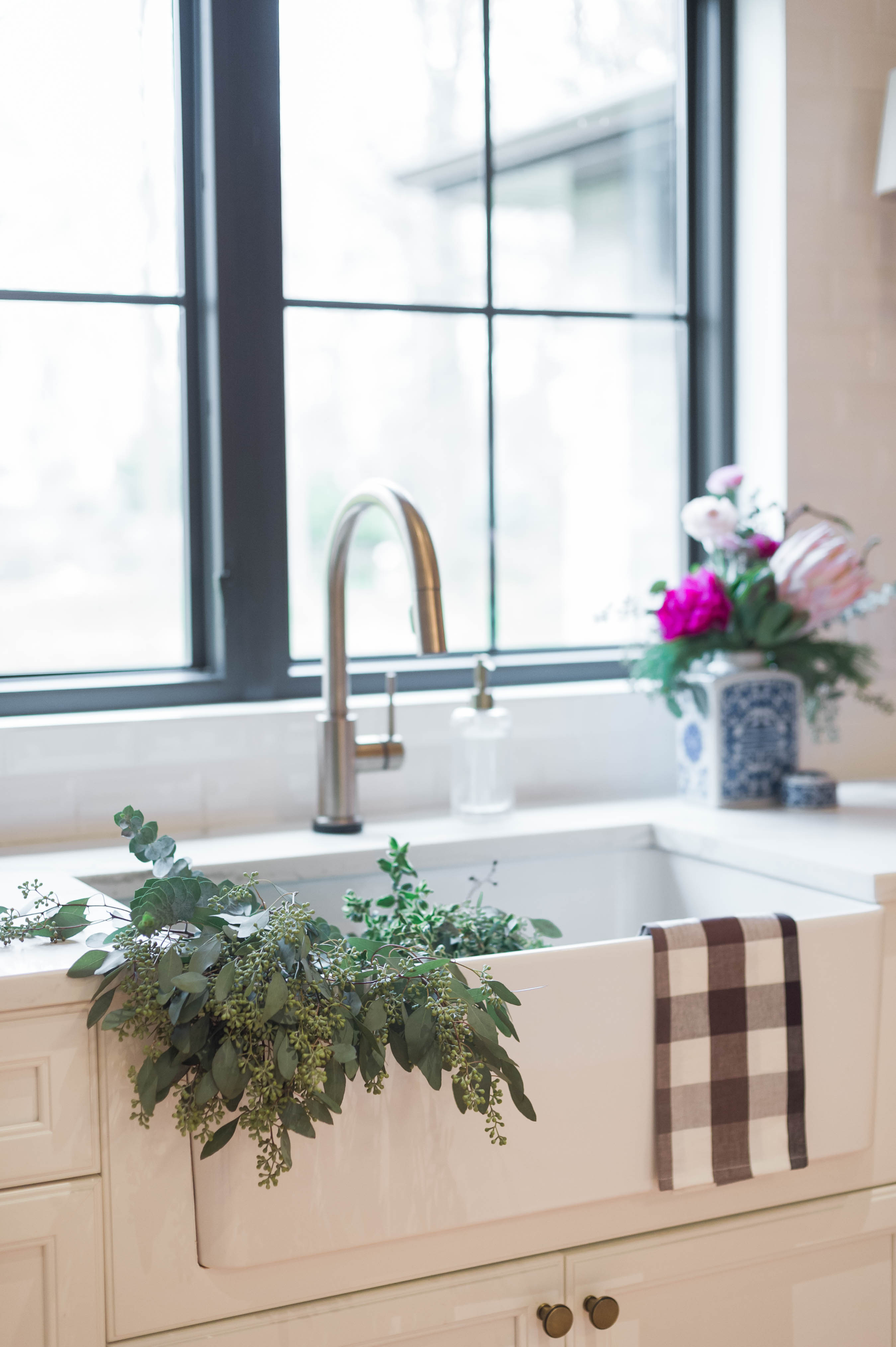 Touch Faucet…a little bit of technology
I'm not sure if you guys have ever used a touch faucet…but if you haven't they are the best thing ever. The only bad part is that you get so addicted that you start hitting your wrist off of all the other faucets in your life! Like at work, I was washing out a palette and just kept hitting my wrist on this super plain, old school faucet for a few minutes till I realized I wasn't at home. I've caught my husband doing the same thing at a friend's house not long ago. When friends come to our house they just keep turning it on and off…it's the best. This Delta Faucet comes in the touch option or normal…pick the touch! I've linked it at the bottom of the post! 😉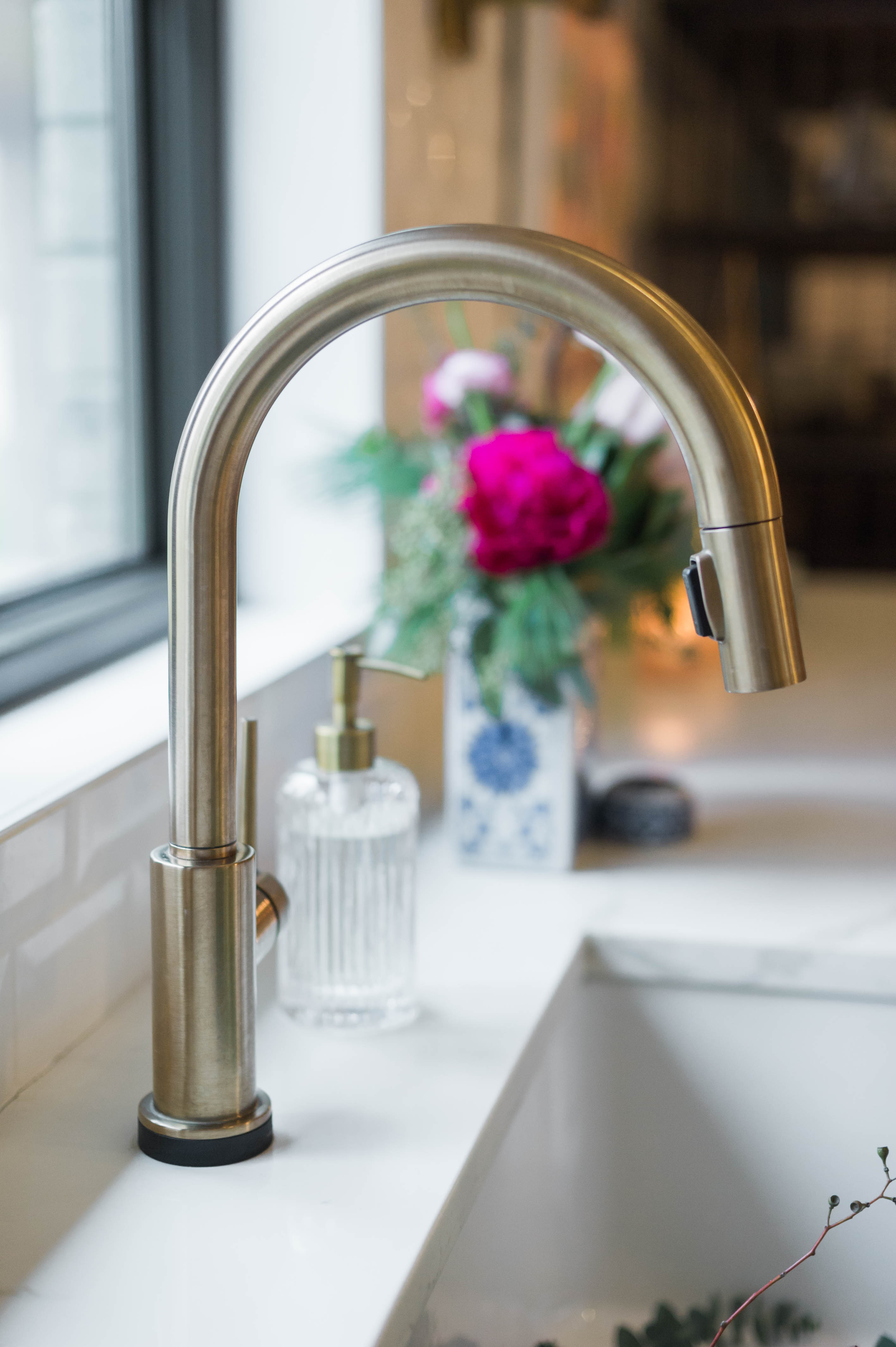 Staging Your Cabinets for the Holidays
Another spot that got some holiday decor attention was inside the cabinets. I am still obsessed with how I added subway tile to the backs of the cabinets! The pink, green, and gold bowls are Kate Spade and you can see the whole set with their gorgeous Christmas tree pattern on the plates in my Christmas Dining Room tour. They are on the most ridiculous sale…you kind of wouldn't even believe it! The green mugs are LeCreuset, the striped mugs are HBC Millennium collection, and the white mugs with the precious little hob knob detail are from Canadian Tire. I think I have a thing for mugs!!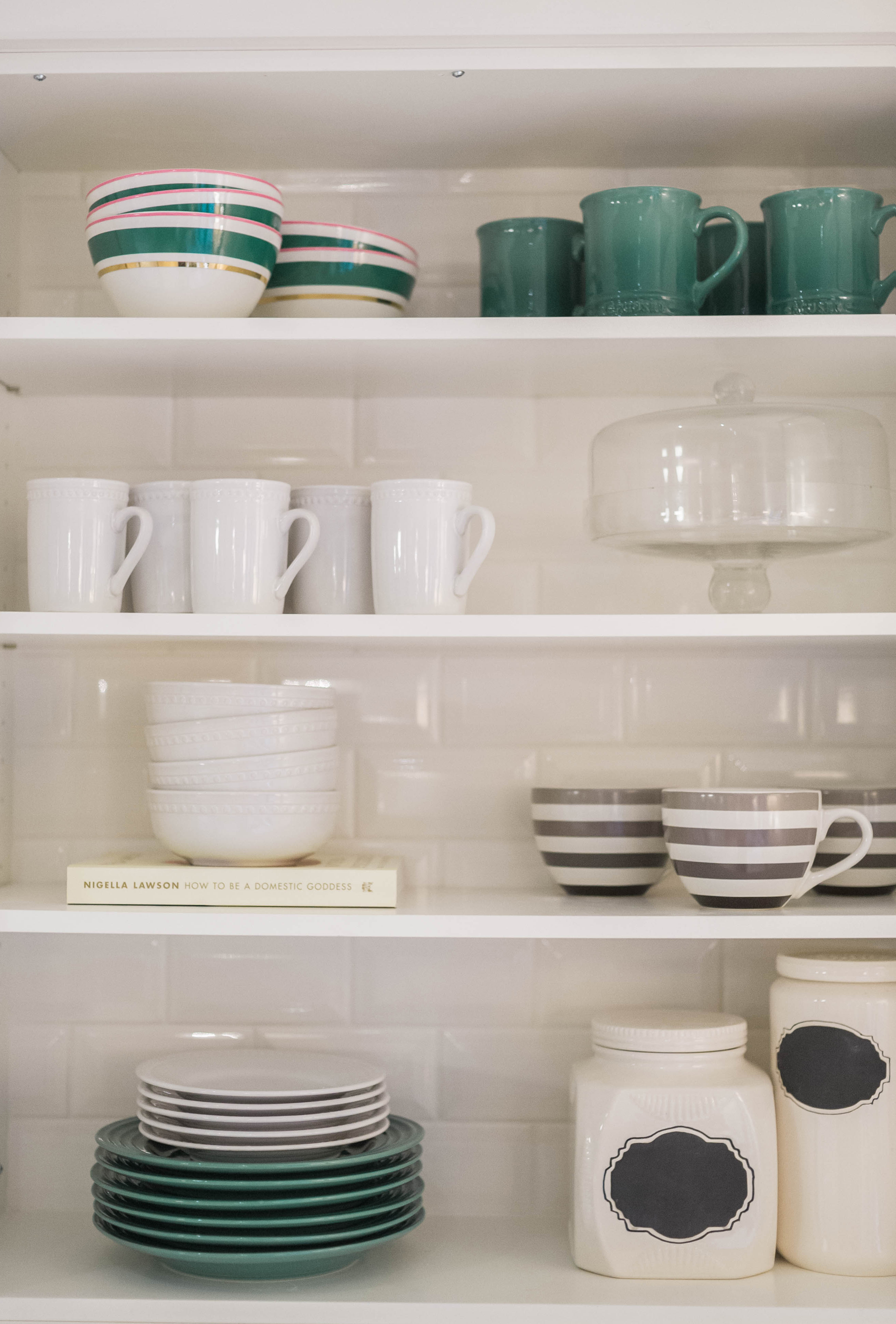 Open Shelving
Lastly, our baker's rack got the holiday treatment. I got these antique milk bottles at a barn sale and they look so good with greens added to them….that was the amazing Cori Heer's idea from CHJ Florals and I love her for it!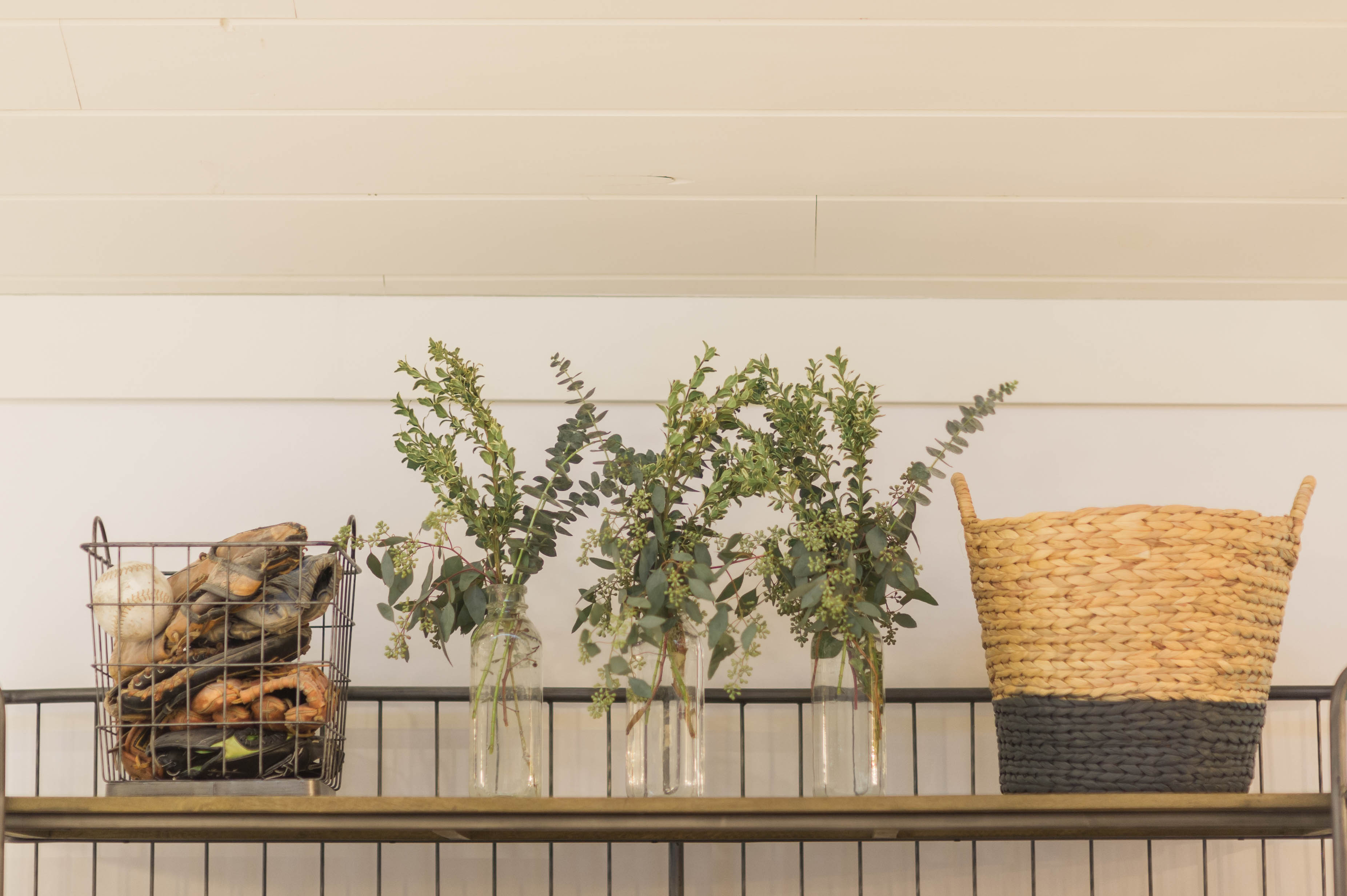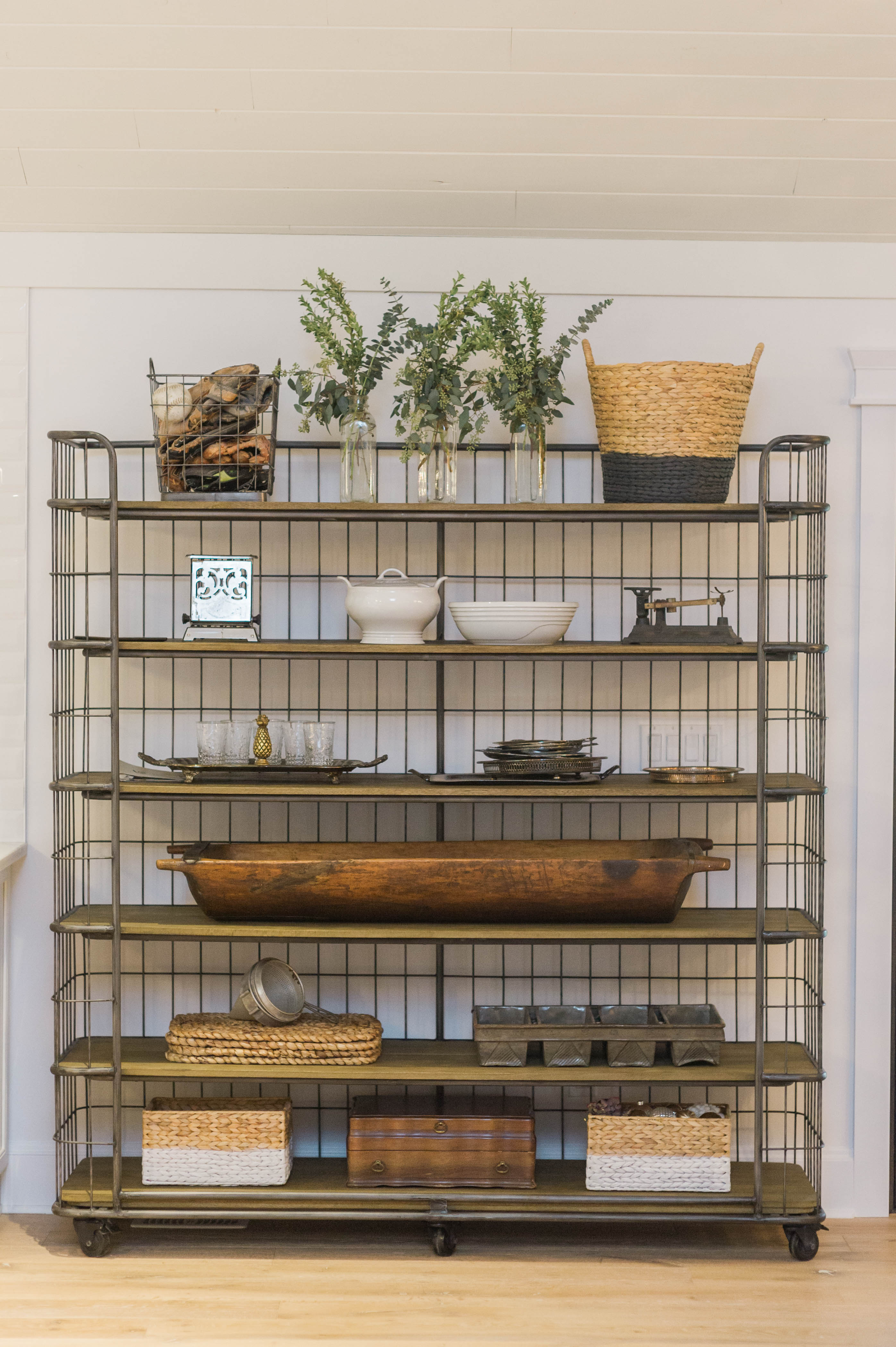 Full Kitchen Reveal
I know I've yet to show any full shots of our kitchen and I will asap! I'm actually going to do a full kitchen reveal with all sources and a lot more photos in the New Year. This home was a renovation, so I'd love to be able to show you the 'before' shots. For example, this kitchen was carpeted!!  Please consider subscribing, so you don't miss a thing, I'd love to have you as part of the community!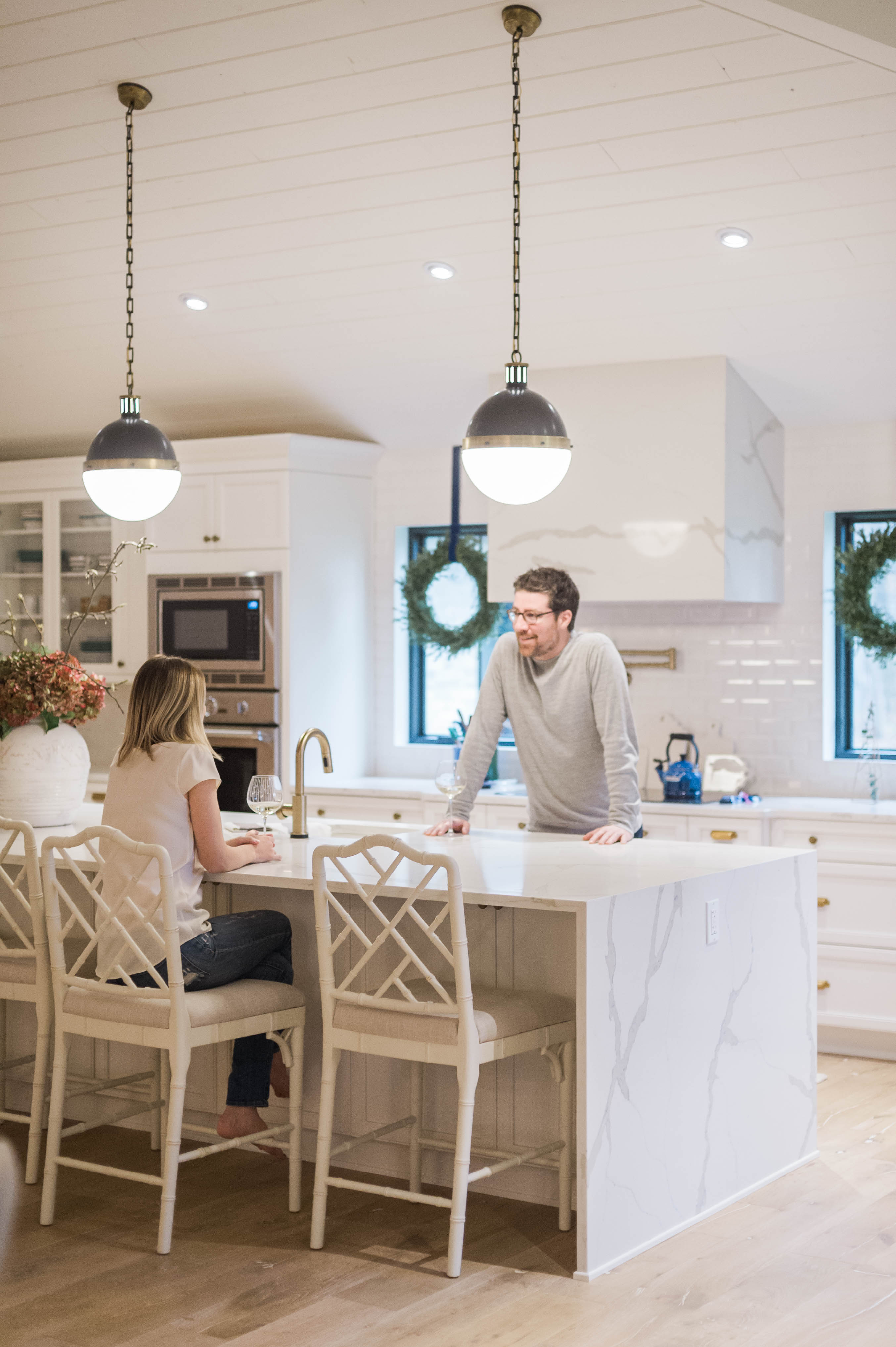 P.S. Have a Merry Christmas!!!
Shop My Kitchen
[show_boutique_widget id="525519″]