So… this exterior renovation just about sums up what I've been up to for the last 12 months! My husband and I stumbled onto our latest renovation project, when a friend offered to buy our last home. If you read my first post, you'll know that I love renovations so much, that as soon as I'm done with one, I want to do it all over again! So when, after only 3 months of living in our last home, our friends asked to buy it we said yes! (Don't worry, I'll be sharing the last home too!)
Almost immediately, after finding out we had a buyer for our last home, we went for a drive to hunt down a new project. There had been a ranch that I had always liked that had been listed for years. It was so dated and expensive. It still had a for sale sign, but was no longer listed on MLS. We couldn't resist, we had to knock on the door and get the scoop from the owners. Turns out it was about to be relisted for way less than in the past and so we made an offer right there. We had always wanted a ranch and we thought it would be so fun to try out the mid-century modern style.
In my mind, after mentally renovating the home of course, everything about this place reminded me of a Slim Aarons photograph in Palm Springs. There were patio doors off the entire back of the house, it had a porch that connected all the patios together. I felt like it had so much potential. Despite the fact that the inside was all original shag carpet, panelling, ten different wallpapers, and boasted a sunken living room surrounded with built-in couches! (You need to see it to believe it!)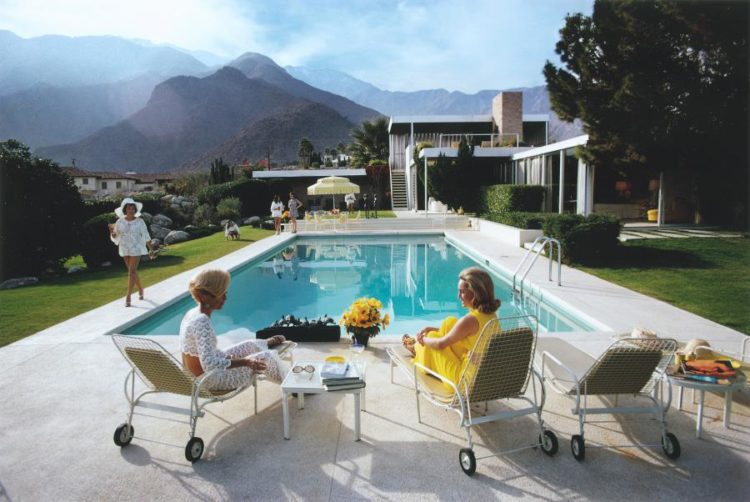 I immediately had a romantic idea that I loved everything about it and we would just paint the interior white, lose the sunken living room and level the floors, and get some fab furniture and put in a new kitchen and be done. (You know like a 5-month project, not a 12-month project!) It had a tennis court in the back and I had this vision of me and my husband as the couple in the iconic photograph by Tom Kelley, "Tennis Couple" (pictured below). Then before we removed the conditions on our offer we had a contractor through and a bunch of trades to give us the low down on the roof, plumbing, wiring, basement, etc. Neither of us were prepared for how many issues we would hear that day. We would even have to rip out the tennis court…(No!!!) My husband and I didn't want to give up on the house though because it was a really rare size at 4000 sqft and in a great location, so we renegotiated with the sellers and came to a price that made sense even though it needed a $hit ton of work! Lol!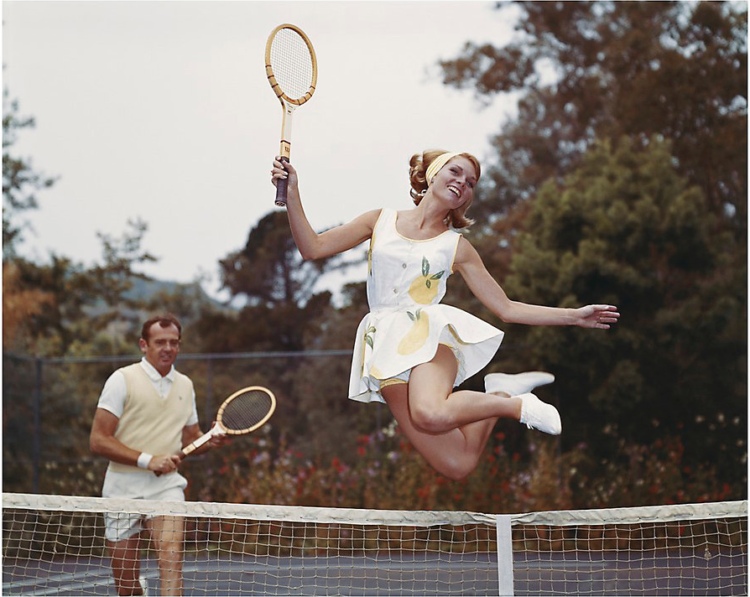 Ok wait, I know what some of you are thinking…you like mid-century modern and think that I should have renovated the home in its original style, or that I should have just found another home to pick on and left this one alone! But hear me out, the flat roof was in such bad shape and our climate is really rough on flat roofs, so it needed to be replaced. It also needed so much work that we had to consider taking the roof off and putting a pitched roof, especially for resale! Everything in renovations and real estate is really just a numbers game, so we figured out what the house would be worth if we totally gutted the interior and exterior renovation, complete with a pitched roof. Then we calculated how much it would cost to do it, and it was worth way more than what it would cost, so off it went! That makes the decision sound really easy, when in reality it wasn't at all! We rethought it about a million times, for six whole months! But in hind sight it should have been an easy decision!…lol…but let's face it no decisions are easy(at least not for me!) Also, once we realized we would be changing the roof line we thought that it would be pretty cool to see if we could take an existing house, and without changing the foot print one inch, see if we could also transform the style of the home. Hence why this project's name is #midcenturytofrenchcountry
I'd love to invite you in, but we've only just met! How about this time next week I'll give you a tour? I'm so in love with the new floors and the ceiling! We put in whitewashed wide plank oak floors, and we covered the vaulted ceiling in painted white wood. Have I enticed you?  Meet me back here next week for a tour of the inside…I'm so excited that I can hardly wait to show you!
But first, how about some before and afters of the exterior renovation: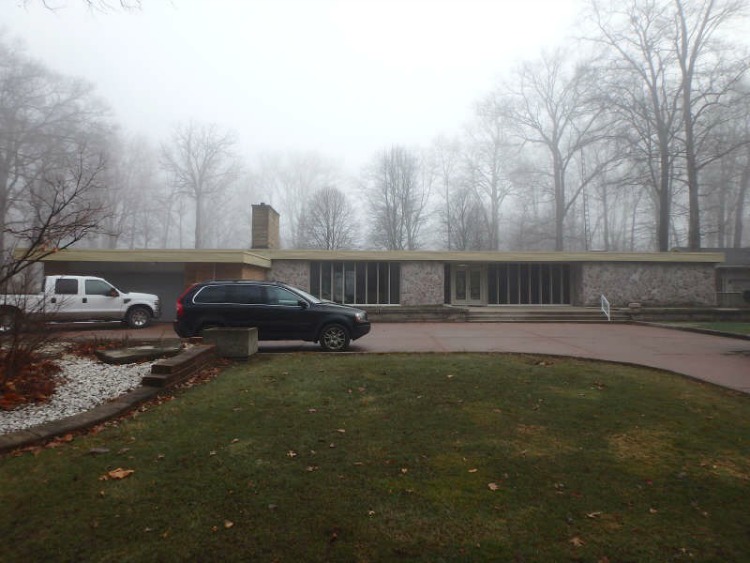 I don't know why this is the only true "before" we have. We were so ready to Demo that we somehow only have this super dewy-fog before, but at least we've got one shot that shows it before. It was known as 'the school' because it totally looks like so many grade schools in our area.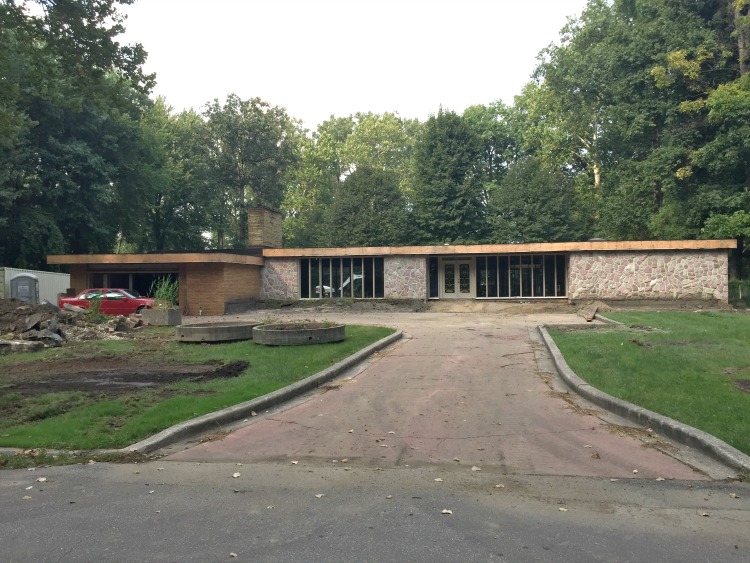 In the shot we've lost the facia, front garden beds, and tons of the interior wall panelling and wallpaper!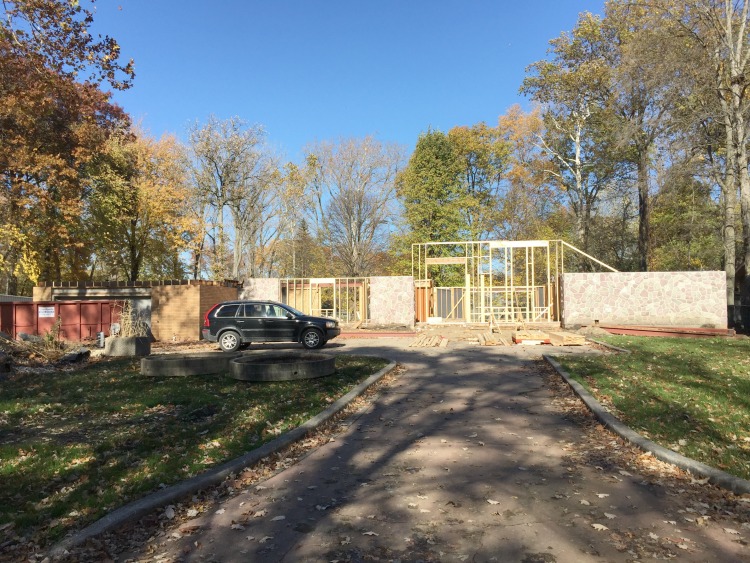 So this photo makes taking a roof of a house look really easy, but in reality it took a bunch of tough guys like 3 weeks. There were 4 roofs on top of each other, having been re-done multiple times since 1969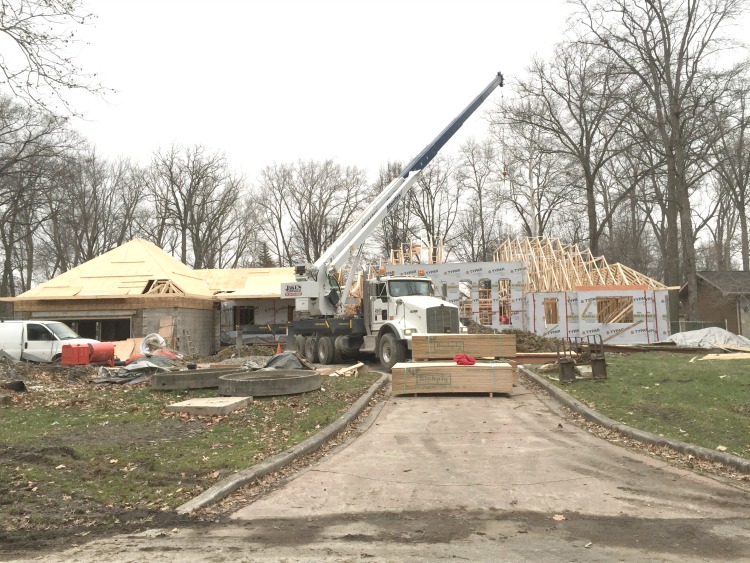 This photo is taken on Christmas Eve. There was a huge building boom in Essex County and trusses were on the craziest back order. Thank the lord the snow came late. This was the best Christmas present I have ever gotten!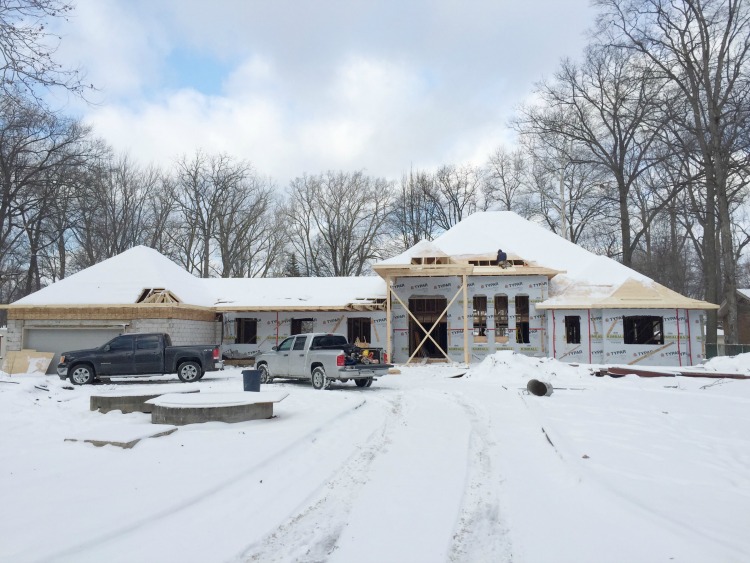 The roof was covered in plywood just in time for the first snowfall.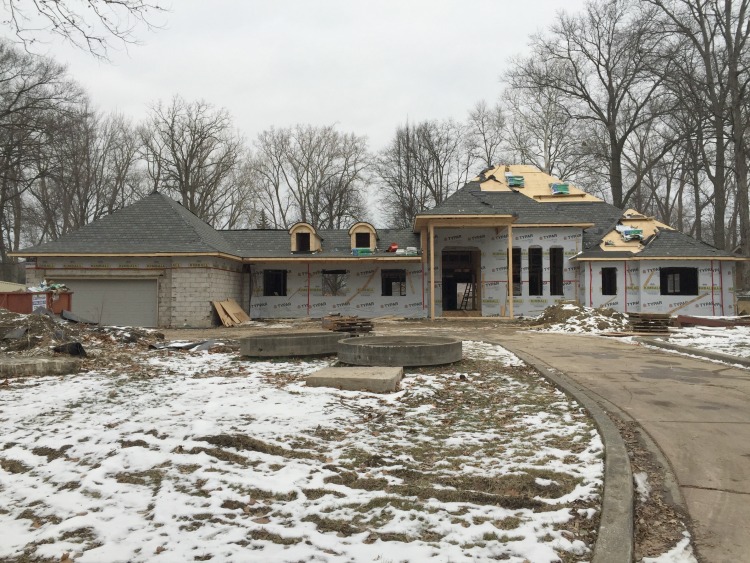 Shingles, dormers…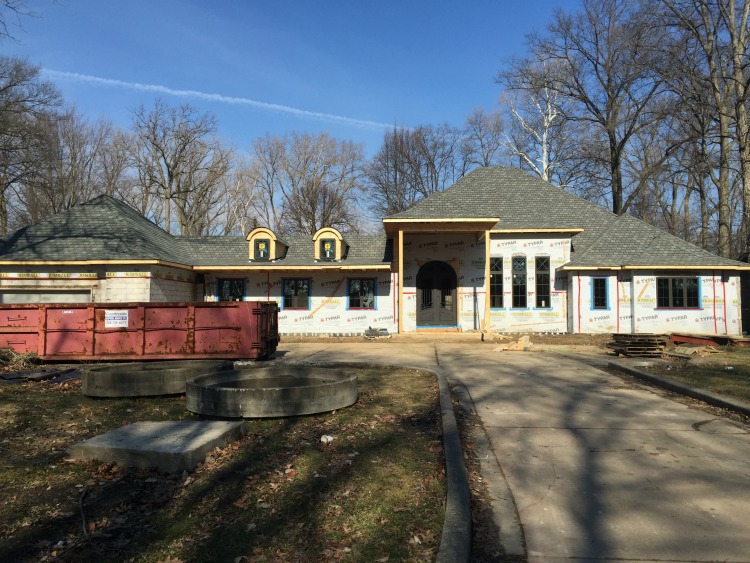 Windows, and front door! A full radius iron door was on my must-have list for this house. If you follow me on Instagram, you'll know that I got this 10ft door on Craigslist! I can't to share my Craigslist search tips in an upcoming post!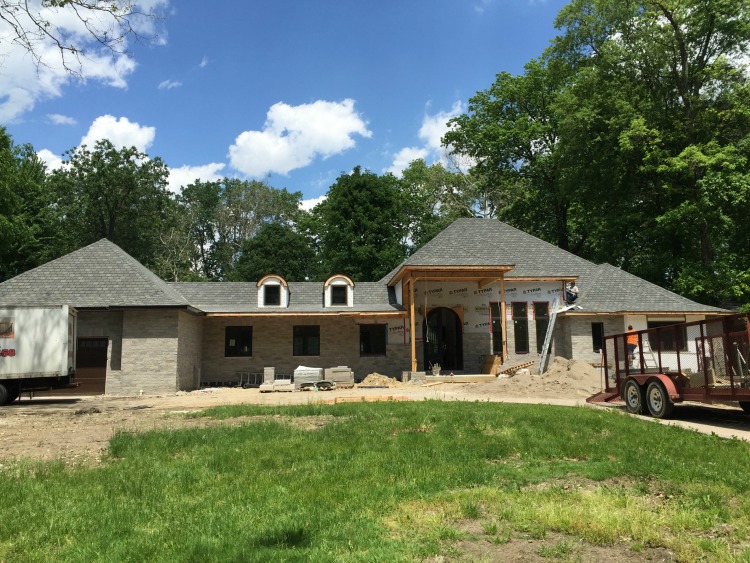 Brick and garage door. We're still not done…to come we've got: beams to hold up the porch on the left side, a brick surround for the front door, shutters, lanterns, landscaping…k a lot. We've still got a lot to do…lol! I guess it's not technically a 'Before' and 'After' exterior renovation…maybe it's still a 'during', but in case I don't survive this, I thought I better write it now! (If you've ever done a 12-month renovation, I'm sure you know that fearing the project might actually kill you, is a completely real possibility in your mind. Joking, not joking! lol!
Notice how it's summer, AGAIN, and we started in the Summer. Oh my gosh it's been one LONG year of living at my parents filled with the laugh-cry emoji and wine!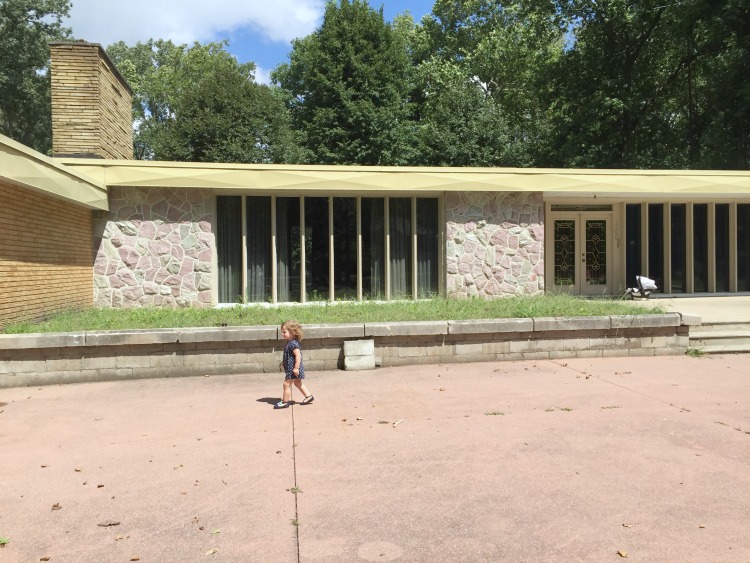 BTW the driveway is still pink…anyone have a DIY home remedy for maniacs that would have put in a pink driveway? I guess it was meant to match their pink glitter stone …sip of wine…laugh/cry emoji! lol!
***We've recently finished this story! Click here to see Part 2 of the Exterior Renovation!