I'm so excited to finally do a full reveal of our eclectic dining room! This dining space is a little modern, a little farmhouse, and a little boho; combining multiple design styles is a signature of The Leslie Style! I'm also over the moon for bold pops of colour, which I'm calling the trend of the season, and there are no shortage of energizing pops in this space! I hope you love it!
This space was completely designed around the rustic farmhouse table (which is 12ft long) and around the 3 chandeliers, which hang above the table. I completely fell in love with these chandeliers and bought them about a year ago. Of everything I've ever shared and posted to Instagram, the chandeliers are my most asked about pieces. No one can believe when I tell them that they are from RH Baby and Child which is Restoration Hardware's children's line. That's actually one of my secrets: buying items from there for a fraction of the cost of the regular RH…but everything is the same level of quality and wow factor. I have the matching sconces in one of my bathrooms.
I've linked my exact table (which I get tons of questions about too) here!
I've linked my chandeliers here!
***This part is really important… NEVER buy anything full price from RH…everything goes at least half off. The best time to buy is after Christmas and in the beginning of the summer…they put the whole store on for half off. Even better, I try not to buy anything unless it's 75% off…this takes patience, well stalking actually, but watch the sale sections for what you need, and you'll see the deepest discounts of any store there is.
For the longest time I had metal chairs at my dining table that I found at Crate & Barrel (for my last home). We only had 6 and our current table can fit 12, so I needed to get creative over the last few months with how I placed them. I would have bought more, but they are no longer available. I knew that I needed a kid friendly chair and I wanted them to be white and affordable. So, when I found the Hendrik chair at Canadian Tire I knew I'd found my chair. If you're Canadian, Canadian Tire has really turned it up and has a million amazing things that I've gotten for my new home, as well as a million items that I'm currently coveting! You gotta check it out! If you guys are into Designers, they are currently working with Christine Dovey, which is just so cool because she's my favourite! I've linked my chairs here!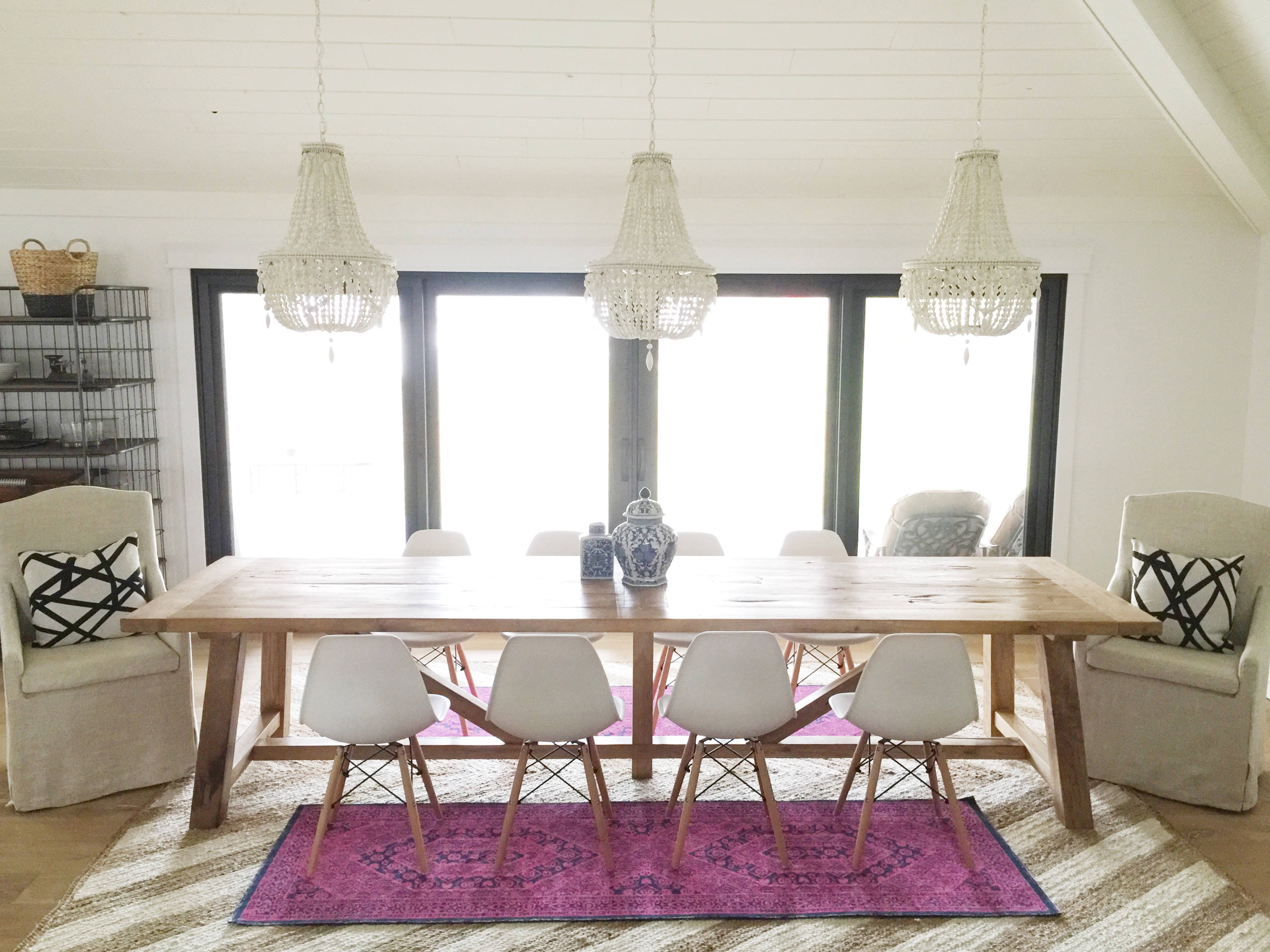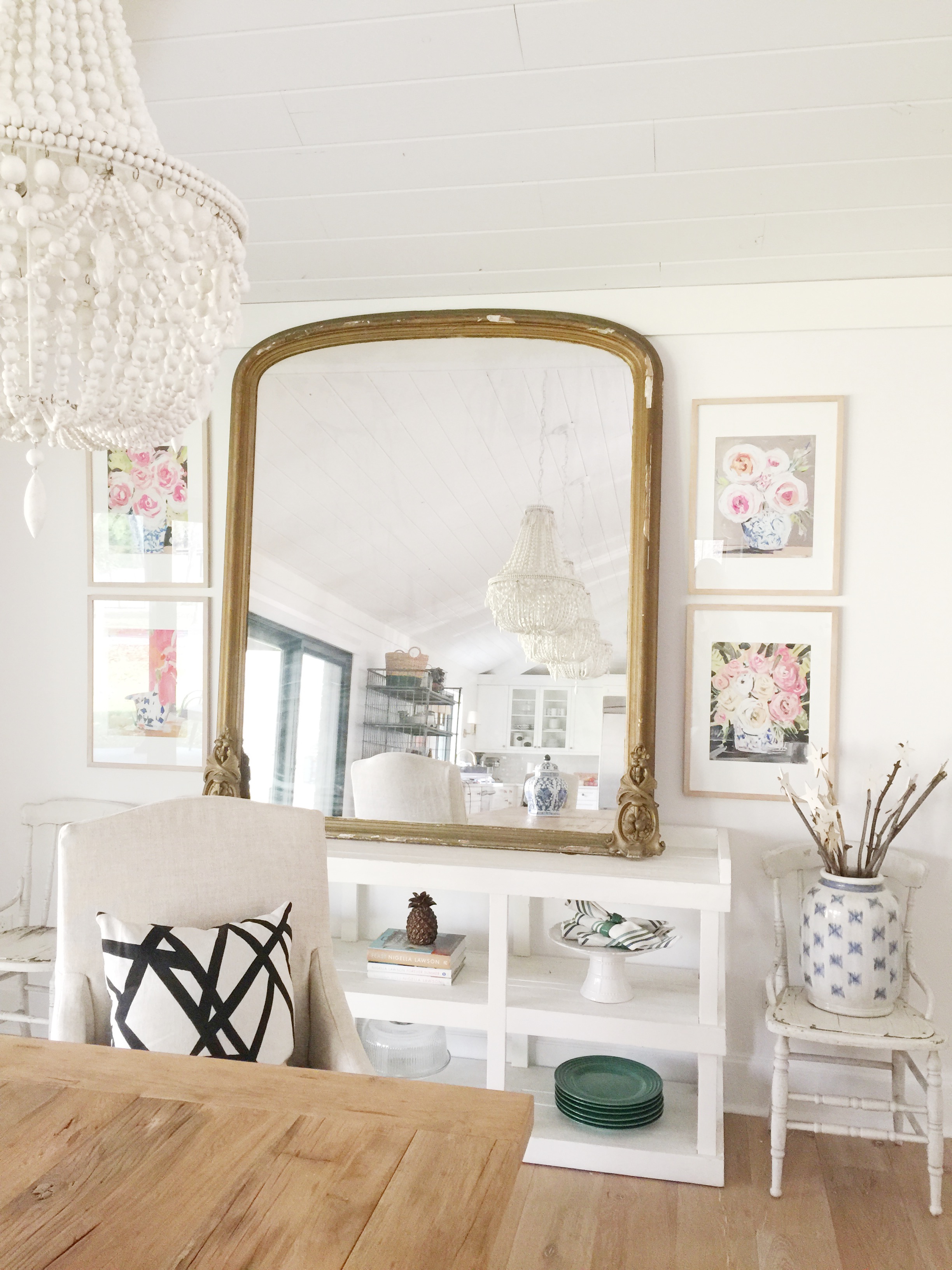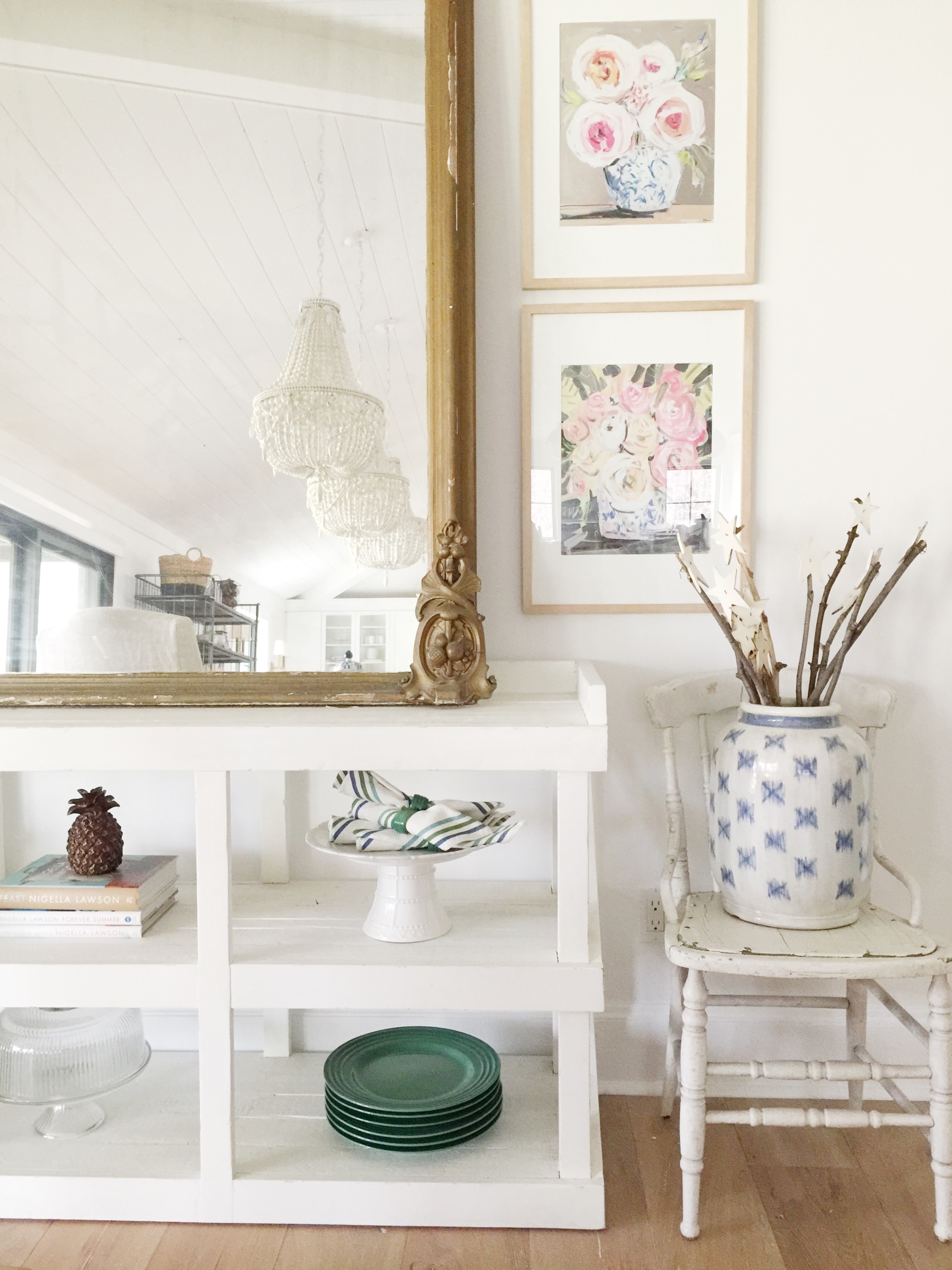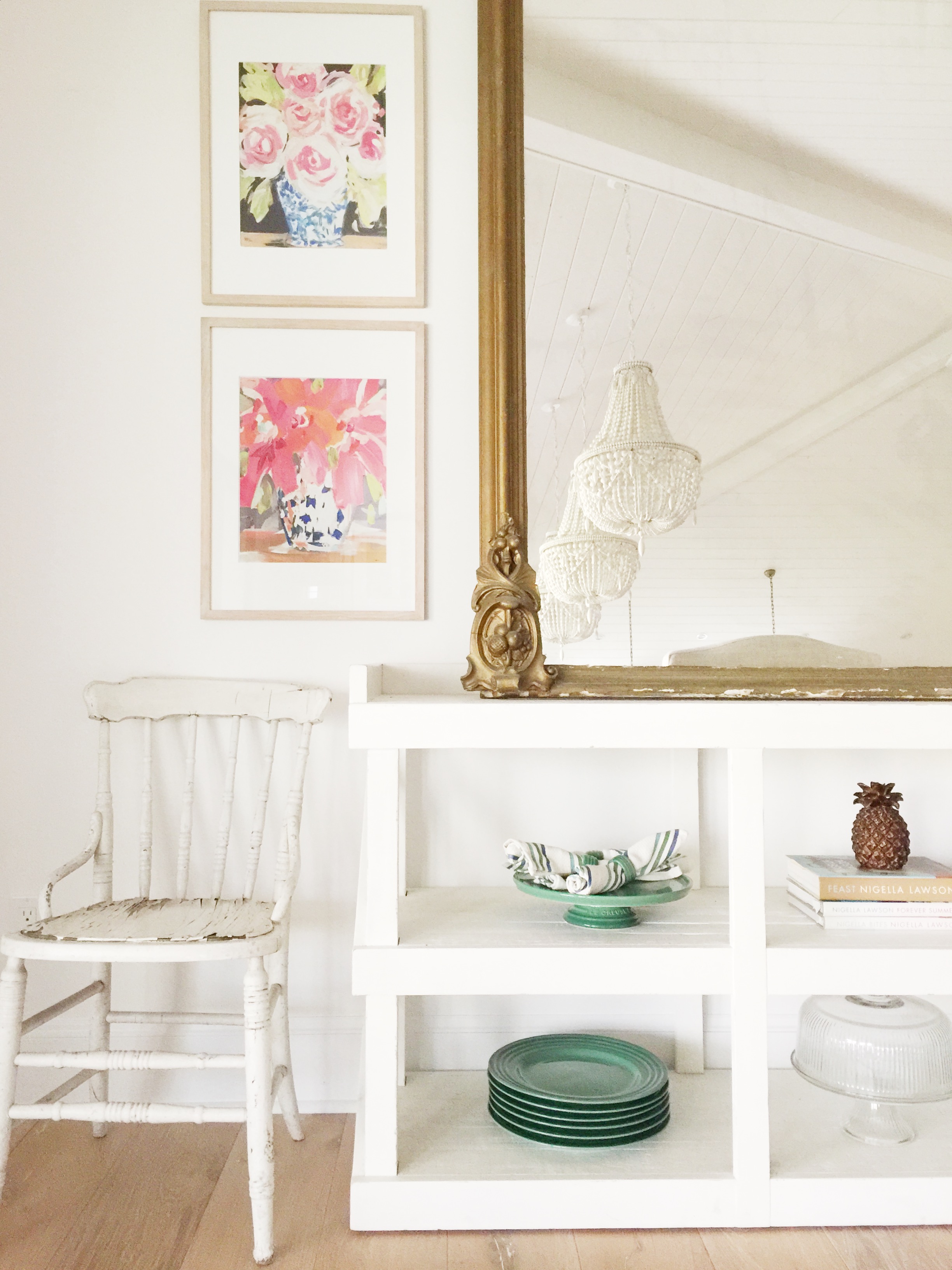 The absolutely to-die-for art is a collection of Ginger jars with flowers. All 4 pieces are made by my new favourite artist Maren Devine…what a name eh…love it!! Please go and check her out on Instagram or on her Etsy Site. Her work is really affordable..so affordable that you can buy an original painting or multiple prints! I did both!! lol…I'm so addicted! Can't wait to show you the Original piece too!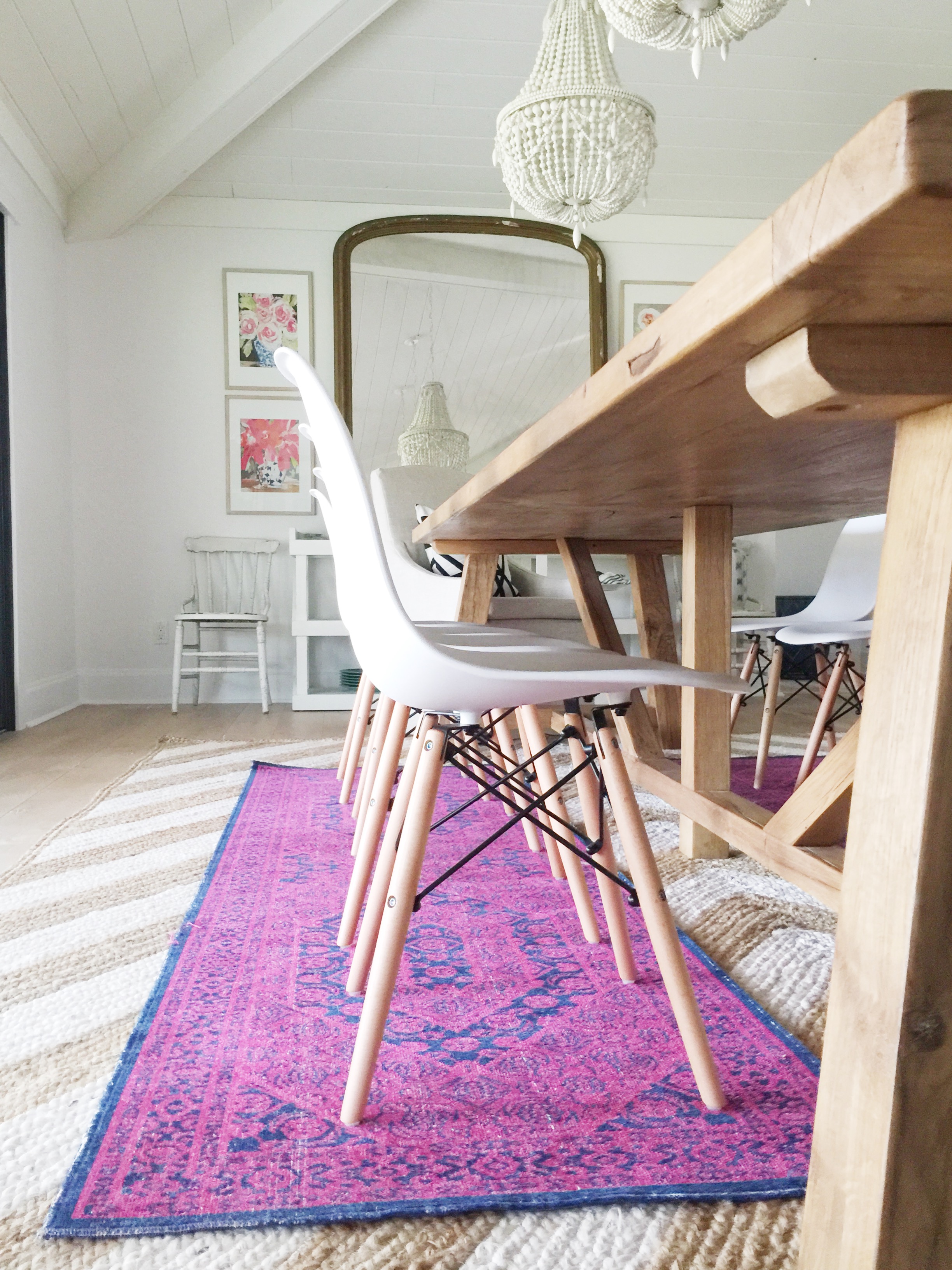 My rugs, which I promise you, have the power to pull every dining space together, are from the only place I buy rugs from Rug USA. Both rugs are from Rugs USA and the prices are incredible. They are actually having a massive Black Friday sale right now and I've linked both rugs below. The prices include tax and shipping…like hellrrr?! I dreamt up the idea to break up the chevron rug by layering runners over top. I'm obsessed with the look that transpired…it just makes me so happy to have a massive Pop of Colour in the Dining room and pick up the colour in the prints. If you follow me on Instagram you'll know that I've been a broken record lately about the fact that I think a pop of colour in every space is the biggest trend of the season, and is what has me most excited about design right now!! You can ad a pop of colour like in this runner for $50 including tax and shipping…now that's high impact on the cheap. I'm not gonna lie, I have bought 8 runners in the last month…maybe runners are my biggest trend of the season! lol! Can't wait to show you where I've put them all!!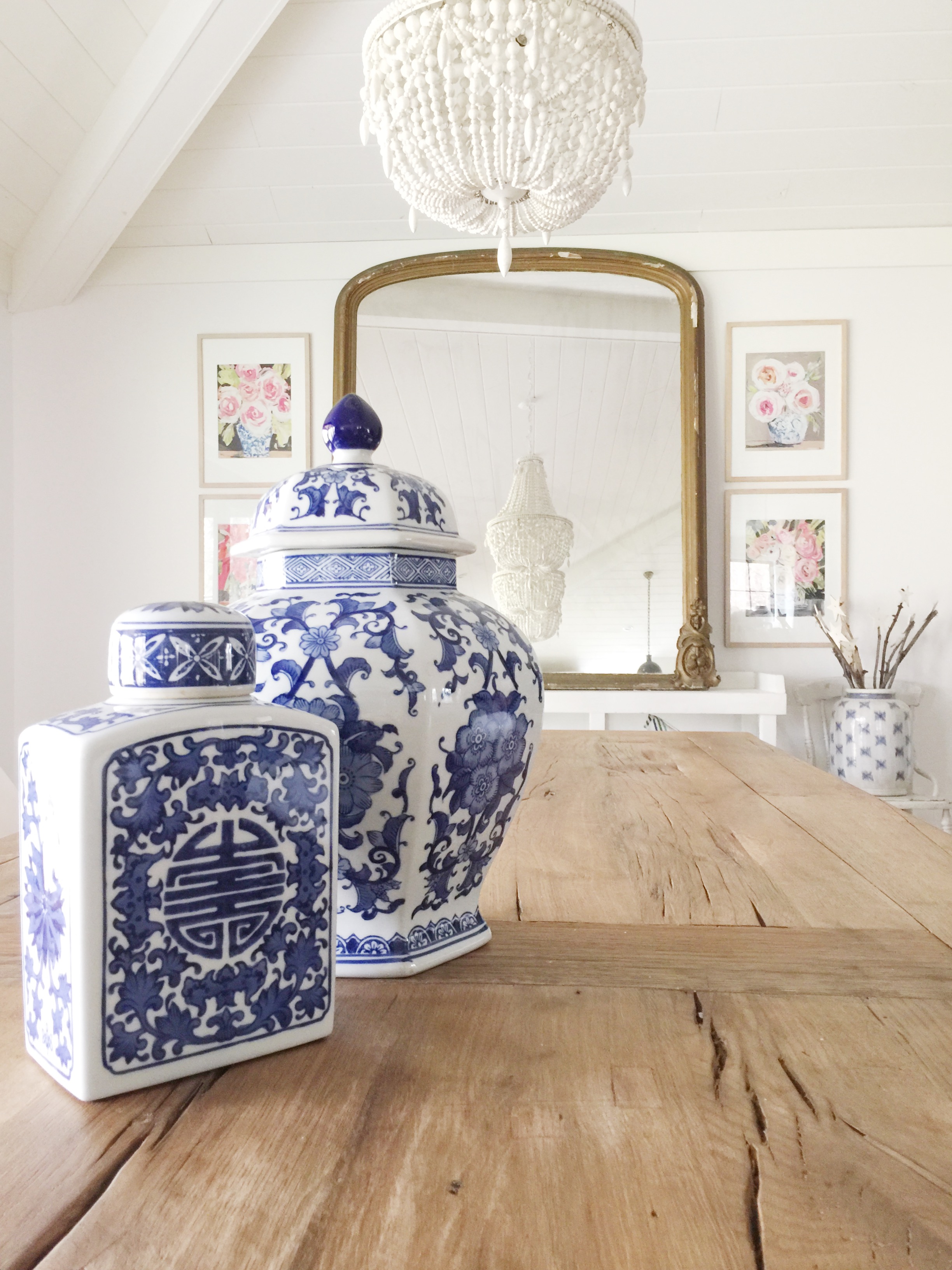 My Ginger jars are from Homegoods and were $39.99 for the large and $12.99 for the small…I think they add so much to the space…I'm going to just keep grabbing them when I see them. These were the only two last time I was there.
Another one of my favourite pieces in this space is the 1930's antique leaner mirror. I pulled this out of my last renovation and when we were finished there was no place to put it. You can see the last renovation here if you're interested. I'm so glad I found the perfect space for the mirror. I have seen faux antique leaner mirrors in this size and style at Homesense and Homegoods.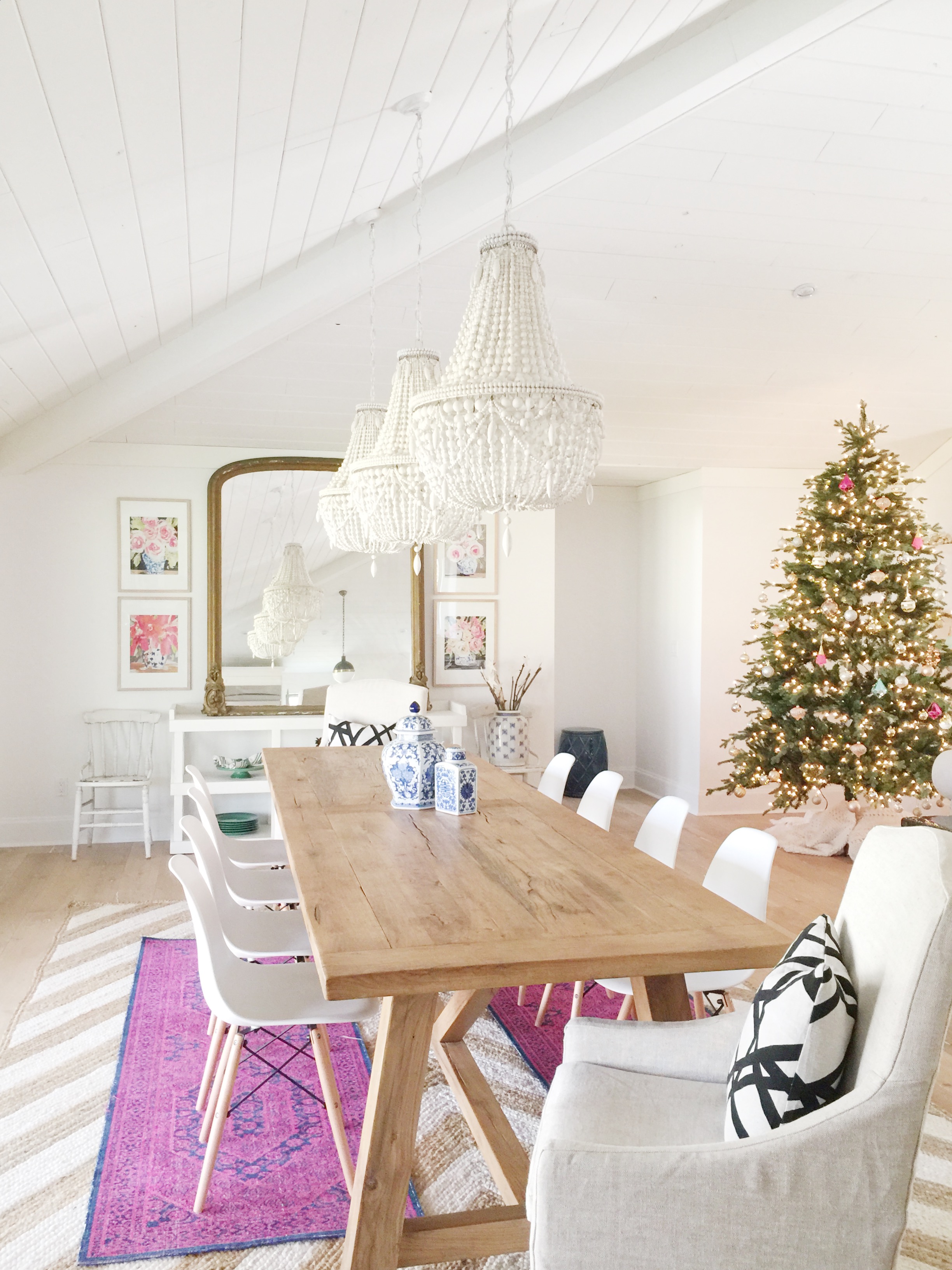 The dining chairs at the head of the table are from RH and were a total steal at $199 each…I'm telling you- stalk the sale section… like for real!!
The pillows on my end chairs are another super steal from Canadian Tire, and I've linked them here. I love these pillows because they remind me of the insanely gorgeous and equally expensive Kelly Wearstler Channels pillows. These are 29.99 Canadian which is $20 US and absolutely pull the look together. (Did you spot the beginnings of my Christmas decor?!)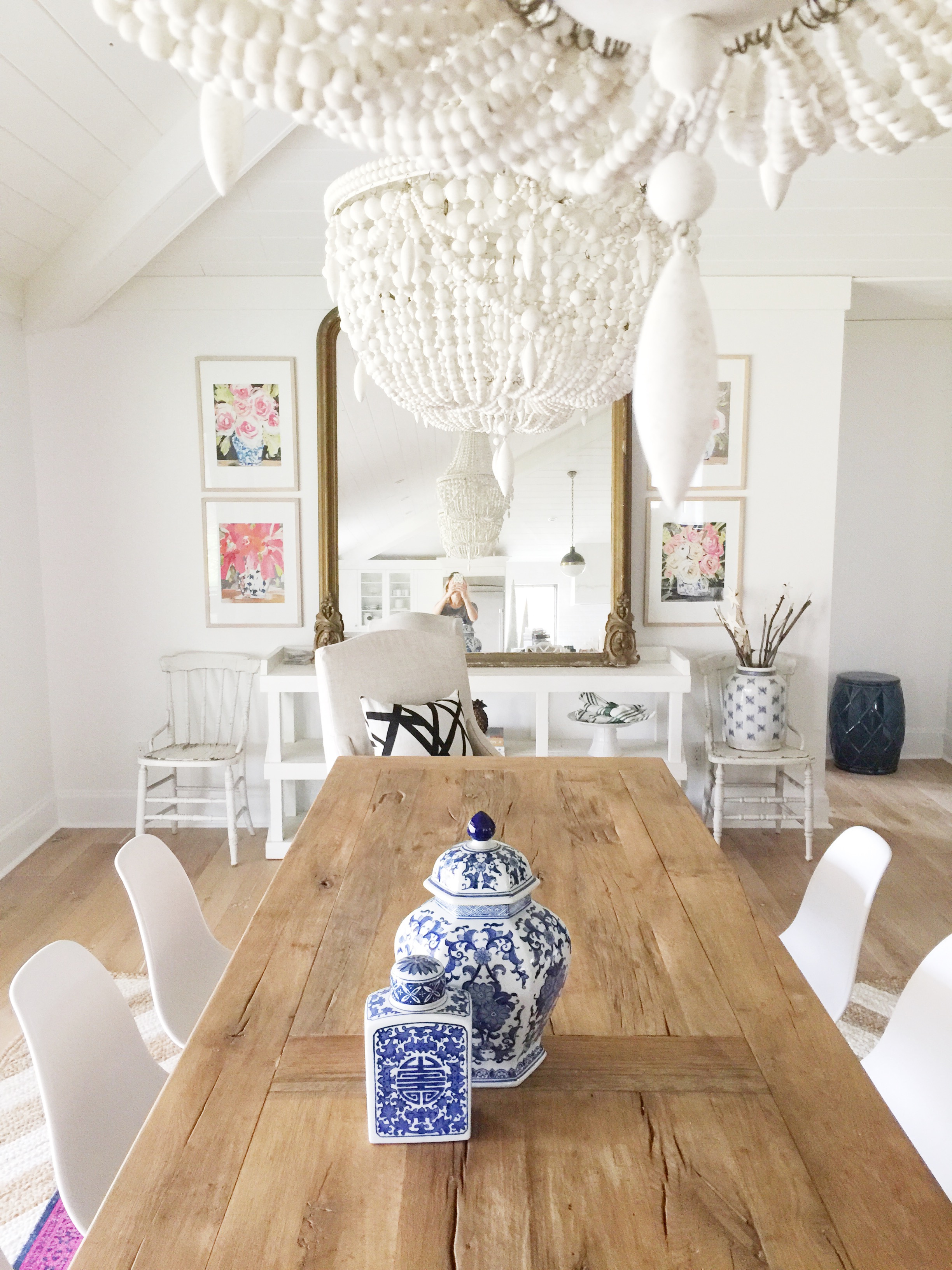 I really hope you enjoyed the first reveal of our new home! If you'd like to see the exterior transformation, I've linked it here…it's pretty insane, you kind of have to see it to believe it! Please subscribe to get the next reveal emailed directly to your inbox. I'd love to hear your comments!
All the best,
Leslie