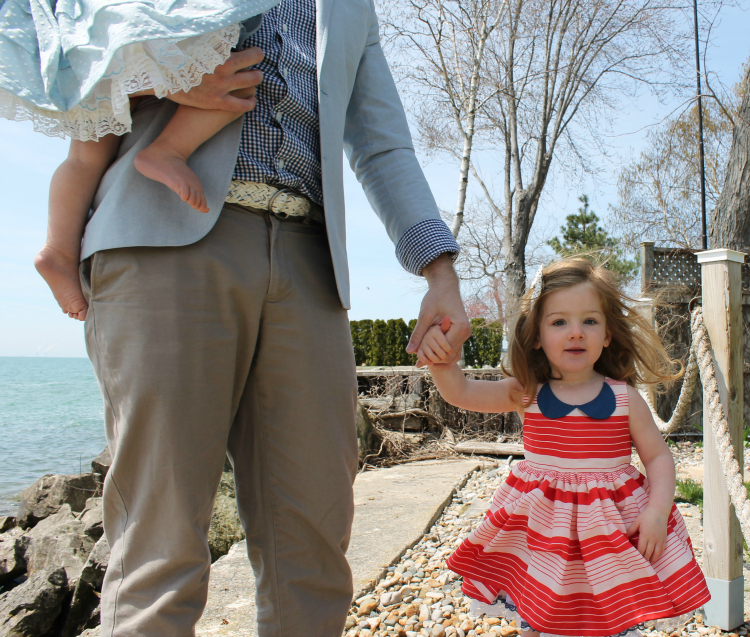 I'm sharing my light and airy take on a 4th of July / Canada Day family photo shoot!
If you're like me, just red, white, and blue for the 4th of July, or just red and white for Canada needs a little something… What I mean is that I need a light colour to mix and match into those bold primary colours to add the softness and put together feel that defines my style.
This year I decided that a nice light blue would be the perfect colour to infuse my personal style, while still keeping things patriotic! I also love how the light blue adds sophistication to an otherwise obvious colour palette.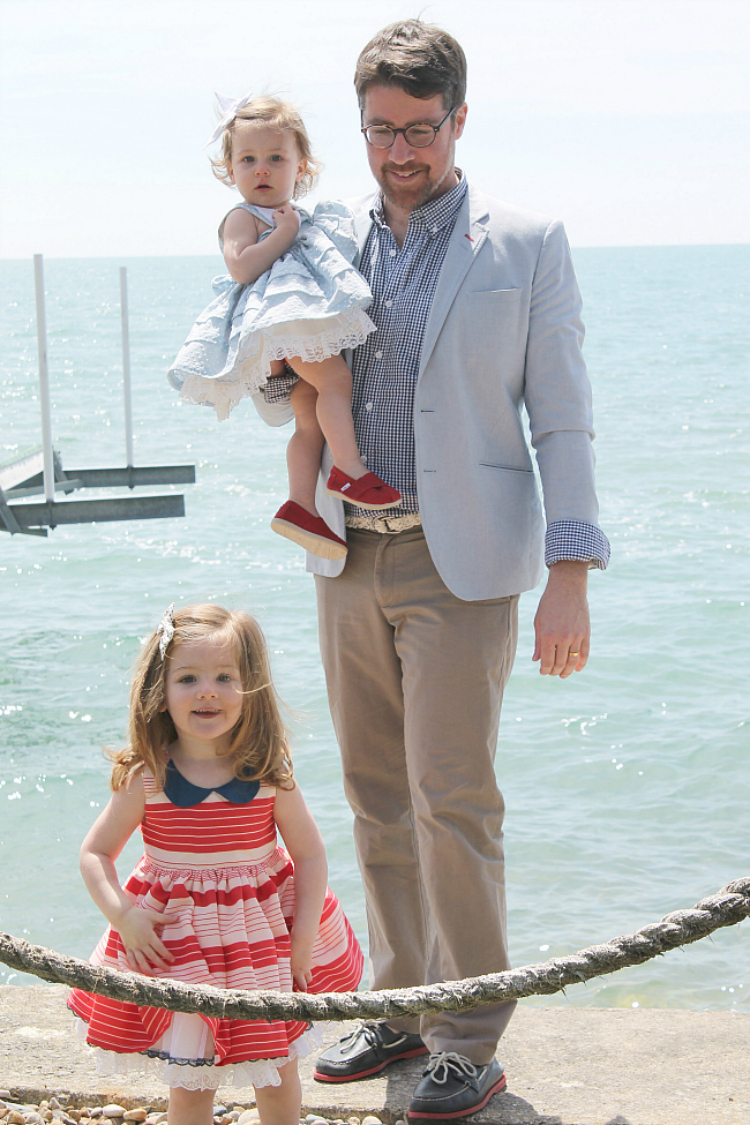 My Tips for Styling Clothes:
a mix of patterns (e.g. Penelope has polka dots on her light blue dress, Matt has a checked/plaid shirt, Juliette has stripes. A bold set of contrasting patterns in your chosen colour family is an awesome way to add visual interest.)
a variety of fabrics for texture (e.g. Juliette's dress is silk, Matt's jacket is a chambray and his belt is made of knotted rope, lace petticoats can be seen picking out from the dresses…different textures add a layered look just like they would in your home.)
mix your colour palette on each person but in different intensities (e.g. Juliette is wearing a balance of red, white, and blue and has just a small amount of light blue in her bloomers, or Penelope has a light blue dress and then small hits of red in her shoes and bloomers. Matt has a mix of light and navy blue showing yet another variation with the red being the soles of his shoes and button holes in his jacket. To achieve the look try and make sure everyone has a hit of each colour but that the amount varies and contrasts between person!)
I'm so lucky to have designer Elaine Penner, from the super hot children's line 'Aggie and Francois' let me pillage through her wardrobe for exactly what I had envisioned!  All dresses worn by my daughters are available through her Etsy site and via Instagram @aggieandfrancois, so pop on over…you will not believe her designs!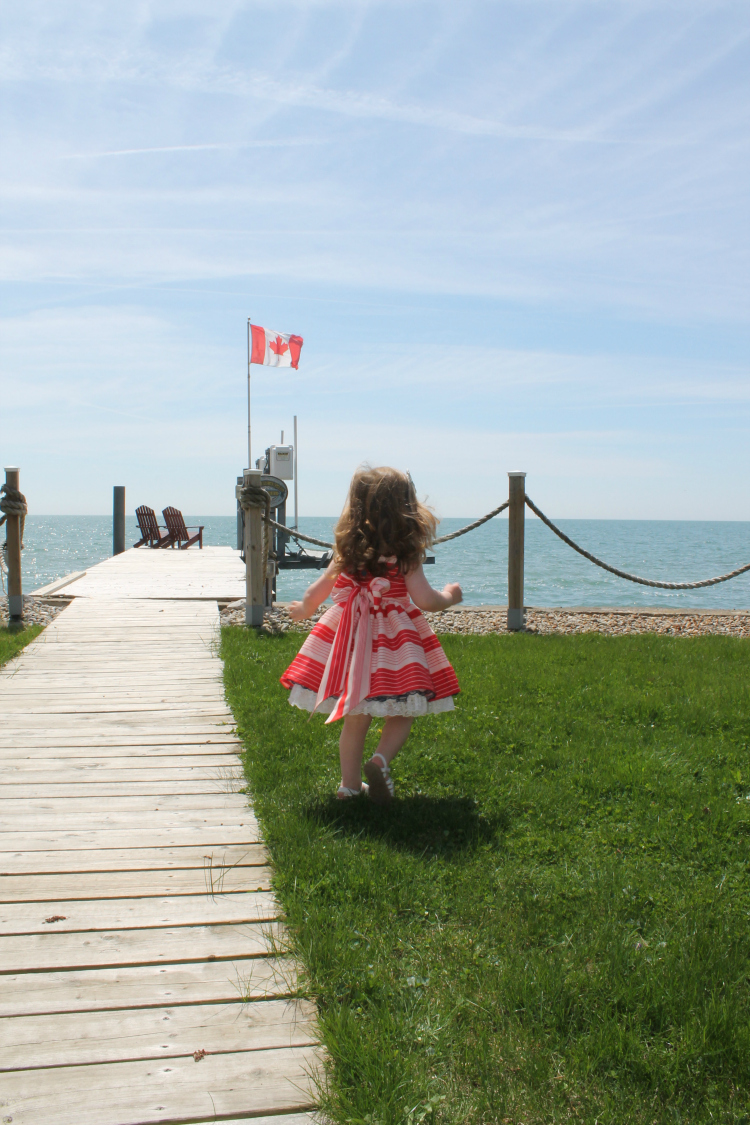 In case you're wondering, my husband is a totally normal 'husband' and doesn't like to get his picture taken, or get excited about photo shoots, so I had to owe him for this one. However, once it was done he loves having the pictures and usually thinks it's worth it after. So my advice is to gently force a not-so-enthusiastic husband knowing you'll be getting some big thanks after the fact, when you've got a great gift for your parents, in-laws, and grandparents on the next occasion 😉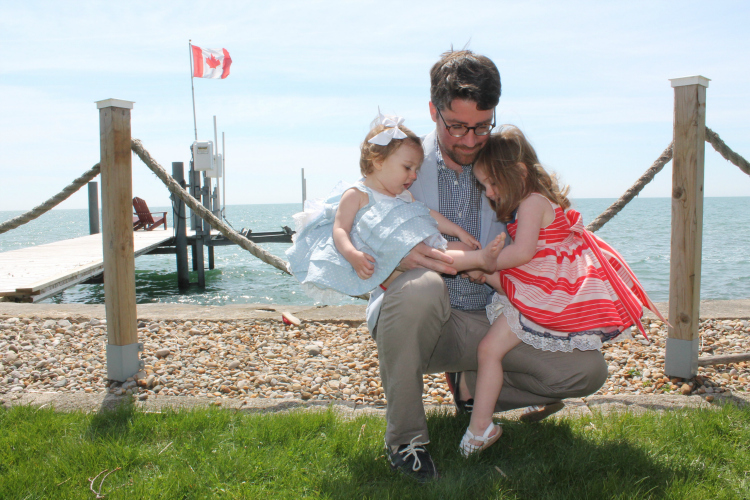 This is my husband Matt, holding our daughters Penelope (15 months) and Juliette (2.5 yrs).
Now, I need help with stepping out from behind the camera…haven't even attempted the whole trip-pod thing yet…maybe that will be my homework…then we can get whole family shot! I love the idea of setting the timer and then running in front of the camera and everyone looking in mid action, different directions…I love those shots!!